Last Updated on August 5, 2022 by Jeremy
Disclaimers: Our site uses demographic data, email opt-ins, display advertising, and affiliate links. Please check out our Terms and Conditions for more information. Listed prices and attraction details may have changed since our visit and initial publication.
No one will argue that Arches National Park is not worthy of its name. This gorgeous national park in Utah is home to dozens upon dozens of uniquely formed arches and is truly one of the most spectacular places in the United States.
While most visitors will likely make haste to the park's most famous arch, Delicate Arch, we decided to take a different approach with a 6 am entry and went to Double O Arch. There were many reasons for this including being able to see many of the trail's seven arches with epic morning light but also to tackle some of the trickier hiking segments with minimal crowds.
This ended up being a great tactic that we would repeat again in future visits. In this one, we wanted to share more about what you can see on the Double O Arch Trail and give some hiking tips for those visiting as well. You're going to see why you need to visit this one early here!
Note: The Double O Arch Trail can be either completed as an out-and-back hike or a much longer loop hike. The vast majority of visitors only take the out-and-back in an effort of time and we did the same. As such, commentary on the loop section of the trail after the Double O Arch is not included.
What You Can See on the Double O Trail at Arches National Park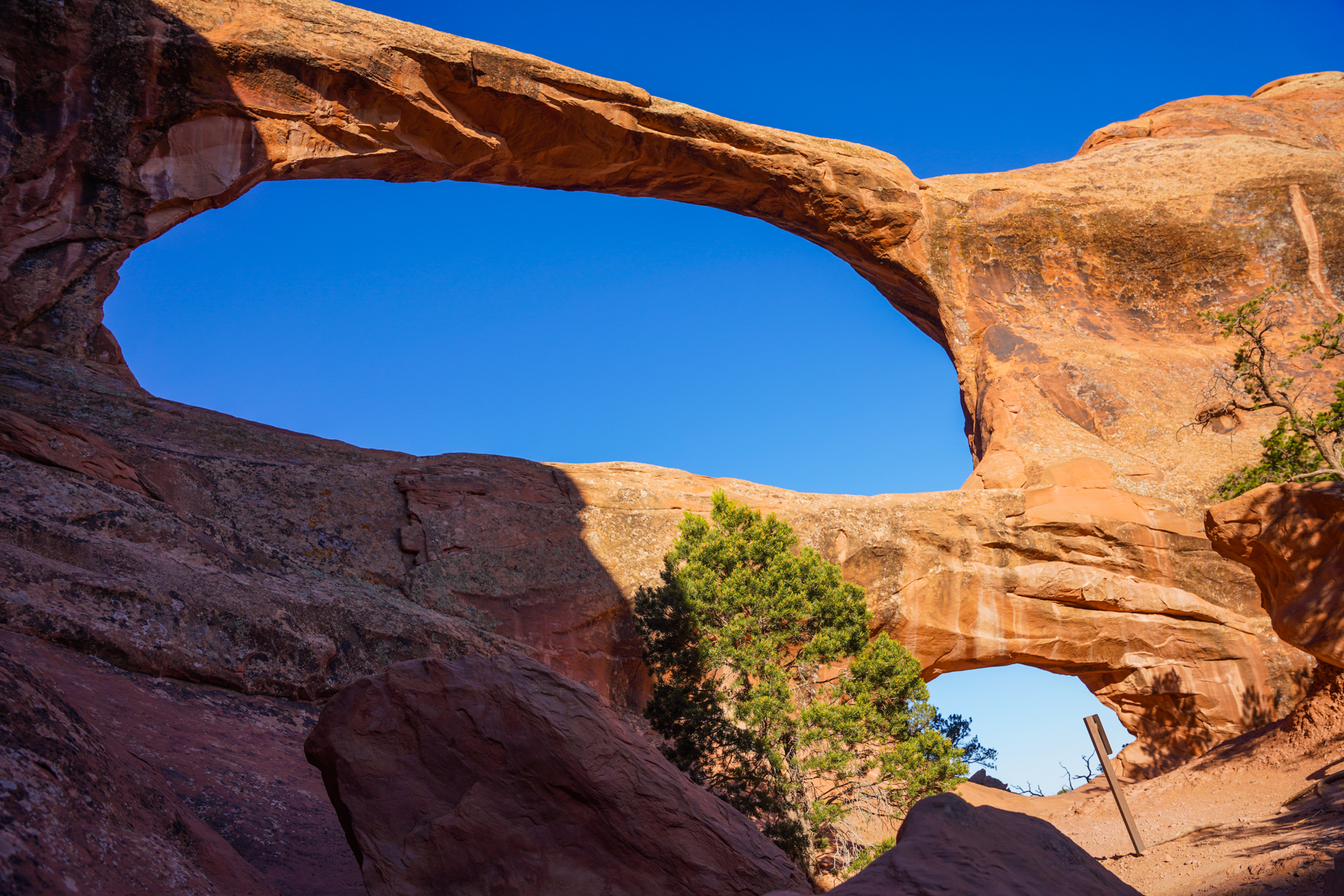 One of the best things about the Double O Arch Trail is that you can see many arches in one single hike. If you only visit Double O and return, you'll easily see three arches without issue. If you add on two small side trails to the hike, you'll end up seeing at least seven! So, let's talk about them a bit further.
As for arches visible along the hike itself, you will see Landscape Arch and the namesake Double O Arch.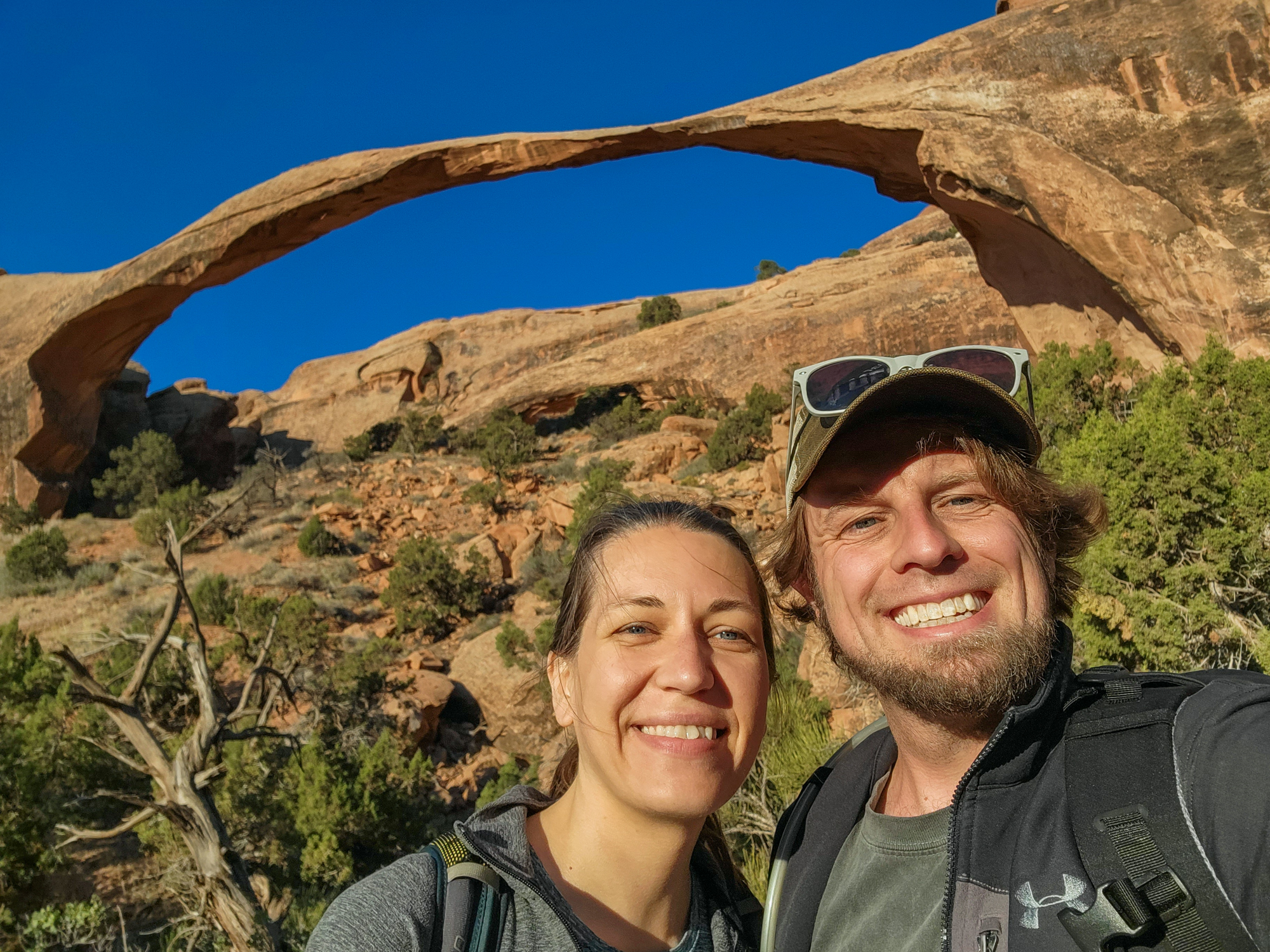 Landscape Arch will be the first arch you witness, about a third of the way down the trail, and is the longest arch in Arches National Park (clocking in at 290 feet). Do yourself a favor and walk up to the viewing area of this one as it makes for great photos. You may also see Partition Arch from here as well, but you'll do well to take the full detour to that one (you'll see why in a minute).
At the end of the trail, you will reach the namesake Double O Arch which includes one large upper and one smaller lower arch within a single view path. This area has a small loop that will get you closer to the arches, although is not very well marked if we are to be honest.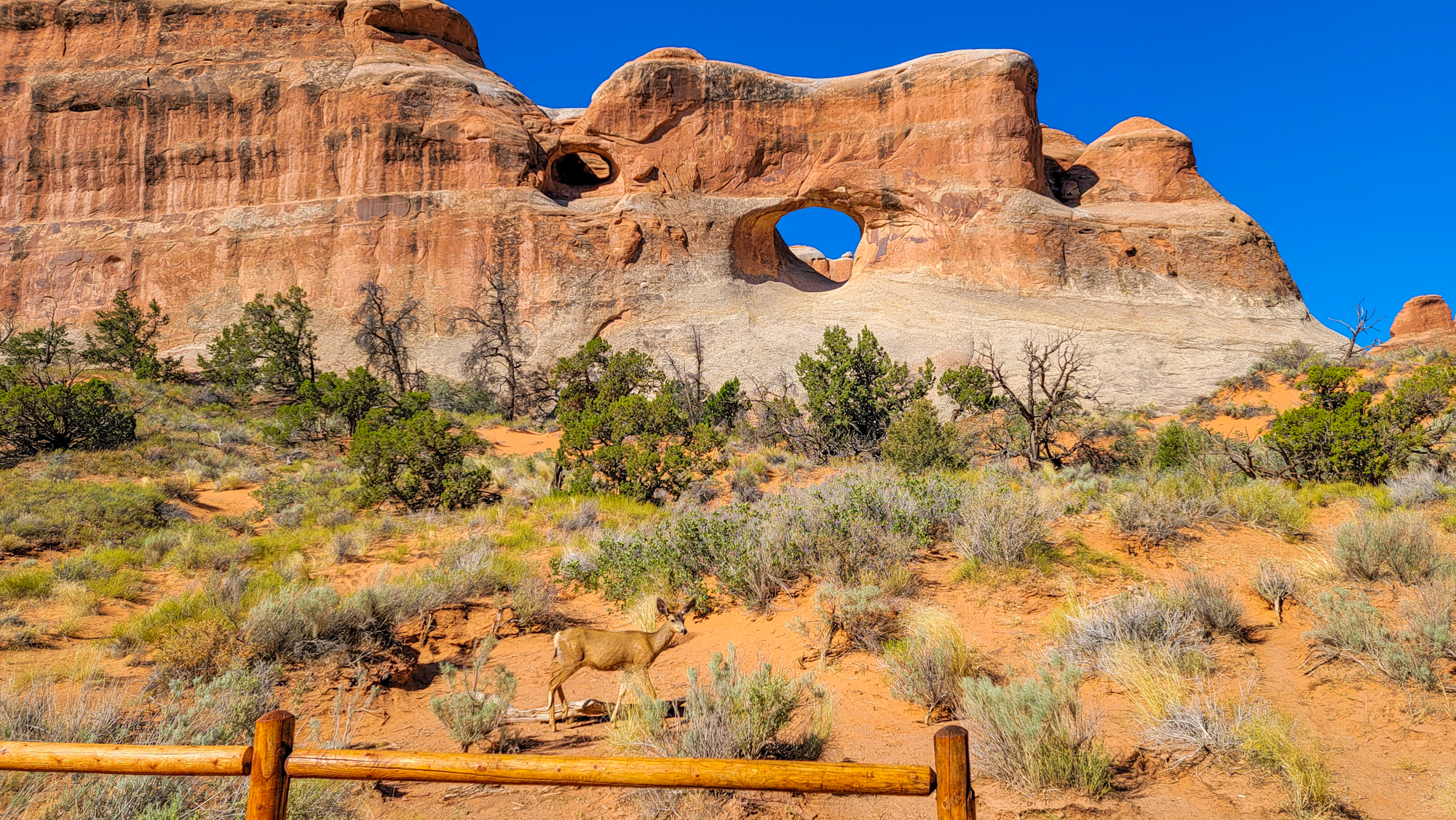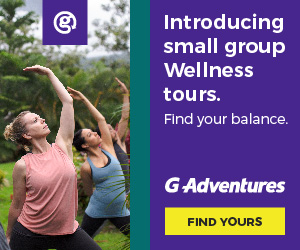 Along the way, there are two side trails you can go explore to see four more arches easily. The closest split is rather close to the trailhead and will take you to Tunnel Arch and Pine Tree Arch.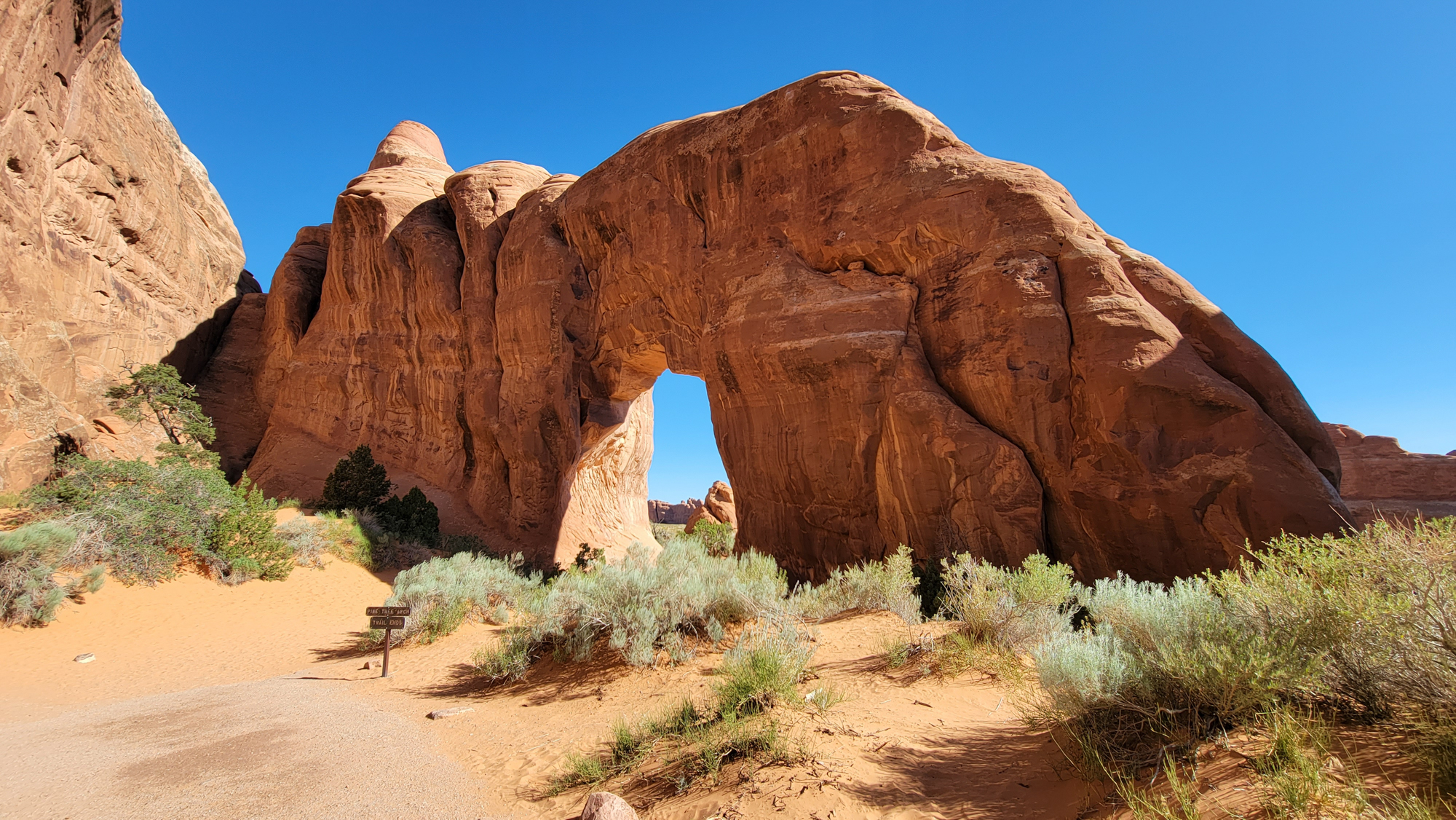 Tunnel Arch is found high up in a rock wall where you can look up at it from a distance at a rather particular angle and Pine Tree Arch is offers a modest opening in a somewhat standalone rock wall.
The second split is about halfway to Double O Arch and features Partition and Navajo Arch- two of our favorites from the trail.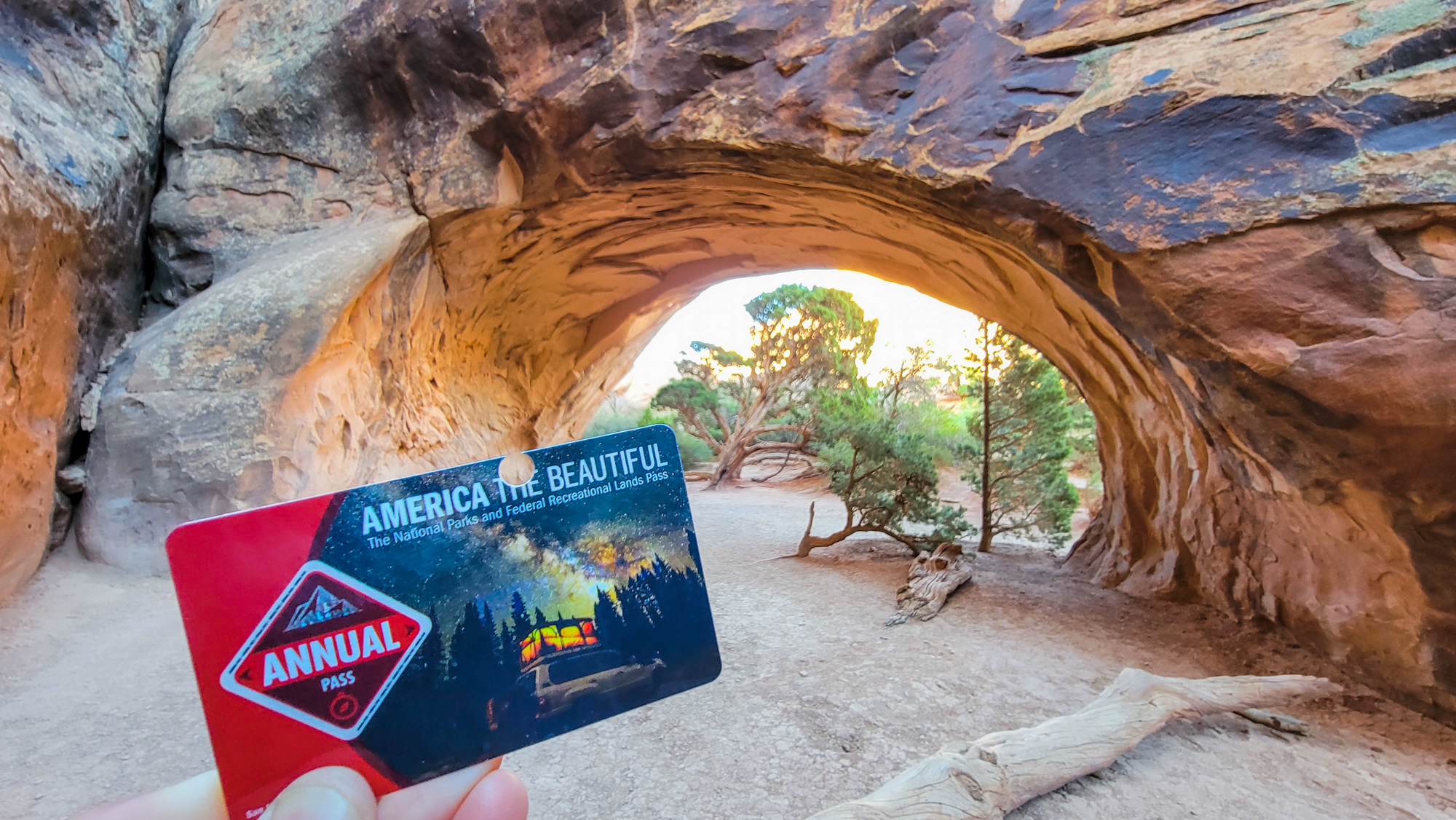 Navajo Arch is an interesting one because you can easily walk entirely underneath the arch to the other side (most arches are either elevated off-ground level or have a drop-off on the other side). By this trail's standard, this one felt somewhat lackluster but that is only because there aren't enough words to describe the beauty of some of the other arches you can find here. Still, safely walking completely through an arch is kind of neat!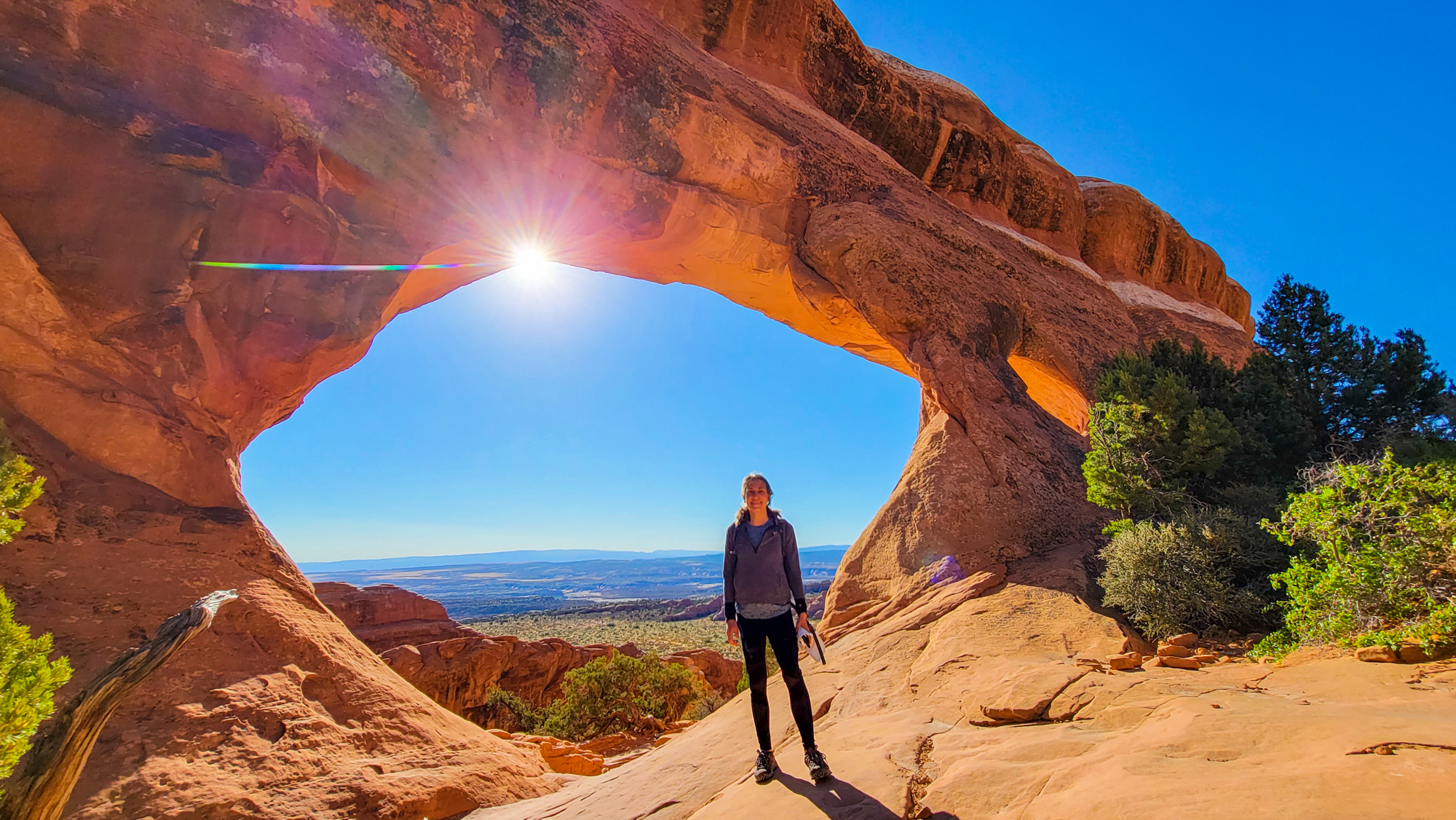 Finally, we come to Partition Arch- perhaps our favorite on the entire hike. You can walk up to a drop-off here and enjoy a gorgeous eastern facing view over the park. We visited this one early in the day and think it'd be a prime place to view sunrise most of the year as you can see in our photo. What a view!
Hiking the Double O Arch Trail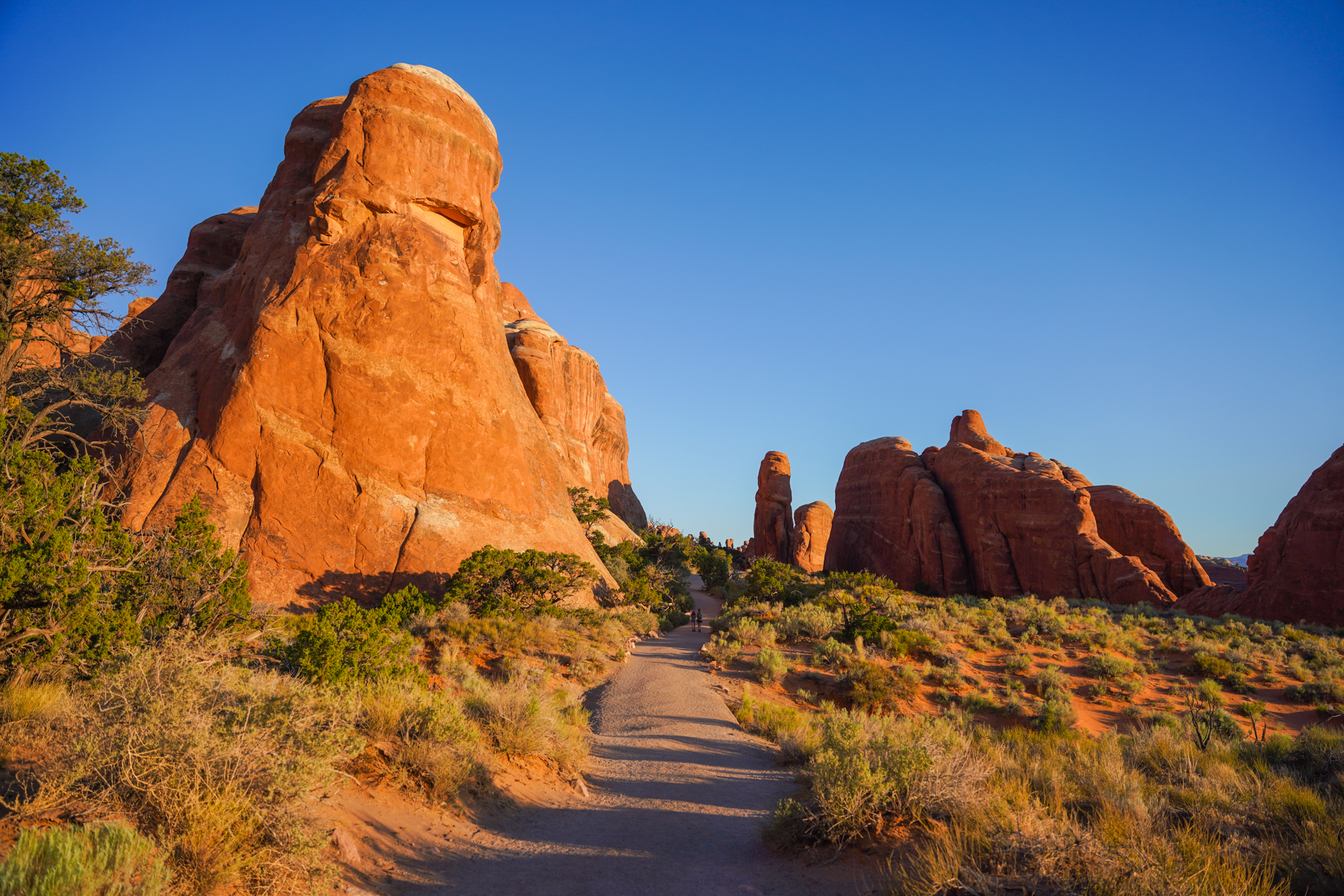 When it comes to hiking the Double O Arch Trail, you really need to plan this one strategically because it is among the more difficult trails in the park and is also one of the most popular. As with most hikes, this is never a good combination.
On the difficulty front, the Double O Trail only has a few key issues of note. First off, there are a lot of varying terrains here. For a few minutes, you may be walking on gravel. For the next few minutes, you may be walking on soft sand. After that, you may spend a few minutes bouldering up a rather large, exposed rock wall on all fours before walking across a narrow (~6 foot wide), smooth, and incredibly windy rock fin with ~15 feet dropoffs on each side (so keep your belongings secure).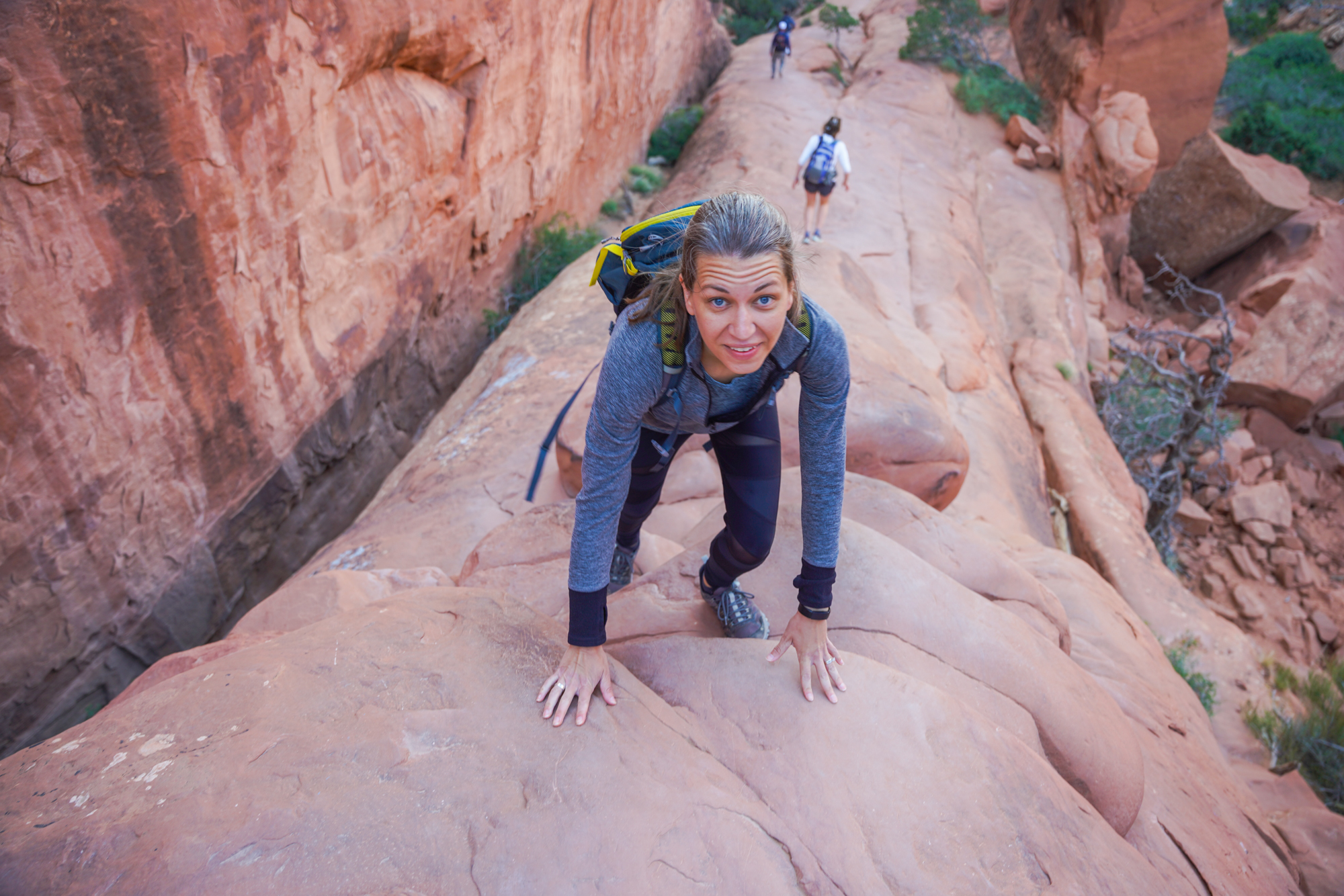 While the park describes this trail as difficult, and anonymous online reviewers make this one sound like the worst hike ever, we honestly didn't have much of a problem with the difficult sections. Daunting when you are staring at them? Absolutely. Hard? Eh. As frequent hikers we thought it could have been a lot worse (and it likely is for kids, those with mobility issues, if you arrive later in the day and the rocks are scorching hot, or after a rain). Early in the morning with proper gear and a bit of hiking experience? We've certainly hiked worse.
So while we didn't think this trail was as hard as originally anticipated, it is worth noting these features going into it because we saw many people attempt the rocky sections despite being very afraid and not wearing the proper gear in the slightest. For these people, the trail would be truly awful. At a minimum, you will need hiking shoes, 2-3L of water per person (this trailhead had a fill station during our visit and my camelback was a lifesaver), and for those who aren't completely sure-footed, hiking poles may be valuable as well- so many people had none and no one was surprised they were having a hard time.
This becomes even worse due to the trail's second issue, popularity, because it can create a bottleneck at points where the trail is narrow (read: the "difficult" spots). Some of these spots give little room for error when you're hiking solo, and they're even worse if someone is attempting to pass you going the other direction.
As such, there is one key recommendation we have for the Double O Arch Trail above all others, and that is simply go early.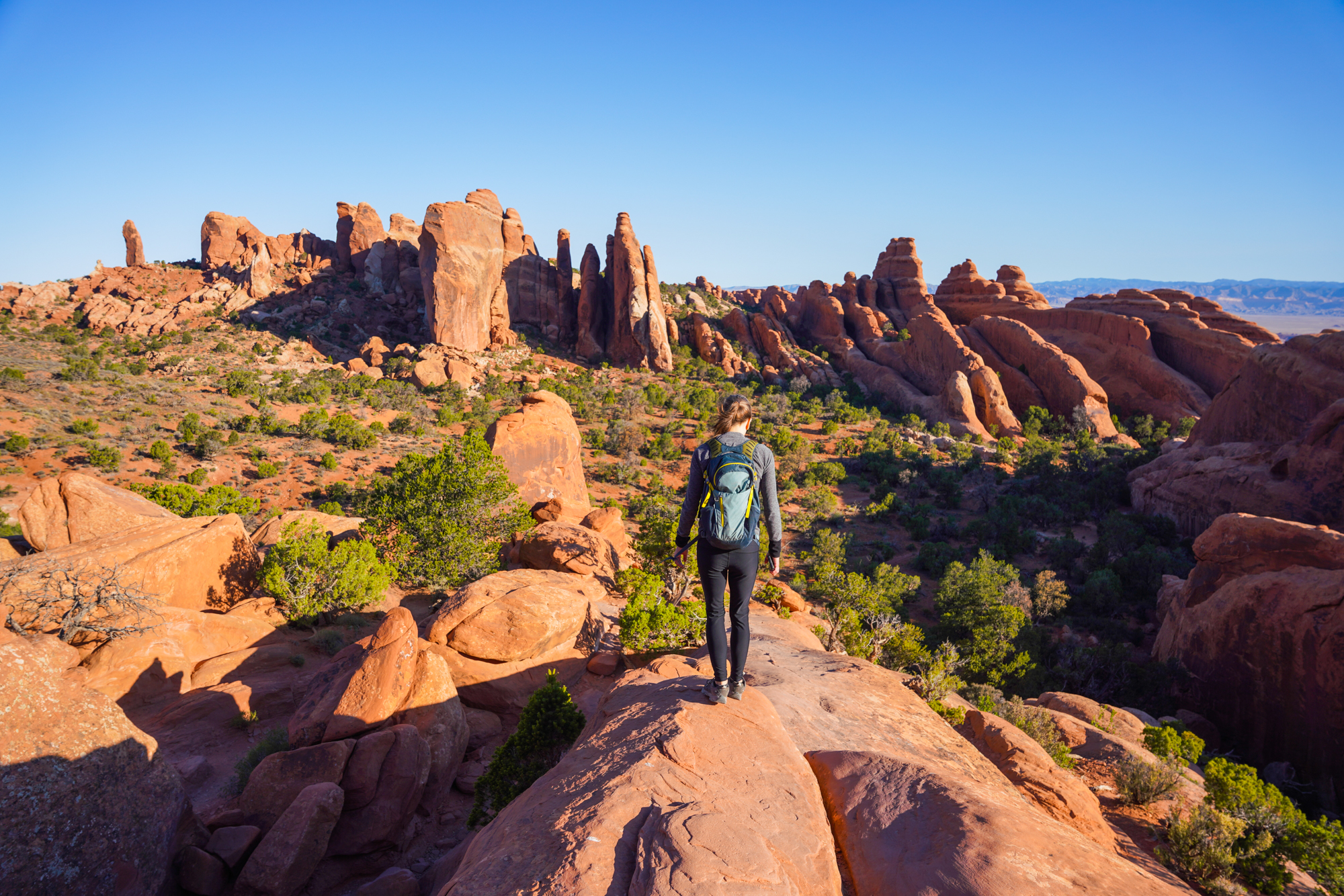 We were fortunate enough to secure a 6 am entry permit for Arches National Park (when permits started for the day during our visit- you can enter before permitting hours at your leisure) and made it to the Double O Arch Trailhead by 6:45 am (it is the furthest trailhead in the park). By doing this, we were roughly the eighth car there. Up until we arrived at Double O Arch itself, we saw virtually zero other hikers, and by the time we made it back to our car nearly two hours the trail was bustling with hikers and the parking lot was almost full. (And not to mention, it was significantly hotter- plan to start all your hard hikes early!)
Finally, while this trail has many signs pointing to all of the Arches you can see (on the main path or via side trails), for the most we felt that rock cairn markings signifying the location of the trail are few and far between. This made staying on the path in the rocky sections a bit harder as you could not easily find footprints as you can in gravel and sand. As such, you'll also do well to have a trail map downloaded to your phone before taking this hike too just to be safe. We definitely got off the trail a few times but were only off by a few feet at most and realized our error quickly.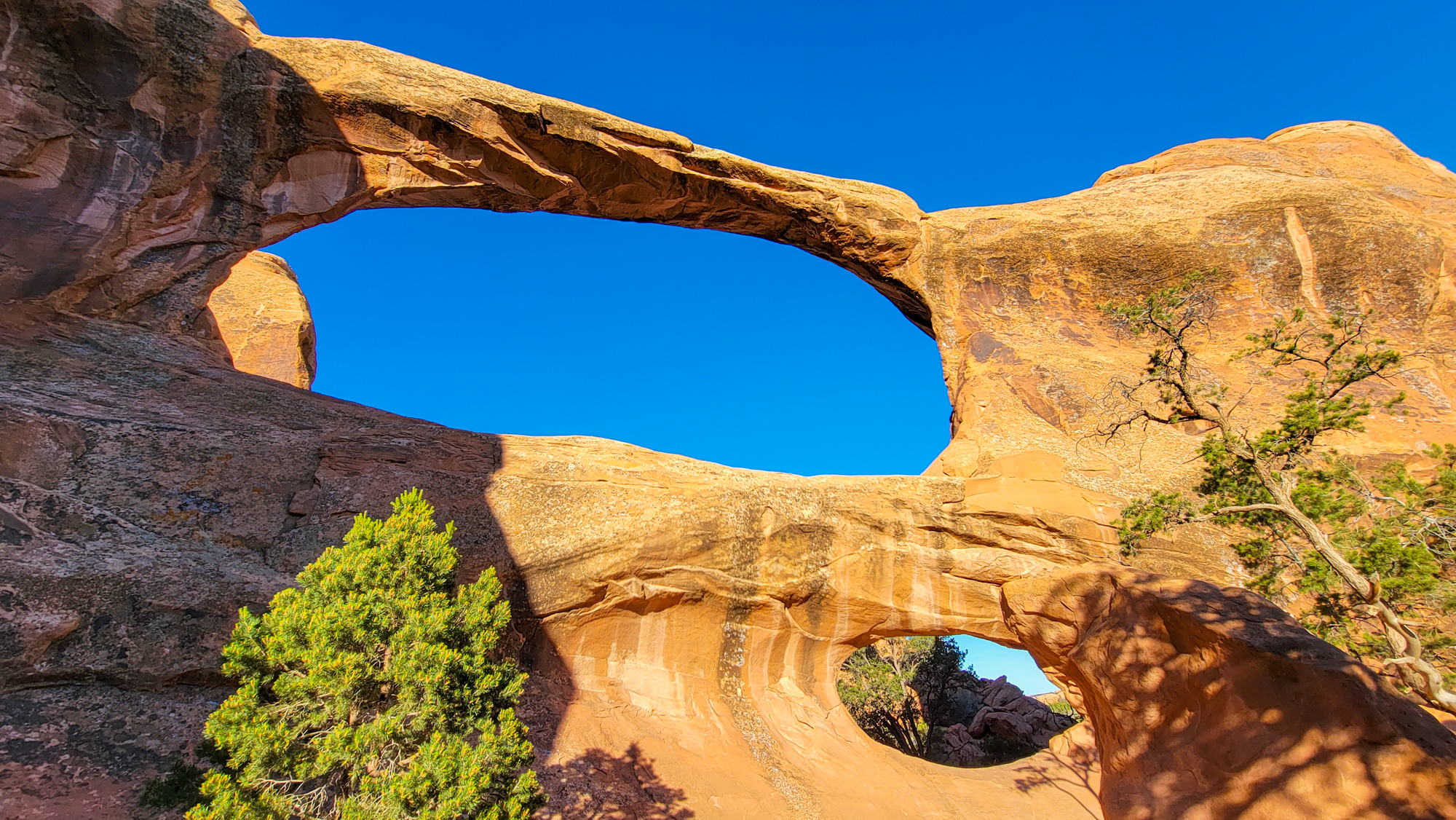 Overall, the Double O Arch Trail was one of our favorite hikes at Arches National Park. Part of this was because of just how many arches you get to see between the main trail and all side options, but also because when visiting this one early we had great sunrise views and the ability to approach the difficult sections without any crowding issues whatsoever.
The Double O Trail is located in Arches National Park near Moab, Utah.
Want to take another challenging hike in Arches National Park? Make the drive to Tower Arch if you have an SUV!
Looking for a place to stay in Moab? Click here to find an apartment rental!
Visiting a national park in the near future? Don't for get to pick up the America the Beautiful Pass and read more about it in our full review!
About Jeremy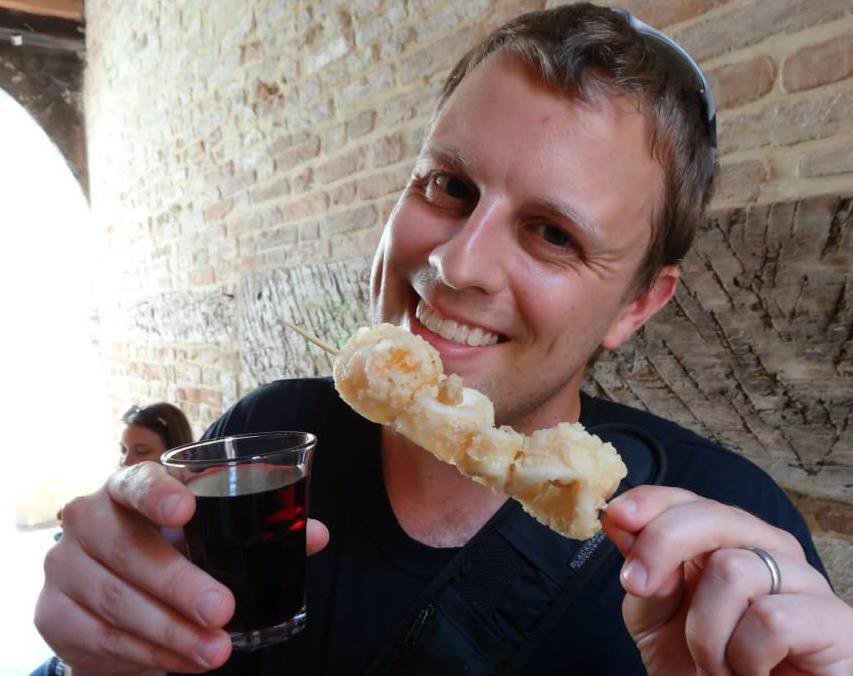 About the Author: Jeremy is a full-time travel writer based in Pittsburgh and primary author of this site. He has been to 70+ countries on five continents and seeks out new food, adventure activities, and off-the-beaten-path experiences wherever he travels.