Last Updated on August 5, 2022 by Angie
Disclaimers: Our site uses demographic data, email opt-ins, display advertising, and affiliate links. Please check out our Terms and Conditions for more information. Listed prices and attraction details may have changed since our visit and initial publication.
The French Laundry in Yountville, CA, is a three-Michelin-starred restaurant that is notoriously hard to get a reservation for. Because we love food and love experiencing travel destinations via food, we knew we had to at least try to get a French Laundry reservation on our recent trip to check out Sonoma and Napa Valley wineries.
We ended up being successful, so we wanted to share our tips for landing a coveted spot, as well as a general review of the meal and experience.
The hype around getting reservations for The French Laundry is pretty intense. But we found that if you understand the process, can plan far in advance, and are somewhat flexible in your dining date and time, a reservation is fairly easily attainable.
As with all posts on this site, the following is based on our visit date in early 2019. The booking process is liable to change.
How to Get a French Laundry Reservation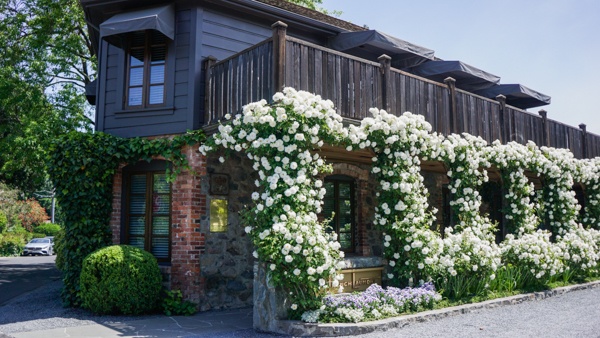 Before the COVID pandemic, The French Laundry reservations system opened up at 10 AM PST the first day of every odd month, two months at a time for two months in advance. So for example, on July 1st at 10 AM PST reservations will open for all of September and October. On September 1st, reservations open for November and December. And so on.
Post COVID, it sounds like The French Laundry may have changed the reservation system to open up the first day of the previous month. So, for example, April reservations open on March 1st.
While it is worth checking both possible scenarios, as things can and do change regularly, this means you should plan at least one to three months in advance to score your reservation.
The only way to make a reservation is online through the Tock website, and all payment is due up front with the exception of wine or premium add-on menu items. One tip we found that may have saved us a little time and gave us a slight advantage in getting a reservation was to create an account with Tock and enter our credit card information in advance of when we actually booked. If you do this you can already be logged in to your account when 10 AM PST rolls around on the day that you want to make a reservation- every second helps!
Navigating the reservation system in Tock is fairly simple. You will have to enter the number of people in your party and a date and time that you want to find a reservation for, but then it will open up the full calendar and you can see which days and times have availability.
We read in advance that weekend dinner slots for two people were the fastest to fill up, so we aimed for a Friday lunch spot instead. Having a strategy in mind can help you so that you're not clicking around trying to find availability and wasting precious time. Know what you want, be ready for that, and committing within moments is often the difference between snagging a spot or coming away empty-handed. (All things being equal, reservations for two over our trip dates sold out in under five minutes- being prepared really is a necessity.)
Another thing to keep in mind is that tables for two fill up the quickest, and if you're flexible with your party size you may be able to find a table more easily.
What Dining at The French Laundry is Like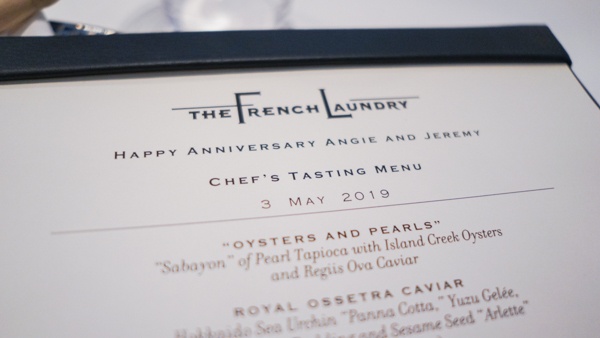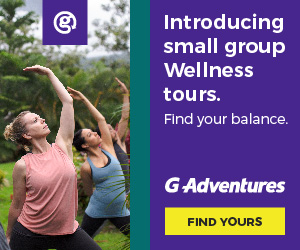 Walking up to the beautiful building that houses The French Laundry, I have to admit I felt strange. I had butterflies in my stomach like I was about to take a big test or give a speech. After all, this was supposedly a once in a lifetime experience, and we had hyped it up in our minds so much.
But once we stepped in the door, the vibe we were met with was the complete opposite. Every single staff member we encountered was super friendly and down to earth, and the atmosphere of the whole place was relaxed but elegant. We've definitely been to other fine dining restaurants where the staff were a little too haughty, but dining at The French Laundry was the antithesis of that.
After being seated, the wine menu was presented to us via an iPad, and eventually we decided on a half bottle of Pinot Noir. Note that alcohol is not included in the tasting menu cost, and it will cost you a pretty penny if you want to indulge (half bottles start around $100 and the sky is the limit from there).
We both ordered the chef's tasting menu (as opposed to the vegetarian tasting menu), and pretty soon the courses began their well-timed progression to our table.
The French Laundry Menu is an Experience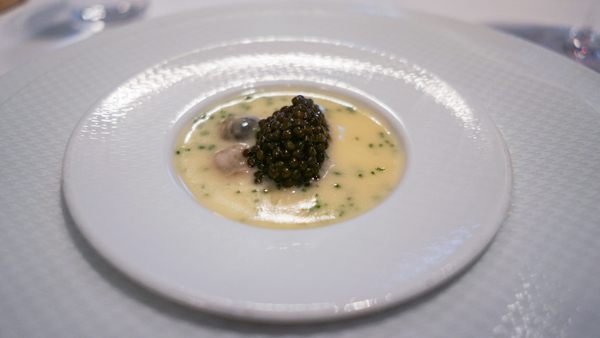 From the first bite of the salmon tartare cone all the way through to the hand painted chocolate truffles, the flavors were rich, luxurious, and extravagant. We were happy to try the classic Oysters and Pearls dish with a creamy, rich sabayon with salty bits of caviar and two delicate, perfectly briny oysters.
A hearts of palm salad was next with a palate-cleansing freshness from a carrot puree and cilantro shoots from The French Laundry Garden across the street. We'd never had medai fish before but we got to try that next; it was enveloped in a spinach crepe and served with earthy sauces (one spinach and another truffle).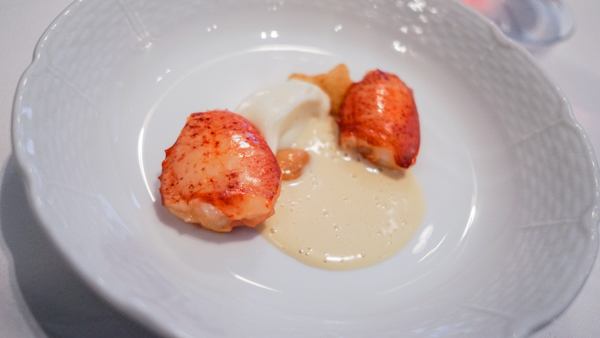 As predicted, the lobster course was one of our favorites. The butter-poached crustacean was so sweet and impossibly tender, and the sherry cream sauce was a perfect complement.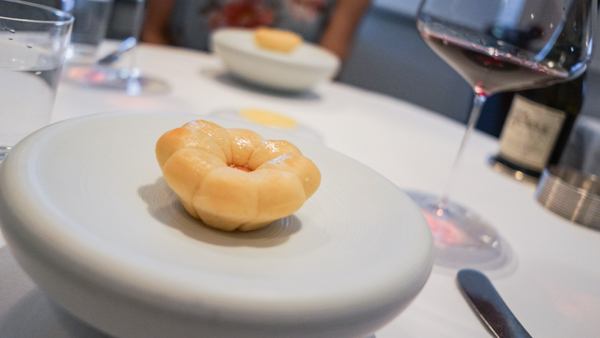 Being a bread and butter girl, I truly went crazy for the next dish – a Parker house roll with butter.
Our server explained how special this butter was – that it was from a farm in Vermont and that Thomas Keller buys the entire lot of butter that this place makes, and that he's been serving it since The French Laundry opened. Needless to say, this was some of the most exquisite butter I've ever tasted.
It was grassy, earthy, and sweet all at the same time, and topped with a dusting of sea salt.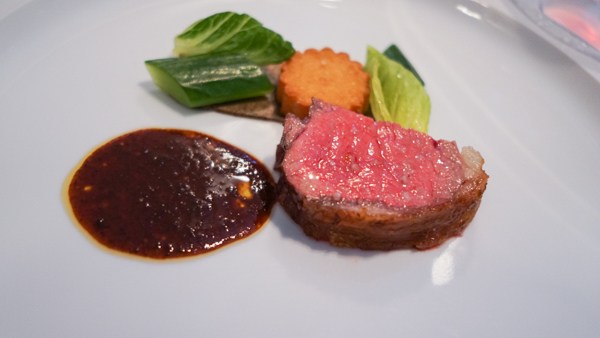 Next came the meat courses – first pork and then lamb. Of course, the meats themselves were melt-in-your-mouth tender, but the accompanying sauces were equally impressive.
A "cheese" course signaled we were nearing the end of our meal. A gougere filled with creamy goat cheese rested on top of a truffle sauce. It was so indulgent but so wonderful!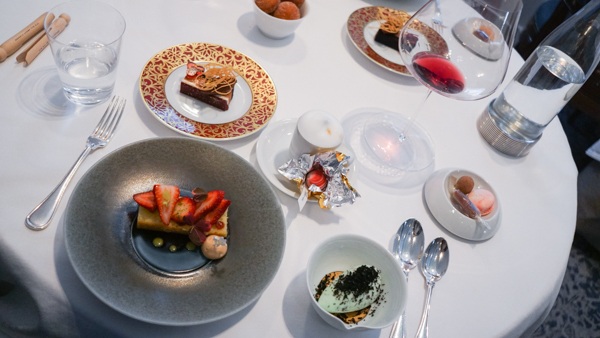 Dessert continued on with the indulgences and was one of our favorite parts of the meal – it in itself was like a multi-course meal. No joke, we were each served at least six different desserts all at once. The plates covered our whole table and I just kept laughing and smiling giddily. Mint ice cream, pound cake with strawberries, donuts, caramels, cakes, and mousse were just some of the goodies.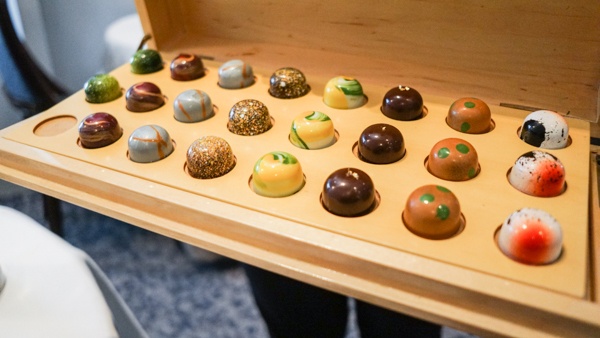 To finish it all off, our server came around and presented a big wooden box full of eight different flavored chocolate truffles and asked us to take as many as we liked.
And last but not least, we were presented with a bottle of champagne since we were celebrating our 10th dating anniversary (we had told the concierge this when they called to confirm our reservation a few days before). The bottle was even engraved with our names! It was such a sweet and unexpected gesture that I almost shed a few tears.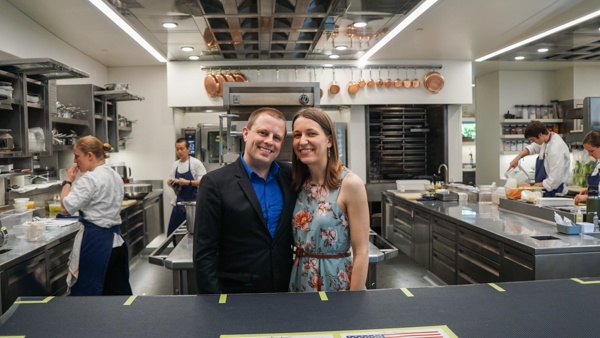 After paying the bill (for the wine we ordered) we were given a tour of the kitchen and even got to get our picture taken behind the pass. Finally, we got a little goodie bag containing two tins of shortbread cookies and copies of the menu (signed by Chef Keller!).
Dining at The French Laundry was pretty much everything we expected and then some. The attention to detail throughout the whole meal in both the food and the service is something we will never forget.
Expensive? Yes. Worth it? Absolutely. Dining here is truly a once-in-a-lifetime experience. But it all comes down to snagging the coveted French Laundry reservation to begin with, and we hope with the tips featured above you'll be able to visit this one during your trip to Napa as well!
Have you visited The French Laundry? Comment below to share your experience!
Looking for an apartment rental in Napa Valley? Click here to find a perfect spot!
About Angie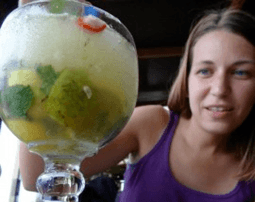 About the Author: Angie is a contributing author. She has been to nearly 60 countries and seeks out the best restaurants, bars, bakeries, and other unique food items wherever she goes- often with her husband, Jeremy.