Last Updated on September 19, 2023 by Jeremy
Disclaimers: Our site uses demographic data, email opt-ins, display advertising, and affiliate links. Please check out our Terms and Conditions for more information. Listed prices and attraction details may have changed since our visit and initial publication.
What is in a name?  Well, if you are talking about the name of a blog, probably a lot.
The problem with a blog name is that it is the first piece of information a potential reader sees on your site. There is no single element that is more reflective of your travel blog idea than a name, and any connotations that arise from that name will stick with potential readers for a very long time- and may even influence whether they open your page at all!
If your name talks about you being broke, you're probably not going to attract luxury travelers or sponsors. If you brand yourself as a party addict, those who don't party may not open up your page.
This trend can extend to any name or theme, so being careful with your choice before registering a domain is very important!
So what can you do to come up with a great name and niche for your new travel blog? Today we cover a few of our best tips to consider on this important topic.
Avoid Duplicate Travel Blog Names


Travel blogging in and of itself is becoming a saturated industry, and with it comes redundant blog names.
We'd go as far as saying this is one of the biggest problems in our industry to date, if only because having similarities to another established blogger will do untold damage to the brand you are trying to build- all because you picked two or three words that weren't so unique.
This is a challenge because in travel blogging we all love to have blog names that reflect what we're doing. But this is a trap as what we are doing is what everyone else is doing, and you have to work that much harder to be different.
Heading off to explore the world perpetually? I'm not going to lie, there is nothing wrong with naming your blog "Nomadic [Your Name Here]." 
It has a great ring to it and drives home the point of what your site is about right away. Unfortunately, I can also name several others who have this setup as well, including the popular Nomadic Matt, Nomadic Samuel, and Nomadic Chick and that is before performing a search to find countless others.
Other popular phrases including "Travels of" or "Travels with," "Adventures of" or "Adventures with," and other popular keywords coupled with the traveler's name have become quite popular in recent years as well- making all of these phrases over saturated in the blogging universe. (We've even seen people attempting to duplicate the same niche with the same name!)
The problem with naming your blog one of these popular phrases is that other bloggers have already taken the idea years ago, ran with it, and have become very popular. Copying these is flattering, of course, but it will do more harm than good when you're trying to create a brand for yourself as you are not being unique. 
Perhaps even more important, you would also be giving yourself SEO keyword competition that you could otherwise avoid by choosing a name that is not used by others.
In a world where it is already quite difficult to make money blogging, there is no sense making it harder on yourself as soon as you start a travel blog!
Takeaway #1: Come up with a name that is unique. You can do a quick Google search to find "best of" lists to get an idea on what is already out there.
Make a Travel Blog Name That Lasts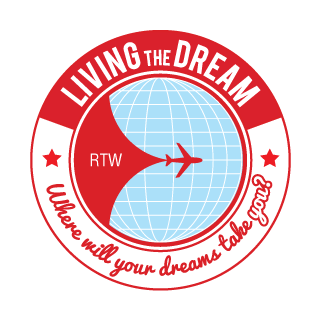 Another common pitfall we have seen when it comes to blog names is that the concept is time specific or pigeon-holds you into a specific theme.  What are you going to do when your "big trip" or "gap year" ends?  What if you stop being "nomadic"?  Or what will happen to your site if you brand yourself as a twenty-something traveler and, oops, turn 30?
That last one happened to our good friend Stephanie at Twenty-Something Travel and she managed to adapt to the issue quite well before ultimately rebranding to a new site name altogether (which surely did not come cheap).
The problem here is not necessarily a game-ender if your situation changes, but is something important to keep in mind from the beginning. 
If you want to create a blog that lasts and ends up being a business (or even if you don't and it just sort of happens like it did for us), what are you going to do if your travel status changes from what your name implies? 
Or, even worse, what will you do if you end up writing about an incredibly focused niche, name your blog something that ties you to it, and then you get sick of writing about it?
Sometimes being too specific is just as bad as being vague. Luckily for you, after you get over these major hurdles, the sky is the limit in the name you go about taking.
Takeaway #2: Watch out for names that hold you to one specific niche, category, or distinction- especially regarding topics that are likely to change such as age or travel status.
A Focused Niche Sets You Apart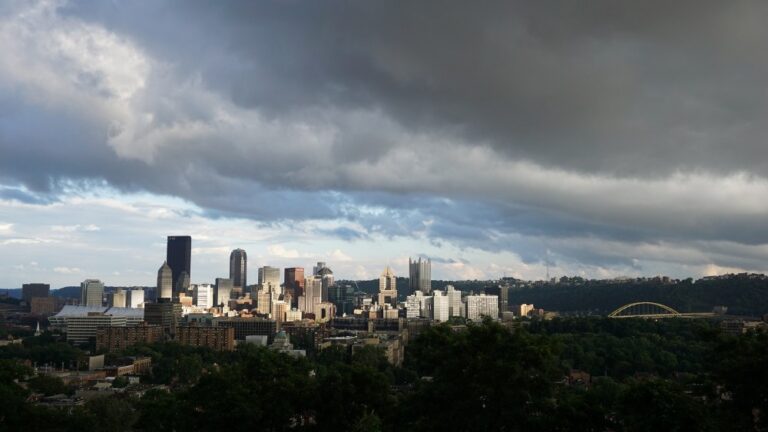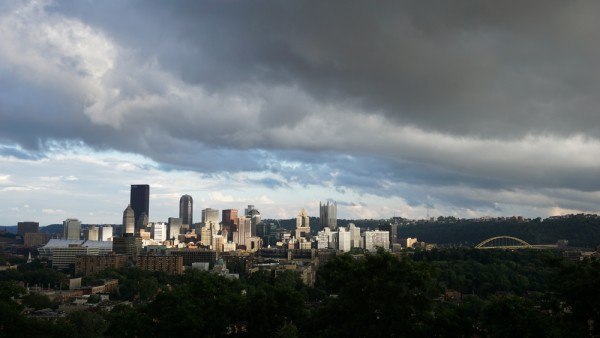 Up until this point in the article, we've focused on choosing the name of your blog – or rather, names not to choose. But there is another topic that we feel goes hand-in-hand with naming your blog (and is why we're combining the two topics into one article): choosing your niche.
Although there may be some exceptions, the days of a long-term traveler opening up a blog to cover their one-year trip and becoming successful are all but gone. 
Why is that? Well, there are so many of them now!
With hundreds, and in all honesty maybe even thousands of long-term travel blogs out there, what can you offer that is different? 
Are you going to go to South East Asia for six months and plan to spend as little money as possible?  It has been done, a lot. This is why you'll probably see the importance of choosing a niche come up time and time again in the blogging community.
A good niche website allows you to provide value in your blog to readers who actually care about the topic, while still giving you the flexibility to enjoy your trip as you see fit. 
The key in determining your niche is picking something you already planned on seeking out a lot of anyway during your travels- be it drinking alcohol, dancing, camping, driving a vehicle, partying, surfing, luxury travel, enjoying the beach, mountain climbing, exploring one specific city (like our Pittsburgh blog), or an array of other possibilities that only you can answer based off your interests and travel plans.
You may limit your traffic into a set category type like these, but those who visit you will be more excited about what you write about and have a higher likelihood of subscribing and returning for more.
Think that picking a good niche doesn't work?  Check out Year of the Durian, an incredible travel blog all about the authors' quest to eat durian all over the world.  If they can make that one work, you can figure something out- right? (cheat sheet: the answer is yes)
Takeaway #3: Having a niche gives your site direction, makes it stand out from the crowd, and provides clarity when choosing a name- but you have to be careful to ensure you'll always want to write about the topic, too!
Keyword Research for Blog Ideas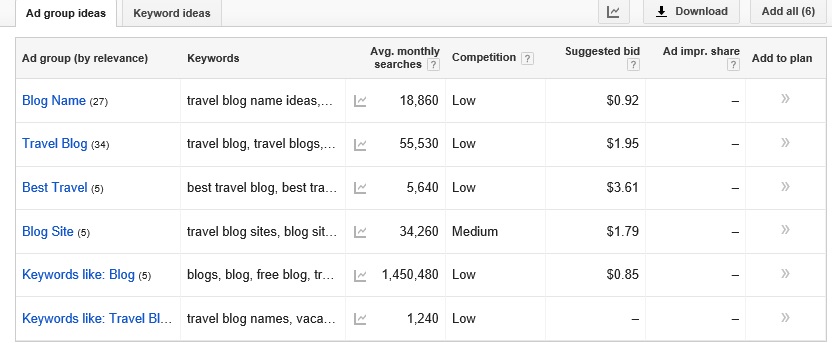 So say you have an idea for a blog niche, have a few names coming together, and maybe even a few article series ideas in the works; is there anything else you can do?  Prior to launching your travel blog and running with your ideas, it is worthwhile to spend some time doing some keyword research prior to committing just to ensure you may be on the right track.
After all, the greatest idea for a blog is worthless if no one is searching for the topic you're writing about.
The problem with this stems from the fact that keywords are important, and if you want your blog or posting series to receive search engine traffic, you probably want to consider what people are actually searching for as well as what your competition is doing.
If the keywords you choose for a posting series only receives 100 search views per month, you're not going to get much traffic no matter how amazing the idea is. 
If the keywords you choose to target are generic and receive 1,000,000 search views per month and have dozens of major players ranking for it, you're probably not going to rank anywhere near the first page any time soon, if ever, and will not see traffic come from it either.
The trick is to find keywords that have little competition, high search volume, and is something you could possibly rank for after you site has reached a sufficient size and popularity. (And yes, this is easier said than done.)
Luckily there are many sites out there you can use to figure out the search traffic a keyword receives.  Two starting places include:
As search engine optimization changes on an almost daily basis, it is hard for us to say what works best. But from our experience (and significant research), your best luck is by searching for longer phrases (3 words+) that receive traffic searches on the order of 1,000 to 100,000 per month- probably skewed to the lower end.
Once you find a good phrase for your idea, perform a search and see what your competition is like. Are the posts good? Are the competitors strong or weak? Do you think you can do better? 
If so, that may be a cue to run with it!
Now that you are prepared to pick a name, it is time to get started on your blogging journey! Search for available domains on Bluehost below, and after you select a domain be sure to grab server space as well to get started!
As with all blogging posts, if you're blogging for fun and doing it primarily to keep friends and family at home up-to-date, these topics probably do not matter very much.
But if you are considering opening a blog to be a business, these items are very important to consider. We recommend all bloggers follow these ideas, even personal bloggers, because you never know what will happen in the future.
Have an existing blog that is in need of an upgrade? Check out the following services we personally use!
About Jeremy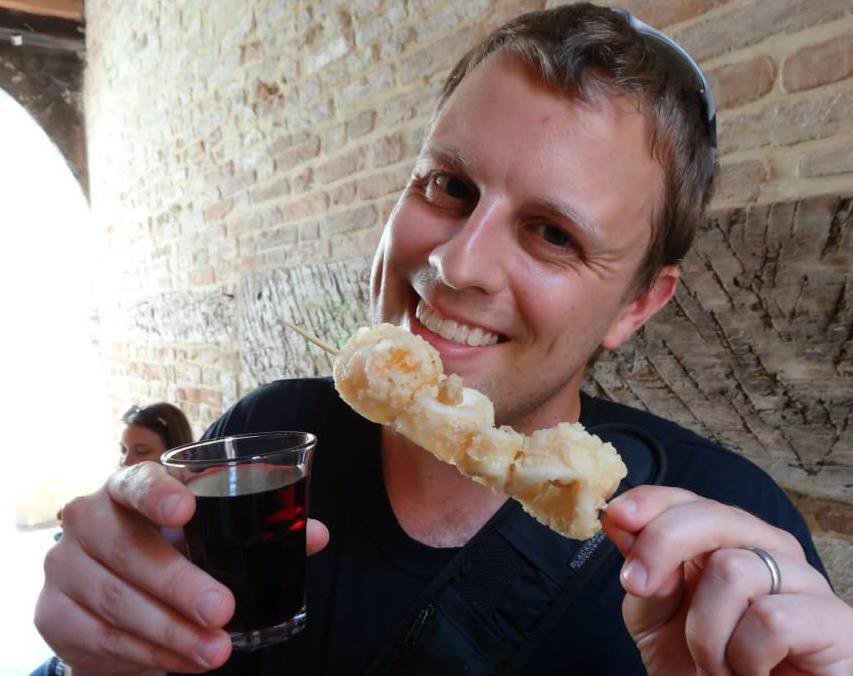 About the Author: Jeremy is a full-time travel writer based in Pittsburgh and primary author of this site. He has been to 70+ countries on five continents and seeks out new food, adventure activities, and off-the-beaten-path experiences wherever he travels.