Last Updated on September 19, 2023 by Jeremy
Disclaimers: Our site uses demographic data, email opt-ins, display advertising, and affiliate links. Please check out our Terms and Conditions for more information. Listed prices and attraction details may have changed since our visit and initial publication.
Learning how to become one of the best travel bloggers is often a lesson in what not to do, as the formula for blog marketing is not identical for bloggers (even in the same niche). In the past nine years since founding this site I can safely say that I know a lot on that topic. So much so that if there would be a master in the topic of what not to do, it would be me.
Through the trial-and-error process of launching several travel blogs over the years, with most of them ultimately failing, there is only one thing that has helped us start a blog from nothing to the next big thing.  It is simply this: social advertising.
You Can Hustle… or Just Pay For It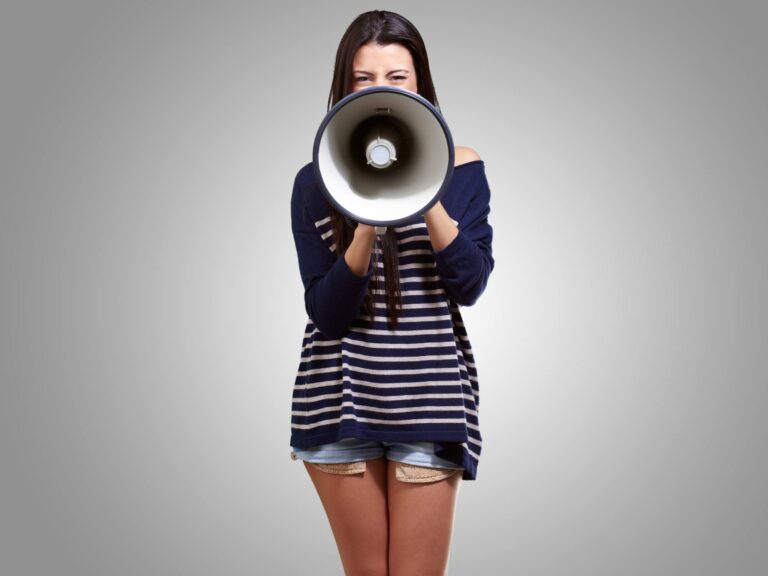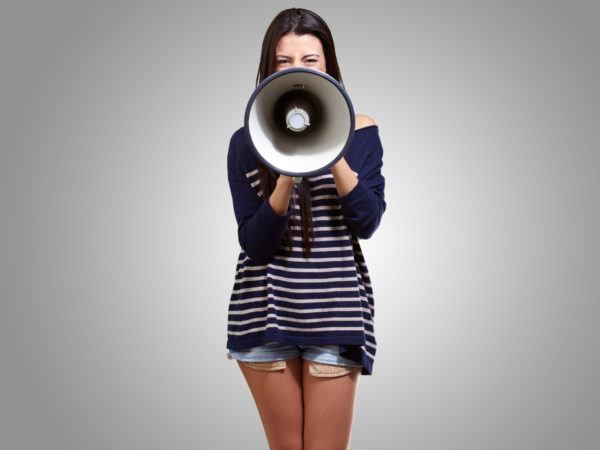 Okay, telling you to advertise is the cheap (or is it expensive?) way out.  If you truly want to make your blog a success, you must hustle in order to get readers to your pages.
For those who don't have time for that, and want to ignore many of our awesome guides in our Blog Your Trip series, you can just pay for it instead.  The end result is pretty much the same, and the only major exceptions are:
You're throwing money at the issue rather than your precious time.
If done right, advertising will help you reach your goals orders of magnitudes faster.
What happens if you don't do either of these options? Odds are good that your blog growth will stagnate and amount to nothing but wasting your time.  If you're running your site as a pet project, go for it, but if you want to have a professional site that is run as a business, you need to consider doing something more than the status quo to facilitate growth.
We would know.  Our Pittsburgh city blog, Discover the Burgh, is roughly the tenth blog we've launched in the last seven years and is only the second blog to take off.
The site you are reading at this moment, Living the Dream– our first blog, grew organically and without us having a clue about what we were doing and is certainly a lesson in us playing the long blogging game more than anything else.  Over nine years of work we grew the site to over 60,000 monthly site page views, will be hitting 2,000,000 total site views very soon, have over 50,000 followers on social media, and participate in an active community generating a total of 500,000 social impressions per month.
The eight or so projects we haven't talked about?  Well, that organic boom never happened, and nearly all of them have been shut down due to the sad performance.
But we'll let you in on a little secret. It took us nine years to get Living the Dream to the threshold we mentioned above.  
Discover the Burgh is projected to get there in less than one, and it is all because of advertising.
What You Learn from Advertising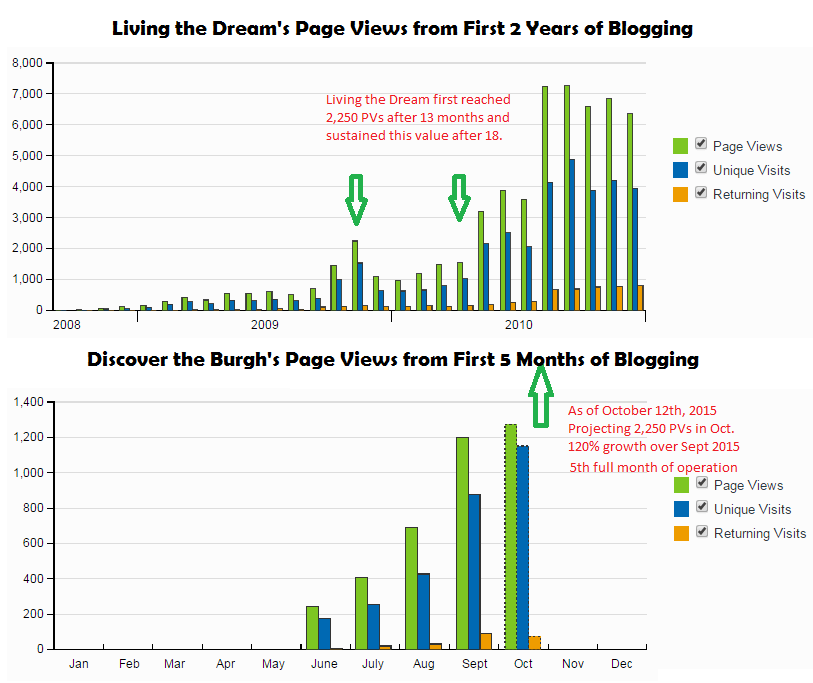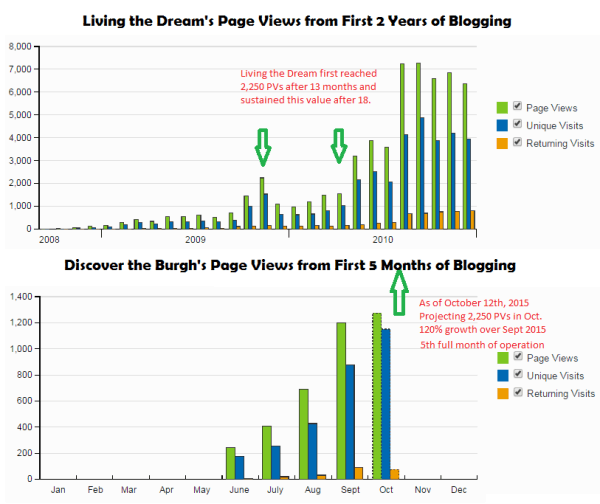 When you pay for advertising you quickly learn a lot about your audience who make up your blog traffic.  Their likes and dislikes, how to setup targeting to increase engagement and followers, and so much more.  Going further, by having a vested interested in the performance of your site, you tend to stay on top of things to optimize the results of your spending.  (Let me tell you about the other blogs we dropped the ball on there…)
But let's ignore that part for a moment.  You can actually learn quite a bit just from planning to advertise, and that is often one of the biggest hurdles to cross that most bloggers never do.
When researching keywords, for example, you begin to get a rapid understanding of what people are searching for.  Without paying for a dime, you get a great understanding of what to write about by what your community is looking for.
On Discover the Burgh we found some of these very interesting search terms by looking at Google's keyword planner.  A few notable ones were:
Pittsburgh Zoo – 40,000+ searches per month at $0.39 Cost-per-Click (CPC)
Pittsburgh Airport – 25,000+ searches per month at $2.21 CPC
Things to Do in Pittsburgh – 18,000+ searches per month at $1.38 CPC
Weather Pittsburgh, PA – 15,000+ searches per month at $0.19 CPC
While you may not see me paying $2 CPC to rank for the search term "Pittsburgh airport," I can guarantee you that I'm going to write several articles on the topic over the coming months and years. If I want to advertise my site on Adwords, the term "Pittsburgh Zoo" is a great one to start with and was one of the very first articles we published on our site.
Even though I hate zoos, I'd love to capture some of that 40,000 monthly search traffic through a good placement.
In a broader sense, the fifteen or so major keywords I search for had a combined 200,000 monthly search impressions with an average CPC of around $1.00. When comparing that to Living the Dream, which receives roughly 300,000 monthly impressions across hundreds of keywords (non-optimized nor monitoring rank), we receive over 15,000 page views per month without paying a dime (that's a 5% CTR if you aren't doing the math).
It didn't take us long after doing this research to jump on the idea for our Pittsburgh website, and this is information you can get absolutely free of charge before committing to launching a site in the first place.
So How Much Do You Need for Blog Marketing via Advertising?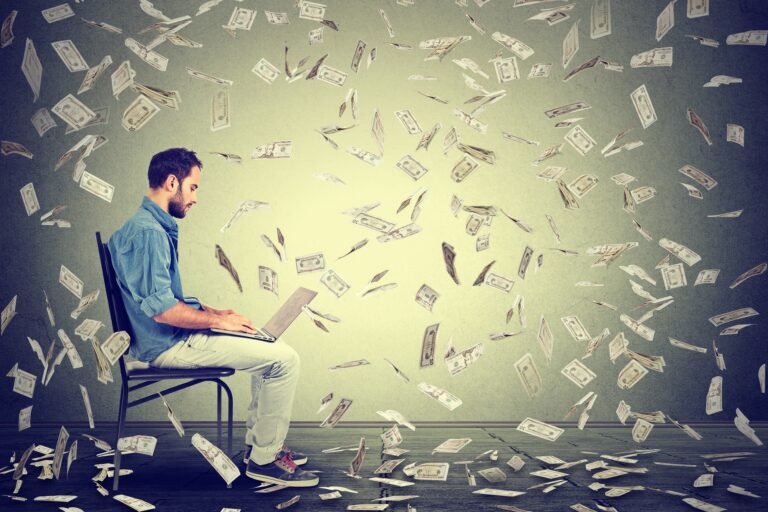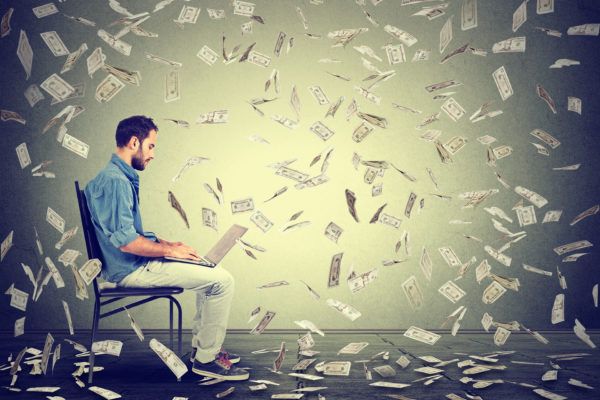 Your budget really depends on your bank roll and confidence in your abilities. For us, when launching Discover the Burgh, we averaged around $2 per day in multiple outlets just to test the waters. 
This dollar amount obviously doesn't cover much on Google Adwords thanks to $0.50 to $2 CPC (to be honest I wouldn't advertise there unless I was recouping the cost in subsequent product sales), but the spending does give a good start to building up a community on social media that you can later send to your website when it is ready.
(Side note– check with your website host as they often have introductory specials for Adwords for $50-$100 in free credit.  Consider this wasted money as you play around figuring out what works, but I'd never turn down free credit pending any restrictions or spending requirements.)


So far our biggest success with advertising has been on Facebook, and after a month of initial optimizations we are now spending roughly $200 per month and increasing our fan base by about 2,000 local residents every month.   
Why do we care about this figure so much?  Well, after a few months of work and 5,000 fans generated, we are now able to send our site 200+ page views on select article shares through organic traffic alone. Google doesn't give that to young sites, and but our work on Facebook gives it to us whenever we want with our best articles.
Unfortunately, the secret to a good advertising campaign does not fit any golden rule and only works best when you truly know your audience. You can easily go out and generate tons of followers from countries like Cambodia and the Philippines with Facebook marketing for under a penny each, but odds are good that your website does not need to attract followings from those countries and your advertising will be wasted spending just for appearances sake.  Only when you know your audience (who they are, where they're from, and what they like to see) can you really hone in on the ads, targets, and networks that would perform best.
As Facebook has a huge active community in Pittsburgh and lets us target our ads to within 25 miles of the city center, we were able to optimize our ads to convert at just 4-6 cents per new follower.  This isn't advertising to someone in Cambodia who doesn't care.  This isn't $0.50+ CPC advertising on Google.  This is advertising what we want, when we want, to real people in our target market in the USA with good content they are looking for.


If you can put together a site with a precise audience in mind, and give them content that fills the need they are actively looking for, advertising is a great way to by-pass the slow organic growth sites like Living the Dream took years to build up.
When it comes down to it, if you know your desired audience in that much detail, that $200 per month will be the best money you spend for your website in the long run.
We guarantee it.
Have you advertised your travel blog and found success? What helped you break out and find your audience? Comment below to join the conversation!
Have an existing blog that is in need of an upgrade? Check out the following services we personally use!
About Jeremy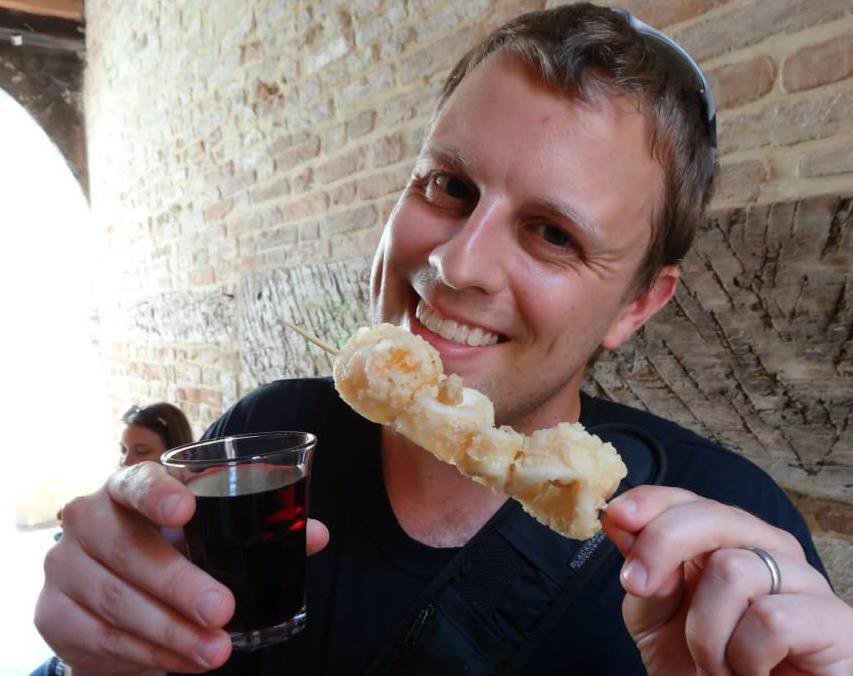 About the Author: Jeremy is a full-time travel writer based in Pittsburgh and primary author of this site. He has been to 70+ countries on five continents and seeks out new food, adventure activities, and off-the-beaten-path experiences wherever he travels.