Published by Jeremy. Last Updated on July 21, 2022.
Disclaimers: Our site uses demographic data, email opt-ins, display advertising, and affiliate links. Please check out our Terms and Conditions for more information. Listed prices and attraction details may have changed since our visit and initial publication.
Whenever we travel, we always make it our mission to hit as many breweries as we can at our destination. Hilton Head, South Carolina, was no different. During our weekend stay, we hit up five Hilton Head breweries and wanted to share a bit about what they're like in this one!
But before we dive into things, we need to step back and toss in a caveat- the island of Hilton Head only has two breweries (and, during our visit, only one was operating as a proper "taproom"- the other only offered cans).
The bulk of the breweries are, in fact, located in and around Bluffton and Ridgeland, SC, and can be reached in roughly 30 minutes depending on which part of the island you are staying on (they make for a great rainy day activity if you need to kill some time).
While we hope that more breweries will open on the island proper in the future, for now, we simply have to note that if you wish to visit most of the ones featured below, you'll have to do so via car as opposed to accessing via the vast bike trail system on the island (so please drive responsibly).
Onward to the breweries!
Hilton Head Brewing Company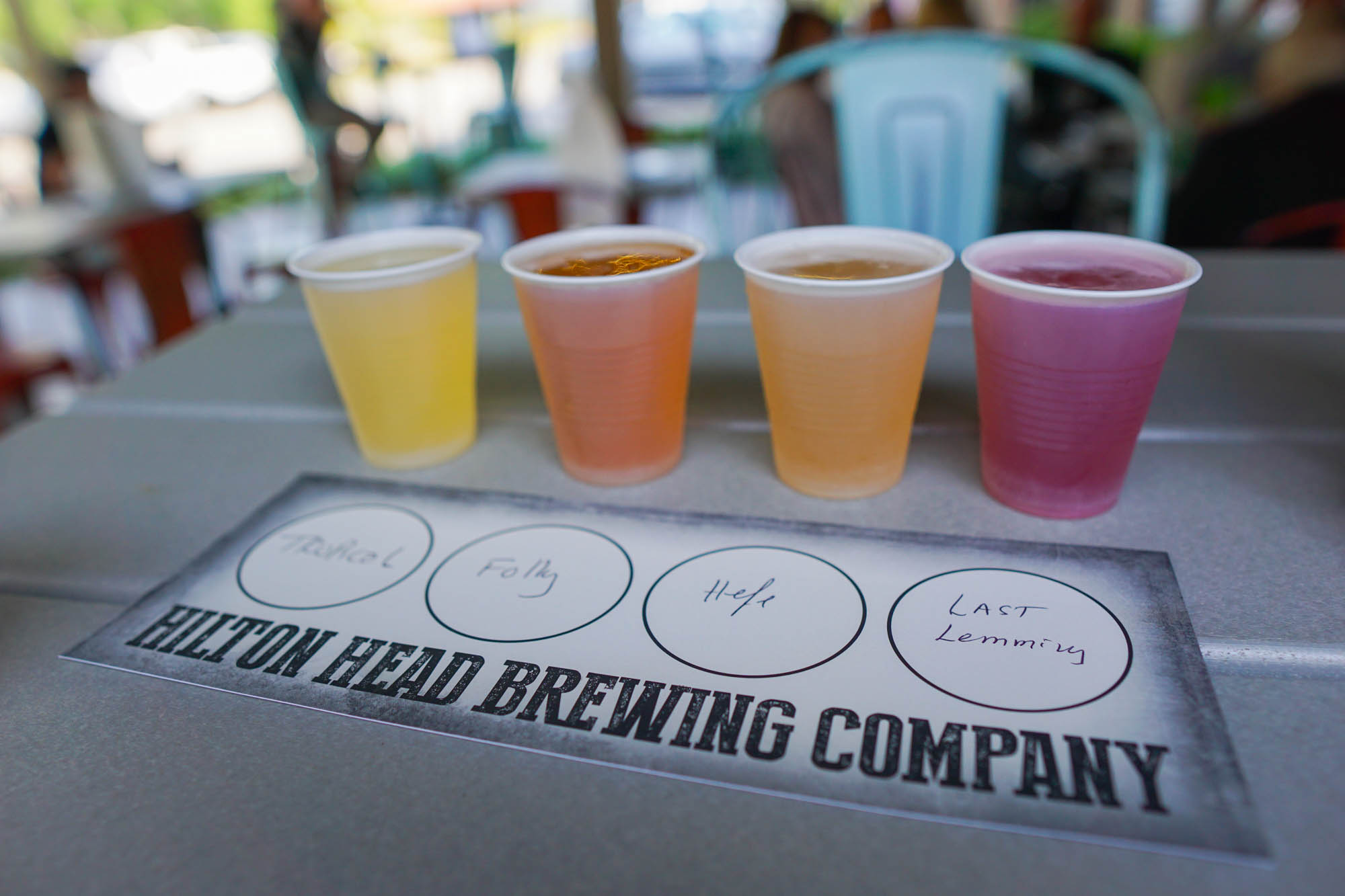 Hilton Head Brewing Company is the only brewery we visited on Hilton Head proper and is located on the northeast corner just off William Hilton Parkway.
This small space is located in what feels to be an office park complex (which is a recurring theme you'll note for several breweries featured in this guide). What this one lacks in size, it makes up for in its draft list as they had an impressive sixteen beers on tap with a mix of six mainstays and ten rotating features and one-offs.
During our visit we were able to try five brews- the Tropical Lager (staple), Folly 2X DIPA (staple), Hefe (staple), Last Lemming, and XTRA 2x Secret Probation.
The Folly 2X DIPA and Hefeweizen were both true-to-style iterations of the respective brews. The double IPA was juicy, hazy, and had a hefty body while the Hefeweizen had nice notes of banana and bubblegum as well as a strong clove presence (something we appreciated as many Hefeweizens lack the banana notes we adore from the style).
The Tropical Lager was lower ABV with tropical notes on the finish which helped brighten up the flavor profile whereas the Last Lemming was an exceptionally tart Berliner Weisse which was infused with blackberry but whose flavor notes were somewhat muted. For those who like a punch, the XTRA 2x Secret Probation was a German Dopplestickle ale aged in oak that was smokey, malty, and packing the booze. It had some astringency but was also balanced with sweetness as well that reminded us a lot of a stronger Rauchbier.
From there, the brewery had a wide array of beer styles including NEIPAs, lagers, flavored gose, and more. As such, it is the kind of place that truly has something for everyone!
Hilton Head Brewing Company is located at 1 Cardinal Rd #13 in Hilton Head, SC.
Salt Marsh Brewing Company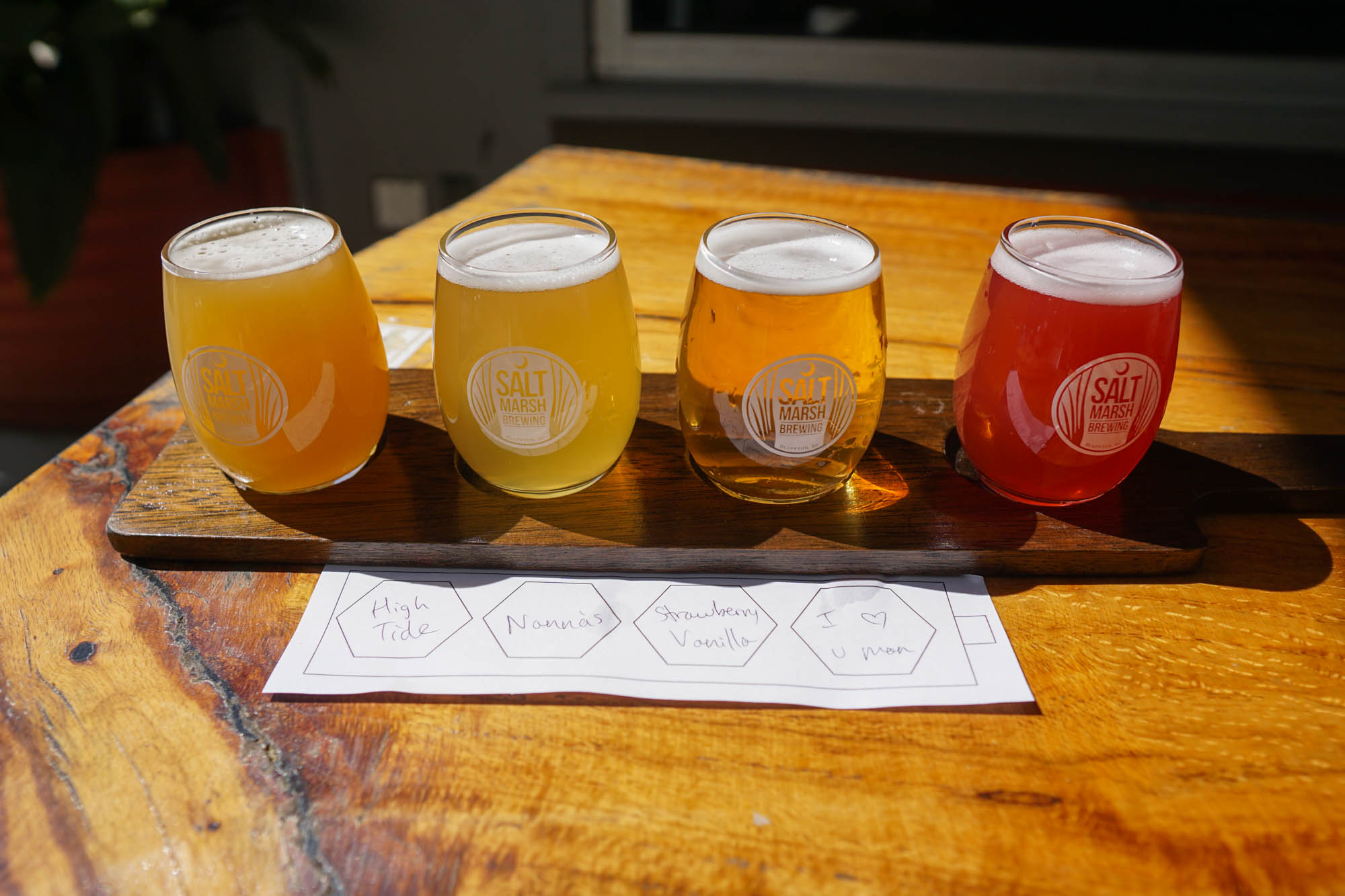 Finding Salt Marsh Brewing Company took me a second when driving through Bluffton's Old Town, and the reason for this is that the taproom is located inside Fat Patties restaurant with some rather ambiguous signage. Once you get in, however, roughly a dozen beers will be available to you!
The draft list here during my visit was mostly fairly conventional styles including lagers, pale ales, Belgians, Hefeweizen, as well as a few fruited sours including one with blackberry and another with strawberry vanilla.
I have to admit I thought the Hefeweizen and Hazy IPA were a bit lighter in body than I normally appreciate, and that the strawberry banana sour was lacking in both flavors on my palate (quite unfortunate). But the blackberry sour known as I Love You Man made up for all of that as it tasted like drinking pureed and spiked blackberry juice in just about every respect. I'll take that one any day!
Salt Marsh Brewing Company is located at 203 Bluffton Road in Bluffton, SC. It is also located just a few blocks down the road from Burnt Church Distillery.
Lot 9 Brewing Company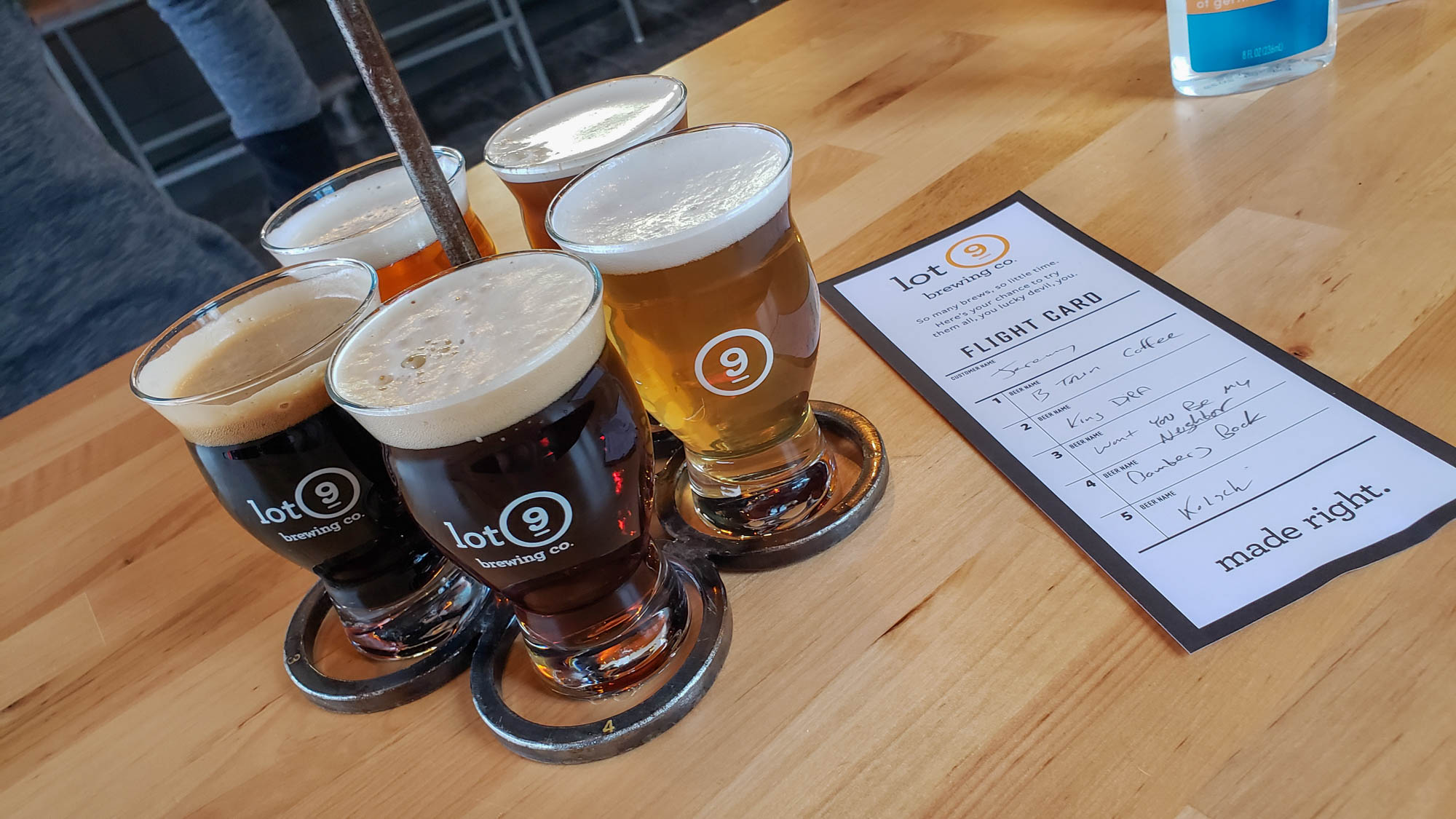 Lot 9 Brewing Company is another brewery set inside what feels like an office complex in Bluffton, SC.
When we looked at the website for this one, we quickly noticed two things. First, every server is a certified cicerone. Second, at the time of our visit Lot 9 was listed as the smallest brewery in South Carolina (I expect this one will change eventually). These come together for small-batch brews, insanely knowledgeable staff, and a great experience all around (we even got to talk to one of the owners at the bar on our weekend visit!).
During our visit, Lot 9 had roughly ten beers on tap including some more conventional styles like Kolsch, IPA, Pilsner, and more as well as some lesser-seen styles like a Rauchbier, Nitro Coffee Brown, Oyster Stout (collab with a seafood restaurant next door), and a monster 15.4% whiskey barrel stout to name a few.
The biggest thing that jumped out to us about these brews was how clean they were. The flavors listed on the menu were spot on in every respect, and not a single brew we tried had any discernable off-tastes that you could otherwise expect- an impressive feat. The barrel-aged whiskey stout was perhaps the most impressive thanks to its crazy high ABV (thanks to being made in 5-gallon barrels from Burnt Church Distillery a few miles away). The rye characteristics of that one came through hard and if you like BA brews you'll do well to see if they have a release of any when you are visiting!
Lot 9 Brewing Co is located at 258 Red Cedar Street #14 in Bluffton, SC.
Southern Barrel Brewing Company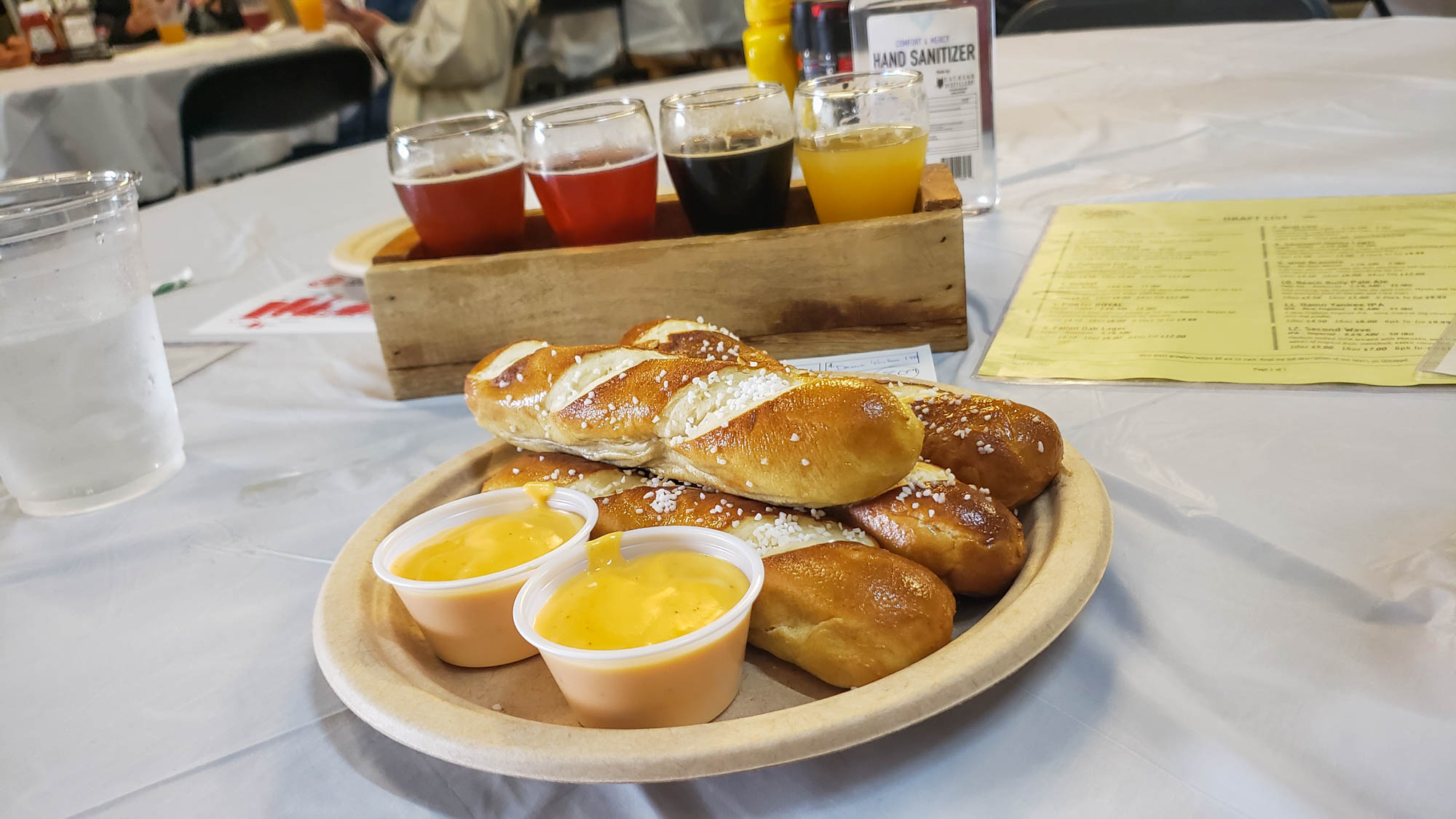 Southern Barrel Brewing is Bluffton's first brewery, and when you get a chance to appreciate its sheer size you'll understand its history first hand- this one is huge and is as much as a full-service restaurant as it is a brewery!
During our visit here the draft list was stacked primarily in three particular styles- pale ales, fruited sours, and lagers and pilsners. Great for those who want to taste their way around any particular style (as there were anywhere from 3-5 of each) but not as great for those who want a bit more variety.
Thankfully, fruited sours and IPAs in particular are amongst our favorite so we got to enjoy a rather delicious flight paired up with an order of the house Bavarian pretzel sticks. How can you say no to that combo?
Southern Barrel Brewing Company is located at 375 Buckwalker Place Blvd in Bluffton, SC.
River Dog Brewing Company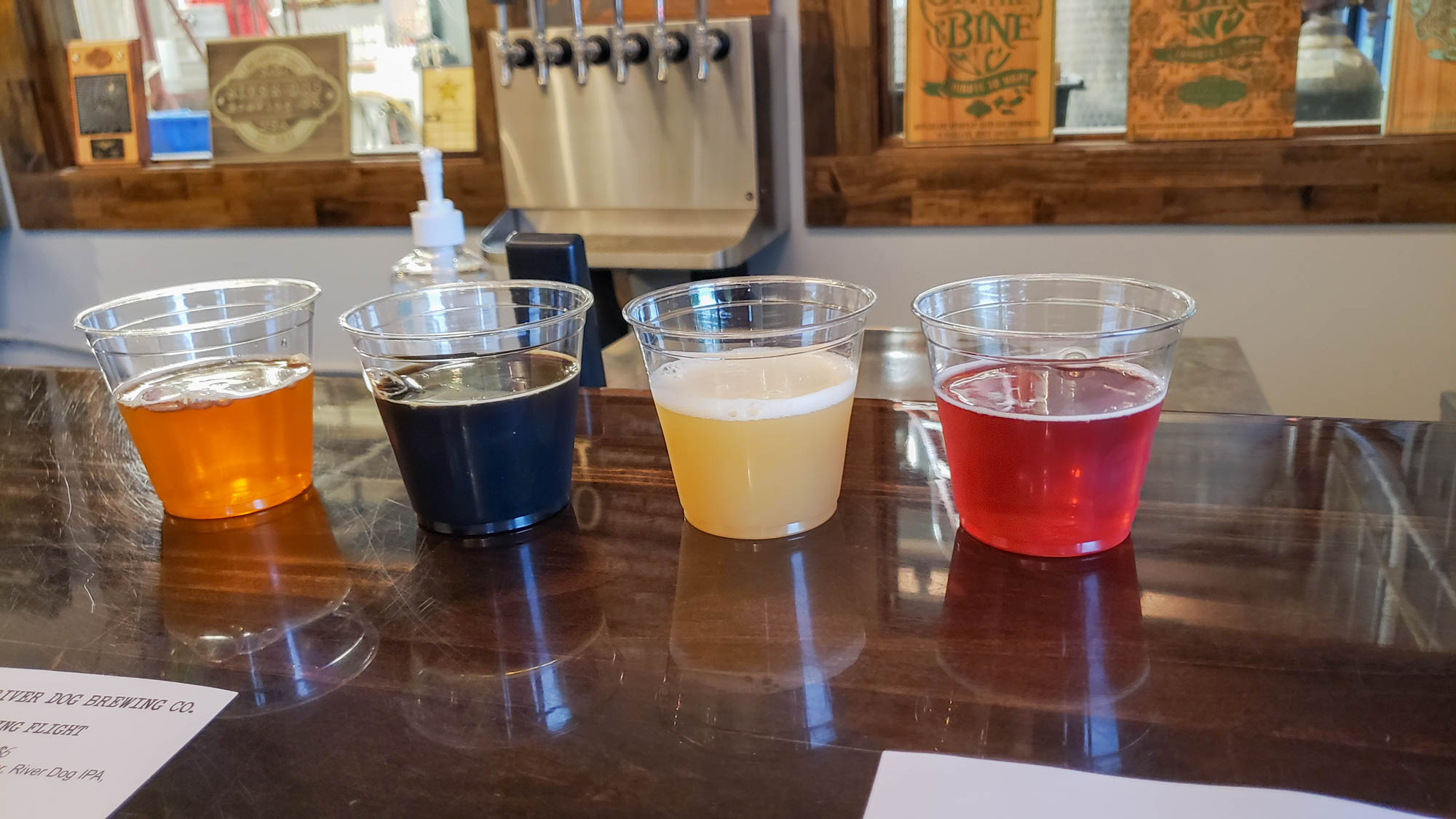 Out of all of the breweries featured in this guide, River Dog Brewing Company is perhaps the furthest from Hilton Head (just under 30 minutes away in Ridgeland).
But those who make the drive here will be rewarded with a stellar draft list which during our visit included Lowcountry Ambrosia (a wheat ale with orange blossom honey), Peanut Butter Perkolatte (peanut butter added to their coffee milk stout), Untarted Territory (raspberry and cherry mixed into a BA Sour), and a number of IPAs to name a few (which for us was specifically on the weekly Fresh Beer Friday series).
Having a spectrum of styles available here on 12 drafts is one thing, but it was really the clean, intense flavors of the beers that won us over on this one. Imagine what you think any of the flavor profiles of the above beers should taste like, and odds are good they line up perfectly with a robust body to match. As such, even though this brewery is located about a half-hour away from Hilton Head, you'll do well to make the drive if their draft list is speaking to you- it was a favorite on our rainy day brewery crawl.
River Dog Brewing Company is located at 591 Browns Cove Road N. Suite H in Ridgeland, SC.
Looking for more Hilton Head Breweries to check out? Side Hustle Beer Company is another island-based brewery that we, sadly, did not get a chance to stop at. During our visit, they were only selling cans to go as opposed to offering pours on site. Likewise, gastropub World of Beer may be a chain but also offers many South Carolina breweries on draft and in cans as well.
Want more things to do in Hilton Head? We've got you covered at our guide at the previous link!
Need an apartment rental during your stay in Hilton Head? Find a great place here!
About Jeremy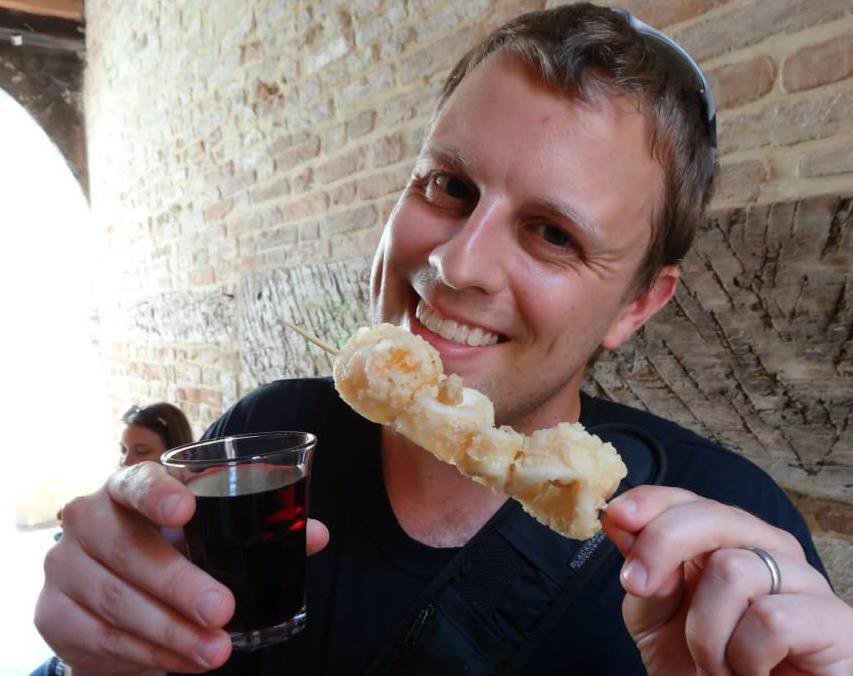 About the Author: Jeremy is a full-time travel writer based in Pittsburgh and primary author of this site. He has been to 70+ countries on five continents and seeks out new food, adventure activities, and off-the-beaten-path experiences wherever he travels.