Last Updated on February 7, 2021 by Jeremy
Disclaimers: Our site uses demographic data, email opt-ins, display advertising, and affiliate links. Please check out our Terms and Conditions for more information. Listed prices and attraction details may have changed since our visit and initial publication.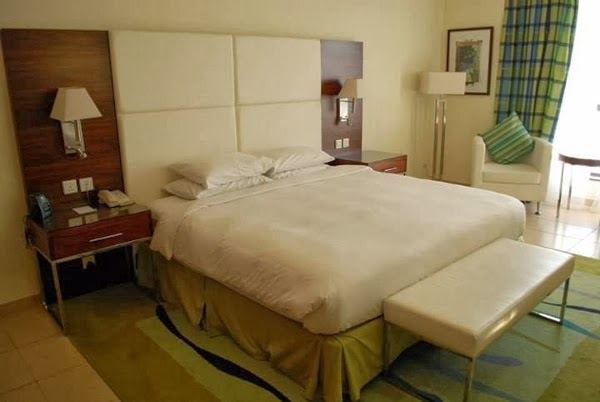 In our first Hilton points redemption on our 1.5 year long trip, we used two weekend certificates and 40,000 points for a three-night stay at the Hilton Imperial Dubrovnik worth about $1,750.
For our second rewards stay, we wanted to go big, and one destination was on our minds: Dubai.
In a city where you can spend as much as your credit allows, we knew that Hilton had some pretty amazing properties we could choose from.  The two leaders were the Hilton Jumeirah Resort, a 9-floor property near the famous Jumeirah Palms island with its own private beach, and the Hilton Jumeirah Residences, a 44-floor apartment style property located right behind the resort with access to the same amenities (and our preferred choice).
But for this particular redemption, booking into the property we wanted gave us an important lesson in how to redeem our points in the future.
A Lesson in Points Patience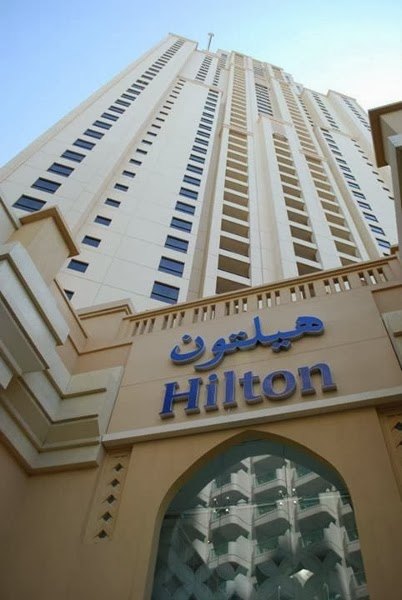 As you may have figured out by now, by the time we wanted to book our stay the base level rooms at the Hilton Jumeirah Residences were all reserved.
Since there was construction going on nearby for yet another mall in the city, many Tripadvisor reviewers were reporting louder noise and obstructed views on the lower floors at the Resort property.  Dejected, we booked it anyway and hoped for an upgrade to a higher floor to get away from it all.
But as luck would have it, a few days later (and about a week before our arrival), base rooms in the Residence opened up, most likely due to high status reservations getting upgraded to better suites.  We called, had our reward booking switched without issue, and were genuinely relieved by making the change.
Since the exchange policy on our weekend certificates allowed us to make a change to our reservation at almost any time until check-in, we were rewarded by keeping an eye on the hotel's availability even after we booked.   Most popular hotel chains tend to book up the base rooms (~$300+/night at the Residences) more than the expensive suites ($500+/night), so they will often upgrade status members in the days leading up to check-in to make more of the cheaper rooms available for purchase.
If you're looking to make a last minute reservation with points, that is your ideal time to book into a previously reserved room.  If you can make make a reservation at a second choice property and get a refund without issue like we did, all the better!
We thought the hiccups were behind us after making this change, but we had a few more to endure along the way to our room.
So Tired, Tired of Waiting, Tired of Waiting for The Room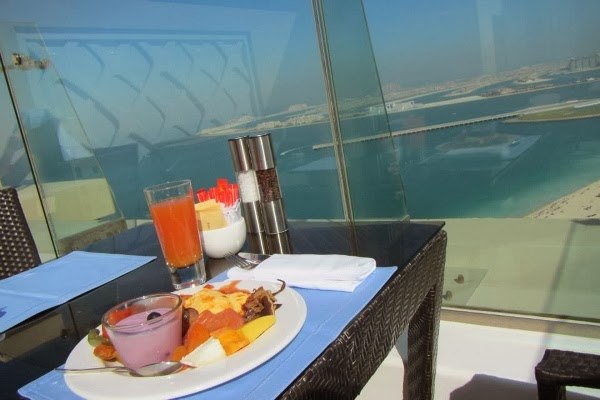 Upon arrival at the property we were surprised with an upgrade to a three-bedroom suite on the 30th floor worth about $700/night.  Sweet!  Unfortunately we could not get in before official check-in, which was set at a rather late time of 3pm, so we started our day by exploring the property and heading to one of the nearby malls to pass the time.
As 3pm rolled around, we returned to the Hilton to be told that our room was not ready yet and it would be a few more minutes.  My guess is they knew we were upset by this, saw our status on the account (thanks to our credit card rewards), and within a few moments the Executive Floor manager personally invited us up to the lounge for some snacks while we waited.  As she said they'd send up our keys, we were relieved and ready to go for this apparent side perk.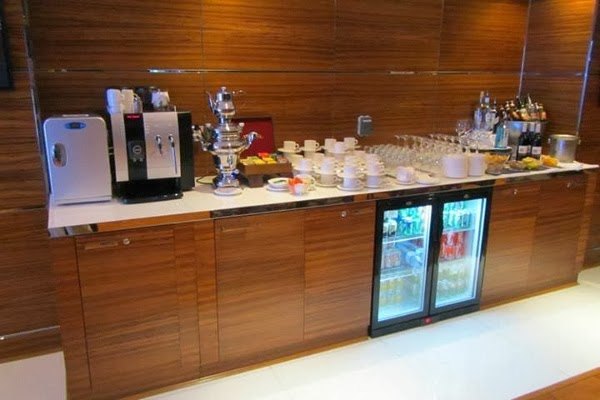 An hour later (4pm) and we still had no word from the front desk about our room. After inquiring, we were informed by an employee at the lounge that it would be yet another hour (5pm) until we could get into our room.  Annoyed at the fact that we were wasting our time waiting, we went to the beach without any of our beach clothes since they were in the Hilton's storage room waiting for us to get into our room.
Although we were pretty upset by this at the time, as the late check-in policy seemed rather absurd to begin with, our feelings began to change once we finally got into our room just in time for sunset.
The Highlight of the Stay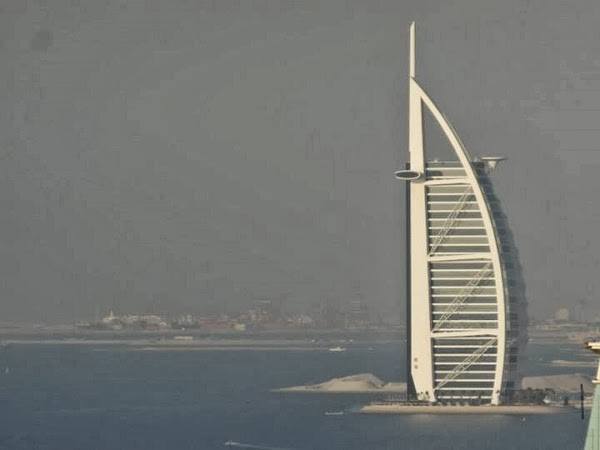 What can you say about a free 3-bedroom suite that is normally $700/night, has a corner room with views of the Jumeirah Palm Island, Burj al Arab, and the sunset over the beach?
You don't want to leave.
Since our time in the room was already limited by the late check-in, we had a hard time pulling ourselves away from the corner bedroom with the stunning view even though the rest of the suite was just as amazing.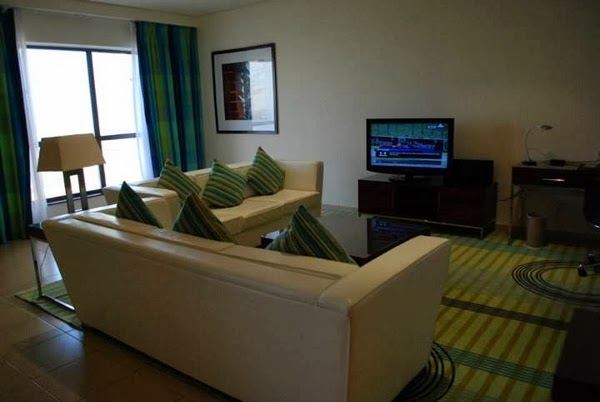 The suite was incredibly spacious, the rooms beautiful, and the corner bedroom had a view that was even better than the Executive Lounge that was located just 5 floors above us.  While that lounge had access to Marina views, the best views of the islands and sunsets are on the opposite side of the building, where a conveniently placed pay bar is located on the same floor as the lounge.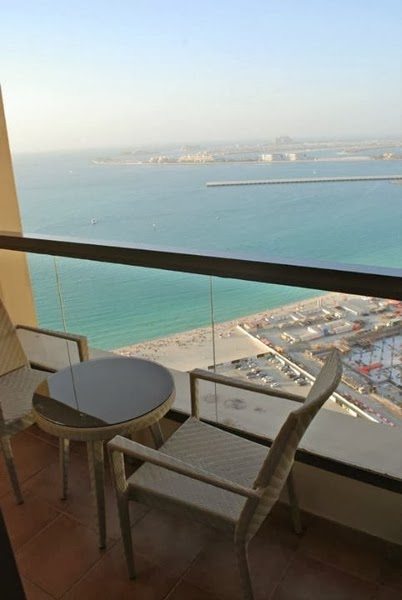 While we did pull ourselves out of the room from time to time, a good percentage of that was still on-site at the lounge for breakfast, back again for free drinks during happy hour, and at the private beach right across the street during the hottest part of the day.
But as soon as our need for those extra amenities had ended, we were back in our room taking in one of the most stunning views we've had yet on this trip.
Points well redeemed.
We still have over 100,000 Hilton points left, so we'll have at least one to two more luxurious properties to visit in the next year! , or to read about our first airline redemption in business class, click the links included here.
Considering staying at the Hilton Dubai Jumeirah? Reserve your room at Hilton Dubai Jumeriah today!
About Jeremy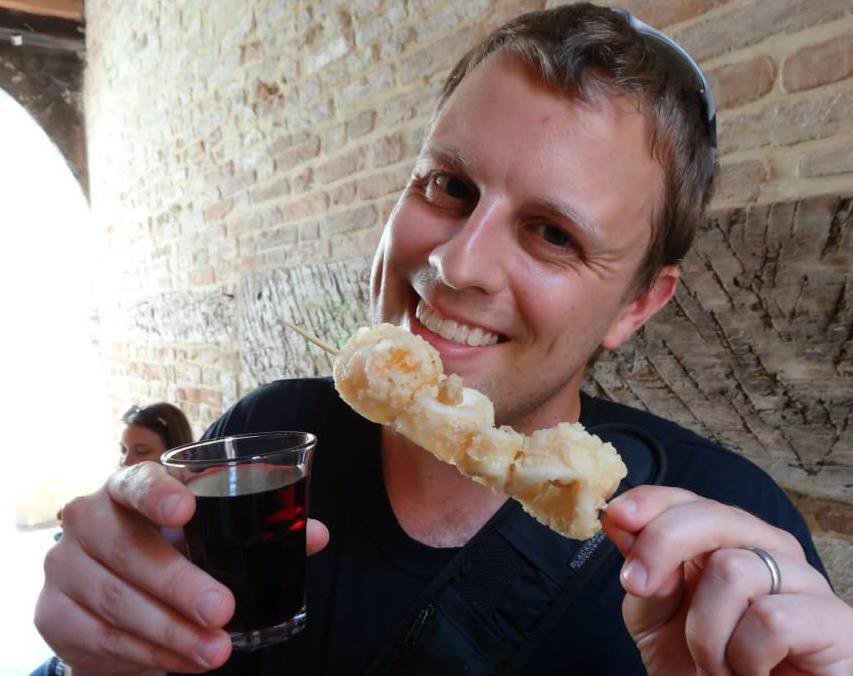 About the Author: Jeremy is a full-time travel writer based in Pittsburgh and primary author of this site. He has been to 70+ countries on five continents and seeks out new food, adventure activities, and off-the-beaten-path experiences wherever he travels.