Published by Jeremy. Last Updated on February 7, 2021.
Disclaimers: Our site uses demographic data, email opt-ins, display advertising, and affiliate links. Please check out our Terms and Conditions for more information. Listed prices and attraction details may have changed since our visit and initial publication.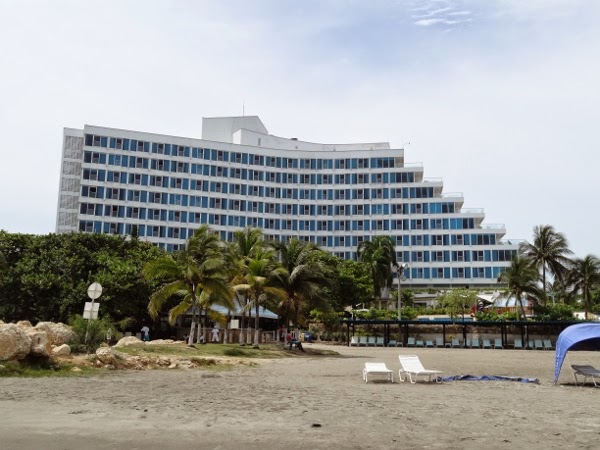 In our fourth and final Hilton credit card points redemption for this trip, we decided to splurge in our final city in South America.
Although some of our redemption choices in the past were for more stylish hotels, the Hilton Cartagena in Colombia was calling to us in order to recover after our six month journey around the continent.  With 120,000 points and two weekend certificates remaining in our accounts, we were able to exchange these for five-nights in an Executive room (after our gold status upgrade) worth $279/night.
As in the case of our previous stays, we have to ask one question: was the property worth our points?
One of Our Favorite Hilton Properties So Far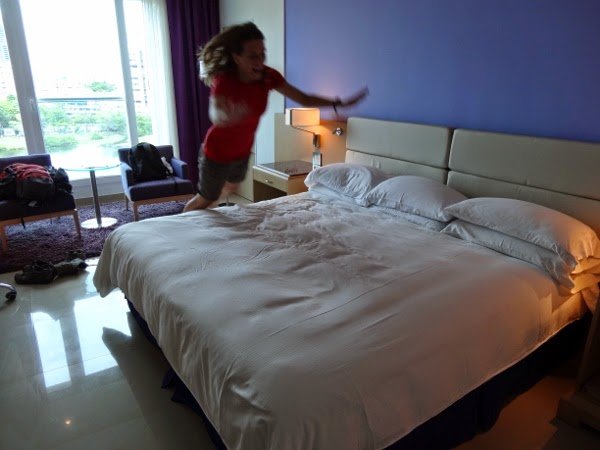 As the Hilton Cartagena was the fourth Hilton we've visited on our long-term trip, we have a few other properties we can compare it to.  Although it does not match the perfection that was the Hilton Imperial Dubrovnik, the hotel significantly exceeded our expectations after our stays at the Hilton Mauritius and Hilton Dubai Jumeriah Residences.
What was different here?  Well, the hotel was run as a hotel should be!
Our room was in great condition, wifi reached us without issue, service in the lounge for evening drinks and breakfasts was flawless, and, most importantly, we didn't have to wait several hours to get into our room like we did in Mauritius and Dubai.
It is funny how those simple things can turn a stay from a great experience to an overall nightmare if done improperly.  Amplify that a few times over when the room costs several hundred dollars per night, as is the case of Hilton properties, and you can see why it bothers us so much.
But in the case of this property, we did not witness any of the management issues we had in the previous two Hilton properties we stayed at and overall had a pleasant time.  From our comfortably large room, the much needed in-room air conditioning, to the amazing pool (with water slide), the hotel provided us a luxurious end to our 175-day exploration of the continent.
Far From Town, But Well Worth It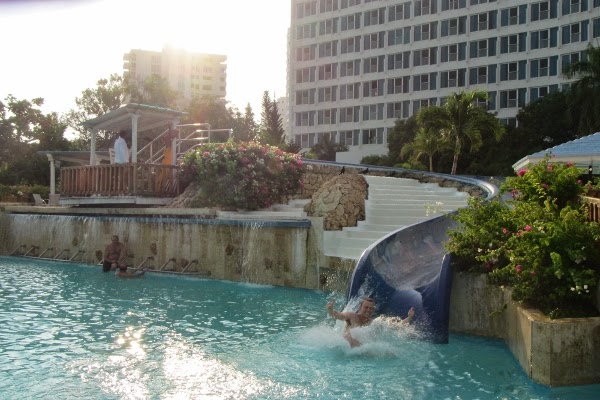 For those who aren't familiar with Cartagena, it is worth noting that the Hilton is not close to the Old Town. As the buildings within the city center are old, historical, and somewhat small, many popular hotel chains have moved the Bocagrande / El Laguito neighborhoods on the peninsula where they are free to build whatever they please (did we mention how wonderful the pool is since Cartagena is so hot?).
Luckily, travelers who want to go into the city center to explore have a very easy time. The two options are to either take a cab for around $6, or do what we did and hop on one of the public buses that pass by every 2-5 minutes for around $1 per person.  Just tell the driver you're going to "el centro" or "las murallas" (referring to the fortifications that surround Old Town) and they'll drop you off without issue about 10 minutes later.
For the return trip you just need to cross the main road where you were dropped off and hop on one of the green buses like the one you started on.  If you wish to confirm, just ask for Bocagrande to see if you're on the right bus.  Be warned; however, that the red buses heading to Bocagrande do not go all the way to the Hilton property (unless they are airport buses), and instead drop you off about 7-10 minutes away by foot.
It Is Tempting Not to Leave!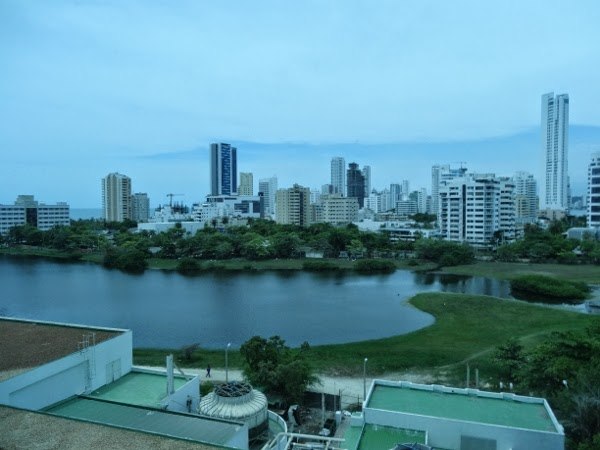 As this resort has many amenities to keep you inside the property, you may be tempted not to leave (and after our experience having to get an emergency Yellow Fever vaccination before going to Costa Rica, we kind of wish we didn't).  While we say that in a joking sense, we actually did hear a number of conversations from American business travelers who were, well, somewhat afraid of going into Old Town in the first place!  For us, these conversations were the most unsettling part about our stay as Colombia has become an incredibly safe destination for travelers in recent years- especially so in Cartagena.
If you head to this resort without venturing into town, you'll be doing yourself a great disservice.  Likewise, if you spend most of your time in the hotel, you may also become annoyed with one very odd issue we noted during our stay.
One Downside – A Very Overeager Staff
Although we absolutely enjoyed our stay at the Hilton Cartagena, we did have one very odd complaint: we've never been at a hotel where we've been waited on hand and foot like we were at this Hilton property.
Unfortunately, this service was not provided in a good way.
The main problem we ran into was that there always seemed to be someone knocking on our door throughout the day.  Starting from early morning (~9am) to late evening, we'd have to field knocks from the house keepers, someone asking if we had any laundry, another asking if we needed items for the minibar, and room service staff bringing a daily "welcome" fruit plate.
We got so fed up with people knocking on the door and trying to let themselves in that we had to put up our do not disturb sign just to get some peace for a few days.  Even with that, we still got a call from room service asking if it was okay to bring up a fruit tray!  This would have been partially understandable if we were staying in our room for the whole day, but most days we were gone from 10am to 3pm and from 7pm to 10pm (a pretty normal schedule in this part of the world if we say so).
On top of all that, somehow we managed to come back to find someone working in our room just about every single day (many times both housekeeping and maintenance for some odd reason), with the door wide open for anyone to enter as we did several times.  Either our timing was awful, or they were very lucky in being there to greet us when we returned to our room.
While this wasn't enough to detract from our overall experience, it did happen far too much for us to let it go without comment.
Overall, getting past the odd issues with staff always being in our room and the continual interruptions from those just doing their jobs, the Hilton Cartagena was a hotel we absolutely needed to be in.  Traveling around South America for 6-months solid made us quite weary, and the luxurious rooms, amenities of the executive lounge, and wonderful pools made it a great place for our recovery.
Hilton Cartagena, you will be missed.
Considering staying at the Hilton Cartagena? Reserve your room at The Hilton Cartagena today!
Looking for more Hilton hotel reviews? Click the previous link to check out our database of everyone we've stayed in so far!
Looking for more things to do in Colombia? Why not head down to Salento for the freshest Colombian coffee you'll ever have and also check out the world's tallest palm trees while you're there!
About Jeremy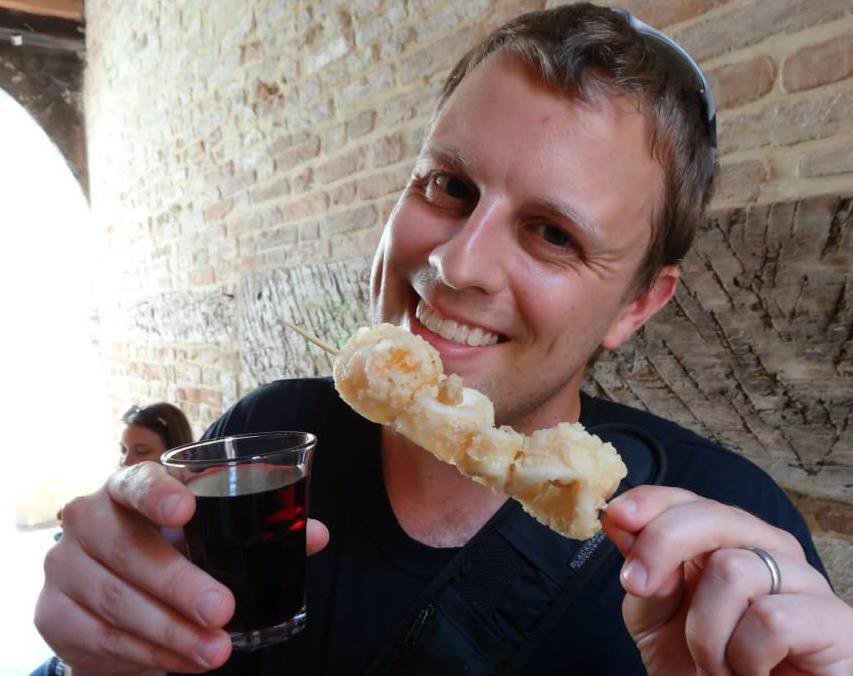 About the Author: Jeremy is a full-time travel writer based in Pittsburgh and primary author of this site. He has been to 70+ countries on five continents and seeks out new food, adventure activities, and off-the-beaten-path experiences wherever he travels.