Published by Jeremy. Last Updated on July 21, 2022.
Disclaimers: Our site uses demographic data, email opt-ins, display advertising, and affiliate links. Please check out our Terms and Conditions for more information. Listed prices and attraction details may have changed since our visit and initial publication.
We firmly believe you can get to know a city best through its food, and that is especially true of Mexico City- the country's capital and one of the largest cities in the world.
As visiting Mexico City can be, in a word, daunting (even for the most experienced traveler), we decided to take a food tour of the Centro Historico with Culinary Backstreets on our very first day in the city (check it out here). Part of this was to get a feel for the bustling historic center and, more importantly, to start our trip off right with an absurd amount of food.
It was the best decision we made in Mexico.
So in this one, we thought we'd share more about what this food tour was like. To start, we need to set the stage for one rule you need to know upfront: go hungry. You won't be wanting to eat the rest of the day after this one.
Culinary Backstreets Offers a Stellar Mexico City Food Tour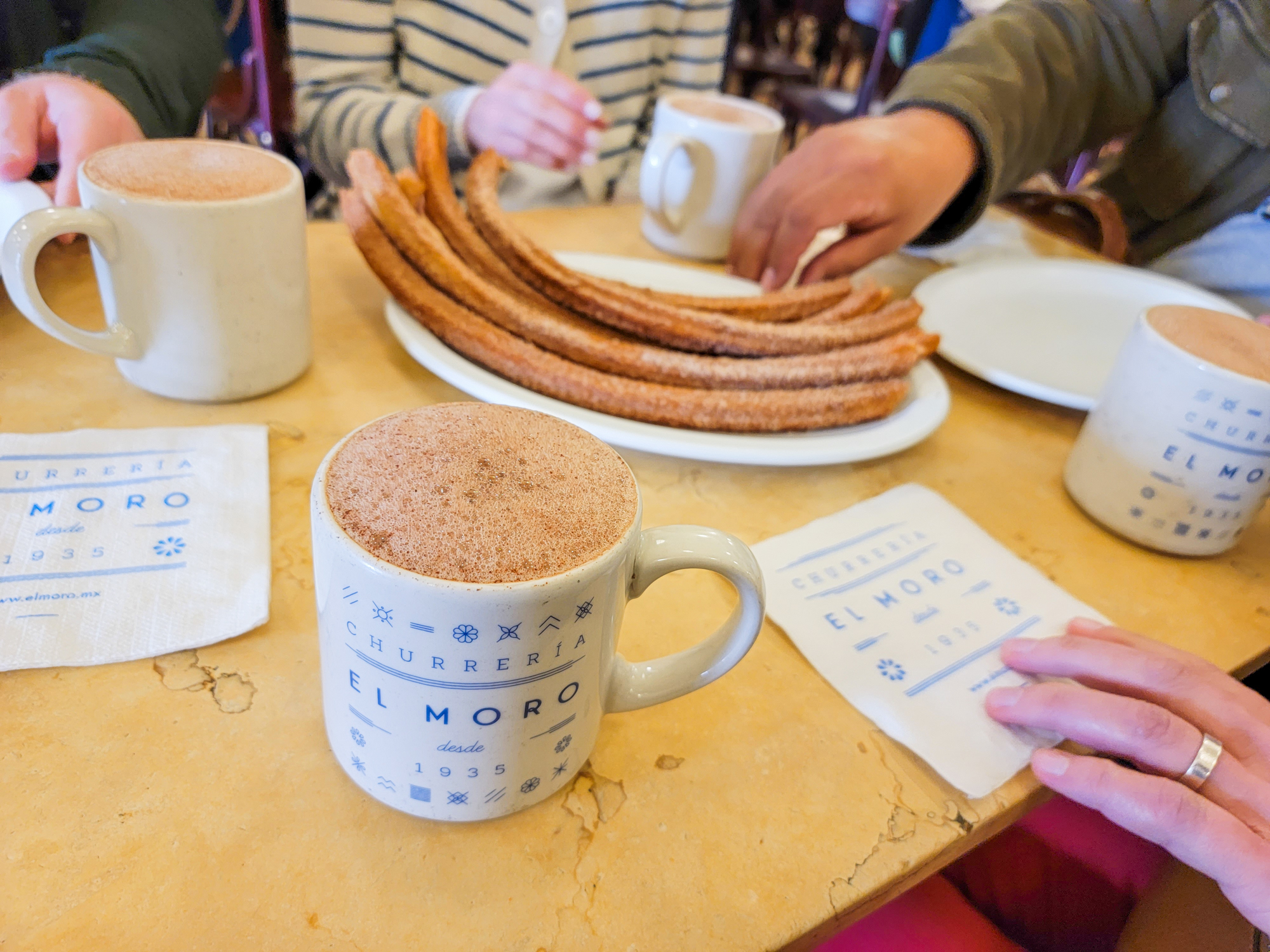 The Centro Historico is the oldest neighborhood in Mexico City and its history dates back roughly 700 years. As such, it should not be a surprise that even to this day the historic center of Mexico City is one of the busiest both in terms of the volume of people passing through and its abundance of stellar food.
This was exactly what we wanted to discover on our first day in Mexico City.
We met our guide, Paco (a renowned expert in Mexican food and a featured contributor to several Netflix shows about the city) as well as two other guests for a 10 am start at one of the city's most famous pastry shops- El Moro. This churro shop was founded in 1935 and now has numerous locations throughout Mexico City, but in this tour, we started at the original.
We already liked where this tour was going if churros were effectively our breakfast, and when inside our table split a heaping mount of the freshly made churros and we were all able to sample our own chocolate choices from the vast selection. It was at this time that Paco gave us the breakdown of the tour and a crash course on Mexico City's early history.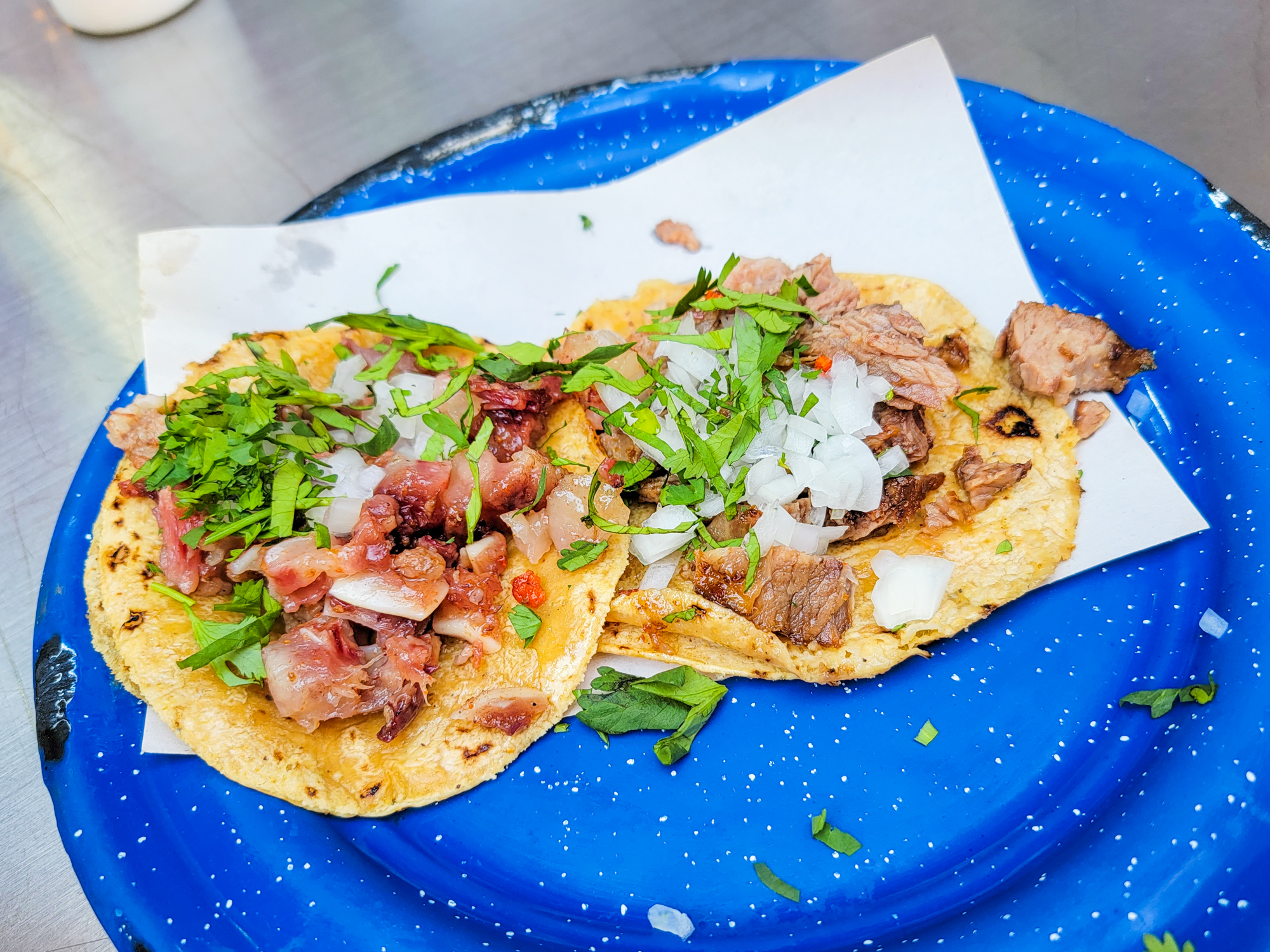 But the start of the tour also came with a warning- we would have five hours of heavy eating and that, so far, no one has left the tour wanting more. While this was also a history heavy tour as much as we could've asked for, the food was the star and you would do well to take that statement as seriously as possible for reasons you're about to read.
After our departure from El Moro, we weaved our way through the streets of Mexico City, stopping at some sights to learn more about how the city changed after the Spanish conquered the country, and how the blending of cultures gave way to the modern food scene we know today. In between passing in and out of unassuming buildings to see historic murals and learning about evolving traditions (some food-based, some not), we made our way to street vendors for our next food stop- tacos.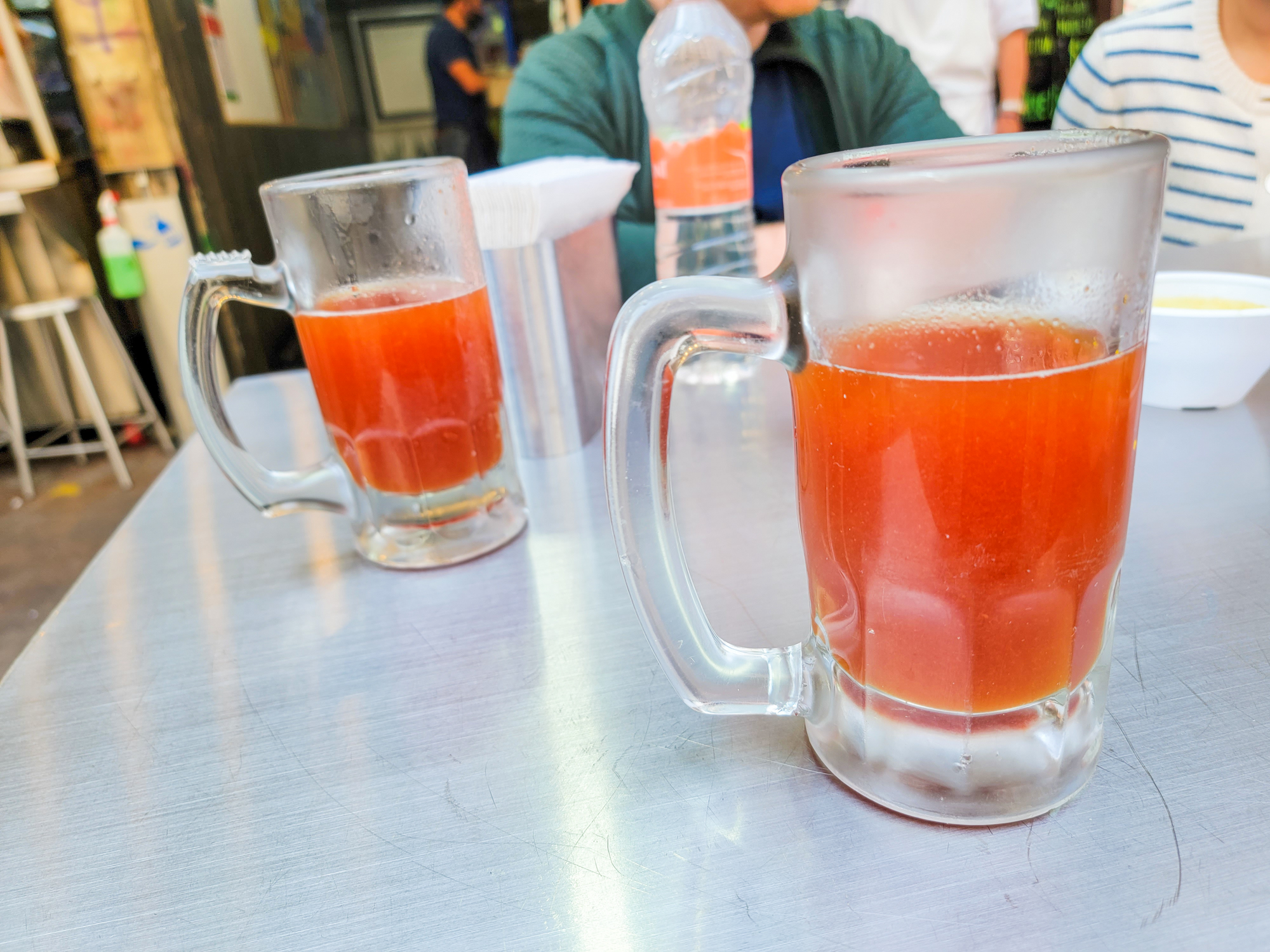 For this particular stop, we visited Taqueria Tlaquepaque which is known for selling tacos with many meat types ranging from trompo (pastor) and suadero (beef) to ojo (eye), lengua (tongue), tripa (tripe), and more. Naturally, I had to grab an ojo which was fatty almost to the point of being gelatinous as well as a wonderfully tender suadero. Angie had an order of the lengua which had a texture unlike any tongue we've had and made us want to return just to get another taco. To go along with it we washed all the tacos down with a refreshing tepache (fermented pineapple).
From there, it was back to wandering through the side streets of the historic center where we were able to pass through streets featuring vendors of all types. One street was all dresses for quinceaneras, another was a market street with floor-to-ceiling stuffed animals as far as the eye could see, one street was all books, and another had dozens of women hanging out in a square doing eyelashes. To say that Mexico City really has everything is an understatement.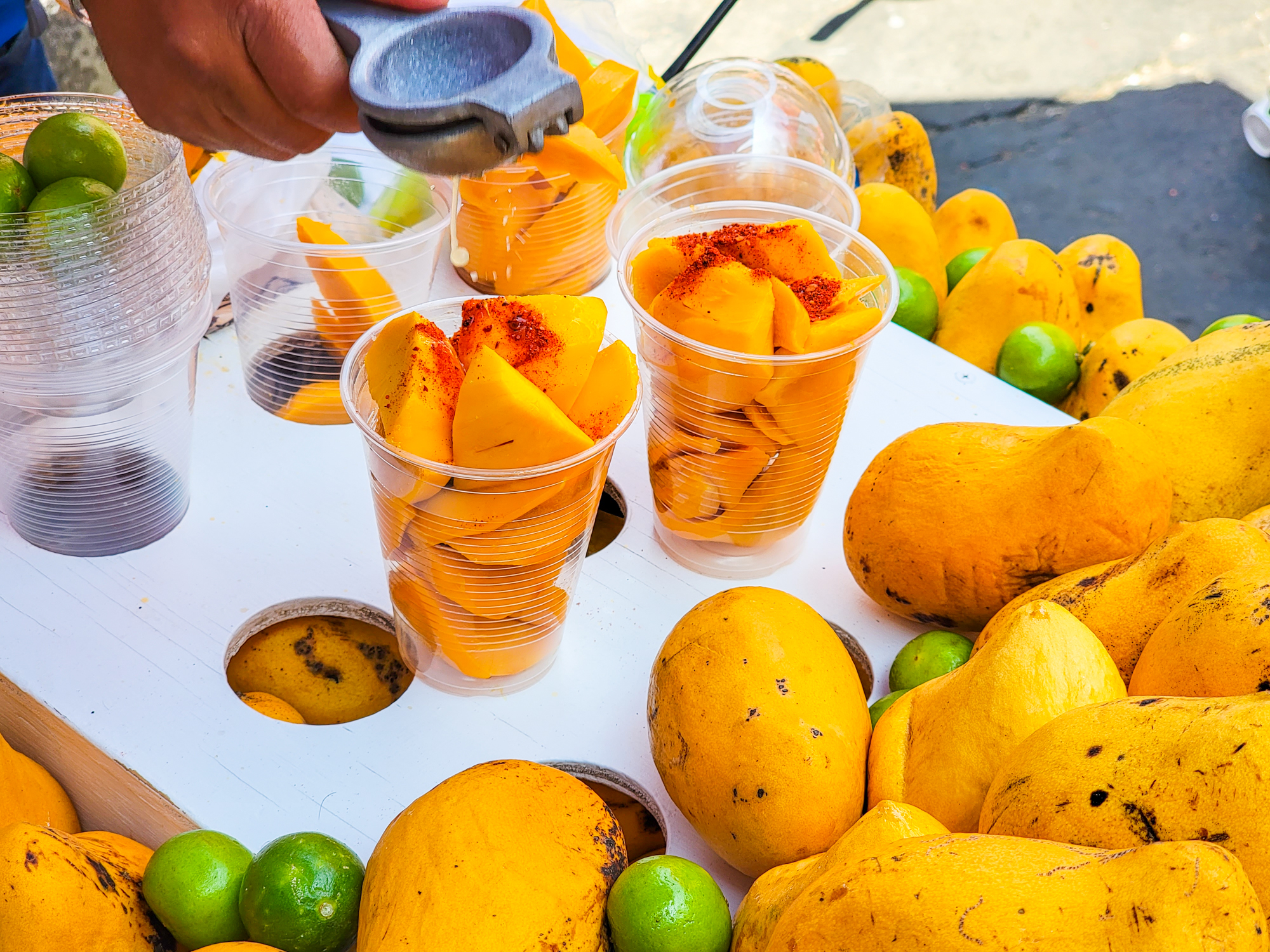 During this time it felt like we were moving out of the historic side of Centro and into the side where locals shop and eat. Museums gave way to more storefronts, tourists were few and far between, and, not surprisingly, street vendors became much more prominent.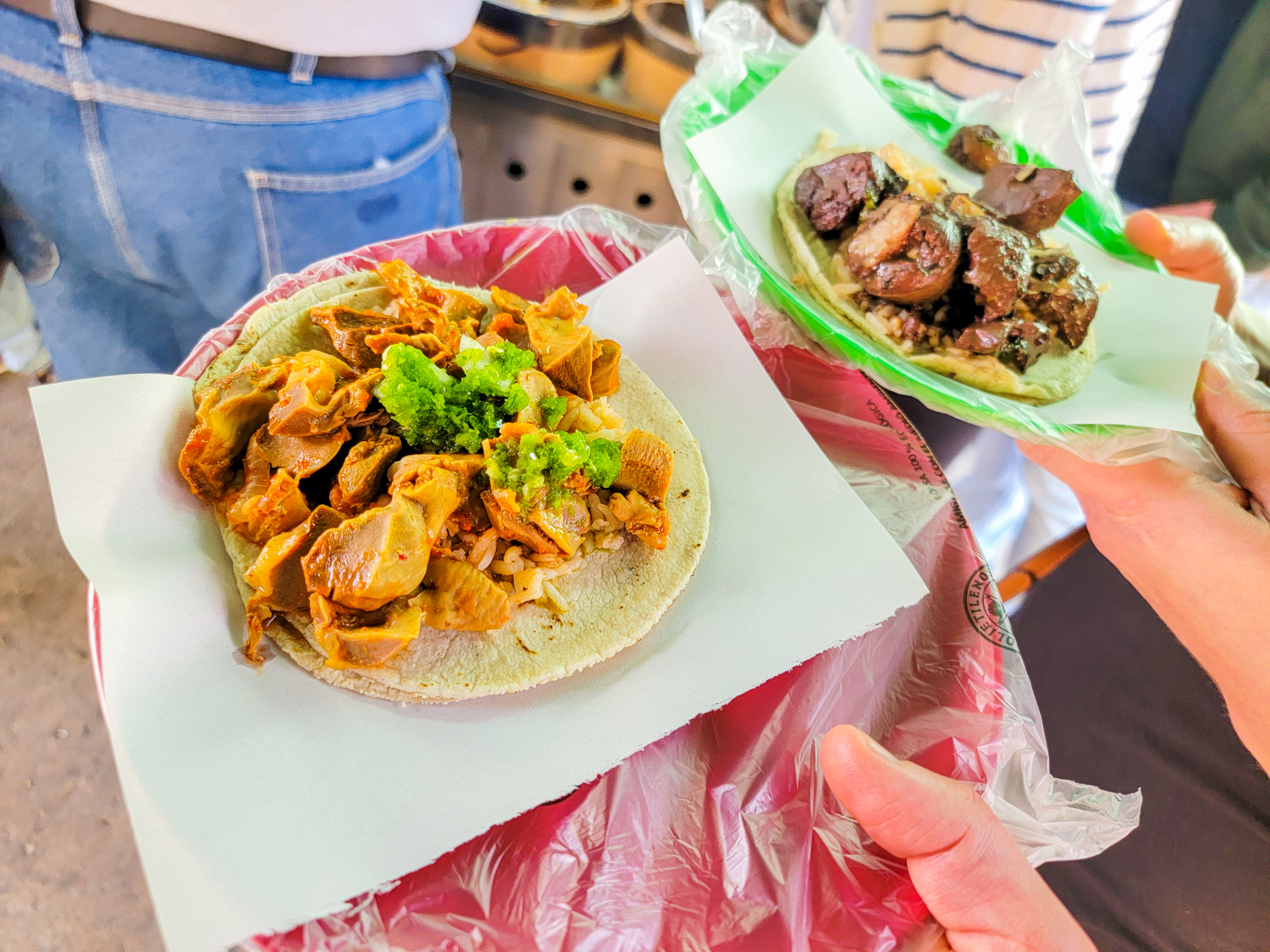 It was here that we made frequent snacking stops for mango with chile salt and lime (which was in season during our visit to our guide's delight) and street tacos with stewed meats including blood sausage, a heaping mound of gizzard, and more. While I have to admit that the gizzard was a bit much even for me, the blood sausage was one of the very best tacos in Mexico City from our entire stay. It was rich, wonderfully spiced, and huge.
The only downside to this particular stop? As much as I tried, I cannot remember where it was located to try a return visit. This is why taking a food tour such as this one is such a treat- getting to try some hard-to-find gems that only those thoroughly in the know (read: locals) can show you.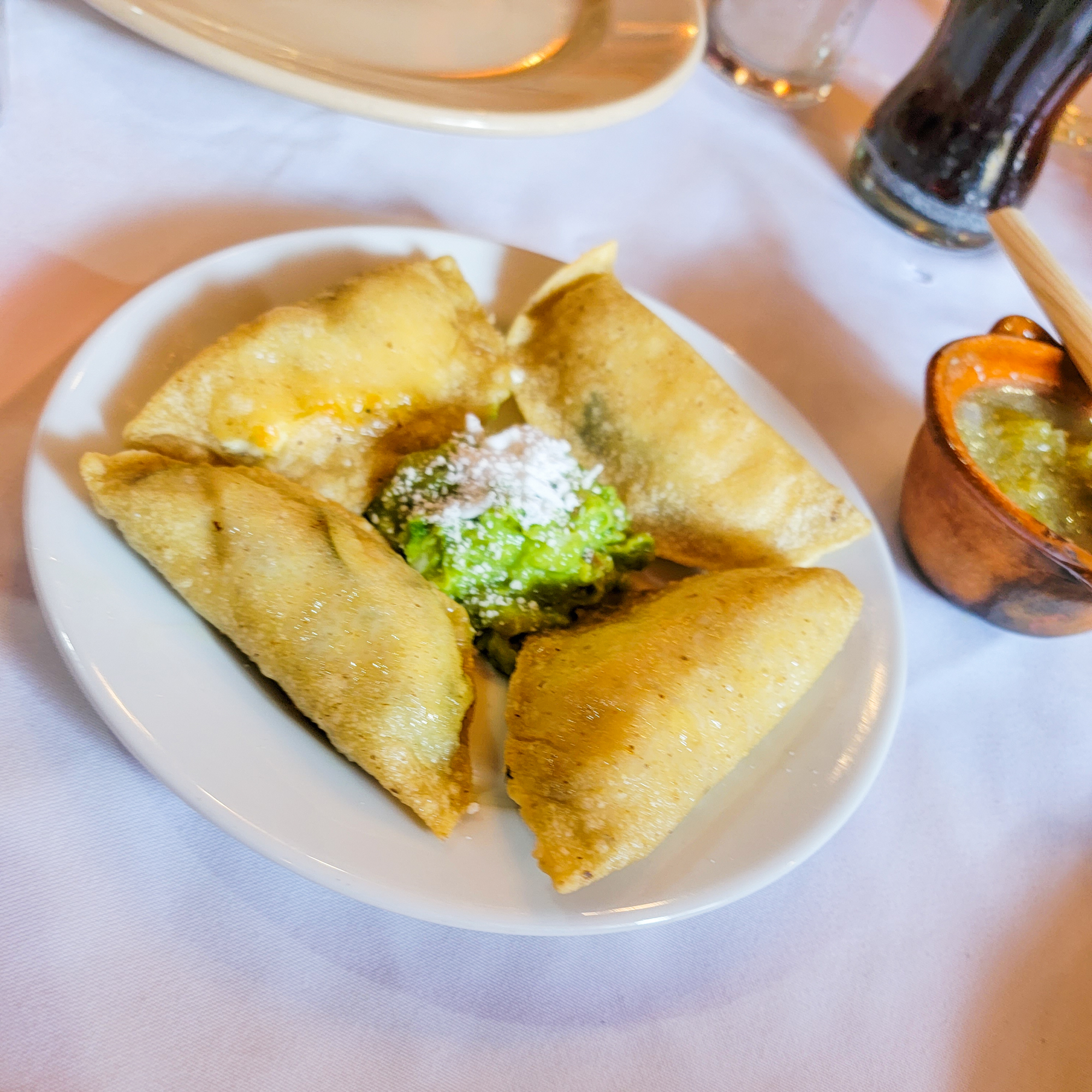 After that, we took a walking break at El Taquito– a historic restaurant above the bustling market district below. This was only supposed to be for a mezcal or a beer, but in being a food tour we filled it with some gorditas and quesadillas for good measure. During this break, we learned a bit more about how modernization is changing the way Mexicans eat and play (as this particular restaurant was bullfighting themed, it was, of course, a prominent topic of discussion).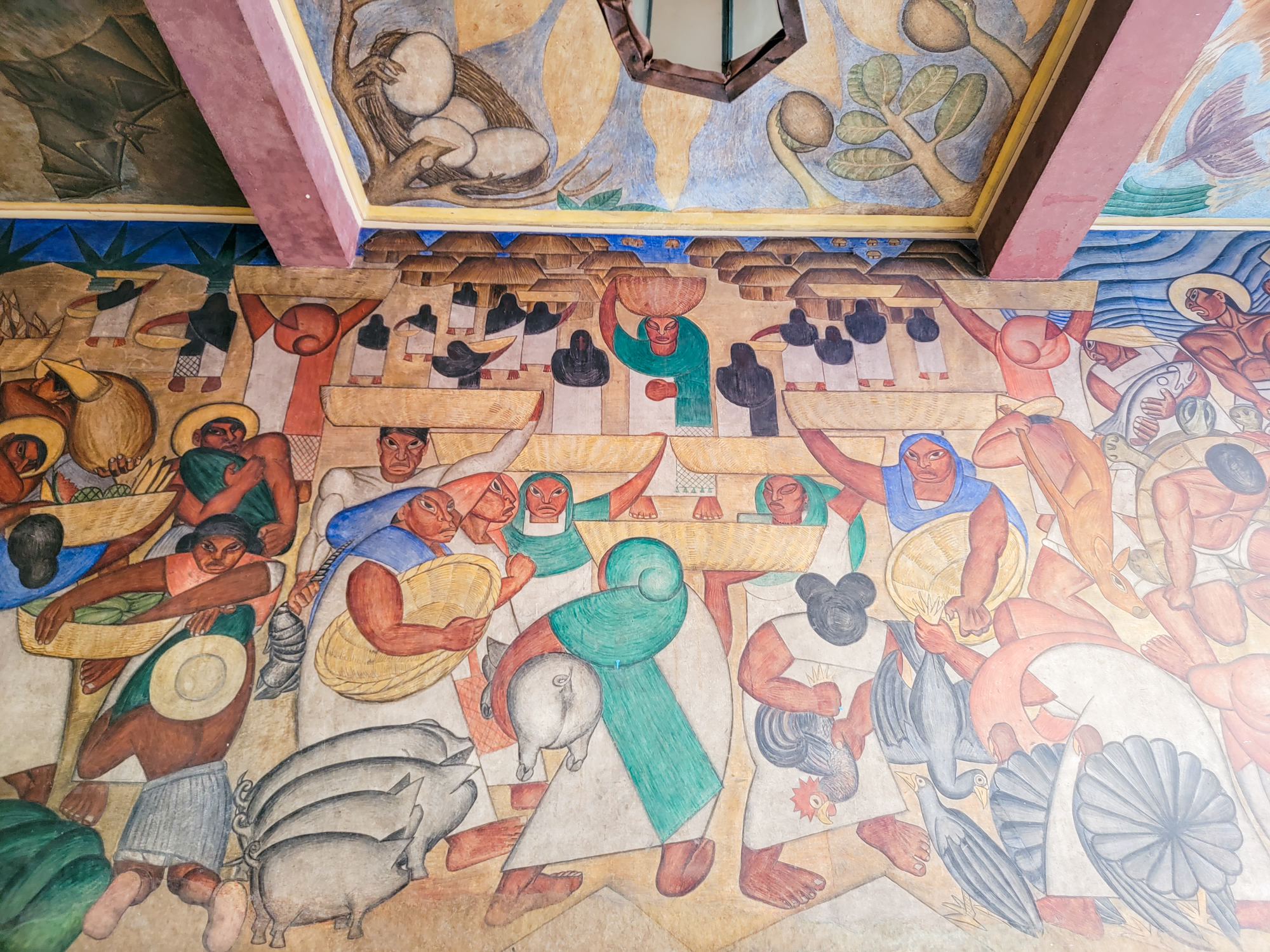 From there, we made our way over to what was perhaps my favorite stop on the tour- Mercado Abelardo Rodríguez. This market is off-the-beaten-path from the tourist radar and is as much a market for goods as it is for food. The entrances to this one are adorned with historic murals from the revolution with many political overtones (painted by students of Diego Rivera) and we spent a great deal of time discussing their significance and what the history meant for the everyday life of those in Mexico City.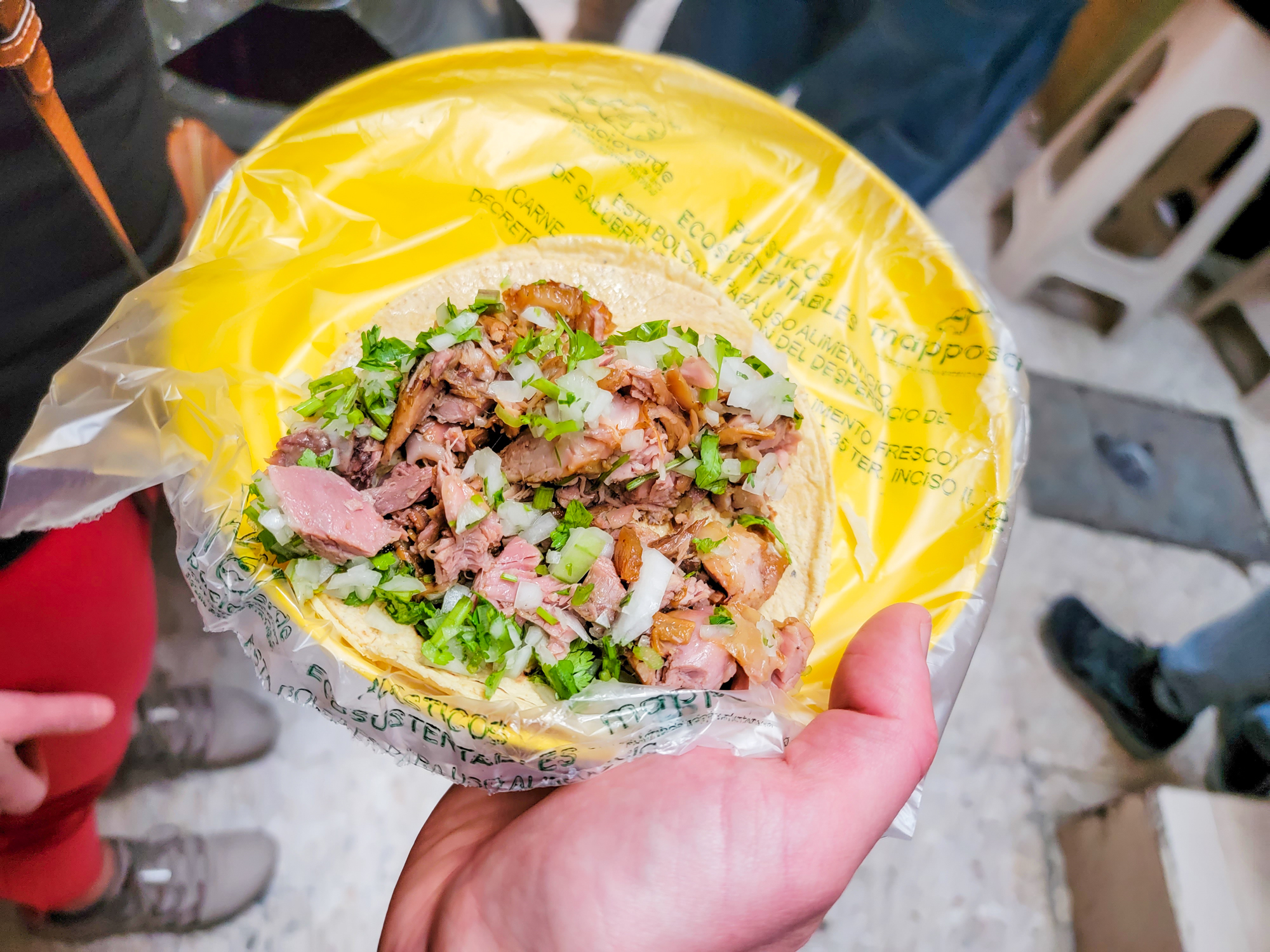 Our stop inside the market was for, you guessed it, more tacos, and we were able to sample some world-class carnitas from a stall that was practically overflowing with customers when we arrived- the telltale sign of a gem.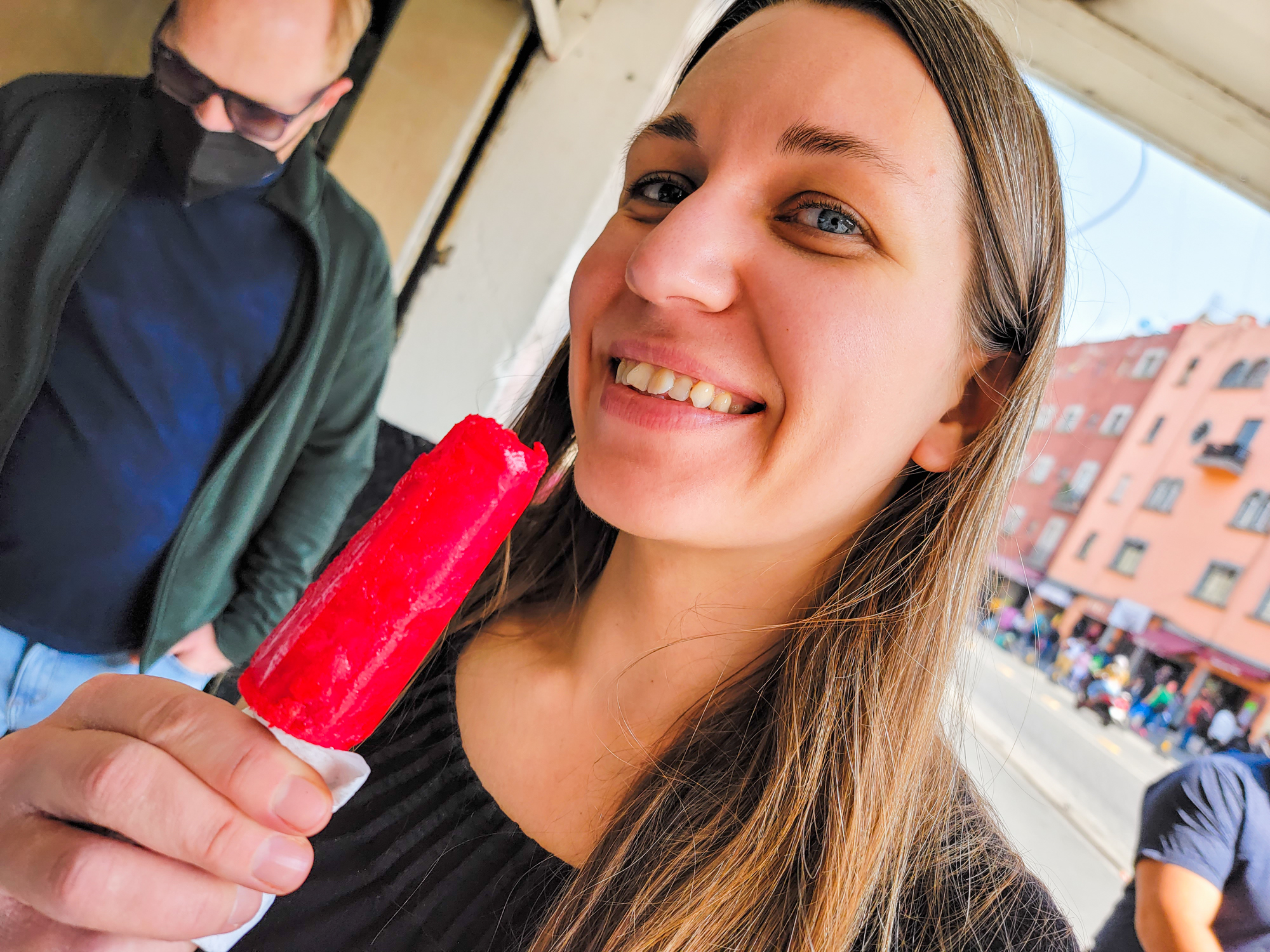 At this point we were all struggling after having consumed somewhere on the order of three churros, a cup of chocolate, six tacos, tepache, mezcal, and both a gordita and a quesadilla each, but there was more food ahead. I made a joke about how I would go for a paleta (popsicle) to help wash down all the meat and was pleasantly surprised by a paleta shop right outside the market that Paco happily obliged us with.
We passed back into the historic center of Mexico City where we passed by Templo Mayor de Mexico-Tenochtitlan, Mexico City's Metropolitan Cathedral (of which the Spanish destroyed the temple to build), and Zocalo (Mexico City's main plaza) and learned a bit about the history of each as well. We later returned to Templo Mayor de Mexico-Tenochtitlan to go inside and check out the full museum and highly recommend the stop!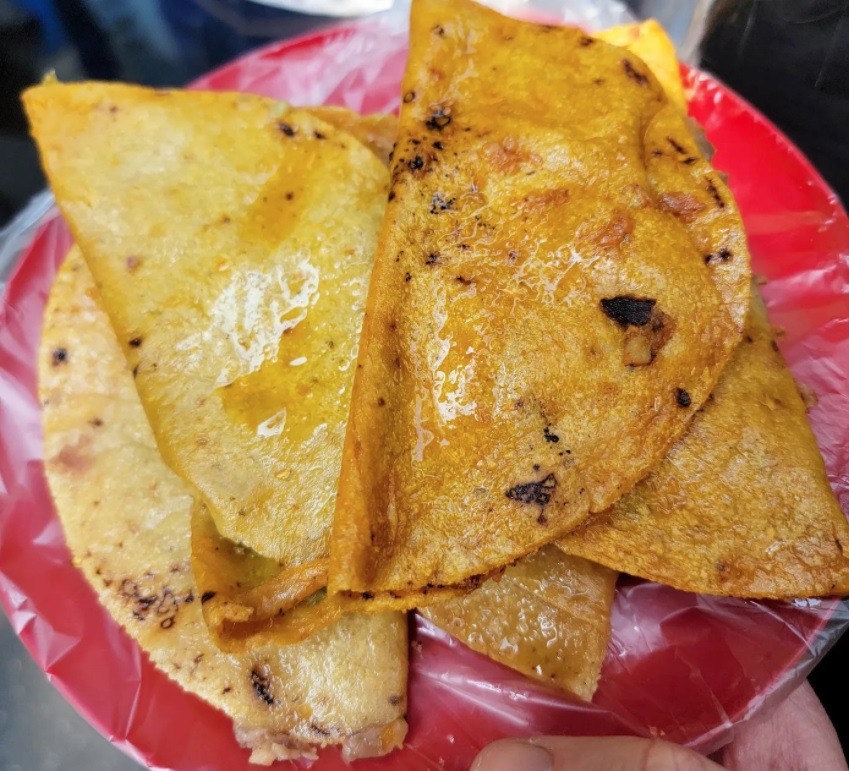 Ultimately we arrived at our last stop, an unassuming (but still bustling) food stall selling tacos de canasta- or basket tacos. These street tacos are made to be cheap and are often filled with just a single ingredient, layered in a basked, covered in broth or lard, and wrapped in blue plastic so you know what they are. While these are predominantly sold by bicyclists on the go (for an exceptionally cheap price often below 10 pesos), Paco chucked five at us and, despite all the food of the day, we somehow managed to eat every last one, grease and all, to finish the tour.
Over the course of the five-hour walk with Culinary Backstreets, we somehow ate about nine tacos each and an absurd amount of other Mexican foods all while taking in the history of Mexico City's most vibrant neighborhood.
Overall, our food tour with Culinary Backstreets was an exceptional introduction to all things Mexico City. We felt like we had truly made a great choice taking this on our first day in the city as it really help set the stage for the trip ahead (not to mention picking up a dozen or so restaurant recommendations from our guide). Throw in the fact that we stopped at several stops and even a market we otherwise would've missed completely, and it truly ended up being one of the biggest highlights of our trip!
To book a trip with Culinary Backstreets, click here.
About Jeremy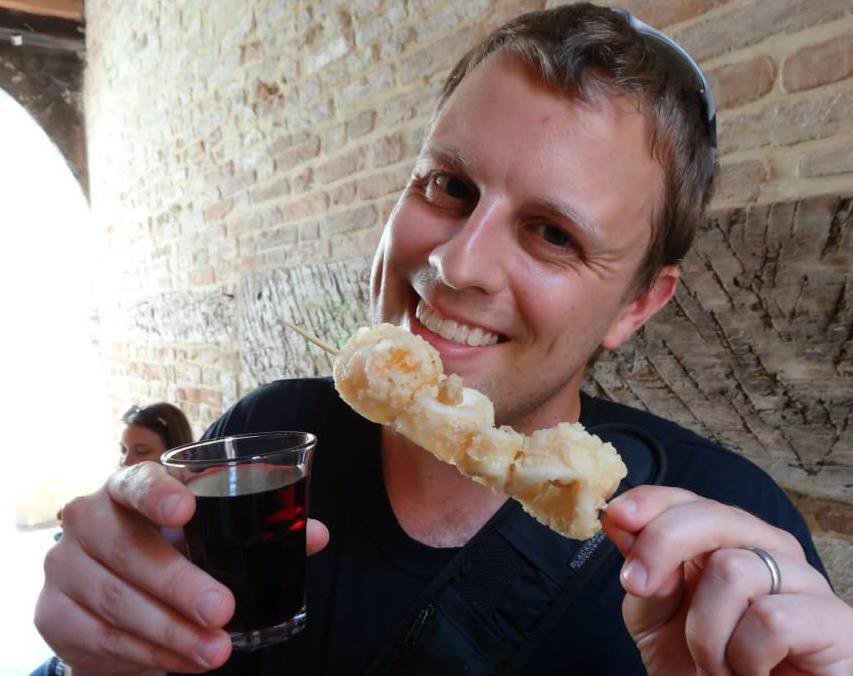 About the Author: Jeremy is a full-time travel writer based in Pittsburgh and primary author of this site. He has been to 70+ countries on five continents and seeks out new food, adventure activities, and off-the-beaten-path experiences wherever he travels.