Last Updated on January 10, 2022 by Angie
Disclaimers: Our site uses demographic data, email opt-ins, display advertising, and affiliate links. Please check out our Terms and Conditions for more information. Listed prices and attraction details may have changed since our visit and initial publication.
We never expected to bring home a pet from our 465-day trip around the world. But when we saw Tamale's big brown eyes staring up at us and heard the story of how she was found on the streets of Valladolid, Mexico, cowering under a car, our hearts melted. At first, we thought the logistics of bringing a dog into the US would be too complicated, but after researching the requirements, everything fell into place.
This is the story of two weary world travelers, one adorable dog, and our journey together from near the ruins of Chichen Itza in Mexico to Dayton, Ohio.
Love at First Sight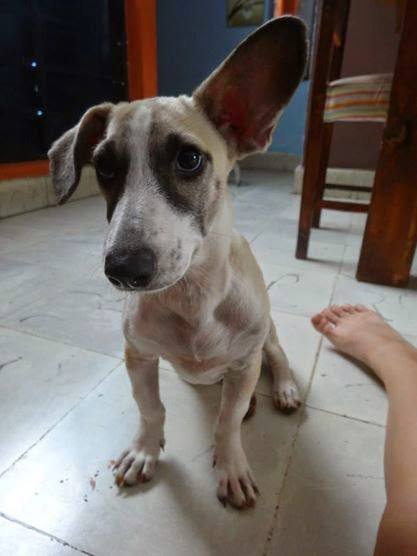 We met Tamale (then named Carla) in Valladolid, Mexico. We were renting a room in an apartment on Airbnb, and our hostess, Andrea, was fostering Tamale as part of her volunteer work with an organization that rescues street dogs.
Tamale was so friendly and surprisingly well-trained for having only been off the street a few months. She knew she wasn't allowed in our bedroom and she would sit in the doorway giving us begging eyes until we rubbed her belly. We were smitten.
After several conversations with Andrea about how much we loved Tamale, Andrea just asked us, "Why don't you take her home?" We initially laughed at the idea. It just seemed too far-fetched and impossible. But for kicks and giggles, we decided to start researching how we would go about doing that. We basically had to look up the restrictions imposed by the airline and those imposed by the CDC.
As it turns out, it wasn't that bad at all.
The Logistics
We read Delta's website and learned that we could bring Tamale on the plane with us provided she fit in a carrier that fit underneath the seat in front of us, and paid a $200 fee. We had to call Delta for the maximum dimensions allowed for the carrier for the specific planes we'd be on.
When researching the regulations imposed by the CDC, we found out that they were surprisingly simple. Since Tamale was coming from Mexico, we just needed proof that she had been vaccinated against rabies. We had also read in different places online that sometimes customs asks for a certificate of health- basically a document signed by a veterinarian stating that the dog is healthy enough to fly.
We had the rabies certificate and the certificate of health, so all that we needed was a carrier. This turned out to be one of the most difficult aspects of the entire process of bringing a dog from Mexico to the US.
From our research on the fabulous resource Dog Jaunt, we learned that soft carriers are the way to go for carrying on pets since they can deform a little bit to fit under the seat if necessary.
Finding a Carrier: The Missing Link!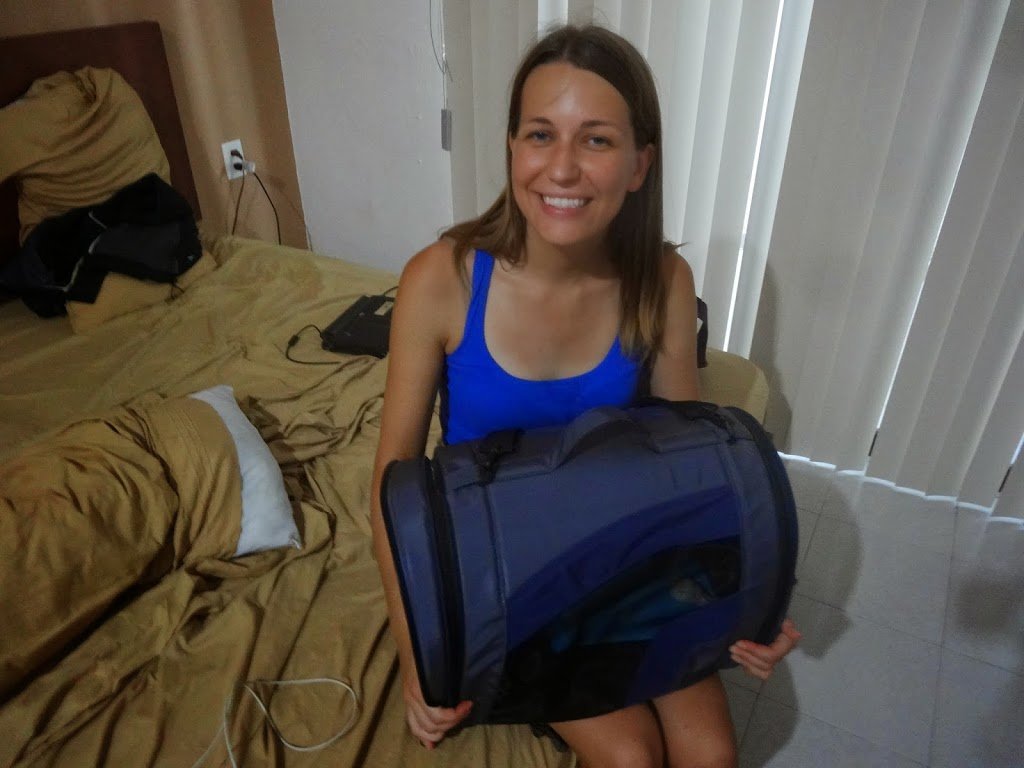 We went to tons of pet stores and grocery stores in Playa del Carmen (including Walmart and Mega), but the only things we found were hard carriers that were too big and soft carriers that were too small.
Just when we thought that the adoption wasn't going to work out, we found the pet store Cuatro Patas (Four Paws) in Playa del Carmen which actually had several large, soft-sided carriers.
With everything in place, we called Delta to make a reservation on the plane for Tamale since they only allow a limited number of pets in the cabin on each flight. Then we anxiously awaited the day we could bring Tamale home!
The day before our flight, the owner of the rescue agency graciously brought Tamale to us at our hotel so we could play with her a bit and introduce her to the carrier.
The carrier was a little bit smaller than ideal, but we knew it would fit under the seat of the plane no problem. Tamale easily went into the carrier with a little assistance from a treat, and she seemed to like it alright.
Doggie Air Travel Day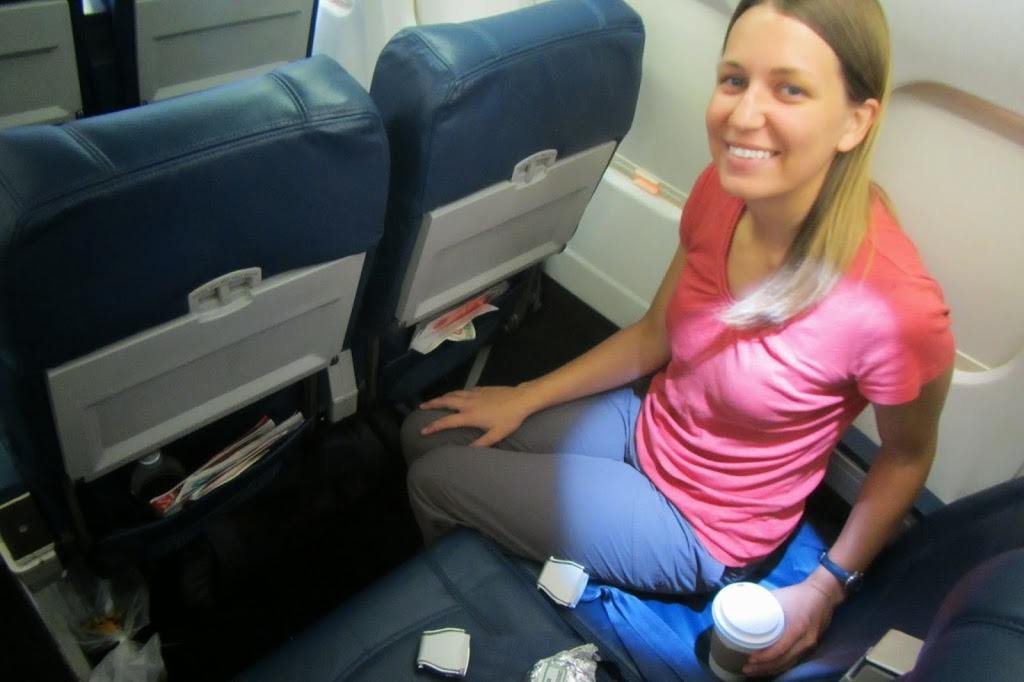 There were so many things about the day that were less than ideal, but Tamale was a real trooper through it all.
Our flight was at 8am so we had to get to the airport at 6am. The lady at the Delta check-in counter didn't even notice our pet until we said we had to pay the pet fee. She asked to see the carrier, and then asked a co-worker if the carrier was small enough to fit under the seat. The co-worker replied, "Yes, it's a soft-sided carrier, it will be fine."
We paid the fee, checked our bags in, and walked around outside with Tamale for a while. Going through security, we had to take Tamale out of her carrier and walk through the metal detector with her. Jeremy held her and she shook uncontrollably.
I felt like a horrible person but told myself we were doing the right thing by adopting her.
Hardly anyone noticed that we had a dog inside the carrier, but when they did, they remarked how adorable she was. At the gate we were able to board after those in wheelchairs and along with others who needed extra time to board to ensure we got her under the seat without bothering other passengers. This was not offered to us, so we had to make sure we asked the gate agents.
Luckily, we had no issues on both of our flights.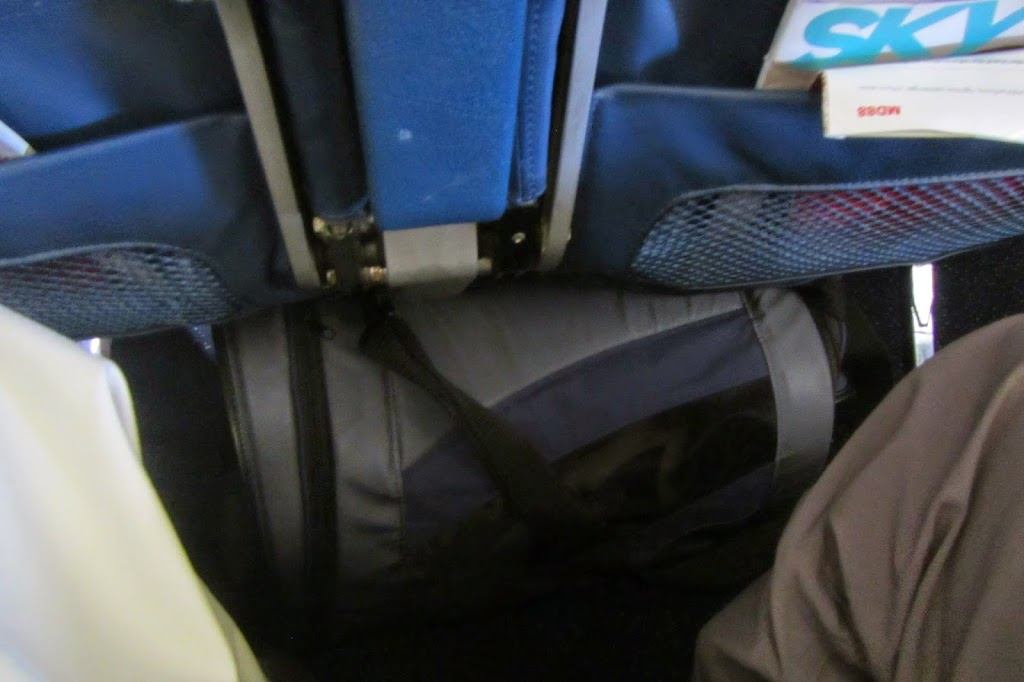 The plane we were on was an MD-88, with three seats on one side of the aisle and two on the other. There was no bar under the seats between the window and middle seats, as well as on the side with only two seats, so we were able to place Tamale's carrier lengthwise underneath the seats in front of us so that it didn't stick out into our legroom.
Tamale didn't make a peep the whole flight, and I'm pretty sure she slept most of the time. When we got to Atlanta and swiped our passports at the kiosks at Customs, we had to check the box "yes" that asked if we were traveling with any animals. Then we had to go see an agent who told us we had to go to the agriculture inspection area.
This was where we showed the rabies certificate, and someone "inspected" her by simply looking through the carrier at her and telling us she was fine. We then breathed a huge sigh of relief! We made it into the US with no problems!
We then found the pet relief area outside, which was some astroturf, a fake fire hydrant, and a water bowl. Tamale was way too scared to pee on the turf, but we eventually got her to drink some water. We also ran up and down the sidewalk with her to try and get her worn out before the next flight.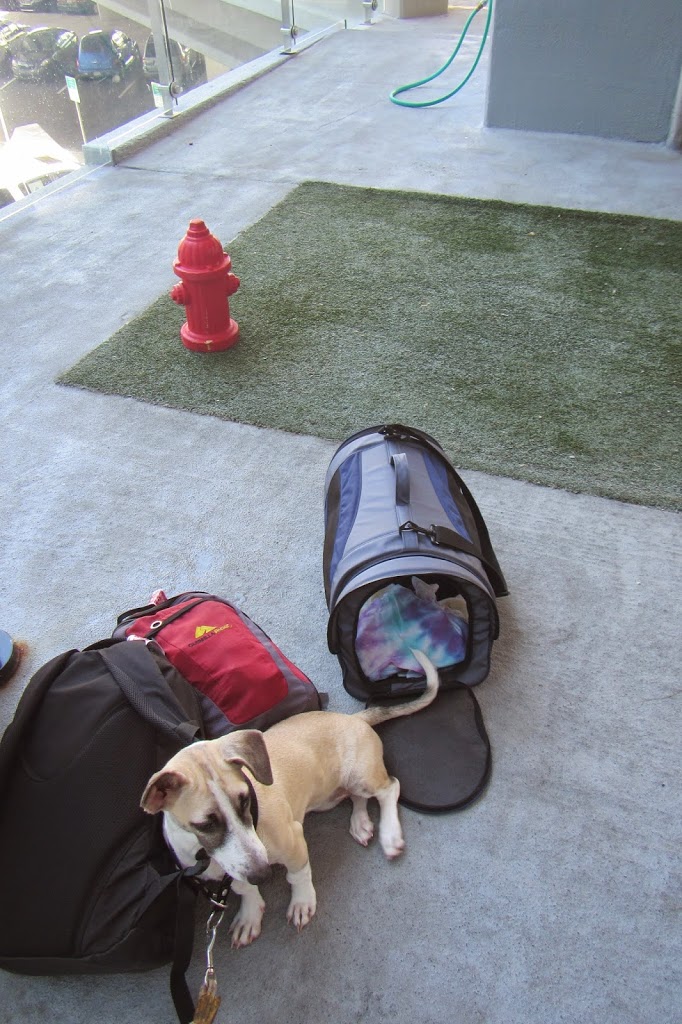 One last time through security- Tamale seemed not as scared this time. Our flight from Atlanta to Dayton was also on an MD-88 so we were able to place the carrier lengthwise under the seat again. We made it to Dayton without any problems and rushed outside to let Tamale go to the bathroom which she welcomed immediately.
We had surprisingly no issues with taking Tamale on the plane with us.
We had read a lot of horror stories about people bringing dogs on planes, but I think those mostly happen when people try to bring a carrier that's too large onto the plane or try and break one of the many rules that you have to deal with when flying.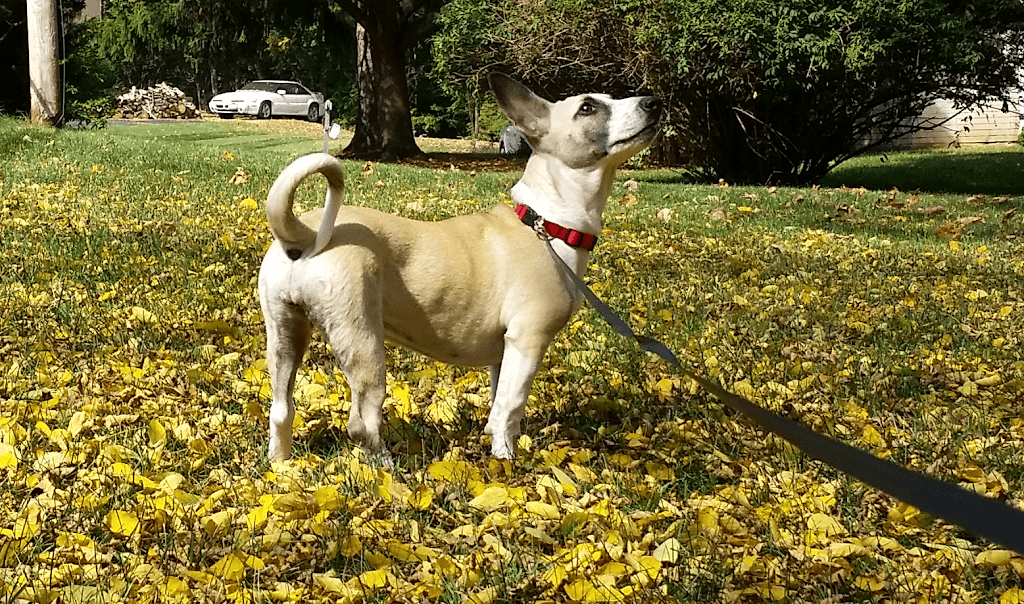 We are so happy to have our sweet little Tamale here in Ohio with us, and she is adjusting pretty well. She loves belly rubs, long walks, and chasing crickets in the backyard!
Tamale is now a proud member of the Living the Dream team and will be taking over the role of Chief Instagram Officer where she will be uploading many selfies.
For frequently asked questions about bringing a dog into the USA, check out the following.
Is a quarantine required to bring a dog into the USA?
The rules vary depending on the country you are coming from and is often tied to if rabies or other diseases are found in the origin or not. For us, we did not have to quarantine our dog coming home from Mexico.
Can non-service dogs fly on a plane with you?
Every airline is different, but most of them require that a dog fit underneath the seat in front of you in a carrier. This has an inherent size limitation and you may have to pay for a ticket as seats vary.
What do you do if flying with bigger dogs?
Every airline is different, but most require them to be transported in a travel crate and you will be separated during the flight. Note that many airlines have limitations for these in the summer months due to temperature concerns.
About Angie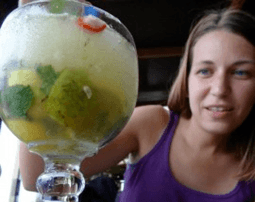 About the Author: Angie is a contributing author. She has been to nearly 60 countries and seeks out the best restaurants, bars, bakeries, and other unique food items wherever she goes- often with her husband, Jeremy.