Last Updated on June 3, 2022 by Jeremy
Disclaimers: Our site uses demographic data, email opt-ins, display advertising, and affiliate links. Please check out our Terms and Conditions for more information. Listed prices and attraction details may have changed since our visit and initial publication.
Portland, Maine, is a beer city. There is no doubt about that. It really doesn't take long after arriving that you really begin to appreciate just how many Portland breweries there are, and when you reflect on just how small the city is outright, the scale of the beer scene here is truly impressive.
While we didn't make it to all of the breweries in Portland during our visit, we did hit a good cross-section and share a summary of each in the round-up below!
Oxbow Blending and Bottling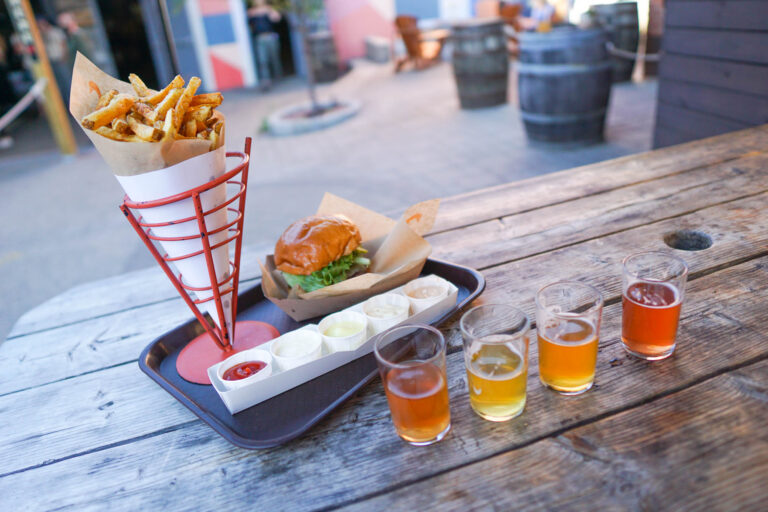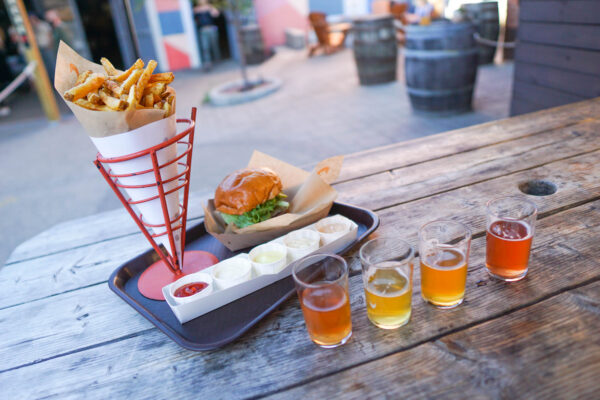 Oxbow Blending and Bottling is the kind of brewery that makes our hearts skip a beat as they have a strong mixed culture and spontaneous fermentation program. Yes, we're talking wild sours here!
What is cool about this one is you can really taste your way around the different production styles. Stainless steel-aged Farmhouse ale vs Barrel-Aged Saison? Yep. Fruit vs no fruit? You got it. Other unusual add-ins like Pinot Noir juice or honey? We got to try a few of those as well.
All that being said, we'll be the first to point out that wild sours such as these are a bit of an acquired taste. They have a ton of acidity and subtle flavor differences that only come out as you drink more and more. Right up our alley, but if you are not familiar with these styles you may want to brace yourself all the same.
Even better is that during our visit Oxbow had an outpost for the local restaurant, Duckfat, on-site as well (a stellar Portland restaurant). So of course we had to pair these with a burger, fry tower, and a flight of their famous dipping sauces. Go for the beer and stay for dinner at this one!
Oxbow Blending and Bottling is located at 49 Washington Ave in Portland.
Shipyard Brewing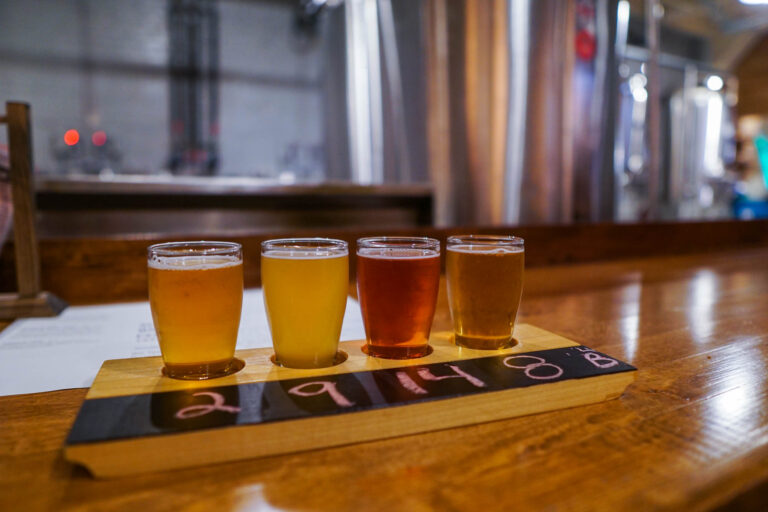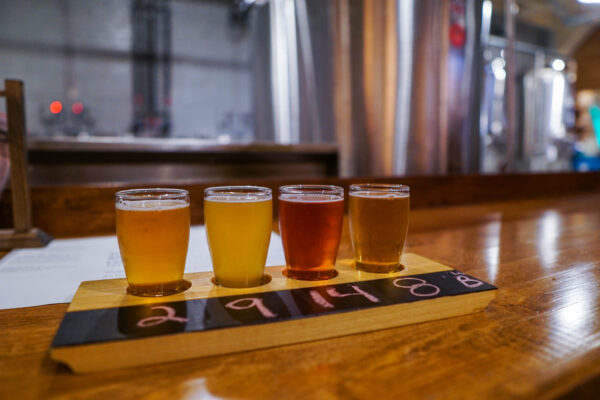 Shipyard Brewing is another brewery in Portland that has been around for quite some time- it was founded in 1992 as Kennebunkport brewing. Presently it is considered to be the largest beer producer in Maine and the fourth largest in New England (although these are always prone to change).
Much with Allagash, we enter these breweries with a bit of apprehension as we are always curious on how much their beer styles reflect what was popular in the 90s and early 2000s as opposed to the trends of today (as we are clearly on board with the latter).
Thankfully, we were quite impressed with Shipyard's Portland-based taproom because they have a nice mix of brewery staples as well as a huge experimental selection you can only try there. We went half-and-half on our flight with a Melon Ale and Finder (NEIPA) from the classic menu and a Raspberry Milkshake IPA and Blood Orange Belgian from the experimental.
For the fruited beers, we were quite impressed with how well the flavors came out in their respective styles. While the milkshake IPA was lighter in lactose than we normally prefer, the fruit in all three was strong. In fact, the Melon Ale was one of the most intense melon beers we've had anywhere and resulted in me purchasing a six pack (at under $10 no less) to enjoy during the rest of our trip. Yes, it was that good.
So sign us up for Shipyard the next time we visit Portland, this one was truly impressive!
Shipyard Brewing is located at 86 Newbury Street in downtown Portland.
Liquid Riot Bottling Company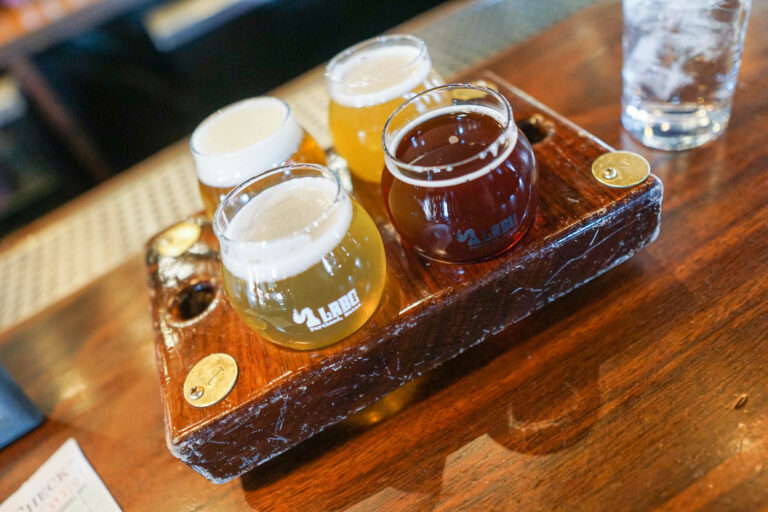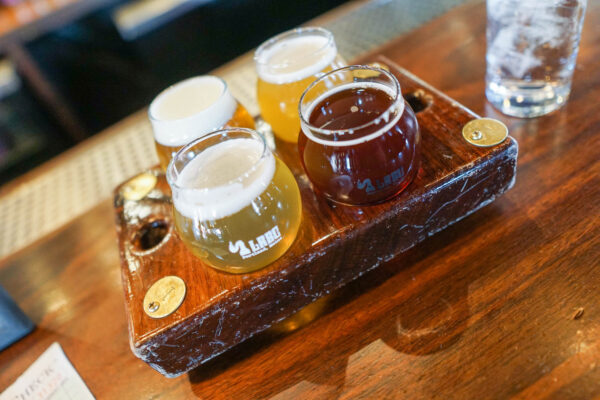 If there is any brewery in Portland that you'll 100% not miss when walking around, it is Liquid Riot. This one has a prime location right on Commercial Street, is a massive space, and offers a robust draft list as well as a distillery, restaurant, and more. They really do it all!
In fact, the draft list is so robust here you can visit several times over for flights and still only be just scratching the surface.
So on my visit, I went heavy for higher ABV brews which historically have been my favorite styles at breweries with wide draft lists such as this one. My flight included What's In the Box (DIPA), #1 Dad (Quad IPA), Persuasion (Port Barrel-Aged Sour Brown Aged on Cherries), and Honey Riot (a Belgian Tripel on Maine Honey).
It may be cliche to say these were all clean-to-style iterations, but it is true. The IPAs came with that nice sweetness you expect from doubles and quads with a rather intense hop profile, the sour was quite tart thanks to the cherries but with some mellowed nuance from the barrel, and the Belgian was all the things we love about Tripels in every respect (although we'd say the honey just made the beer a bit sweet on the backend as opposed to having overt honey flavors).
Delicious all around!
Liquid Riot Bottling Company is located at 250 Commercial Street.
Urban Farm Fermentory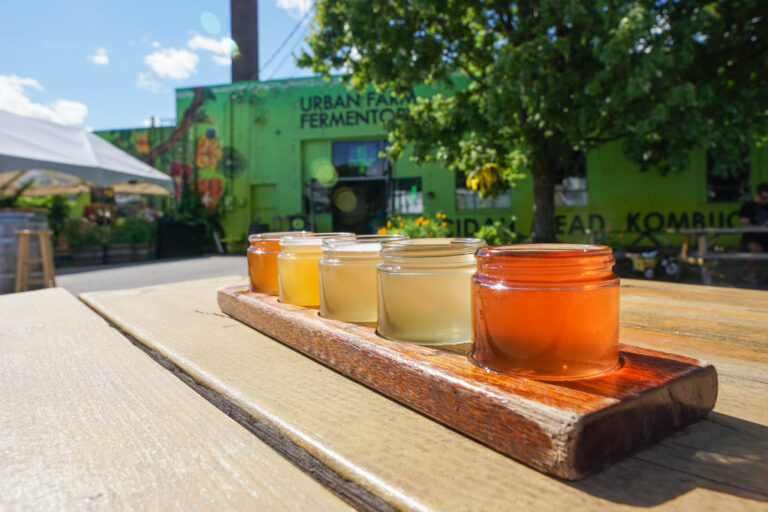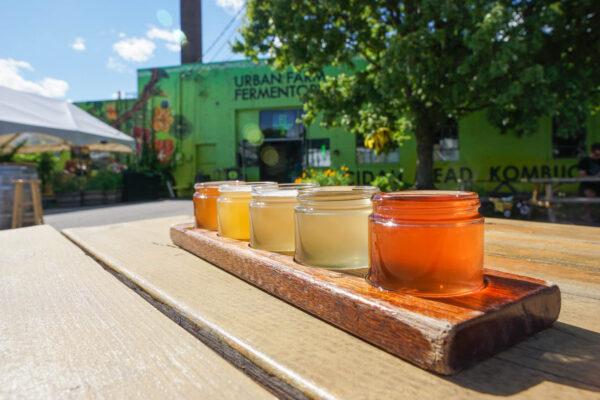 Urban Farm Fermentory is the most unique brewery in Portland as they specialize in farm more than just beer. Think things like homemade kombucha, jun, cider, gruit, mead, and more all in an array of flavors as well.
During our visit, we opted to try a rhubarb sour and a comet IPA as well as a ghost chili and ginger kombuchas and a strawberry cider to name a few.
Although the IPA had a bit of astringency that we didn't enjoy, the flavors of the other brews packed quite the respective punch (they weren't messing around with the heat on the ghost chili kombucha). But it was the strawberry cider that we left dreaming about because it really just felt like you were drinking crushed strawberries- truly early summer in a glass.
So when you visit this one, we'd recommend opening up your palate and trying more than just a conventional beer here- you truly have an incredible list of styles to choose from!
Urban Farm Fermentory is located at 200 Anderson Street in downtown Portland.
Lone Pine Brewing Company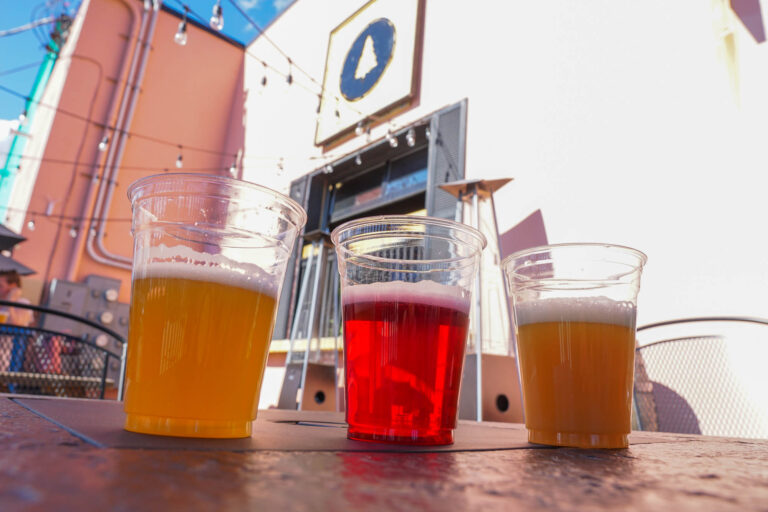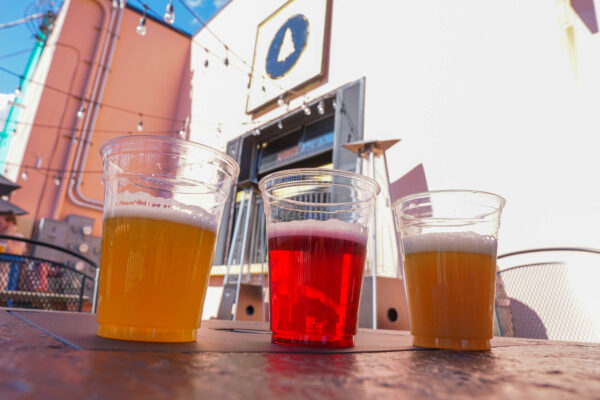 The stretch of Anderson Street in Portland is home to many breweries, and of course we had to hit a few more up during our visit. Immediately after hitting Urban Farm we made the short walk over to Lone Pine Brewing Company for another round.
This brewery offered up a mix of half and full pour options here but was also quite flexible to letting us try some half pours of cans too (something we don't see all too often at breweries).
The highlight of this particular visit was the OH-J, an incredibly juicy NEIPA that lives up to its intended name and drank a lot like orange juice- a big citrus bomb with a bit of rind-like bitterness and a wonderful complexity all around. We found a four-pack of this one in a store and took it with us to share with friends and honestly could consider it perhaps the best New England IPA we've had anywhere (a distinction we don't make lightly).
Beyond this, we were also able to try the Daddy Oh (an orange creamsicle milkshake IPA), the Blueberry Sparkler sour, and a Strawberry Donut-themed beer. Many of these had lighter flavor profiles than the OH-J for their respective flavors (although the milkshake IPA came with an robust cream finish) but were quite delicious for their respective base styles.
Lone Pine Brewing Company is located at 219 Anderson Street in downtown Portland.
Rising Tide Brewery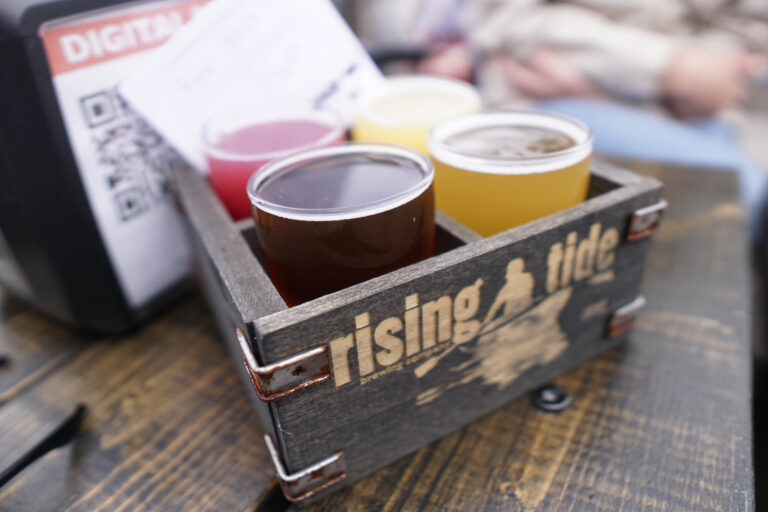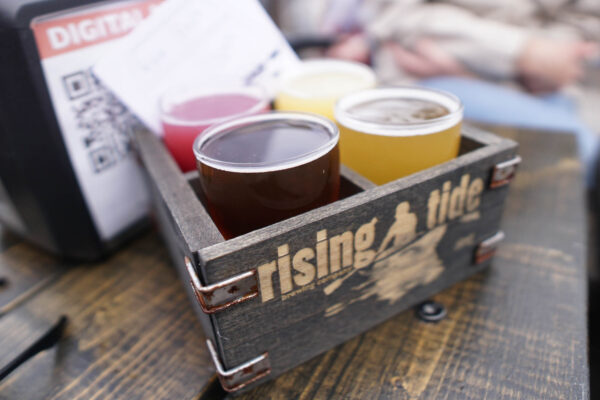 If you continue further down Anderson Street, you'll hit even more breweries on Fox Street- making this a pretty stellar brewery corridor in the city. Naturally, we hit up Rising Tide along with the above spots during our visit (albeit, the following day because you can only visit so many places in one go).
What I really like about Rising Tide's draft list is that they not only offer a great spread of beer styles (several you may not see as common elsewhere) but also a variety of ABV options as well. If you want high ABV, curated craft brews, they are likely to have a few. If you want sessionable brews with traditional styles, they likely have several too.
We saw a 3.6% ABV Gose in the lineup with an 8.5% honey strong ale. Their flagship beer, Ishmael, was a delightful American copper ale that was sweet and malty and clocked in at a modest 4.9%- making it an easy session beer for us. Then there were more treats like an immensely drinkable Hefeweizen (that admittedly was more like a Wit) and a sour ale that had hints of blueberry as well.
Our only regret was that we were unable to order a pizza as their wood-fired pies looked pretty stellar!
Rising Tide Brewing is located at 103 Fox Street.
Austin Street Brewing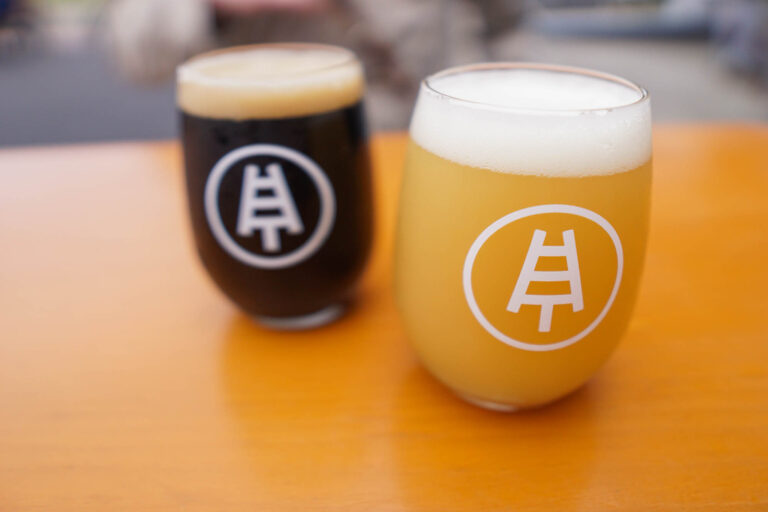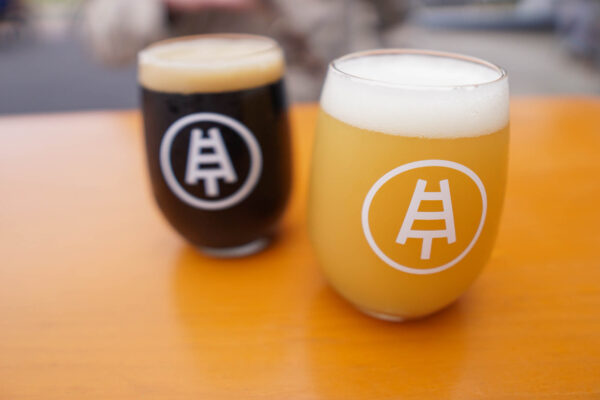 Austin Street Brewing is the kind of place you'll see a few times on a brewery crawl around Portland as their main taproom is located just steps from Allagash Brewing (below) and they also have an expansion taproom on Fox Street, you guessed it, just next door to Rising Tide!
When we visited the Fox Street location, we have to admit we were slightly disappointed. The brewery had a gorgeous space but only offered just about five beers on tap and most were of pale ale variety (the Industrial Way location only had about six on tap when we checked it out online as well, but we didn't get to stop to try more).
We did end up sampling the Bombtrack DIPA and a barrel-aged milk stout (Six Grain) which were both truly exceptional. The DIPA had robust citrus and tropical notes with all the sweetness we love from the style, and the milk stout was quite smooth, creamy even, and had those dark, malty characteristics we enjoy without being bitter.
So for as much as we enjoyed the two we tried, we do have to admit we wished for a bit more variety in order to go for more. Next time!
Austin Street Brewing has two locations- one at 115 Fox Street and one at 1 Industrial Way #8. Both make for a great stop in combo with nearby breweries!
Allagash Brewing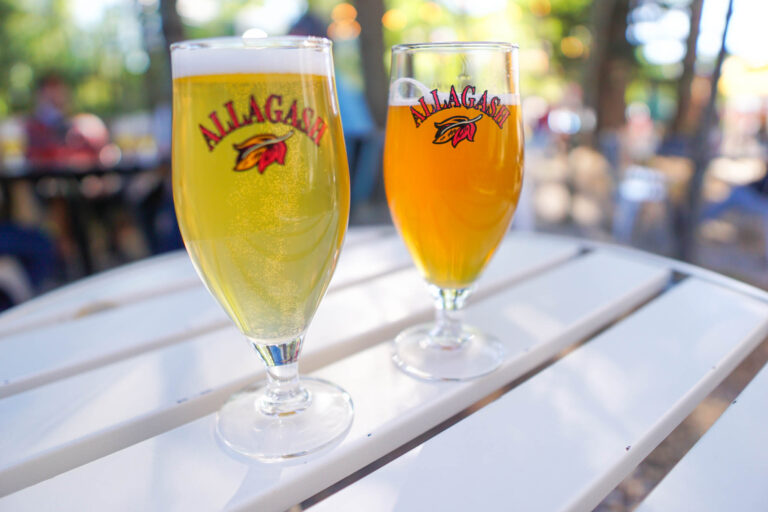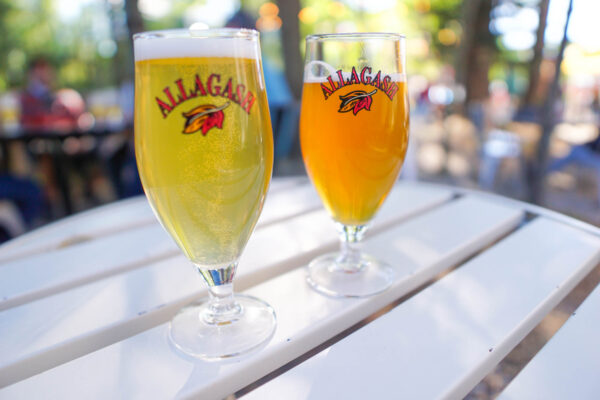 If you know of any Maine breweries from outside the state, it is probably Allagash. This one has been making highly sought-after beers since 1995 and is known all over the country primarily for Allagash White (a staple on so many bar menus we've been to). Naturally, we had to make a pilgrimage to this impressive space just outside of Portland.
Unfortunately, we have to admit that we were slightly let down by our experience here. First was that even their small pours were quite large, 8 or 12 ounces pending variety (so we didn't get to try as many as we otherwise would've liked), and also that some of the flavors we were expecting weren't as pronounced. A juniper pale ale, for example, was more on the citrus side of things than what we'd expect from most juniper flavors and a black currant sour was only just lightly sour and had nominal fruit flavors. This was probably on us for the choices, but since we couldn't keep buying pour after pour, it kind of hurt the experience overall.
That being said, their Golden ale aged in apricot liqueur barrels saved the entire tasting outright as it had an intensely rich apricot flavor as well as an ABV to match thanks to being aged in barrels. Had we been able to order more, we honestly would've stuck to the barrel aged stuff here as this one was truly exceptional.
Allagash Brewing is located at 50 Industrial Way in Portland. Make a day of it when you visit this one as there are many breweries located out in this industrial park on the outskirts of the city. We returned for a future visit to check out Definitive Brewing, below!
Definitive Brewing Company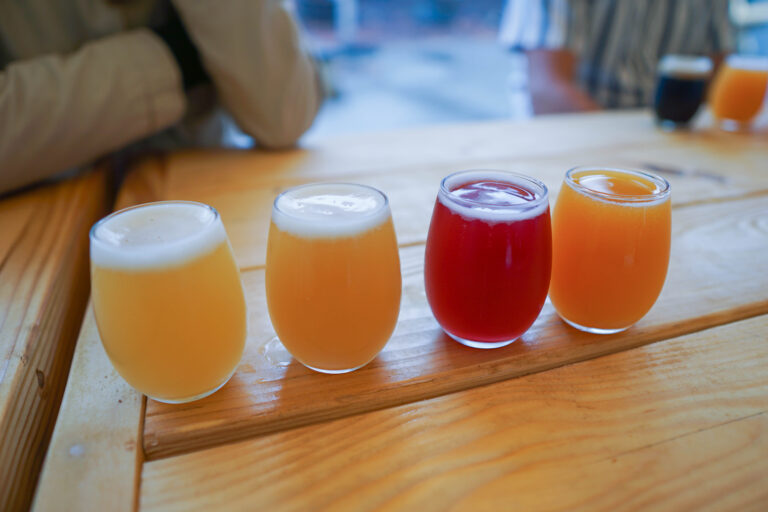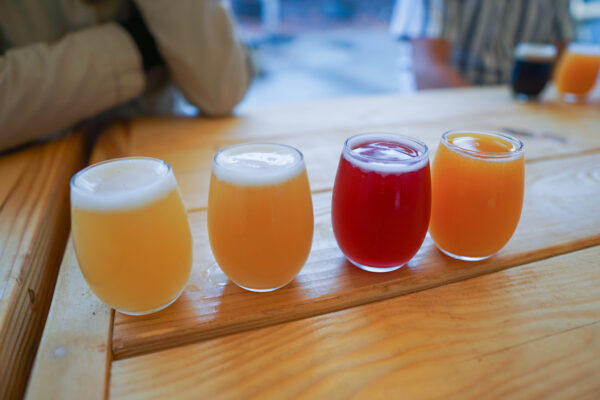 If Oxbow won our hearts over because of their wild sours, Definitive hit the mark with their New England IPAs and fruited sours (arguably rounding out our top three favorite styles).
While the hazy, juicy NEIPAs hit all the right citrus notes for us, we left talking about the fruited beers here most of all. Think pairings like tangerine, blood orange, and lime; tangerine and pineapple creamsicle; blueberry, maple, and vanilla; and other unique mixes thrown into the mix.
Pulpy, fruity, and some as high as 9% ABV? Sign us up.
Definitive Brewing is located at 35 Industrial Way just across the street from Allagash.
Bissel Brothers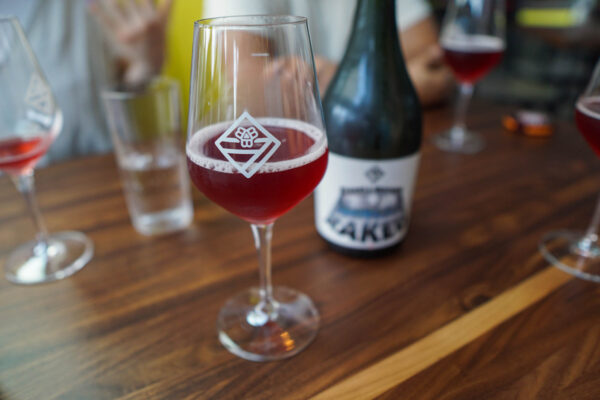 When we arrived at Bissel Brothers, we weren't sure what to expect. Of all of the breweries featured in this guide, this one felt a bit out of place in the quasi-industrial/shopping district just outside of the city center.
Our fears were quickly alleviated as the brewery has a pretty killer lineup with some delicious IPAs (Nothing Gold DIPA of special note) and some large format bottles that you can also purchase to enjoy on-site. We supplemented our first IPA round with a bottled of their Raked Wild Saison with Blueberry and thought it was very reminiscent to the wilds we sampled at Oxbow (above) with one of the biggest punches of blueberries of any beer we had in Maine.
Throw in their respectable on-site kitchen and you have the makings of a great destination brewery all around. The only downside is that you have to take a short drive out of the city center to reach this one.
Bissel Brothers is located at 38 Resurgam Place.
Bonus – Maine Beer Company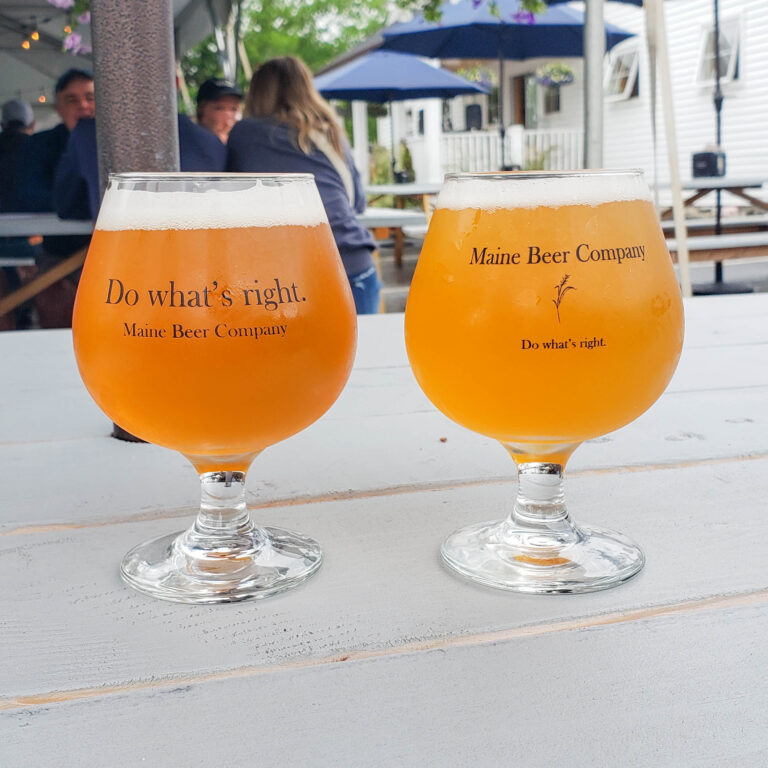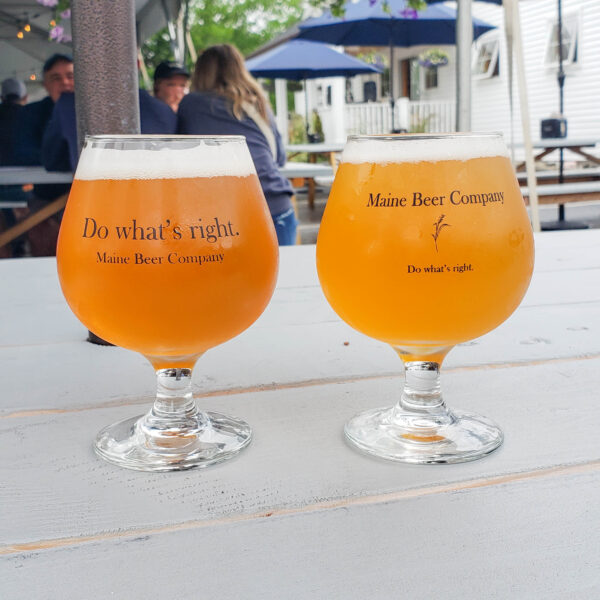 We're calling Maine Beer Company a bonus for this one purely because it is not technically located in Portland but rather 20 minutes outside of the city in Freeport, Maine.
The reason we're including it in this guide is that Maine Beer Company is another pilgrimage spot for many visitors much like Allagash Brewing (above). Founded in 2009, Maine Beer Company has exploded in popularity all around the country with bottles available in many shops we've been in all over.
Their specialty? IPAs, of course, and during our visit, they only had about five on draft which, unfortunately, limited our options quite a bit. Personally, the styles we tried (Lunch, Dinner, and Another One) trended a bit more on the bitter side than we normally like for IPAs. But despite that this is a fun brewery to visit not only for its IPAs but also as an experience- the tasting room is massive and they also have an on-site pizza kitchen that would put most restaurants to shame.
But no matter what you do, be sure to get a reservation here- walk-up seating was welcomed when we went but we got one of the last tables. Despite the brewery's immense size (we cannot understate how big this place is), it was also packed!
Maine Beer Company is located at 525 US-1 in Freeport, Maine.
Do you have a favorite brewery in Portland, Maine? Comment below to share! We'll be updating this guide on our next visit when we invariably try out more breweries!
About Jeremy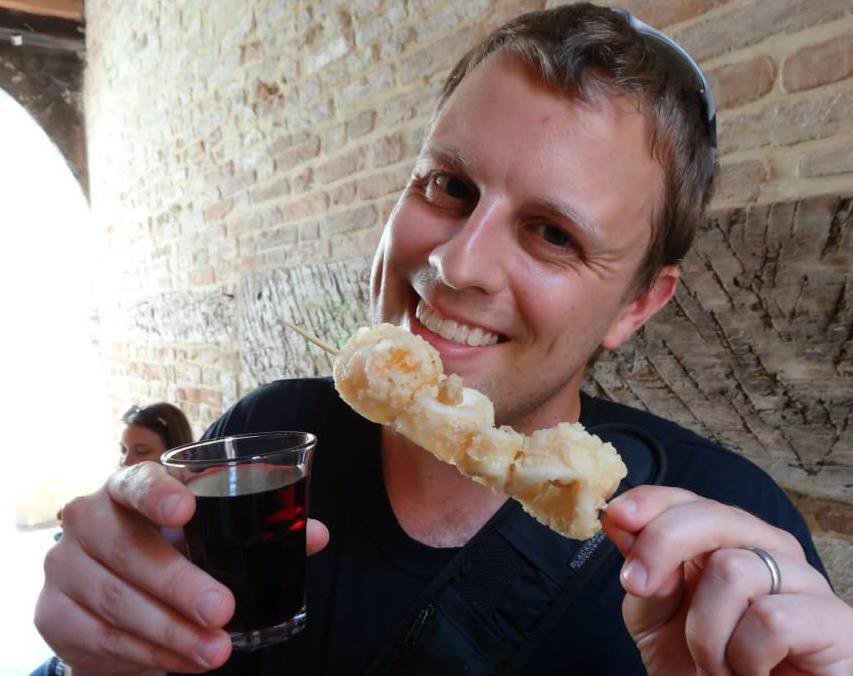 About the Author: Jeremy is a full-time travel writer based in Pittsburgh and primary author of this site. He has been to 70+ countries on five continents and seeks out new food, adventure activities, and off-the-beaten-path experiences wherever he travels.