Published by Jeremy. Last Updated on February 7, 2023.
Disclaimers: We were hosted for this experience. Our site uses demographic data, email opt-ins, display advertising, and affiliate links. Please check out our Terms and Conditions for more information. Listed prices and attraction details may have changed since our visit and initial publication.
Venice is admired for it's beautiful architecture, hundreds of canals, and unique history.  It is the combination of these factors that draws millions of visitors to this tiny city each and every year.  But while these are great reasons for travelers to visit the city, a highlight that is not often talked about is the food.
Sure, Venice is home to the cuisine that the country of Italy is famous for. There are places to get amazing pizzas, pasta, and gelato on every corner; all delicious.  But when thinking back on the favorite memory of the city, it is all to common to jump to the other features we mentioned at the beginning of this article. 
Even though the food is always great, what is typically not included with the memory is of it being truly "Venetian." This is why we think some of the best restaurants in Venice are, in fact, the cicchetti bars.
Cicchetti Bars are a Must
We were thoroughly expecting to fall into this same mindset on our visit to Venice until we tried out a food and market tour by Walks of Italy. On this particular Venice food tour we got the chance to explore the side of Venice that the Venetian's see; the local markets, tapas and wine bars that are often so removed from the action that most visitors never see it.
I would know, on my last trip to the city I missed out on all of these things, and I'm pretty bummed out looking back on it.
Rialto Fish and Vegetable Markets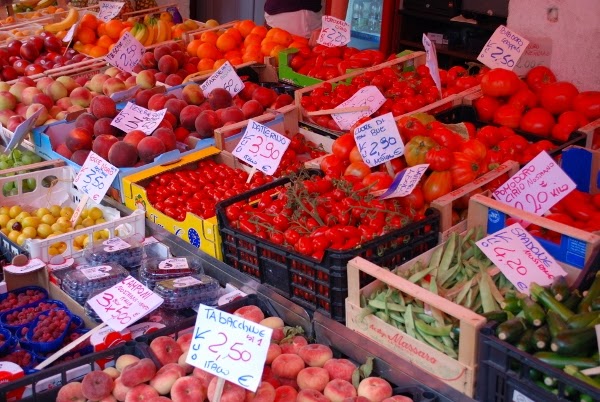 The morning markets in Venice are an experience not to be missed.  Located within just a couple minute's walk from the Rialto Bridge, this center is the heart of Venice's food scene.
When considering Venice, our guide gave us a great explanation that put life several hundred years ago into perspective.  The region of the city past the Rialto Bridge that houses the Doge's Palace, Saint Mark's Square, and Basilica was used as the political and religious headquarters of the empire. 
The area beyond the Rialto Bridge in the opposing direction, such as where the markets currently stand, was used by citizens for all things commerce.
Of course, where there is commerce there is food, something Venetians know a thing or two about.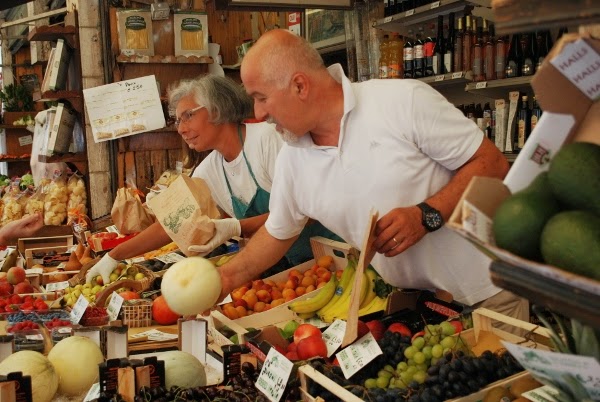 The fish and vegetable market in Venice is not the largest market we've ever seen.  In fact, it is quite small.  But for a city the size of Venice, considering the takeover of tourism in recent decades, it seems huge by perspective.
This being Italy, our attention was brought to the tomatoes which were in some of the deepest shades of red we've ever seen.  To say they are unlike anything we've tried in the USA is an understatement, they're that red. 
Our jealousy instantly rose to a maximum level as we realized our homemade pizzas may never, unless we move to Italy, stack up. 
We know fresh ingredients are the secret to the perfect sauce, but something tells us we may never have the opportunity to try them out in our own kitchen as they look far more appetizing than anything we've ever seen at home.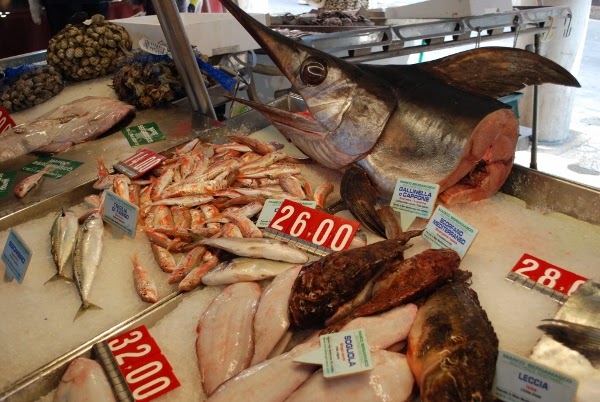 As our tour of the market progressed the vendors became less focused on selling fruits and vegetables and more and more concentrated on fish and other seafood.  While the stalls loaded up with shrimp, jumbo cuts of fish, and other crustaceans is always something that interests us, the unique thing about the Venetian market is the types of fish that can be found there. 
Most are local, and many cannot be found anywhere else in Italy, or even outside of the lagoon around Venice!
After learning that piece of knowledge, our meals were sure to include loads of fresh seafood.
Where are the Cicchetti Bars?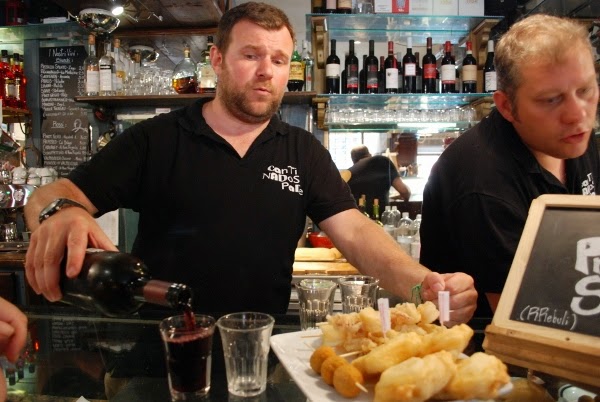 The cicchetti tapas and wine bars are an interesting feature of Venice's food scene, much like the markets we mentioned above. Unlike their counterparts in major Spanish cities, where the bars and restaurants are visible on just about every corner, Venice's tapas bars always appear to be hidden!
This is not so much because they are low-key and unpopular, they are neither of those.  The apparent hidden aspect of Venice's tapas bars is all due to the fact that they are typically located down the windy, narrow alleys that visitors seldom explore and are only open for select hours of the day!
What you may see as a dark, cold alley from one end may actually open up to a small plaza with a sole tapas bar, and, if at the right time of day, overflowing with Venetians.
The Venetian Tapas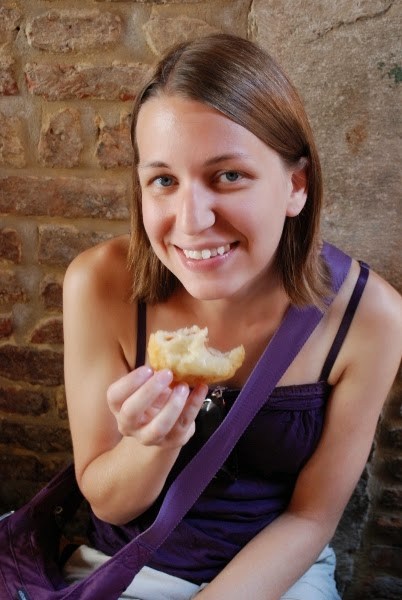 During our tour with Walks of Italy, we tried three tapas (cicchetti) and wine (osteria) bars in Venice.
The first, Al Merca, is located in an open square located between the Rialto Bridge and the Fish and Vegetable markets. Even at 11 in the morning, the first thing we noticed was that the bar was overflowing with visitors drinking wine and the Venetian beverage of choice, Spritz. 
Our guide told us that at happy hour this particular square is even more packed with Venetians enjoying a drink or two.
Our first taste of Venetian tapas included bite-sized sandwiches with anchovies and gorgonzola on fresh bread, a unique blend of two very bold flavors. Individually I would say I like neither, but combined on great bread it is heavenly. 
The second taste at Al Merca was an odd little treat called Polpette, a lightly fried dough ball filled with tuna or eggplant, which recalled memories of an amazing falafel.  Add in a glass of Prosecco, Venice's go to bubbly, and you have a great, slightly drunken morning.
But then there were two more bars to go to.  Perhaps we shouldn't have started this day on an empty stomach.
The second bar we visited was All'Arco, hidden a bit further back on Calle Arco.  Like the first bar this stop was so packed we had issues even finding a table to sit at.   This place is all about crostini, small cuts of hard bread topped with a few choice ingredients.
Our picks included a cod based cream that, although too much for my taste at noon, was one of Angie's favorite items of the day; as well a crostini topped with premium mozzarella, a mildly hot pepper, and cured duck.  This one we could eat all day if we had the chance.
Much like the first place, a glass of local white wine followed and we were getting our heads back on straight thanks to the onslaught of food.
Our final stop was another packed place hidden several blocks back on creepy looking alleyways.  Cantina do Spade on Calle Do Spade is one of the oldest bars in Venice (the second oldest as our guide pointed out).  This stop had a bit of history behind it in that it is said Casanova frequented this spot after one of his many love affairs with the local women.  If the ultimate of all lovers liked the place, well, there had to be a reason.
We had three amazing tapas at this bar, perhaps the best stop of the entire tour.  The first was a fried calamari stick that was as light on the breading as the portion was generous. 
Our personal highlight were a unique creation of a fried pastry of sorts that was stuffed with ham or anchovies with tomatoes. The outer appearance would suggest a crunchy bite while the inside was doughy heaven, much to our surprise.  
Finally, an assortment of meatballs on polenta rounded out the meal even though our stomachs could take no more.
A delicious local red wine later and our eating was at an end.
But not the drinking.
Finishing the Meal with Espresso and Grappa
In keeping with the pace of Italy, our many hours of eating ending with a visit to one of the best coffee shops in the city, Del Doge Cafe on Calle dei Cinque.  This modern coffee shop is one of the most well renowned in Venice and features coffee beans from around the world. 
Our guide assured us that the secret to a good coffee or espresso is due to the roasting technique, something she wouldn't share even at our incessant prodding. (Apparently a secret means you don't tell travel writers).
While a visit to this coffee shop is a must for all travelers to Venice, the real highlight of the shop was not the coffee but the grappa. 
This high proof alcohol (up to 100 proof) is made by processing the waste of the wine making process such as the seeds and skin. What remains is an intensely grape flavored liquid that is favored by Italians after a good meal as a digestion aid.
Of course, the second our guide told us that Italian men pound Grappa to show their manhood a fellow traveler toasted and I found myself downing a gigantic glass of the strong liquor.  Expecting a foul taste, I prepped for the worst.
But it was good. 
Incredibly good.  We liked the Grappa so much that we went out and bought a bottle that night, but unfortunately was of a different brand that hardly stood up to the shot we had at the cafe.
So we did what any good investigator would do.  We went back, and just over 4 Euro later were enjoying one more shot of Grappa while getting a photo of the bottle so we could buy it at home later.  This time we were sober and not as full, and it still wowed.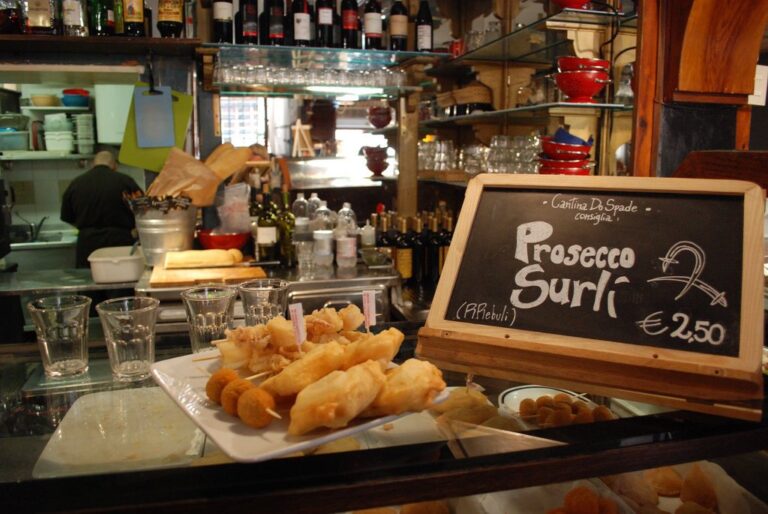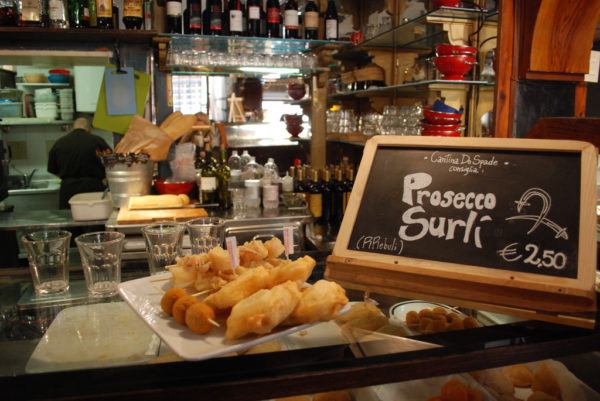 After a three hour walking tour of Venice we can safely say we discovered the Venetian food scene in all its glory.  It is pretty surprising how off-the-beaten path something could be for being so close to all the major highlights. 
All of the bars and markets visited are located within just a few blocks from the Rialto Bridge, but on my last trip to Venice I blew past them all without noticing.
That is a complete shame.  One I hope no one else makes on their next trip to Venice.
We'd like to thank Walks of Italy for inviting us to try out their Rialto Markets & Cicchetti Tastings Tour!  This 3-hour tour pairs small groups of less than 12 (we had four) with a knowledgeable guide that shares the food history of Venice in incredibly focused detail. An absolute must for foodie travelers.
Looking for more walking tours of Venice? Check out great options from Walks of Italy like Dine Around Venice: Authentic Food & Wine Experience with Moonlight Gondola Ride, Legendary Venice Tour with St. Mark's Basilica & Doge's Palace, or Venice in a Day Tour!
Looking for more Italian food articles? Check out our favorite posts featuring items such as our favorite European food! Or for more Walks of Italy reviews, click the previous link!
Book a Train Ticket in Europe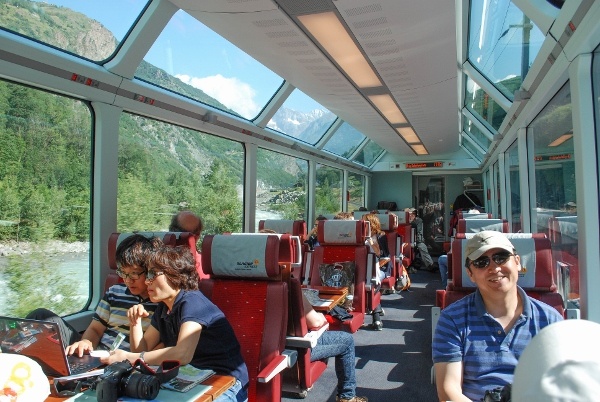 Want to learn more? Check out our Omio review!
About Jeremy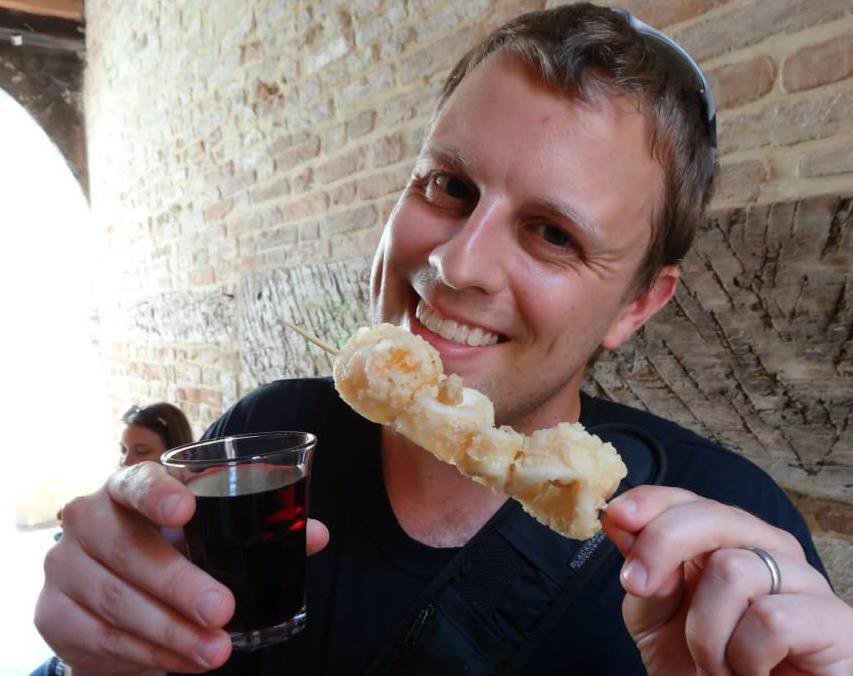 About the Author: Jeremy is a full-time travel writer based in Pittsburgh and primary author of this site. He has been to 70+ countries on five continents and seeks out new food, adventure activities, and off-the-beaten-path experiences wherever he travels.