Last Updated on March 24, 2022 by Kendrick
Disclaimers: We were hosted for this experience. Our site uses demographic data, email opt-ins, display advertising, and affiliate links. Please check out our Terms and Conditions for more information. Listed prices and attraction details may have changed since our visit and initial publication.
When people think of Ecuador, they automatically think: Swing at the End of the World! Which is great because it is named one of the must-do activities before you die and is in most people's travel bucket list. But, did you know Ecuador is also full of adventure activities that is sure to give you that heart pumping adrenaline rush? Well it is!
Here are the 10 big adventures you simply can't miss while traveling to Ecuador:
1) Hiking the Cotopaxi Volcano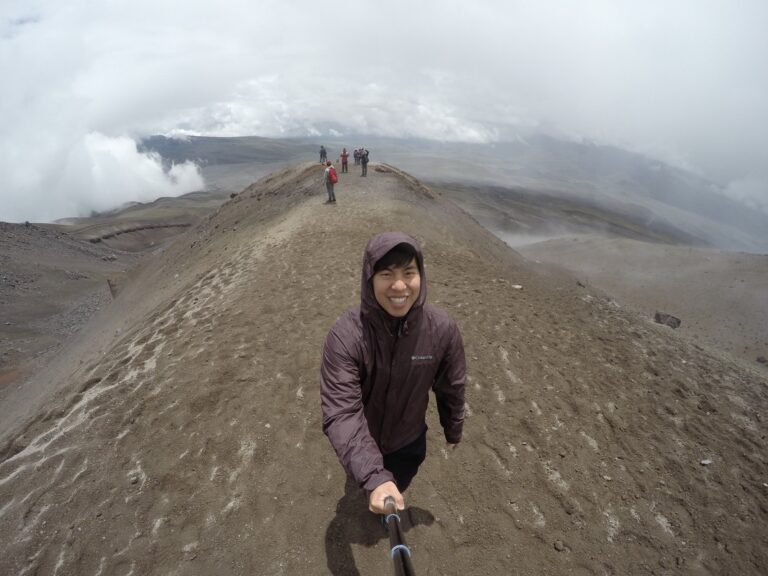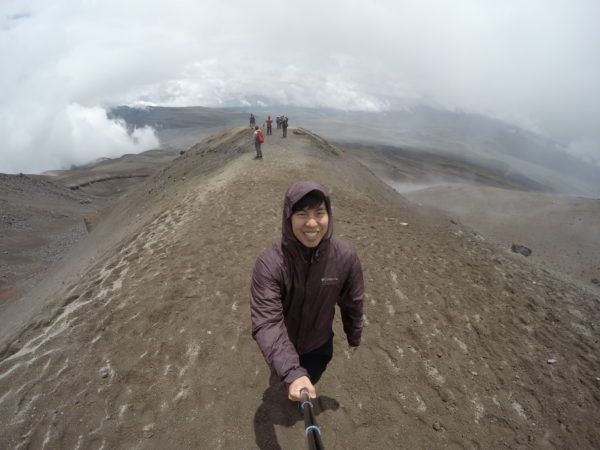 Have you ever hiked up a volcano? If not, here is your chance! The hike up Cotopaxi isn't easy, especially with the altitude reaching up to 16,000 FT during the hike. However, your resilience will pay off as you experience hiking up this beautiful landscape and the amazing view of the volcano right in front of you.
2) Mountain Biking in Llangates National Park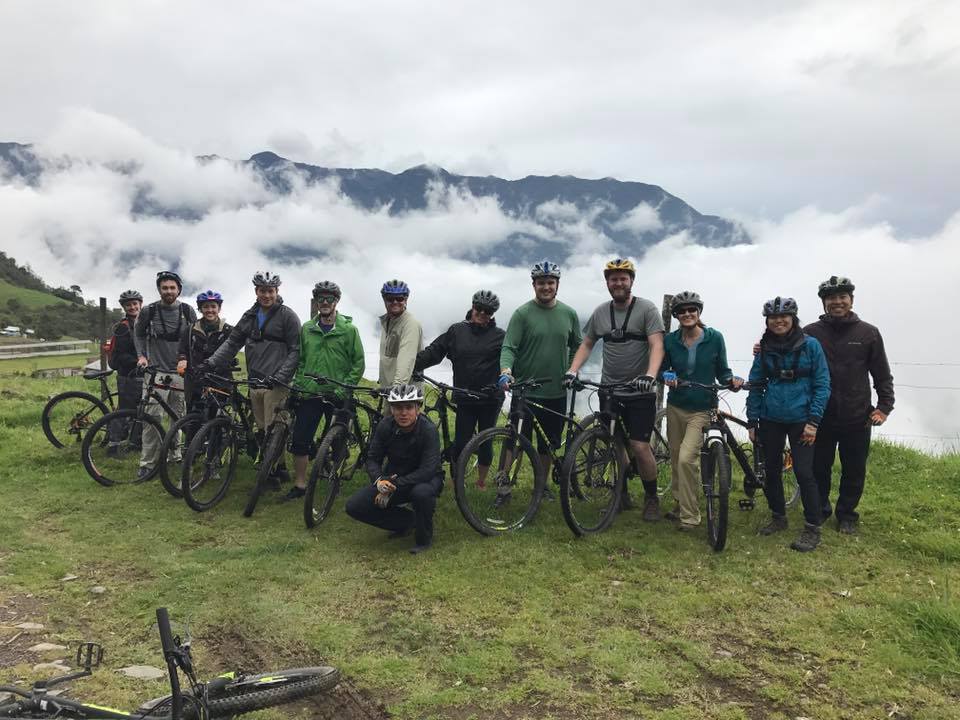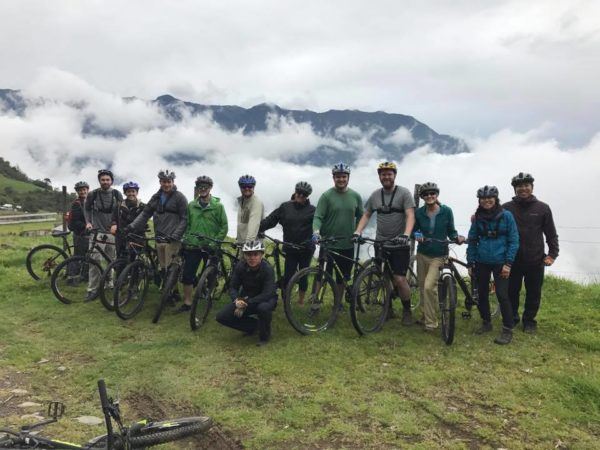 This is one of the most scenic places I have ever seen in my life! Biking through the Andean fields, and farmlands in Llanganates National Park is a MUST if you are in Ecuador. Located near the city of Baños, you will be rewarded with a unique experience of mountain biking through the local farmlands while surrounded by mountains and a volcano . You will also experience an intense adrenaline rush, as you speed down the mountains!
3) Bungee swinging on the bridge in Banos
If "bungee jumping" is on your bucket list, now is a good time to cross it off. Imagine jumping off a bridge, only to be flipped over then swung in mid air. And with a crowd of tourists and local spectators cheering you on! And the best part is this can be done for only $20 USD!
4) Zip lining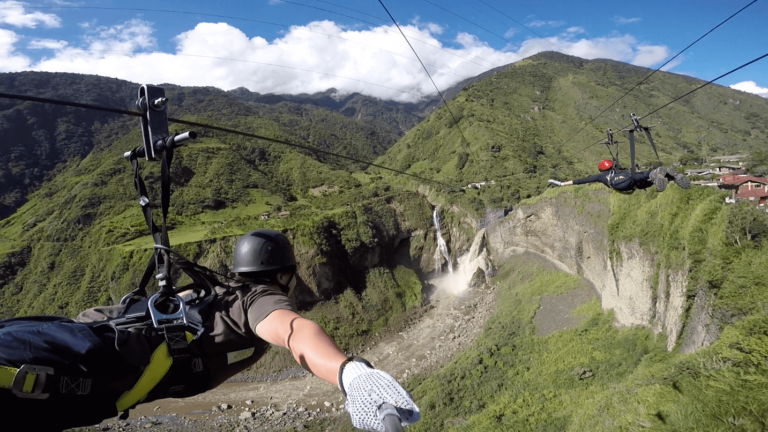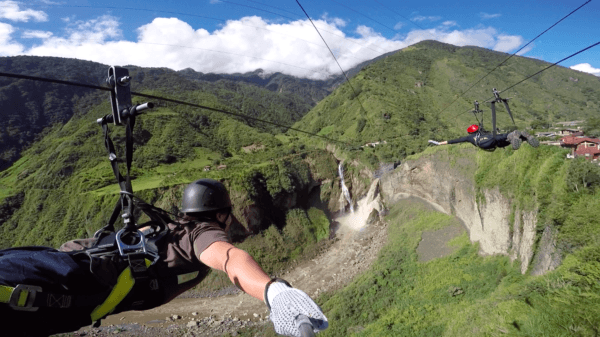 What about zip lining? If you have been itching to cross this off your to-do list, now is the time to do so! With a waterfall serving as a backdrop, you get the best view of the canyon as you zip to the other side like superman. The $15USD option will allow you to take a cable car back to start, or if you're feeling adventurous, you can zip back for $20USD.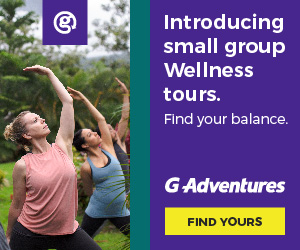 5) Trekking and experiencing a homestay in the Amazon Rainforest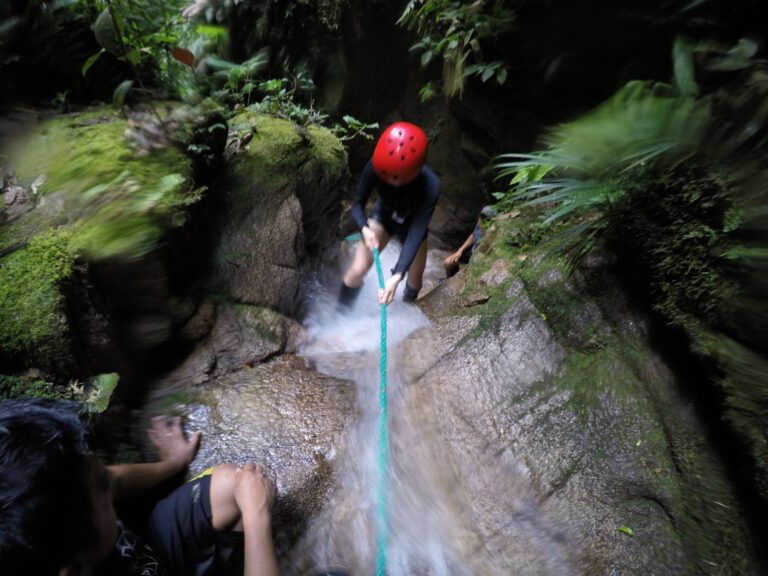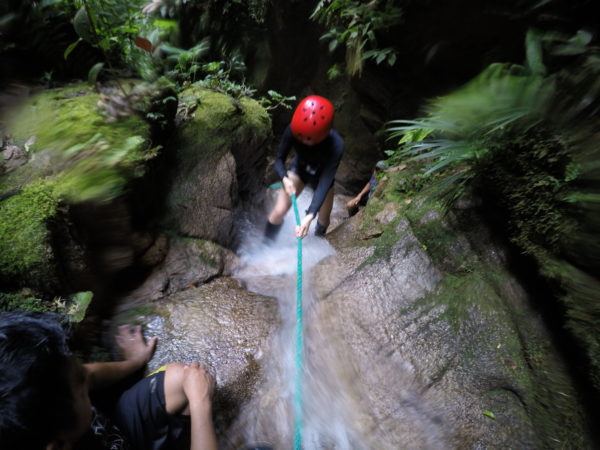 Trekking through the Amazon Rainforest is definitely an adventure you don't want to miss. There is no better day to spend the afternoon than traversing through the dense jungle and up waterfalls. With diverse plant and animal life, the amazon rainforest definitely lives up to being one of the seven wonders of nature.
When you're finished, enjoy a cooking lesson, as your homestay family shows you how to make chocolate from scratch! From roasting, to grinding and finally cooking, you will learn the steps to turning cocoa beans into a delicious dessert. Finally, end the evening with a home cooked meal prepared by your homestay and if you still have energy, you can sit around a firepit to socialize with other tourists. This is truly an authentic experience that cannot be missed!
6) River rafting in the Jatunyacu River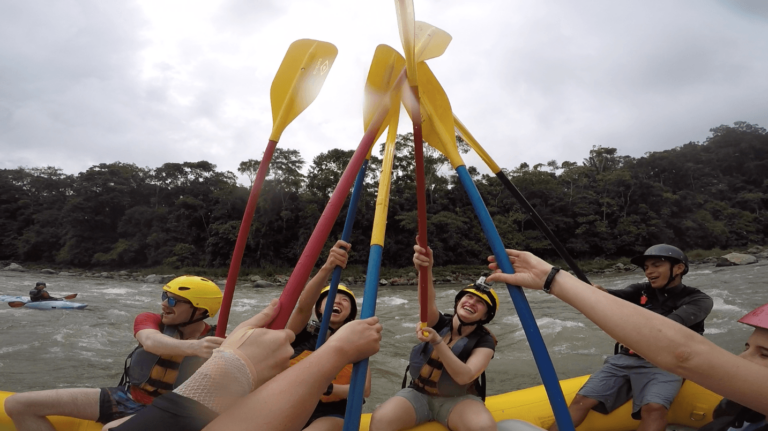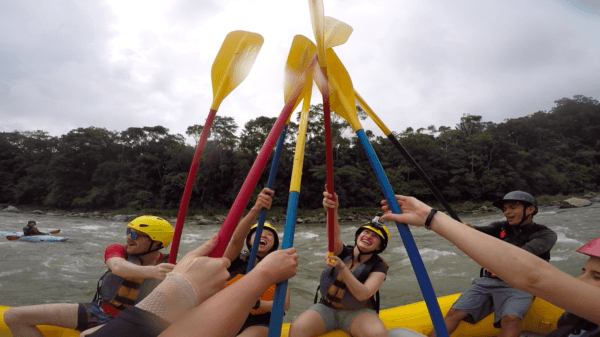 The Jatunyacu River is the perfect river to get you started on river rafting. If you've never done it before or have some intermediate experience, this is the perfect river for you! From class 1-4 rapids, you get to challenge yourself as you paddle your way through wild waves while trying to stay in the raft!
During the slower periods, you will be rewarded with a nice view of the river allowing you to get some nice pictures.
7) Shopping in the Otavalo Market
A trip to the Otavalo Indigenous Market may not get your adrenaline going, but it's still a fun adventure on its own. Now is the time to put your Spanish to good use, as you attempt to bargain for a good deal on beautiful handicrafts and textiles. Brightly colored rugs, ponchos, bags and hand crafted wooden bowls are a some of the many things you will see. Even if you don't end up purchasing anything (which probably won't happen), have a chat with the locals. They are so patient and welcoming!
8) Hiking the Cuicocha Crater Lake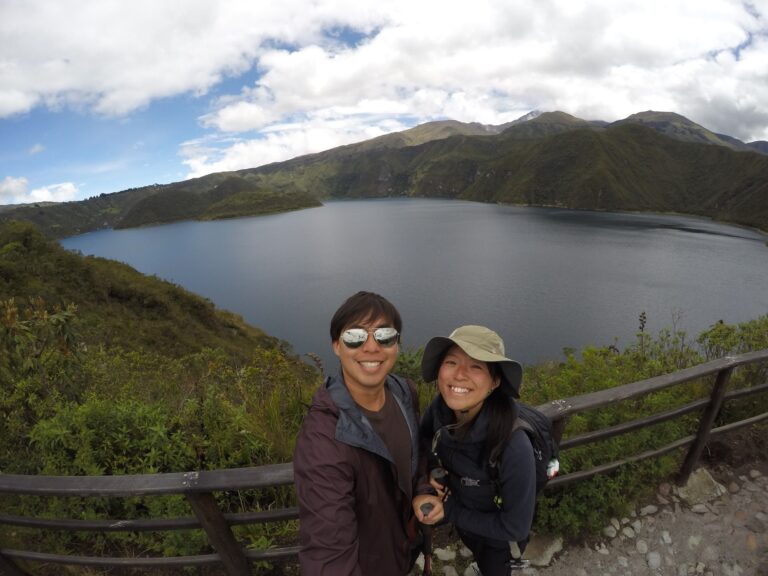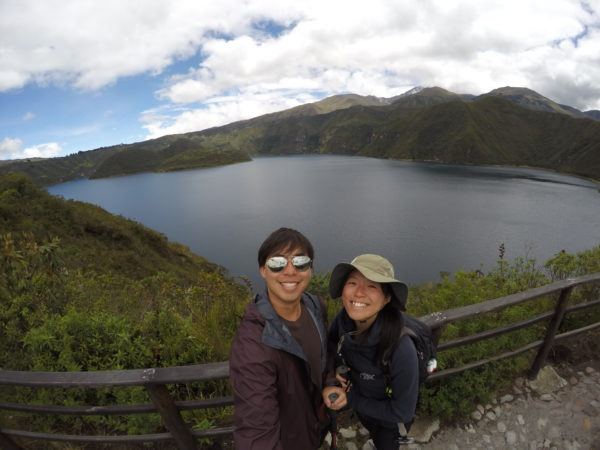 Hiking the Cuicocha Crater Lake is a unique experience. When will you ever get a chance to hike around a like that is actually a live volcano? This experience will take you on a loop around the crater lake. The hike is challenging and will leave you breathless for 4-5 hours, literally!
9) Eating Ecuadorian delicacies
During our week in Ecuador, we really got a chance to learn about Ecuador through their cuisine. Besides discovering that a spicy sauce is eaten with virtually anything (Chips, soup, entrees, bread…etc), we also tried foods like roasted guinea pig, or "cuy", which tasted like roast pork and the skin is a similar texture as roast duck.
We also tried Ecuadorian biscotti, or "bizcocho". A buttery, flakey pastry, that is pretty bland if you eat it by itself. However, it is instantly transformed once you slather a generous amount of dulce de leche on top of it. The coolest part is you pair the bizcocho with a piece of cheese, to balance out the sweetness of the caramel spread.
We tried so many delicious foods, but perhaps our favorite is their helados de salcedo, a four flavored ice cream treat in the shape of an upside down cup. The sweetness of the vanilla and jam is balanced out the the tart, fruity flavors at the bottom. It's the perfect treat to have during long bus rides!
10) Swing at the End of the World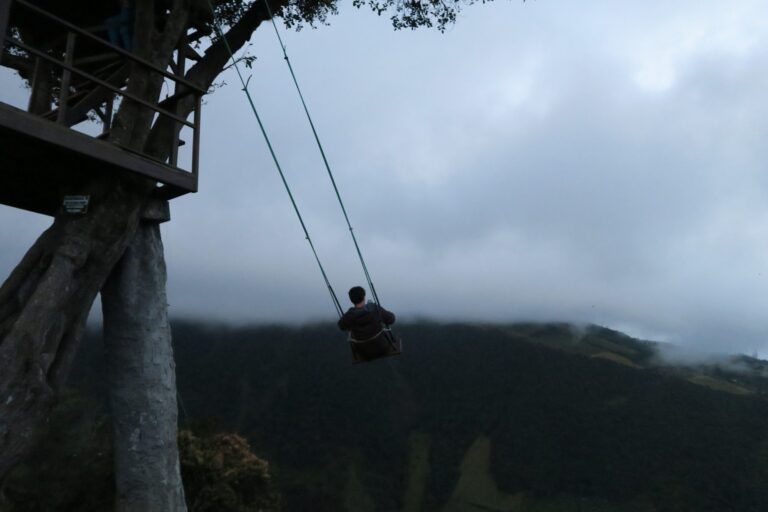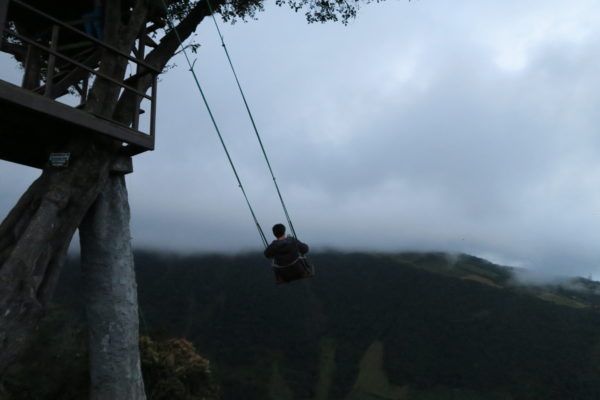 And of course, you absolutely cannot leave Ecuador without visiting the Swing at the End of the World! This is a must see for all lovers of adventure. Did you know that the treehouse is actually an observation tower for Tungurahua, a volcano that is still active? If you are lucky, you will be able to see Tungurahua as you take epic photos of yourself on the world famous swing. Your friends will be jealous of your adventure as they see you ticking one item after another on your bucket list.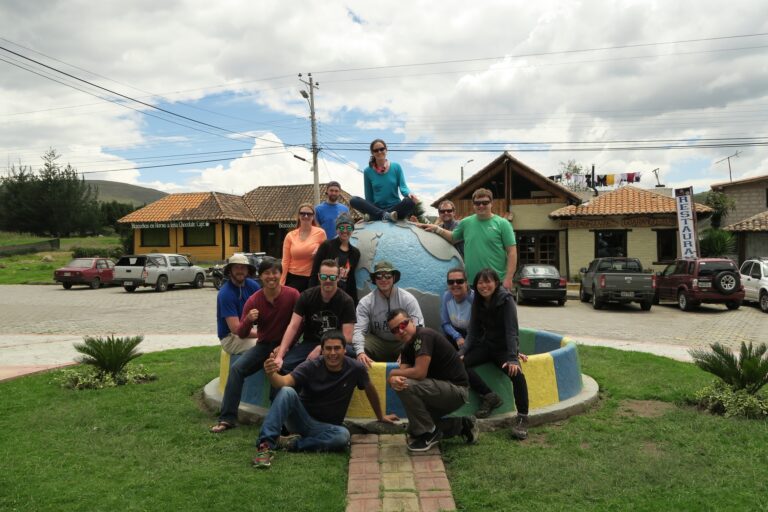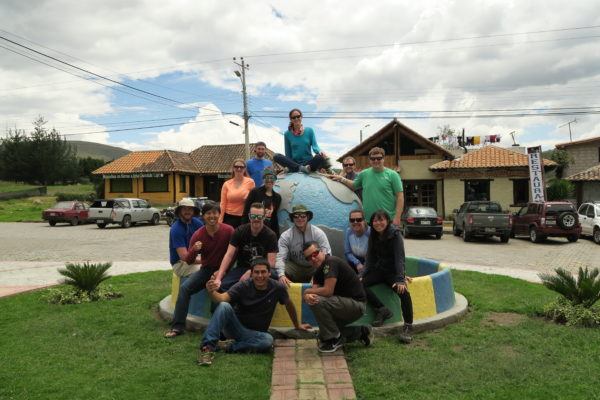 Because of the amazing guides, we were able to enjoy everything Ecuador had to offer without worrying about our health and safety.
As a matter of fact, not only were our guides great, they were very entertaining as well. During our adventure travel in the Amazon rainforest, our homestay host not only made sure our hike through the dense forest was safe, he also made it really funny and entertaining. There was never a dull moment for sure during our time in the amazon rainforest.
To sum it up, our trip felt like an educational field trip, but for grown-ups. Our guide Paul, who has been in the industry for 14 years, knows everything there is to know about Ecuador. From local Ecuadorian customers, to interesting facts about the landscape, we felt like we got to know Ecuador from a much more personal level.
If you're thinking about visiting Ecuador but aren't sure where to start, I highly recommend signing up for a tour. We had so much fun we are thinking about signing up for a tour the next time we go!
For more articles from Kendrick's travels in Ecuador, check out trekking in Ecuador!
About Kendrick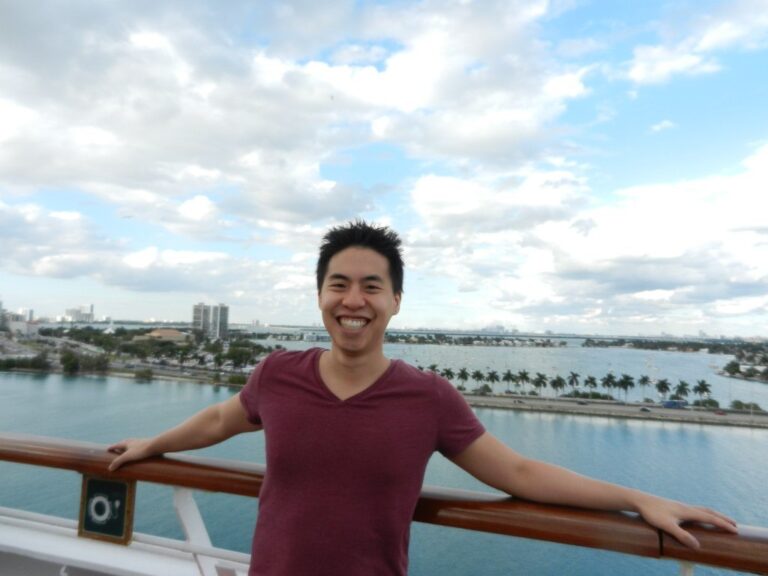 About the Author: Kendrick of Travel and Live Free was a contributing author to share stories from his trip around the world from 2016 to 2017. He now has the goal to visit every country in the world in the next few years.