Published by Jeremy. Last Updated on August 14, 2022.
Disclaimers: Our site uses demographic data, email opt-ins, display advertising, and affiliate links. Please check out our Terms and Conditions for more information. Listed prices and attraction details may have changed since our visit and initial publication.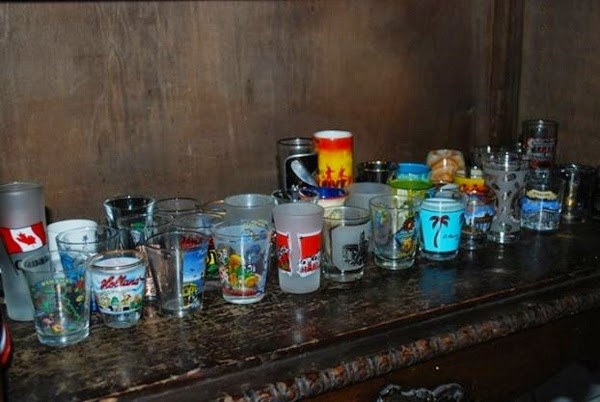 Purchasing souvenirs is often an important aspect of all trips to many travelers. When a city or region gets too popular, however, a lot of the souvenirs sold are just.. well, crap.  So finding the best souvenir for yourself might be a difficult task.
When I travel, I tend to have a rather large budget just for souvenirs, much greater than most people I meet.  For my collection, I try and get three things from each country I go to: a display piece, a shot glass, and a t-shirt.
This article focuses on all of the shot glasses I have acquired from the 34 countries I have visited so far.  Out of these countries, only one is currently missing as I could not find a single shot glass in the tiny city state of Macao.
Building an Empire – Of Shot Glasses
At $2-$5 per shot glass, they are a relatively cheap souvenir to pick up from a country and do not take up the valuable bag space that might be a turn off for other larger display pieces.  I try and purchase shot glasses that have interesting scenes that are reflective of the country to have a more inspiring souvenir to sit out. Unfortunately that does not always work out when some locations, such as Paris, only offer cheesy designs on every item that is sold.  At 33 pieces and counting, my shot glass collection is getting off to a good start.
Caribbean – 10 and Counting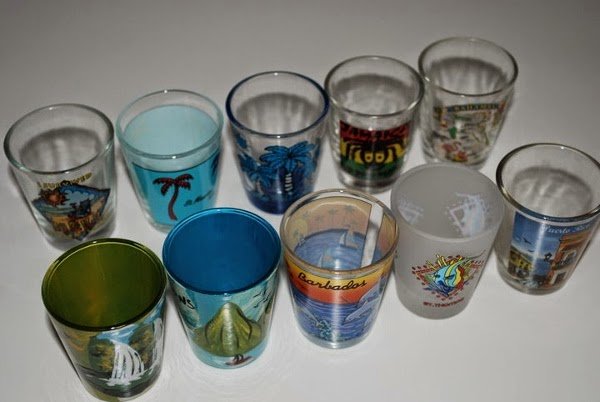 The Caribbean nations have the most disappointing shot glass designs of my collection.  In many places, such as St Martin and St Kitts, the only shot glasses that looked remotely interesting had standard palm tree and beach scenes, with no direct images of the country.  But considering that is what people go for, it is not a completely upsetting phenomena to see.  Our personal favorites are Dominica and St Lucia which has seemingly hand painted scenes of the beautiful geography of the islands.
Back L-R: Cayman Islands, St Maarten, St Kitts, Jamaica, Bahamas
Front L-R: Dominica, St Lucia, Barbados, St Thomas, Puerto Rico
Asia – 8 and 1 MIA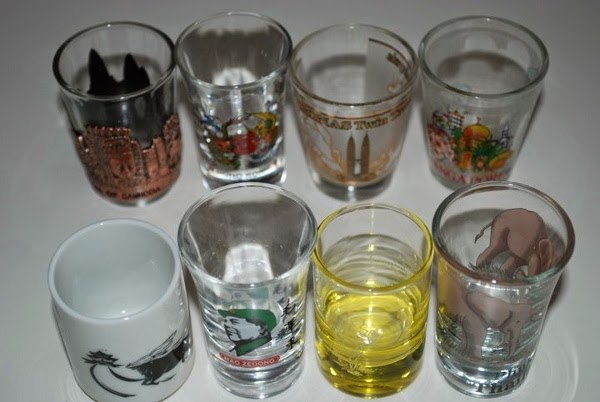 Asia is surprising for the shot glass hunt in that the market is not nearly as saturated with choices like other parts of the world.  The only place in Macao that seemed to even sell shot glasses was the Hard Rock Hotel, and they were sold out (eBay time!).  Japan, Malaysia, Vietnam, and Thailand required a moderate effort to find any designs, let alone ones I'd like to purchase.  In fact, I can safely say that I only ever remember seeing shot glasses in Ho Chi Minh City in Vietnam and Phuket in Thailand.  No where else did I find shot glasses during any shopping excursion.   Our personal favorite is Cambodia which has scenes of Angkor Wat on a raised bronze colored attachment going entirely around the shot glass.
Back L-R: Cambodia, Hong Kong, Malaysia, Singapore
Front L-R: Japan, China, Vietnam, Thailand
Middle East – 2 Difficult Finds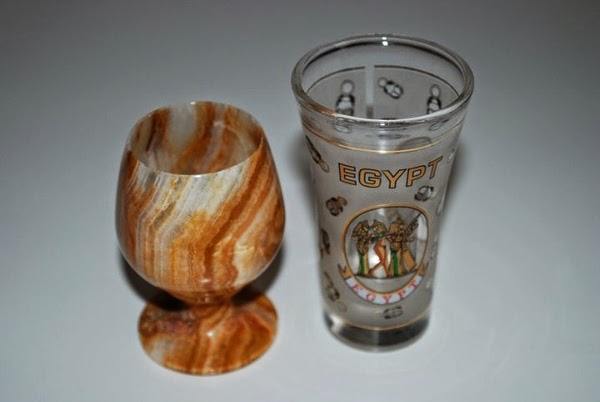 If Asia is described as difficult to buy good shot glasses, then the Middle East is even worse.  This time it is not just from lack of choices, but because Islamic countries are inherently dry.  Why sell shot glasses if no one needs them?  I ended up finding the Egypt shot glass in a high end crystal and glass shop in Luxor for a price of around $6.  Ouch.  Jordan actually produces alcohol, mostly wines, due to being the highly fertile promised land, and most are named accordingly.  Still, Jordan did not sell shot glasses, and only had this beautiful granite style cup that I am told is used to drinking spirits in the fashion Westerners use shot glasses.  For the best shot glass hunt, these are favorites of the entire collection.
L: Jordan, R: Egypt
Europe – Up to 11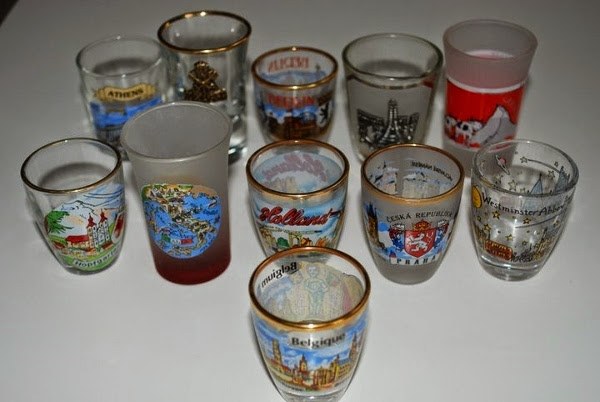 Europe is the easiest place to find the largest collection of shot glasses while traveling, and most have a similar design that could make for easily making a standard style of collection.  Most are gold rimmed and feature city or geographical scenes over the entire shot glass.  Angie's personal favorite is the Switzerland glass that features cute cartoon cows along a mountain, and Jeremy's personal favorite is Vatican City.  The reason for this one is that only one shop in Vatican City seemed to sell shot glasses, and was located at the top of St Peters Basilica.  Jeremy purchased this shot glass from an 80+ year old nun.  Awkward.  Goes well with the Cayman Islands shot glass from Hell in the Caribbean set.
Back L-R: Greece, Vatican City, Germany, France, Switzerland
Middle L-R: Austria, Italy, Netherlands, Czech Republic, England
Front: Belgium (only transited)
North America – 3 Tall Ones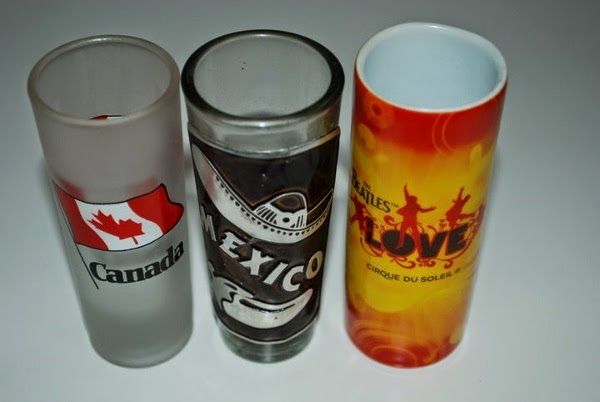 I purchased two of the three North American glasses on eBay as I traveled to the countries before I started collecting, so the designs for Canada and Mexico aren't all that inspiring.  I have several that I have purchased within the USA, but only Cirque du Soleil's LOVE from Las Vegas is considered to be a reflective country piece in my mind, even if the only thing American about it is that it is from Vegas!  (Cirque is French-Canadian and the Beatles, obviously, British).  But hey, we're a melting pot, right?
L: Canada, M: Mexico, R: USA
About Jeremy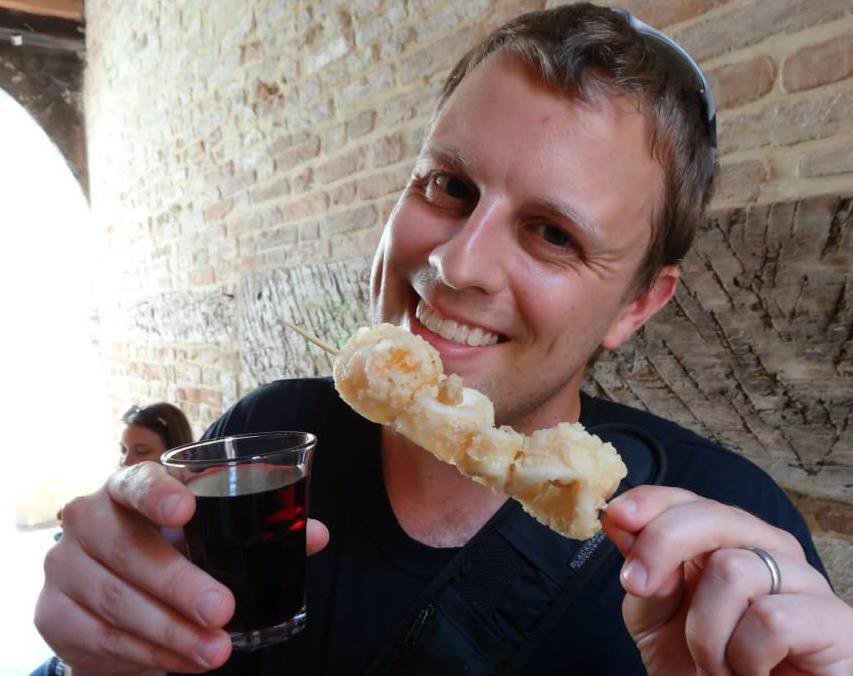 About the Author: Jeremy is a full-time travel writer based in Pittsburgh and primary author of this site. He has been to 70+ countries on five continents and seeks out new food, adventure activities, and off-the-beaten-path experiences wherever he travels.