Last Updated on August 5, 2022 by Guest Blogger
Disclaimers: Our site uses demographic data, email opt-ins, display advertising, and affiliate links. Please check out our Terms and Conditions for more information. Listed prices and attraction details may have changed since our visit and initial publication.
The following is a guest post from Claire's Footsteps.
I consider Mexico City to be one of the most underrated places that I have ever visited. The capital is one of the largest cities in the world, with a fascinating history spanning from ancient empires, through the Spanish invasion, to the present-day melting pot that is the heart of all things Mexican.
Yet, many travellers don't travel in Mexico City due to fears of its safety. While I'm not going to pretend that the city and country are crime-free, most tourists to both have a hassle-free stay, and it is very easy to avoid being a victim of crime here.
I personally lived in Mexico City as a teenager and have re-visited a few times as an adult, and have loved the place a little more every time. So, if you are thinking about visiting Mexico City for the first time, here are my recommendations of things to see and do, as well as where and what to eat. Enjoy!
Travel in Mexico City: The Best Sights to See
There are so many angles to see Mexico City, the largest city in Latin America, from. I'd recommend adding the following sights to your Mexico City itinerary.
View from the top of Torre Latinoamercana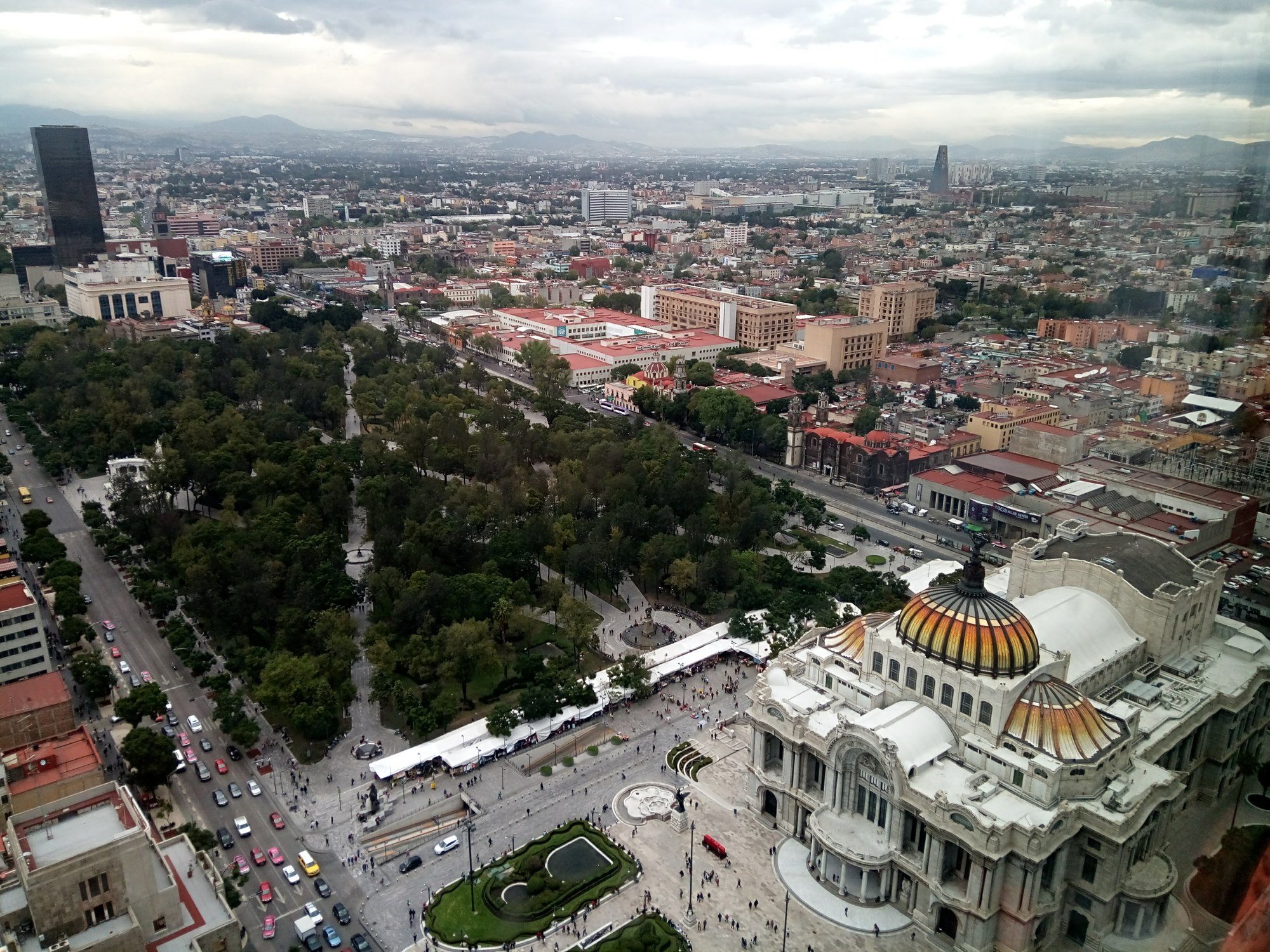 Chilangos (people from Mexico City) are very proud of Torre Latinoamericana. This isn't because of its beauty – it's actually quite ugly –but it is the highest skyscraper ever built on seismic land.
And not only was it built, but it has survived three devastating earthquakes, one in 1957, another in 1985, and the recent 2017 catastrophe. Not even a pane of glass was shattered during any of these earthquakes – making Torre Latinoamericana an architectural marvel.
Thus, it's considered to be one of the safest buildings in the city. You can go to the 37th floor for 110 pesos and admire the beautiful view, taking in the Palacio de Bellas Artes, Parque Almendra, and the surrounding streets and buildings of central CDMX.
Palacio des Belles Artes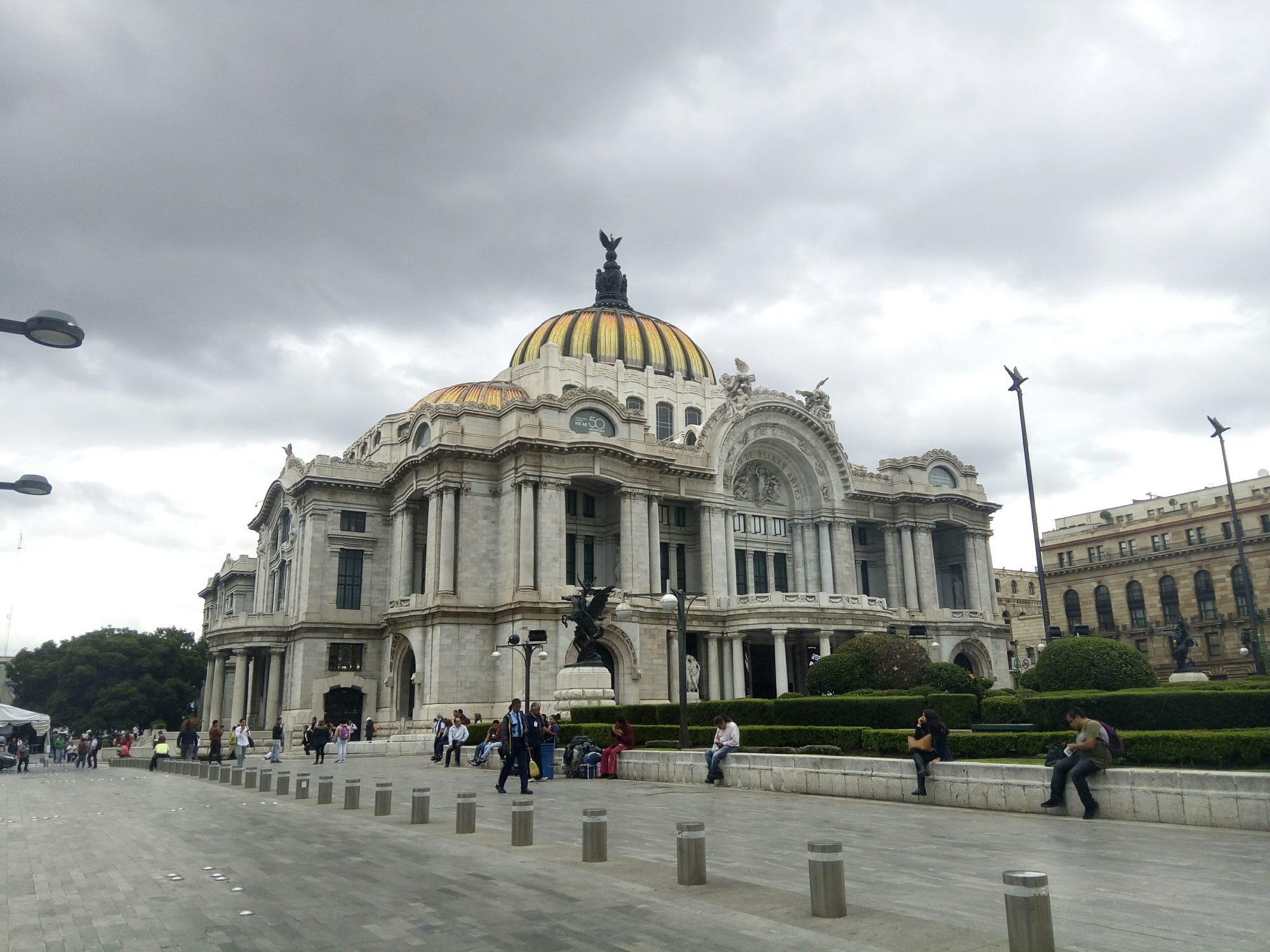 Back on ground level, Palacio de Belles Artes is well worth a visit while in Mexico City. It's famed for its beautiful architecture (it manages to combine art deco, neoclassical and art nouveau styles!) and inside is home to beautiful murals and other works of art.
It's one of the best places in Mexico City to engage in its up and coming arty scene.
Parque Almendra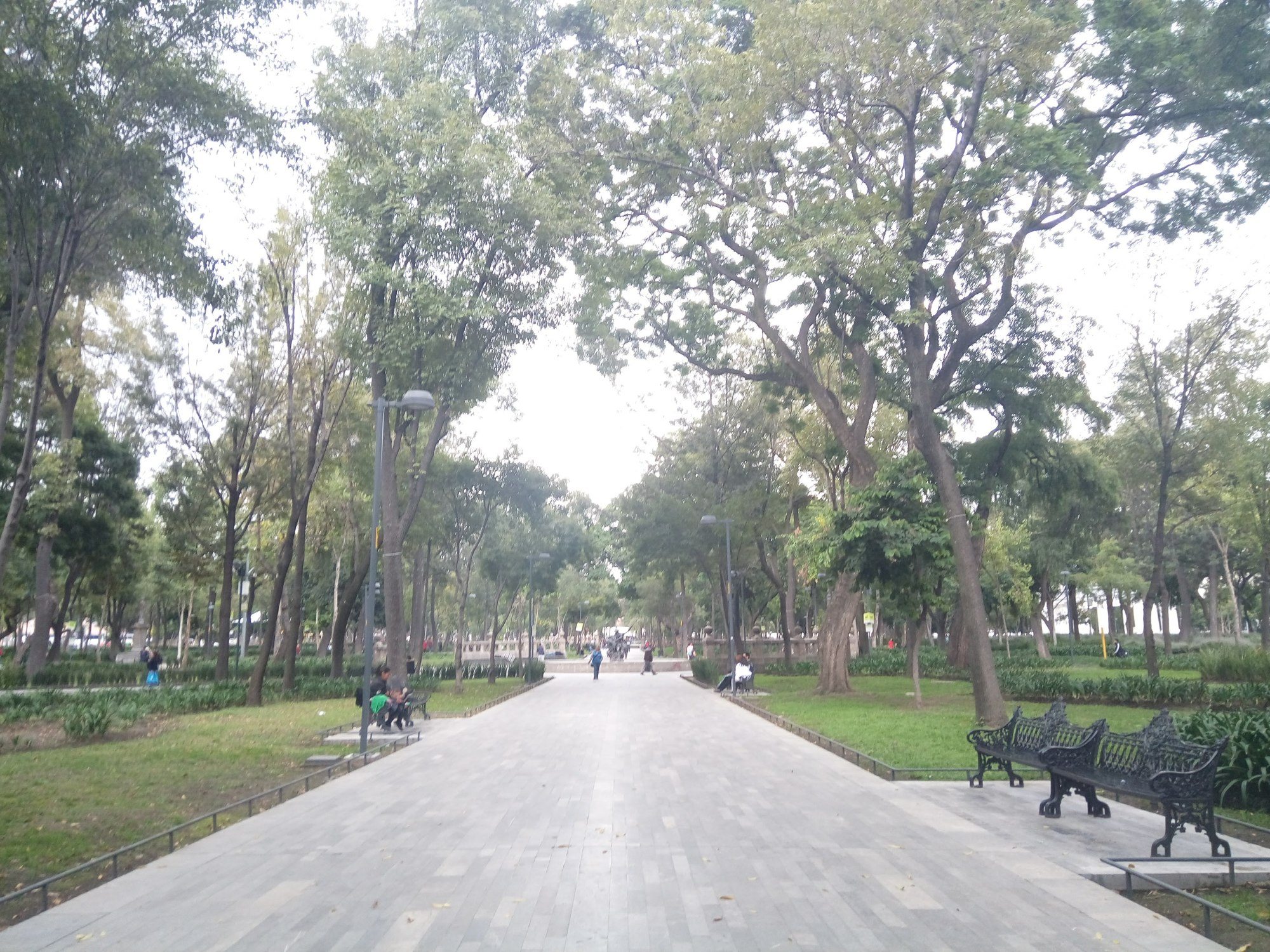 This park is situated in the center of Mexico City, close to the Palacio des Belles Artes. It's one of the best places to walk in Mexico City to just fully appreciate Mexican culture; here you can see street food vendors, people selling clothes and gifts, and if you're lucky, a mariachi band.
Its central position means it is prime location to drop into while exploring other parts of the city.
Parque Chapultepec
The largest park in Mexico City, Parque Chapultepec is located on the edge of the affluent Polanco suburb. Its leafy walkways make for a great stroll, and Chapultapec Castle is in the middle, which is worth seeing. It's a fantastic place to get a breath of fresh air from the busy and rather polluted city.
Wander the Neighbourhoods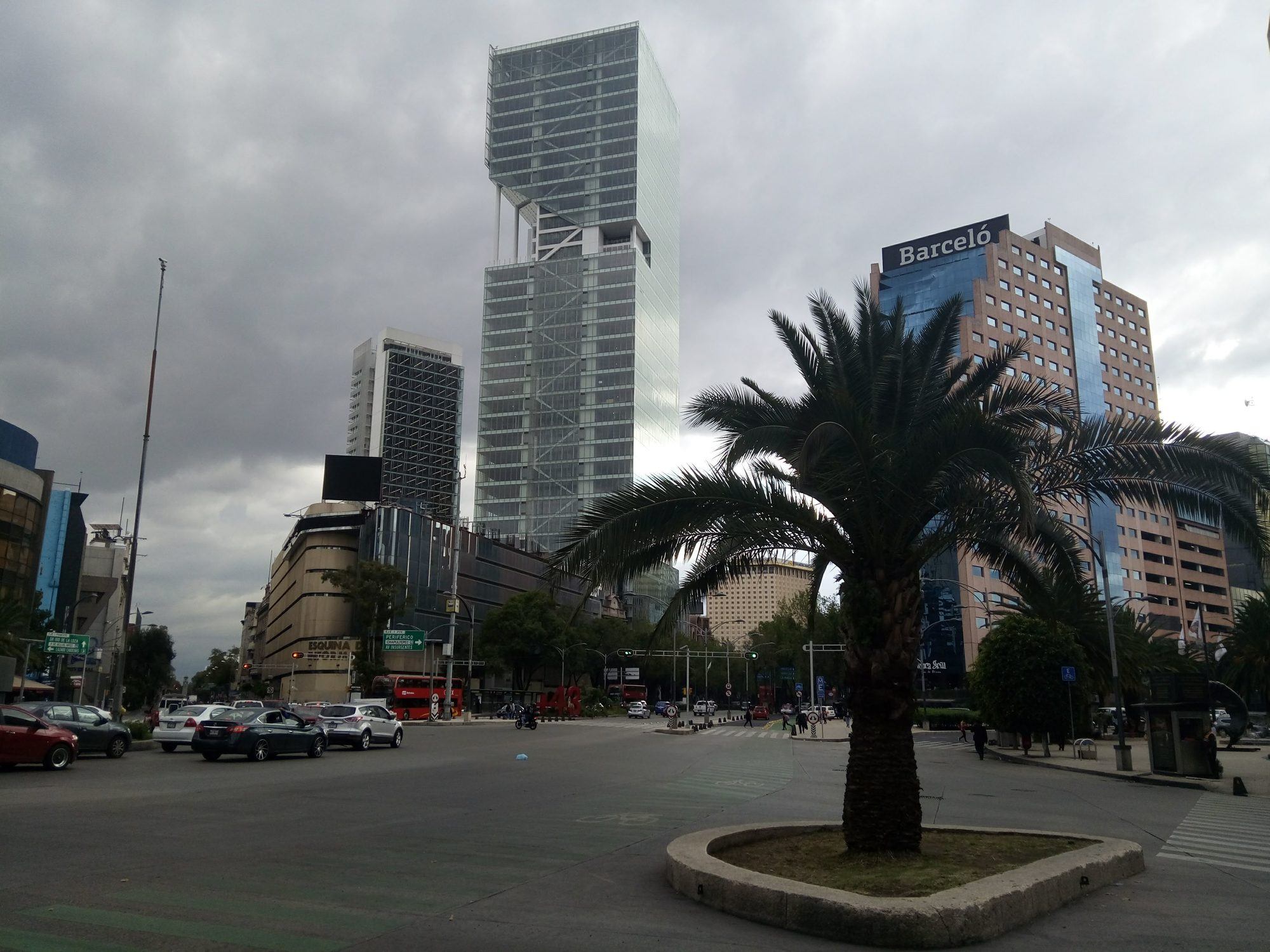 Part of the draw of Mexico City is its varied neighbourhoods. The fact that these are all so different means that outside of the city center you'll feel more as if you're in a large town rather than the biggest city in Latin America!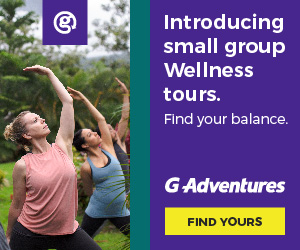 It's important to know which neighbourhoods in Mexico City are safe to walk around in, and in which some caution should be advised. Most of them (at least the ones that tourists visit) are fine in the day, but you'll want to be careful in a few at dusk or nighttime.
• Condesa – this is one of Mexico City's most popular neighbourhoods with young locals and travelers.
It has lots of hip restaurants and bars, and wide streets that are reminiscent of many US cities.
Condesa is generally very safe day and night – although I still wouldn't recommend walking around in the early hours of the morning.
• Roma – another hip neighborhood, Roma is slightly closer to the center. It has lots of bars and restaurants as well, and is near Mexico City's 'Zona Rosa' which is a really fun area.
Due to its slightly more central positioning, crime can happen here during the night time, but it's not that common. Exercise caution after dark.
• Polanco – this is where Mexico City's rich and famous live, and walking around admiring the houses is always good fun (but don't look at them for too long, otherwise you might get some funny looks!).
I've walked around this area night and day, and have never felt unsafe.
• Coyoacán – this southern suburb is where Frida Kahlo's Casa Azul is located. Factor in some time to explore the area while seeing her house, but do make sure it's during the day – this area can be a bit sketchier at night.
Note: I'm only going on my personal experiences here, please use common sense when exploring Mexico neighborhoods and go with your gut instincts. While I think Mexico City is a lot safer than people consider it to be, that doesn't mean any neighborhood is crime free!
What to Do in Mexico City
Free Walking Tour
A free walking tour is without a doubt one of the best things to do in Mexico City. Tours travel around the city center, stopping at all the key attractions.
These include the Zocalo, various churches, a beautiful post office and a very special department store. The guides know loads about the history of the city, making it a great way to get a grounding of the capital.
Frida Kahlo's House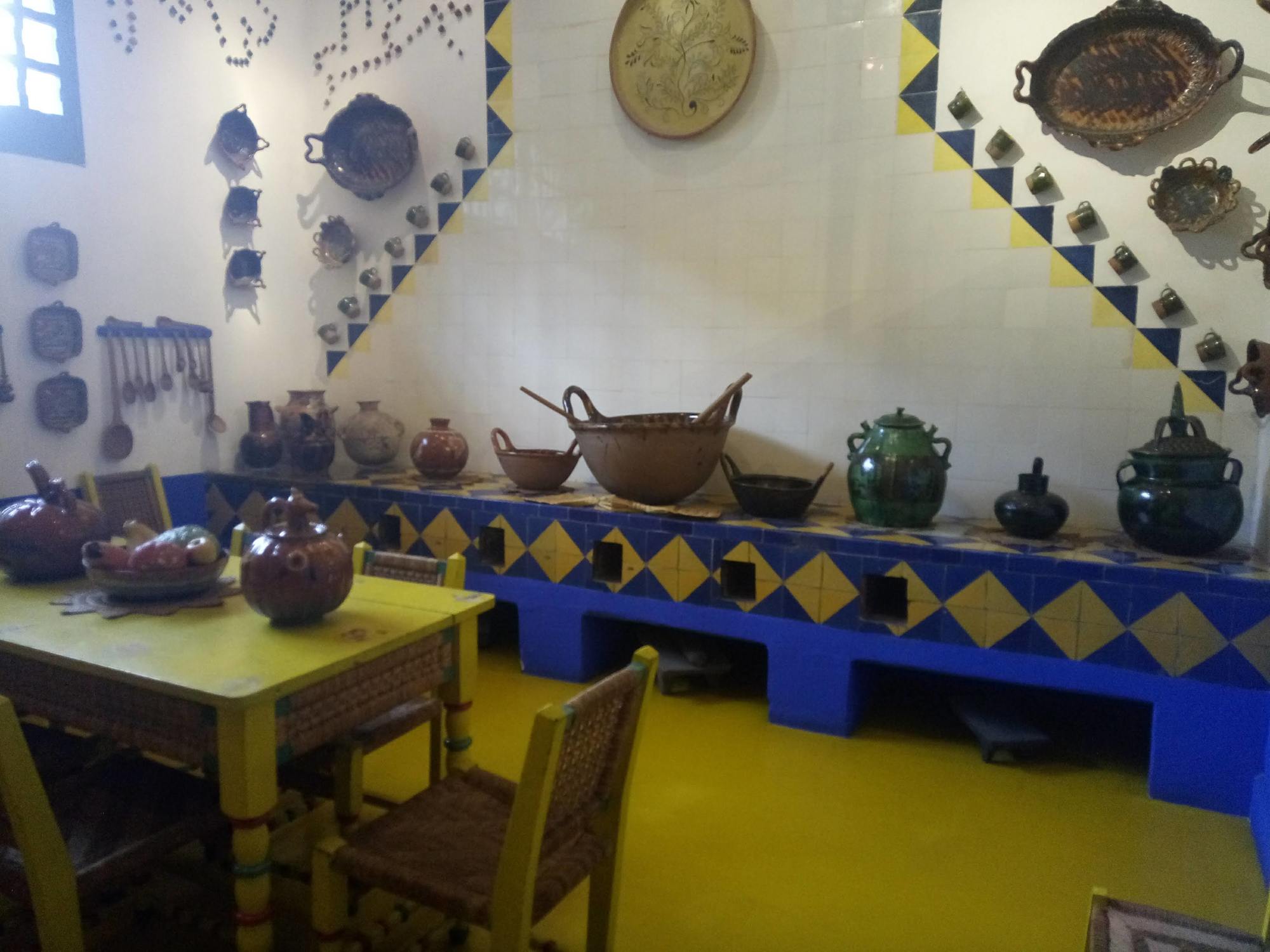 There are few Mexicans as famous as Frida Kahlo, and for good reason. She was a fantastic artist and an iconic feminist; being inspirational not only because of her forward-thinking views but due to her success despite her health conditions (she suffered polio as a child and had an accident that left her disabled).
This makes her house, 'La Casa Azul', one of the best places to visit in Mexico City. You'll get to see original artwork and learn more about this symbolic Mexican figure. Make sure to buy tickets online as the queues are nearly always massive and waits are long!
Leon Trotsky's House
Located in the same neighbourhood as Frida Kahlo's Casa Azul, Leon Trotsky's house is a hidden gem. Not many of the displays are written in English, but it's still worth visiting if you don't speak Spanish as you can see some of the communist propaganda and walk through the actual rooms where he lived when he was exiled to Mexico.
Anthropology Museum
Mexico City is considered the city with the most museums in the world (it's a tie between here and London, apparently!). Its best museum is probably the Anthropology Museum, which explores Mexican culture and customs, from the pre-Hispanic era to modern day.
You could spend all day in this museum – it gives an astonishing grounding to Mexican culture. It's a must-visit if you're carrying on your exploration of Mexico, but is even a good idea if you're just visiting Mexico City on a short break as well.
Xochimilco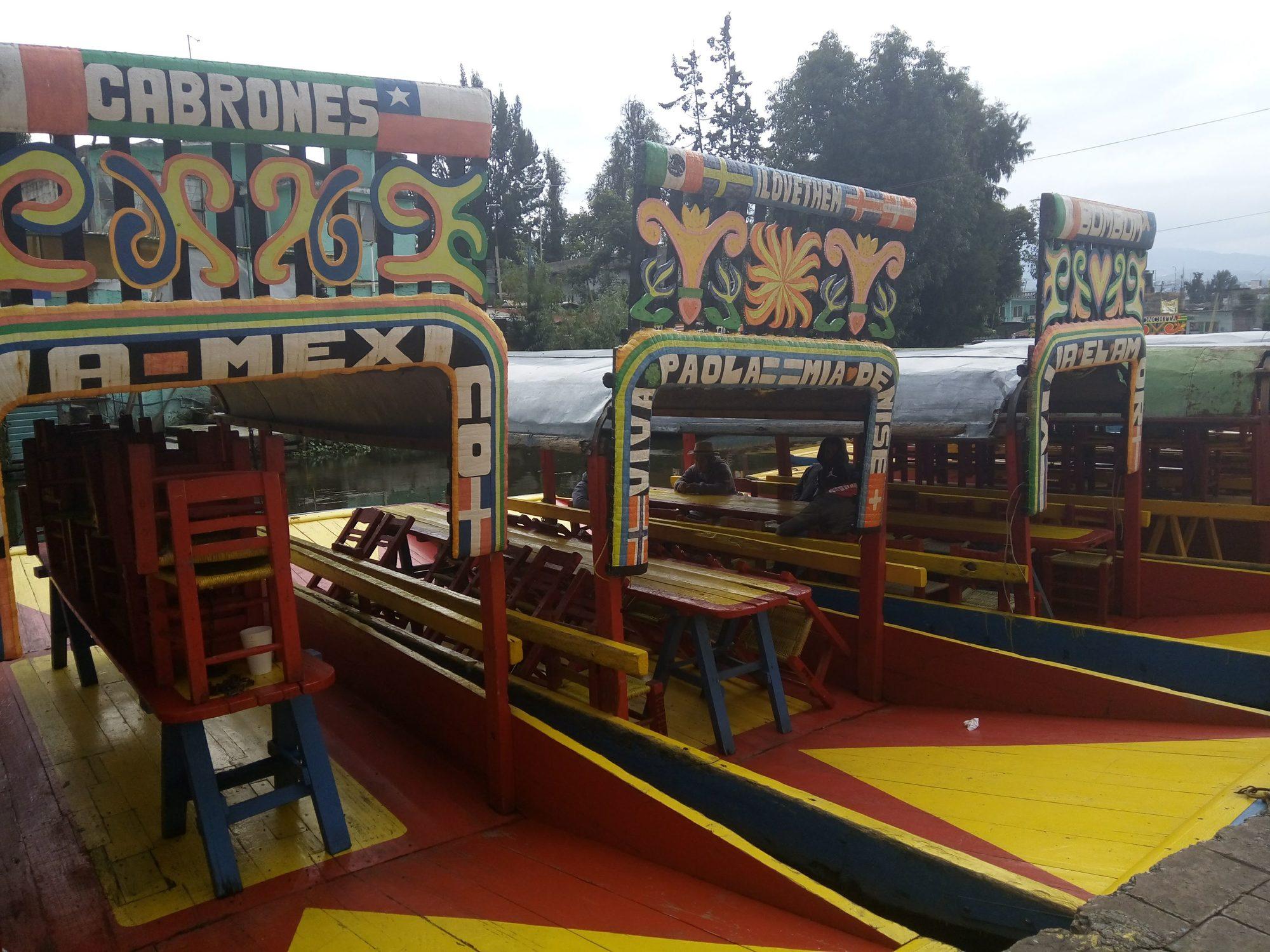 Going on a boat trip in Xochimilco is a great activity in Mexico City. The neighborhood itself isn't that exciting, but if you head out on one of the lanchas you'll be introduced to a whole new world where you can learn about native culture, cruise around Mexico's 'Little Venice' and visit an island full of creepy dolls…
Xochimilco is one of the best ways to pass an afternoon of Mexico City; you'll get to see the outdoor exhibits from your boat, while drinking Mexico's finest beers in the sunshine! What could be better?
Teotihuacan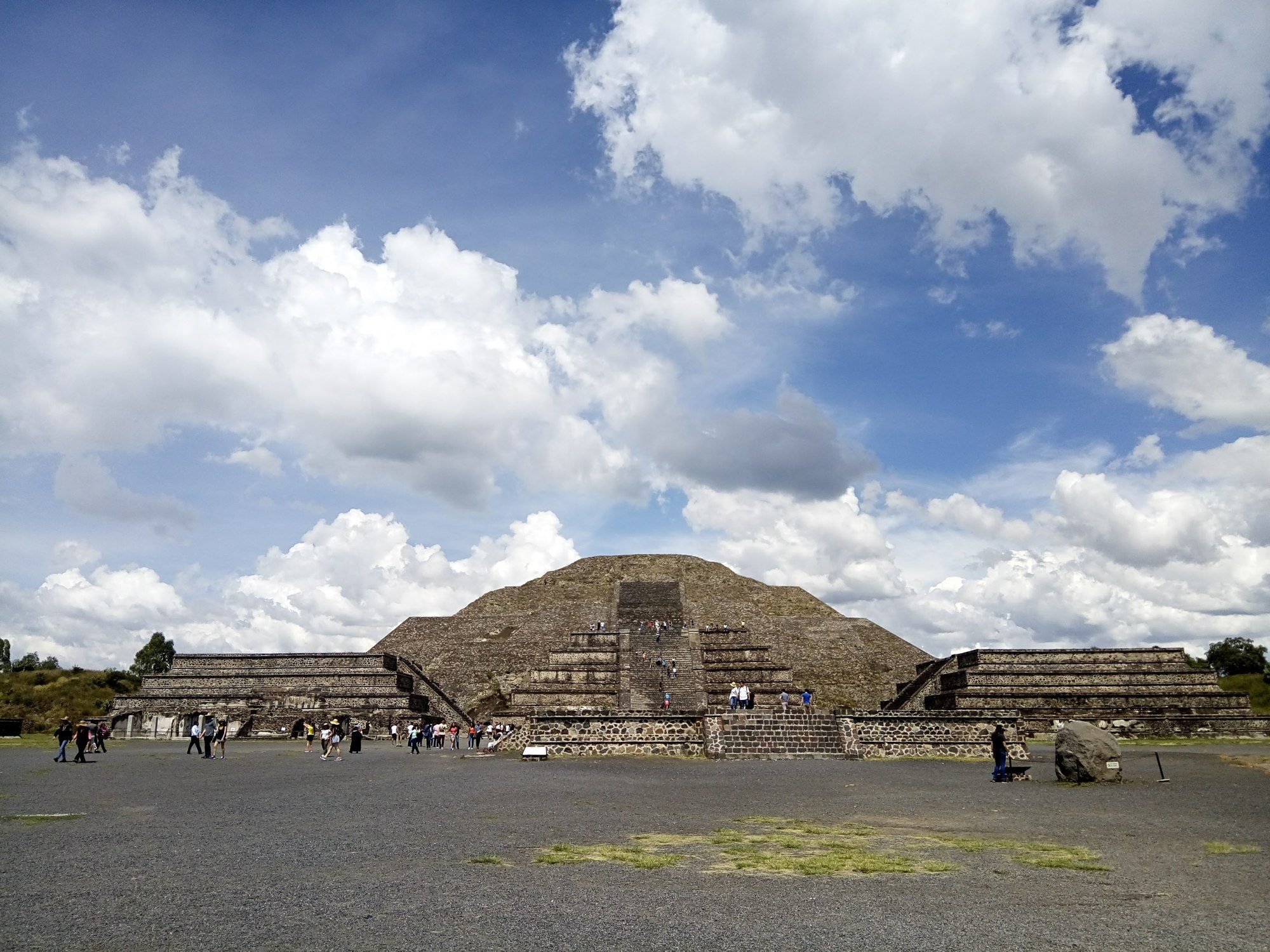 The pyramids of Teotihuacan are architectural marvels that were used by the Aztecs, but also have essences of Maya, Mixtec and Zapotec styles. Once Mesoamerica's largest city, Teotihuacan has plenty of stories to tell; and its visuals could rival its Egyptian cousins.
You can hike to the top of one of the Teotihuacan pyramids, and half-way up another one. They're where the Aztecs would worship the sun and the moon, giving them the appropriate names 'Pyramid of the Sun' and 'Pyramid of the Moon'.
Also on site is the palace and other ruins. You can easily explore Teotihuacan by yourself, but if you want some extra information about the area, I'd recommend hiring the services of a tour guide.
You can get to Teotihuacan yourself – take a bus from the Norte bus station to reach the ruins – or tours are reasonably priced.
Looking for a great day trip in Mexico City? Check out some awesome tours from Viator!
What to Eat in Mexico City
Vegan Mexican Food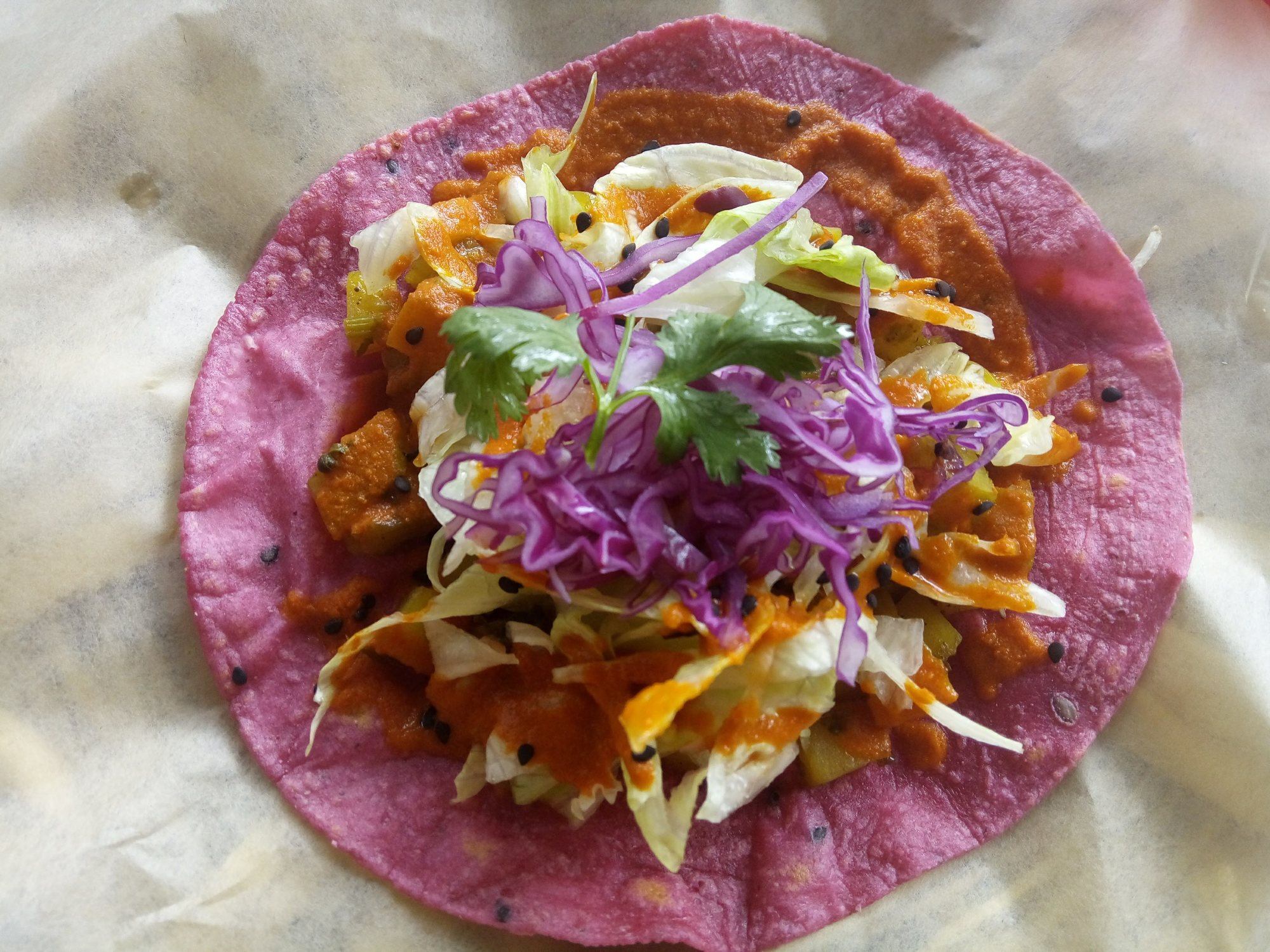 Mexican food is typically rather meat-based. But there has been a significant vegan surge in the capital in the last few years, particularly in Condesa and Roma, and now there are plenty of ways to enjoy plant-based tacos and other Mexican dishes!
A favourite of mine is the taco stall, Por Siempre Taquería in Roma.
Street Food – Tacos Al Pastor
One of the famous street foods in Mexico City is Tacos al Pastor. These are traditionally made with pork and pineapple and were inspired by Middle Eastern kebabs.
Zefiro Restaurant
This is one of the most famous Mexico City restaurants and serves traditional food in a fine dining atmosphere.
It's certainly not as cheap as Mexico City's street food, but it's a really great dining experience that makes the extra expenditure worth it. Zefiro is only open at lunchtime.
Where to Next?
For most people, travel in Mexico City is just the start of a longer Mexican adventure. There are many things to do in Oaxaca, a colonial city that's about a seven-hour bus ride away, and the most popular stop after Mexico City on a tour around the country.
From Oaxaca you can visit the Pacific coastline or head into the central-south region for jungles, mountains and small towns.
Or consider heading north, to Guadalajara which is Mexico's second-largest city and its nearby cities like the beautiful Guanajuato and Tequila (yes, that is the home of tequila!).
There are so many amazing places and things to do in Mexico – but Mexico City is definitely a good place to start!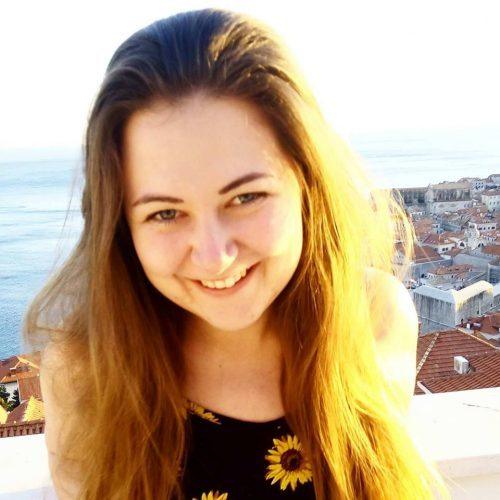 About the Author: Claire Martin is a British travel blogger and freelance writer. She blogs about eco-travel and overland adventures on her blog Claire's Footsteps; she has drove around the entirety of Australia and is currently planning an overland trip through Asia and Europe.
Images were provided courtsey of Claire's Footsteps.