Last Updated on January 23, 2023 by Jeremy
Disclaimers: Our site uses demographic data, email opt-ins, display advertising, and affiliate links. Please check out our Terms and Conditions for more information. Listed prices and attraction details may have changed since our visit and initial publication.
After visiting Koh Lipe, the bar seemed to be elevated to a dangerously high level when talking about Thai islands.
Crystal clear water, entirely walkable, no cars, and a modest, but growing, tourist hold all existed on the island.  It seemed like nothing short of paradise that could possibly be matched in Thailand; however, Koh Phi Phi islands have risen through the ranks to join Koh Lipe Thailand as a little slice of heaven on Earth.
The Koh Phi Phi Islands Will Take Your Breath Away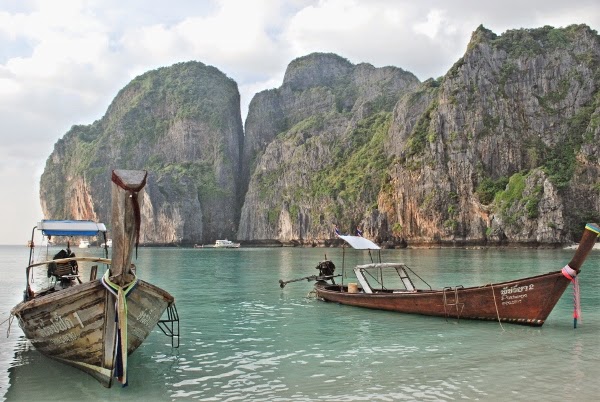 With four nights, a high amount by most tourist standards, we got a chance to visit some of the best spots on the island, and then some.  A few stood out to as highlights, although it is a bit hard to pull out the best as everything was wonderful, except for the room prices.
Surprisingly though, the rest of the activities on the island, food included, fell in line with the common notion of cheap Thailand prices.
Although there are tons of amazing places and things to see in the Phi Phi Islands, the following are a few that we thought of as highlights, and should definitely be visited by those visiting.
Koh Phi Phi Island Viewpoint Hiking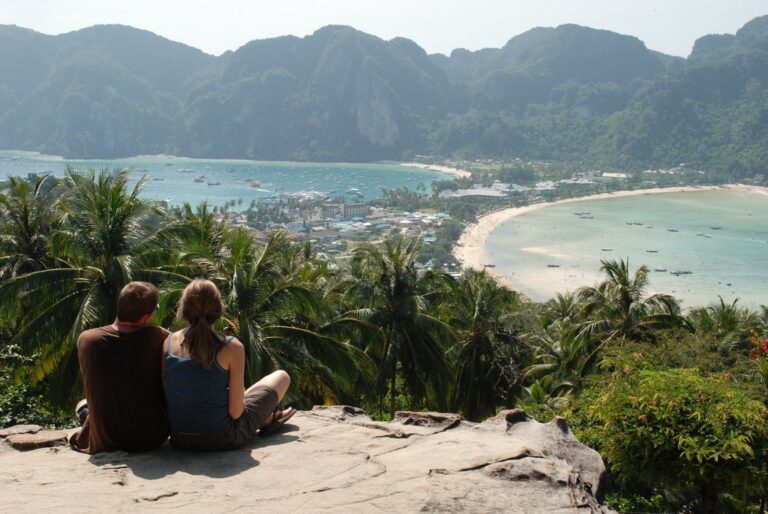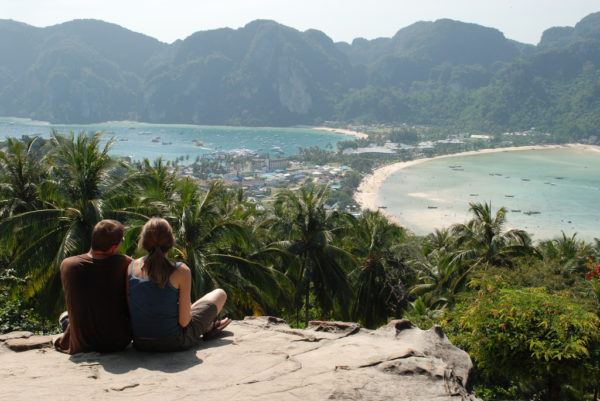 The viewpoint on Koh Phi Phi is one of the icons of Thailand if not all of South East Asia.  Nothing beats looking down upon the gorgeous beaches, towering peaks, and narrow straight between the two land masses.  Getting to the viewpoint, however, was a bit more difficult.
The hike is actually accessible by those of all capabilities, but expect the process to be steep and hot. The first viewpoint is a steep staircase of over 300 steps leading to a small shop of drinks with a fantastic scene.
The couple that runs the place is extremely nice, and moderately priced drinks are a must restock. Be jealous, as they live in the bungalow next door and have the view every day.
Those in search of better views will take the 10-minute hike further to a second viewpoint at the very top of the hill, with the best viewpoint of Koh Phi Phi.
Less steep and no steps, the walk is a bit easier than the first; however, the heat of the island is ever present.
Regardless, this extra trek is highly recommended for the best photo-op on the island. A bonus hike should be included for sunset as the sun sets behind the opposing peak most of the year.
Maya Bay and the Best Phi Phi Island Tour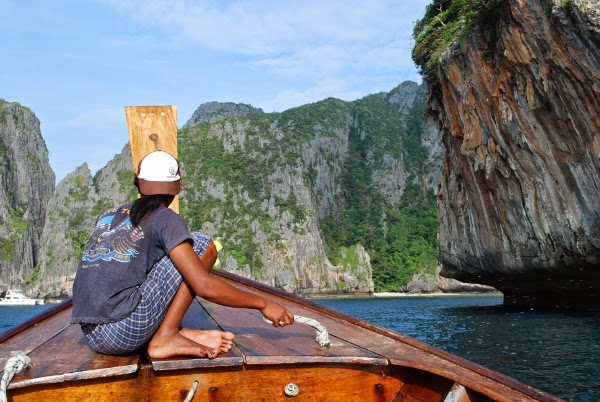 The cult classic movie "The Beach" with Leonardo DiCaprio was filmed at the nearby island of Koh Phi Phi Leh, primarily in the world famous Maya Bay.
With this fame and notoriety, Maya Bay has become a must-visit spot for most tourists, and those not evening visiting Koh Phi Phi make the trip down from Phuket on a day tour just to see the bay.
Our original intent was to visit Maya Bay during a morning tour by long-tail; however, lack of other guests pushed our time back to an afternoon/sunset tour instead.
By 4pm, the beach appeared to be emptying out of fellow tourists and day-trippers (who visit before noon), and our long tail was one of the last to leave, giving us a nearly empty beach to enjoy for a few minutes – something entirely necessary with a place so popular.
Coconut Doughnuts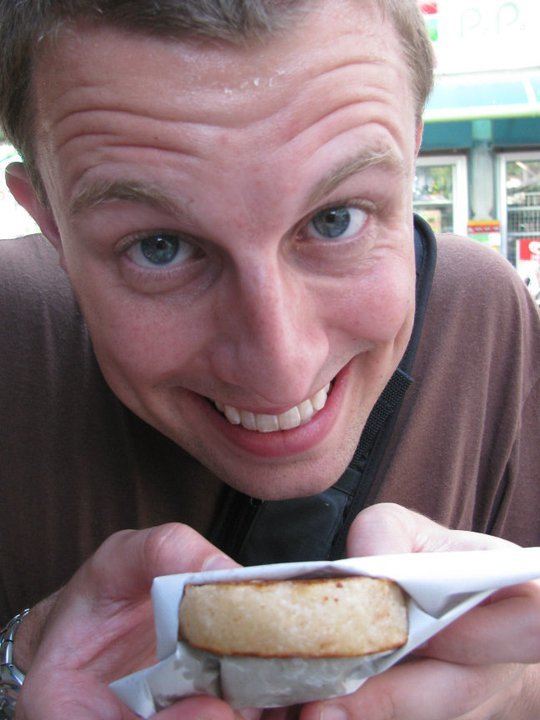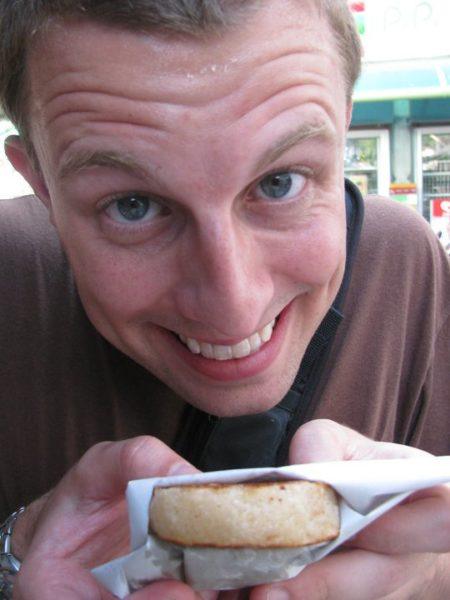 Every place we have visited has a unique item that is worth purchasing that may only be found in one popular spot.  Along one of the main roads in Koh Phi Phi is one of these wonderful treasures, Coconut Doughnuts.
Made entirely of a thin layer of batter, coconut, and coconut cream, the doughnuts and lightly fried on each side to a semi-crispy and internally chewy consistency. Prepared by the same chef outside of an open-air restaurant all day, every day.
Every walk down the street is presented with the same view and wonderful smell.
With a friendly face, and 10 baht a doughnut, it is hard to resist.  10 doughnuts later, and we still crave more of the chewy slice of heaven. Buy them.  Buy them now.
Buy a dozen and mail them to me, please?
Cheap Buckets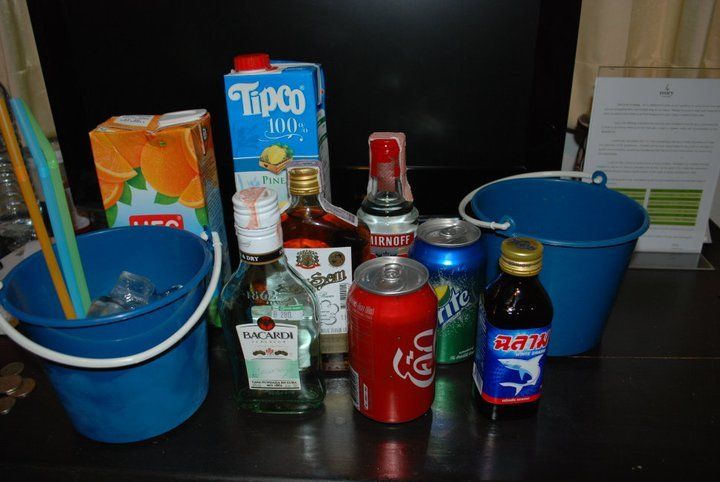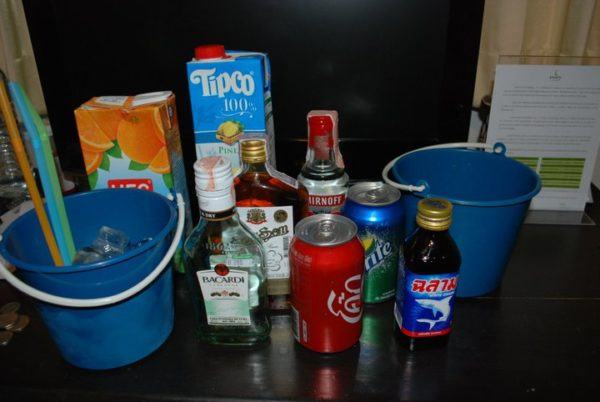 I'm going to forgo all manner of blogging formality here, and just say that I love the cheap alcohol buckets on Koh Phi Phi.
I've heard of said buckets many times before, which normally include a flask of alcohol, a can of soda, and an energy drink for mixing in a plastic bucket filled with ice.
Unable to find some before, I stumbled upon this amazing creation on the island and purchased many during our stay here.
Without much more to say, the best recipe for the cheap bucket is a mix of orange juice, pineapple juice, alcohol, and a splash of sprite on top.  Fill with baby mandarin oranges as well for later consumption.  Might be a bit more expensive, but entirely worth it.
So when you head on over to Koh Phi Phi, especially if it is high season, don't be alarmed.  Yes, there will be tons of tourists.  Yes, the beaches will be crowded. But if you go in knowing that the crowd will be substantial, and seek out the beauty for what it's worth, you won't come back disappointed like many others.
For us the Koh Phi Phi islands were one of the highlights of the trip, and offered a wonderful experience during our entire stay- crowds or not.
Looking for things to do in Thailand? Check out why we skipped the Full Moon Party, the Koh Lanta Hammock House, and gorgeous Koh Samui beach options!
About Jeremy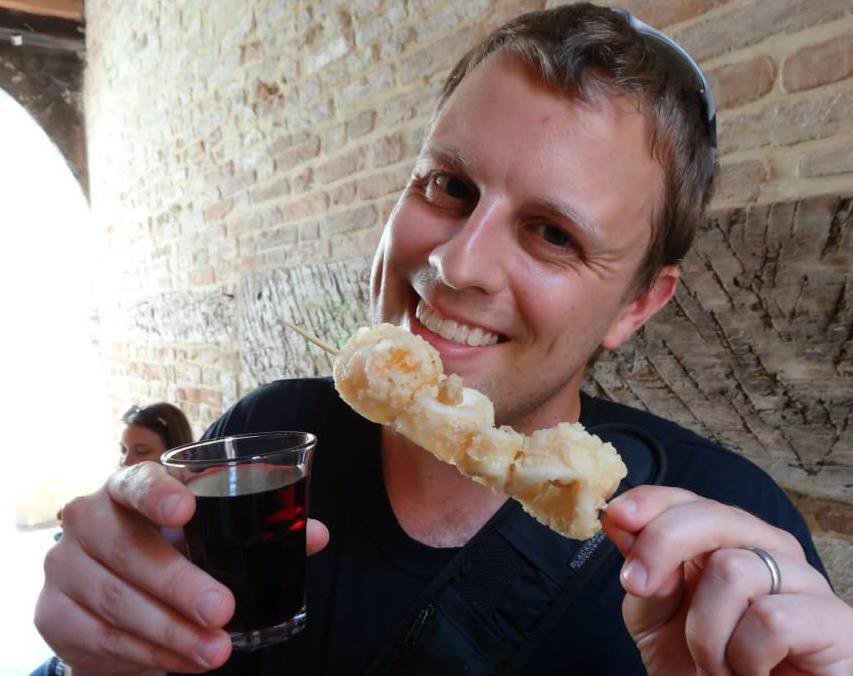 About the Author: Jeremy is a full-time travel writer based in Pittsburgh and primary author of this site. He has been to 70+ countries on five continents and seeks out new food, adventure activities, and off-the-beaten-path experiences wherever he travels.