Last Updated on August 5, 2022 by Angie
Disclaimers: Our site uses demographic data, email opt-ins, display advertising, and affiliate links. Please check out our Terms and Conditions for more information. Listed prices and attraction details may have changed since our visit and initial publication.
As we were preparing for our recent trek to Mt Everest Base Camp, I was immensely curious as to what kind of food we would be eating for 12 days.
Given that practically every resource needed in the villages along the trekking route has to be carried in on the backs of an insanely strong Nepali or on a yak, I was expecting bland and inedible mush.
While the food on Everest base camp trek was obviously no five-star dining experience, it was much more satisfying and tasty than we could have ever expected. So, what should you eat and what should you avoid in the tea houses on the Everest Base Camp trek? 
The following are our must haves and least favorites.
Drinks on the Everest Base Camp Trek
You probably know that you should avoid caffeine and alcohol while trekking at high altitudes, so what does that leave for your beverage choices?
Most tea houses have various fruit flavored powders that they mix with hot water. Hot lemon and hot orange were common, but hot mango was a rare treat. Hot water and sliced ginger is also usually an option, which is especially helpful if things aren't quite right with your stomach. 
Generally speaking, if the tea is called "Hot [Flavor]" it is just powder, but if it is "[Flavor] Tea" it will be flavored black tea and will be caffeinated.
We brought our own teas to drink on the trek, but after realizing that you still have to pay for hot water, we didn't drink any of them. On the way down, in Namche and Lukla, we made sure to enjoy some celebratory Everest beers at inflated prices to match.
Breakfast for Everest Hiking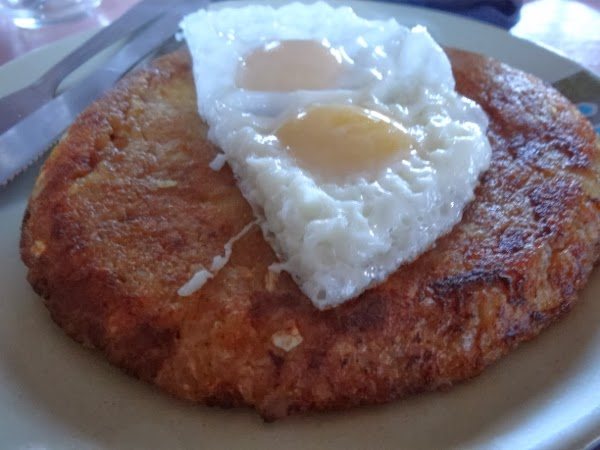 Most tea houses offer a set breakfast which usually consists of toast, eggs, potatoes, and tea or coffee. It gets pretty monotonous but it's a fairly good meal to keep you trekking for a few hours.
In some tea houses you can get freshly made chapati instead of toast, which is a nice change of pace. Jam and honey are usually available, but forgo the butter- it's always frozen and impossible to spread.
Porridge is another breakfast item, but the topping options become meager as you get to higher altitudes. On one of our acclimatization days we tried the pancakes that are offered just about everywhere.
They're fluffy and over an inch thick! The chocolate variety was not so chocolatey, but the apple version with honey on top was pretty good.
One final breakfast tip- if you want your eggs over easy or sunny-side up, ask for them "one side fried."  It'll still probably be cooked the whole way through, but it is the best you can do.
Sherpa Stew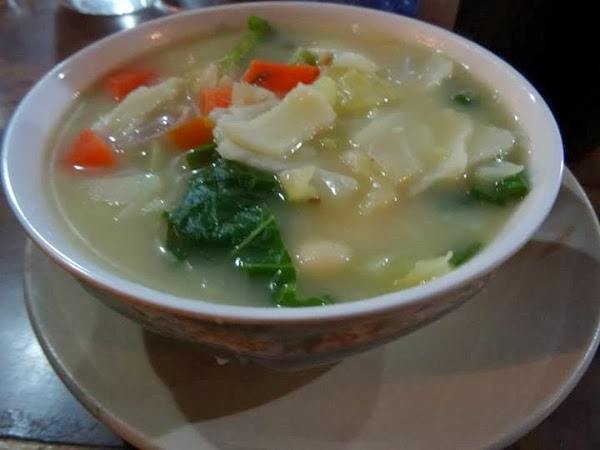 Sherpa stew is on nearly every menu, and each tea house has its own unique recipe. In some places it tasted like a spicy veggie curry, while in others it was more like a simple veggie stew.
Our favorite was at Hotel Everest in Namche- it was full of veggies (greens, carrots, green beans) plus several kinds of beans and thin, square noodles.
Carb it Up with Nepali Food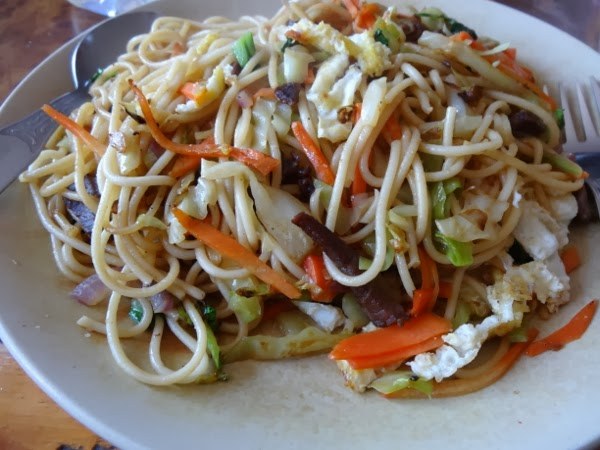 For lunch and dinner entrees, your best option is to carb it up with potatoes, noodles, pasta, or rice. You can add vegetables (usually carrots and cabbage), eggs, cheese, or any combination of these to your carb of choice.
Yep, it gets old pretty fast, but there is some evidence that consuming carbohydrates can help you acclimatize faster. For something a little different, try the rosti with eggs on top for an added protein boost.
Dal Baht Power for Everest Trekking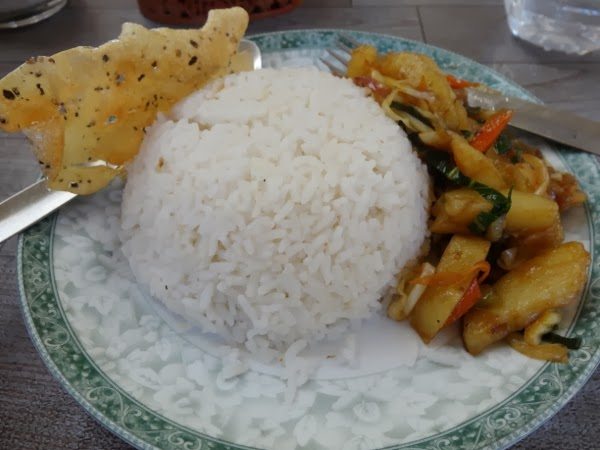 If you're really hungry, then it's gotta be dal baht: rice, lentil soup, curried potatoes with veggies, greens, and a papad. The best part? You can get seconds of anything you want (except the papad) for free!
As we went higher up in altitude the seasonings became more bland and the variety of veggies was less and less, but it was still decent for a quick fill that lasts.
Fried Mars Bars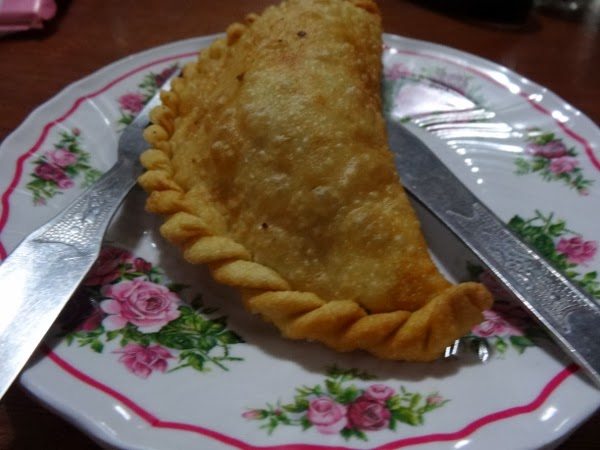 As we started to descend on the trek we noticed our appetite increased dramatically (even though we hadn't really noticed it disappearing on the way up). That can only mean one thing: we had room for dessert!
In Tengboche we eyed something the table next to us ordered and found out it was a fried Mars bar.
We promptly ordered one and it was seriously heaven. We never noticed it before on the menu because it's called a "Mars roll" which we thought just meant candy bar. But no!
It's a Mars bar wrapped in a chapatti-like dough and deep fried until the inside is a chocolatey, caramely mess.
What Not to Eat While Trekking

You probably know that all meat has to be flown in to Lukla and then carried up (without refrigeration) to its final destination, which can sometimes take days. Therefore, it's best to steer clear of meat on the trek.
It's also best to avoid anything on the menu that's "western"- Jeremy got really sick after eating a pizza for lunch one day. Another menu item that was disappointing was the spring rolls.
We saw someone order them in Lobuche and they were huge and filled to the brim with veggies, but when I ordered them in Namche when I was starving they were tiny and oily and lacking in the veggie department.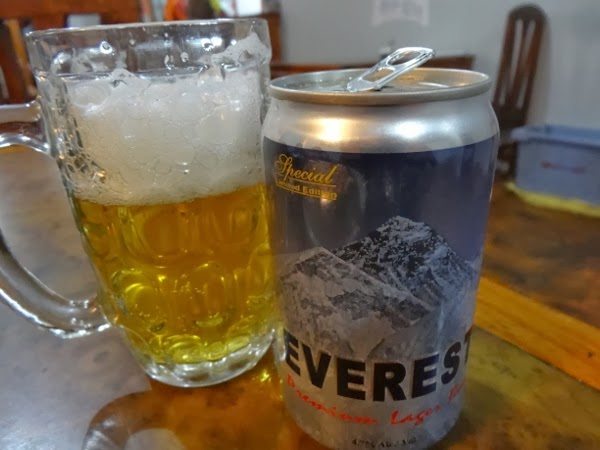 Overall we were pleasantly surprised by the food on the Everest Base Camp trek, especially when you consider everything is cooked using propane that's carried up many miles by big hairy yaks.
Still, the food did get pretty repetitive, and we were especially happy to get back to a wider variety of fruits and vegetables in Kathmandu.
And of course, we couldn't resist sinking our teeth into a nice juicy steak when we returned, too!
For more about tea house menus, check out these menu images below from one of the lodges we stayed at!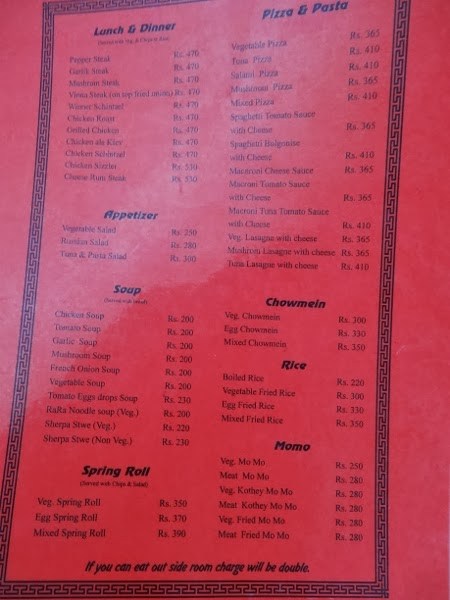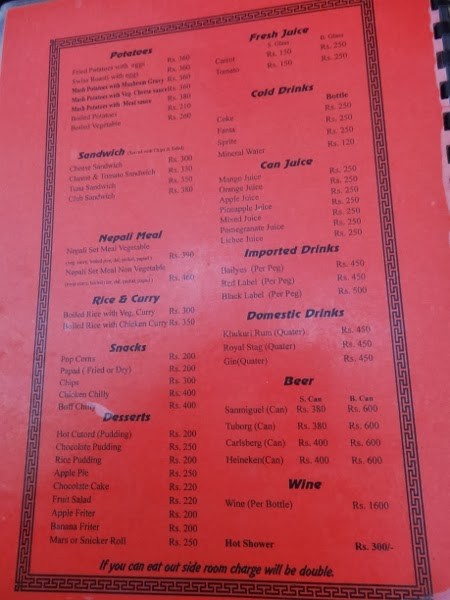 About Angie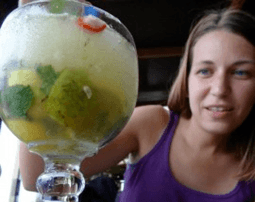 About the Author: Angie is a contributing author. She has been to nearly 60 countries and seeks out the best restaurants, bars, bakeries, and other unique food items wherever she goes- often with her husband, Jeremy.