Published by Guest Blogger. Last Updated on October 9, 2023.
Disclaimers: Our site uses demographic data, email opt-ins, display advertising, and affiliate links. Please check out our Terms and Conditions for more information. Listed prices and attraction details may have changed since our visit and initial publication.
Matanuska Glacier is a 27-mile beast of a glacier tucked away in Alaska's Chugach Mountain Range. It's the largest glacier accessible by car in the country, but things get even more exciting if you book a tour to walk across this glacial landscape.
Getting up close and personal with this glacier is the best way to explore its blue crevasses and white ice up against the Alaskan wilderness. At about two hours from Anchorage, it's also a pretty easy day trip from a city you'll likely visit on Alaska trips anyway.
This guide will share everything about visiting the Matanuska Glacier on your next visit to Alaska, including whether you need to book a tour to make it happen.
Where is Matanuska Glacier?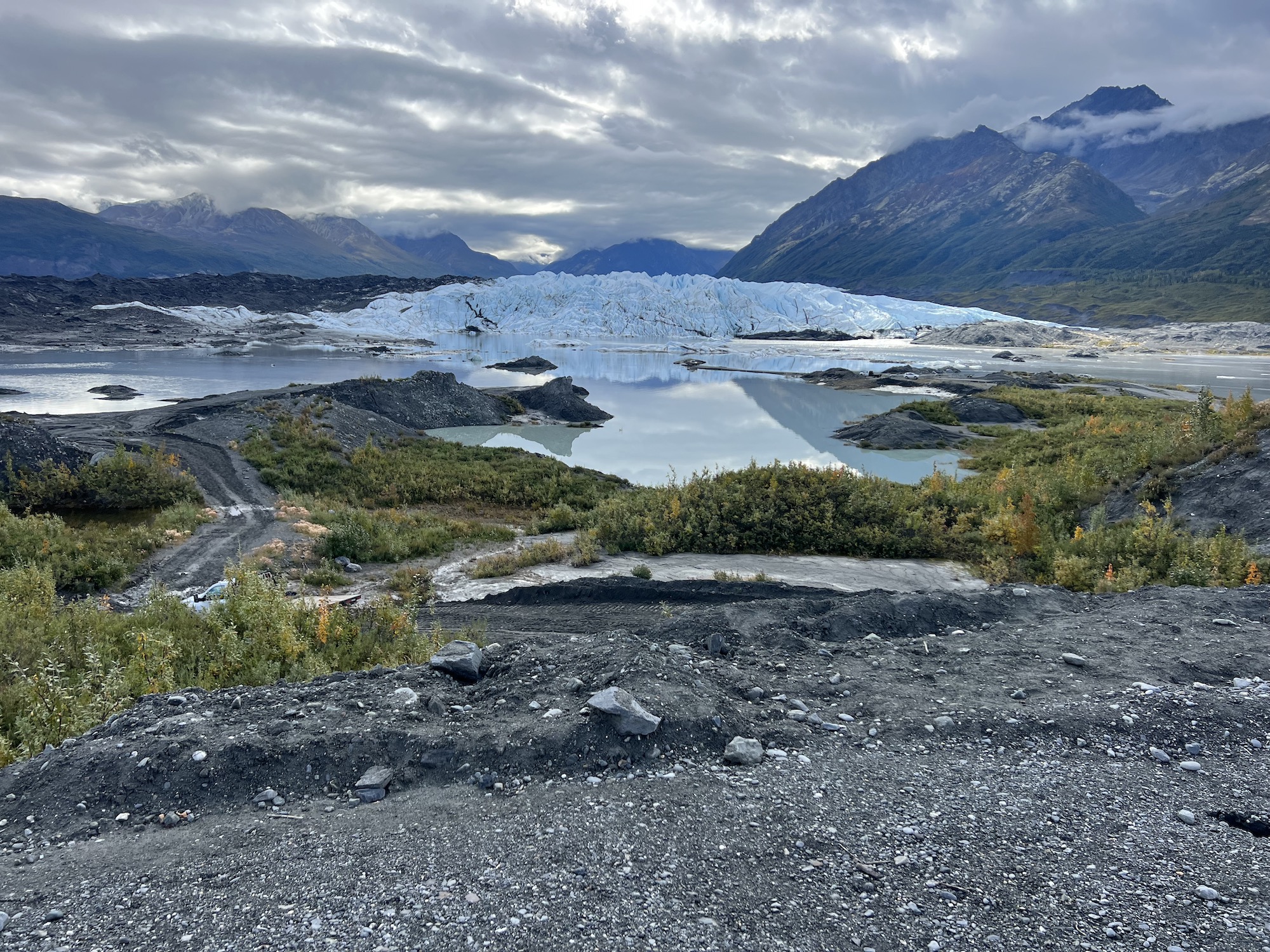 Matanuska Glacier is about two hours northeast of Alaska and about an hour east of Palmer in the Chugach National Forest. It's accessible from Alaska Route 1, or the Glenn Highway.
The most popular viewpoint is at Mile 102 on the Glenn Highway, but you'll need to book a guide to get on the glacier itself.
If you're fine with a decent view, the Matanuska Glacier State Recreation Site at Mile 101 offers a few trails that lead to viewing platforms of the ice. The Edge Nature Trail that starts at the park's recreation area is a one-mile stroll to the viewing platforms.
Interpretive signage about the glacier's geological history and wildlife in the park offers some helpful background. Several lodges in the area also offer a nice view of the glacier, but it takes a little more effort to get a closer look.
Can You Walk to Matanuska Glacier on Your Own?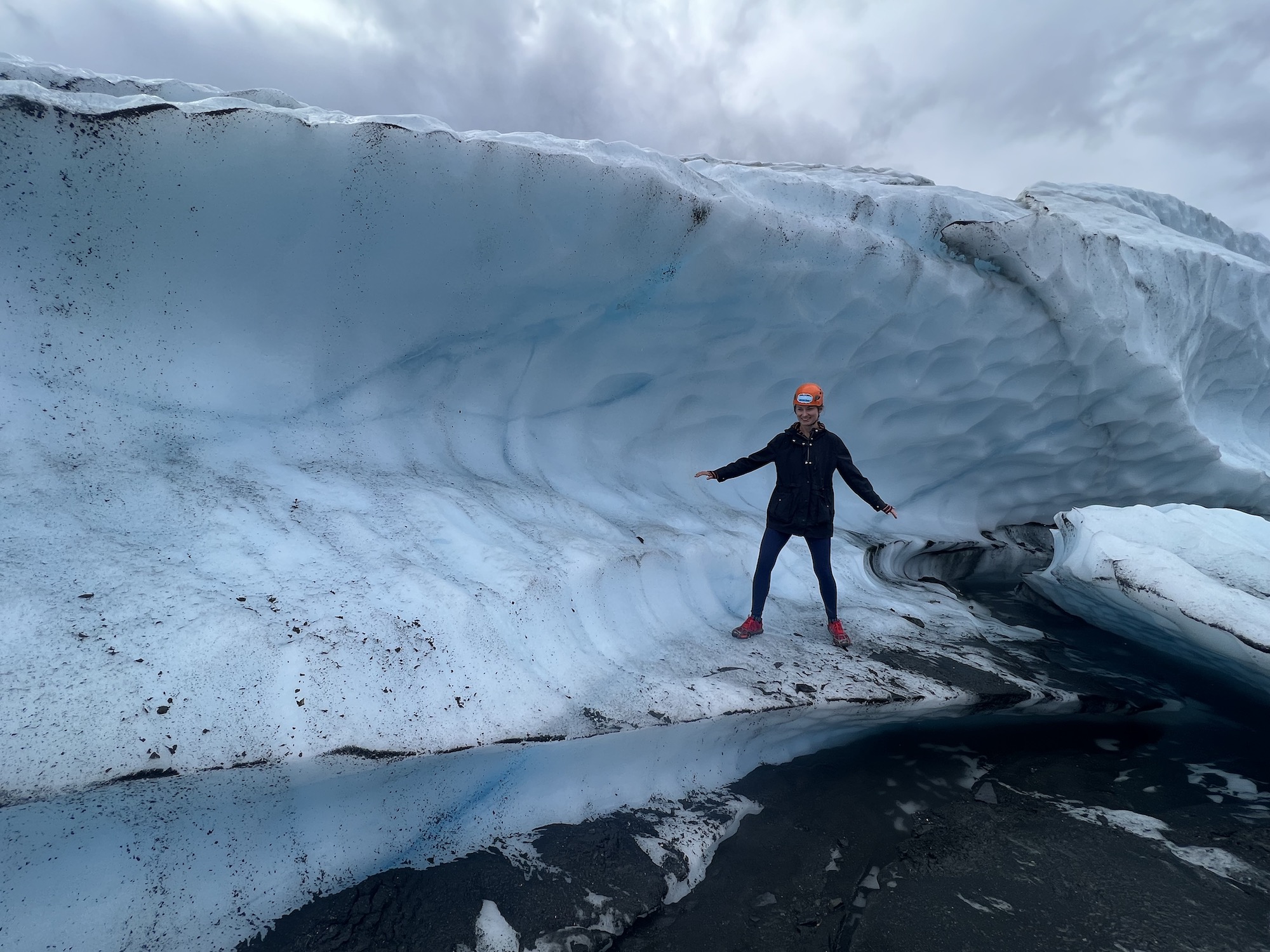 You can walk to viewpoints of Matanuska Glacier on your own, but access is limited otherwise. The most accessible road to get close to the glacier is on private land. That includes the parking lot at the toe of the glacier.
To get there, you need to pass through a gate that requires a pretty hefty fee, especially if you're not an Alaska resident. From there, tours on the glacier itself are only available with a guide unless you're an experienced glacier trekker. It's been this way since 2021.
A small fraction of tourists access the glacier on fly-in tours or multi-day hikes. This isn't recommended for newbies who don't have experience navigating glaciers. Fly-in tours won't be any cheaper, either.
How Much Does it Cost to Go to Matanuska Glacier?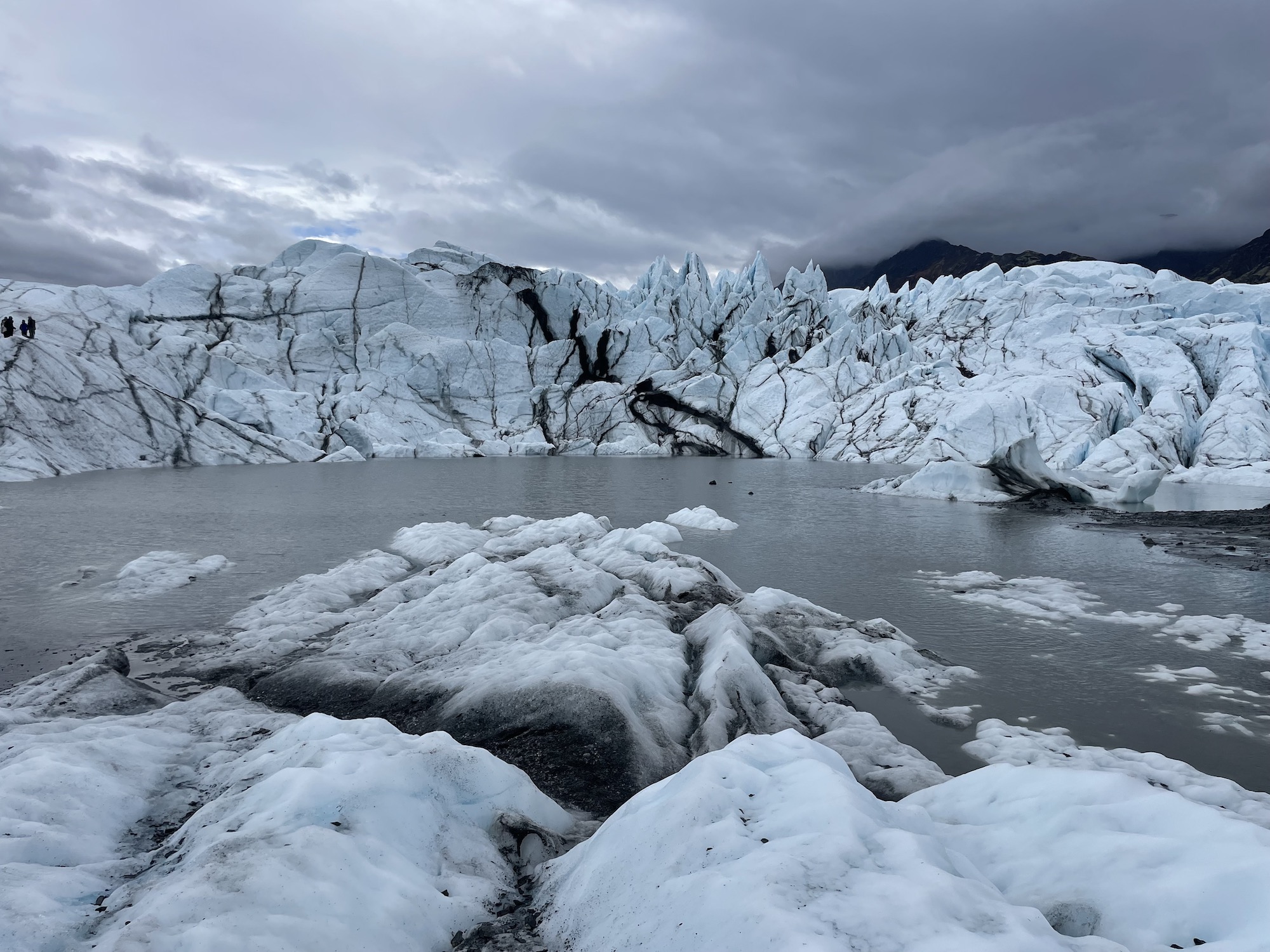 The cost to go to Matanuska Glacier varies based on the tour you book.
Glacier Tours on the Matanuska, the on-site outfitter, starts at $50 for Alaska residents or military personnel and $150 for non-residents. Tours run at least two hours, but expect to be out on the ice for up to three hours.
NOVA Alaska and MICA Guides are two more options. Tours that include pickup from Anchorage or additional stops along the way are predictably much more expensive.
As we had returned our rental car by the time our tour came around, we booked a full-day adventure with a tour company via Get Your Guide. It was pricey, but it was fun to have some narration all the way to the glacier and a prioritized entry once we got there.
All glacier tours come with all of the gear you need to stay safe while you're out there. That includes helmets and crampons to put on when the trail gets slick.
You'll also have access to trekking poles if you think you need them, but our guide suggested poles are less effective than crampons for staying upright.
When to Visit Matanuska Glacier
You can visit Matanuska Glacier year round. Winter means ice caves and a ride out onto the ice, but expect a very chilly visit. Summer is milder with more hiking to get to the glacier's tongue.
Trekking on the glacier is still considered an easy to moderate hiking experience, but it can be a little disorienting to navigate what our guide called "living mud" at the start of summer hikes.
Navigating the ice is much easier with crampons, but there's definitely a bit of a learning curve if it's your first time using toe spikes.
Tips for Visiting Alaska's Most Accessible Glacier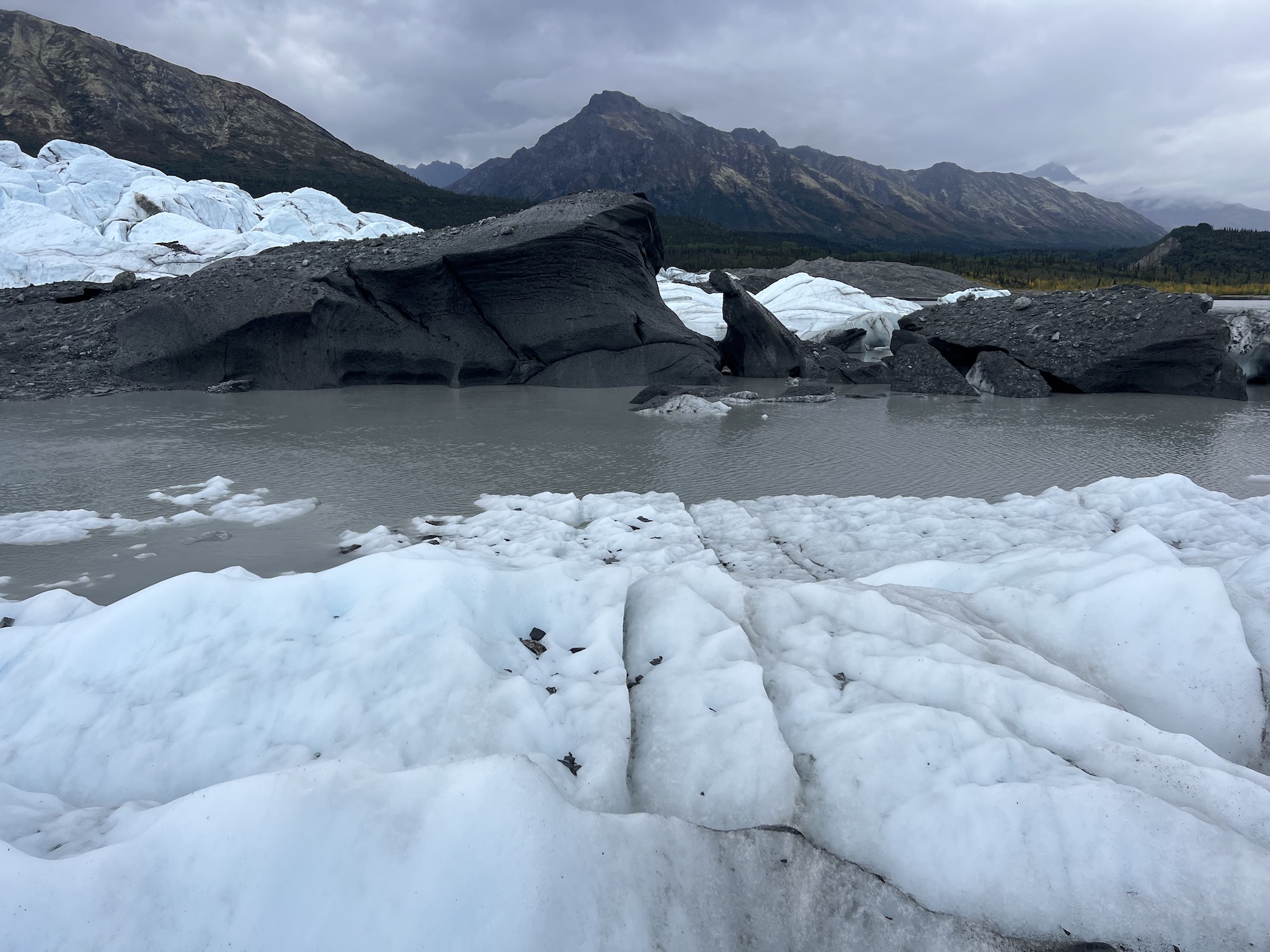 Matanuska Glacier is a popular excursion for visitors to Alaska, but that doesn't mean you should go into the experience unprepared. You'll get some details from any tour operator you book to take you out onto the ice, but here are a few tips so you know what to expect:
Dress for the ice. Wear layers, even in the summer months, and sturdy shoes with some traction. Waterproof shoes are a great idea, especially if you visit on a warmer day. It gets muddy out there before you get to the ice.
Make sure your cameras and smartphones are fully charged with lots of space for the images you'll take while you're here. The glacier is very photogenic, and you'll have plenty of time on tours to snap scenic photos.
Listen to your guide. Be especially cautious around any crevasses, and avoid venturing too far away from your group. A big reason why tours are the main way to see the glacier are a history of safety incidents out on the ice.
Bring the essentials. Sunscreen and sunglasses are highly recommended no matter what kind of weather you wake up to the morning of your tour. There's an intense glare on the ice that can mess with your experience and your sightlines.
Watch your step. The glacier is always changing, even if you're following your guide closely. Your guide may even point out changes in the glacier's surface between morning and afternoon tours. That's how quickly things can change.
Tip your guide. These guides have the important job of not only keeping you entertained while you're out there, but keeping you safe. Show them your appreciate with a cash tip at the end of your tour.
Is it Worth Going to Matanuska Glacier?
It's absolutely worth going to Matanuska Glacier, even if the weather calls for a drizzle on the day of your tour. It's as if the glacier boasts its own ecosystem, and the sky often opens up to plentiful sun in the glacial valley.
This is one of the most bucket list worthy experiences you can have in Alaska. Drink glacier water. See and touch incredible features carved into the ice. Get to know one of the impressive natural wonders in the country on a visit to Matanuska Glacier.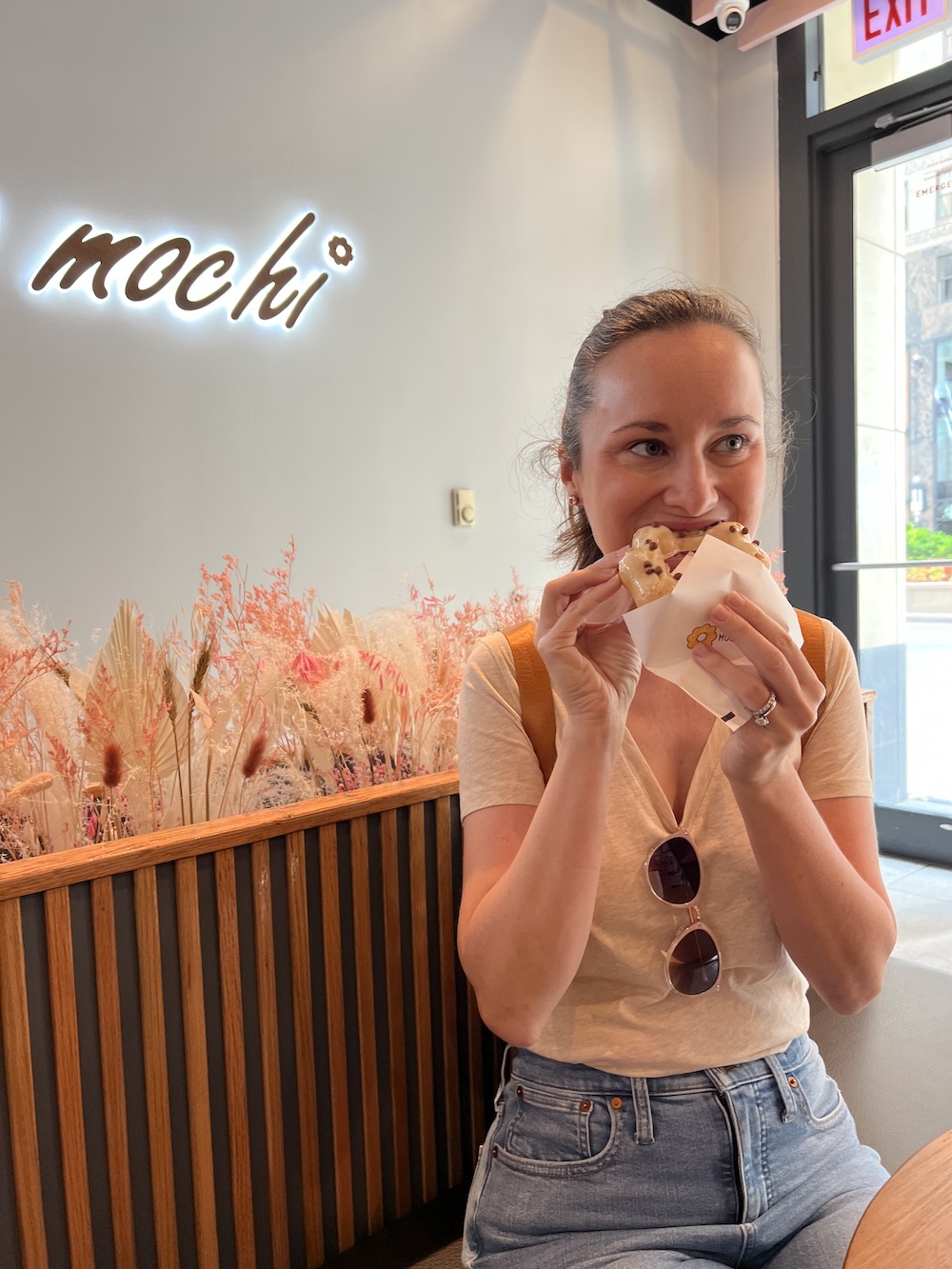 Agnes Groonwald is a freelance writer and blogger behind Travel on the Reg, a site for folks who traveler on a regular basis in a regular fashion. She's currently based in France, but has seen all 50 U.S. states, finishing off with Alaska.
Images were provided courtesy of Travel on the Reg.