Last Updated on February 23, 2023 by Jeremy
Disclaimers: Our site uses demographic data, email opt-ins, display advertising, and affiliate links. Please check out our Terms and Conditions for more information. Listed prices and attraction details may have changed since our visit and initial publication.
One place that has always been on our Pennsylvania bucket list is Kinzua Bridge State Park. This 339-acre park in northcentral PA is famous for one particular reason- it is home to a railway bridge that was once the tallest rail bridge in the world and it was almost completely destroyed by a tornado in 2003!
You don't see a sight like this one every day, and it was a spot we wanted to visit for years.
But there was one problem with why we never did. Kinzua Bridge State Park is remote. Thankfully, we added this one on as a detour from a recent weekend trip, and in this one we want to share a bit more why you really should check this one out sooner rather than later- if you can make the logistics work at least.
Why is Kinzua Bridge State Park So Important?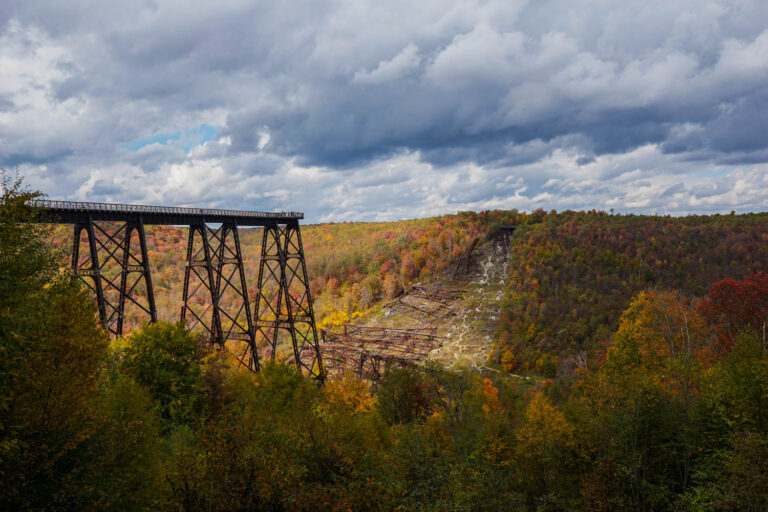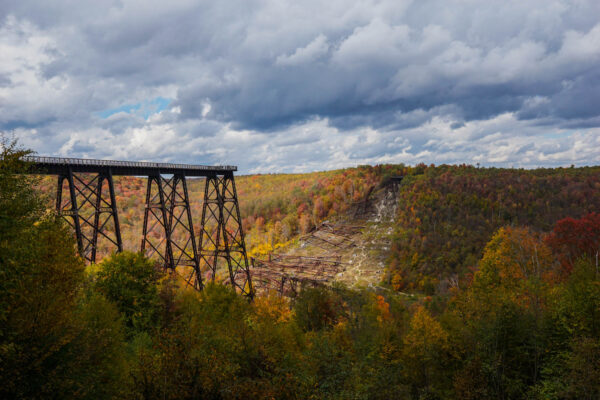 From the moment it was built in the late 1800s, the Kinzua Viaduct was an important bridge.
Clocking in at 301 feet tall and 2,052 feet long, it was the tallest railroad bridge in the world when it was constructed (and was still the fourth tallest bridge in the USA before its collapse over 100 years later). It was first made out of iron and then rather quickly rebuilt in steel where it functioned as a commercial bridge for decades.
In the 1960s the bridge was sold to Pennsylvania where it became a state park focused on the bridge's history. It wasn't until 40 years later, in 2003, when a category F1 tornado blew through the valley and knocked down nearly all of the bridge. But rather than rebuild, the state decided to let the bridge remain where it fell as a historical attraction showcasing the power of nature.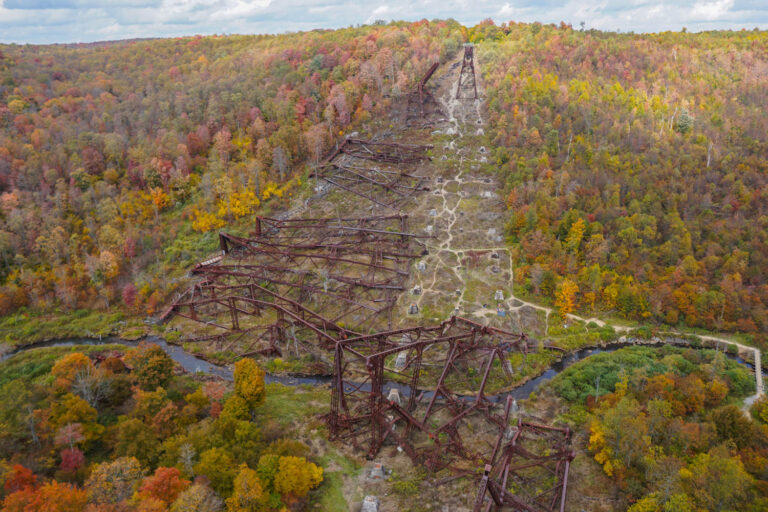 Now the park is home to a decently sized visitors center, the still-standing section of the bridge was converted to a skywalk (complete with a glass-bottom floor you can see through), and hiking trails were made so you can walk aside the wreckage below.
It is, as you can imagine, awe-inspiring and is something pictures do not do justice. Standing at the top of the bridge over 200 feet up and looking out, our jaws dropped. Standing at the bottom of the bridge looking up, the same thing happened. This is why we call this one a Pennsylvania bucket list item- you really need to see this one to appreciate its scale.
In fact, one of the more interesting things about the entire park is that the destruction of the bridge was relatively recent all things considered. When we visited and were standing on the walkway looking at the wreckage, another couple nearby told us about how they remember visiting when the bridge was still standing and conveyed what it was like. 2003 was not that long ago!
Hiking at Kinzua Bridge State Park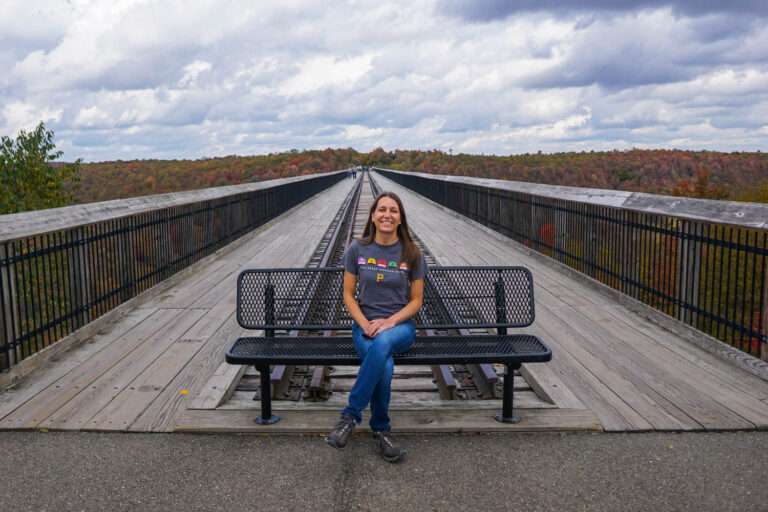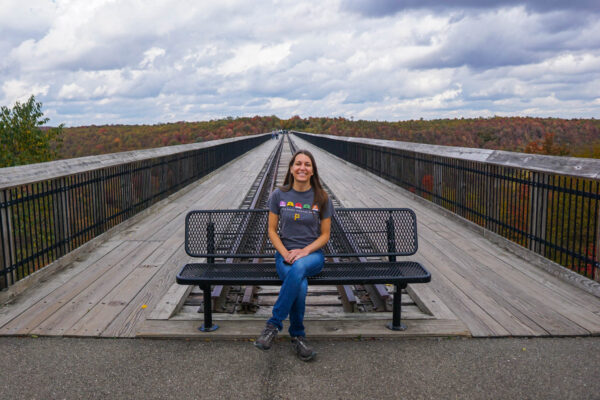 When you arrive to Kinzua Bridge State Park, accessing the bridge and the visitors center is easy- they're both a short walk on an accessible path away from the parking lot. For those who want to climb down into the valley and explore the ruins up-close, a more intense hike is in your future.
Walking to the bottom of the valley from the visitor's center is not terribly challenging. The gravel path has some stone steps and some of the gravel can be loose, but it is only a half-mile or so in distance at most. Handrails are few and far between, but for those who are surefooted enough it is a fairly easy walk despite its relative steepness.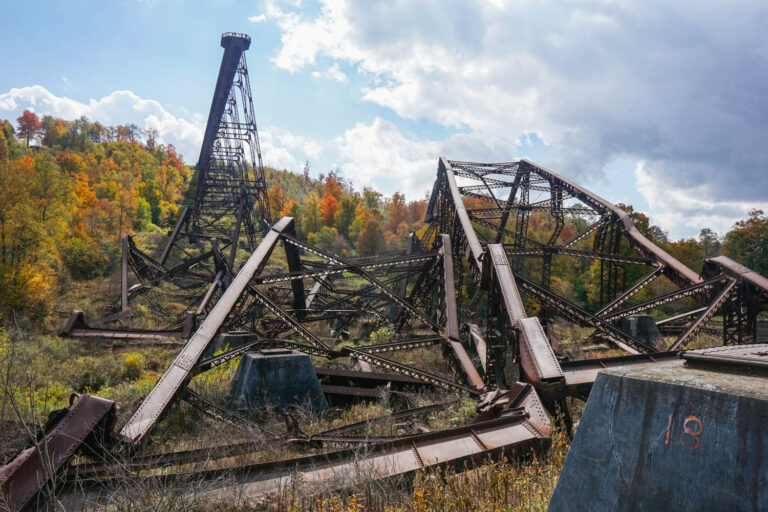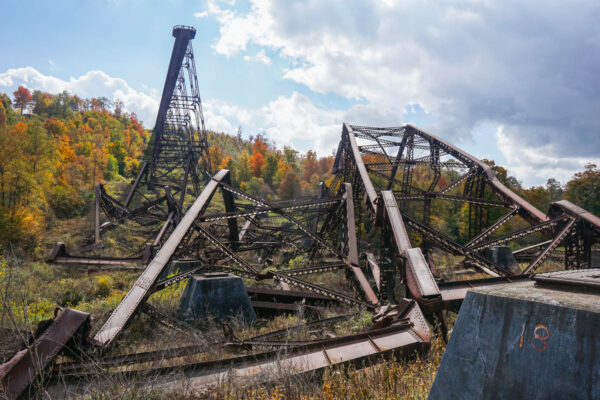 Once you're on the floor of the valley, you are just feet away from the wreckage and can really get a great appreciation for the scale of the bridge and how intense the tornado must've been to knock the steel off the footings.
For those who want to explore more, the path continues up the other hillside around the wreckage and concrete footings and is, in a word, steep. During our visit, most who ventured down into the valley stopped when the slope started going up, but a few visitors hiked up to the far side all the same. As such, this may be something only the more adventurous hikers want to tackle.
Visiting Kinzua is a Detour That is Worth It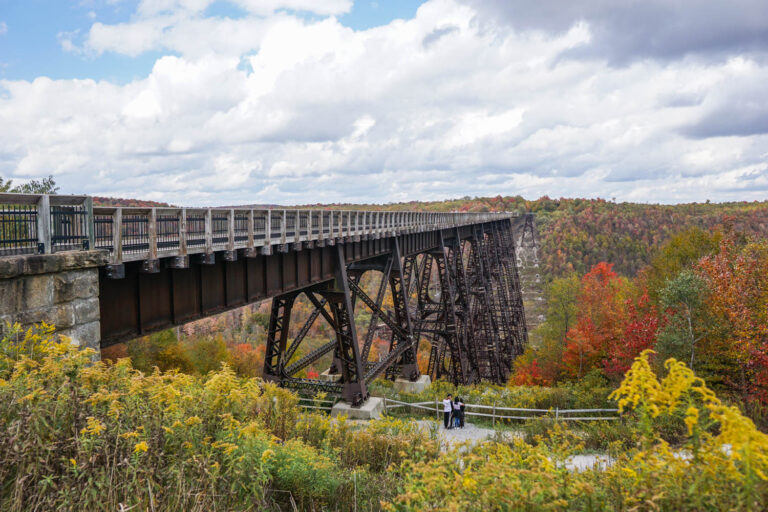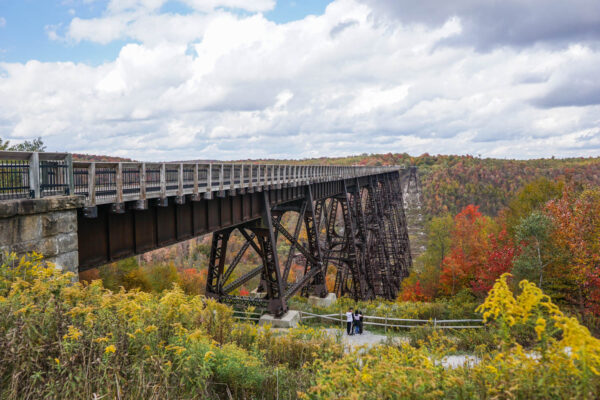 After visiting Kinzua Bridge State Park, we stopped and realized that despite living in Pittsburgh for over a decade, we never made the ~3-hour one-way drive to the park to explore this one. We didn't have to wonder to know why that is- this park is remote.
It is not just remote by conventional standards, but it is also remote for Pennsylvania standards. You'll likely be driving through Allegheny National Forest for at least an hour before reaching this one if coming in from elsewhere in the state, and that is just the start of it. In fact, the only reason we made it to this one when we did was that it only added about 30 minutes onto our drive home from a weekend visiting wineries in the Finger Lakes as the park is located just 45 minutes off of I-86 in New York.
As you'll likely only spend two hours or so exploring this one, and perhaps a bit longer if you get food from the on-site food truck (limited hours), the question of accessibility comes into play. Is it worth four-to-eight hour round-trip drives from any of the major cities in Pennsylvania? It'd be a long day, and to be quite honest I don't like driving that much. Is it worth it for a shorter detour from a planned trip- especially if you're driving across I-86 in New York? Absolutely.
How much you're willing to drive could be the biggest deciding factor on when you'll visit this one. We can't answer that one for you, but what we can say is simply this- if you ever have the ability to add a detour on a trip that makes sense for visiting Kinzua Bridge State Park, you should do it.
Kinzua Bridge State Park's Visitor Center is located at 296 Viaduct Road in Mt Jewett, PA. The park is about three hours northeast of Pittsburgh, four hours northwest of Harrisburg, and two hours southeast of Erie.
Looking for a hotel near Kinzua Bridge State Park? While options are somewhat limited directly near the park, you can find a few options within a short drive here.
About Jeremy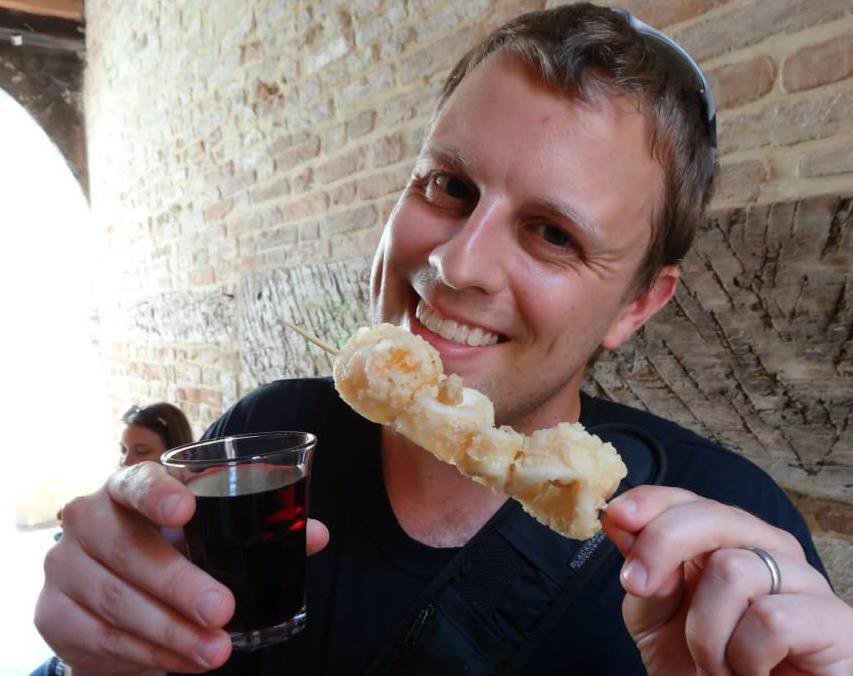 About the Author: Jeremy is a full-time travel writer based in Pittsburgh and primary author of this site. He has been to 70+ countries on five continents and seeks out new food, adventure activities, and off-the-beaten-path experiences wherever he travels.