Published by Jeremy. Last Updated on October 26, 2020.
Disclaimers: This post contains sponsored, advertorial content. Our site uses demographic data, email opt-ins, display advertising, and affiliate links. Please check out our Terms and Conditions. Listed prices may have changed since initial publication.
This article is sponsored by Hilton Grand Vacations, part of the Hilton Portfolio of brands. As always, all opinions are our own. Photos were provided courtesy of Hilton Grand Vacations.
The global pandemic of 2020 has changed the world in many ways, and one that may leave the longest lasting impression is in the travel industry. From taking a long-distance bus or train to attending an event, staying at a hotel, or even jumping on an airplane, many in the travel industry are simply holding their breath waiting to see what the future brings.
Us included.
Early trends are emerging; however, and there are recurring themes popping up when discussing the future of travel, namely: familiarity, comfort, and of course, safety.
While we yearn for the days where we can pop around from place to place, stay in an untold number of hotels, and generally move freely, for the foreseeable future we see staying close to home, returning to places we know and love (like our recent socially distant road trip to the Finger Lakes), and booking extended stays at any given destination.
One such travel style that checks all those boxes is vacation ownership, and Hilton Grand Vacations is doing a lot to help travelers feel safe when visiting in the future.
What is Vacation Ownership with Hilton Grand Vacations?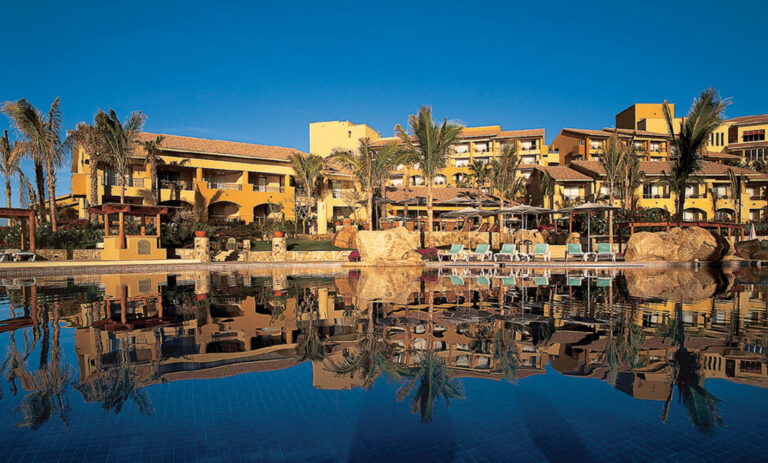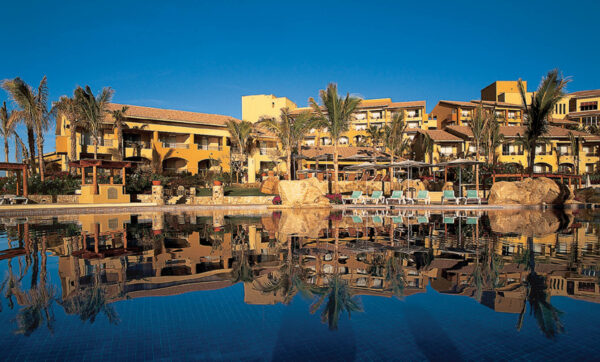 Hilton's vacation ownership system is fairly simple. For your preferred property, you make an upfront buy-in that provides an annual allocation of ClubPoints that can be redeemed for your stay. In going this route, you are effectively buying into the property and ensure you are able to return year after year without headaches.
But the point system goes beyond simply being able to stay at your favorite property, as ClubPoints can be applied for stays at dozens of properties all over the USA and abroad. So, say you don't want to take your annual trip to Orlando one year, you can apply those ClubPoints to many destinations the world over (but more on those below).
For those who seek out familiarity when traveling, returning to your favorite property year-after-year is a solid perk that we see becoming more and more popular as the years go on. Throw in the fact that many of the rooms at these properties are multi-bedroom suites, with many more on-site amenities, and you have a comfort aspect that simply is not available at conventional hotels as well.
A Wide Array of Destinations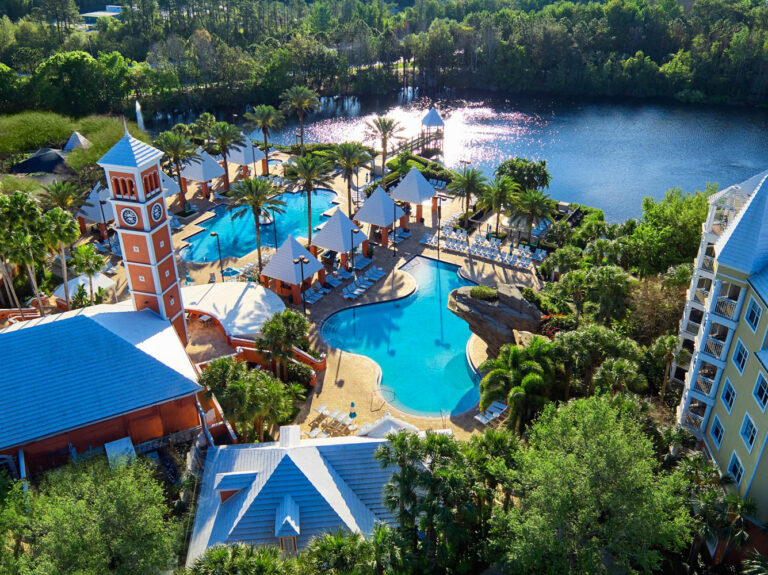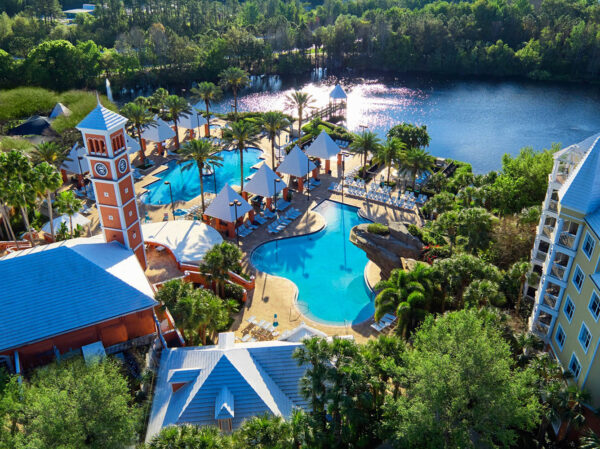 Hilton Grand Vacations has properties in some of the USA's most popular destinations including California, Chicago, Colorado, Florida, Hawaii, Vegas, New York, and more. Beyond this, the company also owns and partners with properties all over the world including destinations like Scotland, Japan, Barbados, Italy, Portugal, Mexico, and more are added every year.
What makes this network interesting is because when you purchase into Hilton Grand Vacations, you're not purchasing a set week at a fixed resort close to you (for us, say, Hilton Head in South Carolina). You can most certainly do that for close and accessible vacations, but as things open up and you may want to get away further, you can apply your ClubPoints for a larger trip to a property in Japan, Italy, or somewhere else altogether!
While pricing may vary for other properties, and perhaps require a higher ClubPoints buy-in to visit, you can expect the same Hilton Grand Vacations experience everywhere you travel- further strengthening the familiarity and comfort aspect as well. In a way, visiting other Hilton Grand Vacations properties is not much different than visiting a branded hotel chain you love when traveling- just with more comfort and amenities included in your stay!
Safety is Important Above All Others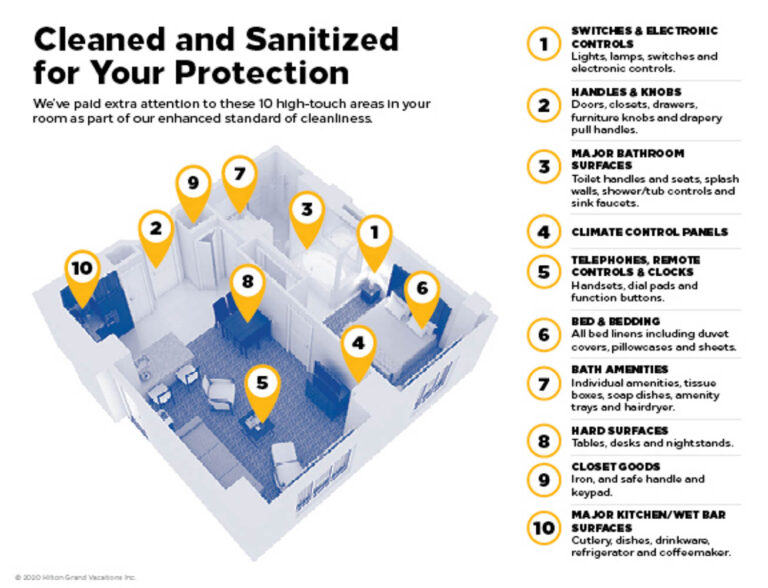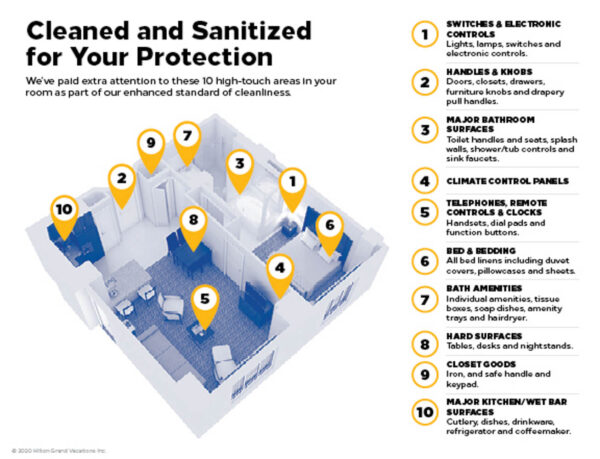 As we mentioned at the start of this article, many brands have put an increased focus on safety and cleanliness in the wake of the pandemic, and Hilton Grand Vacations is no different- they've adopted the robust cleaning procedures incorporated in many Hilton brands!
Some of the ways the company has implemented changes is obvious, including more staff training, distancing measures in place at restaurants and public amenities, and more. Others, like the Hilton CleanStay™ initiative, maybe less obvious. Thankfully, we've been able to see this one first hand in a previous trip to other Hilton properties and have to stay its a pretty impressive cleaning setup.
Beyond the standard cleanings that you expect for rooms, Hilton CleanStay™ features enhanced cleaning schedules on 10 high-touch surfaces in every room with an array of specially designed products to disinfect each unique surface.
The list of surfaces cleaned includes lights and switches, handles and knobs, bathroom surfaces, climate control panels, remote controls, phones, clocks, bed and bedding, bath amenities, tables and nightstands, the iron and safe, and the food and beverage amenities as well. After the room is done being cleaned, the housekeeper adheres a CleanStay™ sticker on the door that can only be broken when you enter- giving you better peace of mind that your room is kept to the highest of standards for your stay. (You can check out more from this initiative here.)
When compared to other shared properties, especially in today's house-sharing travel economy, knowing the lengths a property owner goes through to clean between guests is relatively unknown. Having a clearly defined process for how your room is kept at its very best is just one of many steps Hilton has gone above and beyond to ensure a safe and comfortable traveling experience.
Overall, the future of travel is going to bring many changes, and many travelers are likely to focus on travel in places they're familiar with, feel safe visiting, and provide a solid level of comfort to help have a stellar experience. Vacation ownership with Hilton Grand Vacations checks a number of these boxes and is something that we see becoming more and more popular as time goes on.
This article was sponsored by Hilton Grand Vacations. As always, all opinions are our own.
About Jeremy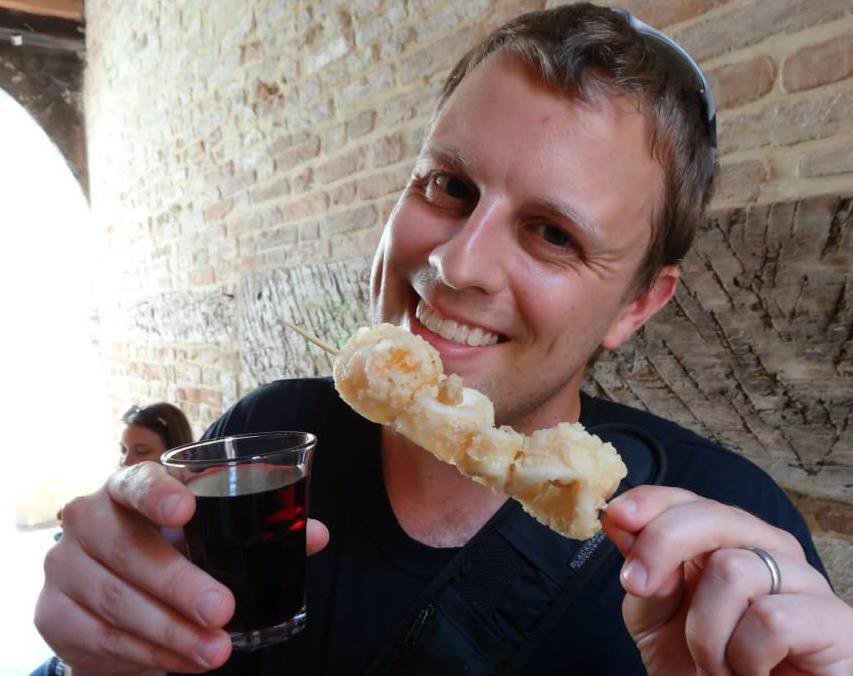 About the Author: Jeremy is a full-time travel writer based in Pittsburgh and primary author of this site. He has been to 70+ countries on five continents and seeks out new food, adventure activities, and off-the-beaten-path experiences wherever he travels.