Published by Guest Blogger. Last Updated on March 23, 2022.
Disclaimers: Our site uses demographic data, email opt-ins, display advertising, and affiliate links. Please check out our Terms and Conditions for more information. Listed prices and attraction details may have changed since our visit and initial publication.
Imagine yourself walking through a prehistoric jungle of various ferns growing on a canyon. Fern Canyon is a Northern California hike that takes you through a fern-covered canyon. Located in Prairie Creek Redwoods State Park, the Fern Canyon hike is the greatest canyon hike you can take in the redwoods.
This place is so unusually beautiful that Steven Spielberg's The Lost World: Jurassic Park shot a film scene here. Plus, two dinosaur documentaries – Dinosaurs Alive (IMAX) and Walking with Dinosaurs (BBC) – were also filmed here. Here's all you need to know about the Fern Canyon hike including insider tips:
Hiking the Fern Canyon Trail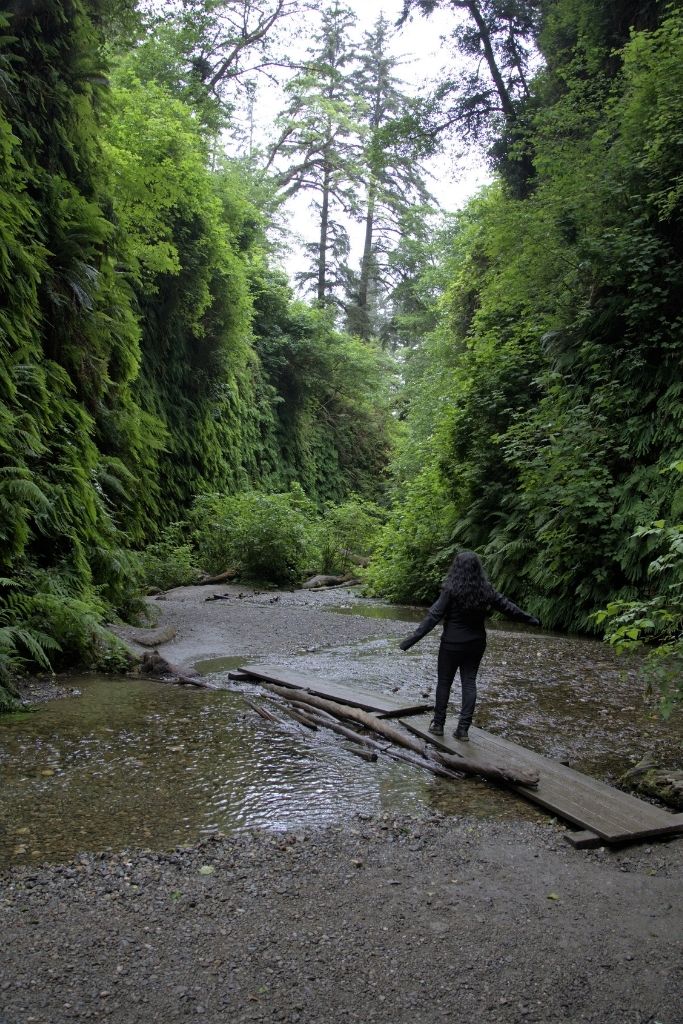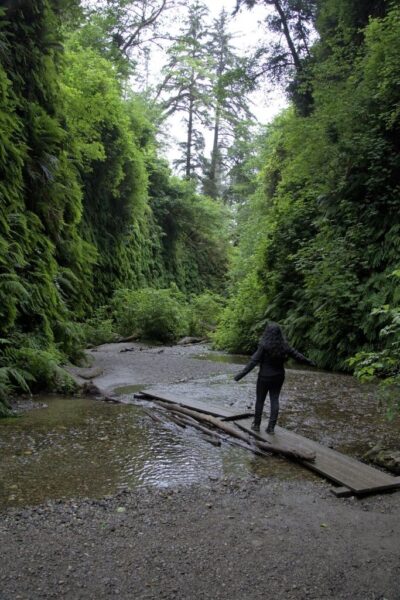 The Fern Canyon Trail is a 1.1-mile loop trail with an elevation gain of 118 feet. The hike may sound easy since it's a short hike, but you'll have to walk carefully on the boardwalks above the puddles. The trailhead starts at the Gold Bluffs Beach parking lot.
First the ferns line the trail then you'll come across the canyon. The canyon has 15-foot-high walls covered with California native ferns. You'll find 5 different types of ferns in this canyon: chain, deer, sword, lady, and five-fingered fern.
Don't Miss the Fern Canyon Waterfall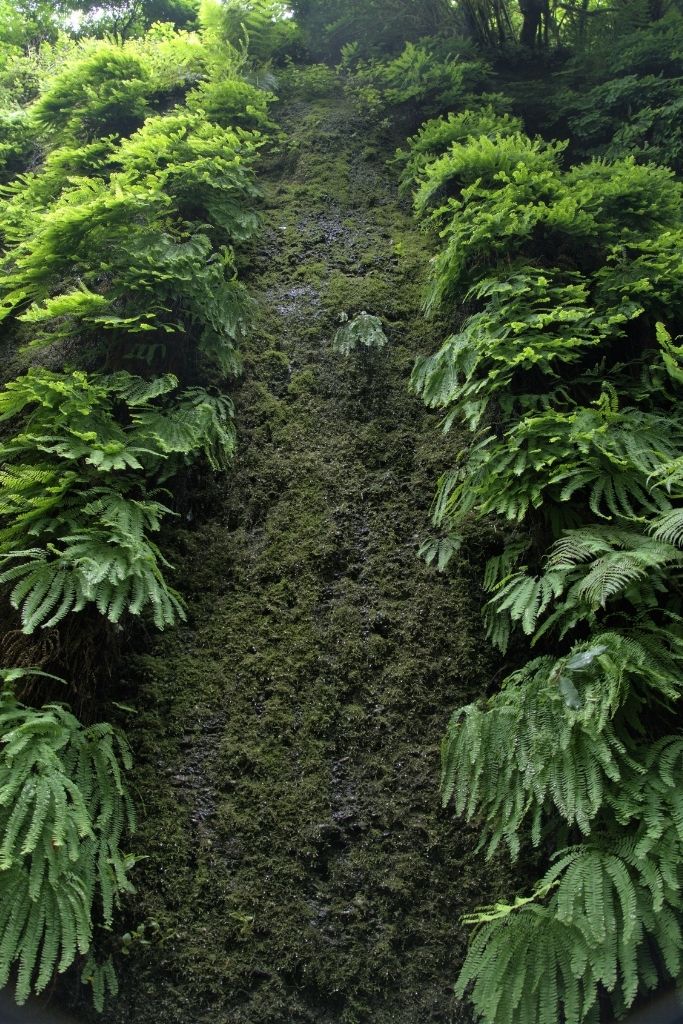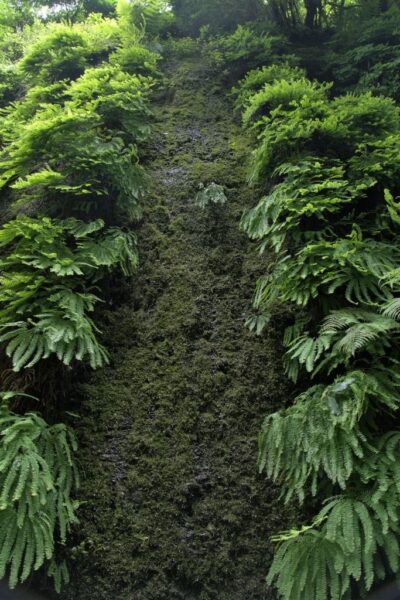 As you're hiking through the trail, you'll see the Fern Canyon waterfall. Here you'll see water flowing down the canyon walls which makes the water and rocks look like they are glowing green. Take some time to relax in this area and take some photos while you're here.
The Fern Canyon is open throughout the year and there is a fee to enter the area. The park charges $12 to enter the Fern Canyon and the Gold Bluffs Beach area. Bring cash as the entrance kiosks don't accept credit cards.
However, your fee is waived if you have the $80 America the Beautiful Pass (Annual National Parks Pass).
Directions to Fern Canyon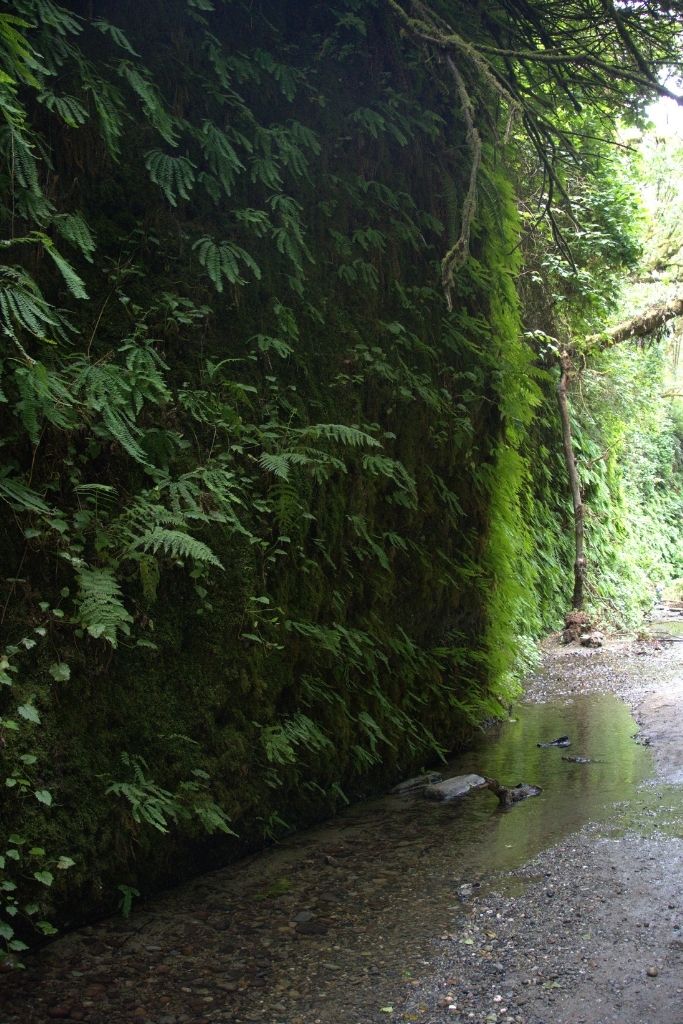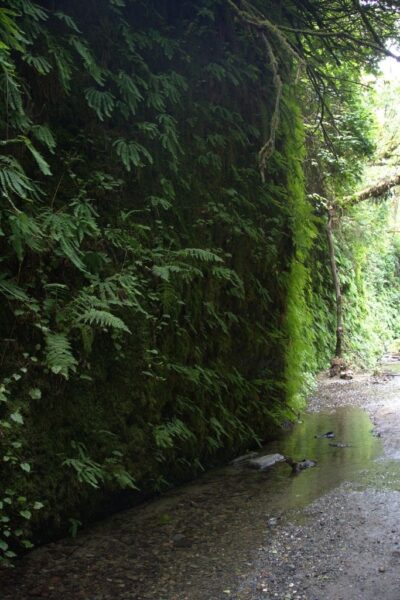 From US-101, take Davison Road which turns into Gold Bluffs Beach Road. Even though it's about 7 miles from the start of Davison Road to the parking lot, it can take around half an hour to get there.
Can you drive to the Fern Canyon with a sedan? Yes, you can but you need to be careful. Davison road is a narrow dirt road with lots of curves. Large RVs or trailers shouldn't try driving on this road.
Since it's a dirt road, your car will look a lot different before and after driving on Davison Road; your vehicle will be covered with gray gravel dirt.
On the way, you'll come across two streams before the parking lot. Try to drive around the edges of the road to avoid the steams as much as possible. Low-clearance vehicles tend to get stuck in this area.
Make sure you're also driving carefully to the area as you might see Roosevelt Elk running across the road. Please do not approach them; they are wildlife, and they will want to protect their own and might injure you in the process.
Do you need a permit to hike Fern Canyon? Recently, the park issued a free parking permit for the Fern Canyon area.
If you plan to visit the Fern Canyon via vehicle between May and September, you will have to apply for a permit online. This is to regulate crowds and provide a safer experience during the summer season.
If you prefer to hike to the Fern Canyon instead, you can hike 11 miles round trip from the Prairie Creek Visitor Center or via the James Irvine Trail.
Frequently Asked Questions About Fern Canyon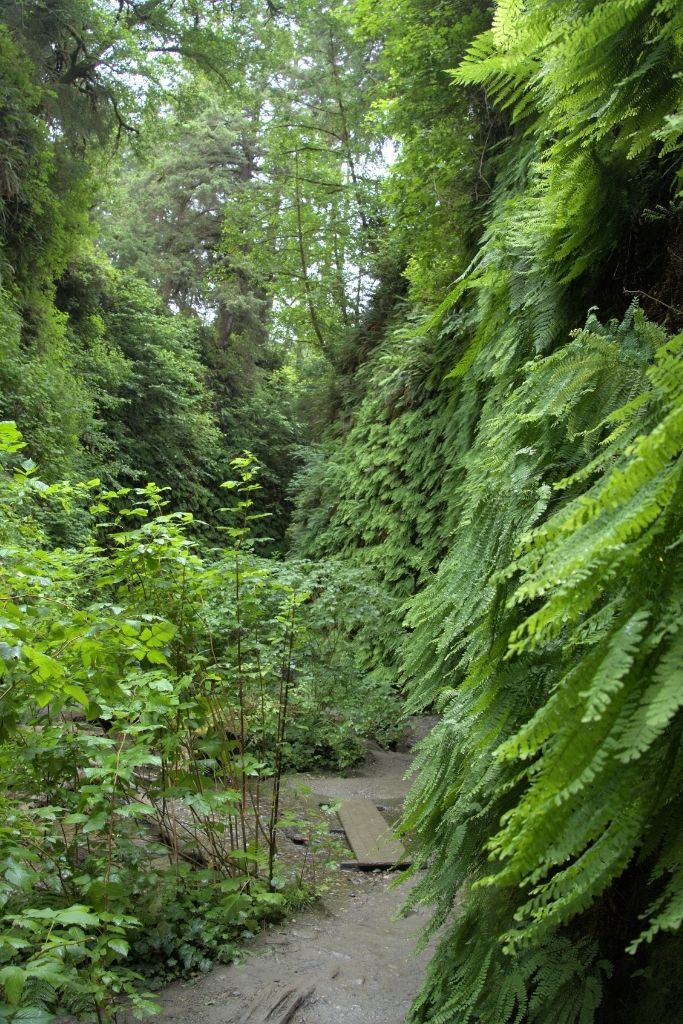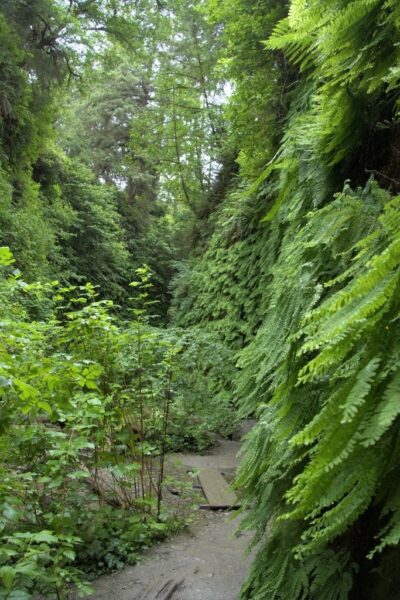 What is the best time to visit Fern Canyon?
The best time to hike the Fern Canyon is during the summer. While the hike was wet and muddy during the summer, it can be wetter, muddier, and chilly during the other seasons.
When visiting in the summer, try to arrive as early as possible. The parking lot fills up around 10 am on the summer weekends. You will still be able to find a parking spot after 10 am but you might have to drive around the lot for a while to find it.
Allow up to 2 hours to get to and from the Fern Canyon Trail area and to hike the trail. Plan to spend some time at the Gold Bluffs Beach, just a walkable distance from the parking lot.
Before planning a trip to Fern Canyon, check the Current Conditions page on the National Parks Service site in case roads to the trail are closed.
What should I wear to Fern Canyon?
Since this hike goes through water puddles and slushy mud, you'll need to wear or pack the hiking essentials. Wear hiking shoes that are waterproof and old enough that you don't mind them getting dirty.
Pack an extra pair of footwear in case your hiking shoes become unwearable after the hike. The hike was humid but chilly while visiting in the summer so wearing layers works best.
Can you camp at Fern Canyon?
While there isn't a campground in Fern Canyon, you can camp at the nearby Gold Bluffs Beach campground. This campground has great amenities including bear proof lockers, fire pits and solar showers. You can reserve a spot at ReserveCalifornia.com.
Can I take my dog to Fern Canyon?
Unfortunately, dogs and other pets aren't allowed on the park trails. Since there is wildlife around the area, the smell of your pets can disturb wildlife.
But pets are allowed at the Gold Bluffs Beach, Gold Bluffs Beach Campground, Fern Canyon parking lot and picnic areas.
Don't Miss a Visit to Fern Canyon
Fern Canyon is a spot where the world suddenly seems much bigger and more mysterious. It's magical to see a canyon that has so much lush vegetation and greenery. If you are looking for a once-in-a-lifetime canyon hike, be sure to make it to Fern Canyon this year!
About the Author: Rasika is the owner of the travel blog Bae Area and Beyond. She is from the Bay Area and her blog covers California destinations. She hopes that her readers will fall in love with California, just like she did.
All images were provided courtesy of Bae Area and Beyond.