Published by Jeremy. Last Updated on January 23, 2023.
Disclaimers: Our site uses demographic data, email opt-ins, display advertising, and affiliate links. Please check out our Terms and Conditions for more information. Listed prices and attraction details may have changed since our visit and initial publication.
Fulidhoo is one of dozens upon dozens of local islands in the Maldives and is one that is quickly becoming a popular destination for tourists.
This is due to many reasons, but two of the most important are the island's size (it is about 2000 feet long by 800 feet wide) and its location relative to Male (about an hour by speedboat). Couple that with a fairly decent infrastructure for visitors as far as local islands are concerned and you have the makings of a really great destination to visit and unwind for several days!
In this one, we wanted to share some of the biggest things you should know before visiting Fulidhoo!
Hotels on Fulidhoo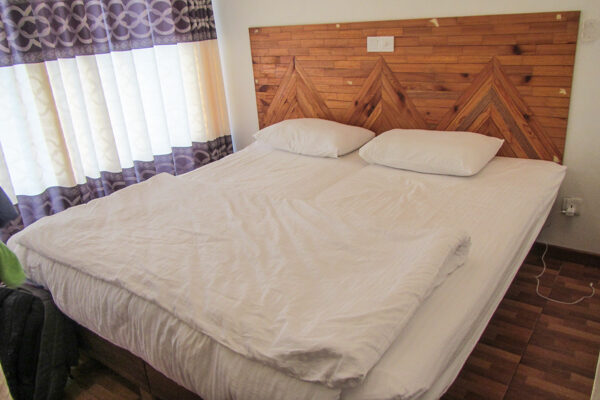 When it comes to accommodations on Fulidhoo, there are a number of options to choose from. All hotels here follow the basic guesthouse model but likely come with a decent bed, air conditioning, breakfast included in the room rate, possible wifi (ours didn't work in the room but worked in the lobby), and warm water in the showers at a minimum.
As the island itself is rather small, you should care less about the location and more about reviews of both the (albeit low quantity of) amenities and optional excursions at a minimum. Odds are good you're going to rely on your guesthouse a fair bit when doing things like snorkeling or other day trips, plus possibly eating a few meals beyond breakfast, so checking reviews of their full offerings is critical.
Two of the highest-rated guesthouses on the island are the Seena Inn (where we stayed) and Kinan Retreat and have very solid reputations. It is worth noting that they tend to book up well in advance as they each only have a limited number of rooms.
Activities on Fulidhoo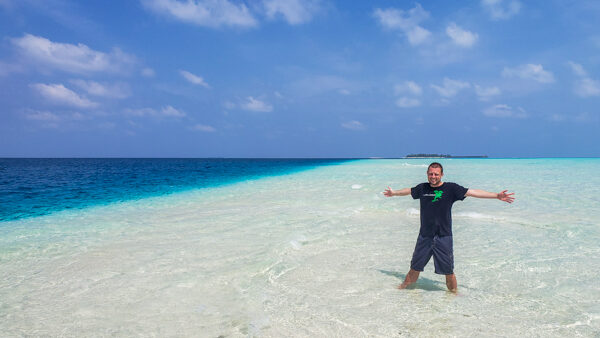 When it comes to enjoying activities on Fulidhoo, your options are inherently limited.
The island has just a few beaches, with one being a designated bikini beach for those who want to wear less reserved attire (covered shoulders and knees are required everywhere else). This is, admittedly, the island's most beautiful beach and you'll likely find yourself there throughout the day as well as to catch the sunset each night.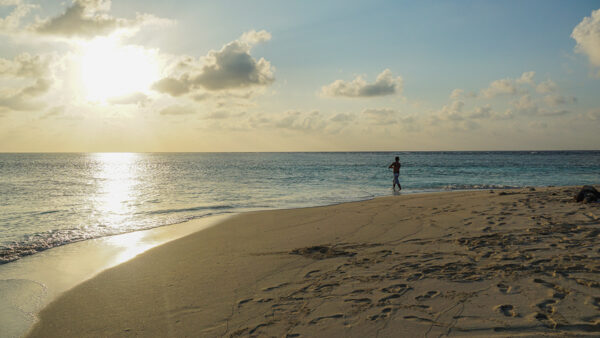 While the reef to the north of the island is the best for snorkeling (and your guesthouse will likely give you a snorkel set to use), it is worth noting that you should plan your swims with the tides. If the tide is too low, the clearance between your body and what is left of the coral could be a matter of inches, if that. If the tide is too high, the waves will be quite rough and swimming will be difficult for those of any skill level.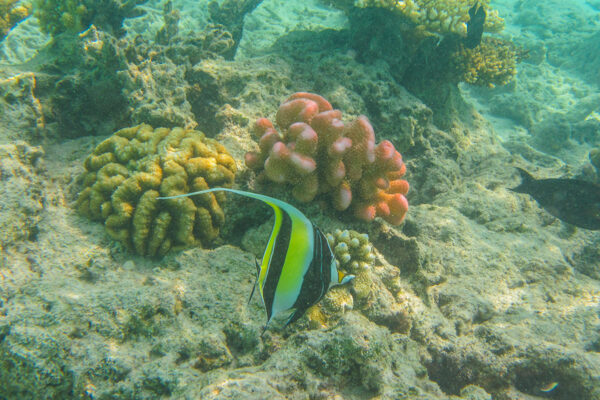 As such, you'll do well asking your guesthouse when the best time to swim is based on the tides during your stay. You'll get a feel for this very quickly when visiting as well.
From there, most activities are excursions offered by individual guest houses like snorkeling in the house reef, fishing cruises, and the like. Prices and dates vary from guest house to guest house, but is worth discussing with them in advance to see what your options are. Likewise, the dive shop, Fulidhoo Dives, also can take out snorkelers to the house reef when they go out on discovery dives for a very reasonable price. This availability is also tied to when they have new divers and could vary.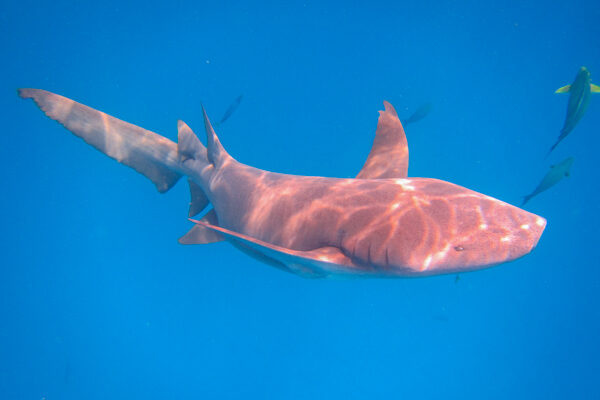 For certified scuba divers, Fulidhoo is a great place to base yourself and get out on some rather epic scuba dives. I went out on four dives with Fulidhoo Dives and got my fill of seeing various sharks, eagle rays, eels, and the like at many nearby dive sites. During my visit in 2020, a pair of dives ran about $140 including tax (I also believe cheaper if you dive more) and is in line with most dive rates I've seen around the world.
It is worth noting that many of the best dive sites are deeper and the company may only take advanced certified divers out to those spots (and nitrox certification is recommended too). A few of the dives I went on were among the more technically challenging dives I've been on due to some fairly strong currents. At a few sites the current only slowed at deeper depths, but non-advanced divers are legally not allowed to go that deep and were in for a harder dive than the more advanced divers in the group.
But, as with everything, these conditions vary day-by-day; however, it is worth noting all the same. Diving here was truly some of the best I've had and I highly recommend it!
Fulidhoo Restaurants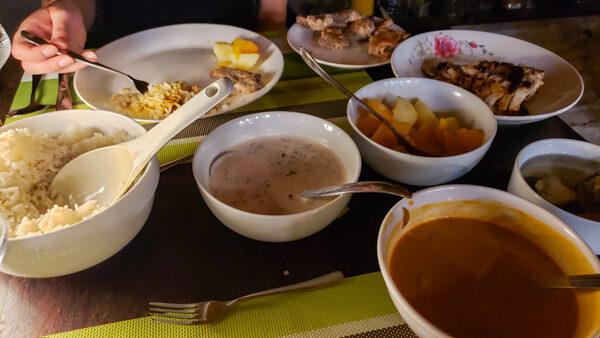 Most of the restaurants on Fulidhoo are tied to various guesthouses and, while they do not appear that way on the surface, are indeed open to non-guests as well.
During our visit we tended to split our meals between our guest house, the Seena Inn, and one of the only standalone restaurants on the island, Cafe de Orzo.
Most menus on the island are somewhat limited to basic fish dishes, sandwiches, and at the cafe some Indonesian noodle recipes as well. You will find no alcohol here due to the country's restrictions, but fresh-squeezed juices are aplenty even if most spots run out of fruit between shipments (so if they have everything available, go nuts- they may not the next day).
We highly recommend getting the Maldivian dinner at the Seena Inn at least once which includes five or six plates of seafood, fish soup, and other Maldivian specialties for a very reasonable price (about $15 during our visit) and enough food to feed two comfortably. From there, eat as much fish as you can as the island catches some really good varieties to enjoy. Just don't expect much in preparation, however!
Shopping and Other Amenities Available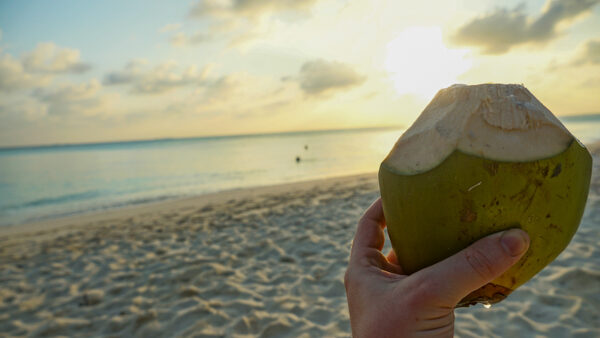 Despite being a tiny island, Fulidhoo actually has a small handful of shops including a mini grocery store, a few markets, tourist shops, a pharmacy, and a tiny clinic. These have intermittent hours and are often not posted, so you will need to check with your guesthouse if you are in need of anything specific (especially at the pharmacy which only seemed to be open once when we walked by- but I did pick up hydrocortisone cream for a very reasonable price).
Thankfully, you can find a wide array of products here for rather reasonable prices. So whether you're in need of a snack, canned coffee (cold), sunscreen, beach clothing, shopping for a souvenir, and the like, you'll find a modest selection of items here. We stocked up on sunscreen specifically as they had bottles available for just a few dollars when the average price at Male airport and other resorts was $25-$30. Did it work? Well, we didn't get burnt when using it, but that's about all we can say!
So while you would still be best bringing all the supplies you need from home (apart from food), you may get lucky in finding a few things here or there.
A Few Other Details to Note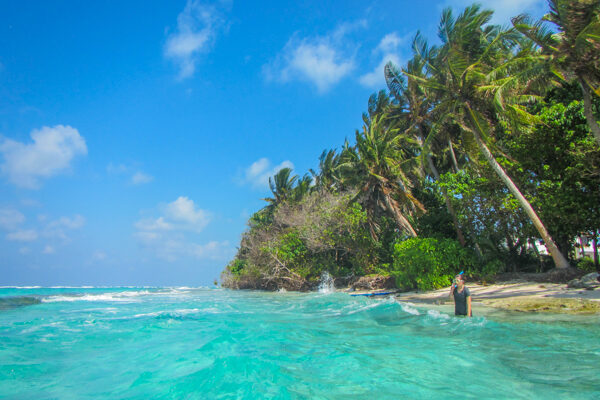 There are a few additional details you should note when visiting Fulidhoo. These are general observations that may or may not be true for other islands as well.
First, the wind in and around Fulidhoo can be fairly intense. As such, some guesthouses may not take passengers out on excursions if they do not feel it is safe (rightfully so). We recommend booking your snorkeling trips earlier in your stay to accommodate any potential delays, as during our visit it got pushed back three full days and then conflicted with my diving- so Angie went on it without me.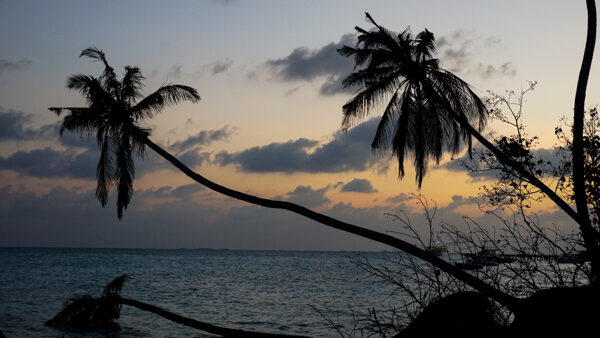 Second, when visiting the bikini beach, note that the northern side of the beach is near what appears to be a trash site on the island, and during our visit there was frequently burning garbage a few dozen feet behind the tree line. You couldn't see this, but you could most certainly smell it. As such, we stayed closer to the center or southern ends of the bikini beach and did not have any smell issues. (Although we did watch a beach wedding take place right on the other side of this. Oof!)
Finally, the bikini beach itself is exposed to the sun more or less from about 11 am onward each day as the sun rises over the treeline. There are a few small constructions that use palm leaves to cover some chairs, but they only provide minimal protection. As such, mid-day visits to this beach can be fairly intense on sunny days.
Overall, we really enjoyed our time on Fulidhoo and had a wonderful experience even with some of these minor concerns featured in this guide. You can most certainly get your fill of this island in just a couple days, but the slow-moving pace of life here makes it perfect to spend four or five days (or more)- especially if you're a diver.
Have you visited Fulidhoo before? What were your favorite things to do? Comment below to share!
About Jeremy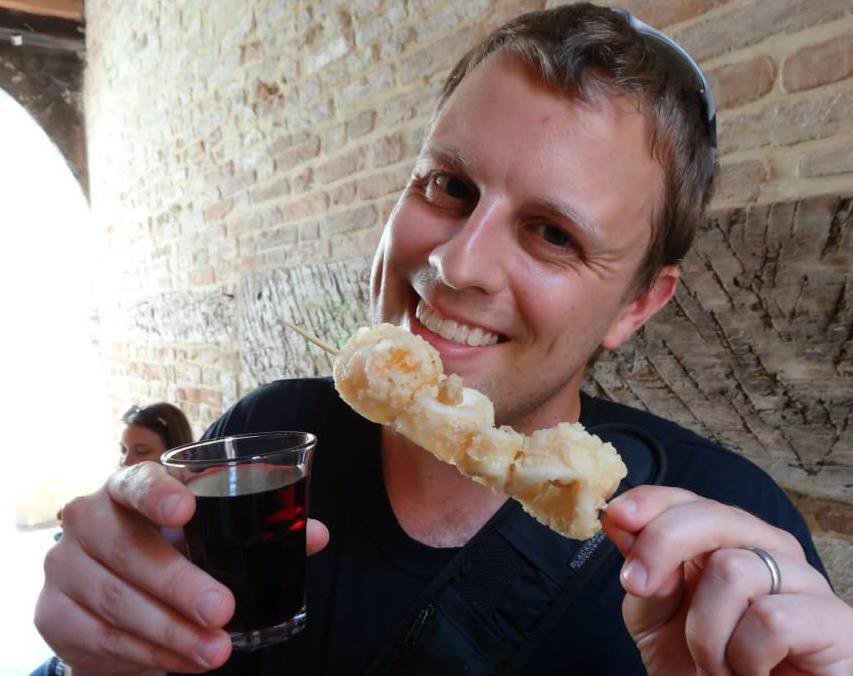 About the Author: Jeremy is a full-time travel writer based in Pittsburgh and primary author of this site. He has been to 70+ countries on five continents and seeks out new food, adventure activities, and off-the-beaten-path experiences wherever he travels.