Published by Angie. Last Updated on February 7, 2023.
Disclaimers: Our site uses demographic data, email opt-ins, display advertising, and affiliate links. Please check out our Terms and Conditions for more information. Listed prices and attraction details may have changed since our visit and initial publication.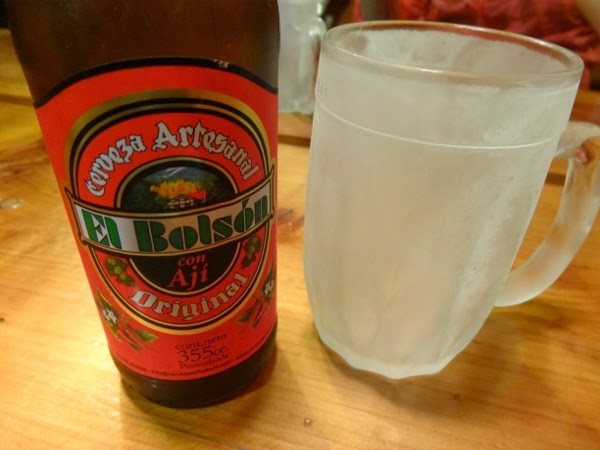 In such a barren landscape as Patagonia, you might expect the fruit and vegetables to be sparse and the quality of restaurant food to be pretty abysmal.  
You would be right.
For the most part we took to cooking our own pasta with canned sauces during our month in Patagonia because fresh food was so hard to come by and pasta was better (and much cheaper) than most anything we could buy in a restaurant.
As terrible as this sounds, there were a few top notch food experiences we had along the way- and they were even more amazing because we'd had so much gross food.
Lamb at El Muro in El Chalten, Argentina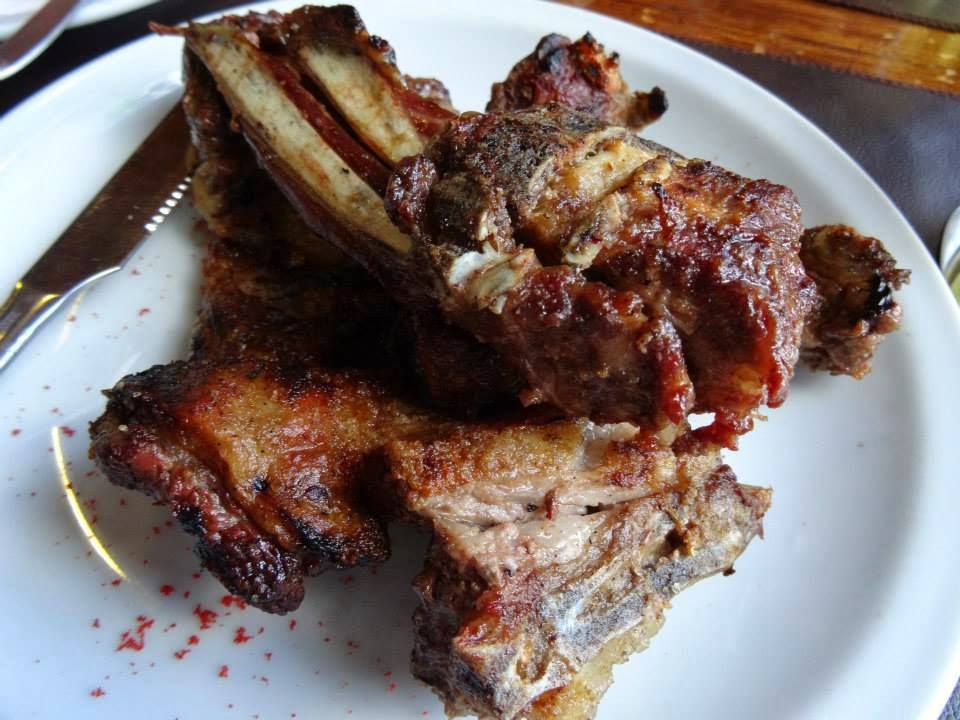 After hiking all day in El Chalten, there is nothing better than sinking your teeth into some nice juicy Patagonian lamb. The lamb here was crispy on the outside, properly seasoned (unlike other meat we've had in Argentina), and the portion was huge! The baked calabaza (squash) was also delicious, as was the steak.
Just make sure to brush up on your Spanish before going as the waitresses tend to be a bit cranky with you if you ask them to repeat something they said. 
Author's Tip – reservations are highly recommended as this restaurant is tiny and fills up very early by Argentina standards.
Berries in El Bolson, Argentina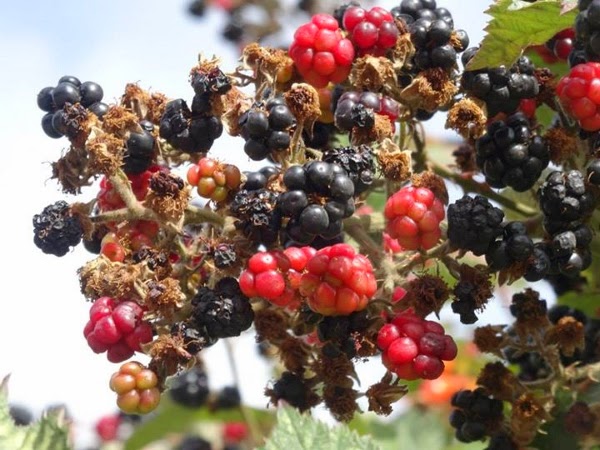 One day we did the short hike from El Bolson to Cabeza del Indio and we found a delicious surprise: monstrous wild blackberry bushes lined the trail! After convincing ourselves that they were indeed edible and not poisonous, we gorged ourselves the whole way there and back. So sweet and juicy!
Another fun diversion was walking to Humus Farm to pick up some of their beautiful raspberries. They were so cheap, 20 pesos (about $2.5 USD) for 2 pints, that we didn't feel so terrible about eating them all in one sitting. If you make it to the farm, also check out their delicious homemade cheeses and fresh apple juice in the fall.
Rosehip Dulce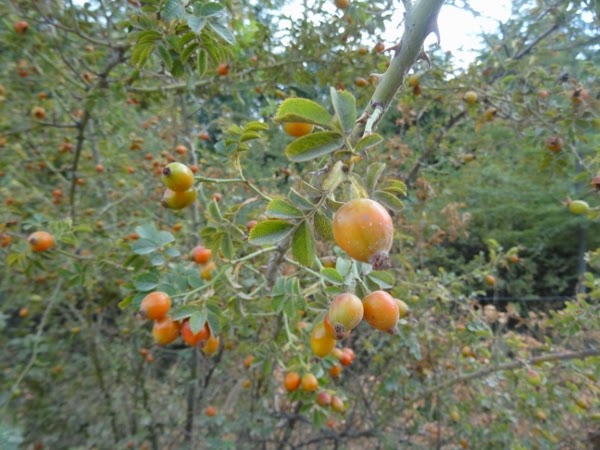 All throughout Patagonia we encountered an unfamiliar plant: rosehip, or rosa mosqueta in Spanish. The fruit is edible and is used to make jams, and the essential oil from the plant is used for cosmetic and medicinal purposes. We decided to try the rosehip dulce, which I though was a jam but turned out to be something even better.
It was thick, smooth, and had caramel undertones sort of like apple butter, but with a faint citrus flavor instead. It was heavenly on oatmeal and toast! You'll find rosehip in all kinds of other foods throughout Patagonia, too, like tea and ice cream. 
Author's tip – Don't miss out on Dulce de Leche ice cream while in Argentina in addition to Rosehip Dulce!
Artisanal Beer in Bolson and Bariloche, Argentina
Cervecerias are abundant in these towns, but we tended to stick to our two favorites: El Bolson Cerveceria in Bolson, and Manush in Bariloche.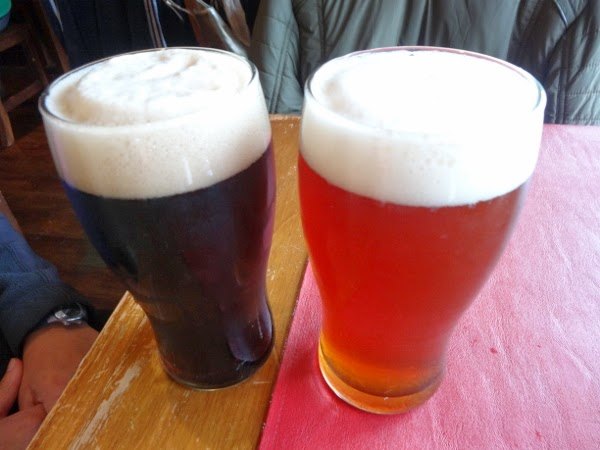 Every beer we tried at El Bolson was great, but our favorites were the Roja and the Frambuesa. The Frambuesa was dangerous, as it didn't taste like alcohol, but mostly just like raspberry juice. It was so fruity it even smelled like raspberries.
They also make a chocolate beer (bottled) that I was skeptical of, but they managed to pull it off. They offer a sampler flight if you're overwhelmed by the 8 or so choices on draft. 
Author's tip – only go for the Frambuesa if it is on draft.  The bottled version is not as good!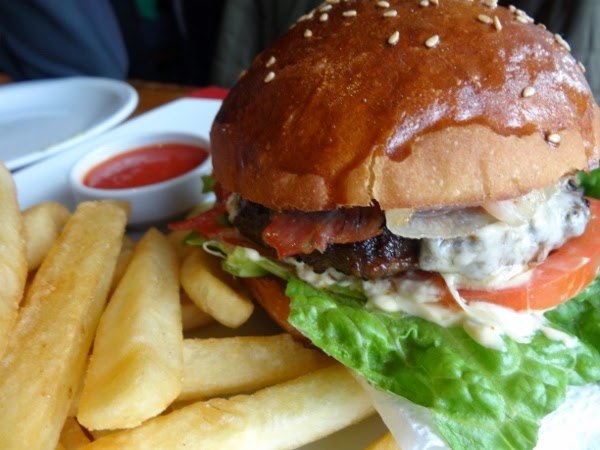 Manush was another solid cerveceria in Bariloche, although we didn't like the beer as much there as we did at El Bolson. However, this was more than made up for by their awesome happy hour special: from 6-8 PM every day, pints start at 20 pesos (about $2.5 USD)!
Although the food is basic bar food, they offer a pretty decent burger on Wednesdays (and sometimes Thursdays if you're lucky) with homemade bread, special sauce, and all the fixings.
Make sure to get there within 10 minutes or so of when they open if you go for happy hour as Manush will be full by the time your first beer arrives. 
Author's tip – the beers on tap rotate based on availability and season.  We particularly loved the Milk Stout and highly recommend it if it is available.
Trawen in Pucon, Chile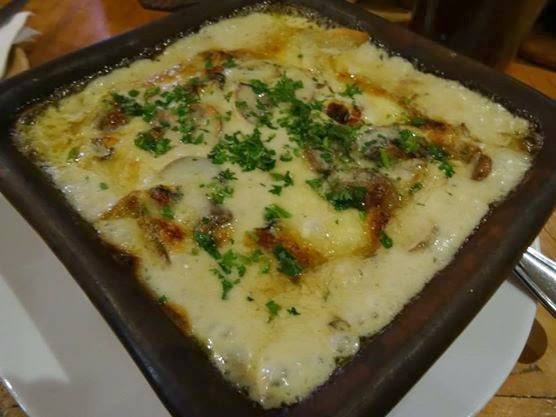 While not technically in Patagonia, Pucon had the best restaurant that we went to in all of southern South America: Trawen.
The atmosphere was cozy, the service was efficient, and the food was beautiful and delicious. We stared in awe at every plate that came out of the kitchen because everything was presented so beautifully, and overheard just about every customer say they'd be back the following night for more.
I ordered the salmon ravioli, which was topped with cheese and baked off in the oven until it was bubbly and brown on top. The creamy, garlicky mushroom and vegetable sauce perfectly complemented the local salmon and homemade pasta.
The homemade bread containing sesame seeds and a touch of pumpkin was a great extra touch, as were the accompanying condiments of compound herb butter, roasted red pepper sauce, and aji.
Author's Tip – Trawen has a 2 for 1 happy hour drink special like most restaurants on the main street in Pucon and give out coupons for free Pisco Sours with your next purchase.
If you're in Patagonia and are looking for something more sophisticated than the standard frozen burgers and pizza fare, check out the restaurants featured above.
Our experiences at these places certainly rekindled our hope that good food and drink does exist here, if you're willing to look for it!
Do you have a favorite food or restaurant in Patagonia?  Comment below to share it with the community!
Looking for more things to do in Argentina? Check out the Buenos Aires zoo or eat some delicious dulce de leche.
About Angie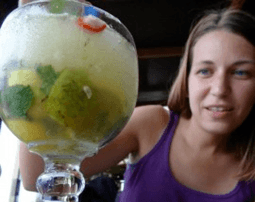 About the Author: Angie is a contributing author. She has been to nearly 60 countries and seeks out the best restaurants, bars, bakeries, and other unique food items wherever she goes- often with her husband, Jeremy.