Last Updated on January 12, 2023 by Jeremy
Disclaimers: Our site uses demographic data, email opt-ins, display advertising, and affiliate links. Please check out our Terms and Conditions for more information. Listed prices and attraction details may have changed since our visit and initial publication.
Out of all of the places I've driven around the world, I can safely say that driving on Jeju island is among the easiest.
The roads are well maintained, the traffic outside of the cities is minimal, the speed limits are appropriate albeit a bit slow at times, and with built-in GPS in most cars navigation is a breeze (although you'd be wise to confirm that last bit prior to renting as even Kakao Maps was fairly slow for us via our phones).
Based on this, I would highly recommend all visitors to get a car, and there really are only a few special considerations to keep in mind when visiting.
A Few Details to Note About Driving on Jeju Island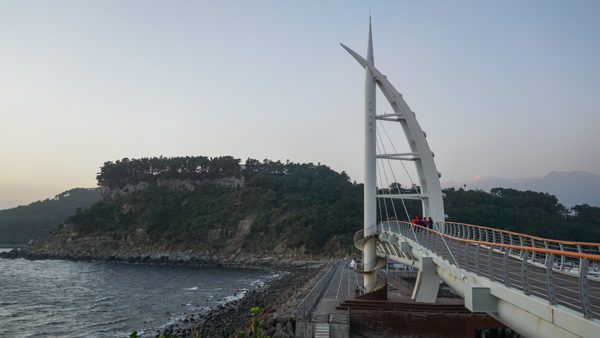 While driving in Jeju is easy, you'll be wise to keep the following points in mind.
First, speed cameras are present on the island and can be instantaneous speed, zone speeding (measuring your average speed over an area), or simply monitoring infractions at intersections. These are frequent but well noted both via signage and also via our car's GPS (which already had many landmarks pre-programmed in English). Here, much like everywhere else in the world, the simplest way to deal with them is to follow the speed limit; although it is worth noting that locals do tend to speed and slow down at the absolute last second near these cameras.
Likewise, Jeju Island is full of speed bumps, rumble strips, and other mechanical means to help regulate your speed. Some of these are actual bumps, while others are simply painted lines on the road to trick you into slowing down. Just like the speed cameras above, don't speed and you'll be good to go.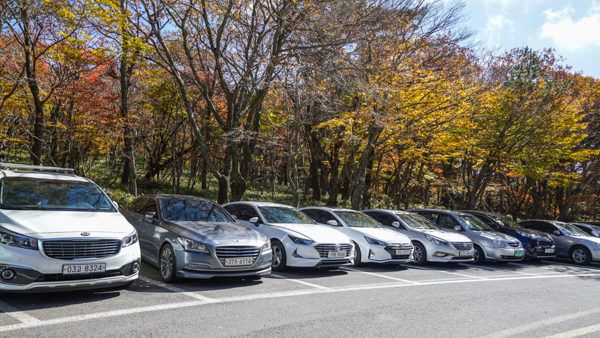 For parking, garages in the cities are often pay-by-plate, so you may not get a ticket when you pull into a garage but instead be told the price upon exit based on how long your rental car had been in the lot. At some tourist attractions, there may also be a combination of free lots or pay lots, often with different colored parking lines to signify the two. A few times we didn't notice this someone ran and asked for a couple thousand won for parking, but because the fee was so cheap we decided not to bother moving as free parking spots are hard to come by sometimes.
As a side note, Koreans often park their cars backing in which makes for some interesting gridlock in garages and parking lots. Why this happens, well, we have no clue.
Finally, before leaving the rental car company we recommend having the employee program your hotel or Airbnb's address into your car's "home" feature on the GPS. We were not given an English address for our Airbnb prior to arriving and were explicitly told that the address did not match up on Google Maps (which does not work in South Korea). We showed the Korean address to the associate and he programmed it into our car within moments- and it worked. A great detail that helped us right from the start!
Some of the Lights on Jeju Are Unusual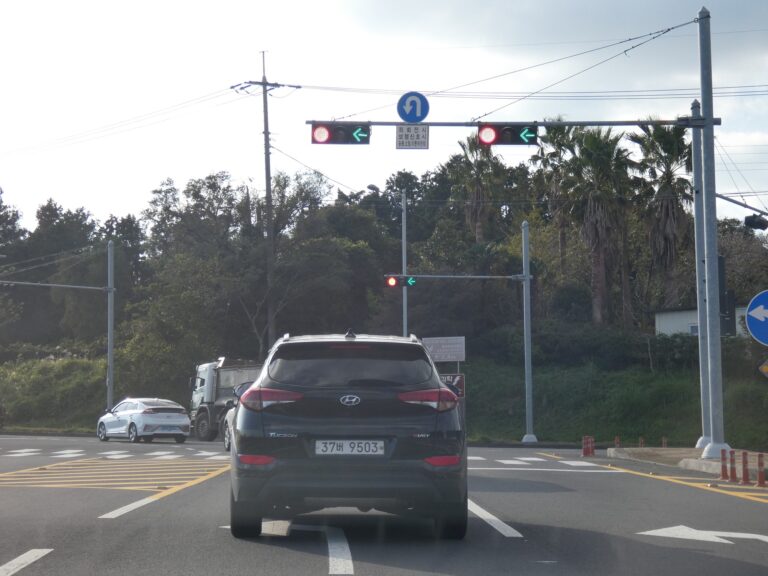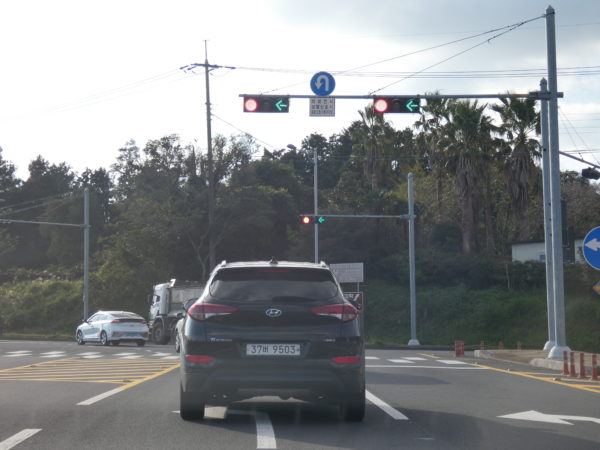 If we were to dive down into some of the unique nuances of driving on the island, the first thing would be that the light setup is a bit different than you'd expect.
The lights here are oriented horizontally rather than vertical but follow the conventional red/yellow/green color-coding system most destinations use. But where things get tricky is in what a few of the signals mean.
In some places, you may come across a blinking red light. In other countries this typically means treat as a stop sign. But as far as we could tell in Jeju it simply means yield. (Apparently, an orange blinking light means the light isn't working, and anything could really go there.)
Another interesting light is the green turn arrow (often to mark turning left). Much like in other countries, this marks when you are allowed to turn left and oncoming traffic is stopped. But there are two things weird about this one.
First, all lights have it, even if only the furthest most left lane can turn across traffic. So if there are three lights overhead but only one lane allowed for turning, all three lights will show the left arrow.
The second is that instead of the arrow disappearing (as is the case in many other countries), a yellow light will appear first. So you can be in a position where there is a yellow light and a green light appearing together, or a yellow light and a red light appearing together too. This is a bit confusing without the context of seeing the green arrow first, but we mostly understood the yellow light to be in tandem with the turn arrow only.
While we are not complete experts on the light setup in South Korea, these two cases really caught us off-guard, but overall are pretty easy to get used to as you go.
Be Careful in the Bigger Cities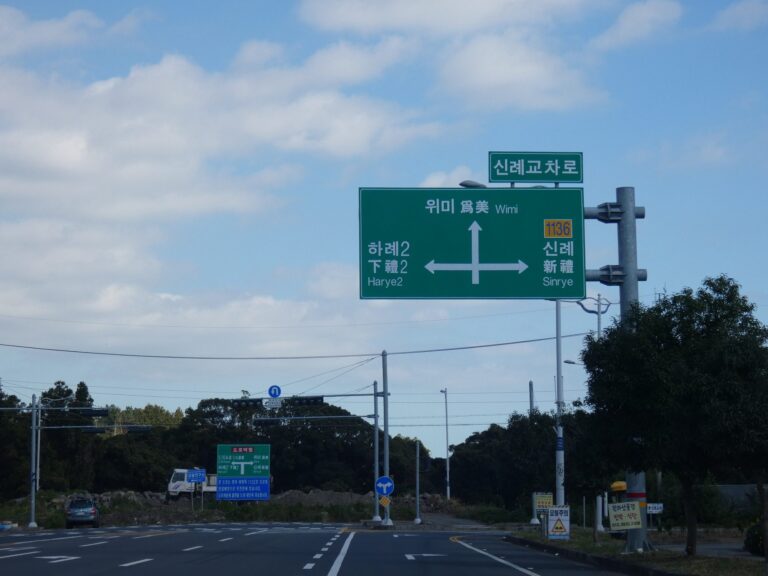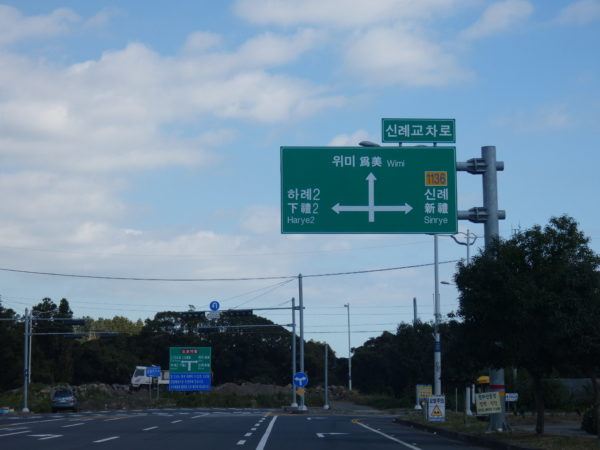 One of the oddest things about driving in Jeju is only really noticeable in the big cities. It has to do with the traffic lights. Or rather, lack thereof. Whereas most roads on the island have either roundabouts or appropriately placed lights, in the cities a few seem to be, well, missing.
There were numerous circumstances when we were driving through Jeju City and especially Seogwipo where we'd come across a busy intersection that had no lights or signage at all. These intersections seemed to be a free-for-all where whoever can fit through will, and there was seemingly no right of way.
Unless you've driven through this before, you really can't prepare for it. Even after five days of driving around the island (and visiting one of these cities every day), we were still not used to this setup and found it to be a bit nervewracking every time.
Apart from this one key detail and a few minor quirks, driving in Jeju island was more or less a breeze and we'd recommend everyone get a car during their stay. They are cheap and one of the best ways to explore the island!
Looking for a deal on a car rental in Jeju? Get a quote here! When renting, keep in mind you will need an international driver's license.
About Jeremy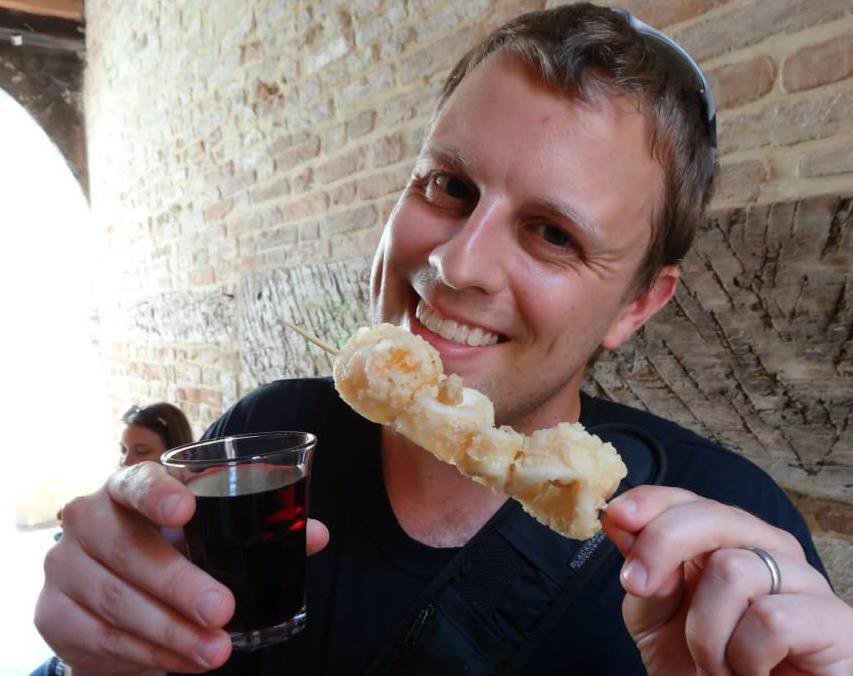 About the Author: Jeremy is a full-time travel writer based in Pittsburgh and primary author of this site. He has been to 70+ countries on five continents and seeks out new food, adventure activities, and off-the-beaten-path experiences wherever he travels.