Published by Jeremy. Last Updated on January 1, 2020.
Disclaimers: Our site uses demographic data, email opt-ins, display advertising, and affiliate links. Please check out our Terms and Conditions for more information. Listed prices and attraction details may have changed since our visit and initial publication.
If you're over 21 and find yourself at Walt Disney World, odds are good at some point during your trip you're going to be craving (or needing) an adult beverage.
While you can satisfy this need at most parks (other than Magic Kingdom, which only sells at sit-down restaurants), you'll quickly come to find that most of the options are, well, not great.
If you are looking for something a bit elevated when drinking at Disney, don't worry, we've got you covered with a few great options we found on our last trip!
World Showcase at Epcot – Drink Around the World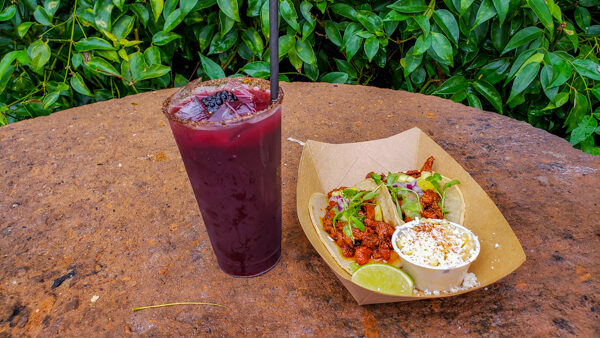 Drinking around the world at Epcot is a tradition for many adults visiting Disney, and it doesn't take long after arriving at the World Showcase to realize why that is. To put it simply, the country pavilions are the best spots to drink at Disney World and they offer a wide array of libations to choose from.
Some pavilions do this quite well, with places like Mexico, France, Italy, and Germany being some of our favorites for their local offerings (specifically Mexico for the tequila bar and delicious flavored margaritas). Others offer some libations but are less cultural-specific than we would've hoped (I'm looking at you, USA).
When visiting these, you should be aware that most pavilions have several spots where you can buy alcohol, and the options often vary between them. At Mexico, for example, two of the outdoor food vendors had different margarita options, while the indoor tequila bar had even more flavors still. We saw this repeat at many of the booths so you would do well checking out all the offerings at any country in particular before rushing to get a beverage as a better one may be around the corner!
Tiki Cocktails at Trader Sam's Grog Grotto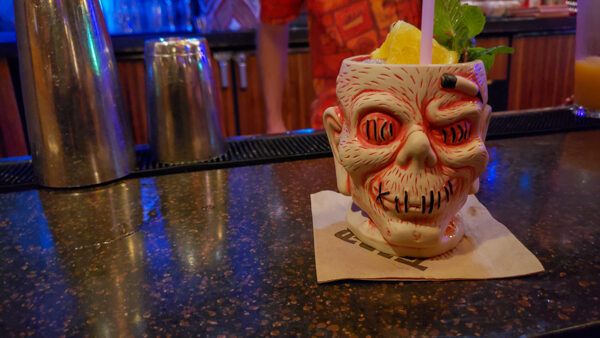 Trader Sam's Grog Grotto is located at the Polynesian Resort just a short monorail ride away from Epcot and Magic Kingdom and is known far and wide for their delicious tiki drinks!
But this bar goes well beyond serving tiki cocktails and also has an experience element to it. Depending on what cocktail you order a bartender may come out as a headhunter (with shrunken heads on the ceiling lighting up), another may trigger a volcano explosion on a television screen acting as a window, and another may cause an octopus tentacle hanging over the bar to start moving (plus many more)!
Before visiting, it is worth noting that this bar is quite small and you may have a bit of a wait when you put your name on the waitlist. Admission to the bar does not guarantee a table and you may find yourself ordering a drink while standing and waiting for a space to open up (we found chairs at the bar within about 10 minutes of ordering- or just when our first drinks came out). For those who have less patience and good weather, the bar also has a rather large outdoor patio but does not have any of the special effects discussed above insofar as we are aware.
After these, we have to admit that your best options are to check out some of the Disney Springs bars over options at the parks or hotels. So the remaining items on this list are all from there!
High-End Wine at Wine Bar George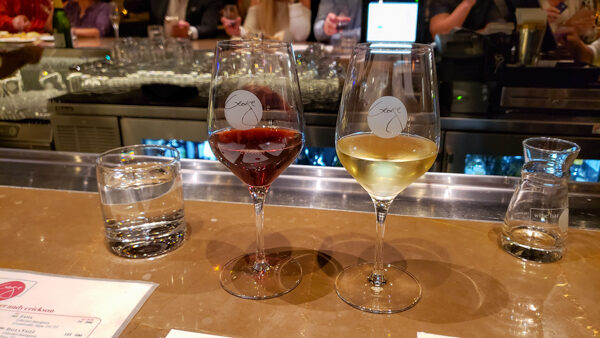 If you fancy yourself a wine drinker and have a budget for some high-end products, a trip to Wine Bar George at Disney Springs is a must. This one is managed by Master Sommelier, George Miliotes, and is the only bar on Disney property with such distinction (in fact, there are only a few hundred master sommeliers in the world- so this kind of bar, in general, is quite hard to find).
So, why is this one worth it? Well, apart from having a highly curated list and some insanely knowledgable staff, Wine Bar George has well over 100 bottles of wine available for by the glass or by the ounce orders!
As many of the wines available at the bar could run over $100 per bottle, being able to sample a one or three-ounce pour is a great option for a wine aficionado who wants to expand their palate. We found ourselves sampling rare Rieslings from Trimbach and Domaine Weinbach, a '97 red from Lebanon, and more during our visit- none of which we've ever been able to find again but are ones we will never forget.
Expect a fairly hefty bill if drinking copiously at this one, but the experience most certainly matches the price tag.
Local Florida Beer at Stargazers Bar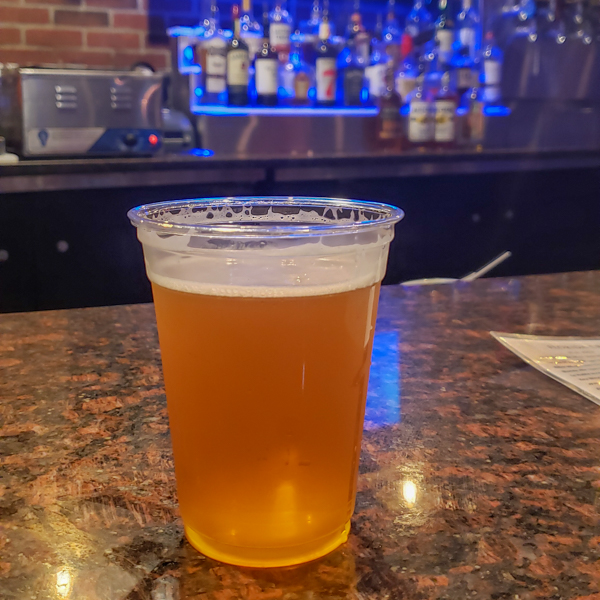 For those who are into the craft beer scene and want local Florida products, odds are good you'll have a hard time finding them at Disney World. Most of the stock at the bars we visited were low-quality domestics or imports, and craft beer was quite hard to find (and that is before getting more specific to local Florida brews).
The one bar that we did visit that had a respectable selection of Florida beer was Stargazers Bar, located on the first floor of the Planet Hollywood restaurant building at Disney Springs. While we cannot talk much more about this one other than its robust local selection, you would do well in keeping their happy hour in mind as well (4pm to 7pm and 10pm to midnight during our visit). This one discounted the beer to a fairly attractive price by Disney standards and may make or break your decision in going for a second!
A Craft Cocktail at Jock Lindsey's Hangar Bar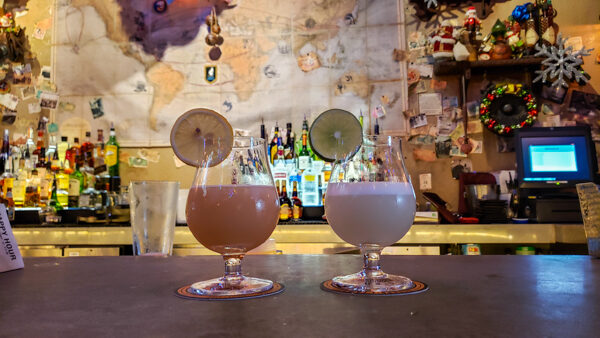 Jock Lindsey's Hangar Bar is in the running for one of the most interesting bars at Disney Springs (before even getting to the drinks) as it is themed like an old 1940s airplane hangar that is reminiscent of Indiana Jones.
In fact, many of the cocktails at this one have subtle nods to the Indiana Jones movies and add a nice detail to the overall ambiance of the bar. Although we have to admit, they did not jump out to us as Indiana Jones references until after we left and read more about the space.
That being said, this one offers an array of craft cocktails with some novel ingredients at approachable prices by Disney standards, so if you want a drink with some ambiance to go along with it while at Disney Springs, the Hangar Bar is for you.
Do you have a favorite place to get a drink at Disney World? Comment below and we'll try and visit on our next trip!
About Jeremy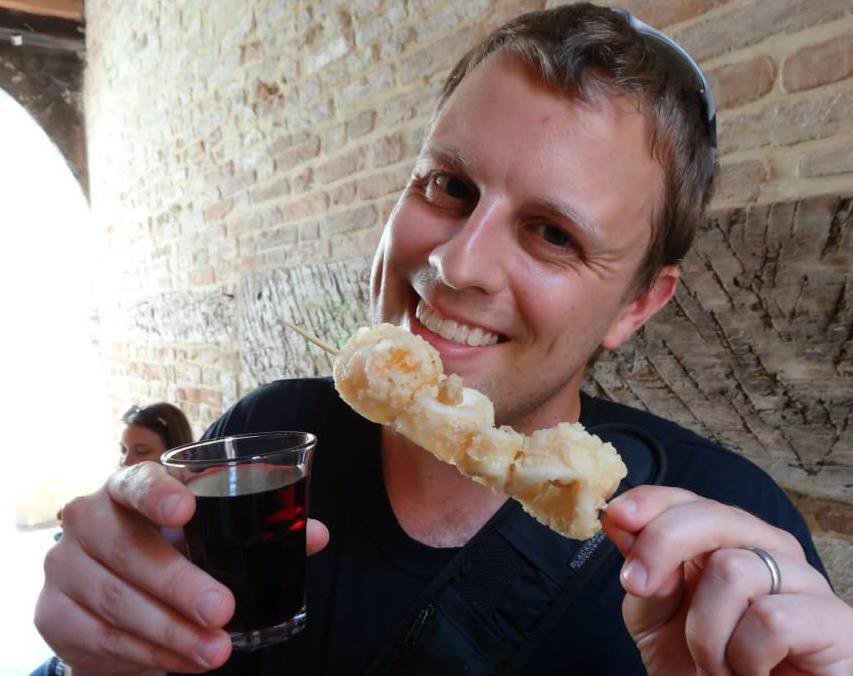 About the Author: Jeremy is a full-time travel writer based in Pittsburgh and primary author of this site. He has been to 70+ countries on five continents and seeks out new food, adventure activities, and off-the-beaten-path experiences wherever he travels.