Last Updated on August 26, 2019 by Rylei
Disclaimers: Our site uses demographic data, email opt-ins, display advertising, and affiliate links. Please check out our Terms and Conditions for more information. Listed prices and attraction details may have changed since our visit and initial publication.
Geographically, Zimbabwe and Zambia share a border that runs through Victoria Falls. Theoretically, every adventure activity (or even any activity in general) that you can do in Zambia you can do in Zimbabwe.
Generally speaking, it tends to be quite a bit cheaper to do the activities on the Zimbabwean side due to their less economically stable currency. However, there is one notable exception: the Devils Pool at Victoria Falls.
You can only reach it from the Zambian side, requiring a day visa at the least if you do not plan to spend more time in the country.
A Death Wish at the Best of Times
After many thousands of years of erosion, there are dozens of rock pools lining the edge of Victoria Falls. And I do mean the absolute edge. Think of it as Africa's most gorgeous, most dangerous infinity pool.
Devil's Pool sits upon the edge looking over a sheer drop to your death before.
From mid August through about mid January the water levels are low enough that you can swim out and take a look over the edge; at some points it's actually dry enough to walk along the lip if you have a death wish.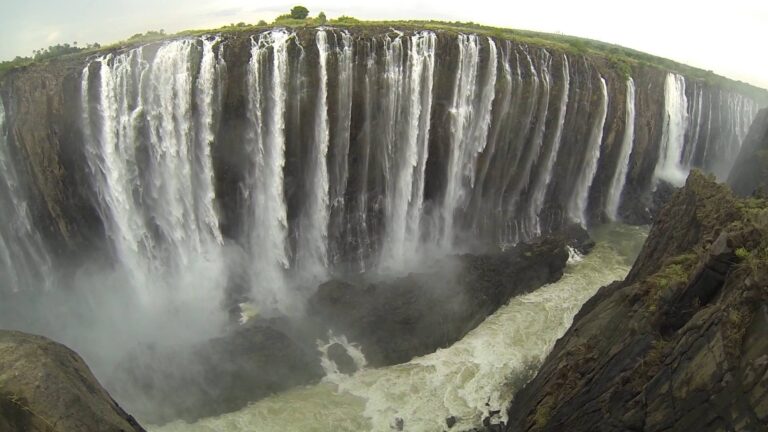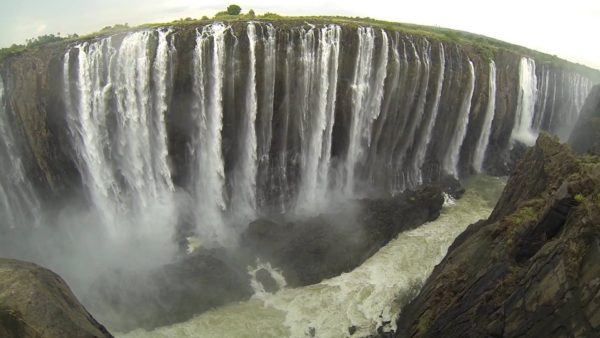 Freshly laced up in a knee brace, I went along with our original plan to visit Devil's Pool while in Zambia because I had already paid for it.
At just under $100USD for the trip up there and breakfast at the fancy lodge, it wasn't something I was willing to just throw away, staggering pain or not.
In hindsight I should have probably stayed back in Zimbabwe with our group leader because it is somewhat physically demanding to reach while injured.
Saved From Dangling Over the Edge
The trip out to the Pools starts with a motorized canoe ride to a spit of land.
From there, you hop out and wade through two foot deep water until it's time to swim across a current in deeper water. Here's where it gets a bit tricky if you're either injured or not the best of swimmers.
The current is decently strong, and coming at you at an angle. You swim directly across to a rope about twenty feet away.
If you're not strong enough to swim through the current, I assume you're swept away to your death. Since I still could not kick, my friend who had previously trained as a lifeguard towed me across thankfully.
After that it's a short jump into a pool and a swim over to the edge of the waterfall. The amount of water at that time of year was staggering. It was deafening and propelled us to the edge.
A naturally formed lip is all that remains to keep you from plunging over to your death, but it's quite slippery, inducing mild feelings of panic in some of us.
Add in the unmentioned fish who started nibbling at our toes unexpectedly and I'm seriously shocked nobody ended up plunging over.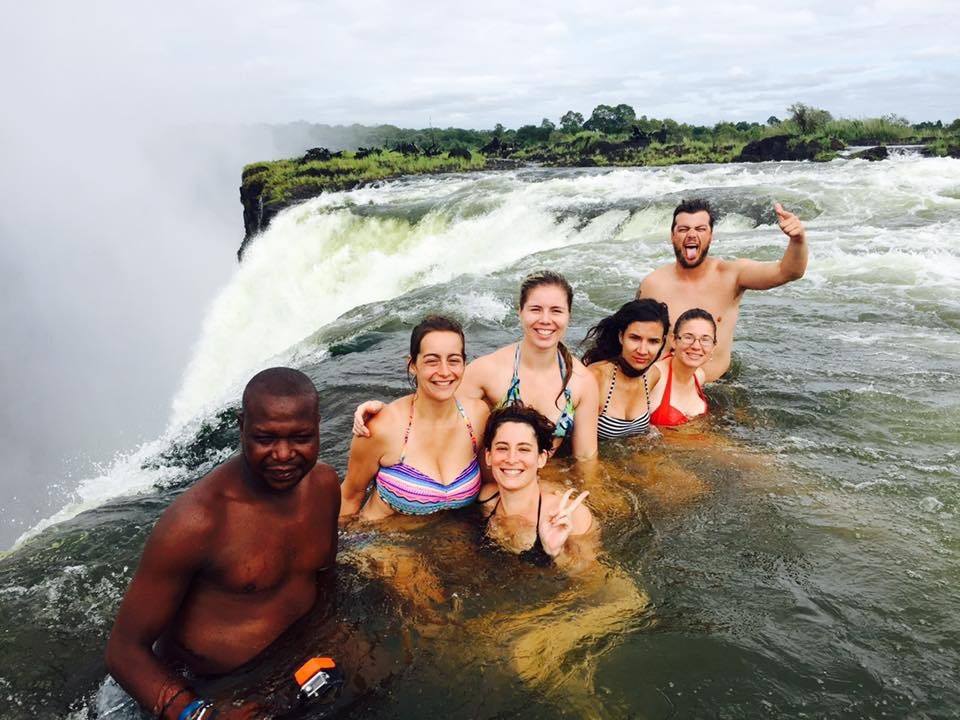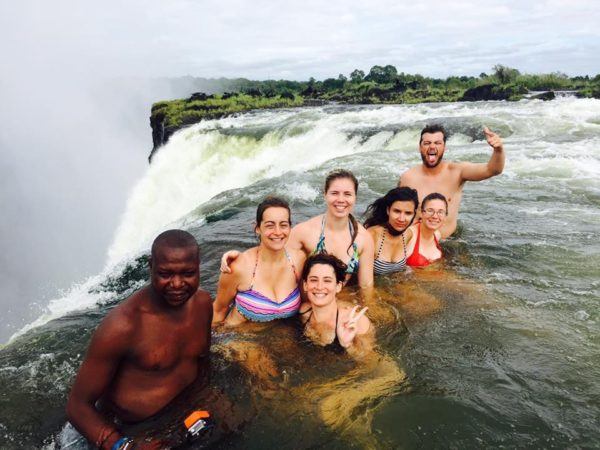 We had been told they were no longer dangling tourists over the edge of the falls by their feet for vertigo inducing photographs and sheer terror value, but at the last minute our guide gave in.
I wasn't physically able to do it as they would have had to hold me by my injured leg, but even if I had been in perfect physical condition I'm not sure I could have forced myself to trust in a man barely taller than myself holding me safe and sound over a 90 meter death drop.
I was happy to take pictures though.
You don't get much time at the actual falls unfortunately; maybe twenty to thirty minutes for pictures and then it's the next tourist group being ushered in. In that way it's a serious tourist trap.
Afterward though, we were bundled in towels and treated to a gorgeous breakfast and tea in the forest at the lodge.
Adventure and tea, all before 10AM? That's my kind of morning.
Want more Africa articles? Check out Dune 45 or a Zambia packing list!
About Rylei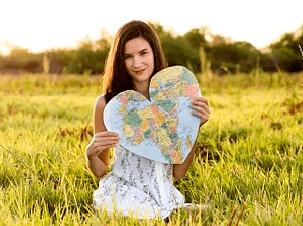 About the Author: Rylei took a trip around the world from 2015 to 2017 and shared her experiences here and on her former blog. She got into adventures such as visiting Easter Island, exploring Antarctica, going on safari in Africa, and more.