Published by Jeremy. Last Updated on September 14, 2020.
Disclaimers: Our site uses demographic data, email opt-ins, display advertising, and affiliate links. Please check out our Terms and Conditions for more information. Listed prices and attraction details may have changed since our visit and initial publication.
Dune 45 in Namibia is one of the star attractions in the country.  Thanks in part to its proximity to the road through the desert, Dune 45 offers visitors an opportunity to climb a sand dune and take in the spectacular desert scenery.
It is all well and good that it is recommended to climb this sand dune, but there are a few special considerations to keep in mind before ascending.
Climbing Dune 45 is not for the faint of heart.
1) Go Before Sunrise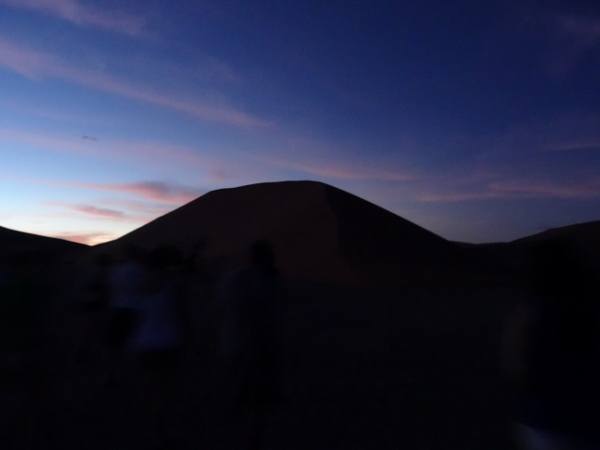 This one seems obvious, right?  Every story I've ever read about Dune 45 includes a sunrise climb- meaning you're ascending at dawn and up at the top before the sun crests over the horizon.
Well, as with many other crazy instances we've witnessed around the world, I can say that some travelers never cease to amaze me.  After we had descended and boarded our bus to continue on to the Deadvlei we noticed dozens of travelers coming to climb the Dune.
Apparently these solo travelers didn't get the memo.
Suffice it to say, any sort of exertion in the desert is rough, and within minutes of the sun rising the desert temperature skyrockets (reportedly as high as an 80°F swing from day to night – roughly 40°C).   I can barely handle just standing out in the open in this type of environment, and going on a strenuous hike is not something that is recommended.  In fact, it can be downright dangerous.
Do yourself a favor and go for the beautiful sunrise!  
Just be sure to take a headlamp with you.
2) Take Off Your Shoes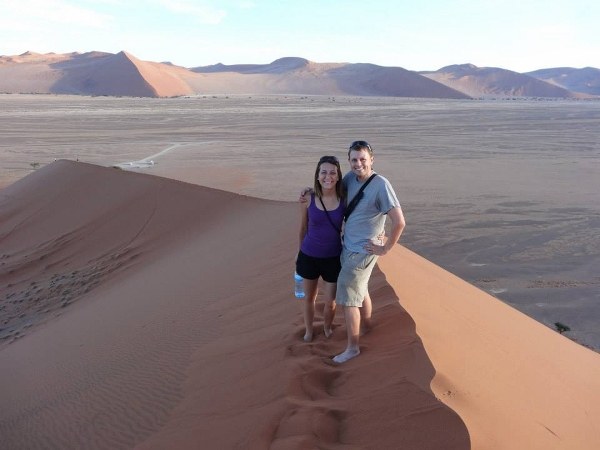 Climbing in the heat is awful, but climbing with shoes on is even worse.   Why?  They fill with sand, weigh you down, and generally speaking make the climb even harder.  Take your shoes off, climb in socks if you have to, and enjoy a somewhat easier climb.   We're not promising an easy experience, just a better one.
3) Bring Lots of Water and Possibly a Snack
You're in the desert and going on a strenuous climb, you're going to need to drink a lot of water.   Likewise, it is entirely possible that you will go before breakfast (if going on a group tour) so you may want to plan ahead to have a snack both before and during the climb to help keep your energy up.
4) It Is Harder Than You Expect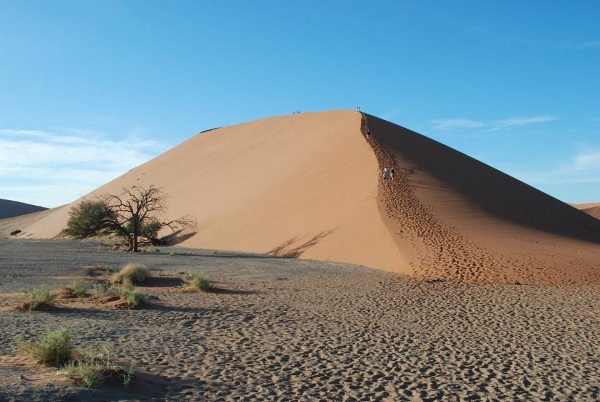 At this point you may be thinking "yes, thank you Captain obvious, it is hot and you need to drink water. I'll be fine thanks."   This is true, but the climb will be harder than you expect and everyone you're with will admit it.
The problem with Dune 45 is that it lures you in to a falls sense of accomplishment early on in the climb.  See the top of the ridge there from the view at the bottom of the dune?  Everyone thought it was the top and you were good to go once you go there.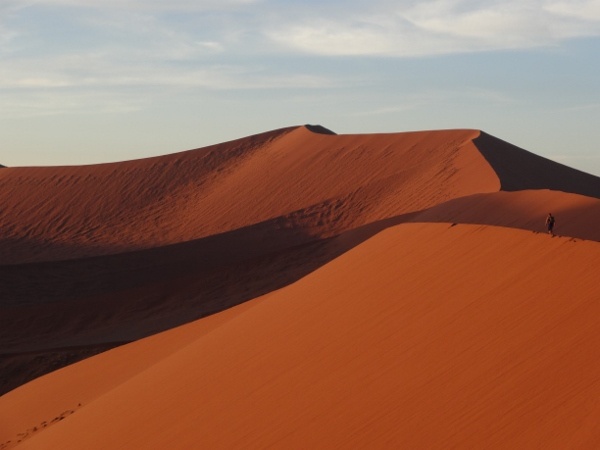 Wrong.   Once you get to the top of that crest, you see another, even larger ridge that you will probably want to climb.   If you go early for sunrise, by the time you reach the top of that one you may just decide to sit down for the sunrise show, but if you want to keep going you'll then be able to see several more ridges on into the distance that beg being climbed.
Dune 45 is massive, and will exhaust even those who are in the best of shape.   (Not that we claim that we were in the greatest of shape, but we did do the Everest Base Camp trek a few months earlier and still complained that the climb at Dune 45 was not easy.)
5) Stay on the Dark Side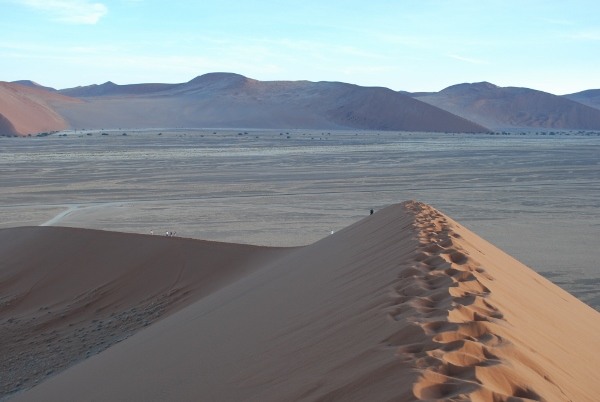 Now that you've successfully made it to the top (we hope), there is one final consideration to keep in mind, the return trip down!
If you've follow all of our rules to this point, you will have started the climb at sunrise, went without shoes, drank a lot of water, and made it to a comfortable viewing spot to enjoy the sunrise and the scenery of the dunes around you.   After you finish there is just the return trip down which is much easier- with one exception.  The sand on the bright side of the dune is scorching hot.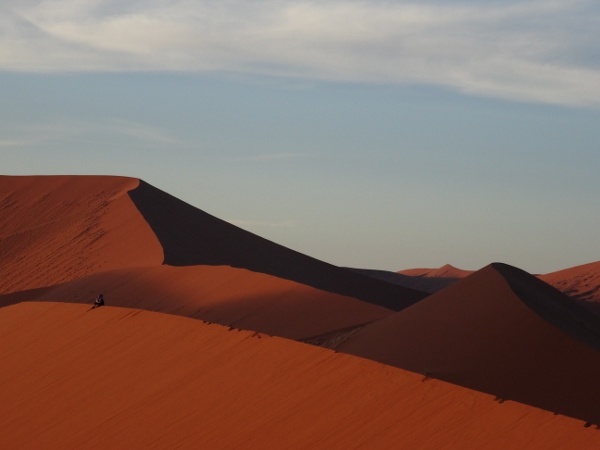 Yes, the sun heats the sand on Dune 45 quite rapidly and the bright side of the dune becomes almost unbearable to the touch as you make your way down. Since you will be without shoes you'll feel this even more than those who wore their shoes, and you'll do best to stay on the shady side of the dune as long as you can to keep your feet nice and cool (by comparison, the dark side is ice cold).
When you make it to the bottom take a minute to appreciate what it would be like doing the climb during the heat of the day like those just arriving, and be thankful you did it when it was cooler.  The pain of the hot sand is only going to get worse from there.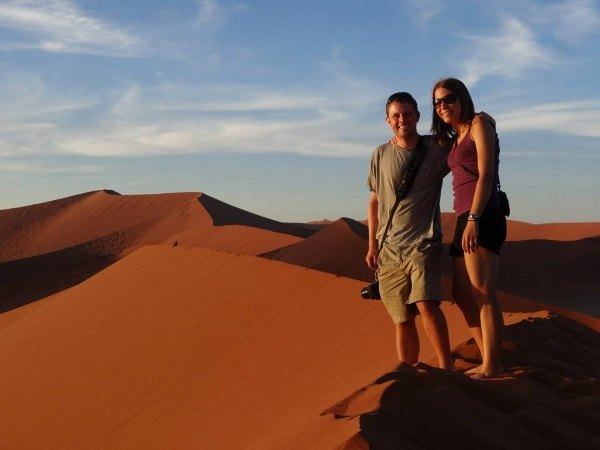 Have you climbed Dune 45 in Namibia?  Share your tips below for others who may tackle this one during a future visit to Africa!
For more activities in Africa, why not check out Kruger National Park?
About Jeremy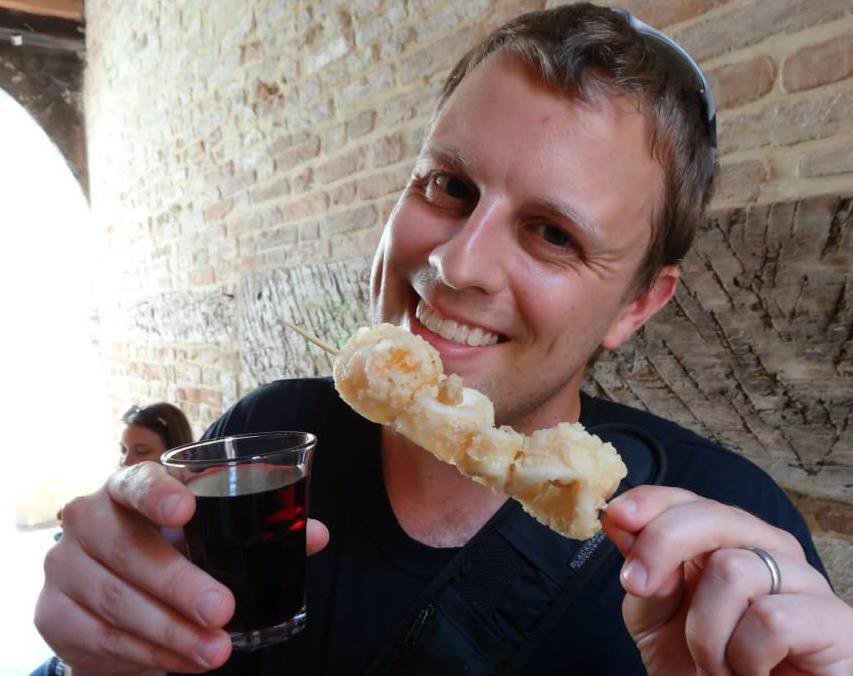 About the Author: Jeremy is a full-time travel writer based in Pittsburgh and primary author of this site. He has been to 70+ countries on five continents and seeks out new food, adventure activities, and off-the-beaten-path experiences wherever he travels.