Last Updated on November 18, 2022 by Jeremy
Disclaimers: Our site uses demographic data, email opt-ins, display advertising, and affiliate links. Please check out our Terms and Conditions for more information. Listed prices and attraction details may have changed since our visit and initial publication.
During our research for the trek to Everest Base Camp in Nepal, we had a hard time finding answers to questions we thought were of absolute importance. 
Questions like "how do you buy used gear and sell it later?" and "what are the rooms like?" were met with very few responses that did not help us in the slightest.
So rather than putting together comprehensive guides for the trek like our friends at The Planet D and Escape Artistes did, as we highly recommend them, we're looking to the more obscure.
This F.A.Q. article has been designed to answer the questions that you may not find good answers for elsewhere (because we did not in many of our searches before the trek). 
Some of the questions included are a bit more common, too, but are important enough or asked enough that we felt we had to share our input as well.
It is also worth noting that our trek was done in the end of November when the temperatures were dropping but not incredibly cold (the coldest night was -20C, but always warm-to-hot during the day). 
Likewise, some of these questions may be seasonal, and we can only offer our input keeping this in mind.
What is the Everest Base Camp Elevation?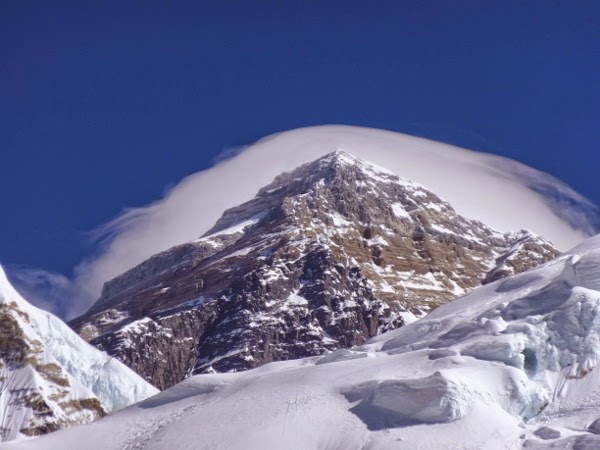 The Mount Everest Base Camp elevation is 17,600 feet (or 5,380m). As shockingly impressive as this is, it is also worth noting that most people start their trek after flying into Lukla which is 9,383 feet (or 2,845m)- a gain of over 8,000 feet in about eight days!
For those who are even more adventurous, most trekkers have the opportunity to climb Kala Patthar for sunrise or sunset view and can go as high as 18,514 feet (5,659m)!
What Guide Options Are There on the Trek to Everest Base Camp?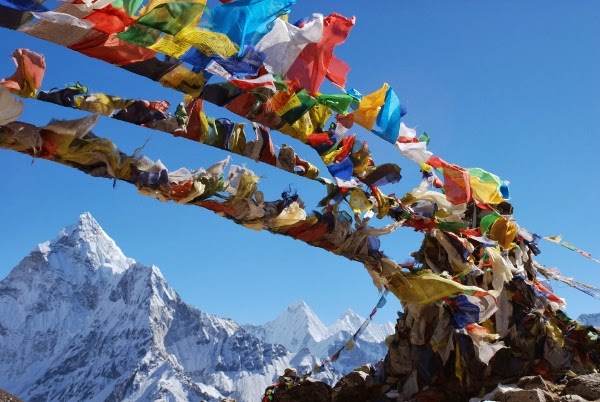 The tour options you have for the Everest Base Camp trek include the following combinations:
-Private Guide + Porter
-Private Guide + No Porter
-No Guide + Porter
-No Guide + No Porter
-Porter-Guide (Combined Person)
-Small Group Tour with Guide + Porter or Yaks
In addition, it is also possible for you to arrange both a porter-guide and porter in Lukla after arriving as well as booking beforehand.
Overall, we need to break this question up into a few segments to make sense.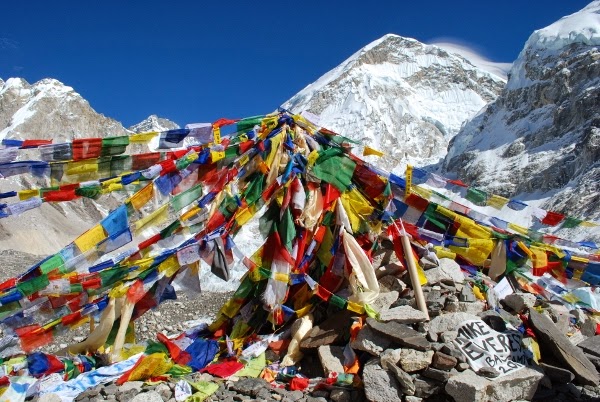 First off, we thoroughly believe it is cheaper to have a private guide or porter-guide, or even just porter than it is to take a multi-person guided tour. 
Typically these are booked through bigger companies like G Adventures and their base cost, before food, will likely be higher than the $1,350 we spent per person for our private tour with all food, gear, and even post trip massages.
After speaking with two others who were on the same trek path as us who only booked a porter-guide in advance, I think the costs can be somewhat similar for a guide and porter as it is for a porter-guide if you take time to shop around for pricing. 
For either situation, I would have been happy with our spending though.
With a private guide you can arrange a setup where they'll do all the bookings for you, and your meals and accommodation will be included in their set rate. 
With a porter-guide they may or may not recommend places to stay, may not get you the best room, and paying for accommodation and food is on you at each place.
As mentioned above, depending on the company these may end up being a wash depending on how much food and drink you purchase, so a full guide may be worthwhile for most.
In terms of booking before or in Lukla, it is likely you may only find a porter or, if you're lucky, a porter-guide after arriving.  You will save money, naturally, but you have to take a pick of what is available at the time with a nominal vetting period of who you'll spend the next 11+ days with.
Lukla is a big village, relatively at least, and you'll probably find a travel agency who can make some calls for you, but depending on your arrival (and flight delays) may be more headache than it is worth.
Even if you are only looking for a porter or porter-guide, emailing an independent guide beforehand could get an arrangement setup that is beneficial for all involved, including your wallet. You'll likely pay a bit extra for their take, but you'll have online recommendations and a set booking to rely on.
One final note on this topic – If you are not used to carrying your own bags on treks, don't consider it for this one.  Every single person who carried their bag while trekking looked miserable on the way down, even those who do it all the time. 
As much as using a porter brings up a whole lot of other issues (a few ethical ones with us even), it helps a lot. Just be sure to tip them very well (we did $50 which was around 2-4 days salary depending on who you hire and probably way too low from what they deserved).
What Kind of Snacks Are Worth Taking?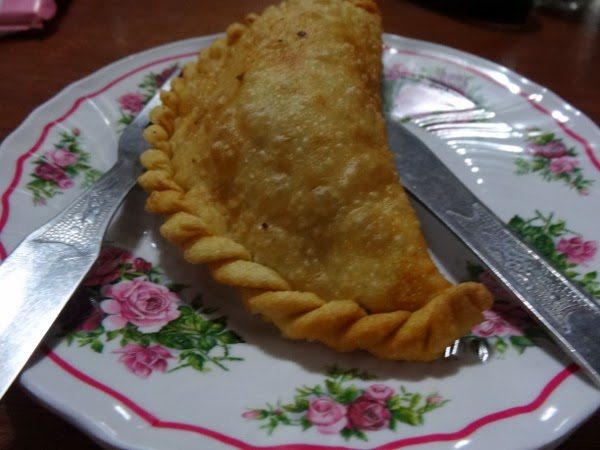 Although this is a fairly common question, with nuts, granola bars, and chocolate being a common answer, we want to share our own snack list just to add to it a bit.
For our Everest Base Camp Trek (12 days) we took 12 Mars Bars, 12 Snickers Bars, 8 Reese's Cup Three Packs (bought in Dubai), 4 Kit Kat Bars, 3 bags of Tang, and a high-quality chocolate bar as our reward for making it to the top.
We did not take any nuts or granola products as Angie has a tree nut allergy and we have to be extra careful in remote regions.
All we can say is that when you tackle the big hill days (Namche Hill, Tengboche Hill, Lobuche Hill), a good snack halfway through makes all the difference.  
Just be sure to splurge on a Mars Roll in a tea house sometime as a deep-fried Mars bar does the trick in fixing just about anyone up, no matter the cost.
Our Tour Guide Asked Us To Pay Cash, How Do You Get $1,000+ in Nepal?
Well, first off, ask to pay with a credit card even if they request cash.  They may require a fee, ours was 4%, but I'd rather pay a fee to get points on my credit card than paying the same (or even a bit less) fee over to a bank like you have to do when getting cash out at ATMs in the country.
But if you have to get cash out at an ATM, keep in mind these three drawbacks to give yourself ample time to get enough.
First, the biggest bill is 1,000 Rupees ($10 US), so you'll be carrying a lot of them.  Second, most have withdrawal limits of under 20,000 Rupees per transaction ($200 US), with only the rarest being 35,000 Rupees. 
Finally, nearly all charge a 400 Rupee fee per transaction ($4 US, or 2-4%) on top of whatever your own bank may charge so 3-10+ withdrawals can get expensive very quickly.
Note: Keep in mind your ATM card may have a limit from your bank on a daily withdrawal limit.  We found that most ATMs in Kathmandu also restrict a daily maximum of $1,000 US and have a monthly maximum as well while our bank also limited us to $1,000 per day as a maximum limit.
How Do We Buy Our Gear in Nepal and Sell it Afterwards?
There are dozens of shops selling knock-off gear in Kathmandu, and even a few selling name brand goods at fixed prices.  You can barter at the knock-off places, but it becomes increasingly difficult when you need to buy 10-20 items at once.
We went to Mount Everest Equipment (located along the same road as Pilgrim's bookshop before the "T" intersection on the way to Monkey Temple) and bought all of our gear there as we found a recommendation online and were sick of going to sleazy shops in Thamel. 
Other shops will have the name brand gear on display, but will then pull a fake out from the back that is clearly different and try and sell it as the same.
Everything is fake, of course, but not everyone is sleazy about it.
Since we had to buy all of our gear at once, we did not barter. Our out of pocket cost was roughly $400 for everything when you factor in the extra purchases we made in Namche Bazaar (for two people combined).
Most shops will say they buy used gear on their signs, but be sure to clarify that when you buy and keep your receipt. When we returned to the store the employees told us they wouldn't buy our gear back, but it was only until we insisted that they called the owner (who we talked to before and guaranteed 50% back) that they bought most of our clothes back.
The stuff they didn't buy?  The used fleece clothes we bought in the rummage bins at 300 to 400 Rupees each.
Overall, we spent about $135 per person in gear after reselling.  The only gear we rented were sleeping bags at $1/day.
The Weather Forecast Says Rain/Clouds/Snow in Lukla on our Flight Day! Are We In For a Rough Flight?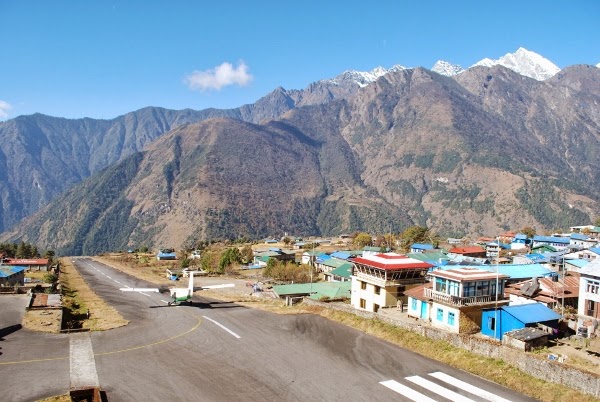 First things first, keep in mind that the weather forecast in Lukla is almost never correct. We're not even sure there is a weather station there and if you search the major weather sites, each will say something different.
On our flight in mid-November, our searches showed clouds and rain/snow in Lukla on our flight day. We freaked out, and our guide was a bit unsure as to what we were talking about because he insisted it is never like that in November.
True to his word, the day was crystal clear, and the entire 12-day trek had very little clouds before 4pm each day. While it is true that some flight days were canceled completely, it was because of wind and not from poor visibility due to clouds/rain/snow.
But for us, both the going and return flight were absolutely impeccable and one of the best flights we've ever had in terms of outside beauty (sit on the left when facing forward towards the cockpit) and turbulence.
That "scary" landing in Lukla?  Once you see the runway, all your fears drift away and are replaced with a flurry of picture taking.
Note: Although October and November is supposed to be prime trekking season, bad weather can still occur.  Our friend Katie Aune trekked in the same region about a month before us and had some weather delays that she elaborates more on in our comments section. 
The Himalayas have very unpredictable weather, so even in the best of times, you may have something pop-up.
The point we're trying to emphasize in this particular question is that the weather forecast in Lukla is hardly correct, so do not freak out about your flight if you see bad weather listed. In any case, it is important that your packing list covers you for the wide range of weather you may see, including rain and snow depending on the season.
How Did You Avoid Altitude Sickness?
No one in our group got altitude sickness over the entire 12-day hike.
Although there are no "rules" for preventing it, as it happens somewhat at random, we have the following advice that we think worked for us:
1) Cut all vices whose withdrawal or overuse causes headache and/or dehydration.  Smoking and Caffeine are big ones.  We cut out all caffeine about 5 days before our trek to not have any crashing or withdrawal headaches that may be confused for AMS.
2) Drink at least 4 liters of water a day.  We tried to stick to a rule of 2 liters before lunch which worked wonderfully.  The one day Angie only drank 2 1/2 liters going up, she got a headache that went away as soon as she drank more (so likely not AMS).
3) Go slow.  We called ourselves Team Turtle because of how slow we went, and it helped us get used to the altitude substantially. There is no point blasting up the trail because once you get to the lodge you're not doing anything the rest of the day most of the time. Pace yourself, be sure to get in before the sun goes behind the mountain, and enjoy the scenery. 
The second your heart rate rises from too much exertion, stop and recover.
4) Don't skip the acclimatization days.  We met several people who skipped a day and had to come down from AMS.  On the flip side, we met several who skipped and also had a successful climb.  It is really hard to say who will get AMS, but if you are unsure about how you react at altitude then take two "rest" days going up (One in Namche and one in either Dingboche or Periche). 
In each try and do a day hike that takes you to a higher elevation than where you will sleep the next day to try and get used to the heights better.
5) Diamox.  There are some who believe Diamox only masks the symptoms of altitude sickness, while others who argue that it helps.  We are in the latter and believe that you should take it at the first hint of an altitude headache.  For Angie that was in Tengboche because of not drinking enough water, and I was on the way to Dingboche because we pushed ourselves rather hard.
Do I think I could have done without the medicine? Probably, but since Diamox can take time to kick in it is better to take it at the first signs before you absolutely need it when in real pain.  
Also note that you MUST continue Diamox until you return back to the place you started it, if not one village lower on the way down, to avoid a severe impact of altitude sickness that can be potentially fatal.  So if you start in Tengboche on the way up, take it until you return back there on the way down, if not until Namche, and follow the same logic no matter where you start.
I can't promise you that this will make sure you do not get AMS, but I can say it certainly doesn't hurt.
What Kind of Sickness Did You Get?
Gastrointestinal issues and a cold are common for just about everyone we met on our particular trekking dates (although others may not see it at all).
First off, you should purify all your drinking water with chlorine tablets to ensure that the biological components in the water cannot reproduce in your system. 
SteriPen's are also a popular alternative and should work just fine for clean mountain water, but I am still not personally sold on them over the chemical alternative.
Unfortunately, when you drink tea at the lodges you are likely not having chlorinated water, and there is no guarantee that the water was actually boiling for a sufficient period of time to kill the bacteria off (in my opinion, probably not).
Everyone we met had some sort of gastrointestinal issue during the trek, either gas up, gas down, and other common ailments that go with it.  I thoroughly believe it is due to the tea, but I have no proof of this.  Take some Immodium, Tums, or Malox (and ample toilet paper) and you should be fine.
Second, everyone gets cold.  The mark of a trekker after you return to Kathmandu is often a scab under your nose from the constant blowing you do on the trail and for the week+ after you return.  It is dusty, windy, and cold most of the year, so be sure to take a lot of tissues.
Should I Hire a Porter, a Porter-Guide, or a Guide and Porter?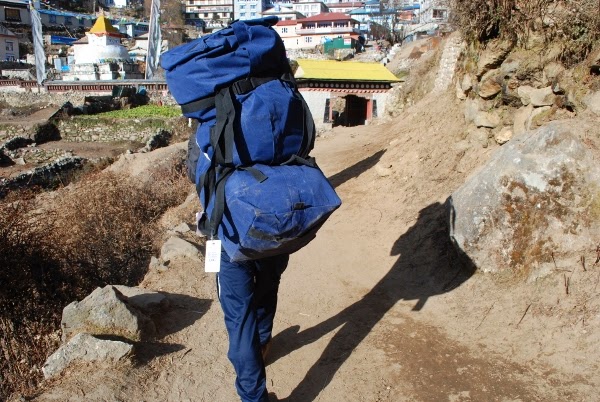 This one is up to your preference.  A porter will only carry your bag and may or may not speak English.  If you want to go it on your own but cannot carry your own bag, a porter is a must.
Porter-Guides are a combination of the two as the name suggests. They will carry your gear and speak a little English to help you as a guide. 
Their abilities may range considerably, so you need to do a bit of research into your porter-guide first. They may or may not help you get accommodations, and may not even stay with you while you trek some of the times.
Going with a full guide as we did (and porter) was an ideal choice for us.  We had a guide who booked all of our rooms, in the nicer places, ordered our meals, and the full packaged included just about everything we needed along the way (except extra snacks, showers, charging, etc). 
While our friends who hired just a porter-guide had basic rooms without toilets or electrical outlets at the lower elevations, we had both (although don't expect that past Namche).
Depending on where you look, and how much you purchase while on the trek, many guides with porter will cost similar to a porter-guide setup where you pay for everything out-of-pocket as you go.
Do I Buy a New Pair of Proper Boots, or Use My Broken In Hiking Shoe?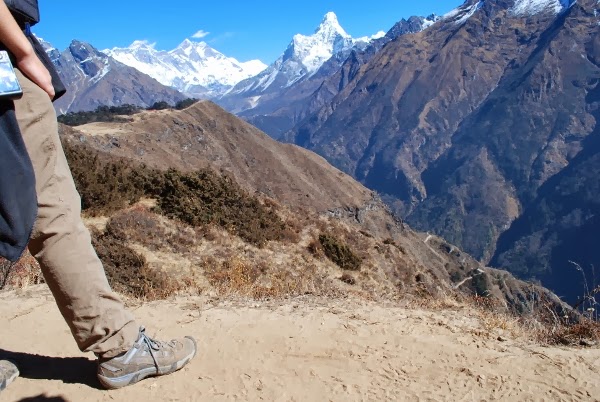 We each own pairs of low-top KEEN Siskiyou and Alamosa shoes and found them to be perfect for this hike (buy your own at the previous links!). They are waterproof and have substantial tread for hiking/walking conditions (or I should say, did have a lot of tread before we wore them down some in the 5 months of travel we did before the trek). 
When we were shopping in Kathmandu just 3 days before our trek we debated buying high-top hiking shoes but decided against it for a number of reasons.
1) The hiking shoes sold in Kathmandu were the same style as our shoes, just high-top for more ankle support.
2) The shoes are all "new," and it is almost impossible to find broken in used shoes in the city unless you happen to meet someone looking to sell.  (And those are likely to be disgusting and not cleaned).
3) We cannot be certain that the shoes are actually new, or real, so their reported waterproof benefits are unknown.
Because shoes in Kathmandu can be $40+, even for just a few weeks use we didn't bother buying them and tried our shoes out for the trek.
Like with everything in this FAQ series, it is important to note we went in late-November. The snow had not fallen yet, and the streams were all relatively low.  We had bought gaiters for higher waterproofing but never had to use them, and had absolutely ZERO issues with our shoes.
In fact, neither of us got a single blister, which is quite impressive considering the long walking downhill on the return trip.   (A friend who was with us, who had new shoes, got several).
So if you are going outside of winter, have a good walking shoe that is waterproof and has reasonably good tread, you should be alright.  If it is the rainy season you may want to buy some gaiters just in case though as it is always a good emergency piece to have. 
But in the winter when the snow may get higher?  I would likely not want to trek in my low-cut shoes, no matter how much we loved them on our journey.
What Are the Rooms Like?
In the places we stayed, which as we mentioned above were our guide's favorite of the budget accommodations, were all quite nice considering you are at 4,000-5,000 meters in elevation.  Rooms were small, but the lower hotels had ensuite facilities (no hot water) with plugs and the higher elevations were nothing more than plywood built rooms with two single beds and just enough space for your bag.  Compared to the incredibly tiny room I stayed at in Hong Kong a few years ago, and the fact that we thought everything was just cots in a giant dorm room, I'd call it a lot of space.
There should be no misunderstanding here, though, the rooms are all very basic.  The higher elevation rooms do not have toilets, and some facilities only have squat toilets (although the ones we stayed in had proper toilet bowls).   There is no heating and electricity is often solar and on only for a few hours in the evening like we mentioned above.   All you will get is a bed, a pillow, a thick blanket (but you may have to ask), and a small light that is not powered very well.
During the absolute peak rush and summer seasons, rooms may book up completely and it is very common to see trekkers camping outside (brrr).  If you are going during a peak time and need a room, having a guide like ours is essential and booking early a must.
I've Never Trekked Before.  Can I Do It?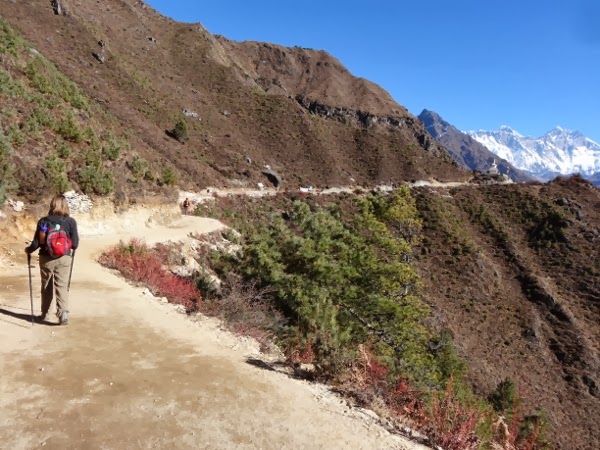 Yes!  We had never trekked before tackling Everest Base Camp and hadn't even spent much time at altitude before (our previous high was around 13,000 feet in Switzerland for just a few hours, a solid mile below base camp).
No matter who you are and what your background is, a bit of training or conditioning may be necessary, but even that is not 100% essential for most.
For us, we did nothing special as we were traveling for 5+ months before hitting Base Camp.  Between walking several miles each day and the occasional 4-7 hour hike in Switzerland, Austria, and Turkey, we had overcome a number of hurdles needed to be "ready" to trek.
If you start from home and are a couch potato like Jeremy, you may want to start by walking/running a couple of miles a few times each week. Also, spend some time climbing stairs on a machine at the gym or at a very large building in your city.
As long as you are reasonably fit, can walk for 7-hours a day, and are able to endure a few uphill climbs of 2+ hours, you shouldn't have any issue as long as you go slow to cope with the altitude (amongst our other tips above).
No, Seriously, I've Never Done This Before.  Can I Do The Trek?

Although the trek is defined as rigorous, we think almost anyone can do it and even met someone who was 81 on the trail (unfortunately, though, it is proven that older individuals tend to do better with altitude).
As long as you are able to walk 5+ miles in a day, climb a hill continuously (at sea level) for an hour, and can go jogging for 1-2 miles even with a few rest breaks, you should be fit enough to do the trek.
You'll need the long walk experience for the days trekking back, that hour-long hill will likely take you 2-3 at altitude even for the same elevation gain (but with many rests), and we've never jogged more than 2 miles so if we can do it after our sedentary lifestyle as engineers, so can you!
The real downer to this trek is the altitude, as even the most physically fit person can have the worst reaction.  It is unpredictable, and our only recommendation is as we said above: go slow, drink water, take the recommended rest days, and start Diamox at the first signs of a headache.
Oh, and one more thing, take a positive attitude.  We made a friend along the trail who we walked with the whole way.  Not only was the company great, but we also got to talk about other things other than how worried we were that we weren't going to make it. 
In doing so, we realized that being positive on the trek is one of the best things to get you to keep taking steps forward when all you want to do is turn around.
You can do it, and there is a celebratory beer and high quality chocolate bar with your name on it for when you come down (and if there isn't, you should really plan on it).
What is the Packing Limit on the Plane?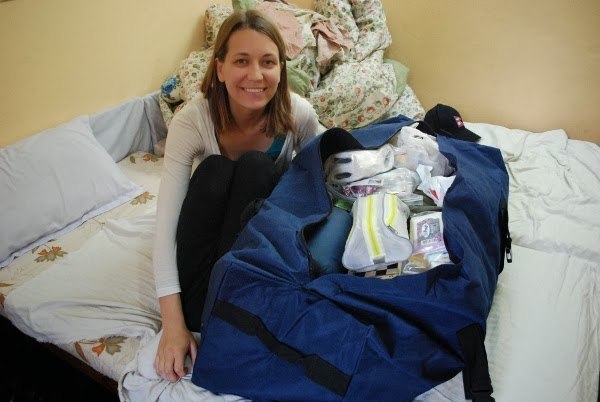 Our flight to Lukla was on Tara Air which had a limit of 10 kilograms per person of checked luggage and 5 kilograms per person in hand luggage.  They weigh all bags and will charge you if you are overweight, although our friend who was overweight only paid a few hundred rupees (or if more, wasn't enough that she complained).
The one thing worth noting is that they took the weight for us as a combined weight.  That means that our checked luggage (which was one piece for the two of us) and hand luggage had a combined weight limit of 30 kg.  So if we had 25 kg in checked luggage and 5 kg in hand luggage, it was the same as 20, 5, and 5 kg. They didn't seem to care too much as long as the overall weight was under the max.
We were frantically repacking before our flight to hit the presumed 20 kg weight limit for the checked bag, as it almost seemed impossible with the amount of gear we needed, and even left some things in Kathmandu such as our computer and honey jar (and are glad we did). 
Of course, once we got to the airport we found we didn't have to do this, but it was a good effort to try and keep our porter's load down, too.
I would be less worried about slightly over packing for this flight as compared to others, as you will not be hit with $100+ like on major airlines.
Should We Bring Our Favorite Condiment for the Tea House Meals?
In our food post from the Everest trek, we highlighted some of our favorite and least favorite meals from the journey.  Overall, the meals are pretty good but can get a bit old after 2 weeks as every restaurant offers a very similar 3-4 page menu.
To break the monotony, I was scrambling to find a bottle of hot sauce to take to have a condiment to wake up my sense of taste and fix my clogged sinuses while on the trek.  Although I didn't find any in Namche, I was happy to discover that most restaurants have condiments readily available.
The most common condiments for free use at tea houses include jams, hot sauce, and ketchup.  A few will have peanut butter, honey, and soy sauce for free, while others reserve the more expensive ones for meal items like pancakes and teas.
I don't think it is necessary to take a condiment with you for the tea houses, and you can always offer to pay a little bit to use a condiment that is not out for everyone's enjoyment if you need it.
But what we do recommend is a bag of Tang for each traveler to spice up the otherwise boring cold water you'll drink while walking (although loose tea is not necessary as the tea houses are full of cheap drinking options and you have to pay for hot water anyway).
Will There Be Power at the Tea Houses? How About Charging Batteries?
In most tea houses at the lower villages, you can expect power 24/7.  The heating is still questionable, as most often the restaurant / common area is the only heated part of the building due to having a stove furnace.
As for charging, only some of the rooms will have electrical outlets in them (often the premium ones which our guide got us every place we could).  But as you go higher in elevation, especially on the Base Camp trek, many of the teahouses run on solar only and electricity is a commodity.  
In these guest houses do not be surprised if power is only on from around 6pm to 8:30pm (or until it runs out) and charging is only done in the main room at expensive rates.
Overall, we saw prices range from 250 to 450 Rupees per hour for cameras, with laptop computers being even more expensive.
Do I Need Insurance?
100% Yes! Injury and altitude sickness are far too common on this trek, so it is best to pick up insurance World Nomads before you go. Better safe than sorry!
How Do You Use the Toilet While Trekking?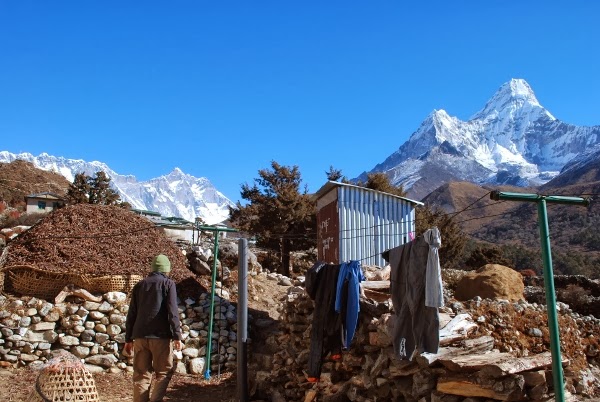 Prepare to find some large rocks, because in many cases that is your best option.
Toilets along the trail are only common in the small villages where there are restaurants and tea houses.  Most will let you use them for free, or require a small tip, but the villages are not always frequent as you go higher.
In terms of amenities, do not expect much.  Almost every single public toilet in any restaurant or guest house is a squat toilet, and some are even just holes in the ground that use a layer of leaves as the flushing mechanism (although I still attest that outhouse was the most beautiful I've ever seen, on the outside, as seen in the photo above).
The problem with finding a toilet comes from the fact that at higher elevations the distance between outposts becomes farther and farther.  As you'll be drinking a lot of water, and also eating food cooked with questionable water at best, you'll be going a lot.
So while there are often many toilets to choose from at lower altitudes, be prepared to use a rock and always have a good roll of toilet paper with you as NO place supplies you with any to use.
In an effort of full disclosure, no matter how gross, we went through 2 rolls of the cheap stuff and 4 rolls of expensive stuff (the latter is recommended) for the two of us on the 12-day trek.  Buying options are limited past Namche, so stock up there if you are running low.  A four-pack of good toilet paper is around 540 Rupees.
Who Did You Trek With?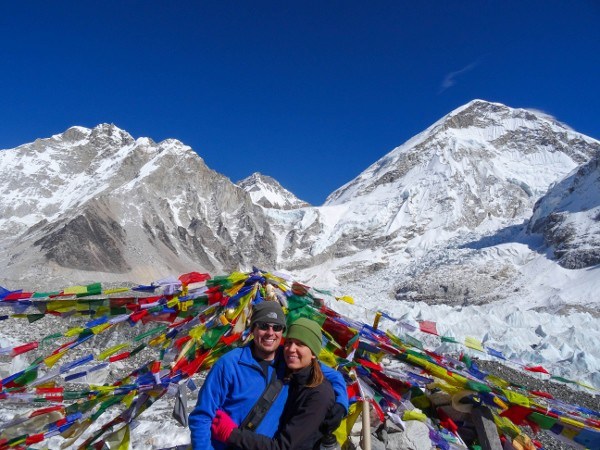 We went with Narayan from Trek Around Nepal as our guide and a porter hired by him who carried our gear.  His business was recommended to us by our friends at Escape Artistes and we were not let down (although they went with one of his main porter-guides, Nir).
Overall, we found his prices to be some of the most affordable out there and he always made sure we were in the best guest houses, with the better rooms, and worked at our pace. 
If you're heading to Nepal for trekking, check out his availability if you want a guide!  Tell him Jeremy and Angie from Living the Dream said hello when you go too!
Would You Do It Again?
Absolutely. Although if we are to be honest, on our next trip to Nepal we'll probably do Annapurna, the Mustang Trek, or another hike just to see something new. But we'd love to visit Everest again one day, especially to hit the Gokyo lakes region that we missed!
This list is not meant to be a final, comprehensive FAQ page.  If you have a question about the trek to Everest Base Camp that you absolutely cannot find an answer to, please contact us.  We'll email you back as soon as possible and add your question to this list!
About Jeremy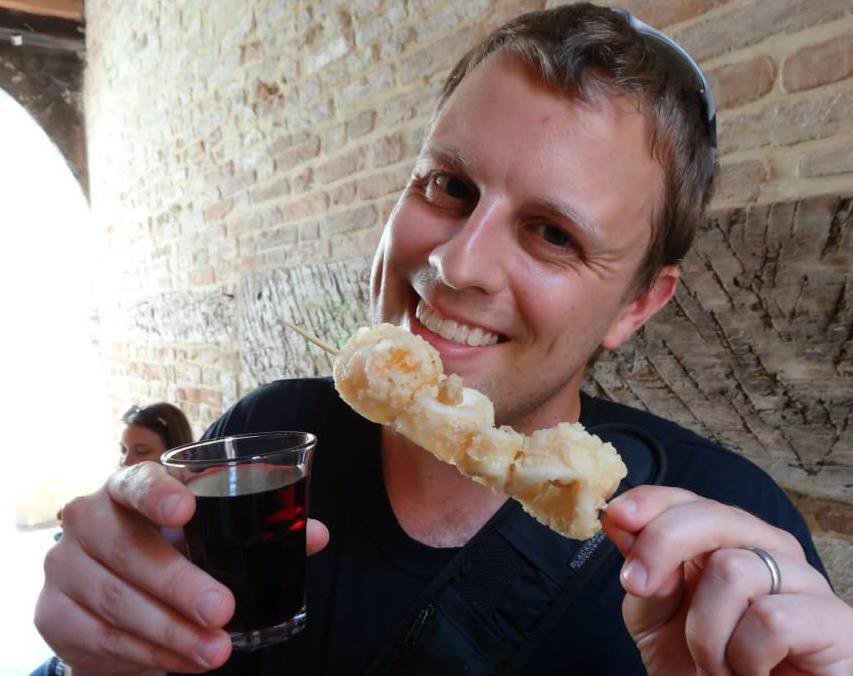 About the Author: Jeremy is a full-time travel writer based in Pittsburgh and primary author of this site. He has been to 70+ countries on five continents and seeks out new food, adventure activities, and off-the-beaten-path experiences wherever he travels.