Last Updated on February 7, 2023 by Jeremy
Disclaimers: Our site uses demographic data, email opt-ins, display advertising, and affiliate links. Please check out our Terms and Conditions for more information. Listed prices and attraction details may have changed since our visit and initial publication.
Food on cruises is always something to be suspect of, and with good reason. Feeding 3000 people daily on a floating vessel is a feat only done by true masters. 
While the overall quality of the food received a hit or miss rating from me in my food report, there were some amazing gems mixed in with some unfortunate misses.
One of those was the warm Carnival chocolate melting cake, a dessert so rich, so decadent that my fiancee ordered it seven nights in a row.  While that may be impressive, what is more impressive is that my anti-chocolate palate was satisfied such that I even ordered it a few times myself.  
So what are two food loving bloggers going to do about it?  Make it at home, of course!
Carnival Chocolate Melting Cake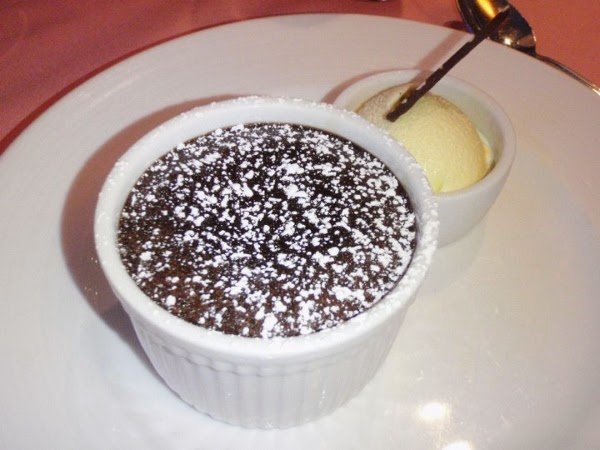 Ingredients for Chocolate Melting Cake (makes 6 cakes in 8oz ramekins)
8oz semi-sweet chocolate
1 cup (2 sticks) of butter
1 cup flour
7 eggs
6 tablespoons sugar
a pinch of salt
 
powdered sugar to garnish (optional)
vanilla ice cream to side (optional)
How to Prepare
 
Preheat oven to 375°F
Melt chocolate and butter in a pan, cool for 10 minutes
In a separate bowl, mix 4 eggs with sugar, whisk
Add flour and salt, whisk
Add remaining 3 eggs, whisk
Add egg mixture to chocolate mixture, mix until uniform
Grease ramekins with butter or cooking spray
Pour batter into equal parts in ramekins, approx 1/2 to 2/3 full, cakes will rise
 
Bake 10-13 minutes*, check with a toothpick.  The top should be cooked, inside should be melting
Serve immediately
*The original recipe we found calls for 15-20 minutes of cooking time, we baked our first batch at 13 minutes had the initial few bites with a melted center, but as we continued to eat the center baked through completely. We would cut back to 10.5-12 minutes in the future.
Although also note the recipe was created at an elevation of 1,300 feet as cooking times may vary based on your location.
Since the chocolate melting cake will continue to cook once removed from the oven, consuming immediately is a must. Within a short period of time the melting cake will evolve into full on cake.  So unless you have 5 friends willing to eat the delicious dessert, or have an appetite for two, save some batter for the next day to have a second batch.
Looking for stories from around the Caribbean (where we enjoyed this delicious dessert nightly)? Check out our posts on the drinking rum in Puerto Rico or snorkeling with dolphins!
About Jeremy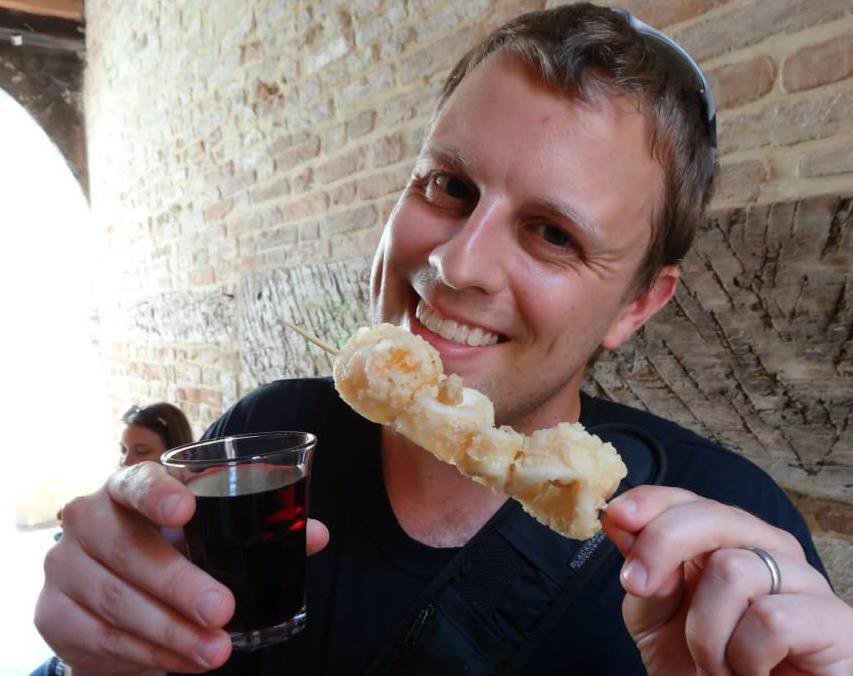 About the Author: Jeremy is a full-time travel writer based in Pittsburgh and primary author of this site. He has been to 70+ countries on five continents and seeks out new food, adventure activities, and off-the-beaten-path experiences wherever he travels.