Last Updated on July 9, 2022 by Jeremy
Disclaimers: Our site uses demographic data, email opt-ins, display advertising, and affiliate links. Please check out our Terms and Conditions for more information. Listed prices and attraction details may have changed since our visit and initial publication.
The bourbon trail in Kentucky is a pilgrimage spot for those who love this amazing spirit. Being bourbon lovers ourselves, we finally got the chance to visit the region to check out some of our favorite distilleries as well as others we've always wanted to try.
During our visit we stayed for four nights, three days, and learned a lot about what goes into planning a good bourbon trail itinerary. As such, we wanted to share all those tips with you in our three day bourbon trail guide!
Bourbon Trail Tours? Use This DIY Itinerary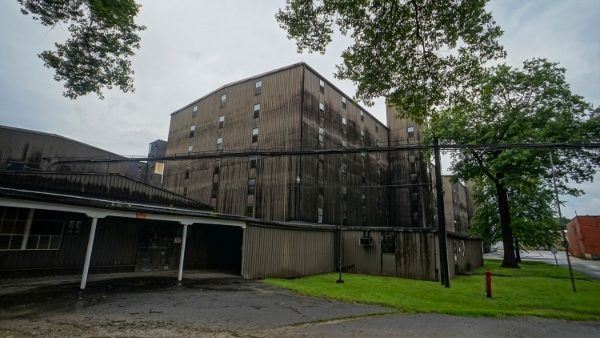 During our trip to Kentucky we spent four nights in the region and three days exploring the bourbon trail.  We arrived late in the evening which accounted for our first full night. From there, our distillery visits included the following:
Day 0 (overnight Louisville): Arrive
Day 1 (overnight Louisville): Bulleit, Evan Williams Experience, Jim Beam Urban Stillhouse
Day 2 (overnight Lexington): Kentucky Artisan Distillery (Jefferson's), Maker's Mark
Day 3 (overnight Lexington): Buffalo Trace, Woodford Reserve, Four Roses
The first day was spent exploring distilleries and experiences in/near Louisville as Angie had our car for the day and I had to stay local. For those who have a car, I'd recommend skipping the Evan Williams and Jim Beam locations inside the city and instead visit Jim Beam and Four Roses bottling shop in Bardstown. (If you don't have a car, check out these packaged tours!)
The second day I was lucky enough to steal the car from Angie and visited the Kentucky Artisan Distillery, home to Jefferson's bourbon (amongst others) as well as make the long haul down to Maker's Mark. I had to get back early to pick Angie up to head to Lexington, sadly, but visitors could also add on Heaven Hill this day without issue.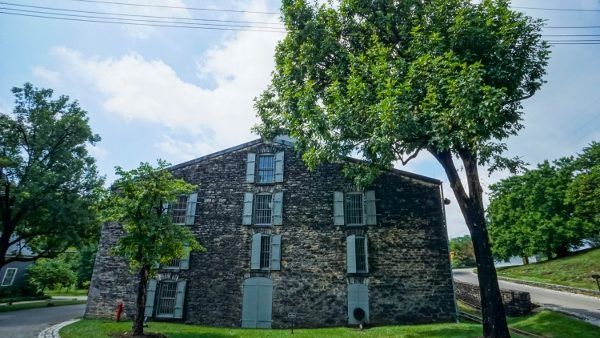 On our third day we explored distilleries outside of Lexington together, and hit Buffalo Trace, Woodford Reserve, and Four Roses. Wild Turkey is another distillery incredibly close to Four Roses, but we did not have enough time to swing a tour.  If you plan your day out perfectly you might be able to make it all work, but you would be incredibly rushed. Likewise, we also missed the final distillery on the "official" bourbon trail, Town Branch in central Lexington, purely from a timing issue.
Overall, the problem with exploring the bourbon trail is that the distances between distilleries are great and they only typically do tours and tastings between 9am/10am and 4pm. As such, you may have to miss a few on your visit if you are short on time much like we were.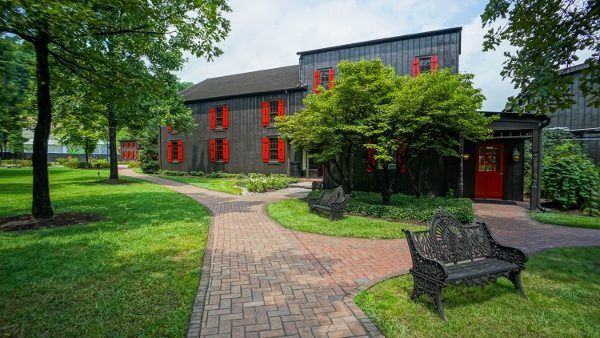 This then begs the questions: how were all the tours and were they worth it? 
For those who are short on time and have to pick and choose distilleries to visit, this is the most important question.
A Summary of Bourbon Distilleries Visited
The following is a brief summary of each tour and tasting offered at the distilleries we visited in July 2016.  As prices and tasting offerings change regularly, your experience may vary.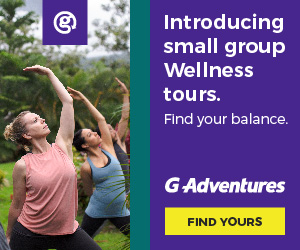 I will also be noting our favorite spirits from each distillery below, if only just so you can judge your own pallet against ours in determining if a distillery is worth visiting with your limited time. We are not connoisseur's like dedicated bourbon blogs, but we do have a fine enough appreciation to be able to talk about bourbon at length here.
Bulleit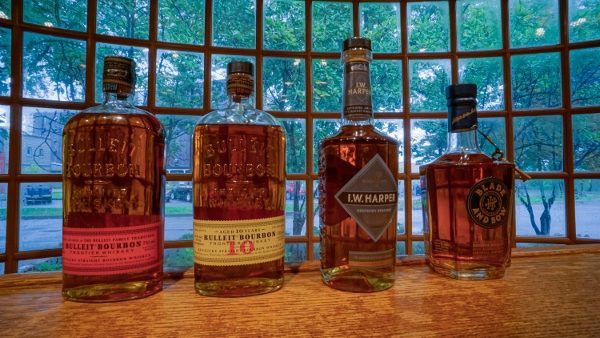 Bulleit was one of my favorite tours as the distillery was gorgeous and has a fascinating history.  The hour-long tours depart on the hour and cost $10.  At the end of the tour we sampled five bourbons including Bulleit bourbon, Bulleit 10 year, I.W. Harper label, Blade and Bow label, as well as a cask strength Bulleit bourbon.  The 10 year Bulleit was by far my favorite as the extra aging smoothed out the flavors considerably while still retaining that signature Bulleit flavor.  Overall, this one was one of my favorite tours for both the facilities and the tasting, and is highly recommended.
Evan Williams Experience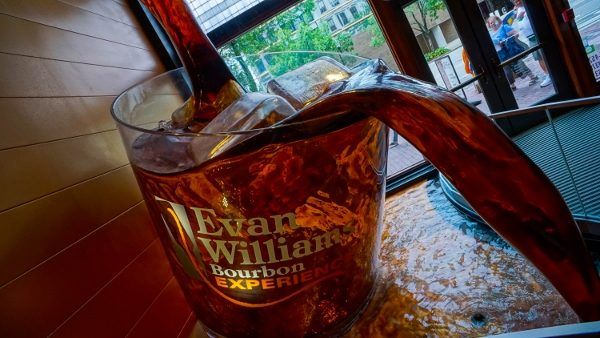 For those who are short on time, the Evans William Experience in downtown Louisville is more of a museum than a distillery, and includes several rooms with videos playing that display the history of Louisville's first distillery ($12 fee). While the tour was unique and informative, it was also a bit cheesy and over the top. The sampling included Evan Williams Black Label, Evan Williams Single Barrel (my favorite of the bunch), Larceny, and a bourbon filled chocolate to finish. Overall, I wasn't that impressed; but since this is also a working distillery and they are planning releases from the on-site R&D laboratory in the future, I may keep an eye on this one. Advance reservations are recommended; however, tours go out every 30 minutes so you may not have issue getting on a tour upon arrival.
Jim Beam Urban Stillhouse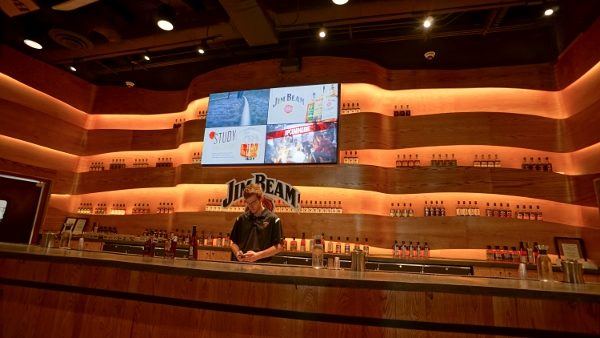 For those who are really short on time and want to get straight to sampling, the Jim Beam Urban Stillhouse is for you. This one has no tour and is only a tasting of four bourbons (along with souvenir shot glass) for a scant $5. Suffice it to say, we loved it purely for this fact. Our sampling included Jim Beam black label, the local stillhouse batch of Jim Beam, Bakers, and your choice of one bourbon from their massive selection. As Angie made it to this one with me since they are open late, we shared a taste of the high-proof Bookers as well as Haydens Basil- both solid choices we highly recommend.  (Although if you aren't a rye drinker, go for the Bookers).
Kentucky Artisan Distillery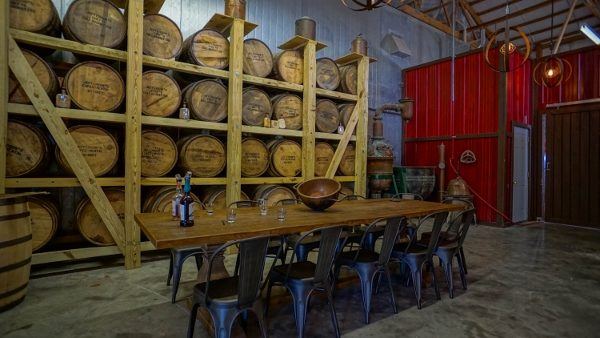 The tours at the KAD depart on the hour (most hours), although can be reserved in advance.  This distillery is rather small, and does not have much to speak about as it is a communal distillery for many labels including Jefferson's, Highspire Whiskey, and Whiskey Row. Up until a few months ago the county this distillery is found in was dry, meaning they could not offer samples (what a sad tour that would've been), but luckily that has changed.  Our tasting included Jefferson's Oceans (a bourbon aged on boats sailing around the world), Highspire, Whiskey Row, and a choice of one additional Jefferson's product. I chose Jefferson's Reserve because it was the reason for my visit and was not disappointed (although the Oceans was by far my favorite). If you have to pick one distillery to skip on day two, this would be it purely because the facility is not necessarily tour worthy- but I recommend trying Jefferson's bourbon along the way as it was one of my favorites. Tours are $12.
Maker's Mark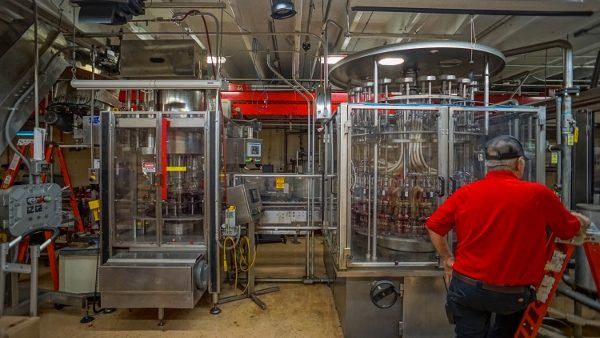 The furthest distillery of the bunch is Maker's Mark.  Do not let the distance fool you, however, as this $9 tour and tasting is one of the best in the region.  The campus of the distillery itself is massive, gorgeous, and is worth the drive alone. It is recommended to make reservation for tours in advance, and judging by the crowds I can see why this is necessary. The tasting included four samples, including Maker's White, regular Maker's Mark, Maker's 46, as well as a random cask strength variety they produce (ours was from a batch made by a local race track). This tasting was one of my favorites because you could taste your way down the progression of stronger iterations of Maker's Mark, something most distilleries are unable to offer.
Buffalo Trace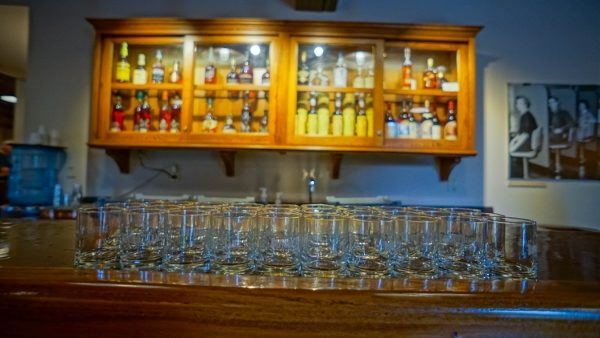 I had high hopes for the tour of Buffalo Trace, and was unfortunately let down by this one for a number of reasons. The first is that although the campus of the distillery is one of the most beautiful on the bourbon trail, you only get to check out one of the aging warehouses and bottling rooms on the tour. The tasting included your choice of two samples out of four, which on our tour included Wheatley vodka (seriously), White Dog white whiskey, Buffalo Trace, and Eagle Rare. We opted for the latter two, and although we were already fans of Buffalo Trace to begin with, were let down by Eagle Rare as the depth of flavor just was not there. The highlight of the tasting was the "dessert" which was their Buffalo Cream spirit with the optional root beer adder- something we left Kentucky with a bottle of.  For those looking for anything extra, such as a bottle of Blanton's or the ever elusive Pappy van Winkle, do not get your hopes up- the gift shop only stocked the above four spirits as well.  For a distillery that makes over a dozen labels, I expected more. At least it was free.
Woodford Reserve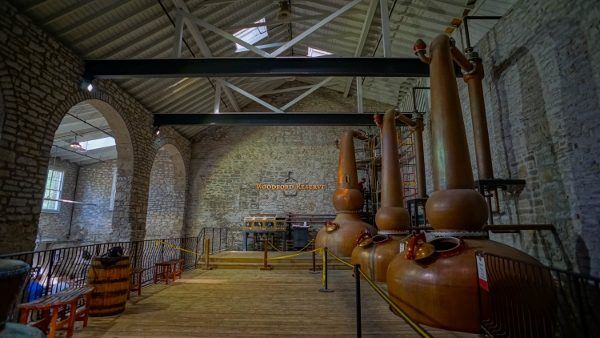 Out of all of the estates we visited, Woodford Reserve may have been the best for the scenery at the estate and the quality of the tour.  The tour guide we had was the most knowledgeable out of all the tours we took, and the tour itself featured everything you'd like to see while at a distillery (including the most beautiful stills in the region). The tasting, on the other hand, was disappointing as it included only two samples and a chocolate. I know that Woodford Reserve only really makes three or four bourbons anyway, but the $14 ticket price did not match up with my expectations (and to be quite honest, I was turned off that one of those samples was Woodford Double Oak- one of my least favorite premium bourbons there is).  In either case, the grounds here are quite nice and if you wish to take a tour, book this one in advance as it is possibly the most visited of all.
Four Roses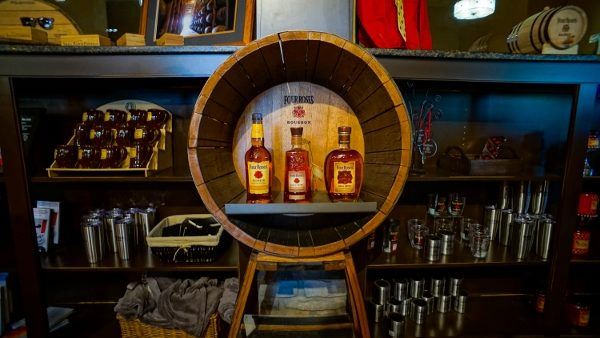 Finally, we come to Four Roses. We visited this one during a plant upgrade and unfortunately were given two options upon arrival.  The first was to take a tour anyway, knowing that we could not see everything that was on a traditional tour. The second was to try a tasting only, which was being offered special during this downtime.  We opted for the latter and had a quick, 30-minute tasting of Four Roses, Four Roses Single Barrel, and Four Roses Cask Strength with a rather detailed explanation of each for $5. We adored the Four Roses Single Barrel, and picked up a bottle before leaving Kentucky. After visiting so many distilleries we were rather happy to have the option to just do a tasting here as, to be quite honest, you can only learn about how bourbon is made so many times before it gets old. Hopefully they keep the tasting option on once the plant upgrade is finished as we quite enjoyed it!
Now that you have a quick run down of all of the properties we visited during our travels around the bourbon trail, we have to answer a question we asked several times during our visit: where is the best place to buy bourbon in Kentucky?
Where to Buy Kentucky Bourbon
As someone who prides himself on saving money any chance he can get, you shouldn't be surprised when I say that I am always looking for the best deal on alcohol. Since I live in a state that charges an obscene premium on liquor, I planned to do a bit of shopping while on the bourbon trail (and by a bit, I mean about $300 worth).
In order to find the best deals when looking where to buy Kentucky Bourbon, there are only two things you need to consider while visiting Kentucky:
Distilleries do not compete with local distributors. This means that their prices are often much higher than their local counterparts- often to the tune of $5-$10 a bottle.
Distilleries do often have a special release that you can only find there. These are also at a premium price, but when you can't get them anywhere else, it is also the best deal.
These two points mean that you should ask each distillery if they have anything they only sell there (which are almost never up on the tasting menu, sadly), and it also means you should spend a bit of time exploring the local stores if you intend to do a bit of shopping.
From our experience we recommend checking out the Liquor Barn stores as they have some of the best prices and largest selections. Your experience may vary, but keep in mind we did stop in a lot of stores while exploring Louisville and Lexington, and also price checked against The Party Source in Newport, Kentucky (one of the largest liquor stores there is) and with our home liquor stores (both have online price checkers for sanity checks).  In nearly all cases, with Jefferson's being a rare exception, Liquor Barn had the best prices for the bourbons we were looking for, with The Party Source having good sale prices on select bottles here or there.
Insider tip– We are always hesitant on dropping $70 on a bottle of bourbon without trying it first (previously I've only done that for a bottle of Pappy Van Winkle- for obvious reasons), but if you want an incredible distillery-only release check out the cask-strength Maker's 46 at Maker's Mark if it is available. If you like Maker's 46 and can handle cask strength spirits, this is a must have.
Looking for a Place to Stay Along the Bourbon Trail?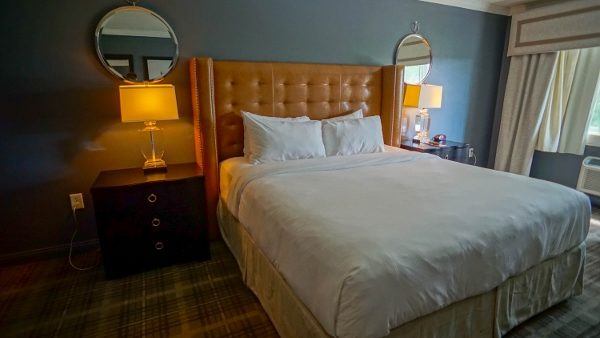 During our visit to the bourbon trail we spent four nights in Kentucky, which allowed us to have three full days exploring the distilleries. As mentioned above, we recommend four nights because you'll want the extra time to cover the (sometimes) large distances between distilleries. For those who want to do everything, you may want to have five nights just to be sure as the limited operating hours will make hitting them all in three days almost impossible.
In terms of hotels, we spent two nights at the Hilton Garden Inn in downtown Louisville (located right near Fourth Street Live), and two nights at the Campbell House in Lexington (located a few miles outside of downtown). This gave us a leg up on the morning drives each day, and is highly recommended. (We paid for our stays at both on points.)
The Hilton Garden Inn in central Louisville is your standard Hilton hotel, so for those who want a more historic option you may want to look at the Seelbach Hotel which is located just a few doors down (they also have a stellar bourbon bar). The Campbell House felt like a plantation estate (although in an urban environment) and had an incredibly wonderful ambiance you'd be hard pressed to find anywhere else in the city, although the bar was somewhat lacking.
Want to explore the Bourbon Trail but don't want to drive? We get it. Check out these tours from Viator to have a driver while you visit the distilleries!
Have any questions or comments about the bourbon trail, the distilleries we visited, or anything else featured in this guide? Comment below to let us know!
About Jeremy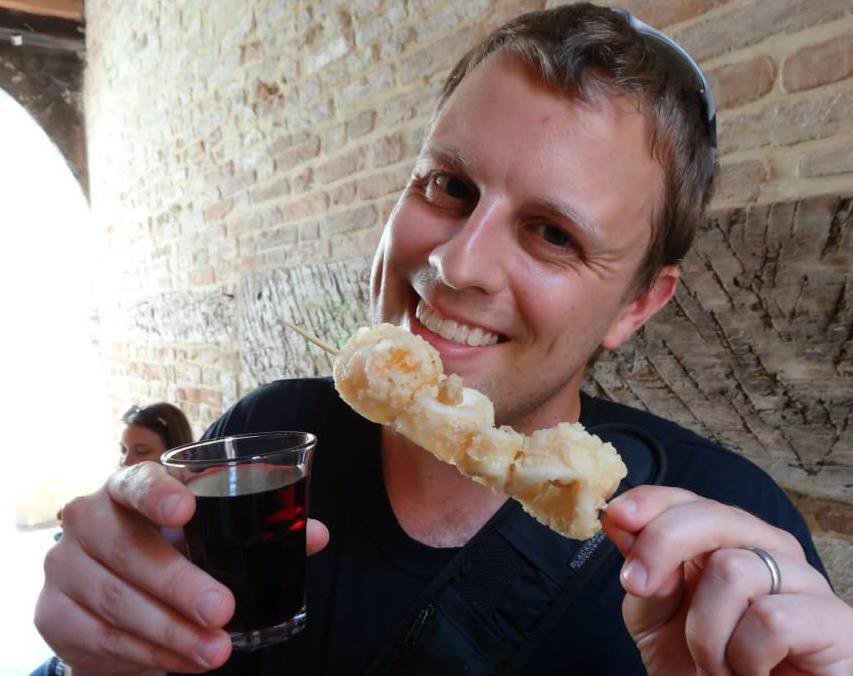 About the Author: Jeremy is a full-time travel writer based in Pittsburgh and primary author of this site. He has been to 70+ countries on five continents and seeks out new food, adventure activities, and off-the-beaten-path experiences wherever he travels.