Last Updated on February 24, 2023 by Angie
Disclaimers: Our site uses demographic data, email opt-ins, display advertising, and affiliate links. Please check out our Terms and Conditions for more information. Listed prices and attraction details may have changed since our visit and initial publication.
Bougainville is a one-Michelin-star restaurant in the heart of Amsterdam near Dam Square. Located in Hotel TwentySeven, the restaurant has a trendy vibe, excellent service, great wine pairings, and prix fixe as well as a la carte menu options.
Compared to some other Michelin-starred restaurants we've been to, the space at Bougainville feels a little more intimate and not quite as stodgy, in part thanks to all of the velvety seating. Upon arrival at Bougainville we were seated in a plush velvet semi-circular booth that was super intimate and cozy.
An Approachable Michelin-Star Experience at Bougainville Amsterdam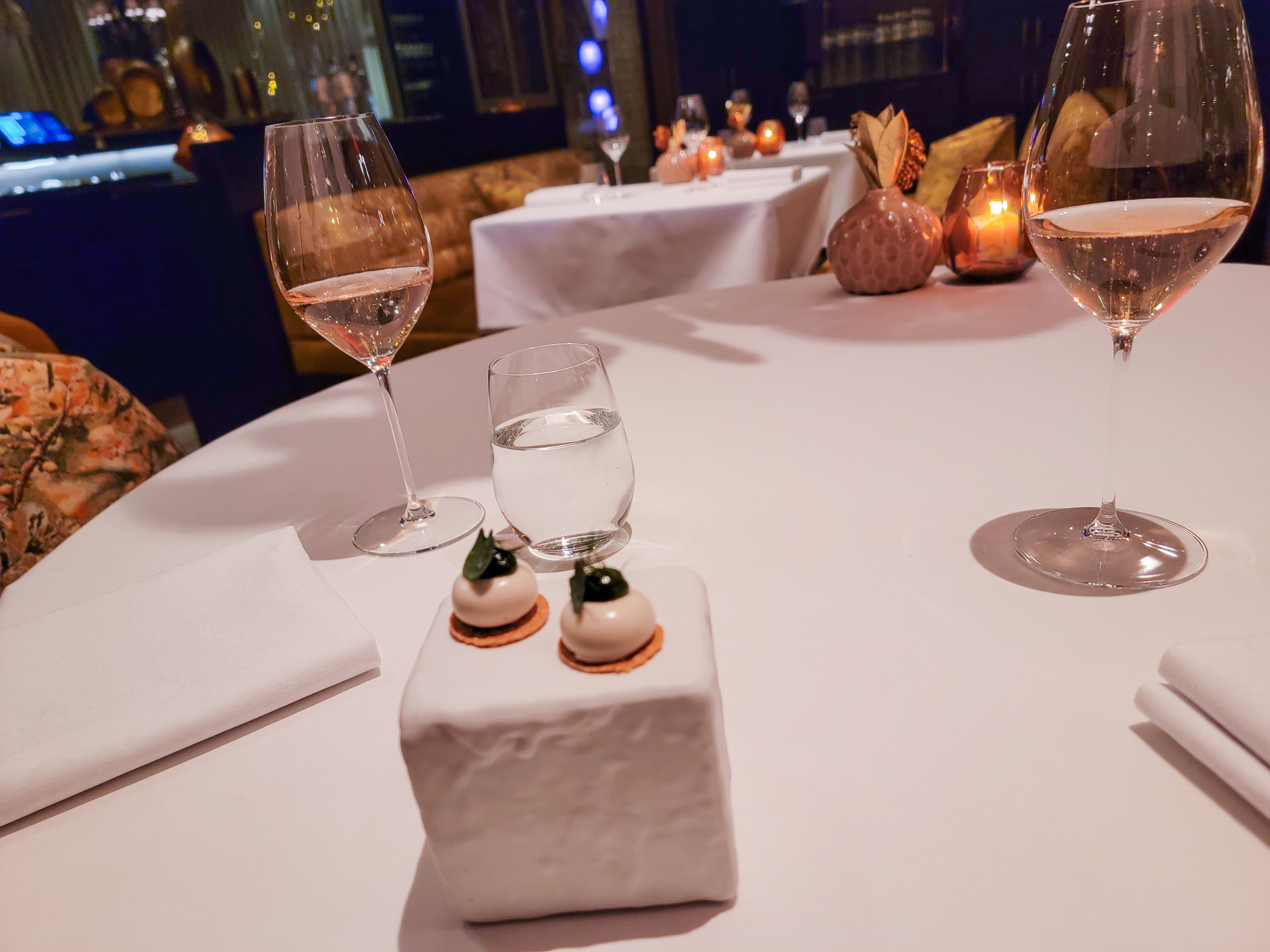 We started with some champagne and amuse bouche bites- first, a ravioli with ginger, pumpkin, and crunchy quinoa on the outside. Next, a sphere of Thai red curry with peanut, coconut, and Thai basil. Then my favorite, an apple tarte tatin bite with mustard and Szechuan peppercorn; and finally, potato and leek two ways – potato puree with a leek, and an onion consomme drizzled with leek oil.
Bougainville offers prixe fixe menus with 5, 6, or 7 courses, as well as an a la carte menu. We chose the 6-course menu with wine pairings, and we absolutely loved how the wines were presented – all were served blind! The wines were only revealed after we'd had a chance to taste them and try them with the given dish. As wine students who frequently do blind tastings, we thought this was a brilliant approach to take at a restaurant and it enabled us to more fully appreciate the flavors in each wine without any preconceived notions of what it should taste like.
Our first course was a kingfish sashimi with sake pearls and Japanese tangerine, paired with a lightly oaked Swartland Chenin Blanc. The dish was so aromatically orange and set the tone for the beautiful meal ahead.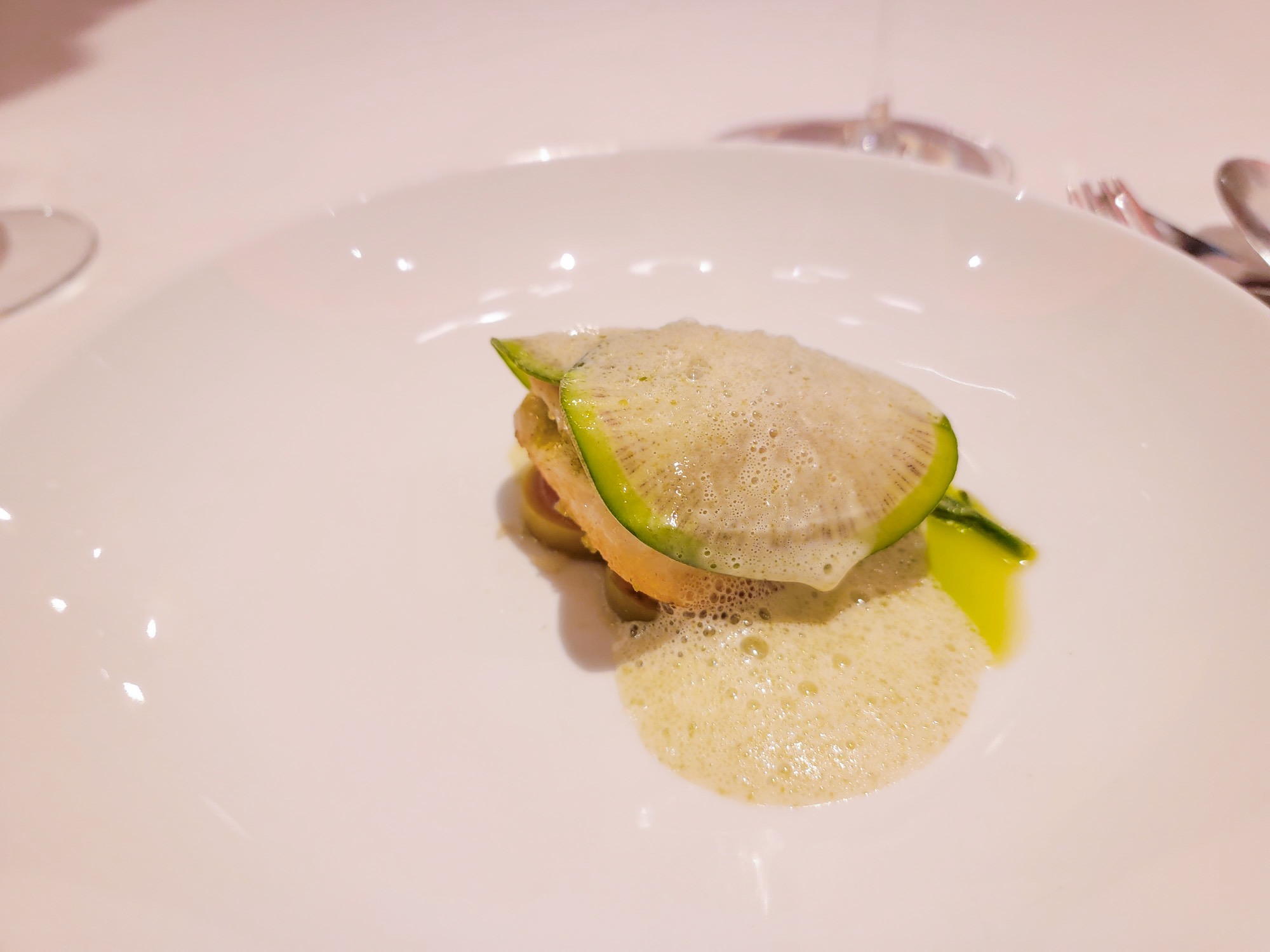 Next up was a plaice fish filet on a beurre blanc with sea lettuce and green olive. It was paired with a wine from Jura which had oxidized, musty apple flavors that complemented the olive flavors in the dish really well.
The next dish was amazingly simple but brilliant: a cube of potato that was first cooked sous vide, then pressure cooked, and finally deep fried. It's served with a miso sambal creme fraiche with drops of onion concentrate. Paired with a Spanish Godello, the potato was so crunchy and the sauce was so rich, salty, and creamy with a hint of spice.
Surprisingly, at this point our server asked us how the pacing of the meal was going. This may seem like such a simple thing, but after the dreadfully slow pacing of our prix fixe at Zilte in Antwerp, we truly appreciated the question! But, the pacing here was perfect, and we let them know we were super happy with it.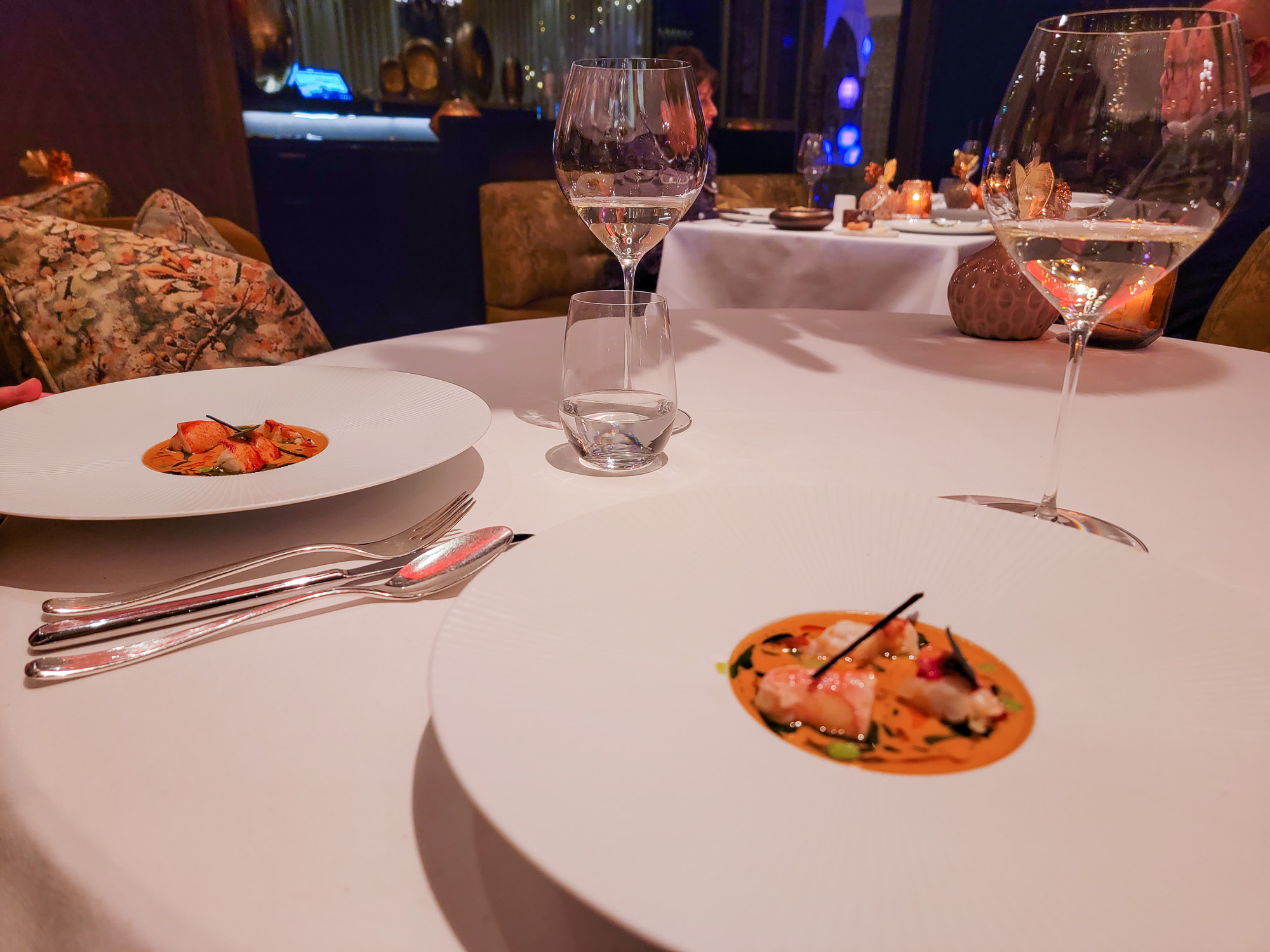 A lobster course soon arrived with a creamy garam masala sauce, plus naan with garlic butter. The spices were delicious and warming, and the texture of the lobster was perfect. It was paired with a crisp Margaret River Sauvignon Blanc.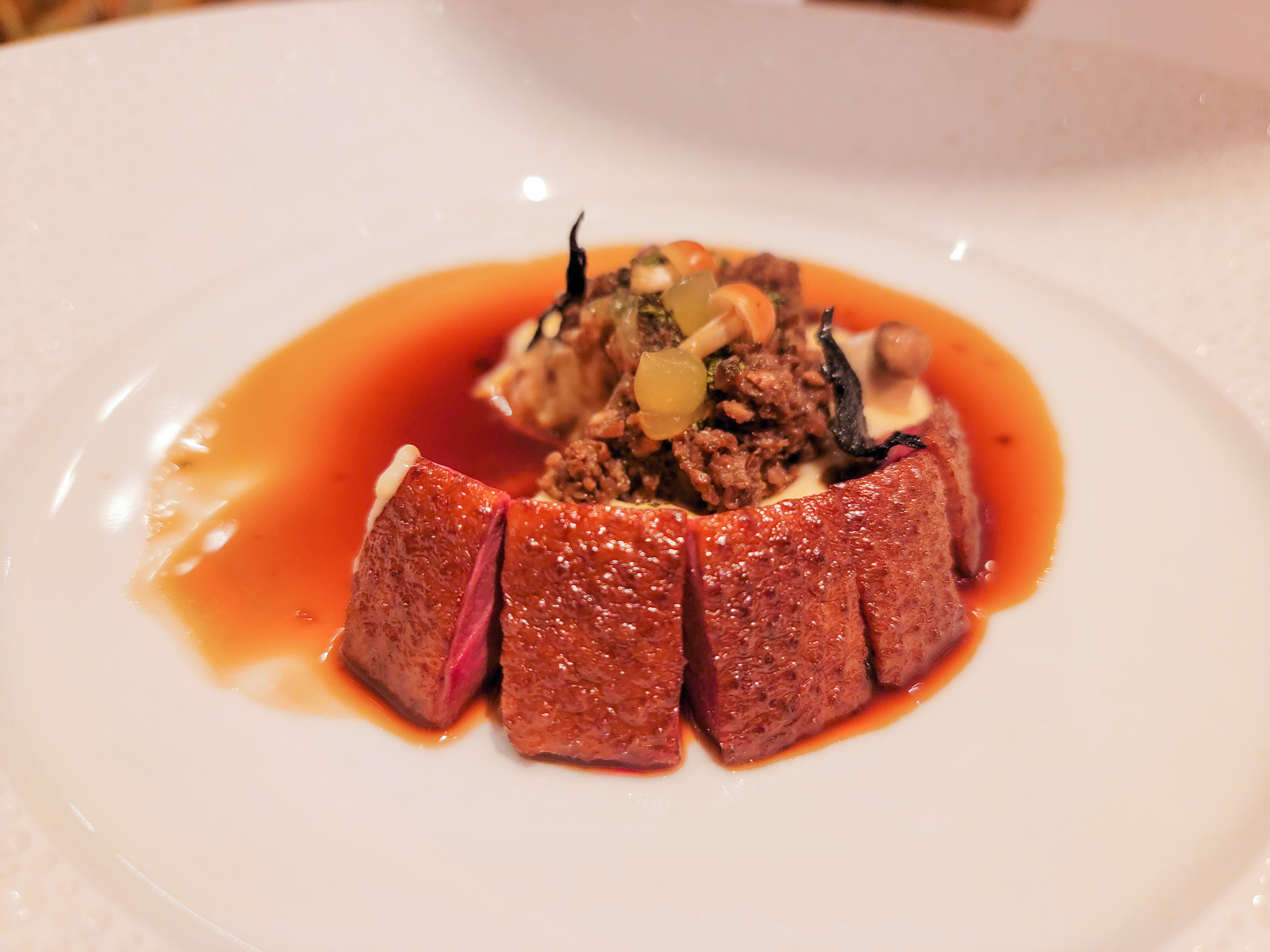 The main course comes out next – duck! As they are serving it they immediately realize it has chestnuts which I am allergic to. The plates are swiftly taken away and in a matter of minutes we are presented with chestnut-free duck served with duck jus and mushrooms prepared many different ways. On the side is a delightful porcini bread and browned butter. The wine pairing is a Cotes du Rhone, which we correctly guessed before it was revealed (we feel so smug!).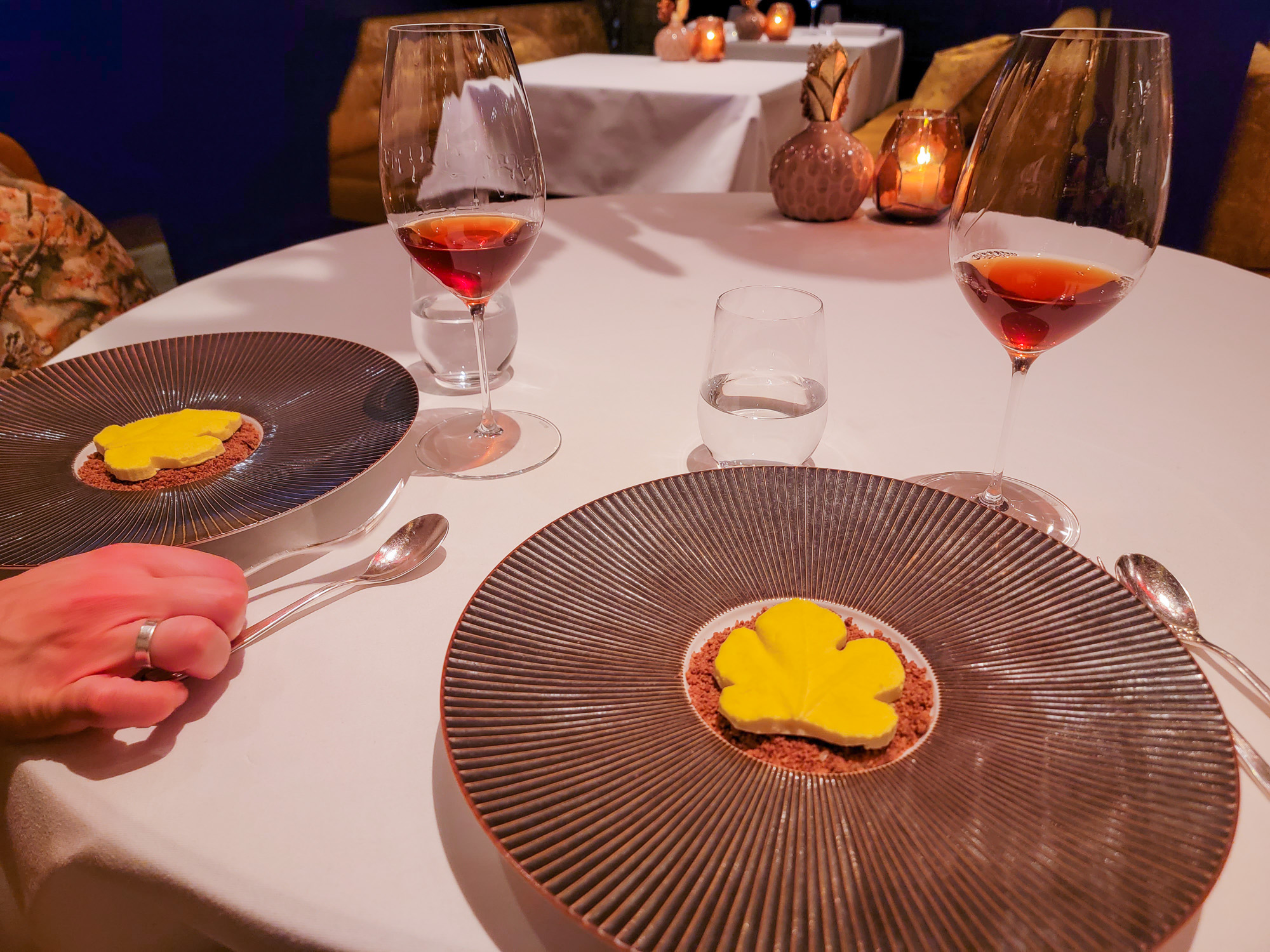 For dessert we're served a panna cotta in the shape of a fig leaf, with a bergamot and tarragon crumble; it's paired with a lovely vin santo. It's a fantastic end to an even more amazing meal.
We really enjoyed chatting with the very friendly sommelier, especially after we mentioned that we are studying wine. He invited us to peruse their cellars which we gladly did. We had such a fun, relaxed meal at Bougainville, and it seemed like a relative bargain considering the high quality of the food, wine, and service- we'd go back in a heartbeat.
Bougainville is located inside Hotel TwentySeven at Dam 27, 1012 JS in Amsterdam.
Book a Train Ticket in Europe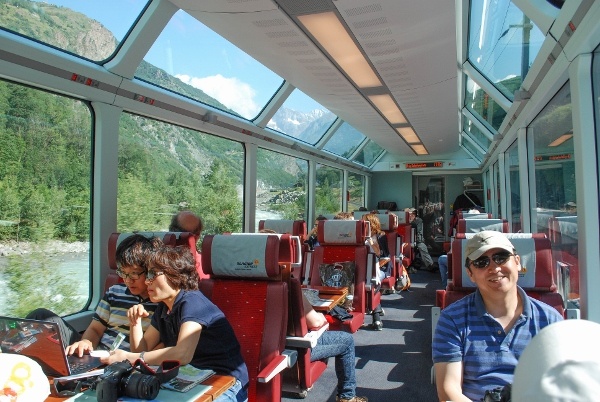 Want to learn more? Check out our Omio review!
About Angie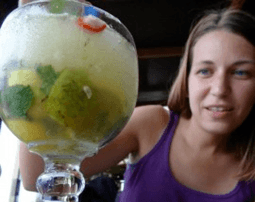 About the Author: Angie is a contributing author. She has been to nearly 60 countries and seeks out the best restaurants, bars, bakeries, and other unique food items wherever she goes- often with her husband, Jeremy.