Last Updated on February 3, 2023 by Angie
Disclaimers: Our site uses demographic data, email opt-ins, display advertising, and affiliate links. Please check out our Terms and Conditions for more information. Listed prices and attraction details may have changed since our visit and initial publication.
Zilte is a three-Michelin-star fine dining restaurant in Antwerp with stunning views and an emphasis on seafood dishes. Prix fixe menus are on offer here, with different numbers of courses available depending on whether you're dining at lunch or dinner, and the day of the week.
We went for lunch instead of dinner at Zilte, which is a strategy we've used several times to experience Michelin-starred restaurants at a slightly more affordable price point. As we dined in winter, another pro of lunch instead of dinner was having enough daylight to enjoy the beautiful views from the top of the MAS building- including an absolutely stunning sunset at the end!
An Experience at Zilte from Start to Finish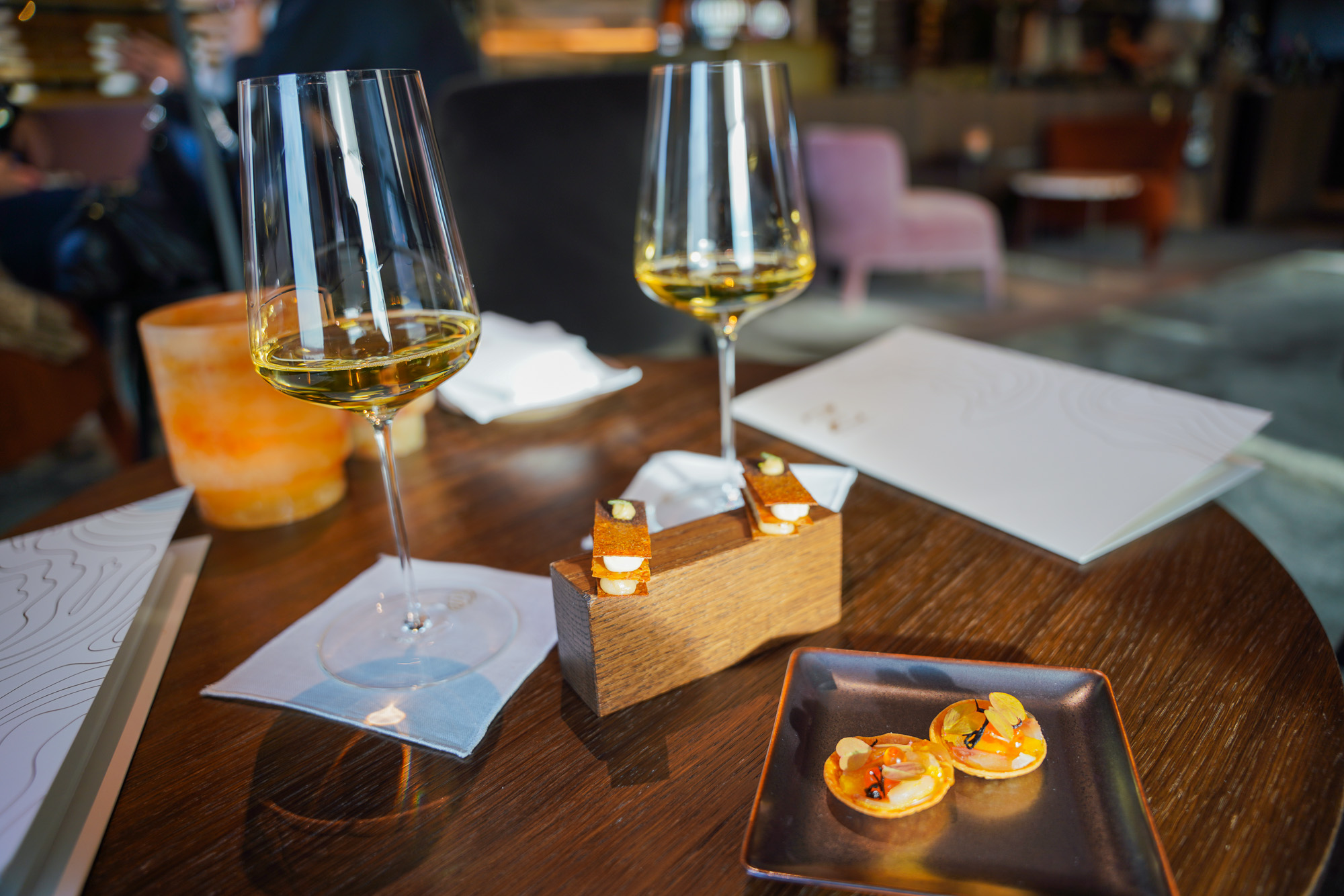 After an elevator ride to the top floor of the building, we were shown to Zilte's lounge area where we had our aperitif. The sommelier presented the recommended champagne pairings, and we opted for glasses of the pricey but magnificently nutty 2014 Bollinger. It was lovely with the accompanying small bites: a spelt cracker with umeboshi cream layers, bottarga with roe, cucumber and jalapeno-topped cracker, a crispy pastry cup filled with labneh and crab, and a grey shrimp couscous with ginger.
Soon we were directed to our table which also had an amazing view of Antwerp. An amuse bouche of haddock with enoki mushrooms, sesame, and parmesan crisp arrived while we perused the menu. We had the choice of 4 (only available at lunch), 7, or 9 courses and opted for 7. Although wine-pairing options were offered, we figured we had better keep it cool since it was only lunch and we had to make sure we got on the right train back to Ghent!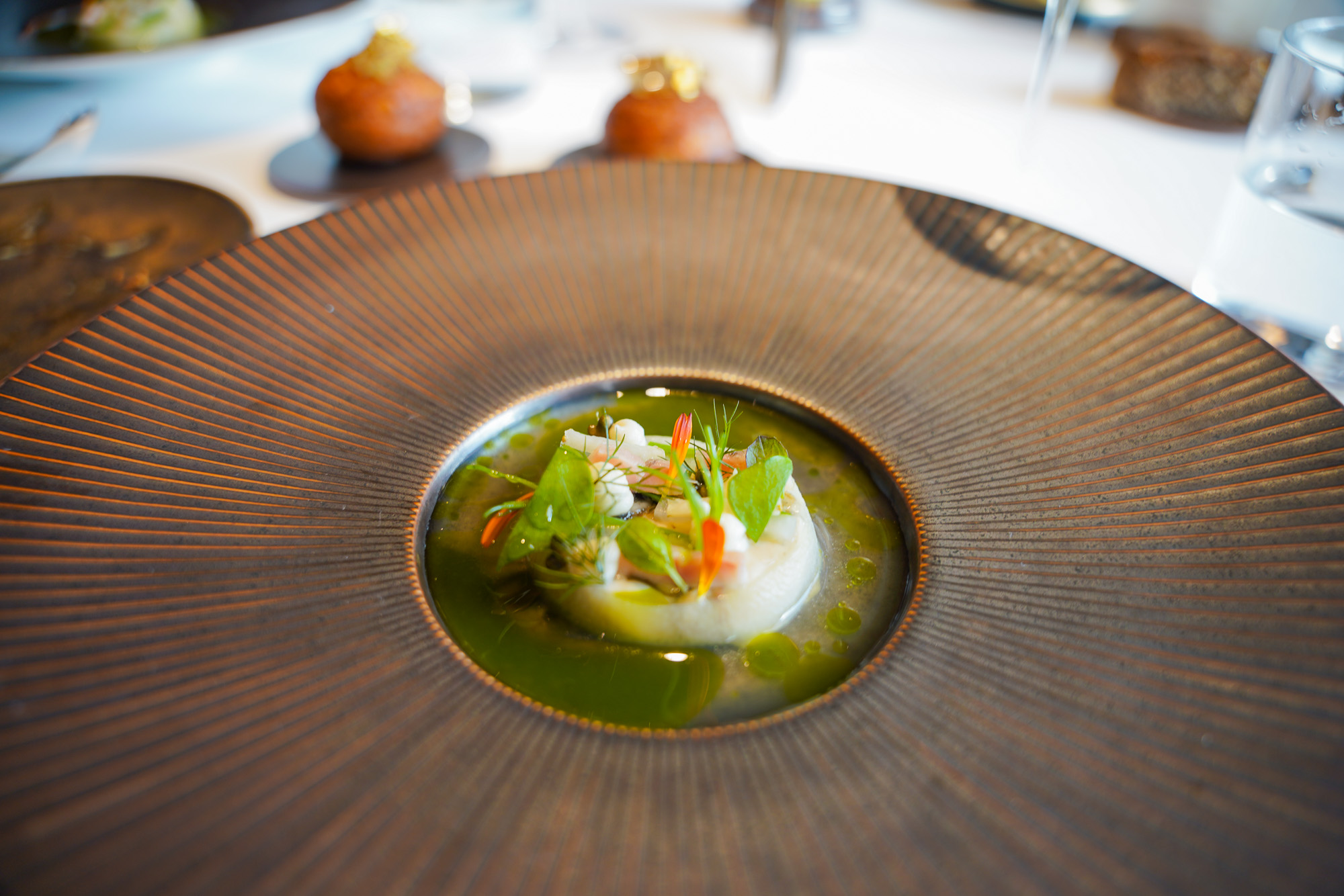 The first course was a scallop and swordfish dish with fermented black radish, Buddha's hand, radicchio, and a sauce served tableside with scallop and roe. There were lots of salty, crispy, and crunchy textures. Next up was a fresh, briny-tasting dish with oysters, eel, flat bean (like a green bean), and an elderflower strawberry vinaigrette.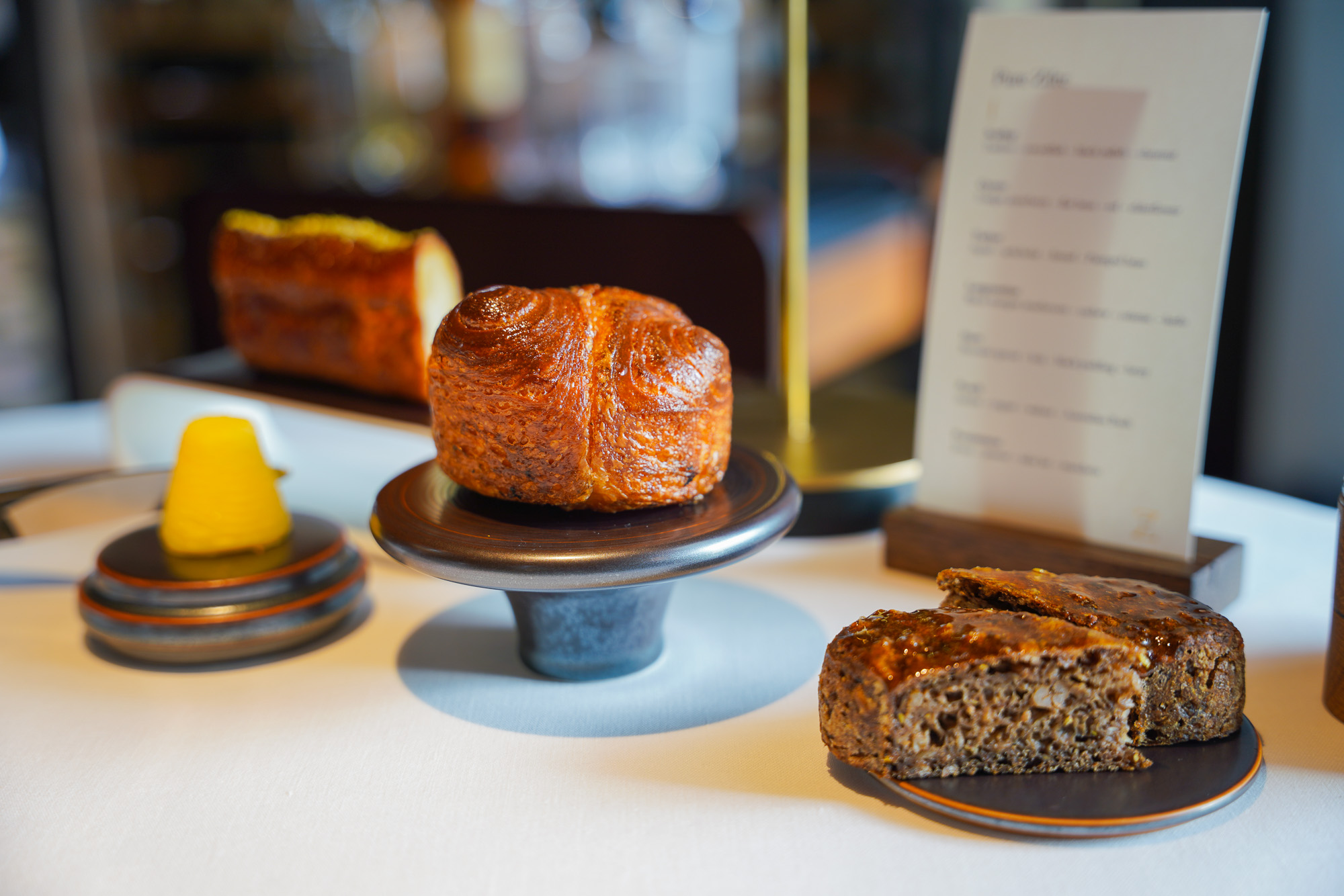 My heart melted with the next course: the bread course. The pastry chef came out to explain each bread which was a lovely touch. We enjoyed a fougasse shaped like a tiny little sandwich bread loaf that was drizzled with olive oil and fennel pollen. The exterior was crunchy and oily while the interior was fluffy. A brioche loaf was insanely buttery in a good way, but tasted even better with a French salted butter spread on top. Finally we tried a whole grain sourdough loaf wih rye and spelt topped with marmite and honey. This selection proved to be a delicious pairing with the hare course served later.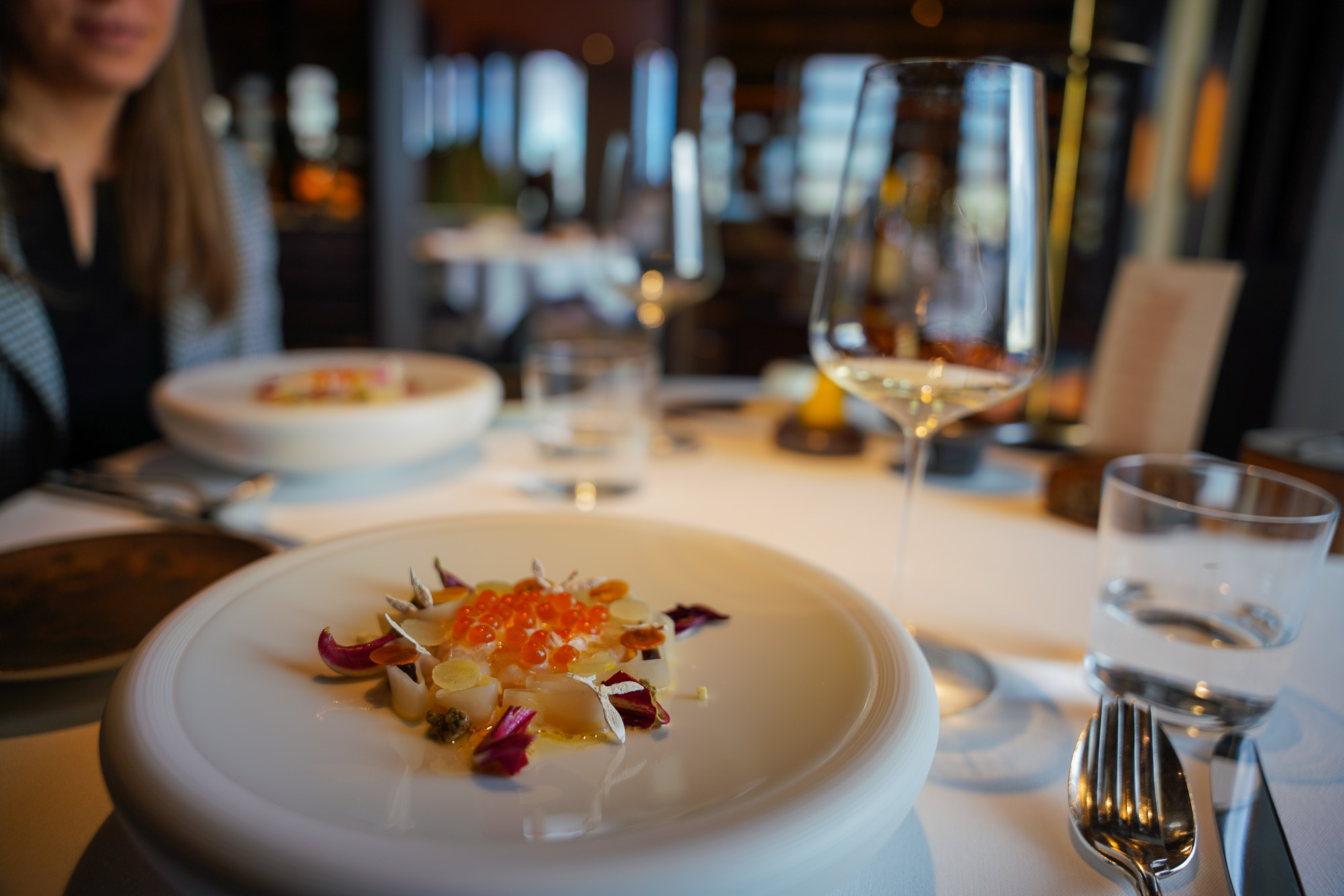 A fish course came up next – turbot served with artichoke and fennel puree, pampol bean, a green herbaceous sauce, and a squid/onion sauce. It was beany, garlicky, oniony, savory, salty, and delicious with a slight hint of fennel.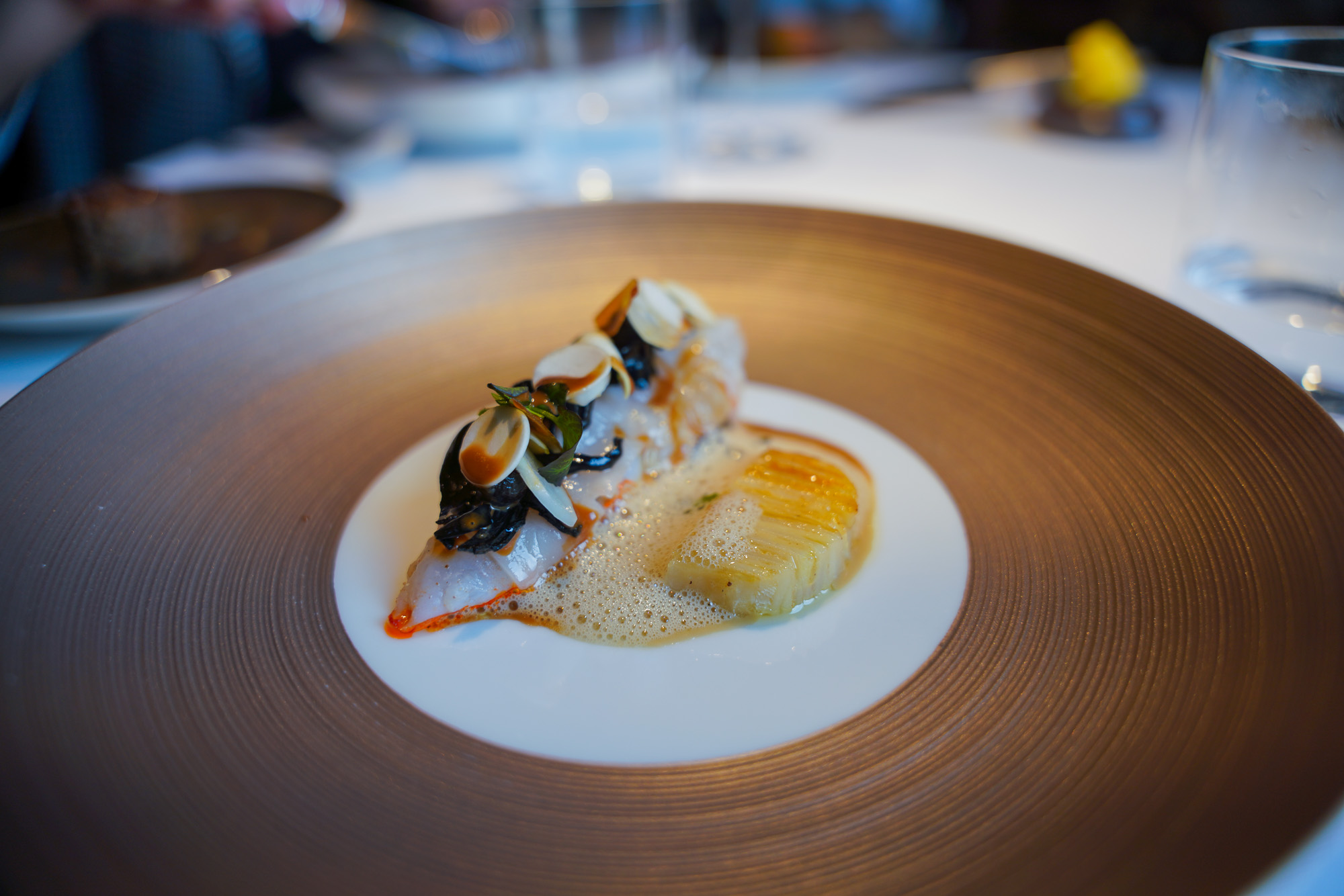 Anticipating the next course, we asked the sommelier for a wine-by-the-glass recommendation to pair with the langoustine course. He presented several thoughtful and well-explained options; we were intrigued by a 2017 Jura Savagnin that was super oxidative and nutty, and turned out to be really interesting with the langoustine dish. Paired with black trumpet mushrooms, a meaty slice of celeriac, and a foamy koji sauce, the langoustine was plump and juicy and the overall flavor was funky and mushroomy.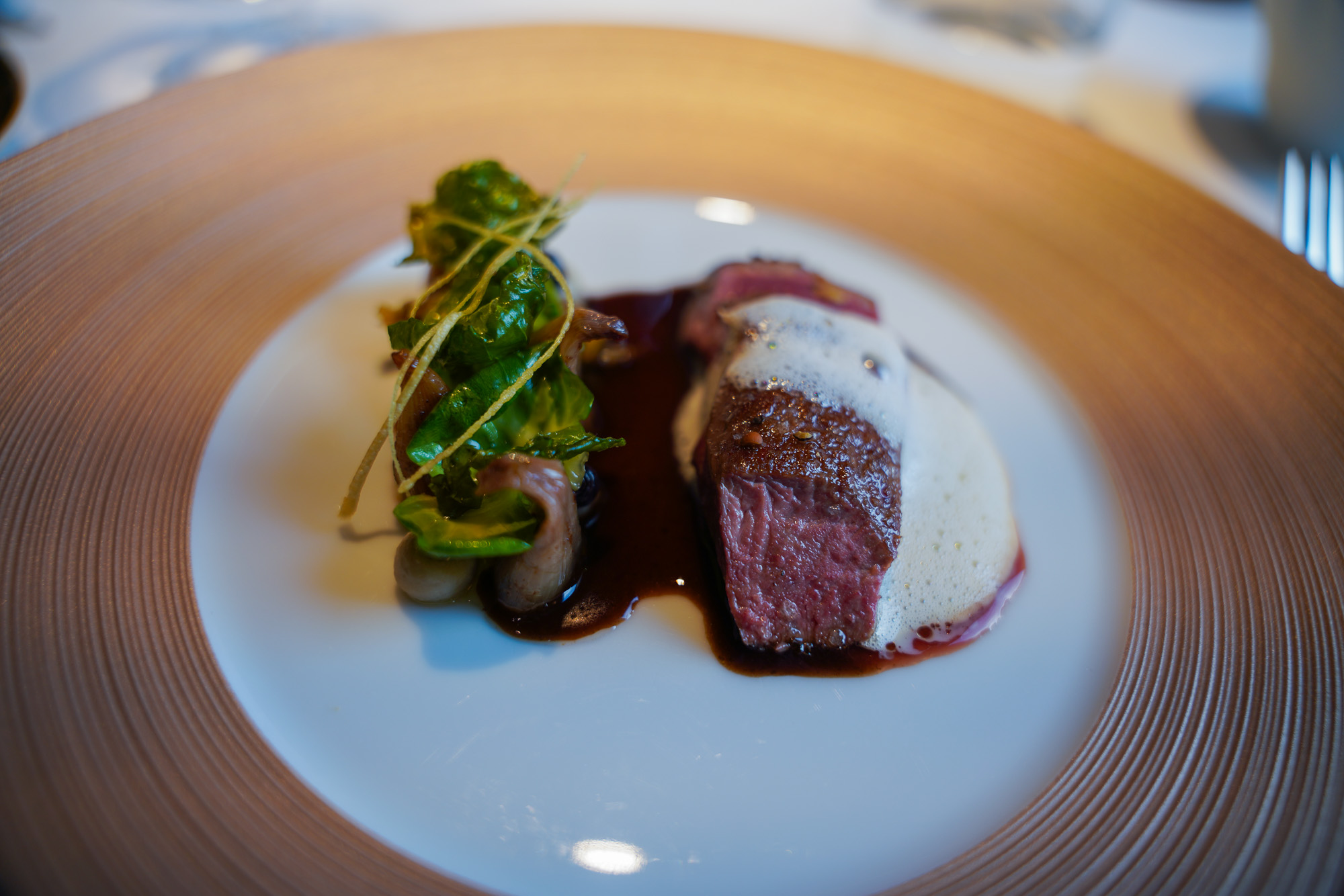 The main course was hare with a hare jus, parsnip sace, tiny onions stuffed with black pudding and koji, and brussel sprouts. The hare was incredibly tender and a pate on the side was creamy and unctuous.
We looked down at our phones and realized we had spent over 3 hours at lunch already and the sun was going down (whoops!) – but it was time well-spent.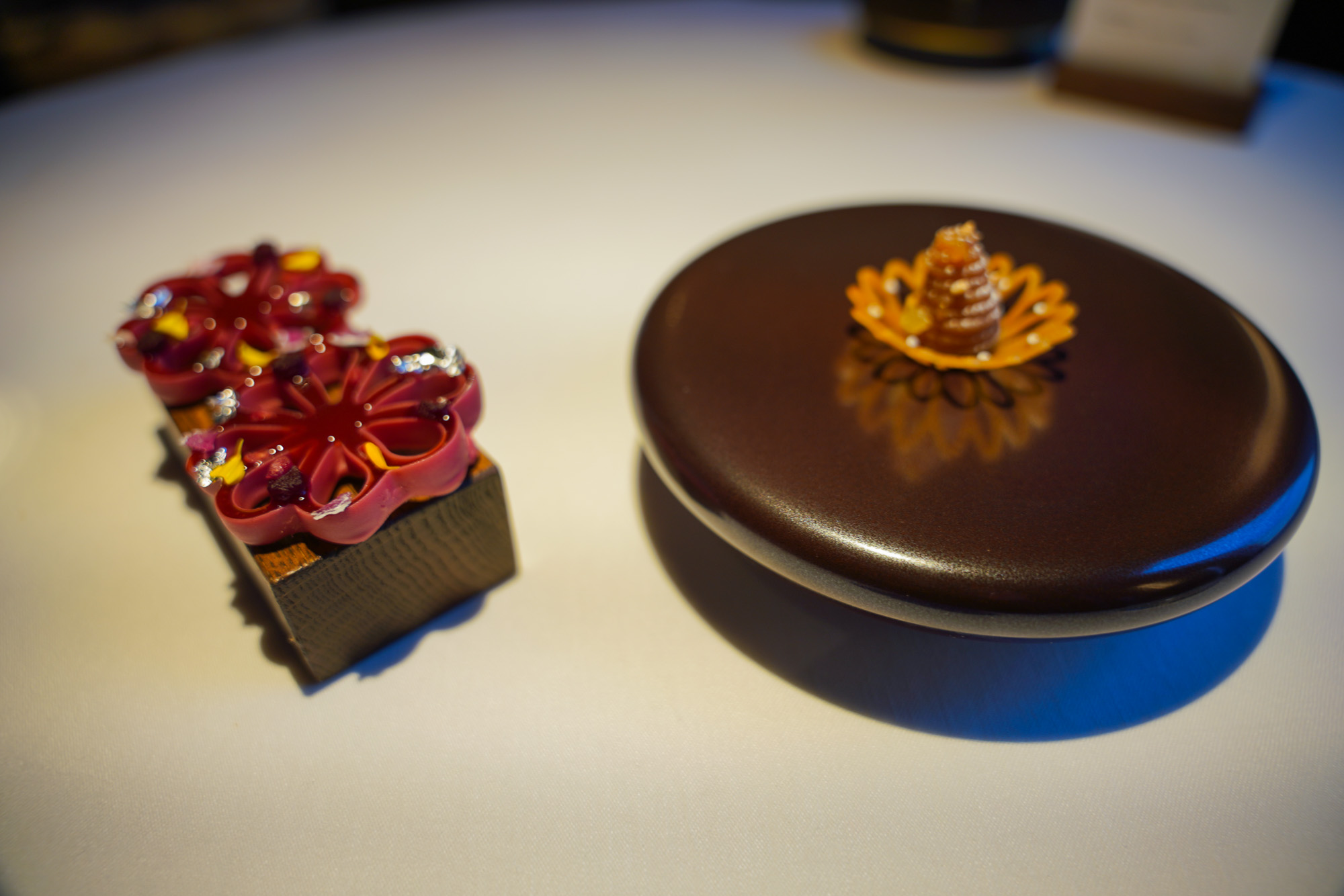 Soon desserts made their way to our table: first a yogurt ice cream on top of a sphere filled with a white mousse, and crispy flower petals frozen with liquid nitrogen.
The ice cream was tangy and the dish was floral and delicious. The second dessert was a crunchy, sweet sake lees "ice" on top of crispy layers of chocolate with a mandarin orange sauce poured over all. It was so intensely orangey and a little sweet, but so satisfying. The ultimate dessert was a lacey chocolate flower filled with a very fruity and concentrated raspberry sauce, and a chocolate truffle.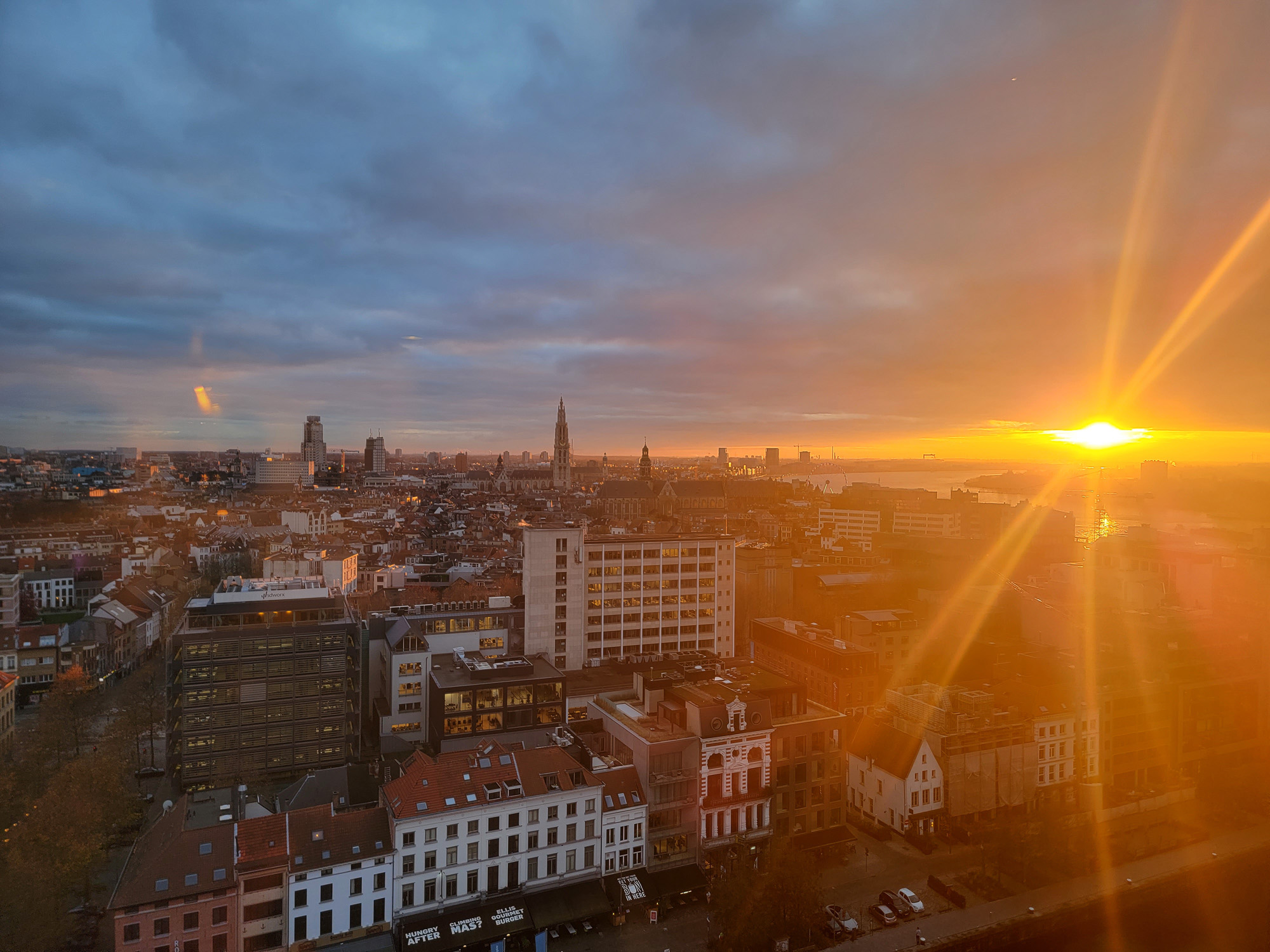 The dishes at Zilte overall had amazing, unexpected flavors that harmonized so well, and the plating was gorgeous. We loved the extensive use of seafood and all of the sauces served tableside. The only downside was that the pacing seemed quite slow, especially for lunch and the fact that we weren't doing the wine pairings or drinking a lot. The wait to ask for the check was especially awkward. However, overall we still loved our meal here. And the view can't be beat!
Zilte is located at Hanzestedenplaats 5, 2000 in Antwerp, Belgium.
Book a Train Ticket in Europe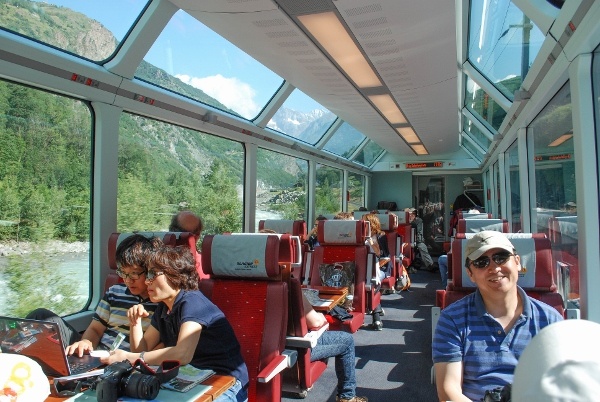 Want to learn more? Check out our Omio review!
About Angie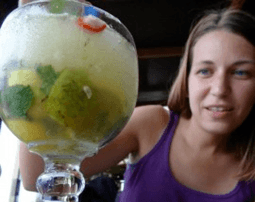 About the Author: Angie is a contributing author. She has been to nearly 60 countries and seeks out the best restaurants, bars, bakeries, and other unique food items wherever she goes- often with her husband, Jeremy.