Last Updated on February 7, 2023 by Angie
Disclaimers: We were hosted for this experience. Our site uses demographic data, email opt-ins, display advertising, and affiliate links. Please check out our Terms and Conditions for more information. Listed prices and attraction details may have changed since our visit and initial publication.
Snacking is one my favorite ways to eat, especially when traveling.
You get to try a bunch of different dishes and don't have to take a chance on a massive plate of anything in particular.
On our recent stay in Quito, Ecuador, we took a snacking oriented food trip with Viator where we sampled traditional baked goods, sweets, and other small plates, and got an insider's look on how these snacks are made.
The following 3 snacks made it onto our list of most unique and most delicious foods to try in Quito!
Quesadillas are one of the Best Foods to Try in Quito
No, these aren't cheese-filled tortilla Tex-Mex snacks; they're supremely delicious sweet breakfast pastries.
We learned how to make these treats at San Juan Quesadillas, where they churn out over a thousand quesadillas every day along with other traditional baked goods like pan de yuca and corn muffins.
The dough for the quesadillas is basically like a pasta dough and contains eggs, flour, and salt. It's rolled out into very thin, small circles.
The filling is what makes this treat so special- it contains a rich, soft cheese called queso pura crema, along with egg yolks, sugar, and achira starch.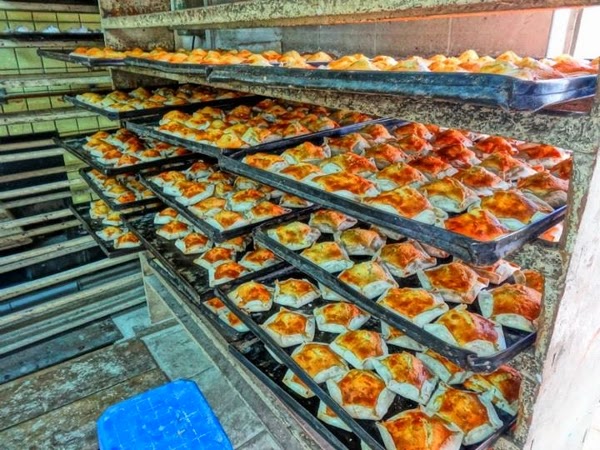 Achira starch comes from the root of a flower and gives the filling sort of a springy texture. The filling is dolloped into the center of the dough circle and the edges of the dough are folded up to create a sort of pentagon shape.
After our lesson in making these treats we got to try them, hot and fresh from the oven. The outside edges of the dough were crispy and the filling was sweet and ever so slightly cheesy.
The flavor reminded me of a cheese danish filling but the texture was more spongy like a muffin.
After learning about these sweets we saw them everywhere around Quito in little corner shops, bakeries, and even sold on the street corner to cars passing by. 
These are a must try when in Quito!
Empanadas de Morocho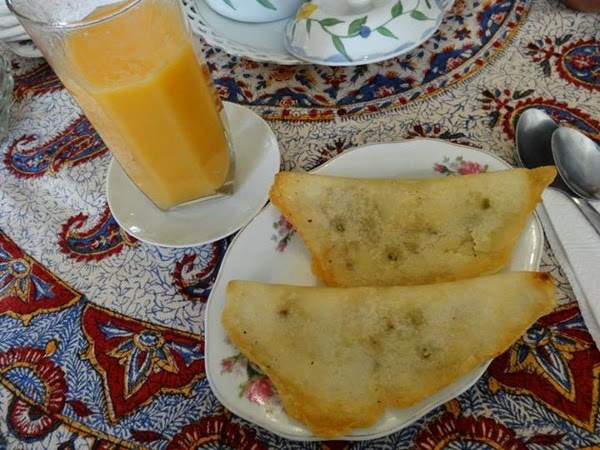 We've had our share of empanadas over the past 5 months in South America, but these were some of our favorites as they were very different from all other kinds we have tried.
We learned how to make these empanadas in the home of an Ecuadorian woman named Graciela who sells her homemade snacks to restaurants in the city.
The dough for empanadas de morocho isn't made from wheat flour like all other empanadas, but from morocho flour which is made from dried corn. The dough consists simply of this flour, water, and salt, and it is moist and easily molded with your hands.
We formed the dough into small circles and filled it with a mixture of rice, peas, and meat before frying the empanadas. When fried the dough became incredibly crispy and was a great contrast to the softer interior.
Pristinos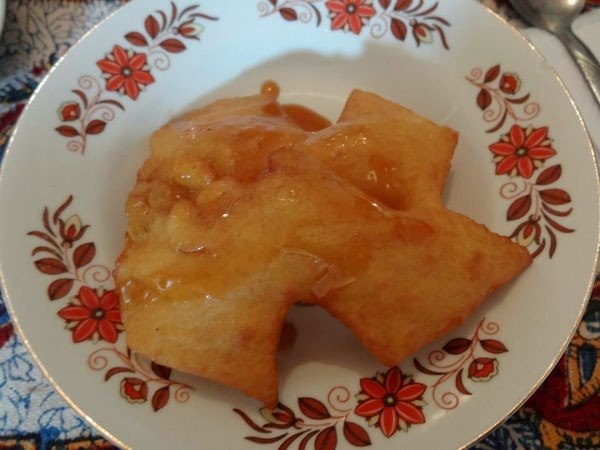 Also while in Graciela's home we learned to make pristinos, which are a sweet anise-flavored donut.
They reminded me of Peruvian picarones, except those have a little sweet potato in the dough and pristinos do not. Pristino dough is simply flour, baking powder, anise-flavored water, salt, sugar, and butter.
We learned how to roll the dough out into long and skinny strips, make several notches on one side of the strip, then bring the ends together to make a pretty circular shape.
After being fried the donuts were topped with a syrup made from panela (an unrefined sugar that has a molasses flavor), cinnamon, and sweet pepper.
The anise flavor in the donuts was slight enough to not offend any haters of this unique taste, Jeremy being in this group, and the syrup was a spicy and delicious combination we never would have thought would work- but did.
If you're in Quito make sure to keep an eye out for these unique and tasty snacks!
Have you discovered any one-of-a-kind snacks while traveling?  Comment below to let us know!
We'd like to thank our friends at Viator for inviting us out on their Quito Culinary Tour and Cooking Class day tour.   If you're looking to see a unique side of Quito and enjoy some unique treats, this tour is definitely for you.
About Angie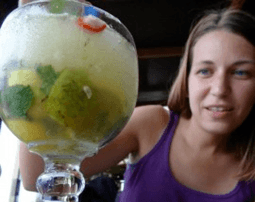 About the Author: Angie is a contributing author. She has been to nearly 60 countries and seeks out the best restaurants, bars, bakeries, and other unique food items wherever she goes- often with her husband, Jeremy.