Published by Jeremy. Last Updated on February 7, 2023.
Disclaimers: Our site uses demographic data, email opt-ins, display advertising, and affiliate links. Please check out our Terms and Conditions for more information. Listed prices and attraction details may have changed since our visit and initial publication.
In the past few months, I've been giving Angie the reigns in planning our destinations as I figured she'd have stronger feelings on the types of places we visited in Nepal and India.
After getting screwed on train tickets in Northern India, and overall really wanting an Indian beach for the holidays ever since we did the Everest Base Camp trek, we agreed that it was for the best to skip out on the rest of Rajasthan and fly down to Goa and the coastal beaches for Christmas and New Years.
For this task, Angie had been charged with finding the best.
After her research had concluded, she told me that she was taking us to beaches that were considered to be some of the best in the world.  Being a bit astonished by this claim myself, I went along with it in hopes that she was right.
"World class beaches" and "India" in the same sentence? Well, after our time traveling from Nepal to India and exploring the north quite a bit, that was a sight I'd have to see to believe.
And we did.
Southern Indian Beaches Are a World Away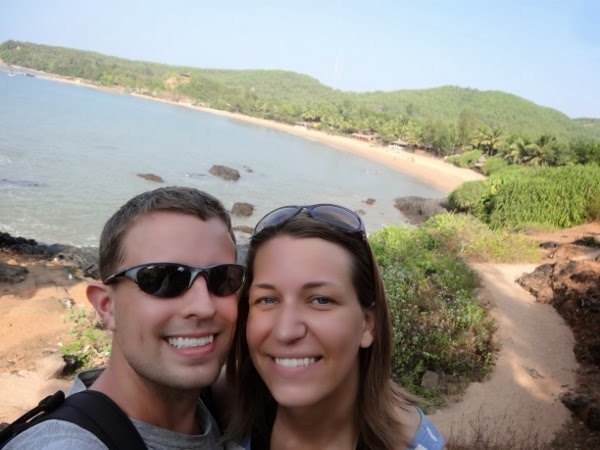 Much like at home, India is a large and diverse country.  In being so large, with so many people, it should not be a surprise that different regions can seem like a world away from each other even though they are the same country. 
While some of the cities in the North are incredibly dirty, have shockingly low rates for travelers, and very little tourists, cities in the South can be clean, just as expensive as a Western city, and be overflowing with foreigners.
Of course, this North/South description can be replaced with any two points as it is not just localized between this broad window (although on our own itinerary it did appear that way at times).
The problem with India is that from an outsider's perspective the higher end aspect is often overlooked for the cheap, run down, and slum-like conditions that are often popularized in western media.
When you are bombarded with thoughts like this left and right, and enduring a particularly nasty case of Delhi Belly in the north at the start of a trip, you may be as shocked as we were when reading about these mythical "world class beaches."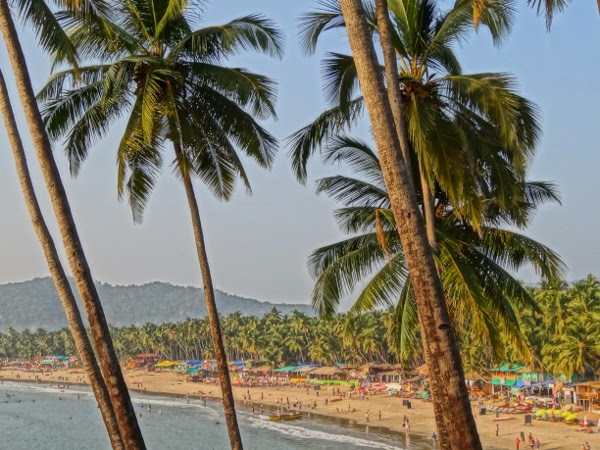 Perhaps one beach would be acceptable, but we found it hard to believe that the region would have enough that could contend with those we've seen in Thailand or the Caribbean.
But as it turns out during our stay, we found three.
Benaulim Beach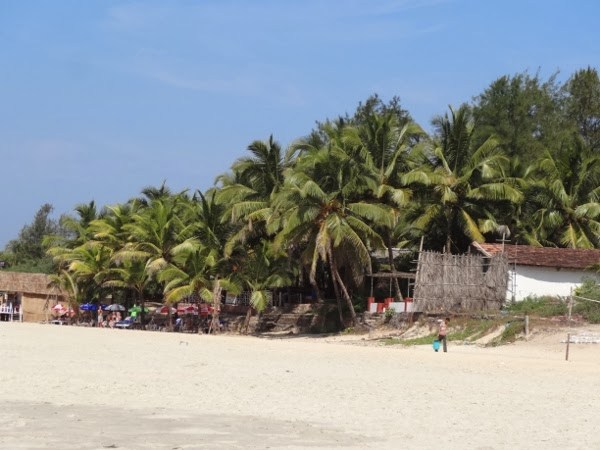 If it were anywhere else in the world, Benaulim Beach would not have had as much of an impact on us. 
This long beach in Goa does not have crystal clear water or the whitest sand in the world (although the latter is still rather nice), but what it doesn't have in physical beauty it makes up for in stunning palm trees and delicious beachside restaurants.
We may be a bit biased on this particular beach because it was our first in a long string of beaches in India, and the welcome shock of a clean beach made our heart's skip a beat.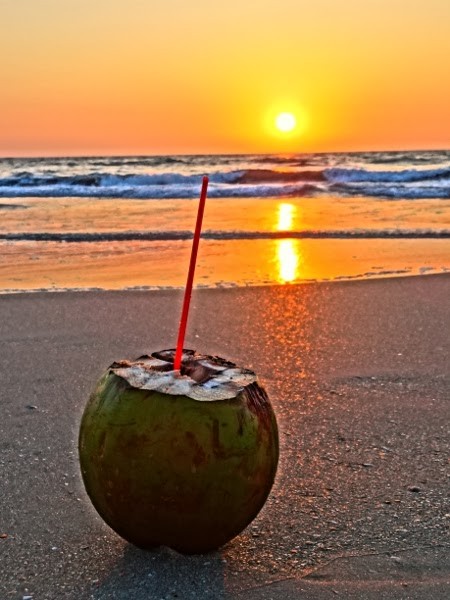 The never-ending sand is lined the whole way with post-card perfect palm trees and beachside restaurants (more like shacks than proper establishments) that serve fresh seafood in generous portions, often less for $10 a plate. 
While expensive for India standards, even among other beaches featured in this article (Om Beach wins the price category on this one), the entrees are made up for in quality and generous portion sizes.
Looking for a place to spend Christmas with delicious seafood and lower prices than others nearby (such as Palolem)?  Benaulim was a perfect choice for us and a wonderful welcome to the beach scene in India.
Palolem Beach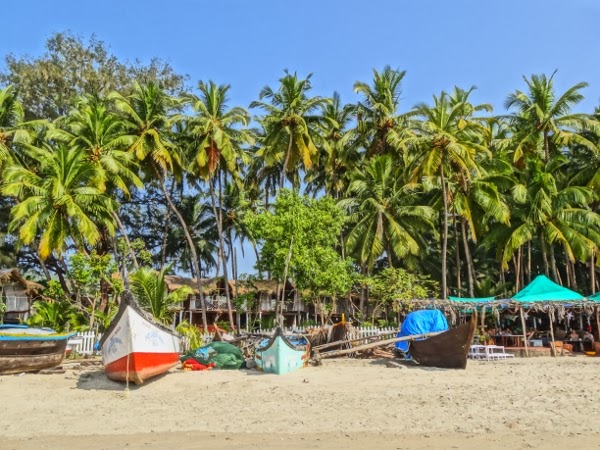 Curved beach of white sand? Check. 
Limited beach bungalows? Check. 
Other beaches nearby within a 15-20 minute walk?  Check. 
Palm trees everywhere?  Check.
Palolem beach may be our favorite out of all the ones we visited in India, and this one is all about the character. 
Although the beach is rather large, it is not too vast like Benaulim such that you can see the curved endpoints in both directions no matter where you are at. 
There are a generous amount of beach bungalows and restaurants, ensuring that the beach is always filled with visitors, but never too full that it feels overwhelming and commercialized.
In fact, Palolem Beach made us have flash backs to Phi Phi Islands in Thailand where we got engaged. 
The surf comes in over an incredible distance, and the beach becomes incredibly wide at low tide. Restaurants dot the beach and even set up candlelit tables right on the water at night after the sun goes down.
Angie turned to me expecting a marriage proposal here, but I had to remind her that that one happened nearly three years before in that Thai island several thousand miles away.
Om Beach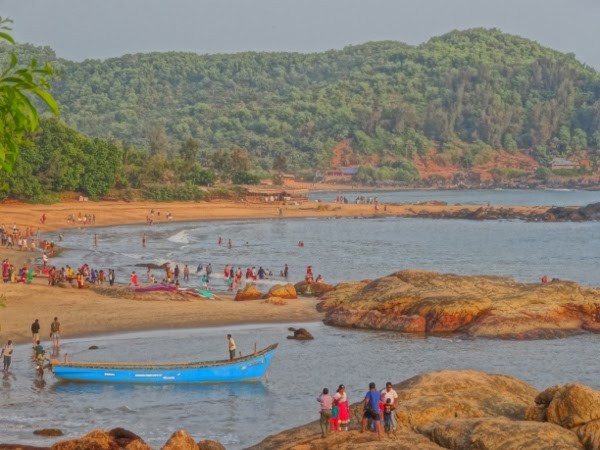 Just south of Goa lies the city of Gokarna. 
This destination is famous as a holy place for Hindus but is otherwise lacking in the tourism department much like Varanasi which we visited a few weeks earlier (although at least there had far more to see of cultural significance).
We arrived to Gokarna without a reservation as the hotel scenario in this part of the world can get tricky.  While striking out with below par Indian hotels in the city, we gave up and went to Om Beach in hopes of getting a last minute room on the water.
While the places available on this beach take the phrase "beach shack" to a whole new level, with no luxury to be found for miles, the beach made up for it by far. 
Om Beach, and the half dozen or so others nearby, make up a string of crescent beaches along the coast that can only be described as sublime. 
They each only take a few minutes to cross, and most only have one or two beachside restaurants and rooms hidden by trees to call their own. There is only one thing you can do here, and that is to sit back, have a beer, and relax.
The downside with this particular beach is that getting a room in advance is tricky, so you will always have to resort to just showing up and seeing what is available (and also carrying your bag down a fair number of stairs and across a beach before you reach even the first accommodation). 
The second downside here is that this one is a favorite spot for the twenty-something crowd who still believes the hippy movement of the '60s is alive and well, plus a few who showed up back then and seemingly never left.
But for a beach this gorgeous, you could put up with just about anything.
Still heading South after your visits to the beaches? Be sure to take a Kerala Backwaters tour or check out the Munnar places to visit such as tea plantations!
About Jeremy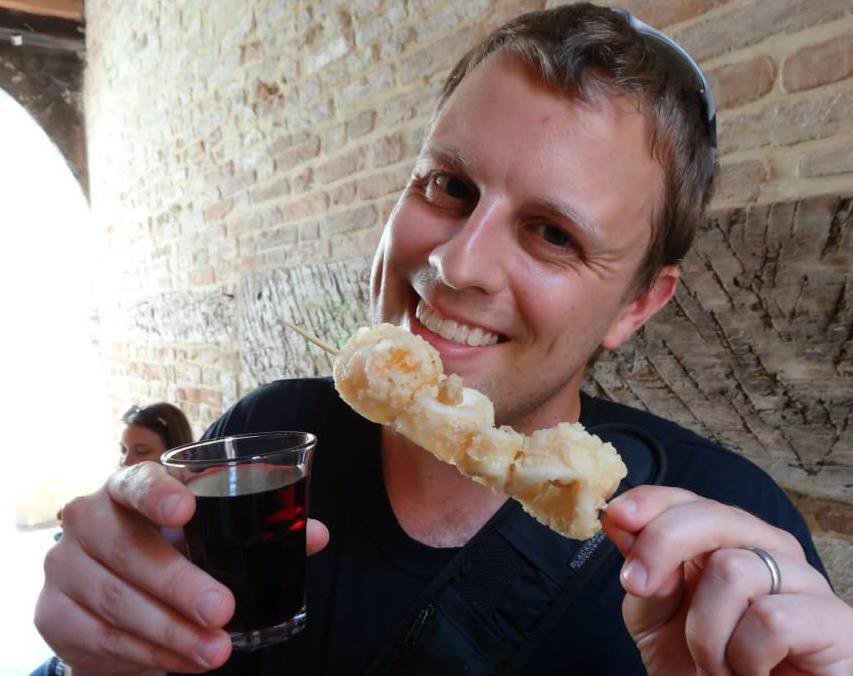 About the Author: Jeremy is a full-time travel writer based in Pittsburgh and primary author of this site. He has been to 70+ countries on five continents and seeks out new food, adventure activities, and off-the-beaten-path experiences wherever he travels.