Last Updated on August 14, 2022 by Jeremy
Disclaimers: Our site uses demographic data, email opt-ins, display advertising, and affiliate links. Please check out our Terms and Conditions for more information. Listed prices and attraction details may have changed since our visit and initial publication.
After arriving in Guilin, my very first order of business after settling into my hostel was to make a trip out to nearby Reed Flute Cave. 
Reading about it online and seeing pictures of the iconic scenes placed it as my top site in Guilin to see, apart from trips out to Yangshuo and Lonji. 
After returning from the cave, however, it seemed like every traveler I spoke to had not only missed seeing the amazing wonder but did not even know it existed.
To me, this was very reminiscent of the Monkey Park experience just outside of Kyoto Japan. Of which I've already had people tell me they enjoyed it based on my advice.
So, to put it bluntly: when visiting Guilin, do not miss Reed Flute Cave
Reed Flute Cave is a Must See in Guilin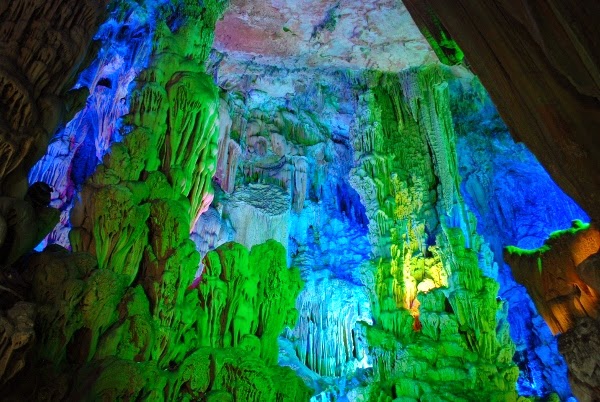 Reed Flute Cave is located approximately 7 kilometers outside of the center of Guilin (a unique destination that is more used as a jumping off point to get to Yangshuo). A 30-minute bus ride or 7-minute taxi ride will get you to the doorsteps of the cave. 
Being cheap-but-lazy I naturally paid the taxi to take me there. A modest entry fee later gets you in the door.
Reed Flute Cave is Stunning
The tour area of the cave is a one-way walking path up and down throughout various beautiful stalagmite and stalagmite formations. 
Groups are taken in about 25 people at a time by Chinese or English speaking guides, although for the life of me could not find an English speaking guide so I went in with the Chinese groups. Anyone who has a basic understanding of cave formations can get by just fine without a guide, and it is nice to just wander on your own terms anyway.
Immediately the cave presented itself in full beauty, heightened by the fact that every formation is lit up in multi-colored artificial light. 
Tripod in hand, I had quite a blast photographing the wonderful features and was split up from the group within the first 10 minutes.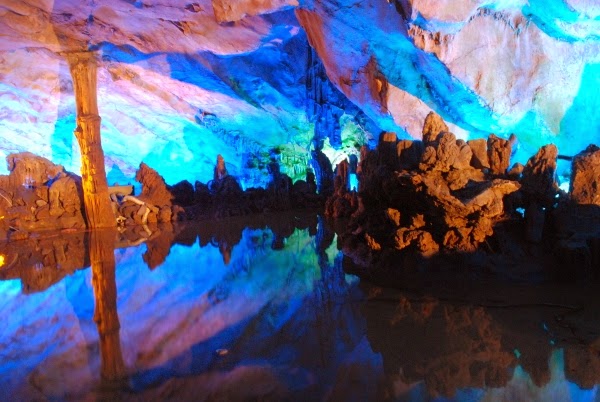 If you were to believe other limited reviews online, you may think that the lights are turned off when groups are not passing through the main area of the cave (suggesting you may want to stick with the group). While this is true, they are only turned off for moments and they come on quickly as the next group approaches. 
Even without lights, the scenes are amazing. 
Like many caves throughout the world, popular formations at Reed Flute Cave are given titles- and the Chinese to English translations are quite humorous in their descriptiveness (such as "Lion Seeing Off His Guests"). Some have audio playing from a nearby speaker to produce an amazingly beautiful and serene environment as well.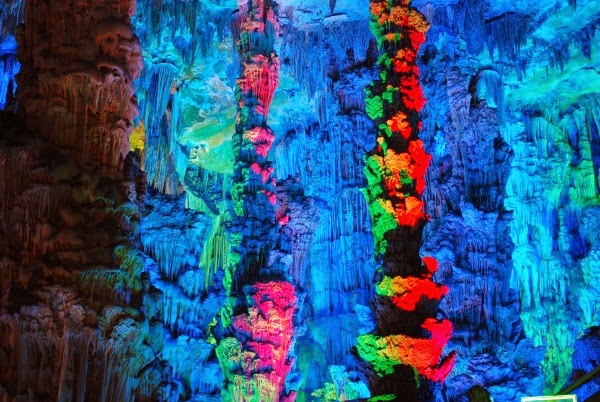 Other travelers whom I spoke with visited other caves in Guilin, and were incredibly disappointed by the sheer fact that they are not caves but rather openings in the side of a hill. 
Reed Flute Cave, however, is one of the biggest caves I've ever been in and spent nearly 2 hours wandering around and taking massive amounts of pictures along the way (60-75 minutes likely normal speed). 
When you have an SLR and a tripod, well, its what you do.
Getting to Reed Flute Cave
For those wanting to head to Reed Flute Cave, a bus line leaving from central Guilin is available for just a few yuan. Unlike most cities in China, where taxis are sparse, Guilin seems to be overflowing with them. In fact, many wait in front of all the hostels and hassle you every time you leave. 
The one downside? Well, they don't like to use the meter.  Luckily, on the return trip, my driver logged the journey on the meter (likely for business purposes) and came to be only a few yuan less than my rate- so I wasn't getting ripped off too much.
Getting good pictures by hand with or without flash is near impossible in the low light caves even with the massive amounts of colored lighting, luckily the workers do not care if you bring in a tripod. So if you have one, do yourself a favor, bring it!
About Jeremy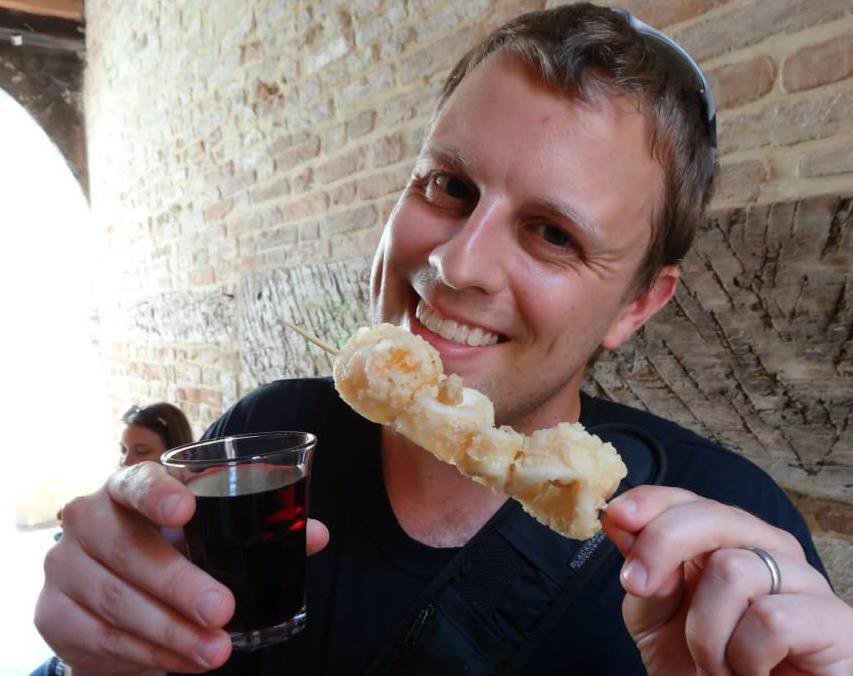 About the Author: Jeremy is a full-time travel writer based in Pittsburgh and primary author of this site. He has been to 70+ countries on five continents and seeks out new food, adventure activities, and off-the-beaten-path experiences wherever he travels.