Published by Guest Blogger. Last Updated on January 23, 2023.
Disclaimers: Our site uses demographic data, email opt-ins, display advertising, and affiliate links. Please check out our Terms and Conditions for more information. Listed prices and attraction details may have changed since our visit and initial publication.
The largest glacier in Europe is an impressive natural phenomenon. Below unusual shapes of the ice there are hidden ice caves and Iceland's tallest mountain – Hvannadalshnjúkur. Vatnajokull glacier hike is a magical experience that cannot be missed when visiting Iceland.
Admiring different textures and shades of the ice is really amazing. Hiking next to the ice walls is never the same due to the variety of glacier's shapes. This wonderful experience is ideal for those who are looking for an unforgettable adventure in the land of the ice and fire.
Is the Vatnajokull Glacier Hike Worth It?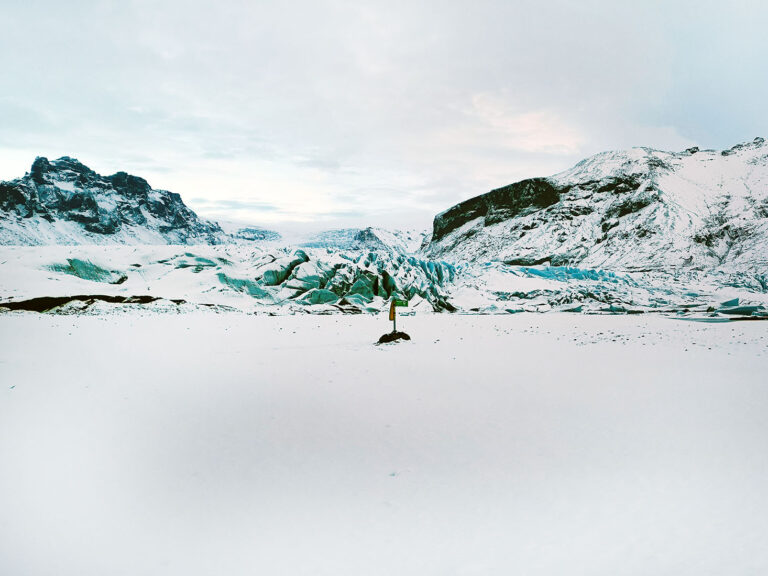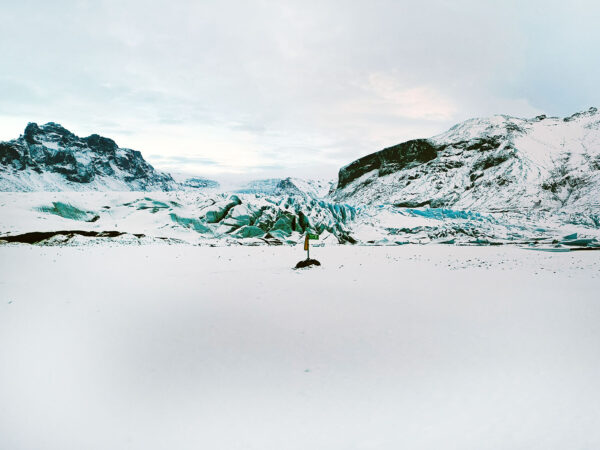 The glaciers keep changing all the time so you will never be able to get the same photo as you find on the internet. However, vertical ice walls will always impress its visitors. To me, the glacier hike is one of the best things to do in Iceland.
If you are a fan of the movies, there is no better place to explore than Skaftafell National Park. Many films such as Game of Thrones, Interstellar or James Bond were created in this area. Who wouldn't want to visit one of the best filming locations in Iceland?
Best Time to Visit Skaftafell National Park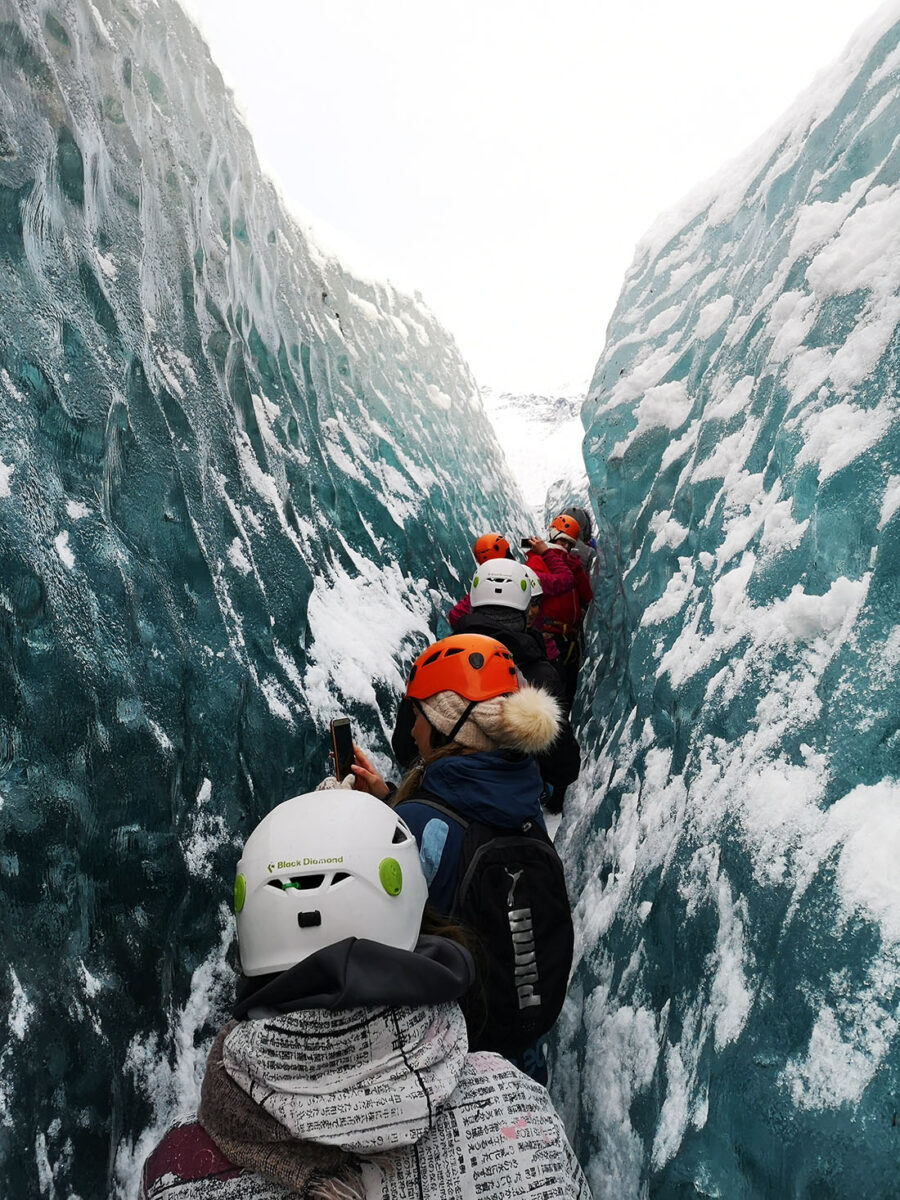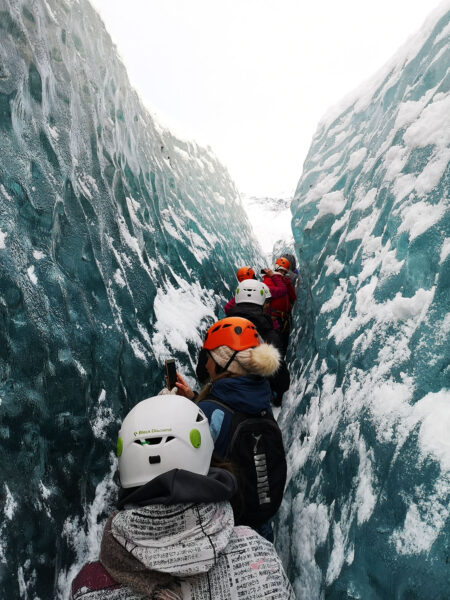 If you want to explore glaciers, the best time to visit Iceland is in winter. Between November and March you can go inside the ice caves and admire their beautiful blue shades. Vatnajokull glacier hike in winter will also allow you to avoid crowds.
Skaftafell National Park looks incredible when it is full of white snow. Glacier lagoons with huge pieces of ice create beautiful scenery. With so many breathtaking views, this part of Iceland offers excellent photography opportunities.
How to Get to Skaftafell National Park?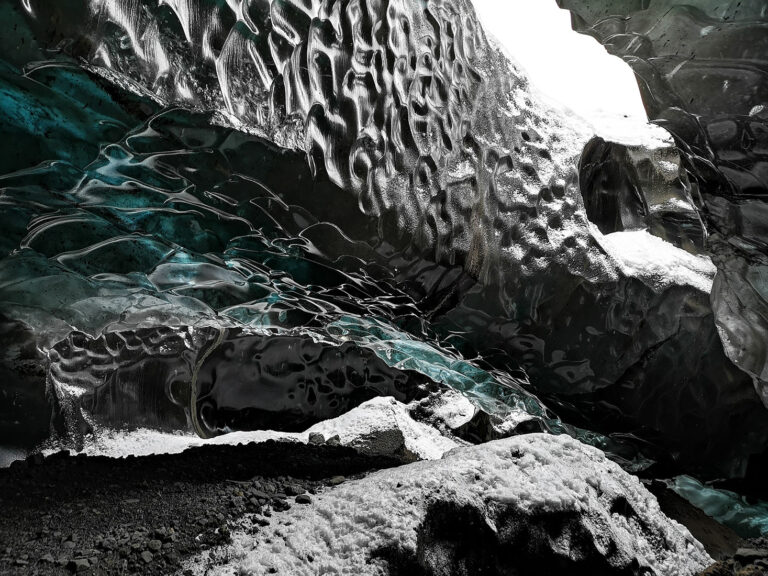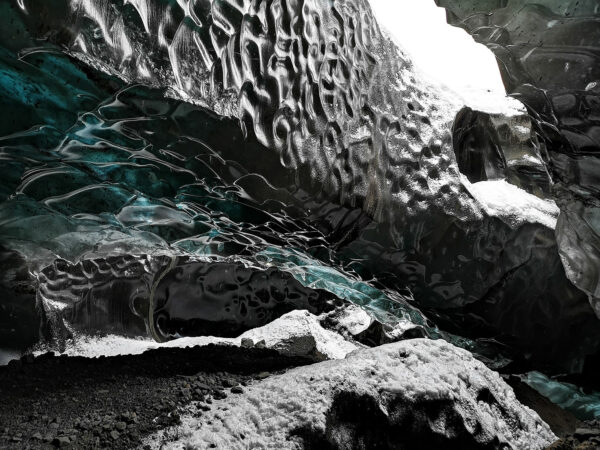 Firstly, book your Vatnajokull glacier tour online with a company experienced in glacier hikes such as Glacier Guides or via a 3rd party like Viator. Next, drive to Skaftafell Visitor Center where you will find a lot of parking spaces and information about other amazing places to see nearby. Finally, get ready for one of the best hikes in your life!
Vatnajokull glacier hike starts in Skaftafel National Park, which is four hours drive from Reykjavík. The beautiful scenery of this location will make you fall in love with Iceland. Not only glacier, but also Svartifoss waterfall and active volcano will amaze you when you arrive there.
What to Wear on a Glacier Hike?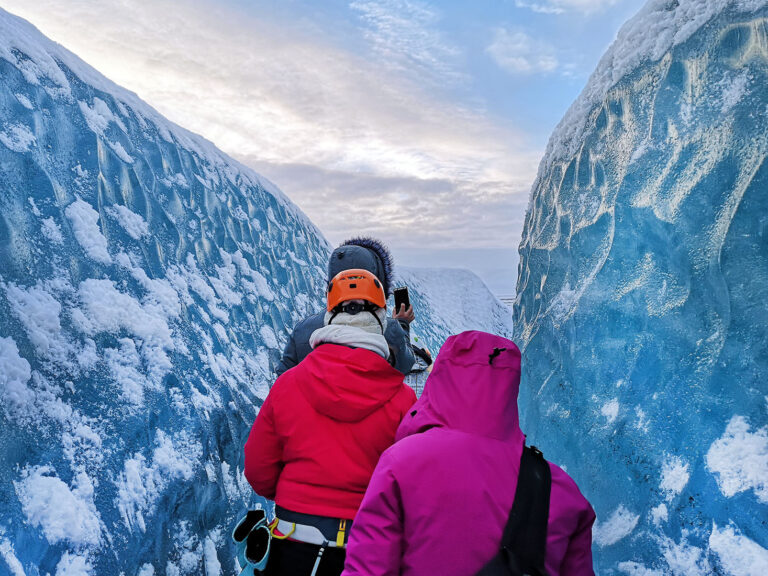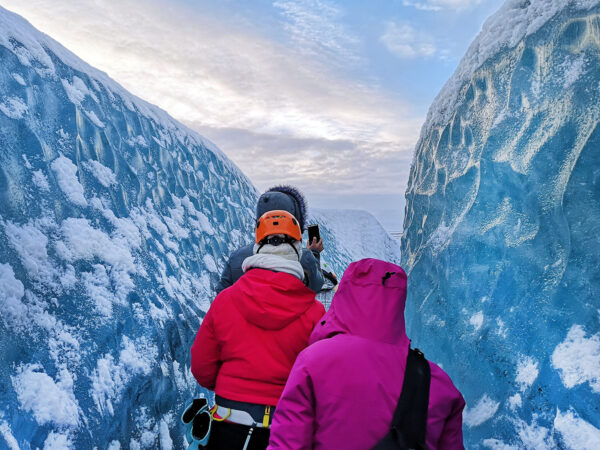 To make walking on ice easier, you will get crampons from your guide. However, make sure to wear good hiking boots that cover ankles. Waterproof pants and jacket are also essential during the hike.
Other equipment, like a helmet and an ax typically come with tours as well. Make sure to take some creative photos with it, as you won't really need it for anything else. Keep it tight during your hike and never drop it as you might not find it again.
How Difficult is Vatnajokull Glacier Hike?
The glacier hike is not very difficult, however you should feel comfortable with hiking before booking this tour. It is not too steep, but might get very narrow in some areas. Just keep in mind that you will be hiking in a deep open crack of the ice.
Sometimes it gets so narrow that you will be able to put only one leg between two walls of the glacier. Hiking might not always be comfortable for you, but definitely worth this amazing experience. Especially, when you can be so close to the glacier that you can touch it and see its enormous size.
How Long is a Glacier Hike?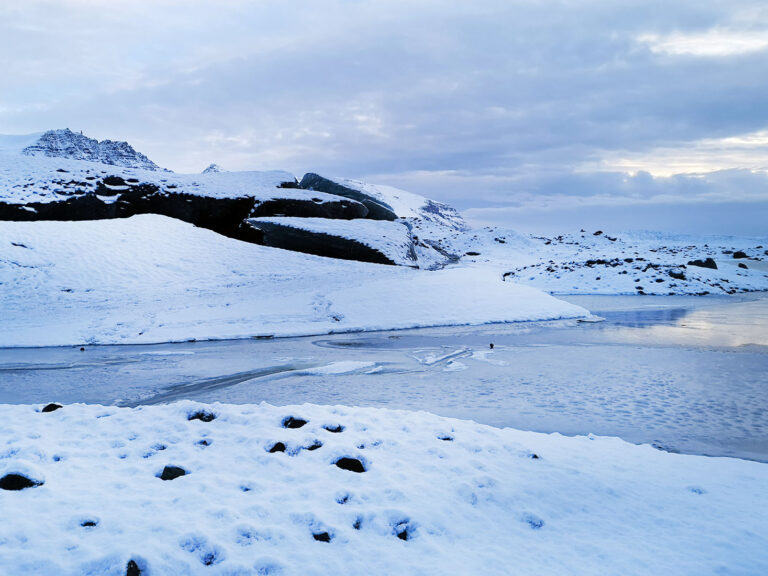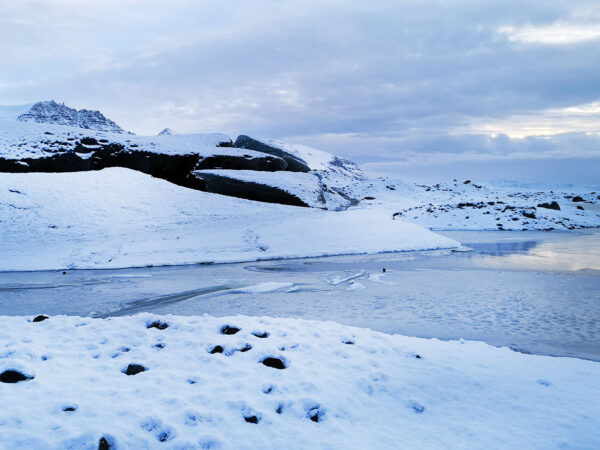 Vatnajokull glacier hike takes up to four hours. There is a lot of hiking with a few short breaks for visiting the ice cave and admiring views from top of the glacier. Also, a couple of quick stops to take pictures next to the most beautiful ice walls.
For capturing the best photos, hike at the end of the group. This way you can turn around and snap a picture without any other tourists. On the other hand, leading the group will also allow you to hear your guide better and take some great shots too.
Where to Stay Nearby?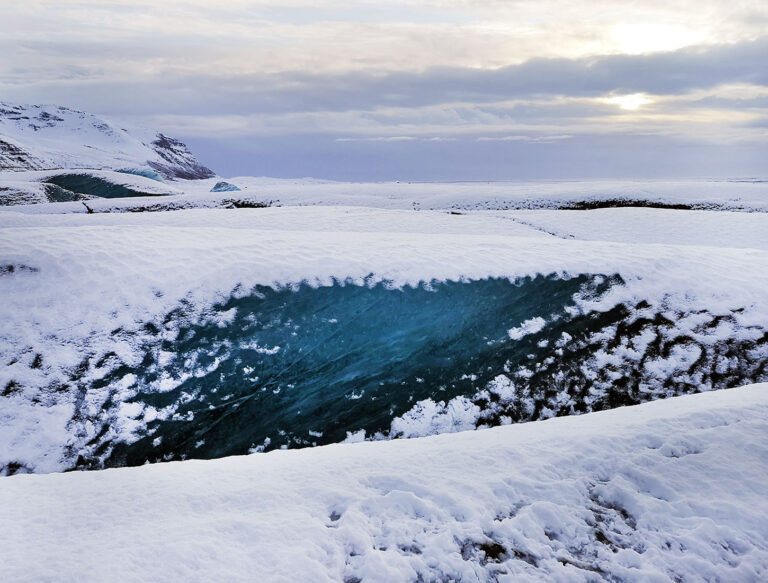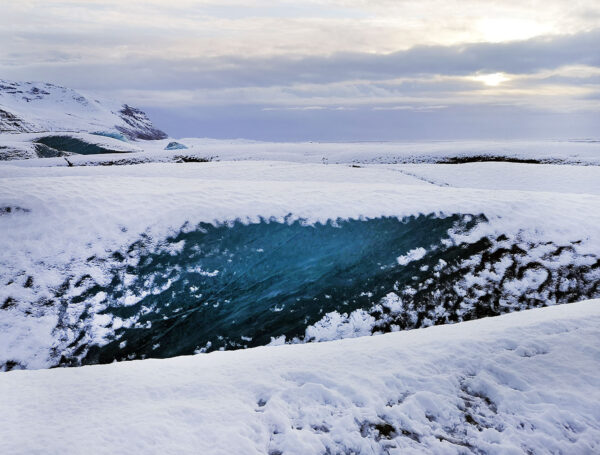 With a small number of hotels and big interest in this area, there are not many choices. You can book your stay in Fosshótel Núpar, which is 40 minutes drive from Skaftafell National Park. It is much cheaper than most of the hotels located closer to the glacier.
If you want to be just 10 minute drive from Skaftafell Visitor Center choose Hotel Skaftafell. Just keep in mind that you will have to pay double for every night you stay there. Iceland is not the cheapest country, so plan your trip wisely!
About the Author: Paulina is author of Ukeveryday. She loves hikes in Iceland, Wales, or Scotland, and her blog was shortlisted as one of the Top 70 UK Travel Blogs to follow.
Images were provided courtesy of Ukeveryday.