Published by Guest Blogger. Last Updated on January 4, 2022.
Disclaimers: Our site uses demographic data, email opt-ins, display advertising, and affiliate links. Please check out our Terms and Conditions for more information. Listed prices and attraction details may have changed since our visit and initial publication.
Traveling to Tibet through central China is a transformative experience; the journey itself is almost as interesting as actually visiting Tibet, an autonomous region within China.
I worked in China for about 8 years. This trip to Tibet was a team-building exercise with our local representatives in China. My partner and I were the only non-Chinese speaking Westerners.
There are many different roads and transportation options for traveling to Tibet. We opted for traveling to Tibet by private vehicle from Xining to Lhasa, a popular but very arduous route offered by many companies (so evaluate them before you pick one). A train line also exists as well.
Here is a peek into our experiences across central China to Lhasa, the capital of Tibet.
Traveling to Tibet Through Central China – The Beginning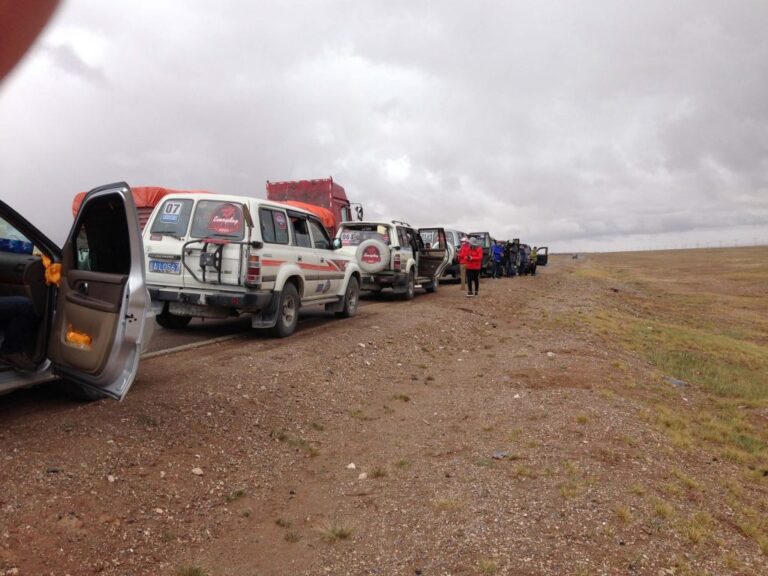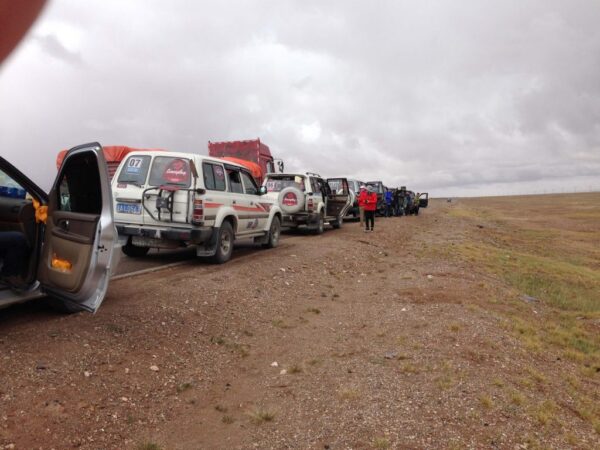 The journey began in Xining, a pleasant bustling central China town with really good food. We flew there from Beijing where all the team members from across China gathered. The group had hired Toyota Land Cruisers for the journey. The trip took about three days. I had experienced travel in China by ship, train, car and bus but never in a caravan!
Heading south our next big town was Golund. A Golund review from a China guidebook stated, "Unless you are a hydraulic engineer or a fugitive hiding from the law there is no earthly reason to go to Golund." After a quick bowl of noodles, we moved on from Golund so weren't there long enough to verify this claim.
Proceeding on endless roads through central China on our 12-vehicle caravan, the most notable landscape feature was the total isolation. We'd go hours through vast wind-swept plains and deserts without seeing even a lone wild goat.
In some places the road disappeared altogether. We'd be driving then suddenly, no road, and we'd see teams of workers preparing the ground for road building. In these cases, we'd divert and drive on dirt roads until we again met the asphalt.
We had been warned to watch out for two things while we were traveling to Tibet. One was to be prepared for the high altitude. The other was that the local authorities would check our papers, so we were not surprised when we were stopped.
The closer we got to Tibet the longer and more thorough the inspections became, although they were never threatening in anyway. On the contrary, these guards were incredibly friendly and probably bored to death in the isolated countryside. They practiced their very limited English on us, "How many years you have?" laughed, and exchanged local dried fruit for Oreo cookies.
Camping in Tibet by Qinghai Lake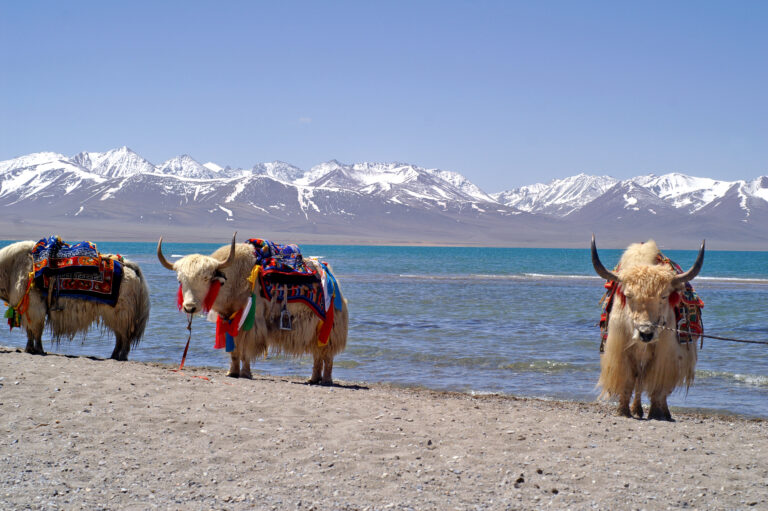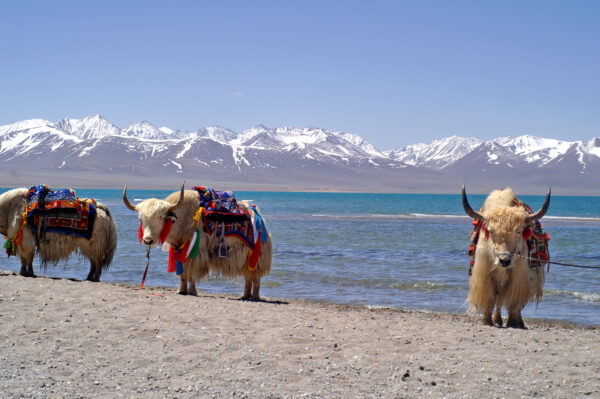 Our first night found us by Qinghai Lake where we camped in tents by the lake. For dinner, someone went into the local town and acquired a fat sheep. He killed it by strangulation rather than slitting its throat in order to "save the blood." Perhaps something was lost in translation, but I wasn't sure what that meant and opted not to pursue it. We roasted the sheep on the fire to a delicious crisp. Talk about farm to table! It was delicious.
During our meal the town's mayor, or equivalent, came to see what we were up to. I thought perhaps we had violated a town regulation like "no butchering animals within city limits." An animated conversation with some of our group members resulted in the mayor sharing our meal and toasting to our trip's success with baidu, a very strong Chinese alcoholic drink. A few hours later he was still with us raising his glass with an enthusiastic, ganbei!
We pitched our tent to get ready for a well needed rest but before climbing into our tent I looked at the sky. The stargazing you see on the China plains is magical. The total lack of any artificial light creates a crystal-clear sky with furiously bright clusters of stars! Seeing this is a once-in-a-lifetime experience.
At night, the perfect silence was punctuated by the sounds of confused and surprised people entering their tent after relieving themselves only to lie next to a total stranger. All the tents looked the same, especially in the dark! The next day there were many laughs to go around.
Tibet's Altitude is a Serious Concern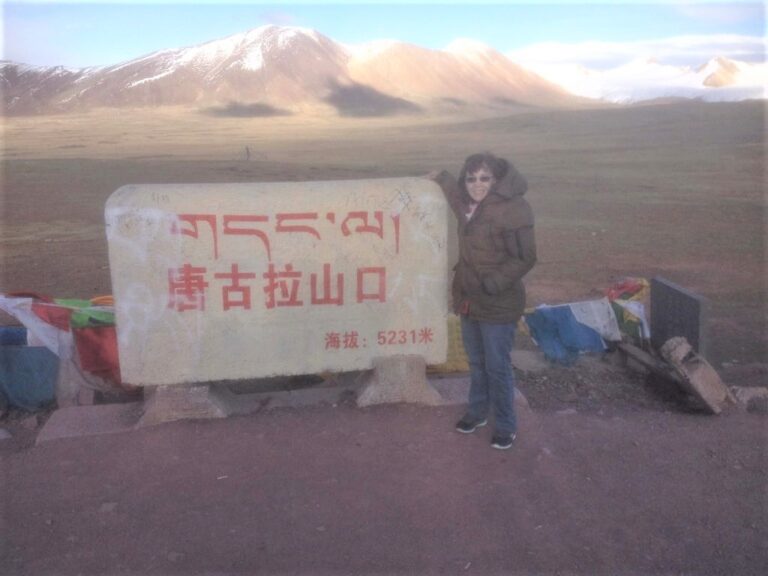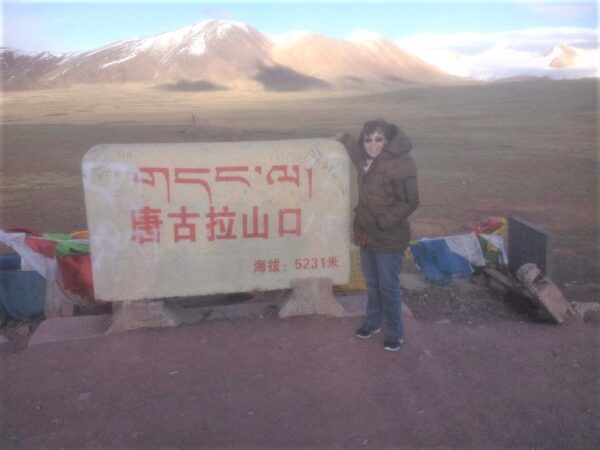 They weren't kidding when they warned us about the altitude on our way to Tibet. Altitude medicine is a must. A portable oxygen tank is also needed. Depending on what part of the country you enter Tibet, you are likely to need oxygen. The good news is that oxygen tanks are available in many locations where they are likely to be needed.
The best strategy for dealing with altitude sickness is to acclimate yourself slowly. Start taking altitude medicine as prescribed in the beginning of the trip and continue as you get closer to Tibet. In our case we had brought Western altitude medicine with us from the States and started taking it in Xining at an altitude of 2,300m above sea level.
We continued our regimen throughout the trip. For further insurance, we obtained Chinese altitude medicine in tea form in Xining.
We were so apprehensive about the altitude that we combined our Western altitude pills with our Chinese tea. We still felt the effects of the altitude but although many in our group were frequently prostate and needing oxygen, we persevered with only a little lightheadedness.
On our second night, we checked into one of those massive Chinese hotels with, like, a million rooms that you find throughout the interior of the country. Despite its size it had almost no guests. I tried the oxygen tank in my room even though I didn't need it and couldn't get it to work. I guess had I really needed it I would have had to call room service, "Hi, would you please bring an oxygen tank to room 1967274?"
On our third day, I reached the highest point I've ever achieved without a plane; 5,231 meters above sea level, or 17,628 feet. Everest is 29,029 feet so this was almost two-thirds the height of Mount Everest! At this height it is very cold. We wrapped ourselves in anything we found until we all looked like raggedy little Michelin men.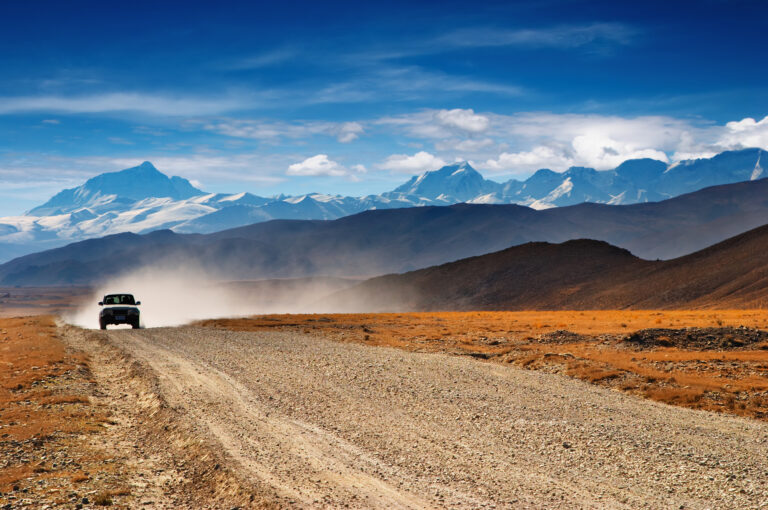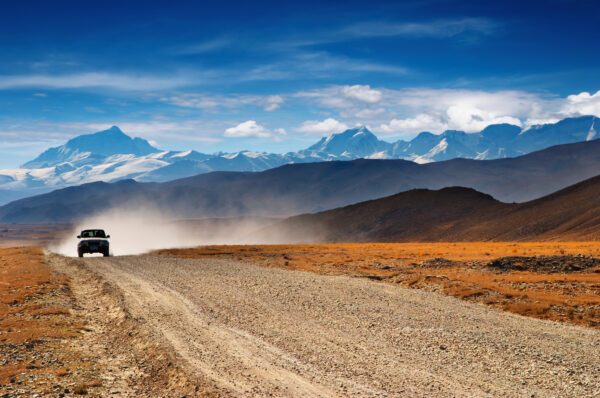 Breathing was labored. We had to do everything in slow motion because any exertion at all would immediately cause exhaustion. The way we looked and moved was so ridiculous it made us laugh, a strenuous effort that caused us to lie down wherever we were.
In the midafternoon of the third and final day of traveling to Tibet we drove into Lhasa, the capital of Tibet. Visiting this fabled city with its Potala Palace and Barkhor Street had always been a dream of mine. And here I was.
All I could think of was the legend of Chinese Princess, Wencheng from China's Tang Dynasty, 618 to 907 AD. She took this same route so she could marry the king of Tibet. It must have taken months for her and her entourage to make this same journey.
How to Get to Tibet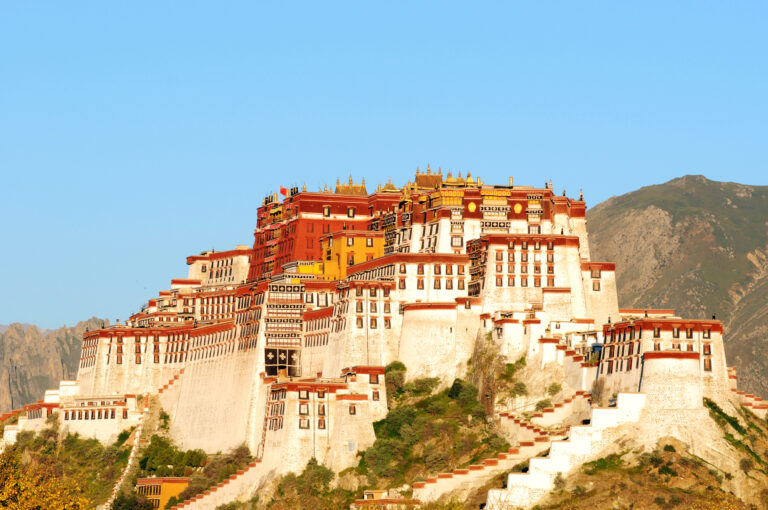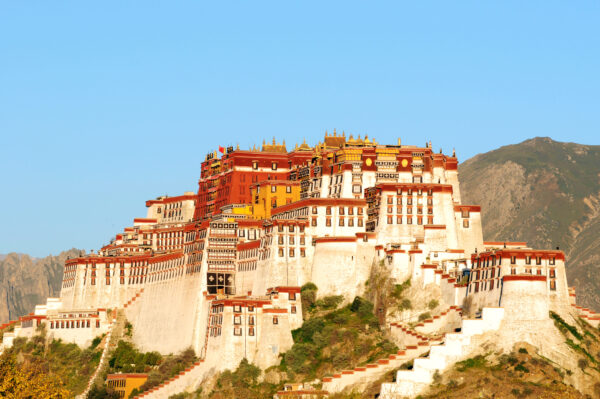 Political turmoil occasionally flairs up in Tibet, so the government of China tries to maintain strict controls on tourism to Tibet.
The regulations for non-Chinese visitors to Tibet change frequently but some standards have been consistent for a while. For example:
Independent travel is prohibited.
Non-Chinese tourists can only enter Tibet with an organized group.
Foreigners must remain with the same group throughout the entire trip.
I had been told that non-Chinese tourists were required to be isolated from Chinese travelers during the trip and that they had to be guided by a guide especially for them. I did not have that experience. We mingled with our Chinese counterparts, did everything they did, went everywhere they went and had the same guide.
Foreigners wanting to visit Tibet will need a China visa but also a separate special permit to enter Tibet. This is called a Tibet permit and can only be obtained from the Tibet Tourism Bureau and agencies authorized by them.
All these rules and regulations may sound daunting but, in fact there are many local, government-approved agencies that will help arrange the entry process so that it is efficient and quick. These local agencies work with tour companies around the world.
A quick Google search will identify any number of companies offering Tibet tours and making the experience seamless. These agencies can also craft Tibet expeditions to a customer's specification including camping and caravans through central China.
Traveling to Tibet is a journey you will never forget.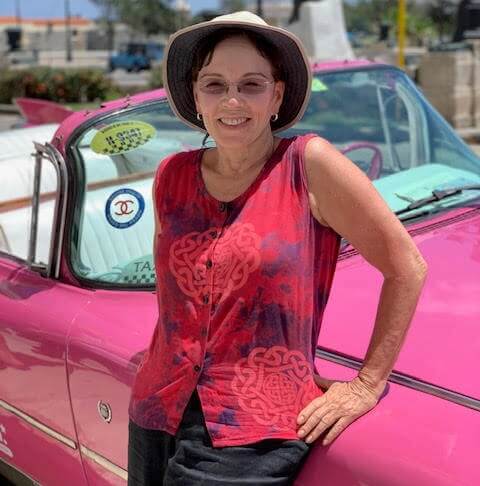 Talek Nantes is an Amazon best-selling author, digital content creator and founder of the travel blog,
Travels With Talek
. She is a passionate travel enthusiast who enjoys sharing her travel experiences with others through cultural tours to Cuba and other destinations.
Images were provided courtesy of Travels with Talek and via stock photography.