Published by Kendrick. Last Updated on August 26, 2019.
Disclaimers: Our site uses demographic data, email opt-ins, display advertising, and affiliate links. Please check out our Terms and Conditions for more information. Listed prices and attraction details may have changed since our visit and initial publication.
While looking at the world map, I stumbled upon this tiny country that is strangely completely surrounded by Italy. I thought to myself…I wonder what's there? Since planning my trip to Europe, I decided to make it my mission to visit San Marino.
Exploring the Landlocked Country of San Marino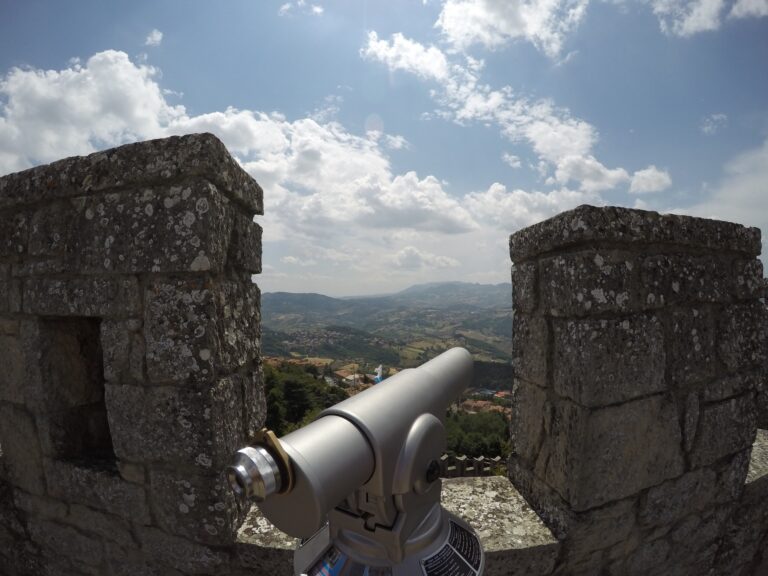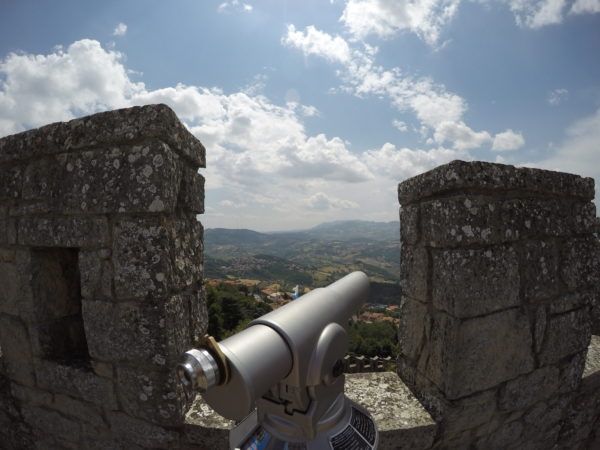 Claimed to be one of the oldest republics in the world, San Marino is a wealthy country that relies heavily on its banking and tourism as their main source of income. San Marino is also one of the few countries in the world that has more cars than people.
I'm always curious to find out what lies in those mysterious tiny countries. When I got the opportunity to visit San Marino, I jumped on it right away.
In order to reach San Marino, you must first go to an Italian city called Rimini. Here, many people setup base and do a day trip up the tiny country. I stayed in a hostel in Rimini and the next day took a bus up to San Marino the following day.
The cost of the bus ticket up San Marino is 10 Euros round trip and can be purchased at the visitor's centre right beside Rimini's central train station.
The bus stop where you need to board the bus to go up San Marino is located right across Rimini's central train station right beside Burger King.
The journey up to San Marino takes roughly one hour if I remember correctly and was quite a pleasant ride.
As soon as I arrived in the bus station in San Marino, you are literally dropped off near the city centre and can begin exploring this city right away.
My first impression was that this city is quite picturesque. The roads, the mountain view, everything is beautiful here.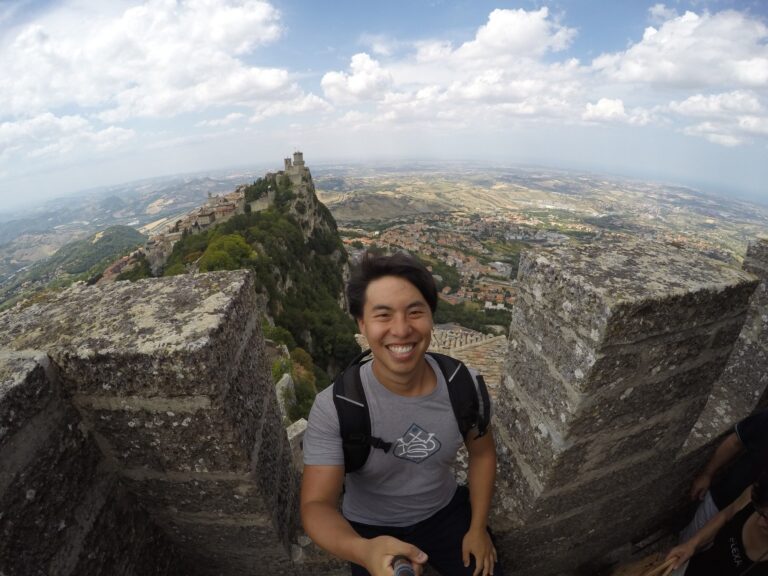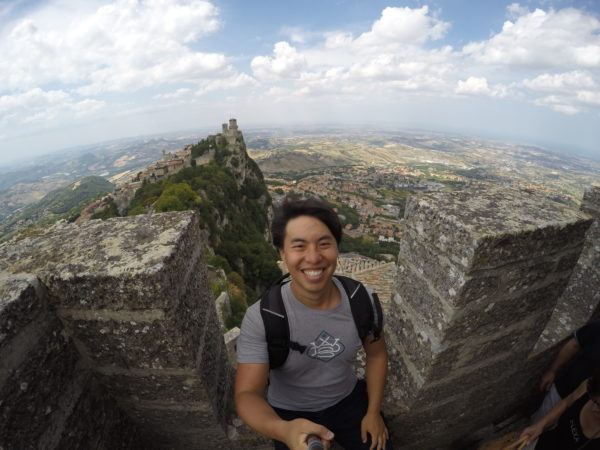 Many guards wear a neat green uniform and they are more than happy to stand beside you to take pictures!
My roommate from New Zealand and myself made our way to the main attraction of the country which is the three towers at the highest points of the old city. Of the three towers, only two are accessible. The entrance fee to enter both castles is quite affordable at 6.50 Euros.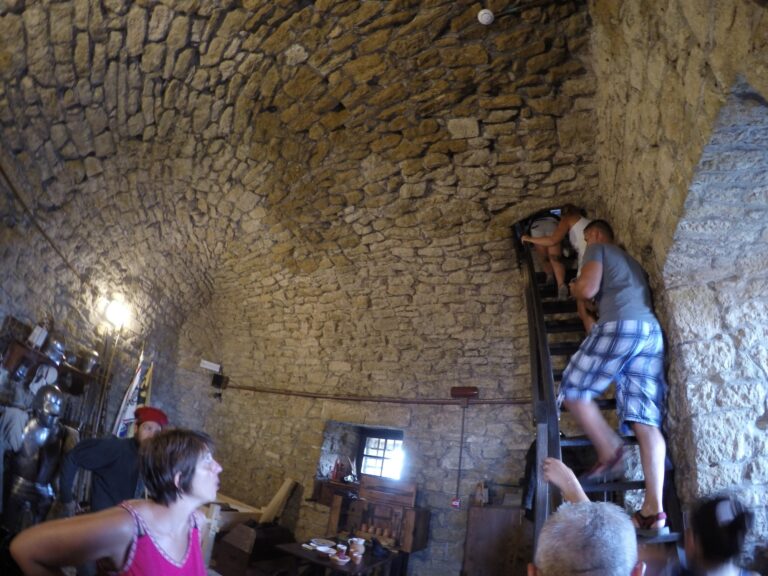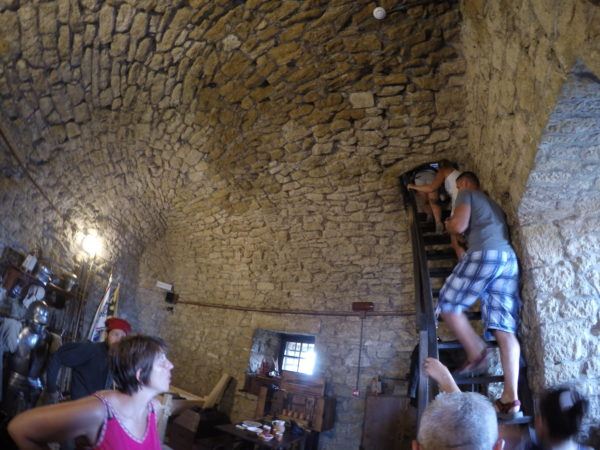 I would have to say that it is definitely worth seeing both castles. The view from both castles is amazing and I got some of the best photos I've taken during my one year trip around the world here.
They also had some actors dwelling in the castle pretending to be living the life back in medieval times. Everything in the castle was well preserved and they even had medieval music playing in the background!
After an enjoyable time exploring both castles, my roommate and myself went to eat some pasta before we went back to the bus station to catch the bus back.
I ended my day in San Marino by getting an Italian gelato before heading back to my hostel. I've got to say, this was one of the best sight seeing days while travelling in Europe. If you ever visit Italy, don't miss a day trip up San Marino! It's going to be a fun filled day for you for sure.
Book a Train Ticket in Europe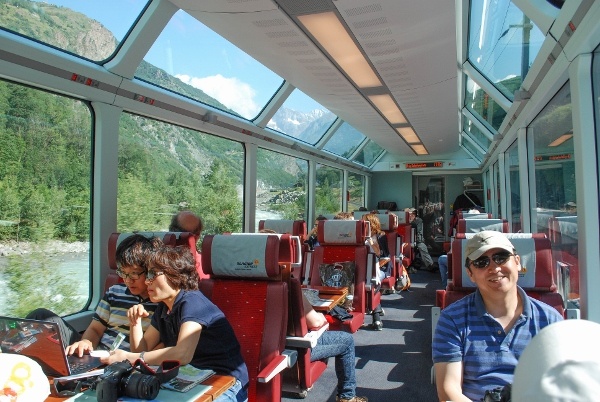 Want to learn more? Check out our Omio review!
About Kendrick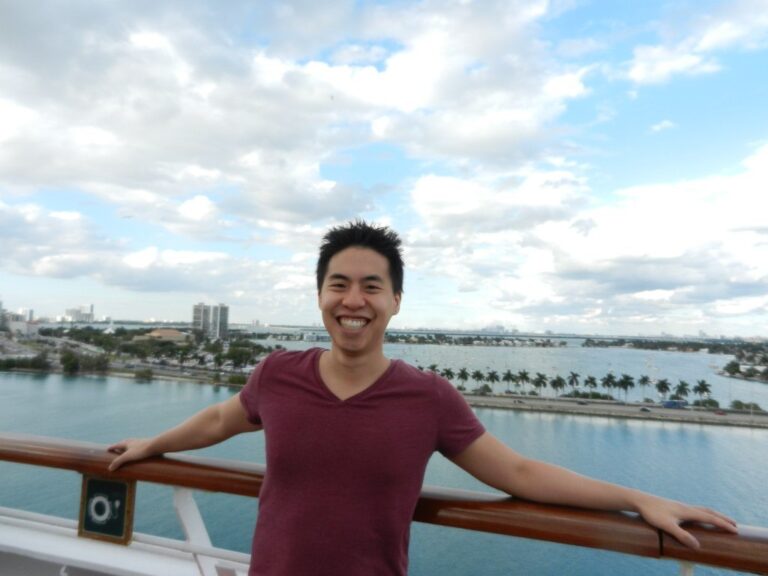 About the Author: Kendrick of Travel and Live Free was a contributing author to share stories from his trip around the world from 2016 to 2017. He now has the goal to visit every country in the world in the next few years.