Last Updated on September 8, 2023 by Jeremy
Disclaimers: Our site uses demographic data, email opt-ins, display advertising, and affiliate links. Please check out our Terms and Conditions for more information. Listed prices and attraction details may have changed since our visit and initial publication.
So, you've decided you want to visit Norway and explore the gorgeous Scandinavian country.
How are you going to do it?
Norway is an interesting country if only because there are so many ways to get around, be it by car, camper van, or even a cruise ship, and each has its own pros and cons associated.
So in this one, we thought we'd break down these popular transportation options and share some insights of what you will expect with each in Norway!
Note: Another option we are not discussing in this post is traveling by bus. While it is certainly possible to visit many major cities and even small fjord towns by bus, your options to get out and explore from there are limited significantly without access to a personal vehicle or organized day tour. Some destinations are far better for this than others, but we personally would not recommend it.
Pros and Cons of Norway by Car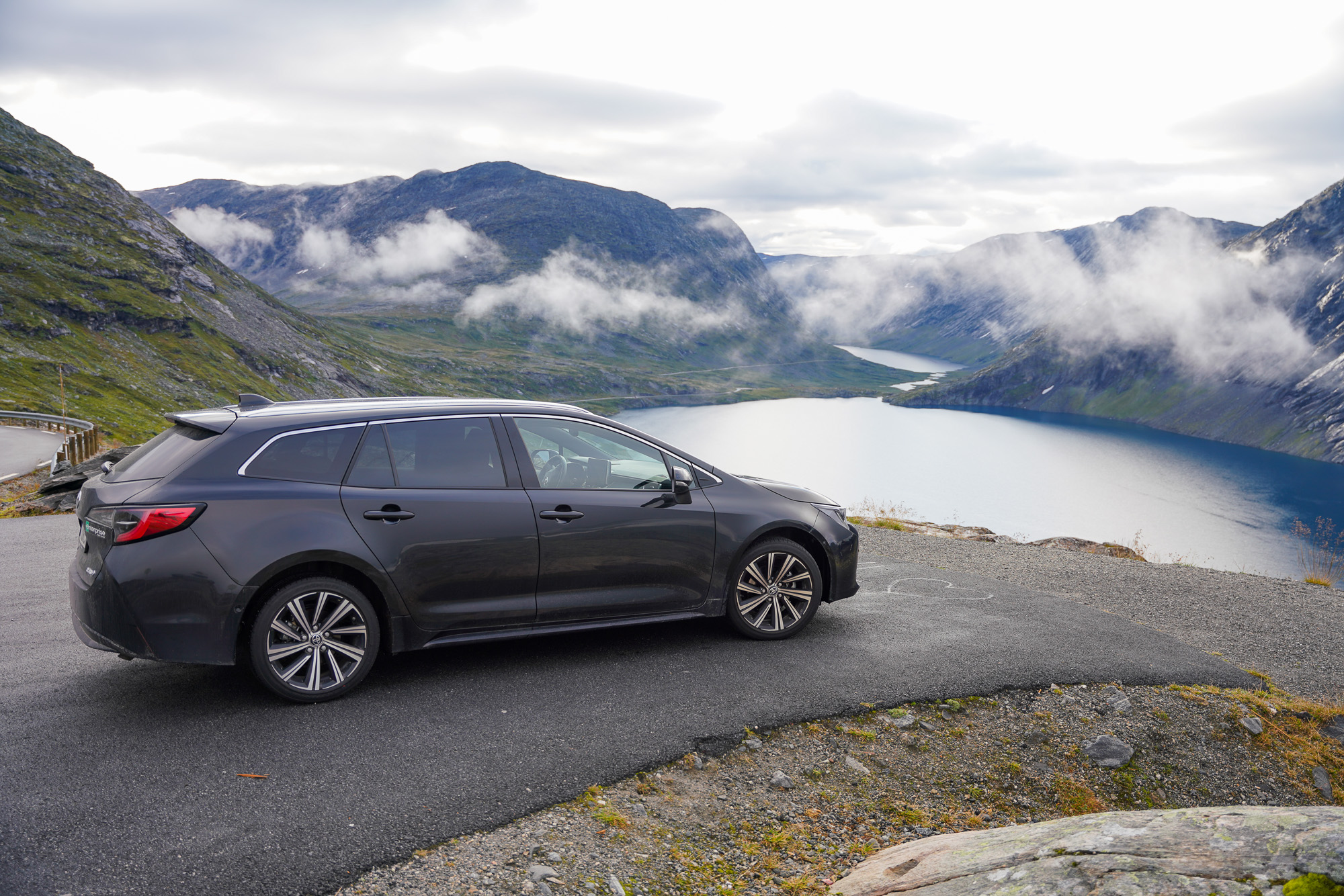 Exploring Norway by car is one of our favorite ways to see the country as you have total control over where you visit while being able to call it the night in the comfort of a hotel or apartment bed.
We had a rental car for roughly 15 days in Norway and covered several fjords, mountain destinations, small towns, and more. Our limitations on crafting our itinerary were minimal, and we had incredible flexibility with our car rental.
On the pro side, driving in Norway in a car is exceptionally easy and Norwegian drivers are generally courteous to others on the road, even in larger towns and cities. That said, narrow roads and switchback mountain passes are present which require careful attention and could give some drivers a reason to pause. While these were quite manageable and, shall we say, almost easy to get used to after a while, the concern is still present.
The major downside to driving is simply the cost- rental cars are not cheap, one-way drop fees are exorbitant (we had to change our itinerary to start and finish from Bergen and saved well over $1,000), there are many toll roads and ferries (admittedly at rather reasonable fees), and gas was about 20-22 krona per liter in our visit in 2023 ($7-$8/gallon- thankfully our hybrid got 45 mpg).
All things being equal, driving was a breeze and allowed us to see a great deal of western Norway despite the cost. By Europe standards, Norway was one of my favorite places to drive to date!
Pros and Cons of Norway by RV or Camper Van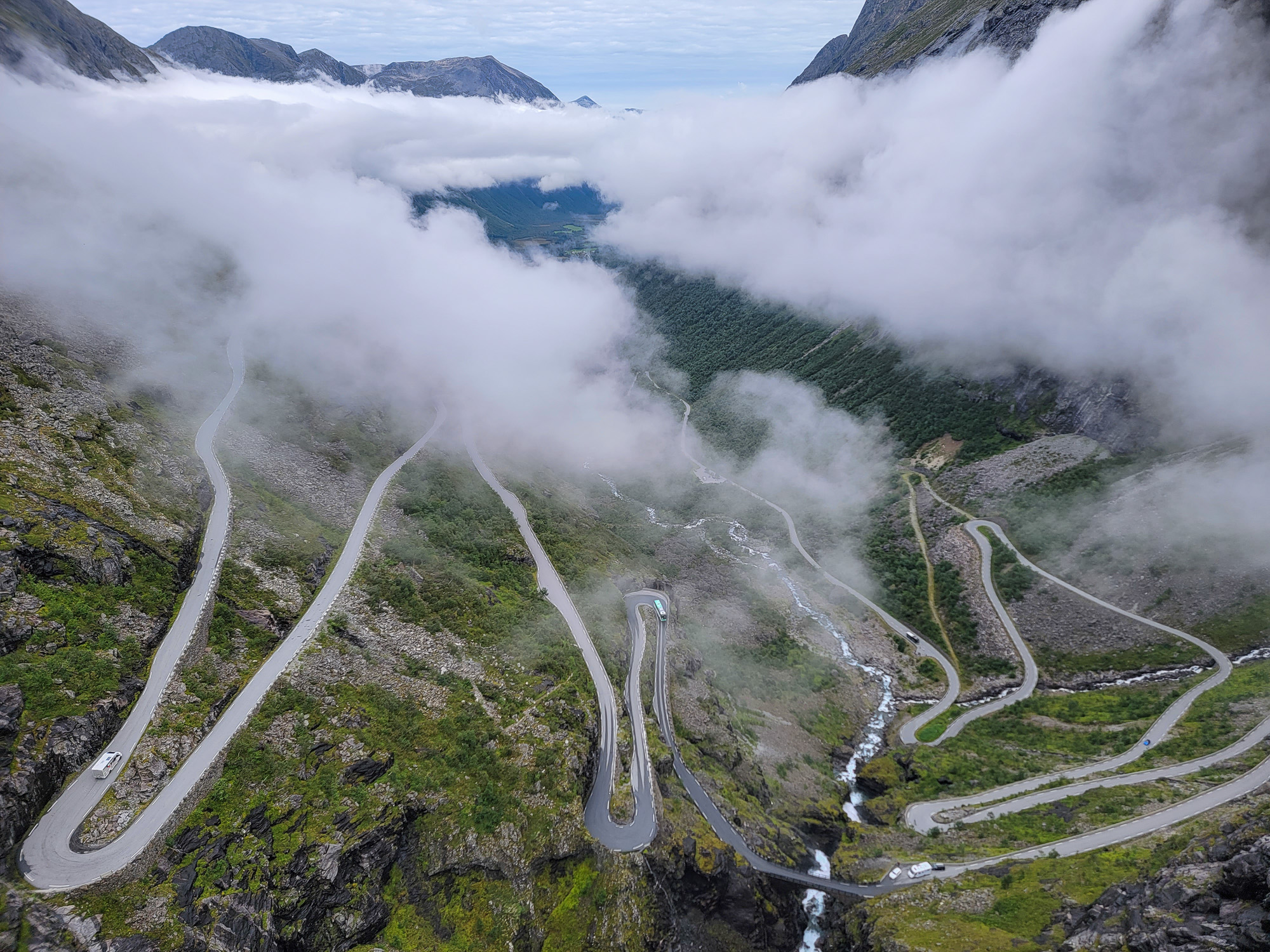 As you will likely visit Norway to experience its beautiful nature, odds are good that renting a camper or RV has crossed your mind as an alternative to a car.
This way of seeing the country is exceptionally popular, and you will see hundreds, if not thousands, of these vehicles on the road when exploring.
On the pro side, these vehicles allow you to take your accommodation with you. Although many public spots prohibit overnight parking, we saw many campers parked at unique locations for the night, which helps significantly reduce spending. For those who want to park at a campsite for more amenities, many were found in gorgeous locations on the fjords, with rather attractive price points relative to hotels or apartment rentals– some as low as $30/night in 2023.
That said, the downsides to these vehicles are many and include increased consumption of gas, added difficulties when driving on narrow roads, and, of course, a more expensive rental cost outright- often double that of a basic economy car. Virtually all of the travelers we saw having issues driving in Norway were in camper vans, which certainly highlights a concern for those who are inexperienced with driving on narrow roads in a large vehicle.
Would I make this my first choice in driving in Europe in a camper van? Absolutely not. But will you save money with a camper or RV in Norway over cars and hotels? It is entirely possible. We have to admit we were surprised to find some budget-friendly accommodations in Norway, but the prospect of a higher rental rate, gas, and possible fees to park at campgrounds can eat into potential savings rather quickly.
Still, waking up with a view of a mountain, fjord, or even a beach really does give camper van life several more pros.
Pros and Cons of Norway by Cruise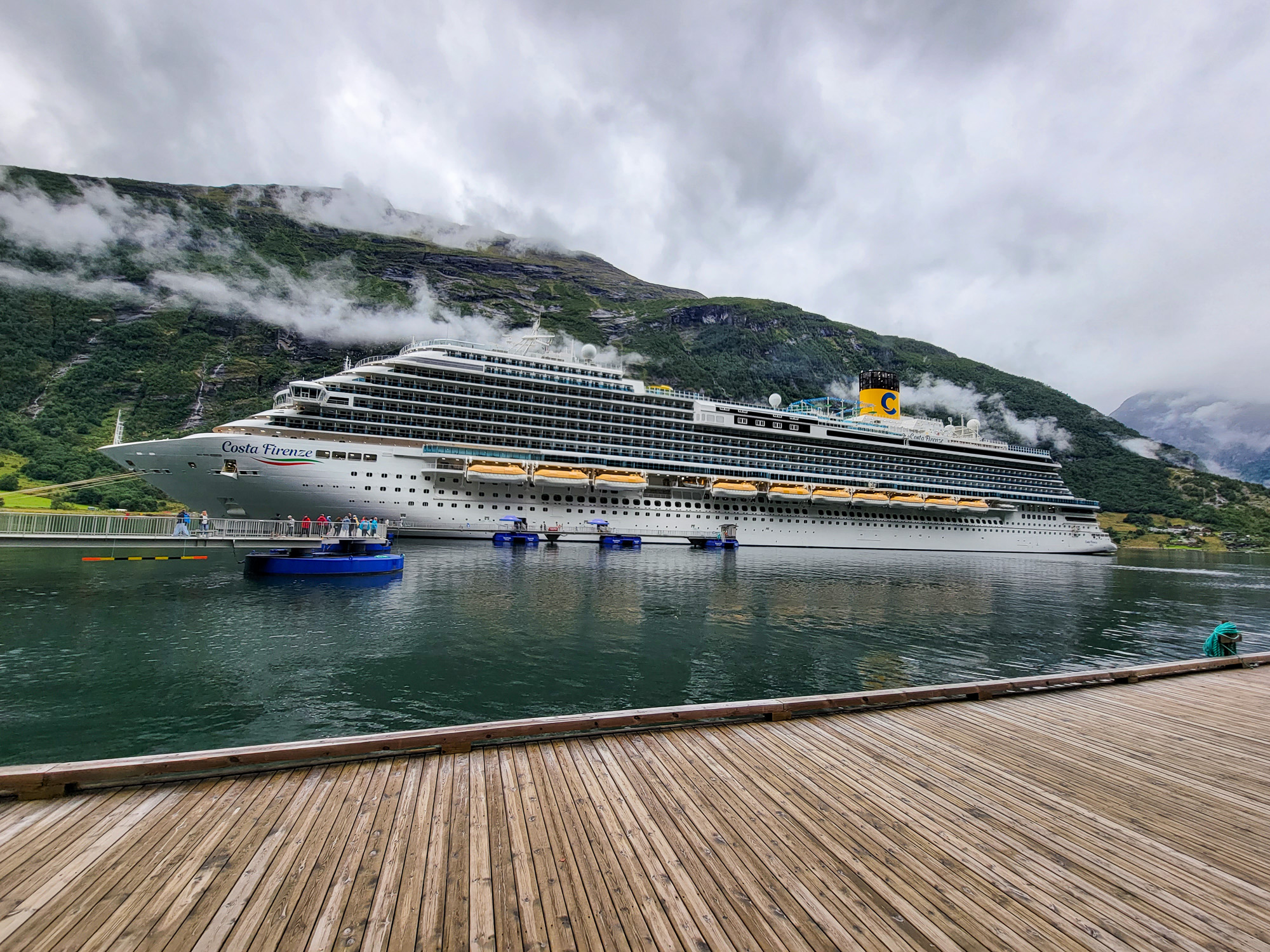 Finally, we come to traveling Norway by cruise ship. This one is particularly popular for those exploring the western fjord towns as ships take all the planning and travel logistics out of your hands in one convenient package. So for easy travel planning, cruises have a big pro by far. Throw on seeing the fjords from the deck of a ship day in, day out, and you have an intriguing option that has become incredibly popular over the years.
Likewise, Norwegian cruise prices can be surprisingly reasonable for base interior rooms, but prices rise dramatically for those who want window or balcony rooms- which we would highly recommend as the fjords are, again, stunning. From there, excursions and other added costs can make cruising significantly more expensive than exploring Norway via car or camper. So while you could possibly save money in some circumstances, you most likely will not.
There are, unfortunately, many other concerns to note when it comes to taking a Norwegian cruise.
First, your time in port is often rather minimal. Boats that spend just five or six hours in a place like Geiranger can miss out on a lot all while paying the same (if not more) than those who stay for two or more nights. Can you get a good feel for a small port town in just a few hours? Absolutely. Are you going to get a full and robust experience of what that place has to offer? Not a chance.
Second, most cruise ships are large. So large, in fact, that towns become flooded with passengers to the point that they simply aren't enjoyable places to exist in. Geiranger is a great example here, too, as the population 250 town can be hit with 5,000+ passengers coming off a single ship at once (or two ships with almost 7,000 in total!). Truly, the cruise-passenger-to-resident ratio in Norway is among the highest we have seen anywhere in the world, and its effects are certainly felt.
Third, cruises cant go everywhere, and those who travel via ship are inherently limited to destinations close to a port. You wont be seeing the beauty of Jotunheimen or the high mountains from a ship, that is for sure!
Finally, it is also worth noting that many cruise routes depart and/or finish elsewhere in Europe, often London, Amsterdam, Rotterdam, or elsewhere, such that additional transit times (and extra time in another destination) are required. That seven-day cruise may, in fact, only be four or five days in Norway after accounting for at-sea days- which is a real shame!
Overall, there are many different ways to travel Norway, and each has its pros and cons. While we are certainly big fans of exploring via car above all others, each has merits you may want to consider when planning your dream Norway trip.
Have you visited Norway before? What method of travel did you use? Comment below to share your thoughts!
Book a Train Ticket in Europe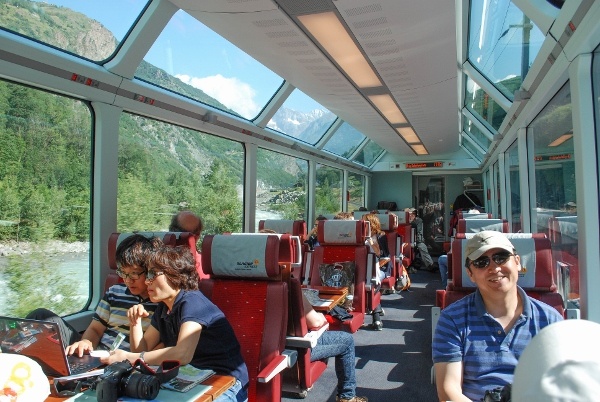 Want to learn more? Check out our Omio review!
Read More from Norway
Read More from Europe
About Jeremy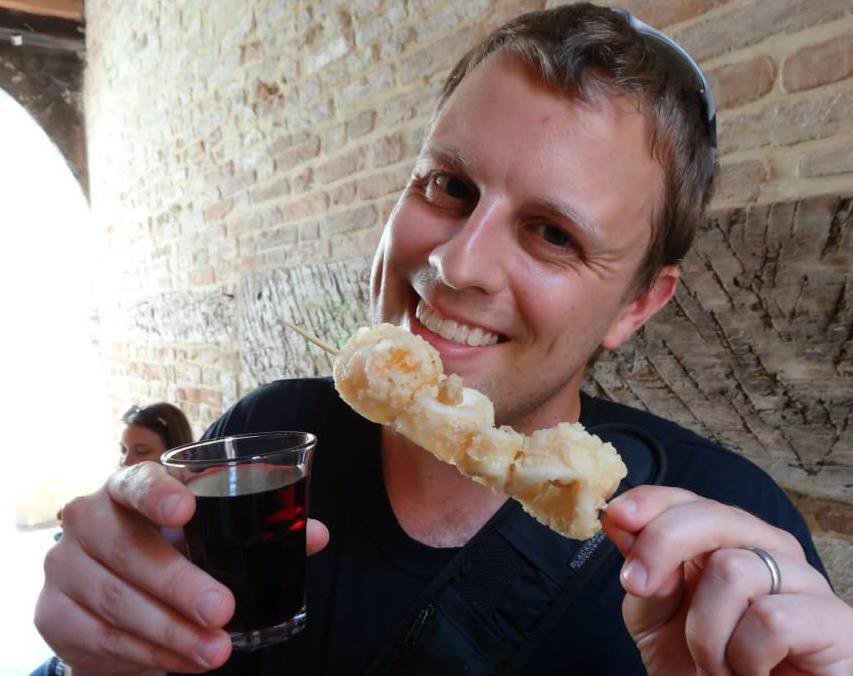 About the Author: Jeremy is a full-time travel writer based in Pittsburgh and primary author of this site. He has been to 70+ countries on five continents and seeks out new food, adventure activities, and off-the-beaten-path experiences wherever he travels.