Published by Jeremy. Last Updated on January 23, 2023.
Disclaimers: Our site uses demographic data, email opt-ins, display advertising, and affiliate links. Please check out our Terms and Conditions for more information. Listed prices and attraction details may have changed since our visit and initial publication.
Think of Mauritius and your mind instantly conjures up images of powder white beaches and tropical palm trees. A popular honeymoon destination and a luxury hot spot for celebrities and jet setters, Mauritius is one of the closest things to paradise on earth.
Mark Twain put it perfectly; "You gather the idea that Mauritius was made first and then heaven, and that heaven was copied after Mauritius."
Mauritius isn't just about beaches. If you can tear yourself away from the exotic sands for just a second; there are many things to do in Mauritius including activities, historic sights and lush forests. So book your plane ticket, grab that beachfront hotel, rent a car, and hit these ten great spots!
1. Grand Bassin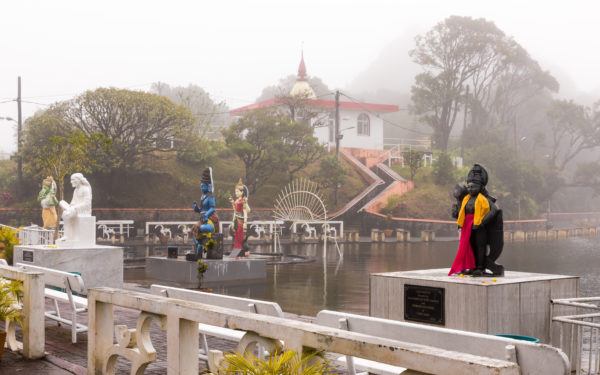 Grand Bassin is a lake high up in the mountains about 1800 feet above sea level. It is the most sacred Hindu place on the island of Mauritius and there is a temple dedicated to Lord Shiva here.
The people of the island believe it is filled with holy waters from the River Ganges in India, and people make pilgrimages from their homes to the lake on foot on the occasion of Maha Shivaratri. There is also a 108 foot statue of Shiva which was created in 2007.
2. Champ de Mars in Port Louis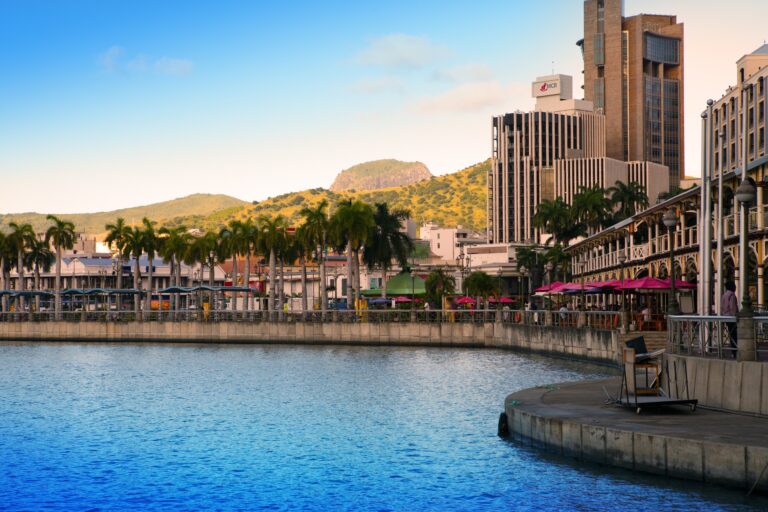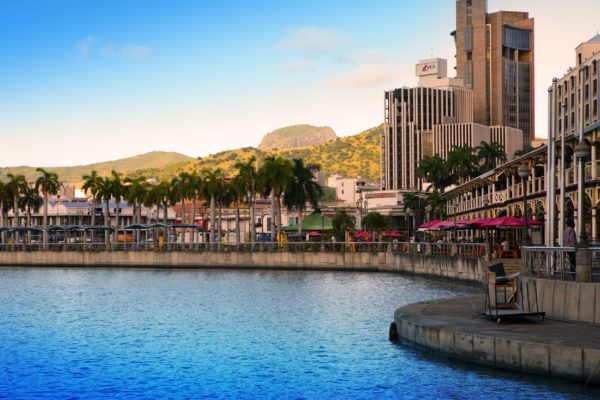 Put on your best attire and spend your Saturday with the socialites of Mauritius at the Champ de Mars race course. The race course is the oldest in the southern hemisphere and is a memorable day out- you can enjoy canapés and drinks, and if you're up for a bet, you can have a flutter on the horses.
You don't have to be a big horse racing fan to enjoy the electric atmosphere at the Champ de Mars.
3. Chamarel Waterfall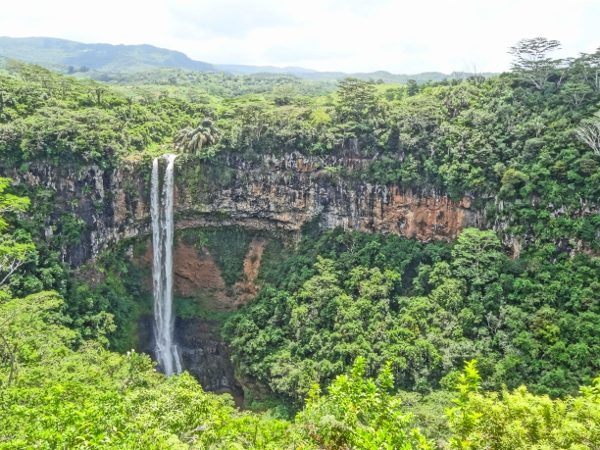 Chamarel is the highest waterfall in Mauritius at 100 metres. This natural beauty spot is the perfect photo opportunity and certainly an impressive sight.
Climb the stairs to the viewing platform at the top and take a look at the breathtaking waterfall as it hits the pool 100 metres below.
This trip is usually combined with a visit to the Seven Coloured Earth, which is made up of sand dunes of different distinct colours including reds, browns and purples.
The dunes were created by volcanic rocks which cooled at different temperatures and became crushed into sand which then settled into different colours.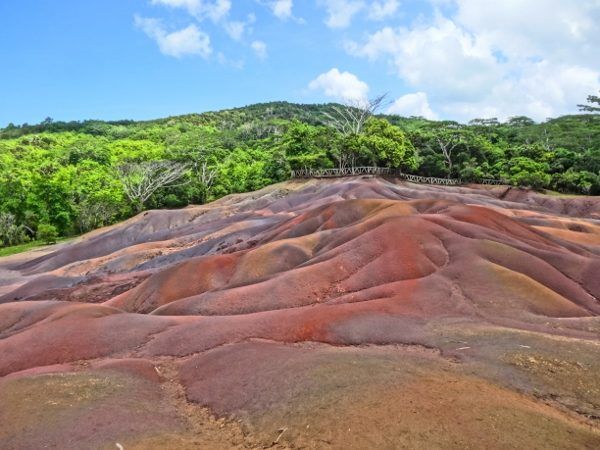 4. Black River Gorges National Park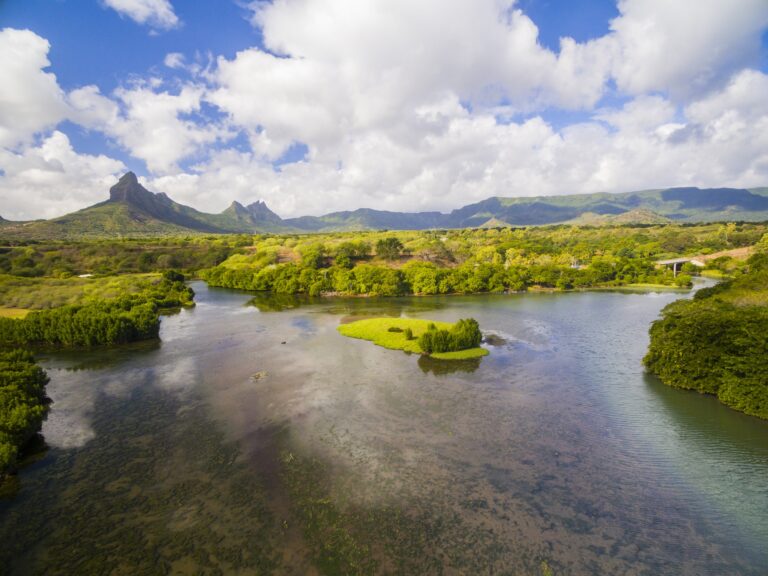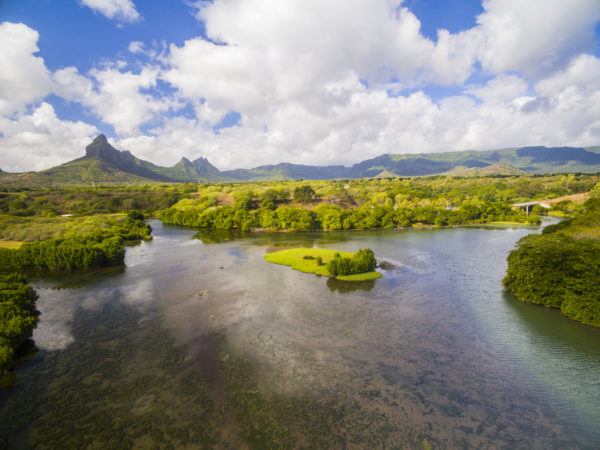 This national park stretches over 6574 hectares of land and you can hike its trails to view the native forests and wildlife.
The thick forest is home to over 300 species of flowering plants and if you're lucky, you may see the famous pink pigeon, a bird endemic to Mauritius which almost became extinct.
There are a number of long hiking trails which take several hours to walk, so it's best to go prepared with adequate shoes, maps, water and gear.
For visitors who love the great outdoors, this is the ideal opportunity to see panoramic views of the island's landscape, including vistas, gorges, peaks and waterfalls.
5. Skydive Mauritius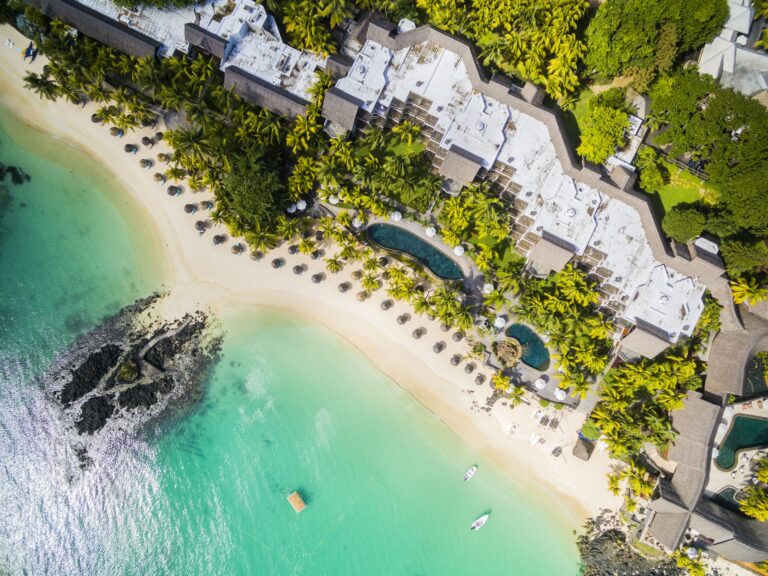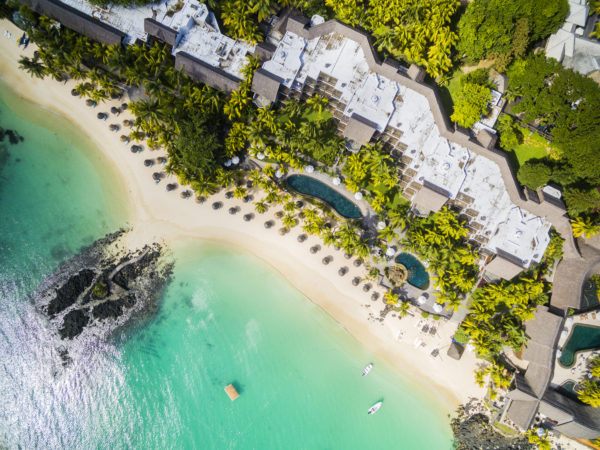 If you're looking for thrills on your luxury holiday to Mauritius, why not try the ultimate adrenaline sport and jump out of a plane. At Skydive Mauritius you can tandem skydive for spectacular views of Mauritius from the air, including lush green forests and turquoise blue waters.
Skydiving for the first time is an unforgettable experience and when you combine that with the views over paradise on Earth, a Skydive in Mauritius will stay in your memory bank forever.
6. Grand Baie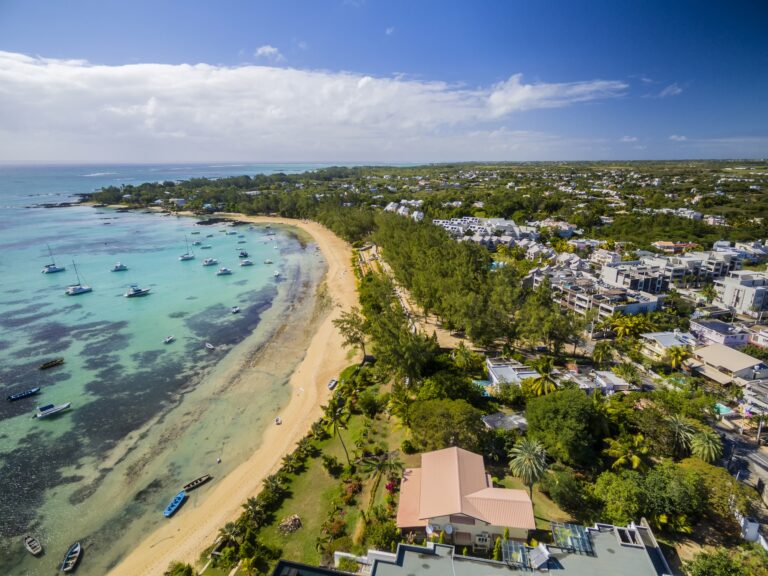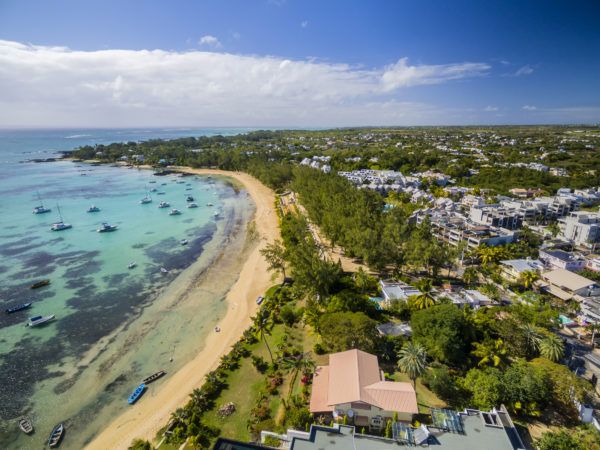 Grand Baie is a cosmopolitan resort known for its great nightlife, shopping and restaurants. It is a popular resort and a great base for tourists wishing to make day trips to the northern islands. Grand Baie is has a variety of watersports on offer, including diving, sailing, waterskiing and windsurfing.
7. Pamplemousses Botanical Garden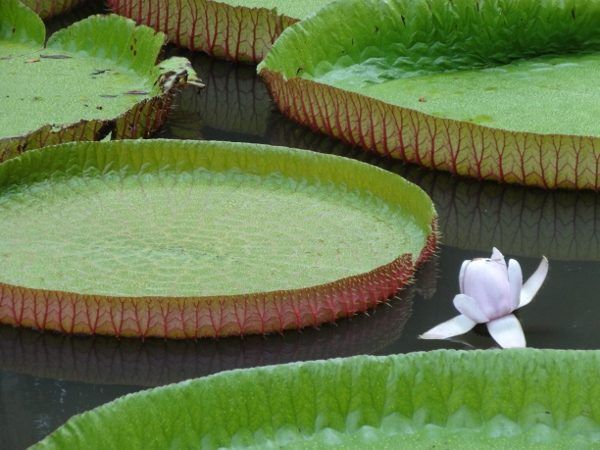 This botanical garden, also known as Sir Seewoosagur Ramgoolan Botanic Garden, covers 60 acres of land and features a number of varieties of palm trees.
The horticultural garden also features giant lily ponds with tadpoles and frogs, fruit bat trees with bats hanging from the branches, lakes with giant turtles and fish, plus trees planted by famous figures including Nelson Mandela and Indira Ghandi.
8. La Vanille Crocodile Park
The star of the show here is obviously the crocodile, but you can also see other creatures including giant bats, giant turtles, monkeys and a huge insect collection. You can walk through the jungle observing the flora and fauna, learn about the endangered species endemic to Mauritius, and even have a taste of crocodile curry in the restaurant.
9. Ile Aux Cerfs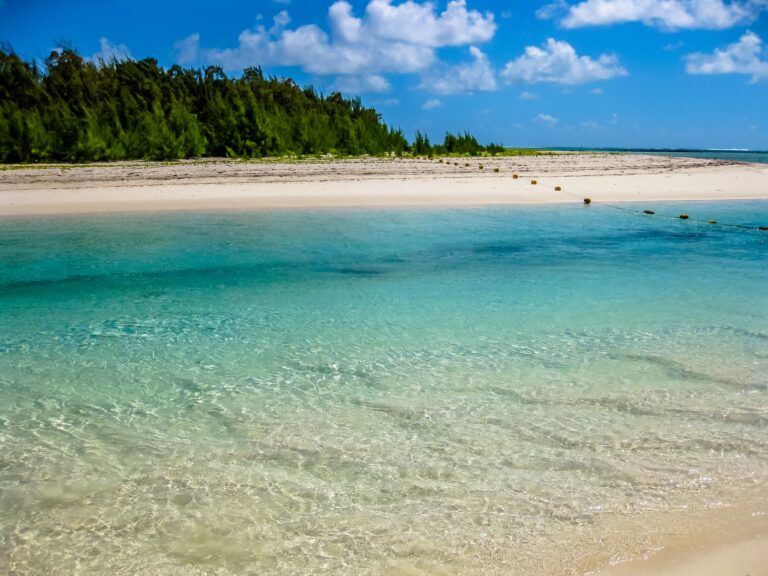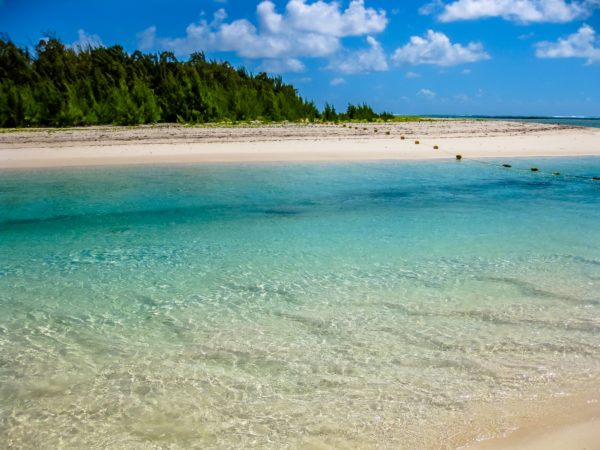 Ile aux Cerfs is a large island located off the East Coast of Mauritius, with spectacular white sandy beaches, palm trees and waters all shades of blue.
When you arrive at the picture-postcard blue lagoon you'll feel like you've arrived on Treasure Island. You can relax on the beach, enjoy a BBQ and have a go at parasailing to enjoy aerial views of this pristine isle.
The island's main beach has facilities including restaurants serving tasty food. The island is run by Le Touessrok Mauritius- the hotel's suites, rooms and main facilities are located on the mainland of Mauritius, whilst the championship Bernard Langer golf course is situated on Ile Aux Cerfs. Guests can take a short boat ride over to the island for exclusive use of the golf course.
10. Maison Eureka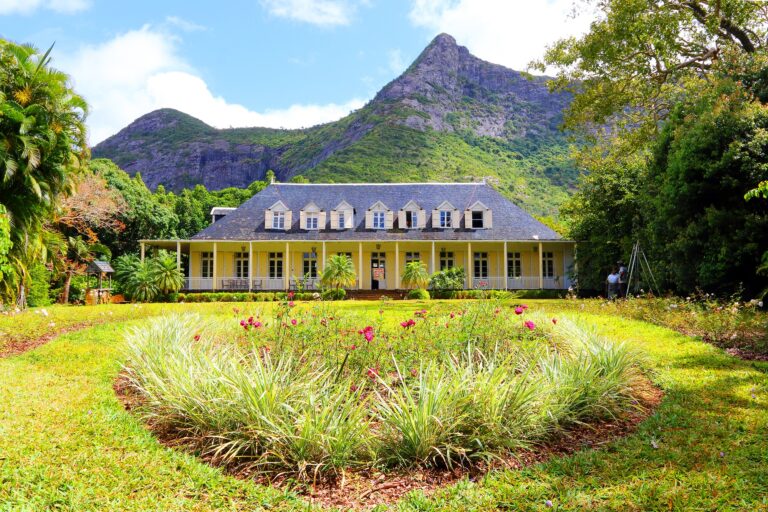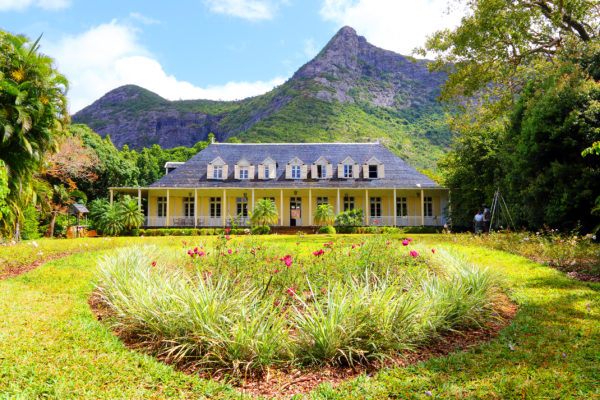 Maison Eureka is a preserved colonial wooden mansion which lies high up in the center of the island close to Moka. Here you can enjoy outstanding views over the Moka mountain range, take a tour round the house and have a drink in the tea room.
Inside the house you can observe the antique furniture and photographs, whilst outside you can explore the surrounding greenery.
So Many More Things to Do in Mauritius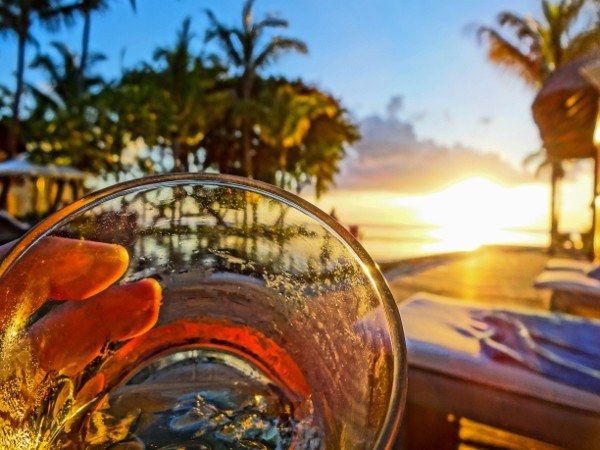 When it comes down to it, there are so many things to do in Mauritius that it is hard to cover them all in one article. If you're thinking about renting a car for your Mauritius vacation, check out some of our favorite things to see when driving around the island at the previous link (and read some of our Mauritius driving tips here)! Or check out our review of the amazing Bon Azur apartments and the Hilton Mauritius where we spent some of our time while on the island.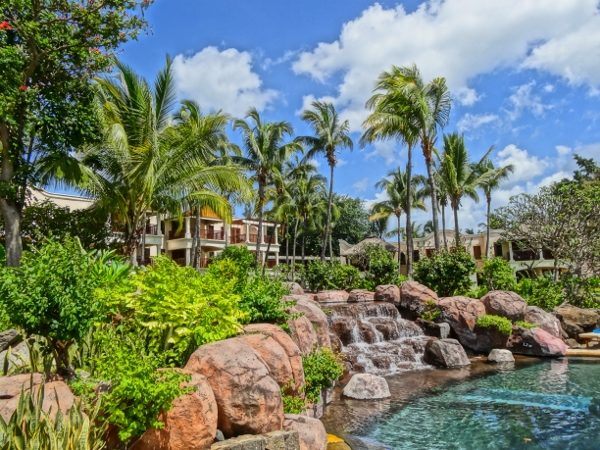 In the mood for a day tour in Mauritius? Check out these great options on Viator!
Check out the following frequently asked questions about Mauritius.
Where is Mauritius located?
Mauritius is an African island nation located in the Indian Ocean about 700 miles to the east of Madagascar.
How many days do I need on Mauritius?
We recommend a minimum of five days on Mauritius to get a feel for the country, but seven would offer more opportunities to explore.
Should I rent a car in Mauritius?
Yes! Mauritius is very easy to drive around, rentals are quite affordable, and many of the country's highlights can only be seen with a car. Note that Mauritius drives on the left-hand side.
Where should I stay in Mauritius?
If you are visiting for a longer duration and renting a car, we recommend splitting your time between the north and south to provide flexibility in exploring. Flic-en-Flac is a great area in the south and Grand Baie a nice little village in the north.
What currency is used in Mauritius?
Mauritius uses the Mauritian rupee but USD is often accepted in tourist areas. ATMs are widely available.
About Jeremy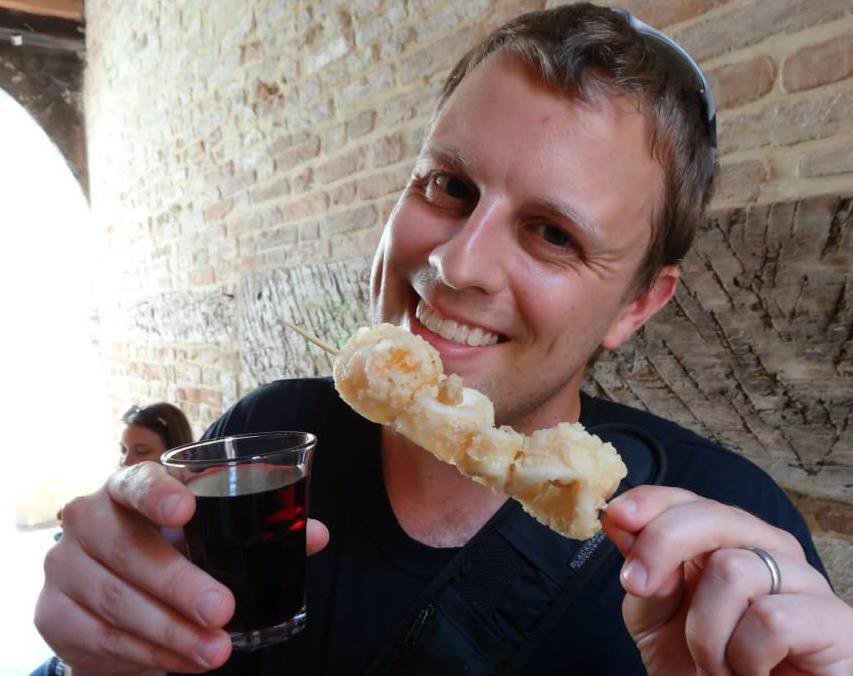 About the Author: Jeremy is a full-time travel writer based in Pittsburgh and primary author of this site. He has been to 70+ countries on five continents and seeks out new food, adventure activities, and off-the-beaten-path experiences wherever he travels.