Last Updated on by Kendrick
Disclaimers: Our site uses demographic data, email opt-ins, display advertising, and affiliate links. Please check out our Terms and Conditions for more information. Listed prices and attraction details may have changed since our visit and initial publication.
Whenever I ask people what they did in South Africa, the typical answer is they went on a safari, shark cage diving, and visited Table Mountain in Cape Town. I've heard of other places as well, but the one place I rarely hear people talk about is The Cradle of Humankind.
I stumbled upon this place while researching online on what to do in South Africa. It turns out that the Cradle of Humankind is a UNESCO world heritage site where fossils of the earliest ancestors of humans originated.
Upon arriving at the Cradle of Humankind, also called Maropeng by locals, my inner nerd took over as a dome shaped building covered with grass came into sight. I then eagerly went to the ticketing booth, ready to purchase my ticket when the staff asked me if I also wanted to go to Sterkfontein.
"What's Sterkfontein?" I asked with a confused look on my face.
Two Sites to Visit at the Cradle of Humankind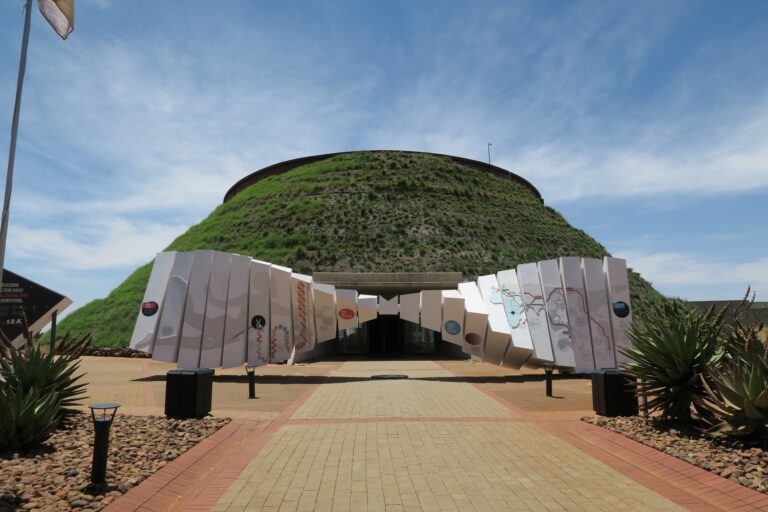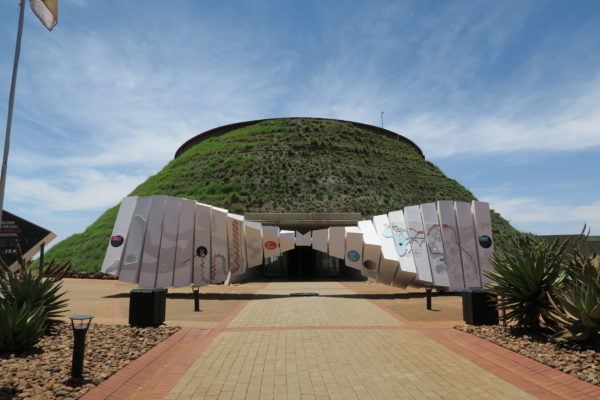 The cashier then explained to me that there are actually TWO sites to visit at the Cradle of Humankind. The first is dome shaped building I first saw, which was the visitor's centre and museum. The second is an excavation site, which is a few minutes away from the visitor's centre. You can go underground to explore the exact site where the fossils were discovered!
I've always loved movies like Indiana Jones, so the opportunity to visit an excavation site was really exciting. I purchased the combo ticket to both sides for 190 South African Rand ($19 CAD)
Karen and myself entered the museum and descended down the stairs. The walls of the museum were decorated with information on how the human species and planet Earth evolved. At the very end of the hallway, we were surprised to discover the museum comes with an undergund boat ride!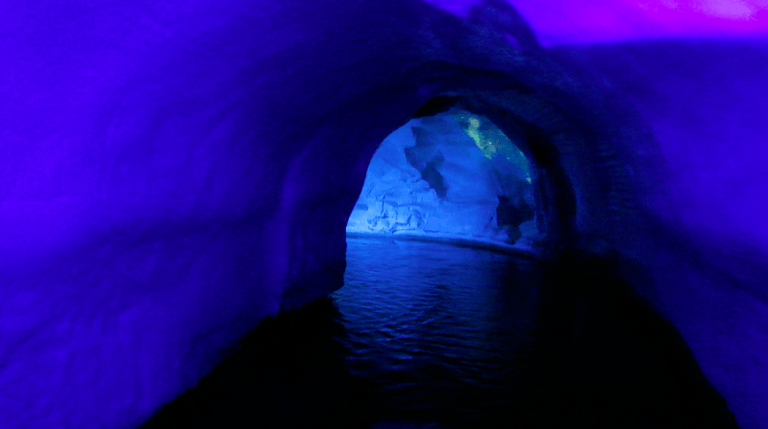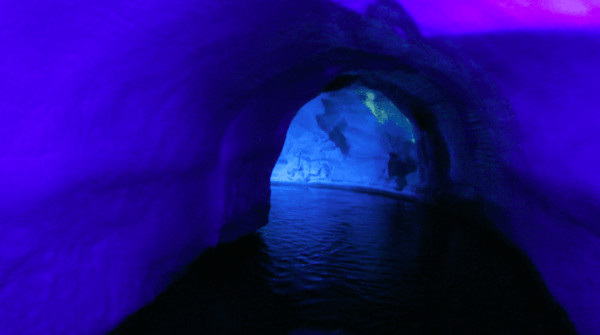 I have never been to a museum with an underground boat ride, so I was beyond thrilled! The neat thing about this ride is it took us through the many stages of Earth's evolution; starting from Ice Age, all the way to the ages afterwards. ( I actually stopped paying attention at this point because I was having so much fun).
The ride was so much fun, I'd love to do it again one day. After the ride, we made our way through a "vortex" in outer space before we reached the more traditional museum with displays and exhibits like "small foot", which is the most intact hominid remains found in Sterkfontein.
After an amazing time in the museum, we drove to Sterkfontein and "geared up". We were required to put on hard hats before we were allowed to proceed with our tour of the excavation sites. We descended down the steps to an underground site, and explored different chambers within the cave. Our tour guide would then explain to us the functions of each chamber, and pointed out to us where the skeletons and bone fragments of the ancient hominids were discovered.
Well Worth the Visit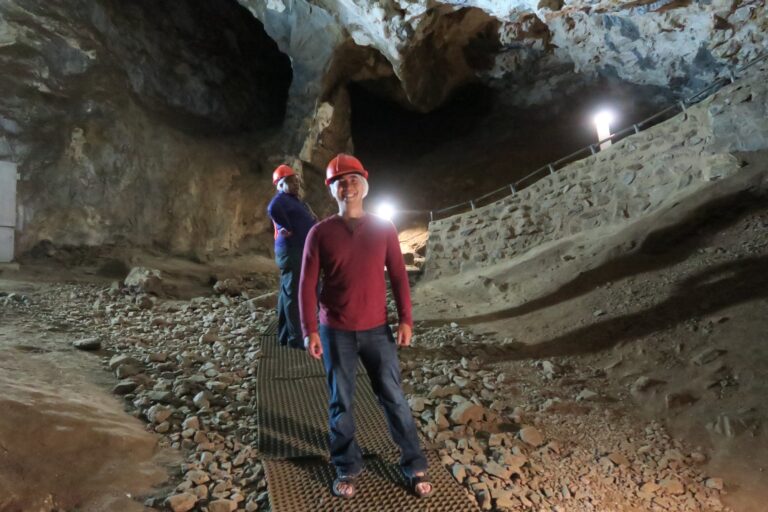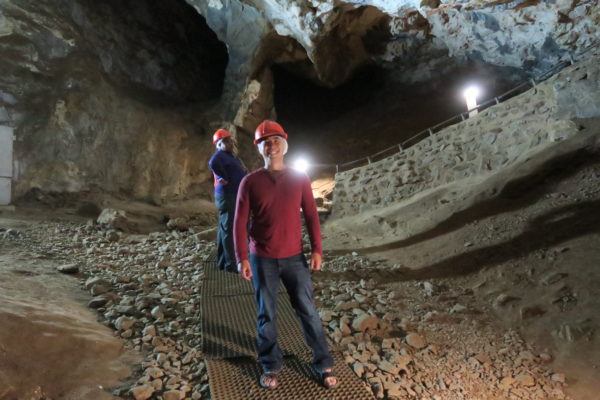 The hard hats came in handy as we crawled through narrow crevices and climbed steep staircases within the cave. The tour ended with a short lesson on the work of Robert Broom, a paleontologist who discovered bone fragments from six different hominids in the Cradle of Humankind. The interesting thing about the statue is that if you rubbed his nose, you will get good luck, and wisdom if you rubbed his hands. I went for his nose, while Karen went for his hands. We figured it would be smart to get one of each.
After our trip to the Cradle of Humankind, we tipped the knowledgeable tour guide and returned to our hostel very happy!
Looking for more things to do in South Africa? Why not check out Jeffrey's Bay, go ostrich riding, learn about safety in South Africa, or read about Kendrick's spending summary from Backpacking Africa?
Looking to book your next trip? Check out the following services we use!
Don't Forget Travel Insurance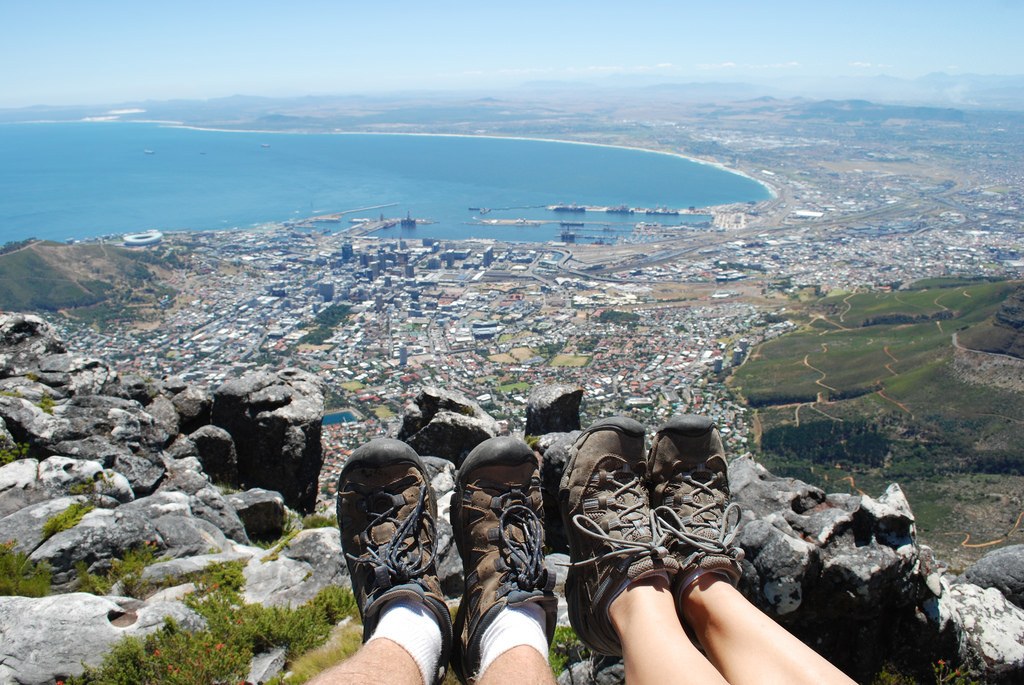 Want to safari in South Africa?

Be sure to protect your trip with travel insurance from World Nomads before you go!
Read More from South Africa
Read More from Africa
Check Out Our Latest Posts
About Kendrick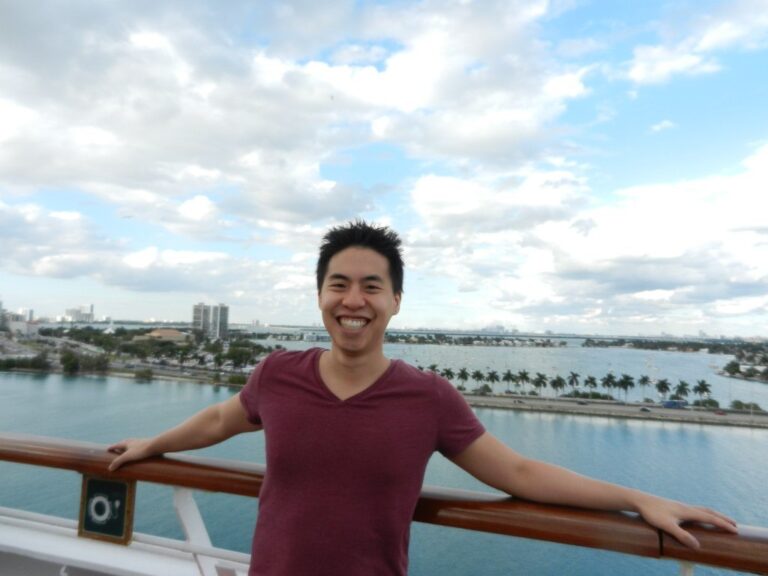 About the Author: Kendrick of Travel and Live Free was a contributing author to share stories from his trip around the world from 2016 to 2017. He now has the goal to visit every country in the world in the next few years.