Published by Jeremy. Last Updated on January 25, 2023.
Disclaimers: We were hosted for this experience. Our site uses demographic data, email opt-ins, display advertising, and affiliate links. Please check out our Terms and Conditions for more information. Listed prices and attraction details may have changed since our visit and initial publication.
When we announced that two-weeks of our year and a half long trip around the world were going to be spent in the country of Switzerland, we got a lot of interesting feedback. 
Of course, most of it was about the price tag. We knew Switzerland was going to be one of the largest budget items of the itinerary and was something we planned for in advance to accommodate. 
But after researching many of the options for saving money in the country, from cooking our own meals to staying in private rooms in apartments, one stood out as an even better cost saver: the Swiss Pass.
Much like other rail passes, we abused our rail pass extensively while in Switzerland.  In doing so we saved quite an impressive amount of money while also having the opportunity to try out more big-ticket items that we would have otherwise missed. But is the rail pass right for you on your next trip to the country? 
Let's find out.
Disclaimer: We received the Swiss Rail Pass complimentary from the tourist board during our stay; however, we have a full analysis of costs included in this post from our trip in 2013.
Inclusions on the Swiss Pass Travel Card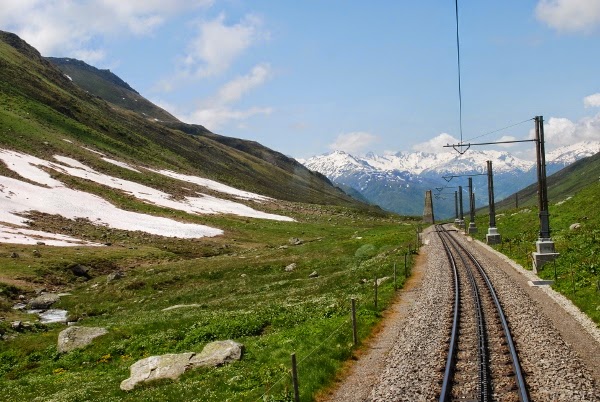 The Swiss Pass is the ultimate travel card for the country of Switzerland.  In 4, 8, 15, and 22 day increments the Pass allows for unlimited travel on the long-haul trains as well as free transit on many inner-city transportation types.
As if the that is not enough to start saving you money, the Swiss Pass also includes free travel on the premium panorama trains including the GoldenPass, Glacier Express, and William Tell Express that cross the country in cars with beautiful floor-to-ceiling windows for stunning views of the region (requires reservation).
Then there are the discounts, such as the mountain railways in Lauterbrunnen and Zermatt (most at 50% off), a modest discount on the Jungfrau railway to the highest train station in Europe (25%), and free entry into tons of museums!
We were fortunate to give the 8-day, first class pass a whirl on our trip to Switzerland and timed it perfectly to take in two of the panoramic trains; the GoldenPass from Montreux (Geneva) to Interlaken on our way to Lauterbrunnen and the Glacier Express from Zermatt to Chur on our way to Zurich. 
The validity period covered three of our long-haul travel days and was also valid during our stay in the mountains so we could reap the discounts of the more expensive mountain trains, cable cars, and cog rails.
So, How'd We Do With Our Swiss Pass?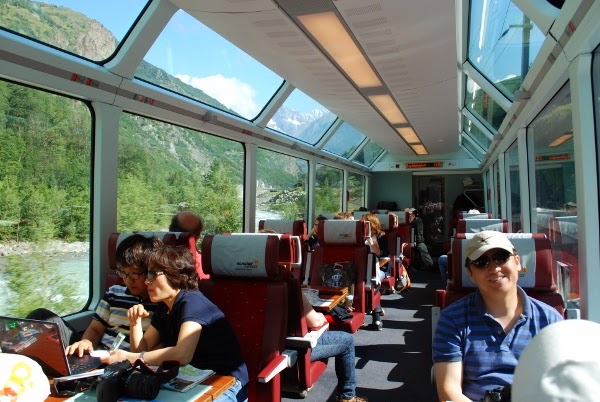 During our 8-day Swiss Pass validity period we traveled on a number of train routes, premium mountain lines, and cable cars at a discounted rate.  The following is a breakdown of the discount types for each, fees we had to pay, savings over the regular ticket price, and a rough price guide for 1st and 2nd class tickets (all prices are for two persons combined unless noted):
Route
Discount
Fees
Savings
 
1st Cls.
2nd Cls.
Combined (2 Person), Franc
Per Person, Franc
Geneva to Montreux
100%
—
102
51
29
Montreux to Interlaken (Pano)
100% (res)
43
163
103
64
Interlaken to Lauterbrunnen
100%
—
14.8
7.4
Lauterbrunnen to Wengen
100%
—
13.2
6.6
Lauterbrunnen to Interlaken RT
100%
—
29.6
14.8
Lauterbrunnen to Jungfrau RT
100%
244.5
107.5
176
Lauterbrunnen to Murren RT
25%
—
43.2
21.6
Murren to Schilthorn RT
50%
77
77
77
Lauterbrunnen to Interlaken
100%
—
14.8
7.4
Interlaken to Spiez (to Zermatt)
100%
—
278
139
79
Spiez to Visp (to Zermatt)
100%
Visp to Zermatt
100%
Zermatt Mountain Funicular
50%
16
16
16
Zermatt to Chur (Pano)
100% (res)
66
396
231
146
Chur to Zurich
100%
—
138
69
39
Zurich Tram
100%
—
9.6
4.8
Pass Cost (x2)
1,069
Total (x2)
1,516
333
1,849
1,377
$356 USD
For the 1,069 Franc passes (15% discount for two), our total cost with reservations, premium mountain trains and cable cars for two was 1,517 Francs, or about $1,623 USD.  If we were to have purchased all of these individually the out of pocket spending would have been approximately 1,850 Franc, a cost savings of $356 USD for the two of us!
To look at it another way, we tried out a few extra cable cars and funiculars in the mountains for free purely because the pass allowed us to do so at a discount.  Had we spent the same amount of money on our own we likely would not have been able to do these!
But What About Second Class?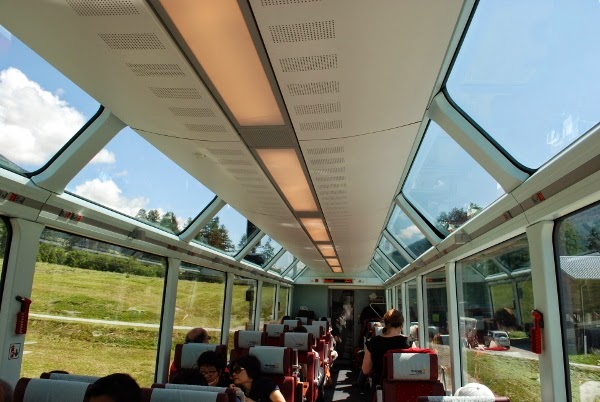 I know what many readers will think when seeing this, and that is likely "what if I wanted to travel Switzerland on the cheap and not do all of these first-class cabins and panorama trains?"
Well, if I could persuade you to splurge on one thing, the panorama trains would be it.  The views are mind-blowing and the slow-moving experience is something that is hard to capture in both words and photos such that it was our favorite experience in all of Switzerland. 
Many of the trains even have second class if you wanted to try it out with a pass but for a cheaper out of pocket cost.
But let's look at the travel costs for our itinerary on second-class to compare prices for the most bare-bones option without premium trains.
Geneva to Lauterbrunnen: 76.4 Franc per person
Lauterbrunnen to Zermatt: 86.4 Franc per person
Zermatt to Zurich: 119 Franc per person
The total cost for these segments is approximately 281.8 Franc per person ($301.50 USD), plus extras for the trams to and from the train station in Geneva and Zurich (about 9 Francs per person).  Add in a trip to Jungfrau to that cost at 176 Franc per person ($188.32 USD), something we would have done regardless of our Pass discount, and you're now at 467 Franc for your travel expenses.
Or for 393 Franc for a second class Swiss Pass, you'll have access to the premium trains in second class, freedom to go up and down the mountains in Lauterbrunnen (to Murren, Grindelwald, and Wengen from Interlaken), and discounts to go much higher for easier hiking!  
When looking at it that way, the splurge for the Swiss Pass in second class pass becomes more attractive for just a little bit more in spending (out of pocket cost 522 Franc with Jungfrau option).
After all, are you really going to travel to the mountains without taking some of the trains to the country's best hiking spots?  We think not.  If you want to abuse the system, the Swiss Pass is one of your best options.
Many Swiss Pass Options to Choose From
The interesting thing about Switzerland's travel system is that there are tons of options.  While we look at the Swiss Pass as being the universal travel pass, as you can quite literally travel on every long-haul service there is, the country offers several others that may be worth a look if the pricing structure of the Swiss Pass doesn't work for you.
Eurail – Most all Eurail global passes can be valid in Switzerland. 
These may not include premium panorama and other premium trains, and also do not provide many discounts on the mountain trains, but are great options for decreasing the price of your travels considerably if apart of a larger stay in Europe. (Please confirm this prior to purchasing as it may change.)
In fact, because Swiss trains are so expensive the Eurail pass is most effective for those visiting this country in conjunction with several others over buying tickets individually!
Swiss Flexi Pass – This pass is much like the Swiss Pass as mentioned above; but rather than being valid for a consecutive period it is valid only on select days with increments of your choosing.  
The downside to this pass is choosing what days to use a segment on as not all transit days cost the same and some may be more cost effective to buy on your own.
Half-Fare Card – As the name suggests, this card is valid for a period of one month with most tickets available at a rate of 1/2 price.  A great option for those looking to stay in Switzerland for a long time with a few transit days thrown in.
Jungfrau Pass – This 6-day pass is the for those who want to make Lauterbrunnen their playground.  This particular pass includes unlimited access on all the mountain rails (except Jungfrau) and also includes all of the cable cars in the Lauterbrunnen region. 
A great option for those who want to hike like mad but do not necessarily want to go up the mountain all the way.  Discounts for holders of above passes apply.
Jungfrau VIP Pass – This 3-day pass is good in the city of Lauterbrunnen, a place we abused the privileges of our Swiss Pass.  This card gets you unlimited access on all the mountain trains plus one trip to Jungfrau during the duration (but not cable cars). Discounts for holders of above passes apply.
We did not buy a special Jungfrau pass while visiting Lauterbrunnen. Instead, we abused our free travel in the lower mountain towns by visiting the villages of Wengen, Murren, and Interlaken without having to pay any fees. 
Our 50% off ticket to visit Schilthorn meant we saved 77 Francs for the two of us, plus the cost to get to Murren, and our 25% reduction for Jungfrau meant we saved about 54 Francs per person.  You could say that our Swiss Pass paid for us to go to Schilthorn in the discount we received from Jungfrau!
On our next trip to Lauterbrunnen, we'll definitely be looking at the Jungfrau Pass as we'll likely not go up to Jungfrau again and instead be focused on hiking and checking out the cable cars in the regions we didn't visit.  
Even after just a couple trips on some cable cars, your money savings begin to grow rapidly. Especially if you buy the pass at a discounted price in conjunction with a Swiss Pass.
Our experiences with the Swiss Pass were amazing and helped us save tons of money and experience a lot of sights we wouldn't otherwise have done. 
While it is possible to travel cheaper, especially for train travel, for a country as beautiful as Switzerland it is quite hard to give it anything but the best.  It is because of that which we recommend splurging if you can, as the memories are worth far more than the money that costs to make them.
That, we can guarantee.
We'd like to thank the Swiss Tourism Board for the 8-day Swiss Passes we used during our stay in the country. 
The panorama trains were by far the highlight of the trip, something we would not have done without the pass.  If you can make it happen on your next trip to Switzerland, do it!  You won't regret it.
For more things to do in Switzerland, check out our articles such as Zurich events (the biggest festival held once every three years), visiting the Schilthorn, or taking a CERN visit.
Book a Train Ticket in Europe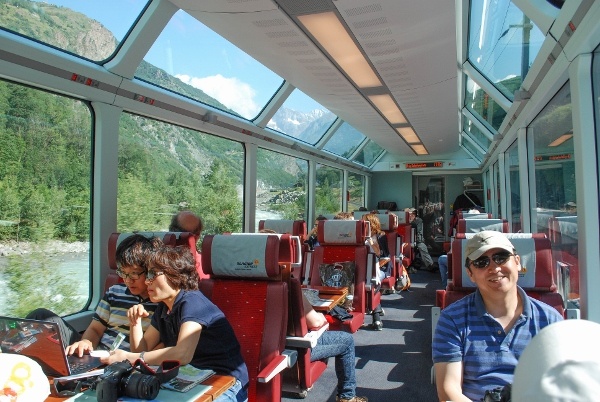 Want to learn more? Check out our Omio review!
About Jeremy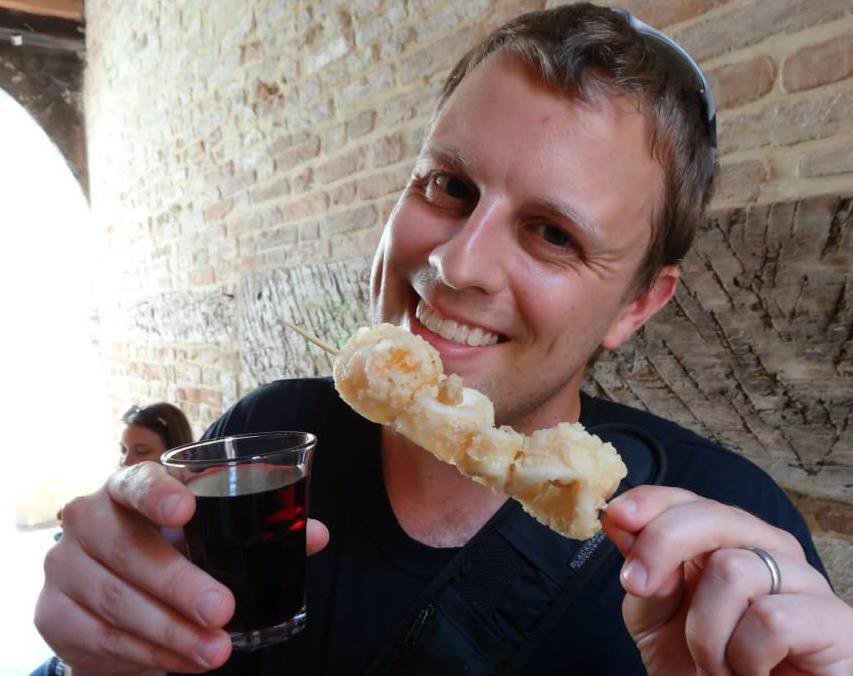 About the Author: Jeremy is a full-time travel writer based in Pittsburgh and primary author of this site. He has been to 70+ countries on five continents and seeks out new food, adventure activities, and off-the-beaten-path experiences wherever he travels.