Last Updated on September 26, 2022 by Jeremy
Disclaimers: Our site uses demographic data, email opt-ins, display advertising, and affiliate links. Please check out our Terms and Conditions for more information. Listed prices and attraction details may have changed since our visit and initial publication.
When we booked our safari in Tanzania, we had the opportunity to take a hot air balloon ride in the Serengeti. We are no strangers to hot air balloon trips (having taken a hot air balloon in Cappadocia many years ago) and knew we would have to take this once-in-a-lifetime opportunity to see animals from above.
But then we got to the price tag- $599 per person during our visit in 2022.
Not only was this price tag a shock, but it was also more than double just about any other hot air balloon ride we've ever taken or considered booking anywhere in the world.
We booked it anyway.
Ultimately, we enjoyed our hot air balloon ride and had a pretty incredible experience- so much so that we would book a trip again without hesitation. But looking back on it the question of whether it is worth that price remains, and it is all based on one big caveat that comes down to a bit of luck- actually seeing animals.
What All is Included on a Serengeti Hot Air Balloon Ride?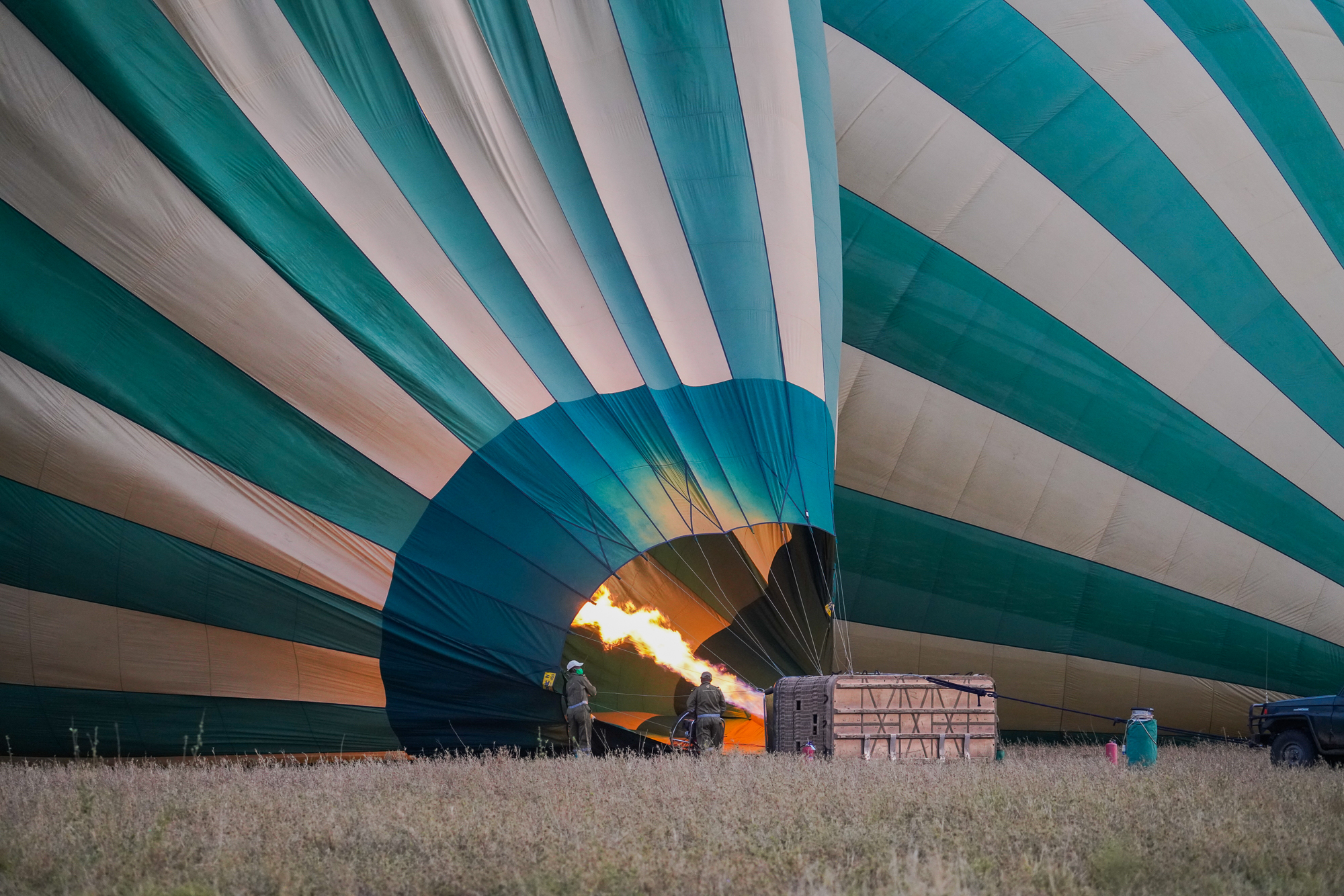 While not all hot air balloon companies are created equal, most Serengeti hot air balloon excursions follow a similar format. Namely, you are picked up from your lodge in the wee hours of the morning, transferred to the launch site, have a 50-75 minute flight over the Serengeti in a balloon (often holding roughly 16 passengers), are served a traditional sparkling wine toast upon landing, and finish with a robust bush breakfast before being transferred back to the visitors center to be picked up by your driver or hotel.
We went out with Serengeti Balloon Safaris, and our lodge pickup was promptly at 5 am for a sunrise launch (mid-September sunrise was approximately at 6:30 am) and was finished by about 10 am. Those staying at lodges further away from the launch site may have significantly earlier pickup times as well (other passengers in our car had a 4:30 am pickup, for example), and these times can be variable depending on sunrise by season.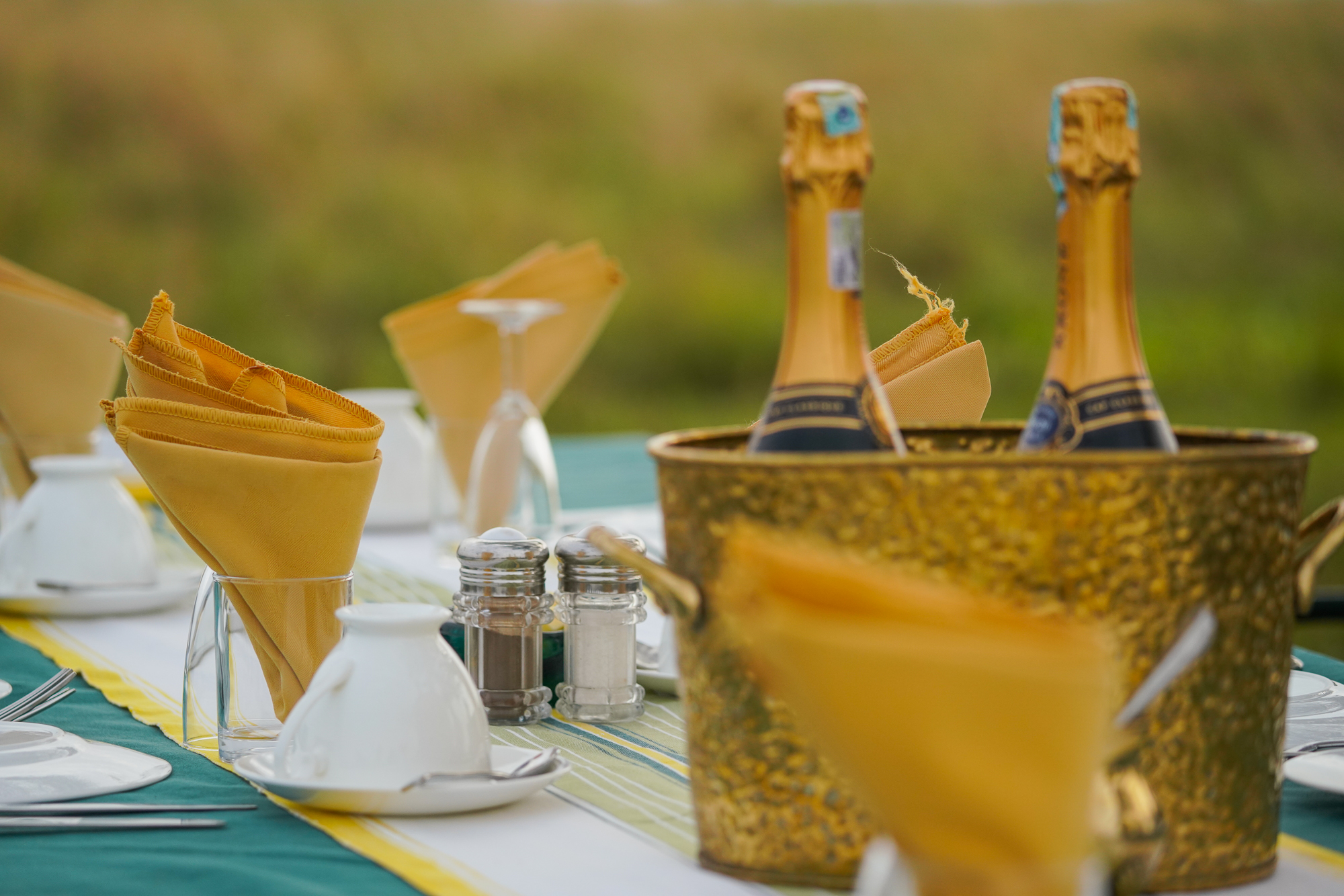 Before talking about what animals we saw from our hot air balloon ride, we should take a moment to talk about the bush breakfast as well because it was somewhat opulent complete with full table settings under a tree, free-flowing sparkling wine, our choice of a chef-made English breakfast or Tanzanian breakfast, pop-up toilets (aptly named "Loo With a View"), and so much more. I'm not saying I ended up drinking an entire bottle of sparkling wine by the time the experience was over, but I am also not going to deny drinking an entire bottle of sparkling wine by 9 am, either.
Suffice it to say, the bush breakfast is one of the reasons why the price of the experiences is elevated over other more traditional flights- they go all out for it!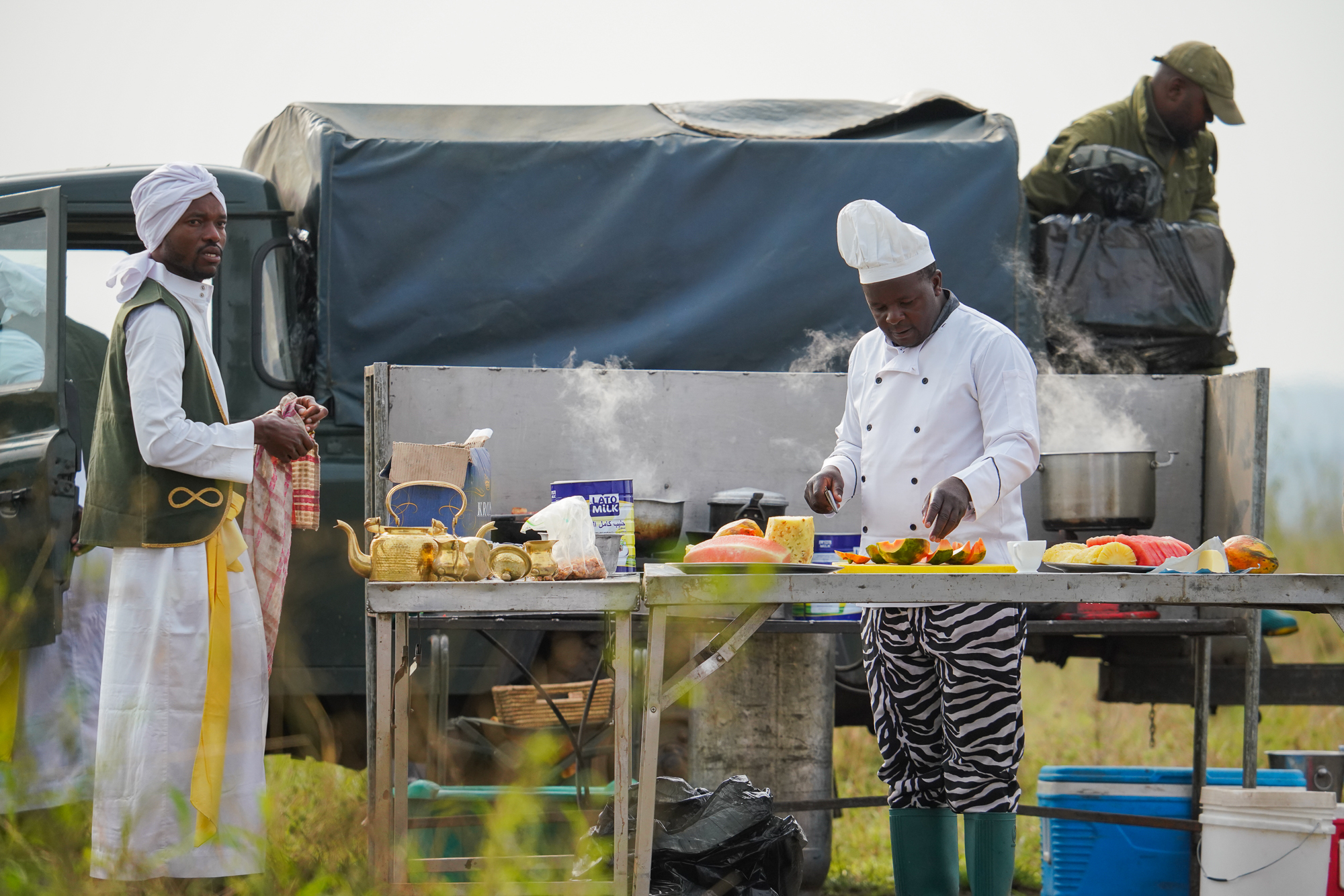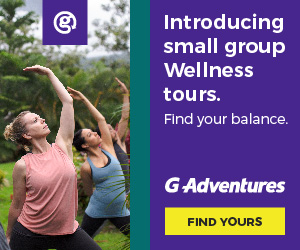 So, what can you see from the hot air balloon? We have to say it depends!
What Can You See from a Serengeti Balloon Safari?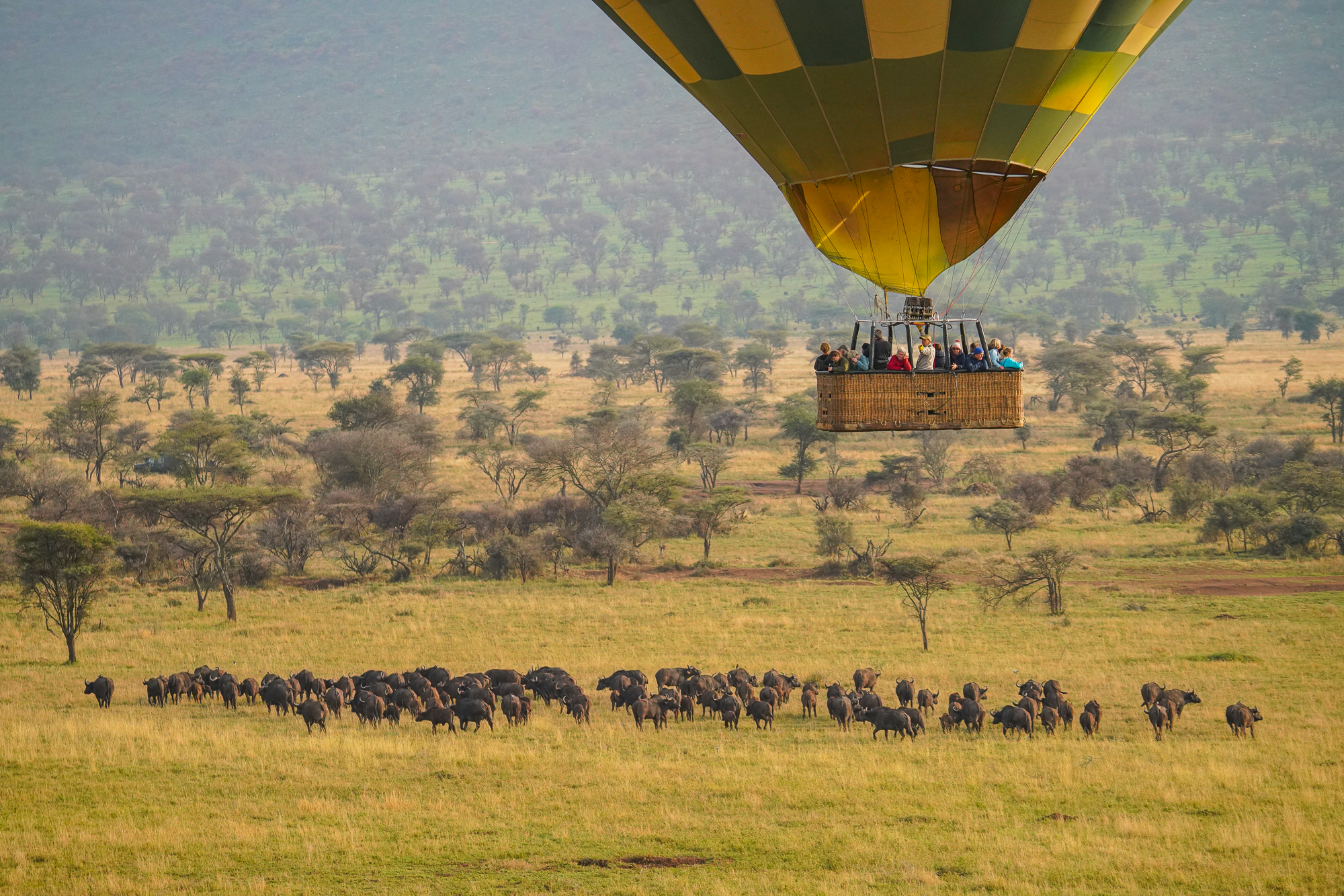 When you take a hot air balloon ride in the Serengeti, there are two things worth discussing about what you can see- animals and the Serengeti itself.
The Serengeti itself is a vast plain that is roughly half the size of Belgium. As it is fairly flat in the central region, when you rise above in a hot air balloon you can see for miles upon miles with a view that truly is unrivaled. At times, your pilot may take you higher into the air to catch these vast vistas (and to adjust course via the changing winds at altitude), whereas other times you may be flying low and slow quite literally feet off the ground.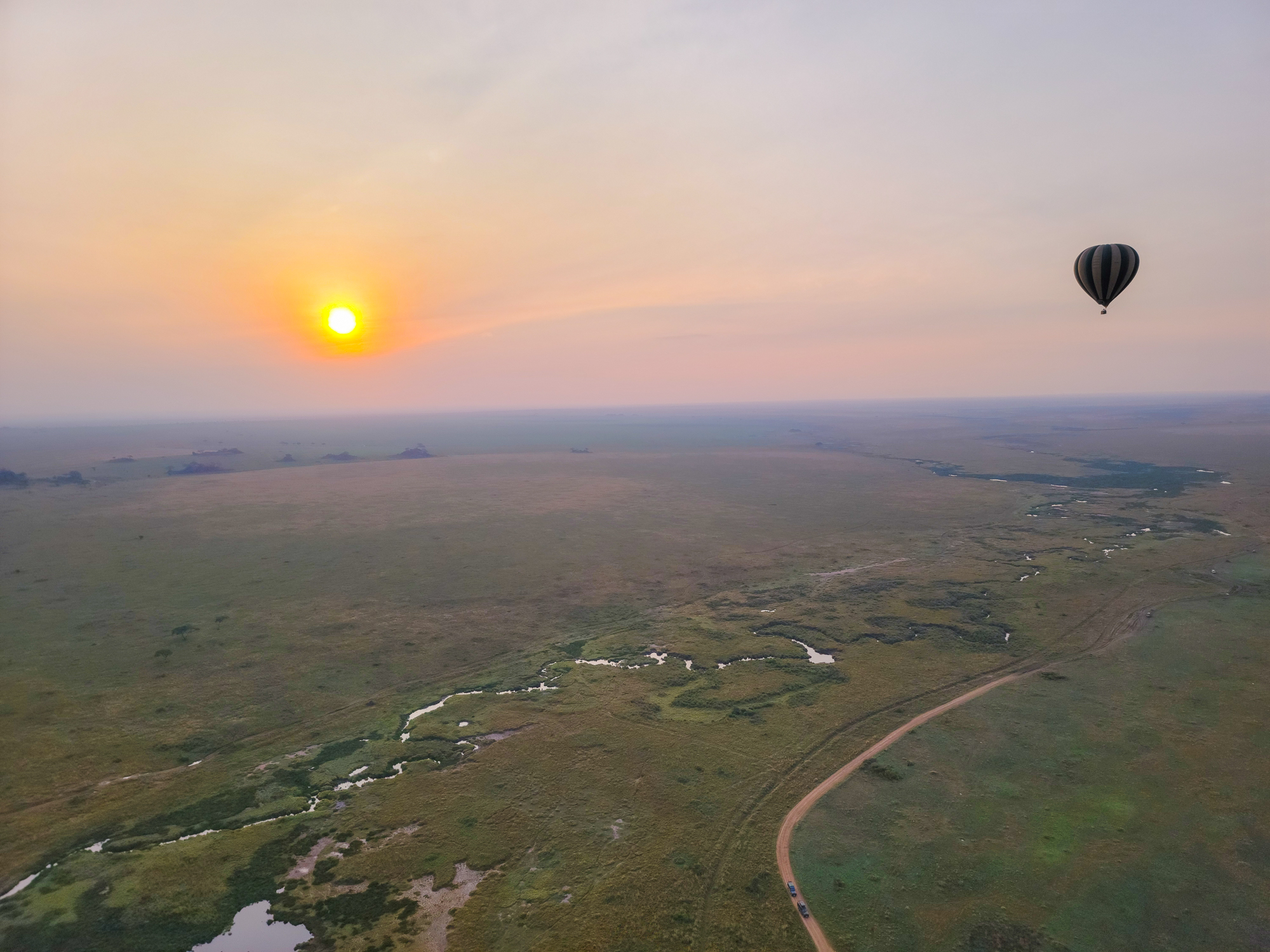 The latter was one of my favorite parts of the overall experience as the viewpoint felt comparable to drone footage you see in nature documentaries. That slow glide over the grass on the hunt for animals is truly hard to put into words.
On the animal front, going out in a hot air balloon is a lot like going out on safari- it is all about luck in what you see.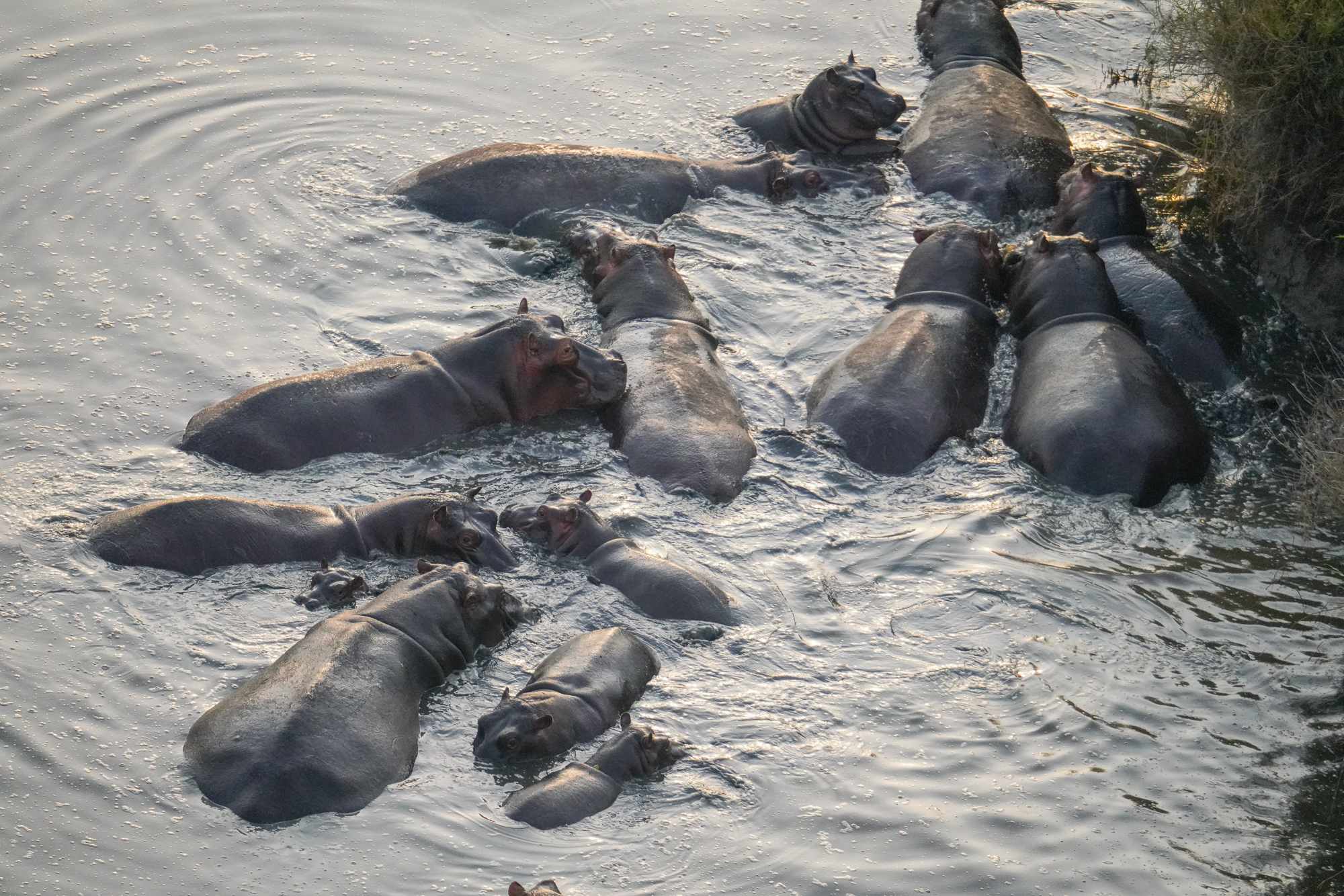 Will you see zebra and other forms of bok? Most likely. Will you see hippos? If your launch point and wind direction are like ours, chances are probably pretty good you'll fly over some water sources with hippos. Will you see migratory wildebeest? That would likely depend on the season. Big cats? Well, you have to be lucky there- and thankfully we saw a pride of ~10 with a kill.
While it is probably quite likely that you will see many animals from a balloon ride in the Serengeti, distance is a component here that needs to be factored in as well. Our lions were quite far away, and I only got a few good photos simply by having a 600 mm telephoto lens (no one else in our basket was as lucky and I found myself relaying the total lion count to the group as a result). Conversely, the hippos we saw were just a few feet below our basket as we flew directly overhead.
Your mileage will vary here, which is the biggest factor in determining if an experience like this is worth it.
Is a Hot Air Balloon in the Serengeti Worth It?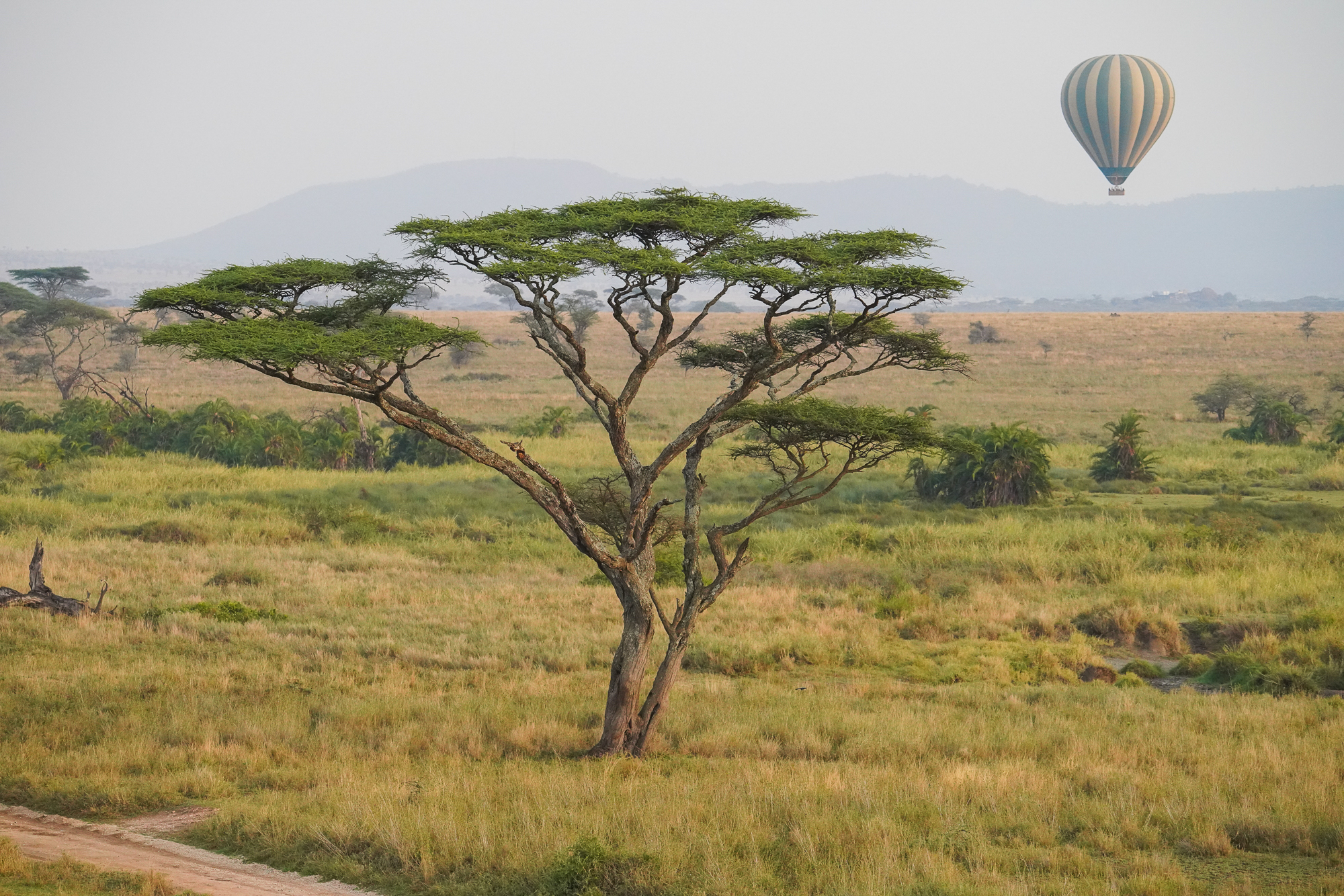 The big question on whether a Serengeti hot air balloon excursion is worth it boils down to whether or not you actually see animals. As with most safari experiences, actually seeing animals is never a guarantee and we, unfortunately, cannot provide any extra help on this one. That said, we can tell you how the companies do their best to ensure you spot as much as possible!
If you've been on safari before, you likely know that most all drivers are in constant communication with others inside any given park. If one driver spots a lion or something unique, they radio it out to everyone else who then proceeds to rush over to catch the action. This, of course, is not possible in a hot air balloon as you simply can't turn around on a whim. So if a lion is to the west and you are heading east, you are most likely out of luck.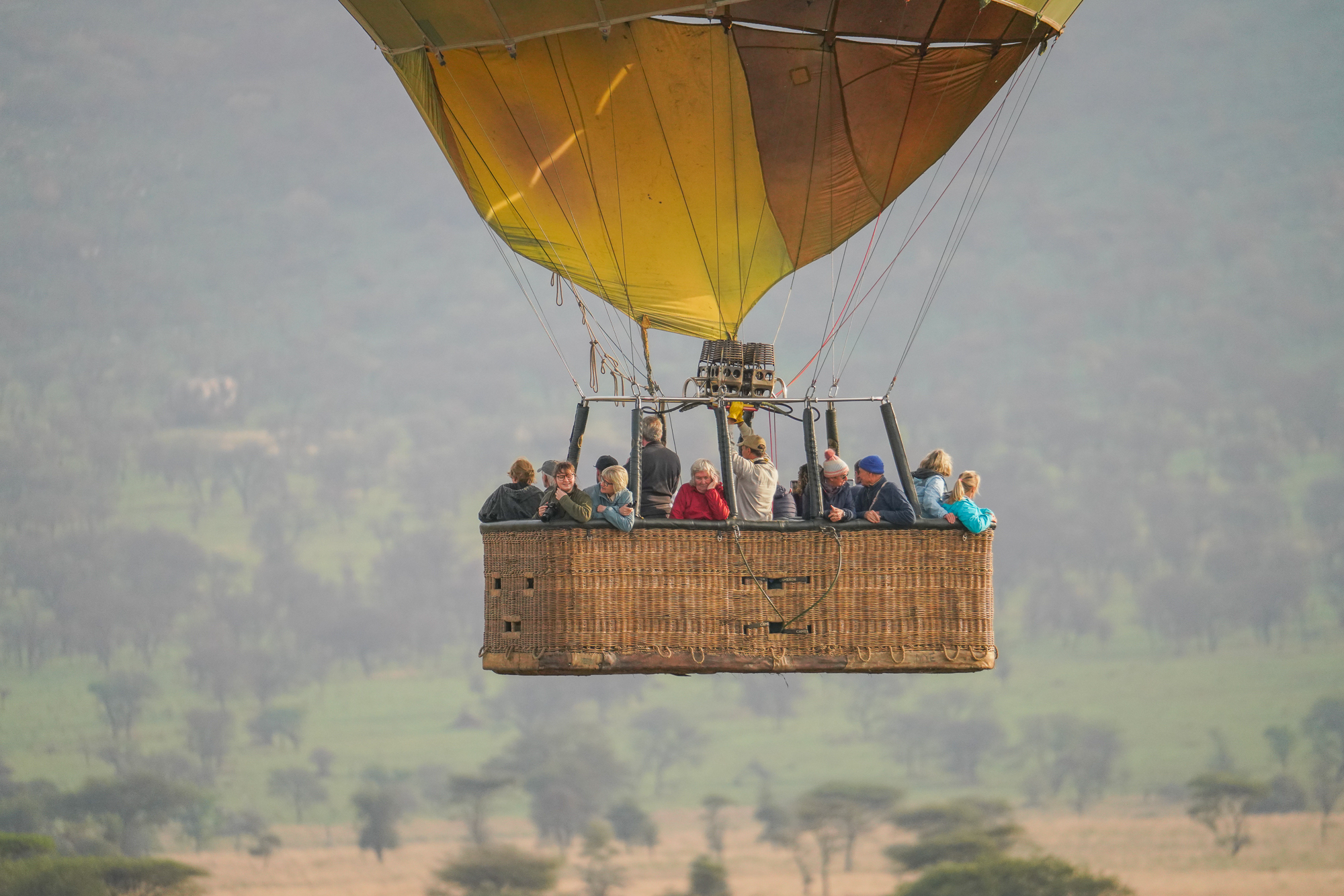 That being said, your pilot is going to be in radio contact with the other balloons flying nearby and via a robust ground support team as well so whenever an animal is spotted by someone outside of your basket, they'll know about it. When these come from balloons or cars well ahead of your own balloon, your pilot may be able to use the winds to adjust their flight path accordingly.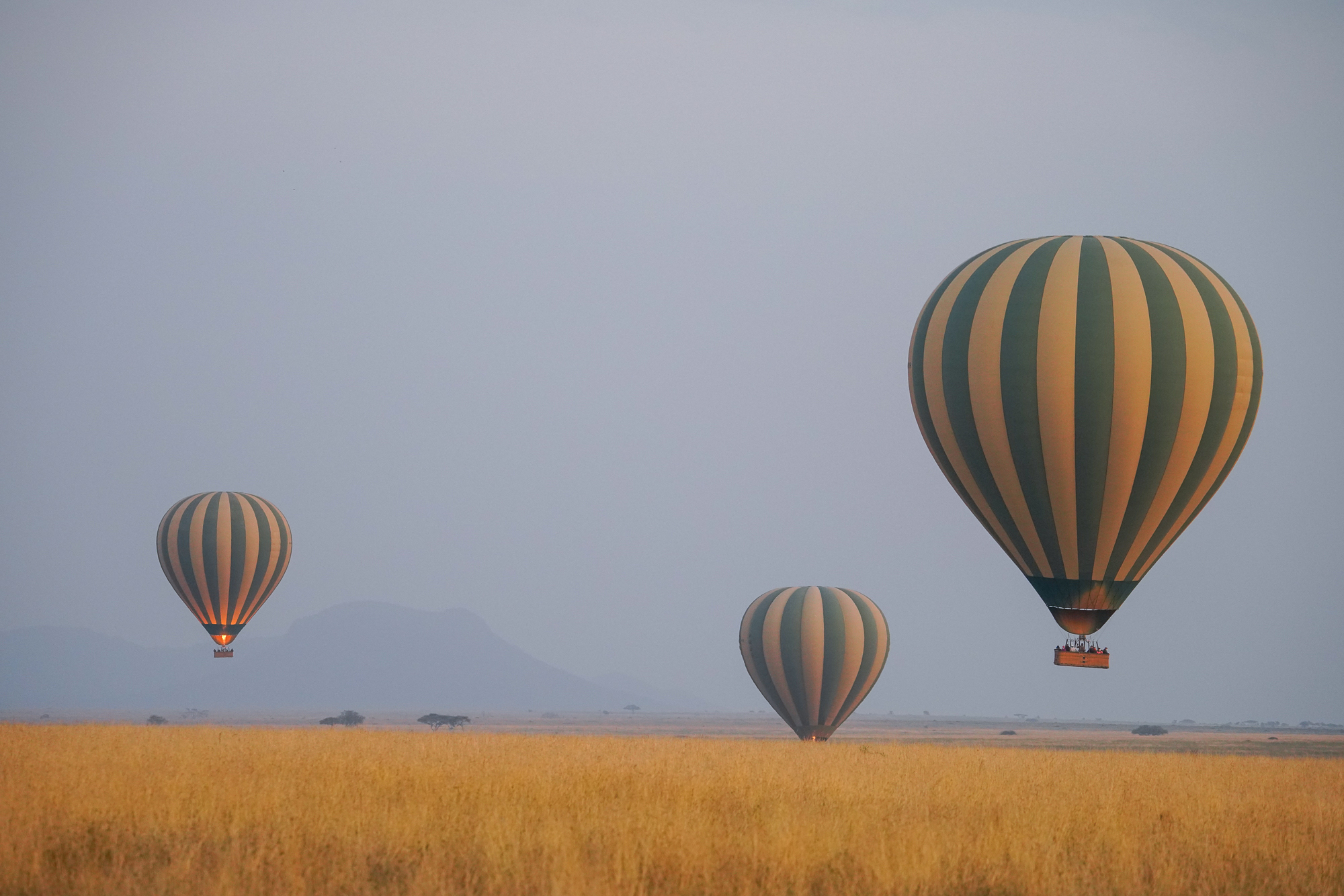 On our own flight, flying low to the ground resulted in us moving in one direction, but higher helped catch different winds to move another. It wasn't robust control, but our pilot did use these to help get us a bit closer to animals that other balloons ahead of us spotted all the same. (So there are possibly some perks to not being the first balloon in the sky!)
This is where the trouble comes in. Is it worth $600 per person to fly over the Serengeti in a balloon if you only see the Serengeti from above? I would say absolutely not. Is it worth $600 per person to fly over the Serengeti if you see lions, hippos, and more animal sightings? Absolutely. Even if you consider that the bush breakfast is probably worth $100 per person, whether the money works out for you can only be realized after the experience is over.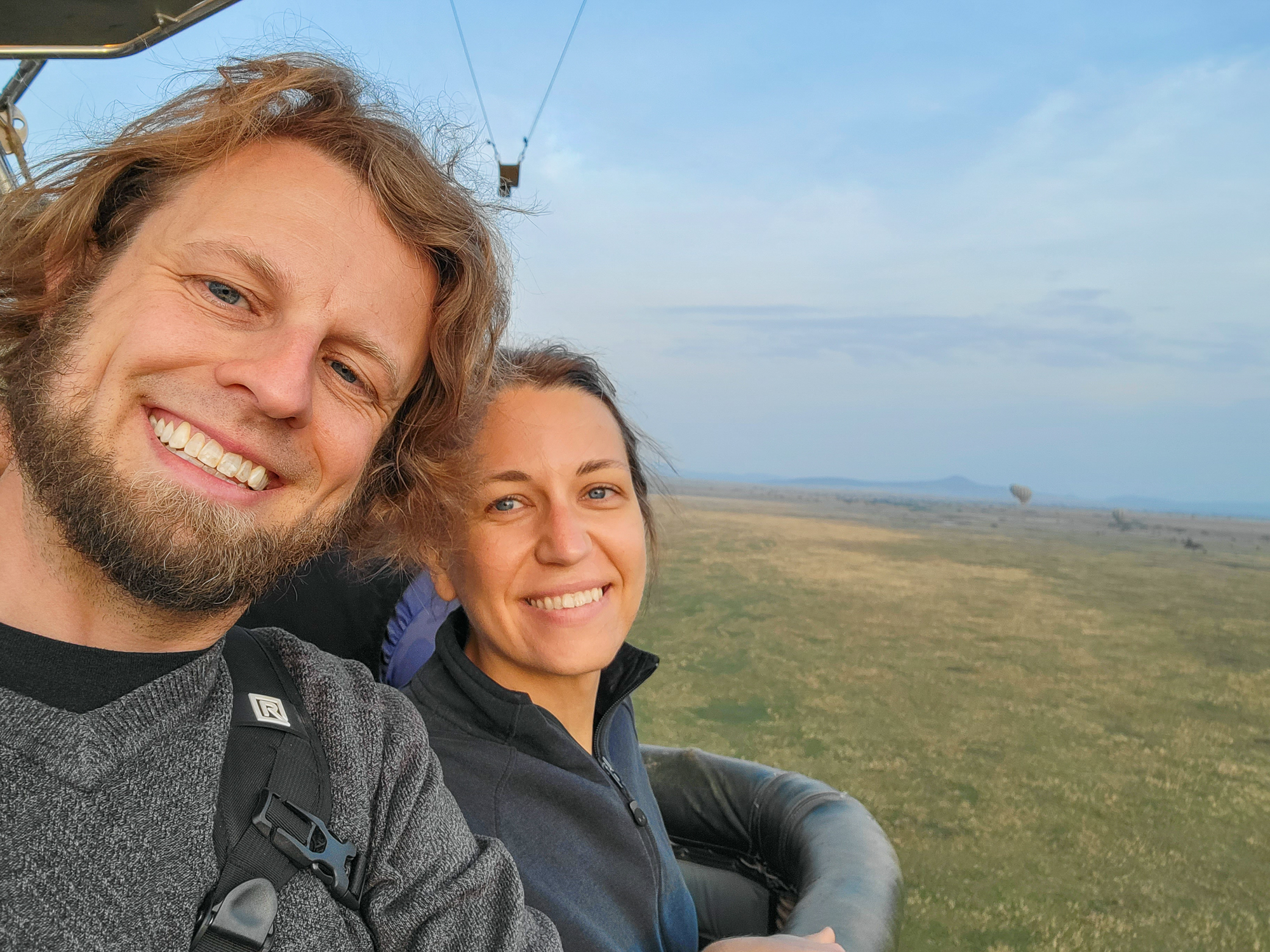 So while I would throw down the money to enjoy this experience again, I also will be holding my breath until we see something to justify the price tag.
Tips for Getting the Most Out of a Hot Air Balloon Ride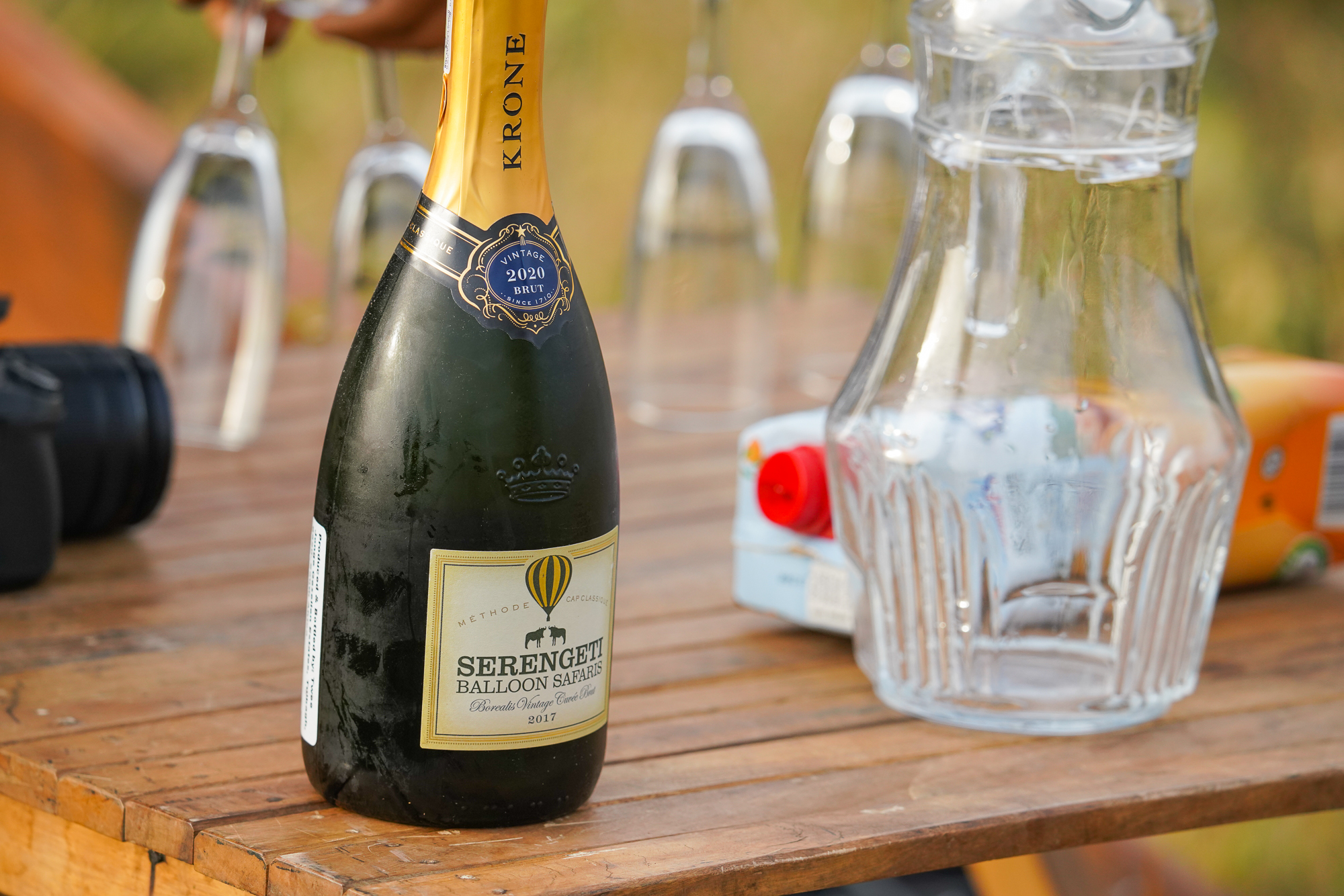 So, let's say you're fine with the cost and the risk of possibly not seeing animals and booked a hot air balloon ride in the Serengeti. What next? Well, we have some tips for you!
First, and perhaps most importantly, it is worth reiterating that hot air balloon rides generally leave really early in the morning. This, coupled with the time of year you visit the Serengeti, means that it is likely to be quite cold (it was mid-60s F on our September flight) and you should plan to wear layers if the weather is looking chilly. A light sweatshirt was fine for me, but be sure to look at the forecast for your exact dates to plan accordingly.
Second, hot air balloon rides are very dependent on having good weather conditions beyond temperature. Things like wind, rain, and more can cause rides to be canceled outright. Is this likely in the dry season like when we visited? The odds are probably quite low. But outside of that, you do have to go in knowing there is a greater-than-zero chance of a flight being canceled on any given day for reasons outside of your control.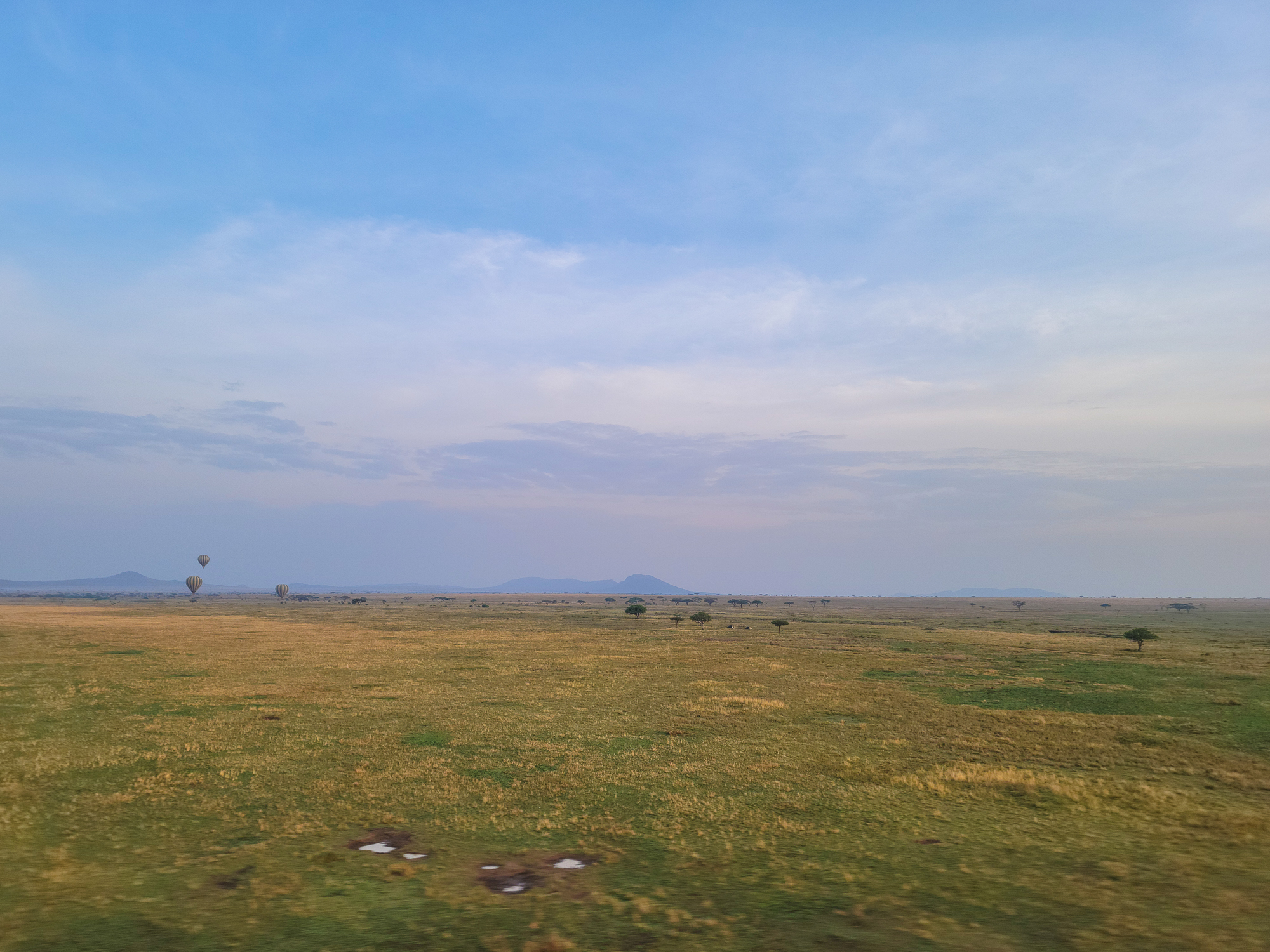 Third, the launch, landing, and breakfast spots are 100% in the bush. This means you are out in the open, possibly in thick brush, and the like. Our company brought a pop-up toilet, but likely set it up nearby to an ant nest as a few people got bit. These were more annoying than painful (thankfully they weren't fire ants), but wearing long pants, long socks, and possibly tucking your pants into your boots is not a bad idea.
Fourth, most balloon companies in the Serengeti use what they call an astronaut start and landing. That is to say, you climb into the basket angled on its side, lay down in a launch position, and the balloon picks you up/tips you over at the start and end of the ride. As such, you shouldn't plan on taking too many personal items and plan for them to be in a bag that is near your feet during launch and landing for safety. I was thankful to have my camera be able to stay around my neck, but I think I only got a pass because my unique camera strap had it firmly at my hip as opposed to near my face where it could bounce and hit someone.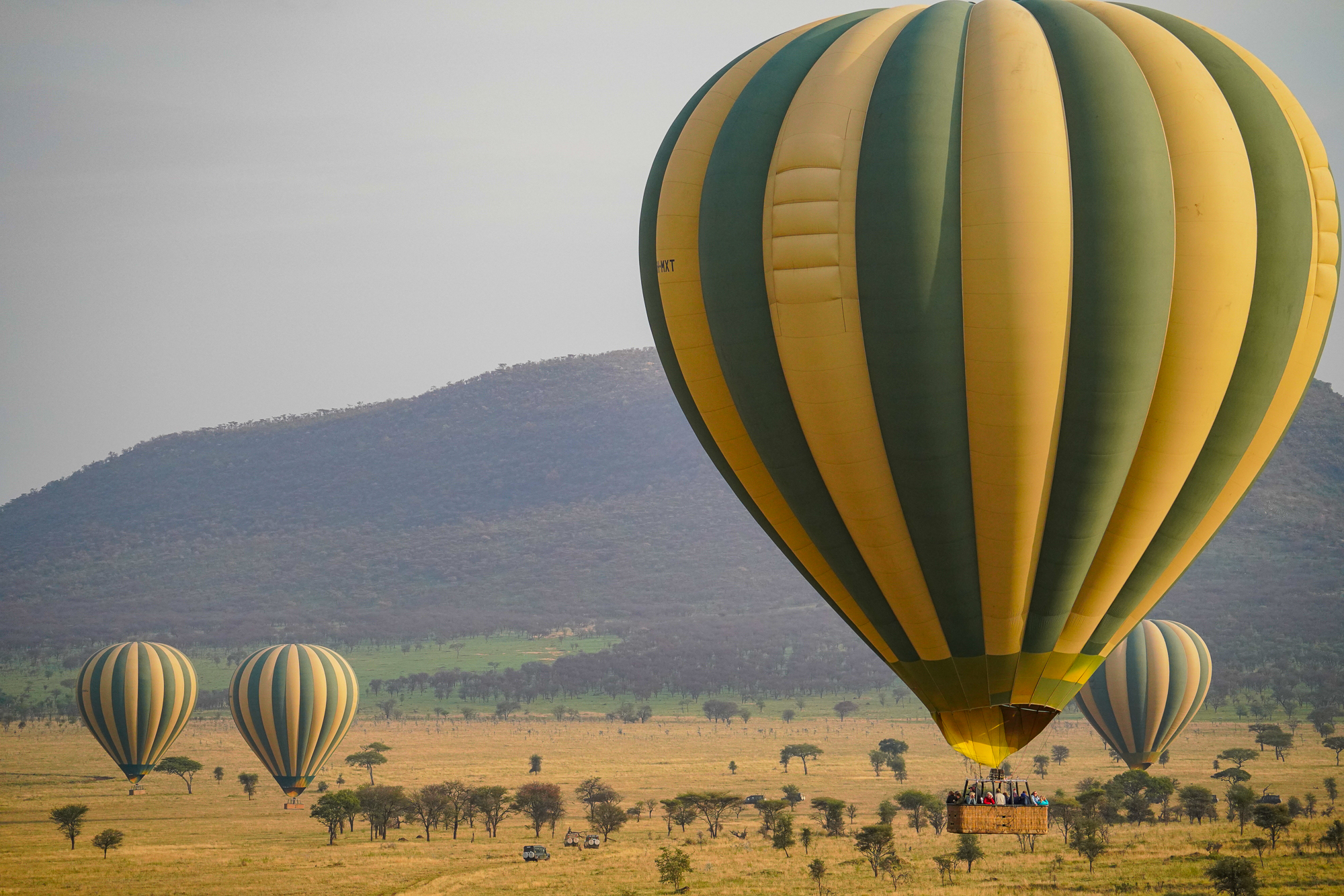 Ultimately, the hot air balloon companies in the Serengeti have a pretty respectable operation and have the overall experience down to a science. While science still cannot guarantee an animal will walk right underneath your basket, we were in great hands from start to finish with this truly amazing (and premium) experience. Whether it is worth that price tag, however, is still up to you to decide.
Looking to book a hot air balloon safari in Tanzania? Click here!
About Jeremy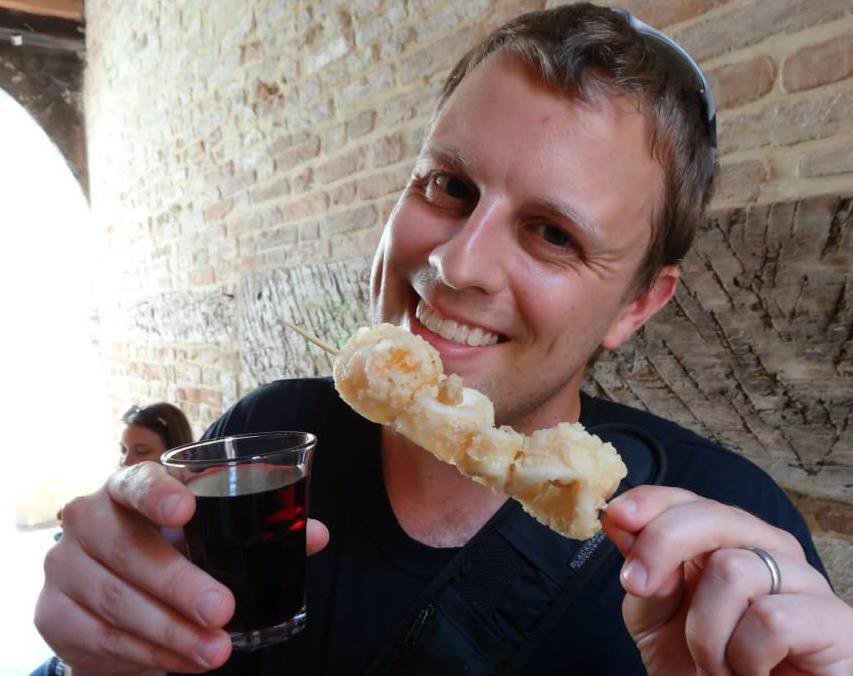 About the Author: Jeremy is a full-time travel writer based in Pittsburgh and primary author of this site. He has been to 70+ countries on five continents and seeks out new food, adventure activities, and off-the-beaten-path experiences wherever he travels.