Published by Jeremy. Last Updated on February 7, 2021.
Disclaimers: We were hosted for this experience. Our site uses demographic data, email opt-ins, display advertising, and affiliate links. Please check out our Terms and Conditions for more information. Listed prices and attraction details may have changed since our visit and initial publication.
Cappadocia is one of those places that everyone should visit during a trip, and is the one place you'll regret most if you skip it.
To say that Cappadocia is an amazing destination is putting it lightly. It is one of the most unique places we have ever traveled to. 
The rock towers, or "fairy chimneys," are unlike anything we've seen, and that is without even getting into the underground cities, lush valleys, and other scenery that the region is famous for.
And then there are the Cappadocia hot air balloon trips- the region's crown jewel. It is said that the region is in the Top 10 in the world for ballooning, and it only takes a few photos to understand why.  The fairy chimneys from below are stunning, but from above you get a fresh new perspective into the entire region.
So while you'll regret missing Cappadocia if you skip it on your next trip, it is my unfortunate duty to tell you that you'll hate yourself even more if you skip out on the hot air balloon experience when you are there.  
So when you finally get done convincing yourself to do it, the following is what you are in for.
We were hosted by Royal Balloon for our flight over Cappadocia.
A 4:45am Pickup for a Cappadocia Hot Air Balloon Ride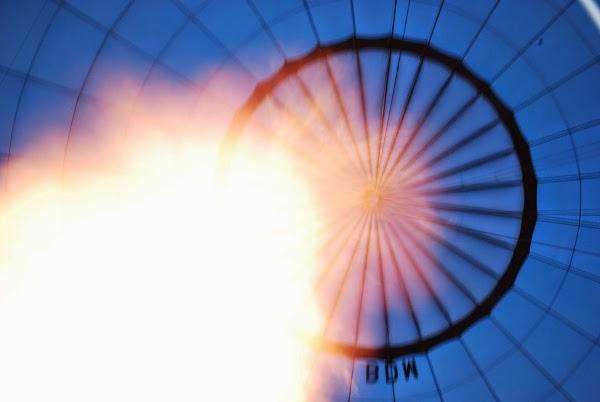 Since the hot air balloon flights in Cappadocia are sunrise flights, be prepared to get up very, very early.
We woke up around 3:30am in order to watch some of the Perseid Meteor shower (we were getting up early as it is, so why not even earlier?), and as early as 4:15 vans began pulling up to retrieve guests.  Even though our pickup was just 30 minutes later, we counted almost a dozen vans just for guests at our hotel and we weren't even the last ones out.
The first stop on the tour is at the headquarters for Royal Balloon to enjoy a buffet breakfast with our fellow fliers.  Compared to the typical Turkish breakfast (similar to a European breakfast with meats, cheeses, vegetables, and a few local treats), this one was a gourmet feast! 
The composition was the same, but the quality of everything was increased substantially.
At the end of breakfast it was time to begin, and as the light of the sun fills the skies we caught our first glimpse of a dozen or so balloons beginning to rise in the distance.
The show was beginning.
The Outskirts of the Balloon Field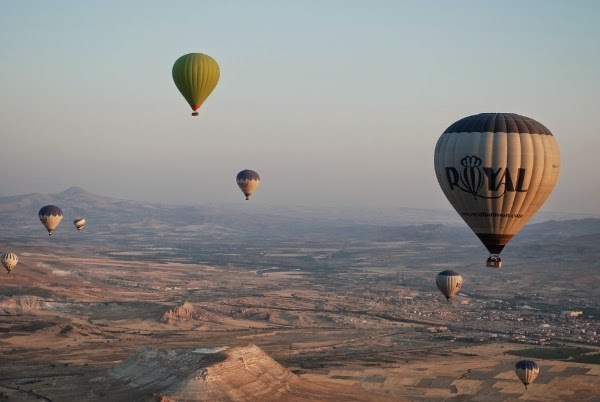 The field our balloon was waiting for us in was at the furthest end of the balloon groupings, making for one spectacular drive out.
Royal Balloon does this for one very important reason: safety.
In the congested launch sites around the city, you'll see many balloons taking off in close proximity to each other.  While it is not dangerous for balloons to be next to each other, the safety issues come from if a balloon gets above or below you and hits your basket.  By launching just outside of the rest, this issue is mitigated.
Of course, the balloon pilot is always in constant communication with their ground team and other balloons at all times as well.
While the added safety aspect is always nice, the real treat of this distance is the view. 
Both the view of Cappadocia and the view of the other balloons.  Having the ability to be in a group of 100 balloons at one of the world's top balloon spots?  That is fun.  But being able to see them all ascend while still going up in your own?  Well, we don't think that all balloons can claim to have as good of view as the one we did.
Floating in the Air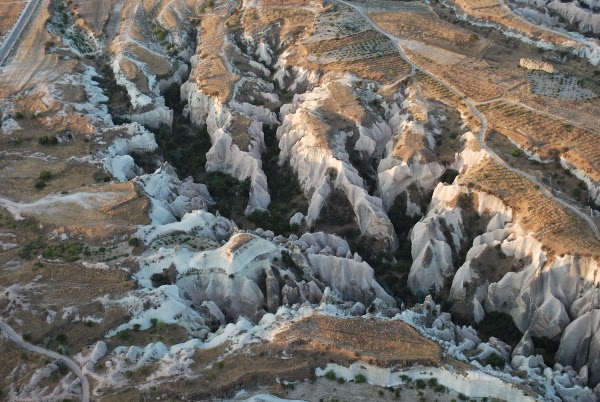 If there is one thing we were always curious about with regards to ballooning, it was what it felt like.
We know the views are spectacular and the photos unreal, but how does riding in a hot air balloon feel like compared to other obscure activities like paragliding or hang gliding?
Well, on a normal day, it doesn't feel like anything.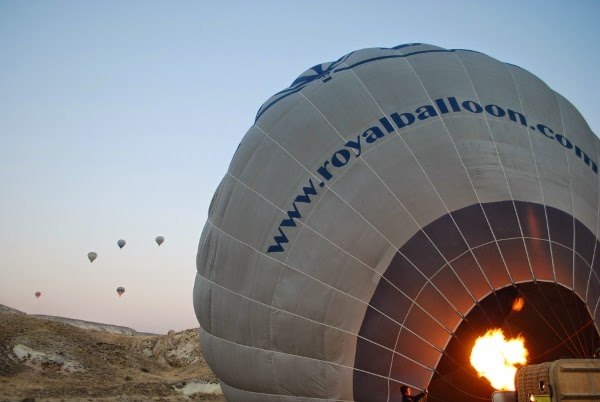 As our balloon began its ascent into the air, we would have hardly noticed it was rising if it wasn't for a light bounce on the ground as we were taking off.  From there, the entire 60-minute flight had no bumps, jumps, dips, or shakes that we can recall.   It felt like we were completely motionless.
But we were moving, and in the 60-minute flight we covered a lot of ground.
The neat thing about a hot air balloon is that the captain cannot control the direction you go like you would experience in most other types of flight.  The only thing they can do is give more gas to go up, less gas to go down, and tug a few cords to swivel the basket around to allow everyone to enjoy a nice 360-degree view.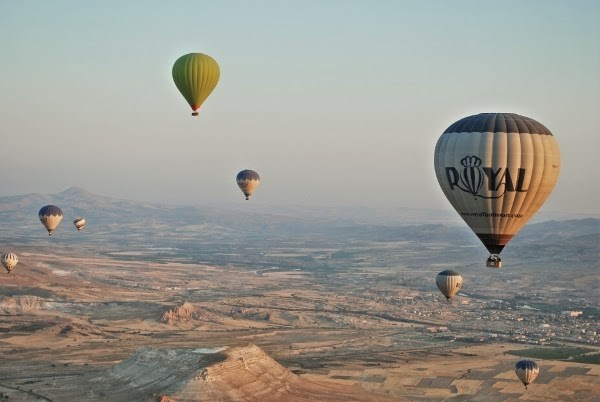 While this is the standard description any balloonist will tell you, it is only partially true.
Although it is true that there are no controls that allow a balloon to turn left or right, a good pilot can get a sense of the winds at various elevations and use them to (somewhat) control the path they take. 
Even then, it is not really an exact science.
On our particular flight, we rose from 1,000 feet to 1,700 feet at one point and the winds nearly reversed directions.  Even with a fair gust, the only thing we felt was a light breeze on our cheeks, and still no motion of the basket.
To be fair, there was only one moment other than take-off where we felt the motion of the basket, and that was as we landed back on Earth.  But for us the landing was just as soft was the start as were cushioned by an impeccably placed bush and a landing team waiting to help us along.
Ending with the Landing Ceremony
Although the landing back on Earth is sad, the ballooning experience continues on with the landing ceremony.
There is a tradition in ballooning that has carried on since the first balloon flights in the 1780s.  It is said that in the early days of ballooning the farmers would try to destroy the balloons as they landed because they thought they were evil, monsters, or worse.
The pilots of these balloons brought bottles of champagne as a way to make amends and say thanks for the brief use of their land when they touched down.  (Or as our captain joked, the first balloonist popped a bottle to celebrate not dying – both are likely true).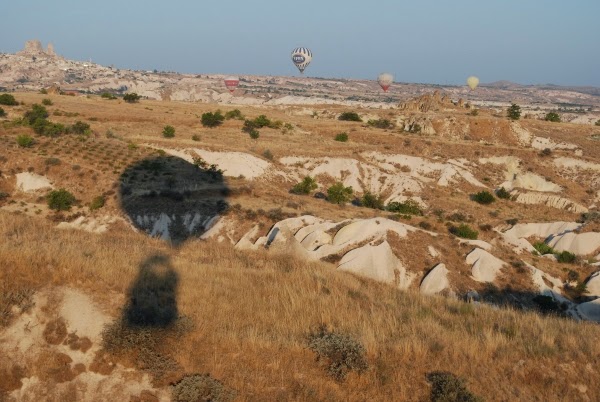 Now the champagne toasts are mainly for those who are on board the flight as the local farmers do not seem to mind the disturbance.
As soon as the flight was over we were greeted with a beautifully set table built right around the basket that was covered with glasses of champagne, orange juice for mimosas, a guest book, and apples and grapes that were plucked from the farm (don't tell the farmer about that one).
After a round of cheers and brief conversation, we were awarded flight medals from our experience, another tradition that most companies observe. A short ride in the waiting transfer van later and we were back at our hotel.  It was 8am, and most of the other travelers were just waking up.
With all the excitement and euphoria from the perfect morning in Cappadocia, we decided to keep it going.
It was time for a hike, and the balloon had set our course.
For more great scenery from our hot air balloon ride, we'd like to invite you to check out the following video we made from our flight!
We'd like to thank Royal Balloon for the discounted balloon flight out of Goreme. Our experience was one of the most memorable from not only this trip but of all of the adventures we've ever been on.  When you make it out to Cappadocia, you should definitely check them out. As always, all opinions are our own.
For more Cappadocia tour options, check out the previous link!
To see more of Turkey's beautiful nature, why not check out our reviews of Saklikent gorge or the many Dalyan attractions.
About Jeremy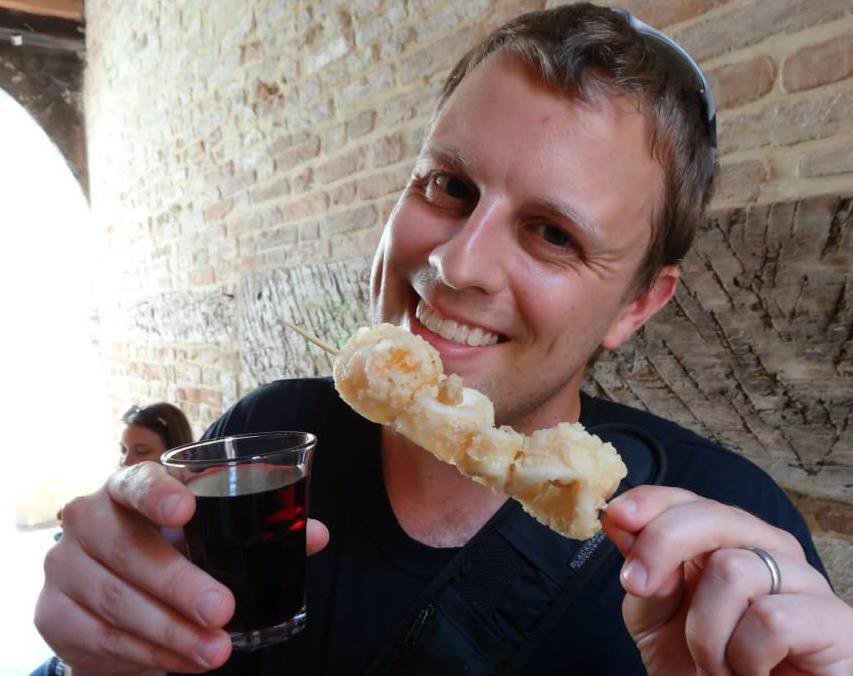 About the Author: Jeremy is a full-time travel writer based in Pittsburgh and primary author of this site. He has been to 70+ countries on five continents and seeks out new food, adventure activities, and off-the-beaten-path experiences wherever he travels.