Last Updated on August 16, 2022 by Jeremy
Disclaimers: Our site uses demographic data, email opt-ins, display advertising, and affiliate links. Please check out our Terms and Conditions for more information. Listed prices and attraction details may have changed since our visit and initial publication.
Often considered the number two destination in Vietnam behind taking a Halong Bay cruise, is Sapa.  The Northern mountain town is the go to spot for trekking, near immeasurable quantity of rice terraces, and visiting local tribal villages. 
Of course, visiting Sapa at any time of the year puts you in for a very high risk of being caught in the frequent rain storms the region enjoys. 
This shouldn't be a deterrent, as hiking in Sapa was one of my favorite experiences, even if it did require a bit of extra preparation when rainy.
Rain, Rain, Rain – Always Rain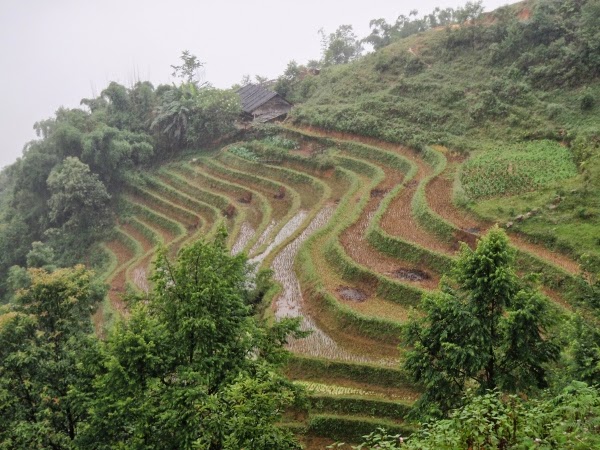 If you are one of the unlucky travelers who visit Sapa during, or within a week after a bad rain storm, you are likely in a statistical majority. Unfortunately, the homestay treks and many one day treks are on steep grades of dirt trails.  Our first day of trekking to the homestay was full of uninterrupted showers, producing even muddier trails for the second day of the hike. 
Almost everyone slipped or fell over at least once, with yours truly falling twice on the second day and getting a fair share of souvenir mud on my belongings.
To be prepared, the village shops sell every knock-off item imaginable for all environments.  The salesmen and women can be shrewd in the bartering process, especially during inclement weather where essentials will only sell at inflated prices. A nice, reusable double-lined rain coat is a life saver, and full on water boots are a good investment even if just for two days.  
If you can get these down to 100,000 to 120,000 Dong during a rain storm, your bartering skills are solid.  You can always sell the rain boots after and break even on the investment!
Don't Miss The Homestay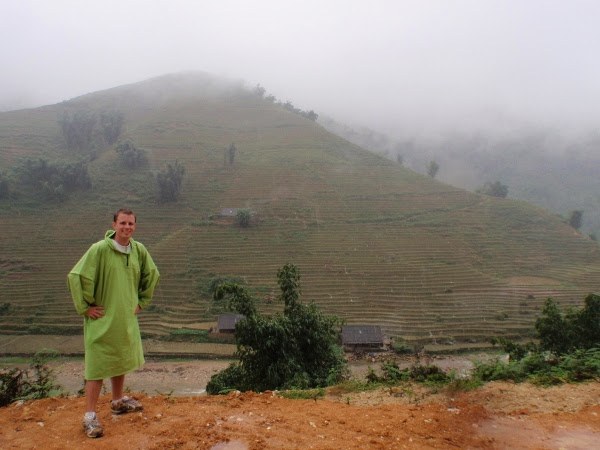 A village homestay should be a must for any traveler visiting Sapa, not just for the experience of staying with a local family, but for getting further out in the countryside to see some of the most beautiful parts of the region. 
The further you can get outside of Sapa village, the more the scenery presents itself, and a homestay provides the opportunity to get there.
The home itself is most often a glorified dorm room built as an addition to most family homes, and it is said that only those staying in two night homestays can really see a traditional home on the second night.
But after 6 hours of trekking, the moderately warm shower and basic amenities are most welcomed on the weary body.
"Will You Buy From Me?"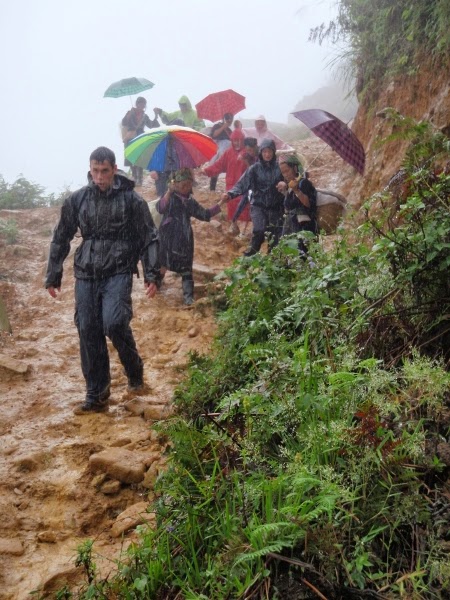 All trekkers will likely have their fair share of local villagers who follow them the entire duration of a segment of the hike in hopes of making a sale when reaching their village. 
These local women become invaluable assistance during bad weather as they point out proper trails, hold hands, and are nothing less than a saving grace for the many of potential falls that could have been.
The downside to all of this goes back to their initial goal of making a sale.  Upon reaching their village, the woman will often use shameful lines like "I help you, buy from me" to make you buy a cheap bracelet or embroidered item. 
Of course, if anyone got as much help as I did, a $5 sale/tip is the least you can do, and is graciously received from all the women who receive the tip.  Most of them would be grateful for just $2 for helping on a three or more hour hike.
Be wary, as other women who see you buying from one person will soon flock to you and throw out lines like "You bought from her but not from me, something small?" and can generally become annoying very quickly.
Do Not Buy From Children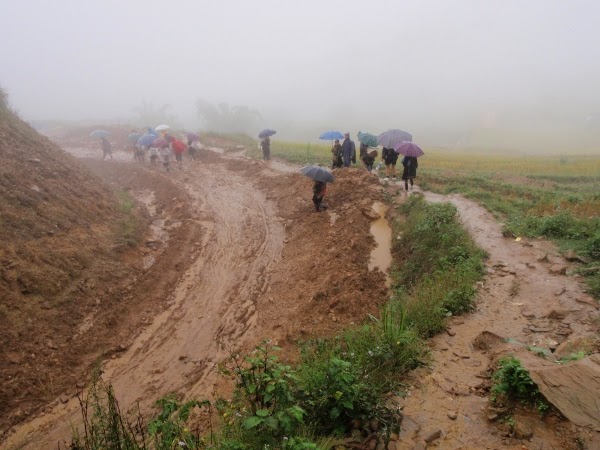 It should go without saying that buying from children is a bad idea.
More often than not the children that go out to sell to tourists have dropped out of school and will become lifetime touts. 
The youngest ones do not grasp the concept of what is going on and will be made up to look disheveled, dirt covered, and pouting while saying the phrases "Will you buy from me? Only one dollar" in the most pathetic tone you will ever hear. 
Unfortunately, that is the only English the kids know, and attempts to get them to leave by saying no thank you is met with blank stares and a repeat of the sales pitch.
But in retrospect, the three dozen kids selling bamboo hiking sticks before the beginning of the homestay trek might have made a few more sales if we knew how bad it was going to be a few hours later.  I still don't encourage buying from children though.
Overall, Sapa is an amazing destination even when hiking in the worst rain and mud conditions imaginable.  Part of me wishes, however, that I knew how bad it was going to be in advance in order to be fully prepared for the trek ahead to try and save a few pair of clothes in the process that have since been scrapped due to the mud.  I would not discourage anyone from traveling to Sapa if the forecast is rain, but be sure to be fully prepared when you go!  You wont regret it!
Looking for more things to do in Vietnam?  Get a custom suit made in Hoi An at Yaly Couture or take a mud bath at the Thap Ba Spa in Nha Trang!
About Jeremy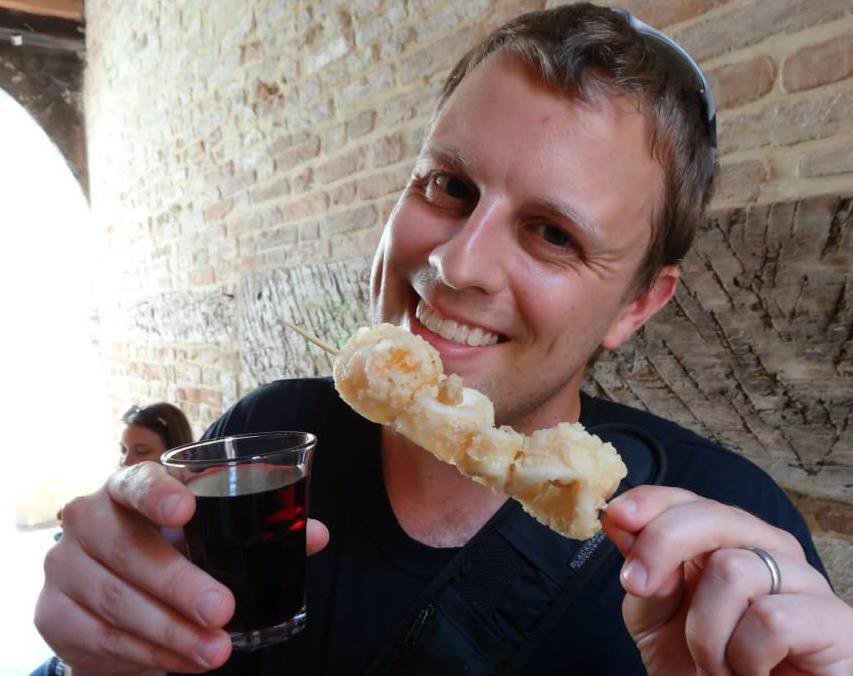 About the Author: Jeremy is a full-time travel writer based in Pittsburgh and primary author of this site. He has been to 70+ countries on five continents and seeks out new food, adventure activities, and off-the-beaten-path experiences wherever he travels.