Published by Jeremy. Last Updated on August 7, 2022.
Disclaimers: Our site uses demographic data, email opt-ins, display advertising, and affiliate links. Please check out our Terms and Conditions for more information. Listed prices and attraction details may have changed since our visit and initial publication.
If you've ever traveled in Europe, odds are good you know about the notoriety of Ryanair flights.
This UK-based airline is prolific in its advertising absurdly cheap deals, with Ryanair sale promotions often featuring flights for under 10 Euro. Yes, you read that right- 10 Euro.
But where it seems like a wonderful deal to purchase Ryanair tickets, there is one thing to keep in mind- the advertised price is likely not the final price you'll ultimately pay. This leads to disappointment and a lot of the negative reviews we have seen online.
But after flying Ryanair in Italy from Catania to Rome, I have to say, with a little bit of advanced planning you can make the flight a moderately enjoyable experience. Or, to put it another way, my Ryanair flight wasn't bad.
The Ryanair Destinations List is Attractive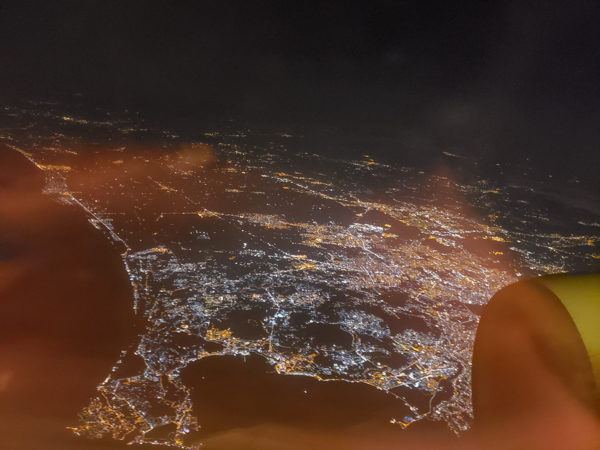 First and foremost, with its notoriety, why do people fly Ryanair at all? Well, other than the price, the airline services more than 200 destinations in Europe, the Middle East, and northern Africa. So if you're looking for a flight deal, odds are good Ryanair will both have that and, as we found in our route, an ideal flight date/time.
In fact, Ryanair seems to thrive in flights to islands in the Mediterranean, with almost every major island (outside of Greece's vast island makeup) having somewhat regular options.
For us going from Catania, Sicily, to mainland Italy, it was the right place at the right time, and even though I was worried considering the reputation I've read about, I booked the ticket all the same.
The Trick for RyanAir Flights? Purchase Extras in Advance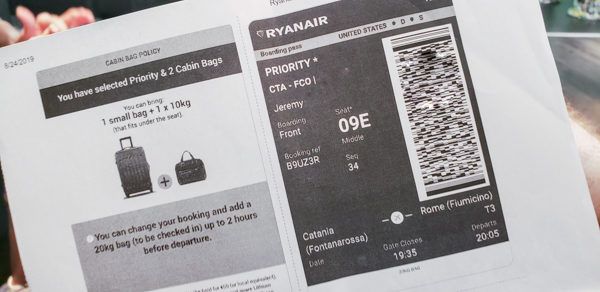 The real trick for dealing with a RyanAir flight is to purchase all applicable extras when buying your ticket. As with most of these options, the fees day-of at the gate will be significantly more expensive and pre-planning what all you need will go a long way.
There are extra fees for those who want 20kg in checked luggage instead of the standard 15kg for the regular fee. There are fees for extra hand luggage in the cabin. There are fees for priority boarding (I believe this was lumped in with our hand luggage option). There are fees to pick your seats. And so on.
If you forget to pay for the extra weight for your luggage, you may be sitting on fees over 10 Euro per kilogram of extra weight. That is more than many base ticket prices. If you forget to print your ticket in advance, you'll have another fee. If you have an excessively large carry-on bag (as RyanAir's size limits are quite small), you'll have to pay to check a second bag. Another fee.
These gotcha fees are often one of the biggest complaints we see about RyanAir, but to be honest I didn't find them to be bothersome when purchasing my ticket. Most all of them are clearly laid out and a bit of advanced research goes a long way. We had no surprises when we got to the airport, and the ~40 Euro in extra fees per ticket was worth it over what we could've been charged at the gate (but more on the pricing a bit later).
Check-in and Print Your Tickets in Advance, or Use the RyanAir App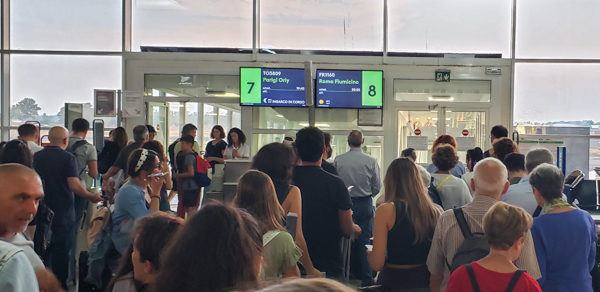 Two of the more surprising fees with Ryanair is their day-of check-in fee (north of 50 Euro) and re-issuing tickets (about 20 Euro at the time of publication). We were immensely worried about this one because we had limited access to the internet and no access to a printer during our travels, and weren't sure what we were going to do.
Thankfully, there are two things worth keeping in mind to save you from these particular fees.
The first is that those who reserve a seat can check-in up to 30 days before your flight. For those who have not, you have four days before your flight to do so (up to 4 hours before departure, otherwise enjoy that 50+ Euro fee to do it at the desk). This is a significant improvement over US-based carriers that let you only check-in 24 hours before your flight. Likewise, this frees up a number of opportunities to get your ticket printed before you really need it- this is what we did.
The second is to use the Ryanair app on your phone. You can download your boarding passes here and, as far as we are aware at least, can use this just like you would use with any other modern carrier. That being said, I'm old school and always prefer a printed ticket.
Note that Ryanair has some airports that do not allow use of mobile boarding passes, so we recommend checking out current information on their website if you rely on this when traveling. As I mentioned, I almost always use a paper ticket, and still highly recommend it for carriers with gotcha fees like Ryanair. That ticket re-issue fee is not to be trifled with.
The Inflight Experience Was Fine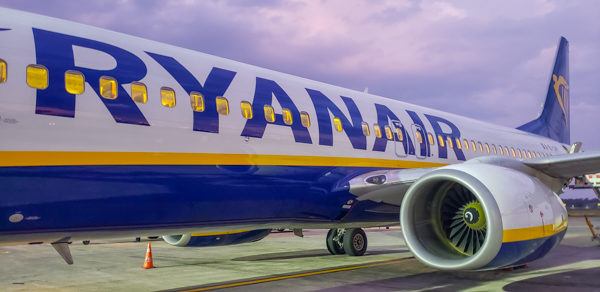 So, how was the flight itself? Honestly, it was fine. I have very little to comment on with my Ryanair flight as it was just about the same as any other budget carrier.
Our check-in process was smooth (there were even desk attendants unlike the DIY baggage drop of easyJet on our way to Sicily), the flight was basic with nominal leg-room (I was not uncomfortable at 5'9″) and paid snacks/drinks (again, the same as any budget carrier), and our bags were among the first to come off the conveyor belt.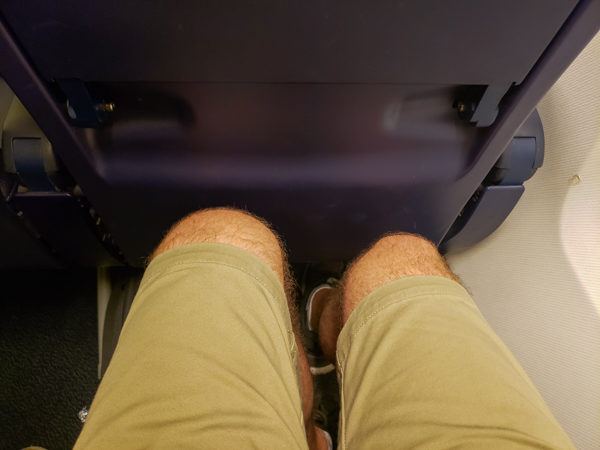 I recognize that many budget carriers fall apart in customer service when things go bad, but my flight was about as smooth as it could get. So, really, I had no complaints about the 90-minute flight. I wouldn't want to fly on this kind of carrier longer than 90 minutes, but as far as in-flight experience goes I had the same experience as any other budget carrier I've flown on in Europe.
Fine, not memorable, and did the job. That is all I ask for with a cheap ticket.
The True Cost of Our Ryanair Tickets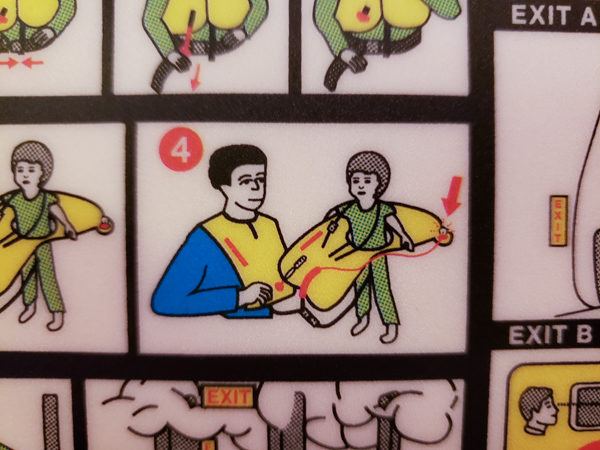 All things being equal, our Ryanair tickets were listed at being around $30 each, but after of the extras purchased as mentioned above our overall flight cost just over $80. More than double.
I look at this in two different ways.
First, even though $30 sounds amazing, a 90-minute flight from Sicily to Rome for $80 is still a fantastic deal. The extras for 20kg of luggage, seat assignments, and upgraded hand luggage was a literal small price to pay that still made the flight economical compared to other carriers. By booking extras in advance we mitigated any surprise at the airport (often with fees significantly higher than our overall price as mentioned above) and made the overall journey seamless.
To put this one bluntly, I've been on trains in Europe that cost more than a Ryanair flight for similar distances, so the more than 2x multiplier with fees still made this reasonable overall. You could complain about the fees, or you could recognize the value even when factoring them in and move on. I chose the latter.
Second, it was simply a 90-minute flight. If you are flying a budget carrier on a three or four hour trip across Europe, you're setting yourself up for disappointment and frustration. I'll take budget carriers any day of the week if its 90 minutes or less, but when it comes to service they all have similar limitations.
Expect them, deal with it, and move on. Otherwise, pay for whatever upgrade you need in advance, or purchase a significantly more expensive ticket on a global carrier if you desire more than basic comforts.
Overall, I really had no complaints about our Ryanair experience. I found the airline to be not much different than other European budget airlines (like easyJet that we took to when flying from Venice to Sicily a few days prior). Sure, Ryanair has more fee categories to consider, but if you're going to be going for that $30 (or is that $80) ticket, well, you'll do well by researching what you need specifically before hitting buy.
Doing that will go a long way in ensuring you have the best experience. But as with all things budget airlines, whether you do this is solely up to you.
Looking for a flight deal? Check out prices on Kayak– our favorite flight search engine!
Book a Train Ticket in Europe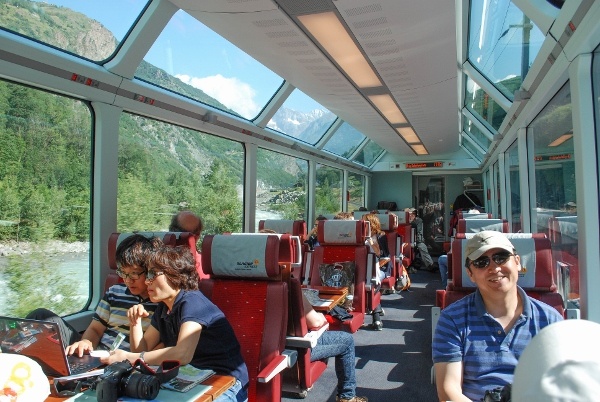 Want to learn more? Check out our Omio review!
About Jeremy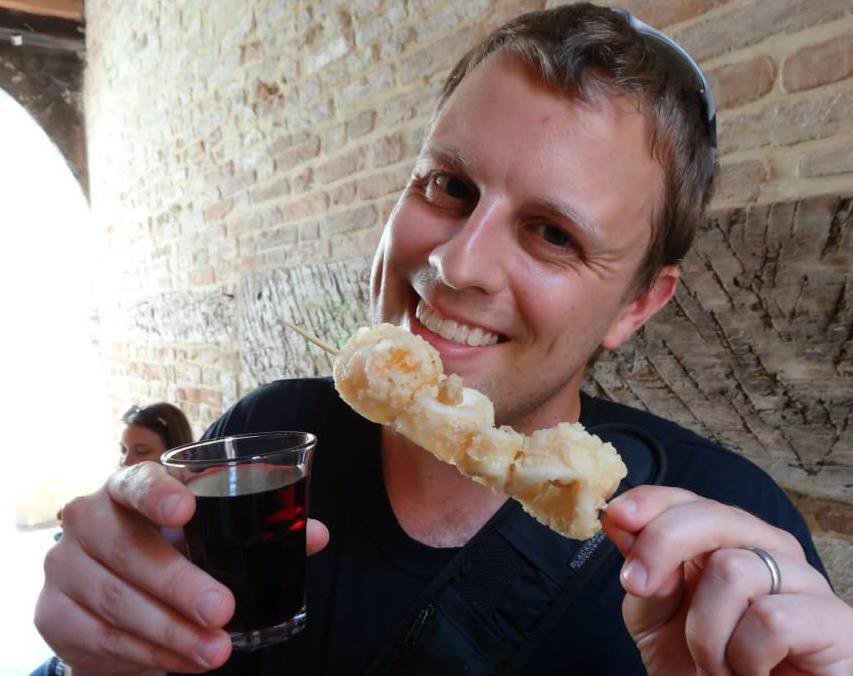 About the Author: Jeremy is a full-time travel writer based in Pittsburgh and primary author of this site. He has been to 70+ countries on five continents and seeks out new food, adventure activities, and off-the-beaten-path experiences wherever he travels.