Last Updated on June 18, 2023 by Angie
Disclaimers: Our site uses demographic data, email opt-ins, display advertising, and affiliate links. Please check out our Terms and Conditions for more information. Listed prices and attraction details may have changed since our visit and initial publication.
Ristorante Borgo Sant'Anna is a Michelin-starred restaurant in the Barolo region of Italy. The restaurant's picturesque setting amidst the rolling hills covered with vineyards and the creative use of regional ingredients combine to make this a solid option if you're exploring Piedmont.
Borgo Sant'Anna Offers a Taste of Piedmont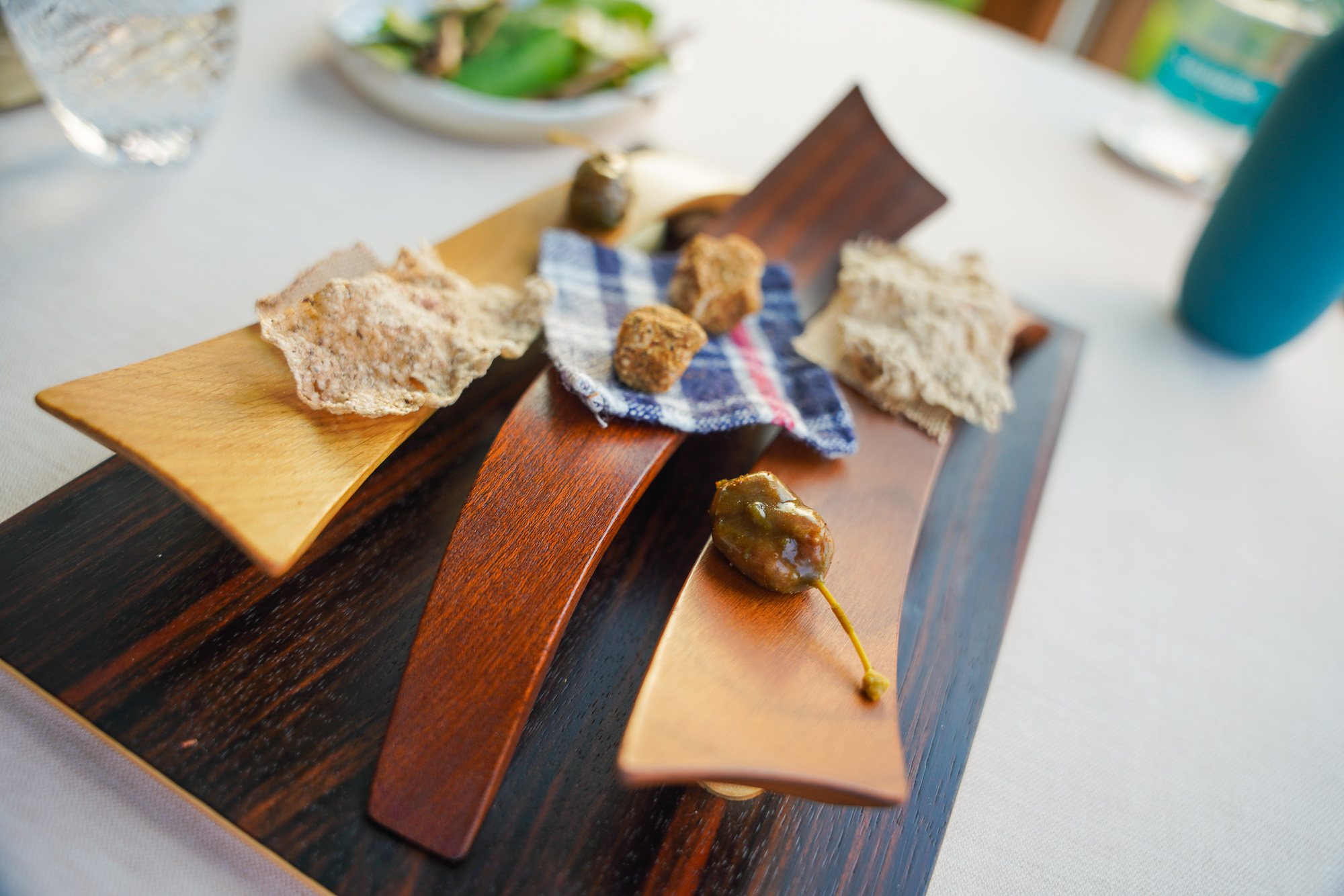 Piedmont is so saturated with Michelin-starred restaurants and outstanding restaurants in general that choosing where to dine with limited time can be challenging. We did tons of research and decided on Borgo Sant'Anna because of its reasonable price point, the option to order a la carte or a tasting menu, and the stunning views.
Speaking of views, somehow we managed to score a prime table right next to the floor-to-ceiling windows overlooking the vineyards. But there are so many windows that there's really not a bad seat anywhere. As we settled in, the sommelier asked if we'd like a glass of champagne or Italian sparkling to start, and we opted for the Italian.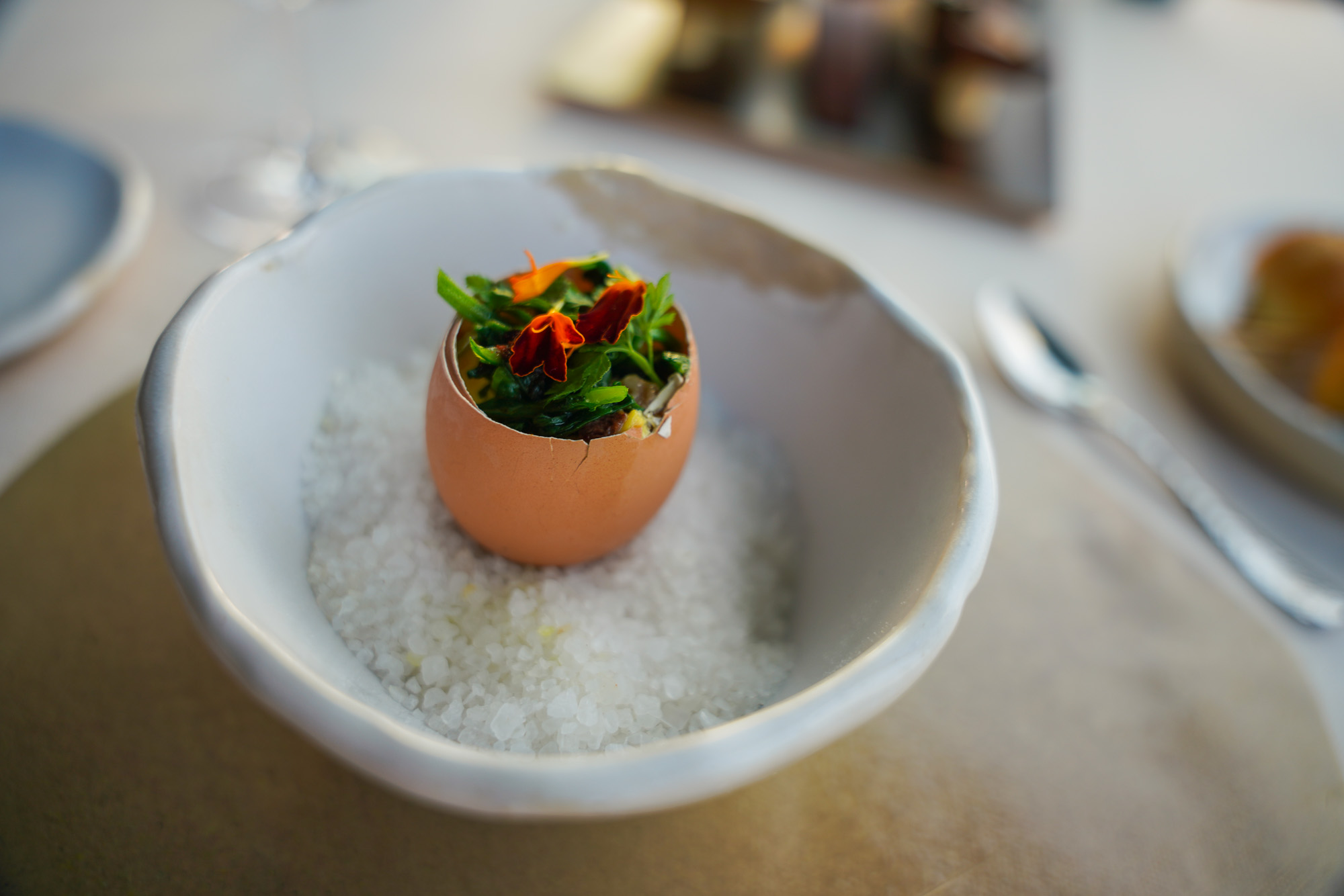 We perused the menu and noted there were three tasting menu options, a 4-course "Langhe and History" menu, a 5-course "Passions and Origins" menu, and a 6-course "Hunting Solo" menu featuring fawn, partridge, boar, duck, and more. Each tasting menu had a corresponding wine pairing option as well.
The a la carte options also sounded delicious, but we really wanted multiple courses and at that point the tasting menus just made more sense for the price point.
We decided on the 5-course menu and soon an assortment of little snacks came out: an insanely creamy "frittata" served inside an eggshell; a Jerusalem artichoke chip topped with dots of bagna cauda; crackers; little bread rolls with tuna inside; and a little ball made to resemble a truffle but creamy with a dusting of mushroom powder on the outside. We loved that these snacks were creative, playful riffs on traditional Piedmontese cuisine.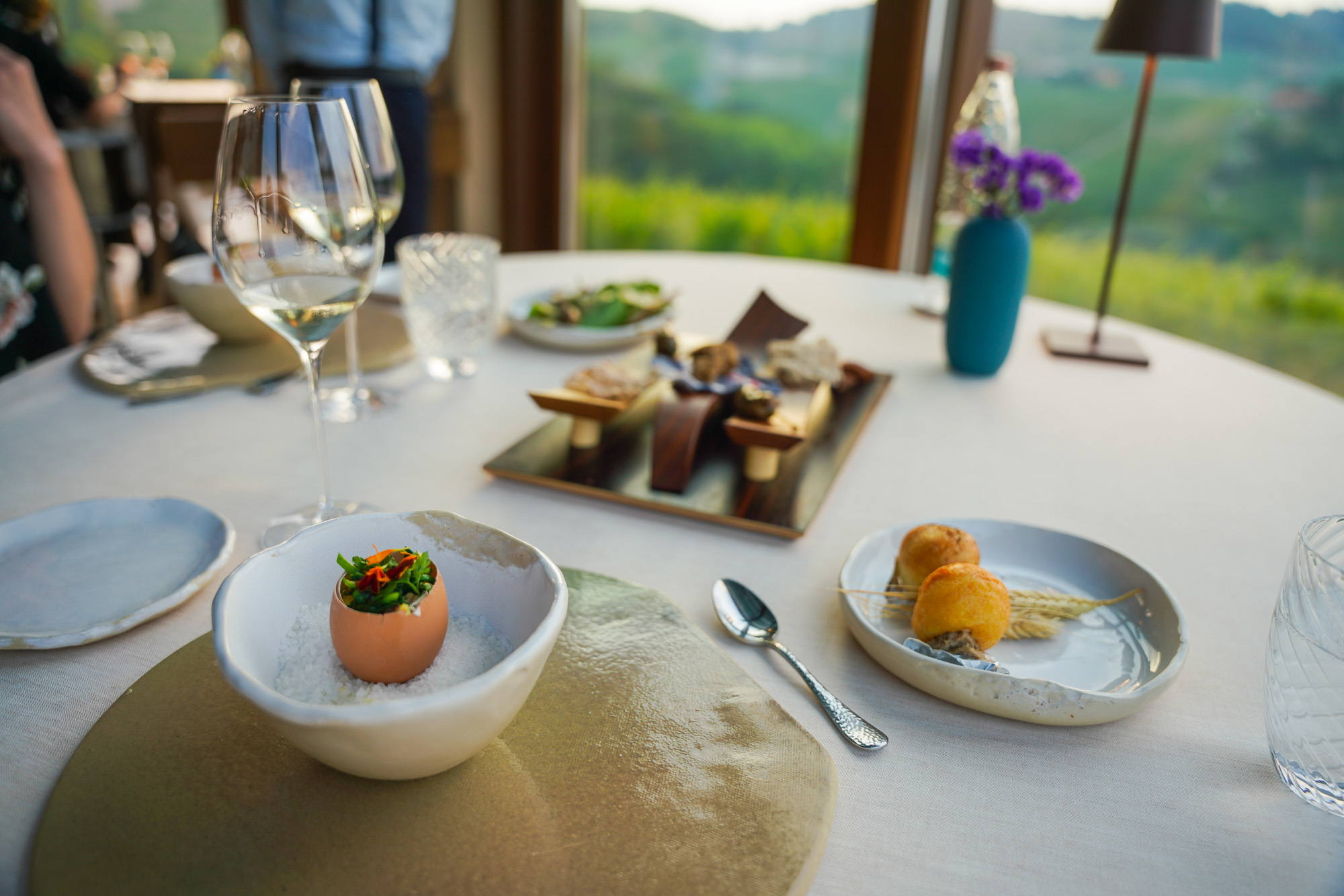 The first wine was a 2022 Verte San Leonardo Sauvignon Blanc paired with a mussel dish. The dish had a translucent circular gel on top made of mussel water, and a pecorino emulsion on top served tableside. Underneath the gel were mussels, broad beans, and tomato. Overall it had delicate flavors and subtle mussel flavor. We thought it could have used more seasoning, but perhaps the subtleness was an intentional way to ease into the meal.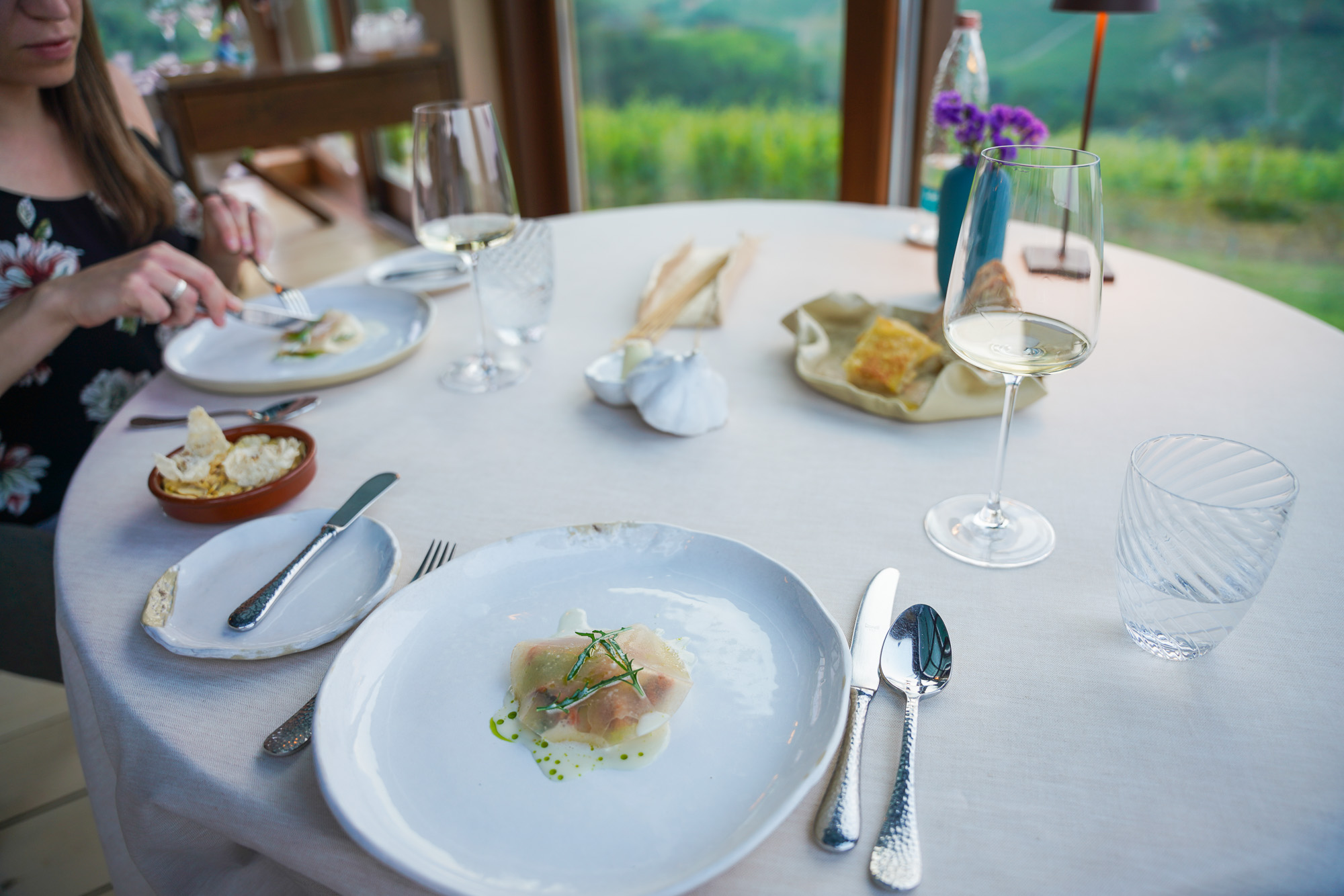 A bread course soon arrived including a really delicious, oily, salty focaccia; the perfect sourdough with ultra crispy crust; super skinny grissini; rice crackers; and a "butter" made from olive oil but presented in a solid shape (the server at a nearby table mentioned something about the use of a Pacojet to make it).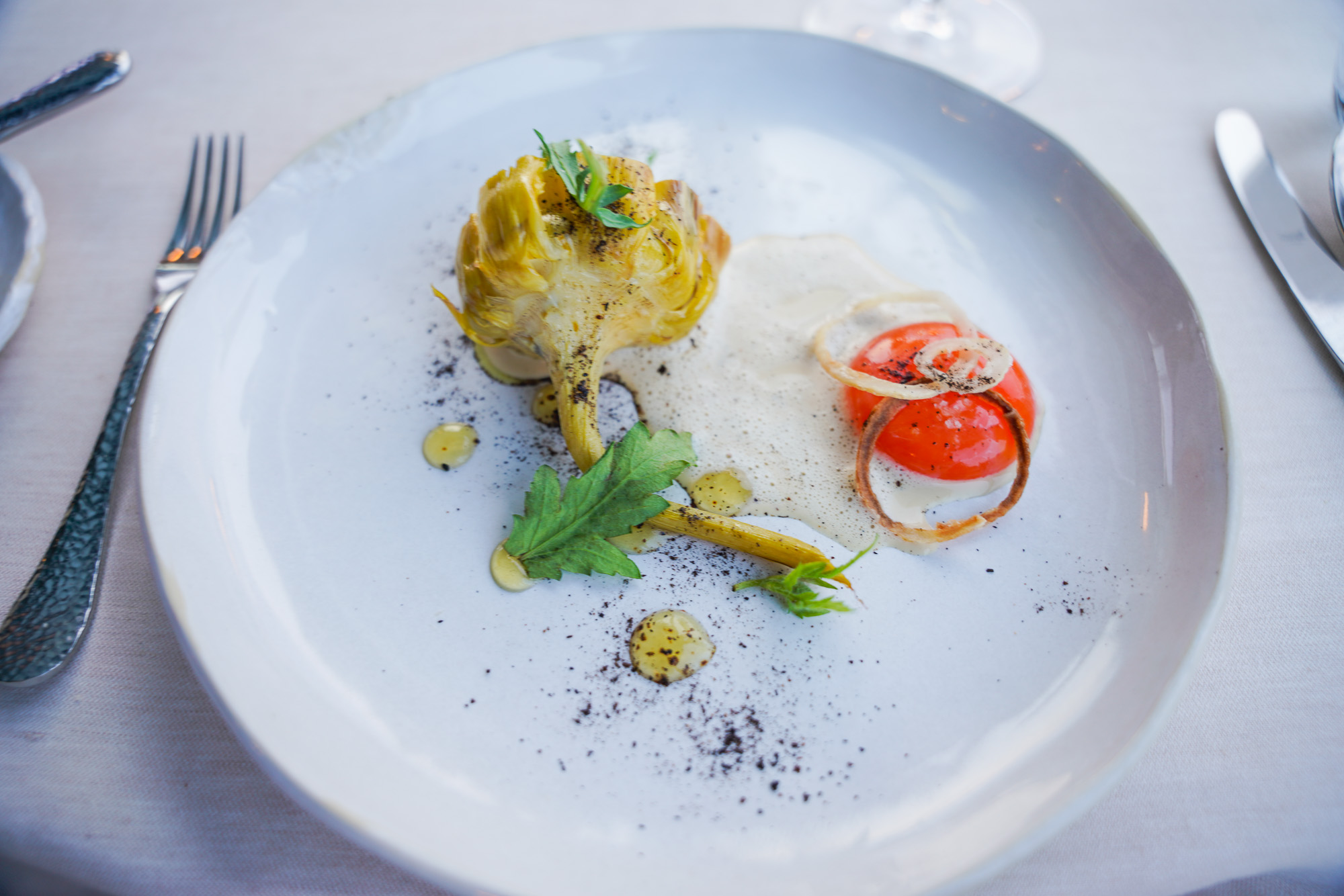 Next up for wine was a Massolino Langhe Riesling that had intense petrol aromas despite being only two years old. It was paired with an artichoke dish – a single artichoke presented with an onion and artichoke foam, and an egg yolk topped with fried onions on the side. The creamy foam tempered the slight bitterness of the artichoke, and the wine also worked beautifully with it.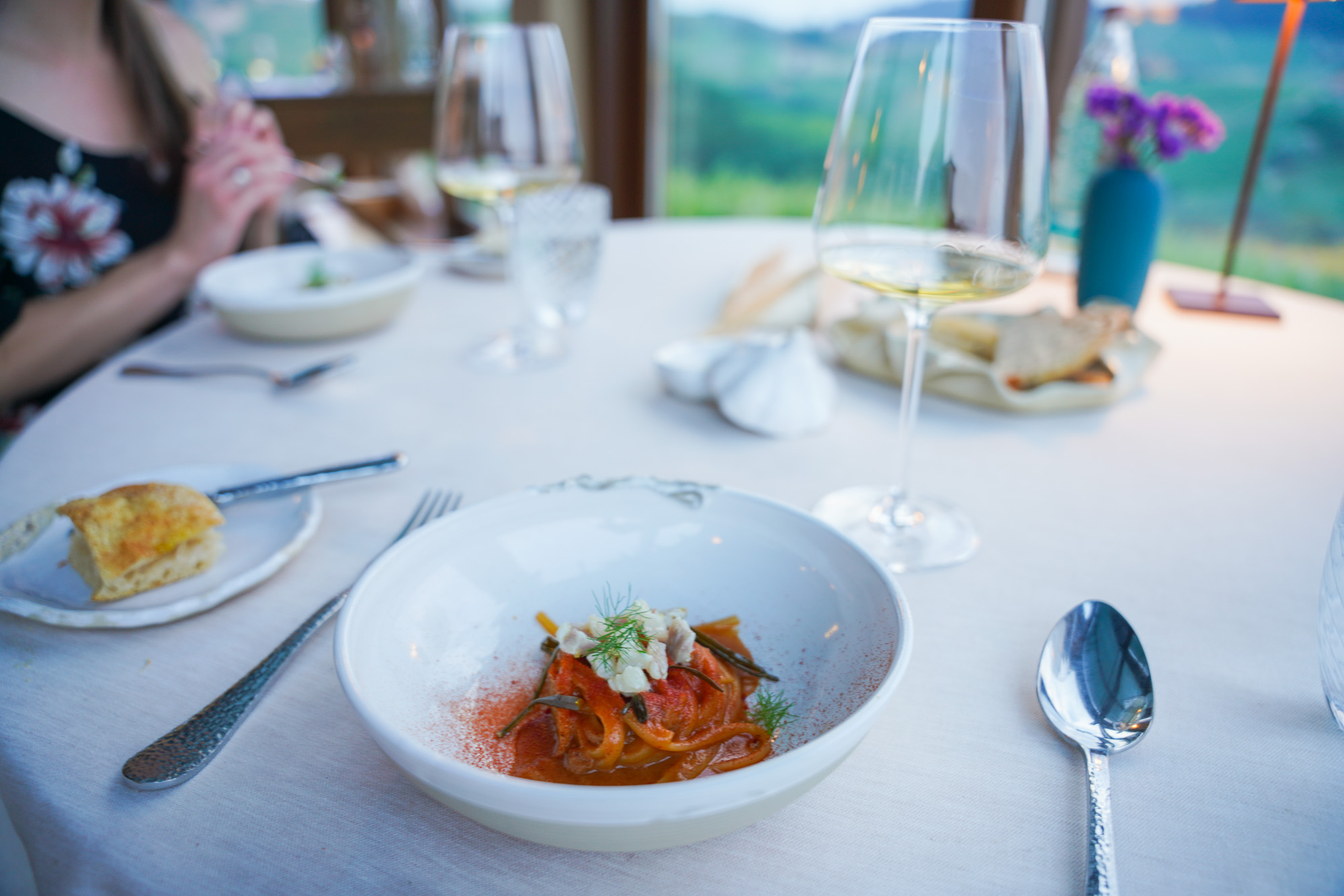 The pasta course was next, and a Seni di Batasiolo Langhe Chardonnay accompanied it. Spaghetti was served in a rich, almost creamy tomato sauce infused with fish, and topped with fish tartare and a sprig of fennel. By appearance it may have looked simple, but a pleasant, gentle seafood aroma permeated the sauce and the whole dish.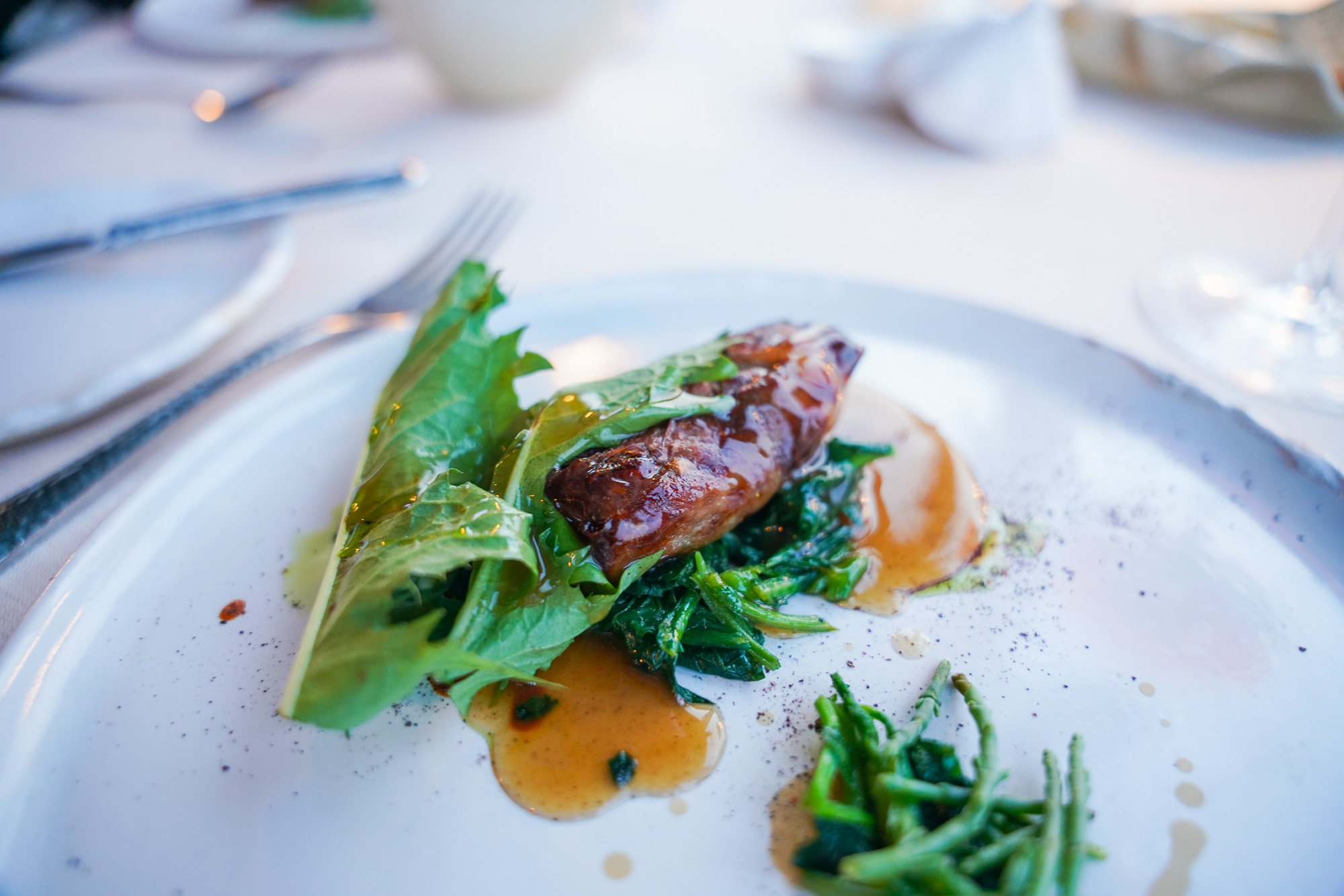 Up next was the main event, and a serious wine to go with it. The wine was a Costamagna Isacco Ostrum Roche Langhe Nebbiolo, and it was paired with a lamb dish. But this wasn't just any old lamb dish – the shredded lamb was inside a crispy wrapper, accompanied by a tomato sauce, sauteed greens, and escarole. The lamb was juicy and tender and paired so wonderfully with the wine, creating an explosion of fruity flavors.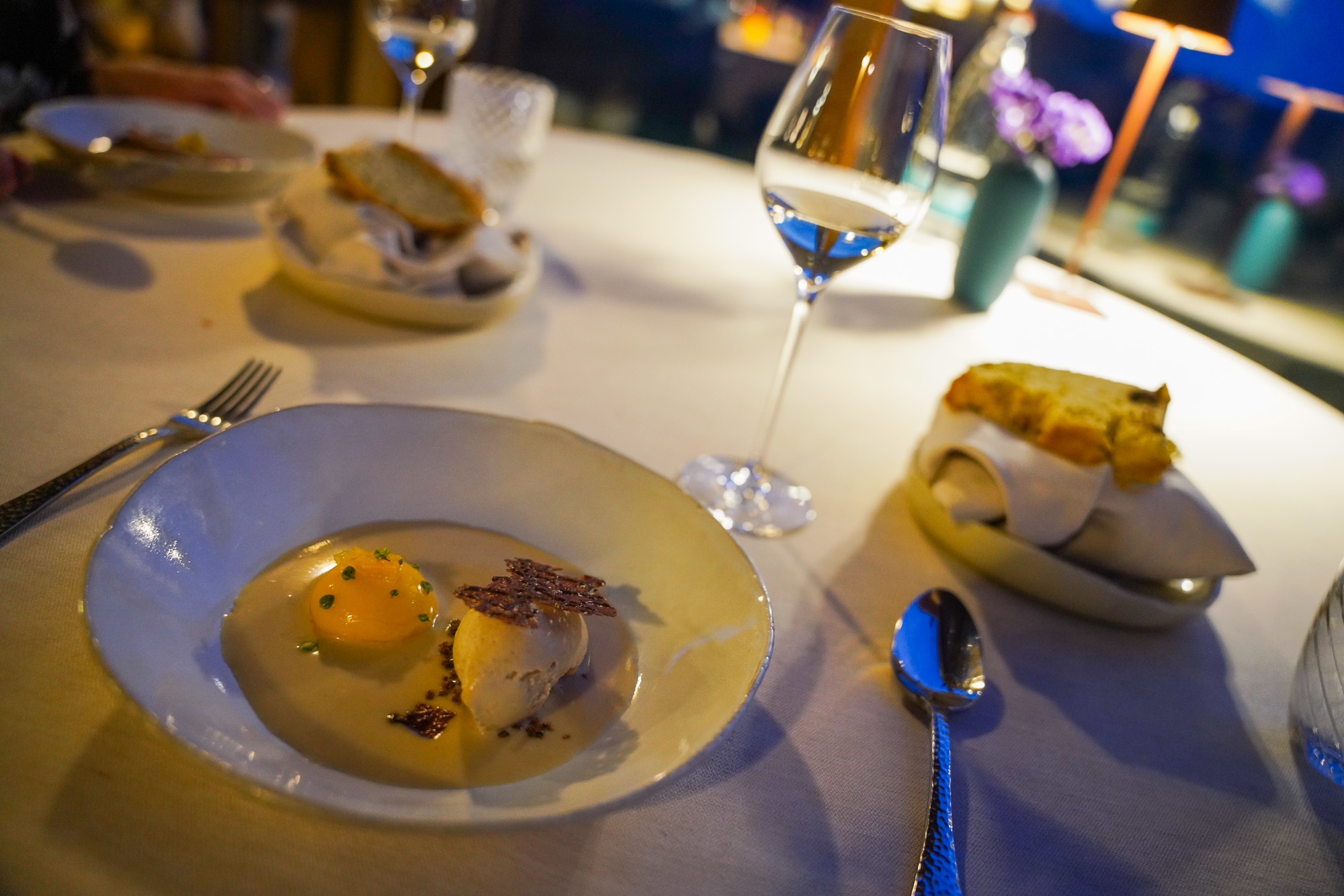 Our meal started coming to an end with the first dessert course. The regular dessert course involved a hazelnut ice cream and sauce, which Jeremy received, but due to my nut allergy mine was a bit different. I had a chocolate ice cream, a lemon curd, and a strawberry sauce. The chocolate ice cream seemed a bit intense for the fruitiness of the other components, but the lemon curd itself was exceptional. The curd was also brilliant with the wine pairing, a Saracco Moscato.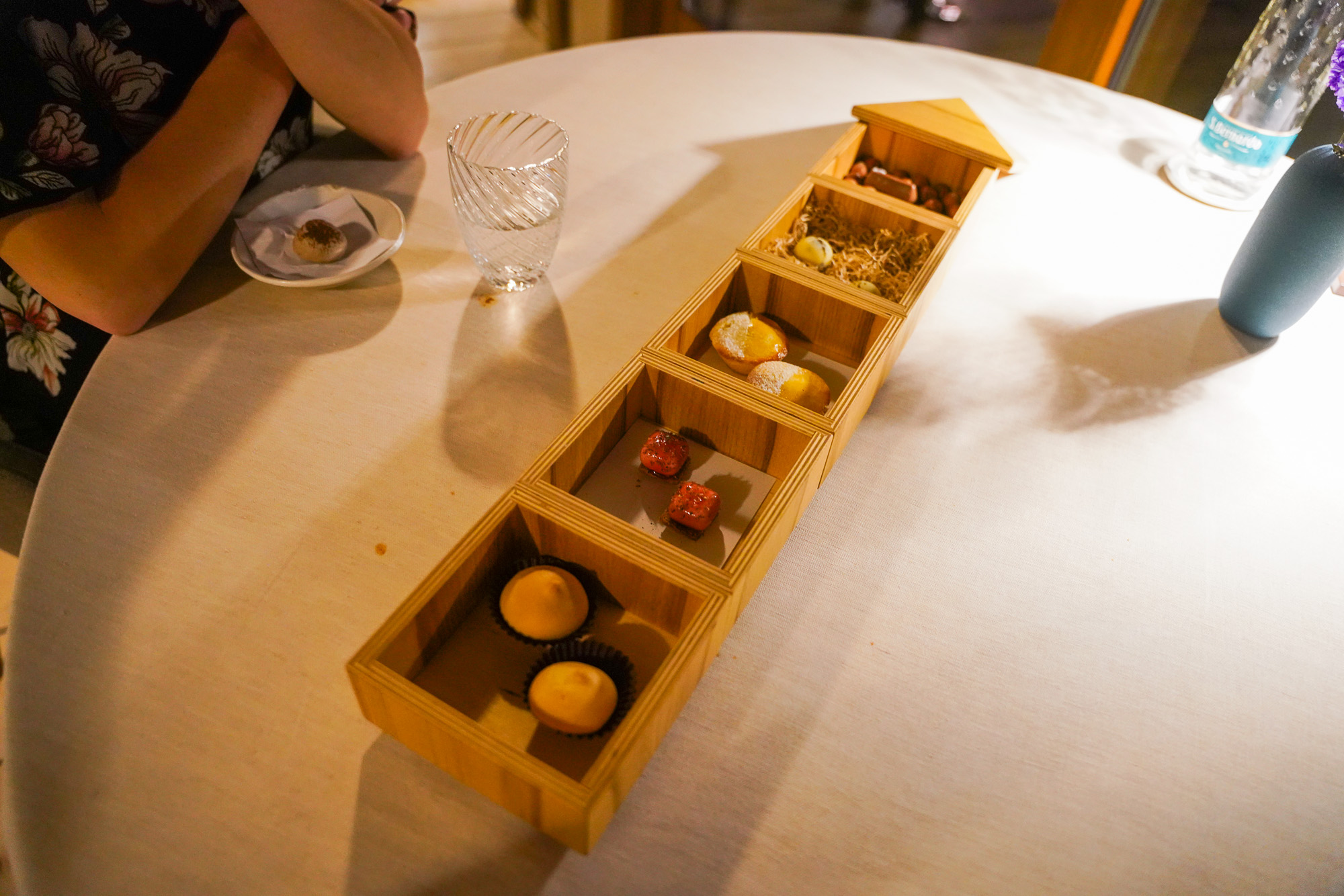 Just when we thought things were finishing up, a giant tower of final sweet bites arrived at the table: a strawberry bite that was somewhat marshmallowy; a miniature corn muffin with a sweet corn custard inside; a white chocolate cardamom truffle (the best of them all!); and a chocolate meringue.
Overall, there wasn't one dish that stood out as super creative or mind-blowing, but we appreciated lots of things about Borgo Sant'Anna. First, the price point – the 5 course menu was only 85 Euro, a steal! Also, we really liked the focus on traditional Piedmontese ingredients elevated to the next level (you can only eat so much plin and tajarin, after all!). And last but not least, looking out over the hills of Barolo while enjoying a meal here was truly sublime.
Ristorante Borgo Sant'Anna is located at Località S. Anna, 84, 12065 in Monforte d'Alba CN, Italy.
Book a Train Ticket in Europe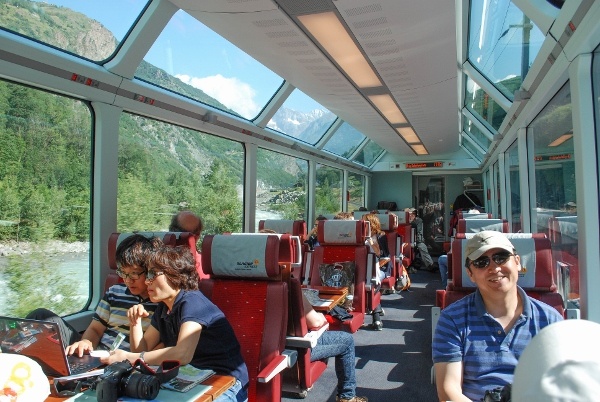 Want to learn more? Check out our Omio review!
About Jeremy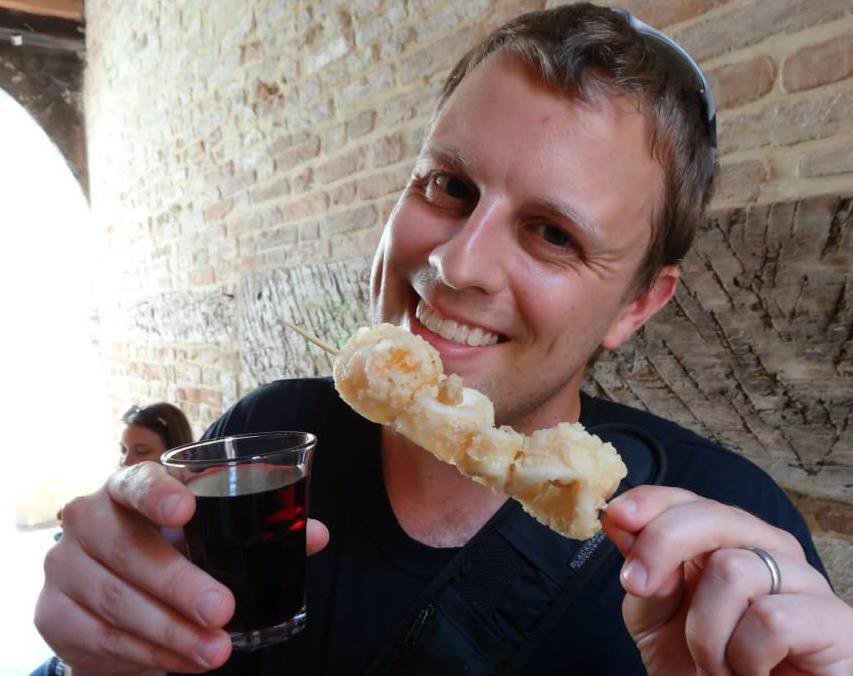 About the Author: Jeremy is a full-time travel writer based in Pittsburgh and primary author of this site. He has been to 70+ countries on five continents and seeks out new food, adventure activities, and off-the-beaten-path experiences wherever he travels.