Last Updated on June 18, 2023 by Angie
Disclaimers: Our site uses demographic data, email opt-ins, display advertising, and affiliate links. Please check out our Terms and Conditions for more information. Listed prices and attraction details may have changed since our visit and initial publication.
Piazza Duomo in Alba, Italy, is a fine dining restaurant that has held three Michelin stars for more than a decade and is on The World's 50 Best Restaurants list. With all of those accolades, we knew we had to see what all the hype is about during our recent trip to Piedmont.
It all started with us setting our alarms for 3:45AM our time in order to log on precisely when reservations opened: 10AM Italy time, 3 months ahead of time. The restaurant releases all reservations for the entire month at once, and the release dates are published on their website.
Having secured our spot, the next choice was to select the menu that we wanted to have. Piazza Duomo offers two different food tasting menus, one a 6-course option called "The Journey," and the second a 10-course menu called simply "Barolo," meant to pair with Barolo wines, naturally.
When we made our booking we weren't sure if we wanted to focus so laser-like on Barolo pairings, so we initially booked The Journey. However, when the restaurant reached out a few days before our visit we panicked and changed to the Barolo menu.
We are glad we made the switch.
Piazza Duomo Showcases the Best of Barolo
The Barolo menu had two different wine pairing options, each with six different Barolo's – one an entry level discovery option, and another "rarity" option. The food plus basic wine pairing option was 500 Euro per person, while the second option was 1,000 Euro per person. We stuck with the more affordable option (relatively speaking).
The dining room at Piazza Duomo is perhaps just as iconic as the food, with its signature pink muraled walls and ceiling. The room is very small and intimate with just seven tables. I liked our table in the corner as we could see everything going on at the other tables.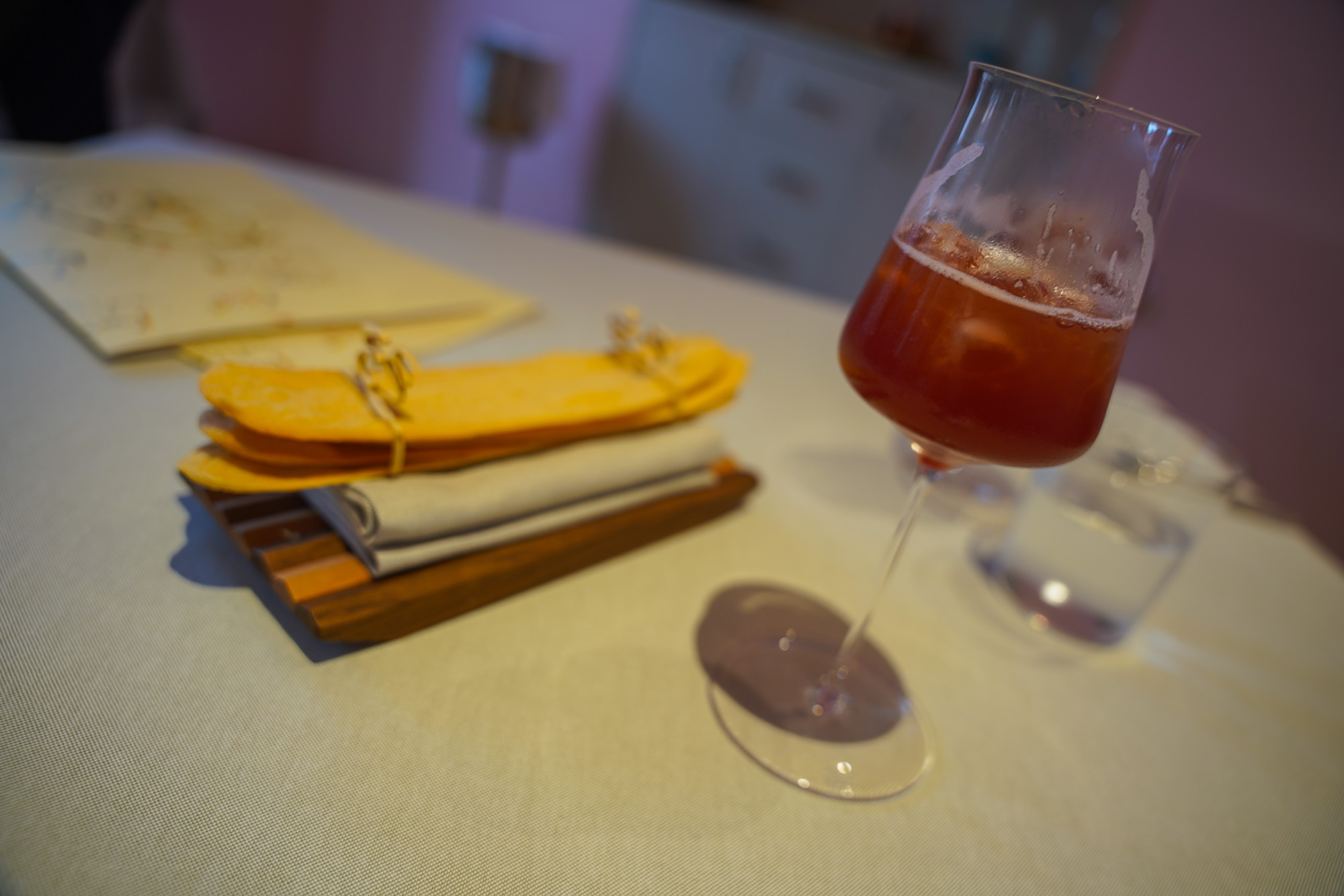 Soon after making pleasantries with the sommelier Andreas and letting him know which wine pairing we wanted, he appeared with a Barolo cocktail. It was made with Barolo Chinato (a spiced sweet dessert wine) plus tonic water, resulting in a pleasantly bitter and refreshing drink.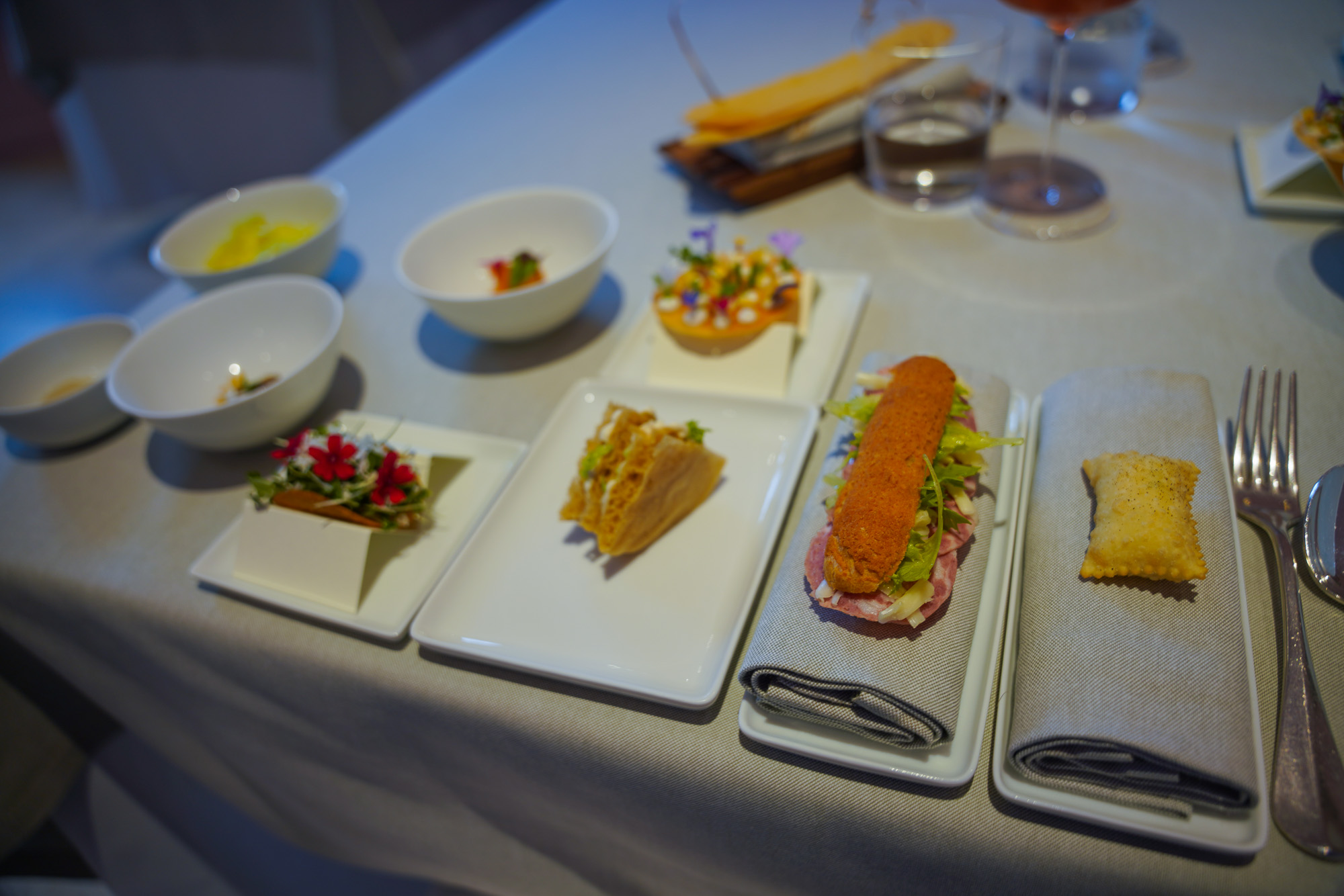 But our focus soon turned to the dozens of small plates coming out to our table – so many plates kept coming out one by one, that we couldn't help but laugh hysterically. The servers described this course as the "Turin aperitif," and it featured whimsical takes on traditional local foods eaten for aperitif, like a fried ravioli filled with ricotta and mint; a mini cured salami sandwich with lettuce and cheese; a chicken salad sandwich; a "taco" with a crispy shell made out of potato, filled with microgreens and grated horseradish; insanely delicious pumpkin with orange zest; and a circular crisp that tasted cheesy and was topped with dollops of soft cheese, fresh herbs, and flowers (so fresh, floral, and delicious!).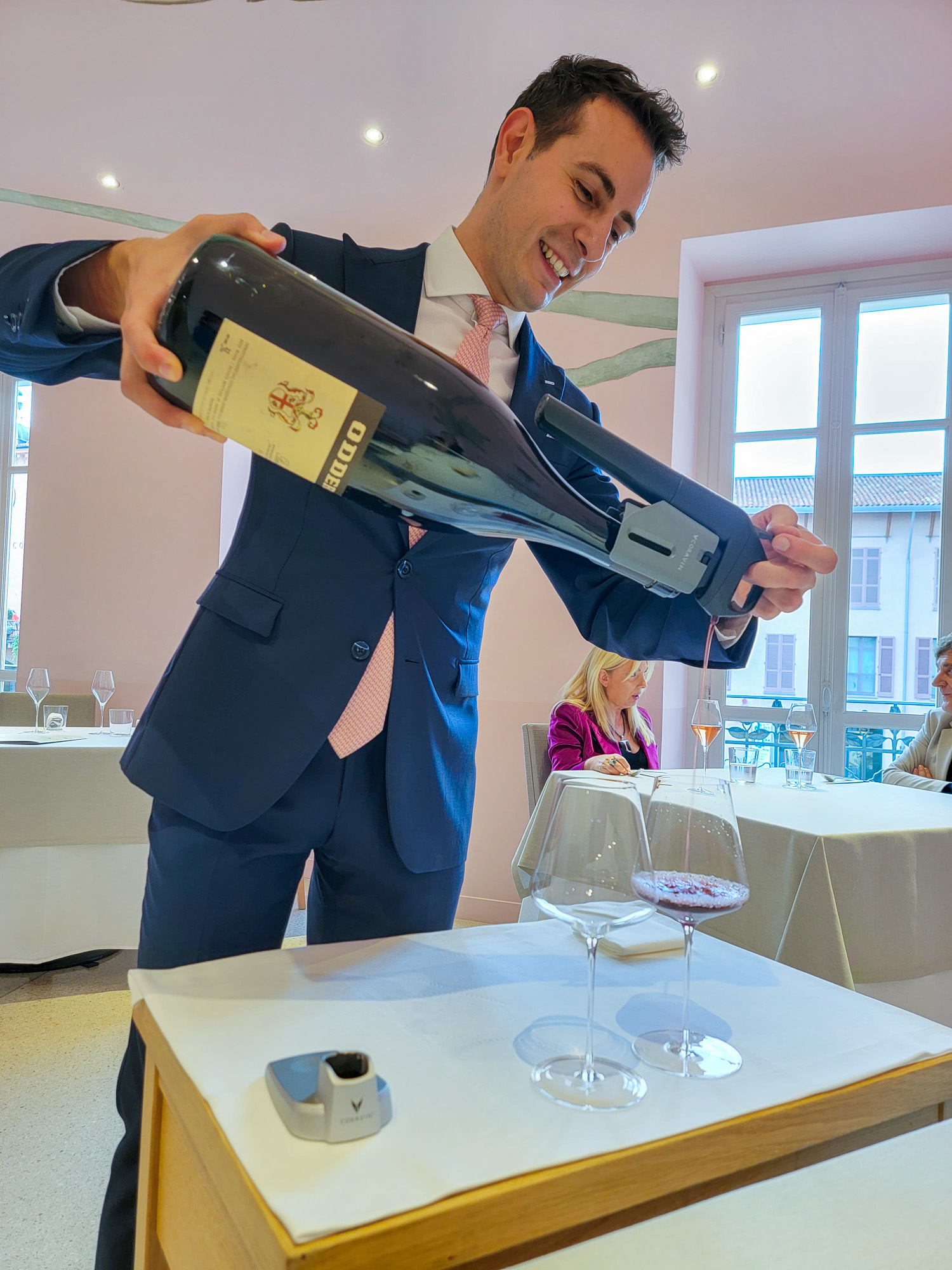 The absurdities continued with the first Barolo pairing, a Coravin pour of a Jeroboam of Oddero 2015 (have you ever seen wine served from a Jeroboam? It's so absurd and amusing!).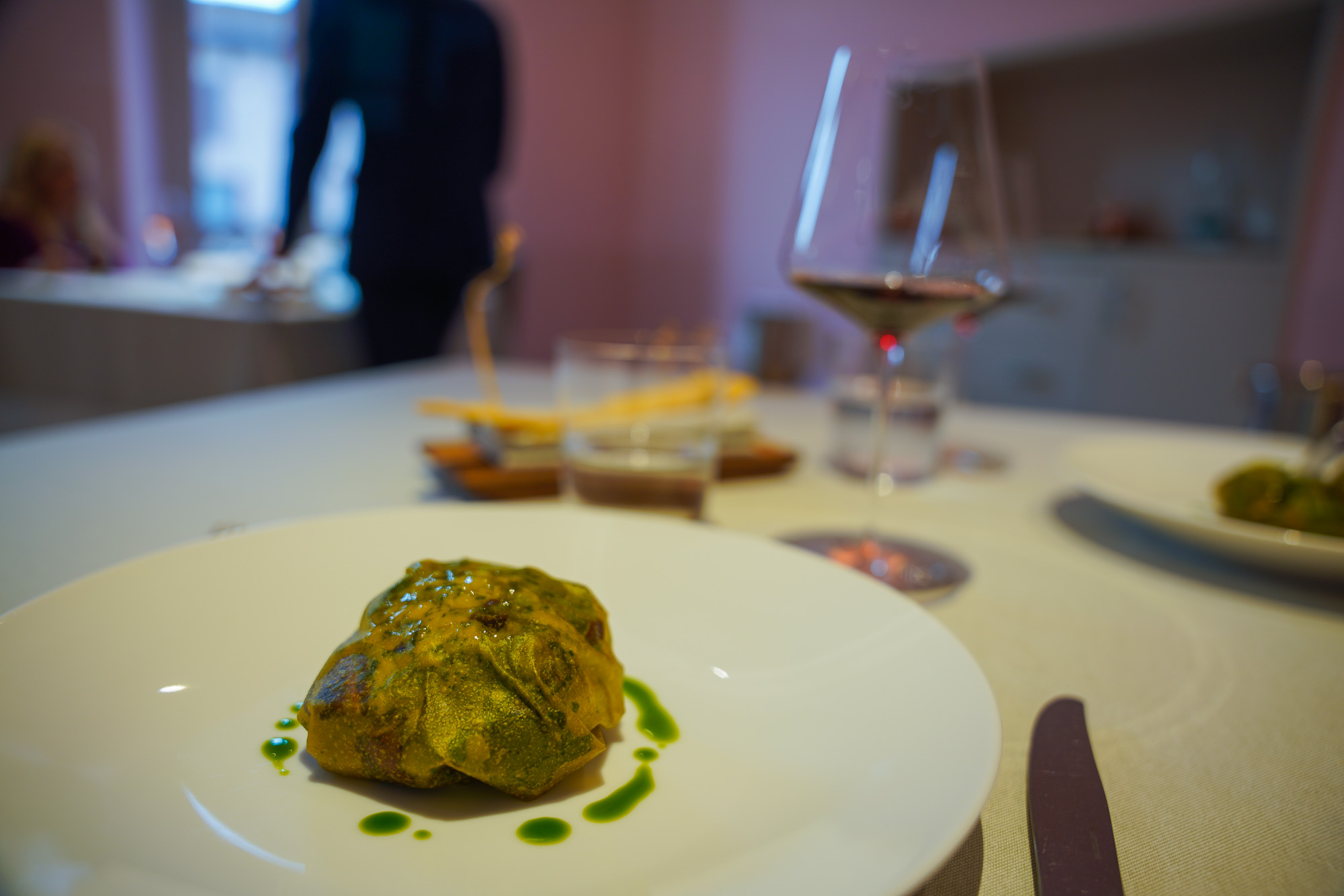 A creative salad course paired with this wine – the salad was wrapped up in a green doughy package and consisted of chopped lettuce, tender pieces of veal, and lots of herbs, with a slight sweetness from the dressing.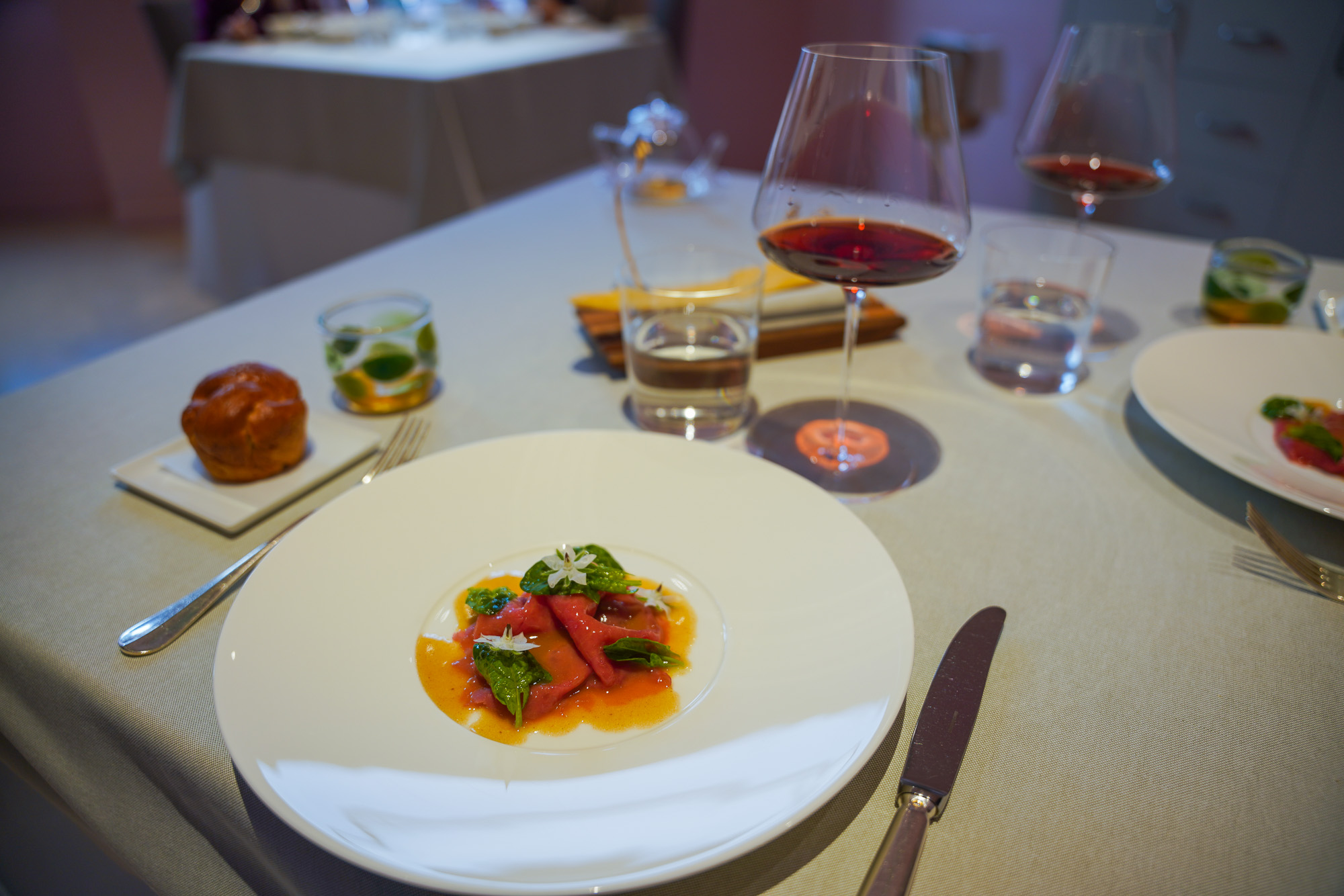 A more traditional beef tartare course (fassona) came next, served in a buttery rich marsala sauce that was so unctuous and perfect. Along side were rye bread and a veal consomme served in a little cup. After we tried some of the consomme, the somm poured another splash of the wine pairing (a 2018 Barolo di Barolo from Marchesi di Barolo) in the consomme cup for us to drink as a mixture. It was oddly good!
By this point Andreas had asked us about our plans in the area, and we may or may not have spent a solid five minutes telling him every single vineyard we were hitting on our trip. We gushed about our visit to Chiara Boschis and getting to meet her, and we had a moment exalting her wines together. Andreas also gave us so many recommendations for other vineyards to check out – next time!
Next up was a creature I would never think of pairing with Barolo, but it worked: snails! These snails were from a specific town in Piedmont that's known for them, and they were served atop a buckwheat and corn polenta with Swiss chard on top. The polenta was creamy and rich, the snails a perfect texture, and the greens set off the dish with a slight vinegary tang. The wine pairing was probably my favorite of the night, a 2019 Paolo Scavino Bric del Fiase.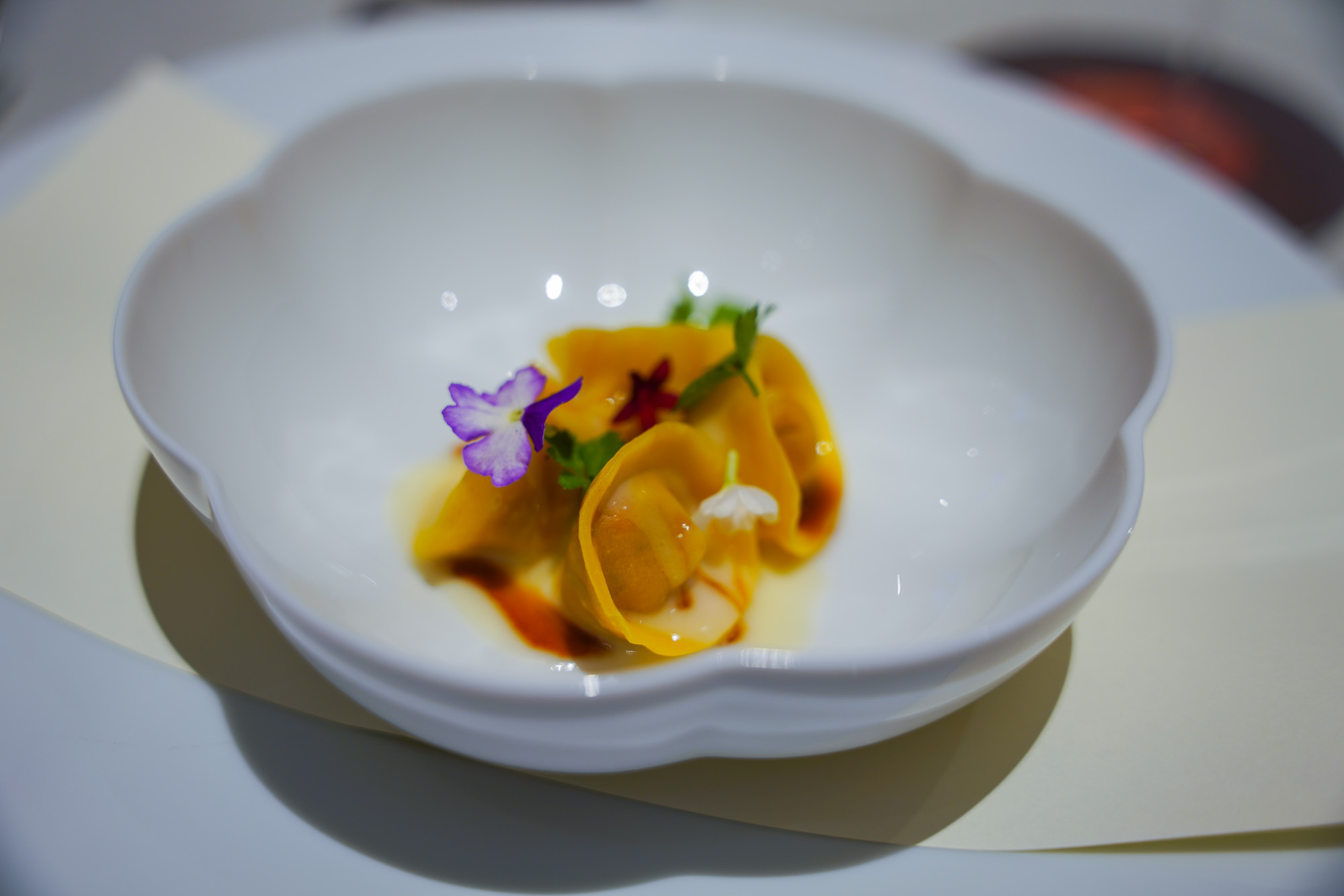 Are you really eating a meal in Piedmont if you don't have a meat-filled ravioli? I guess we will never know, as the next dish was a ravioli filled with a blend of fourteen different meats. The texture of the pasta was perfect, the meat was perfect, and the sauce was out of this world – a rich, luxurious, buttery meat reduction. It was at this point I surmised we had already eaten a stick of butter each (no regrets!). To pair with it, we had a 2016 Curto Marco La Foia.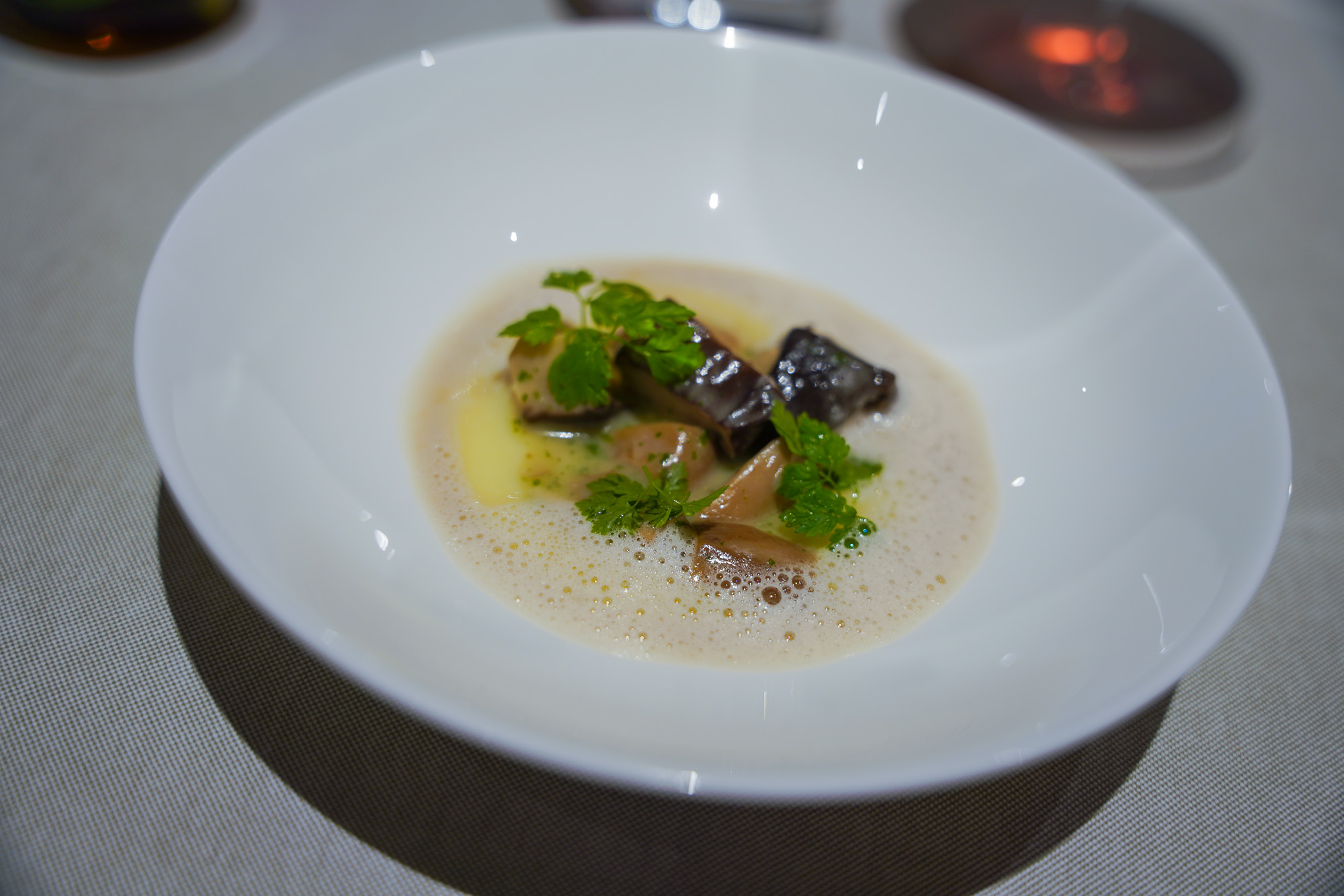 Mushrooms are probably one of the most famous and typical Barolo food pairings, and the subsequent course checked this box: mushrooms on top of a rich, buttery potato puree, plus a mushroom consomme on the side; a Castello di Perno Castelletto Barolo paired beautifully with the mushrooms.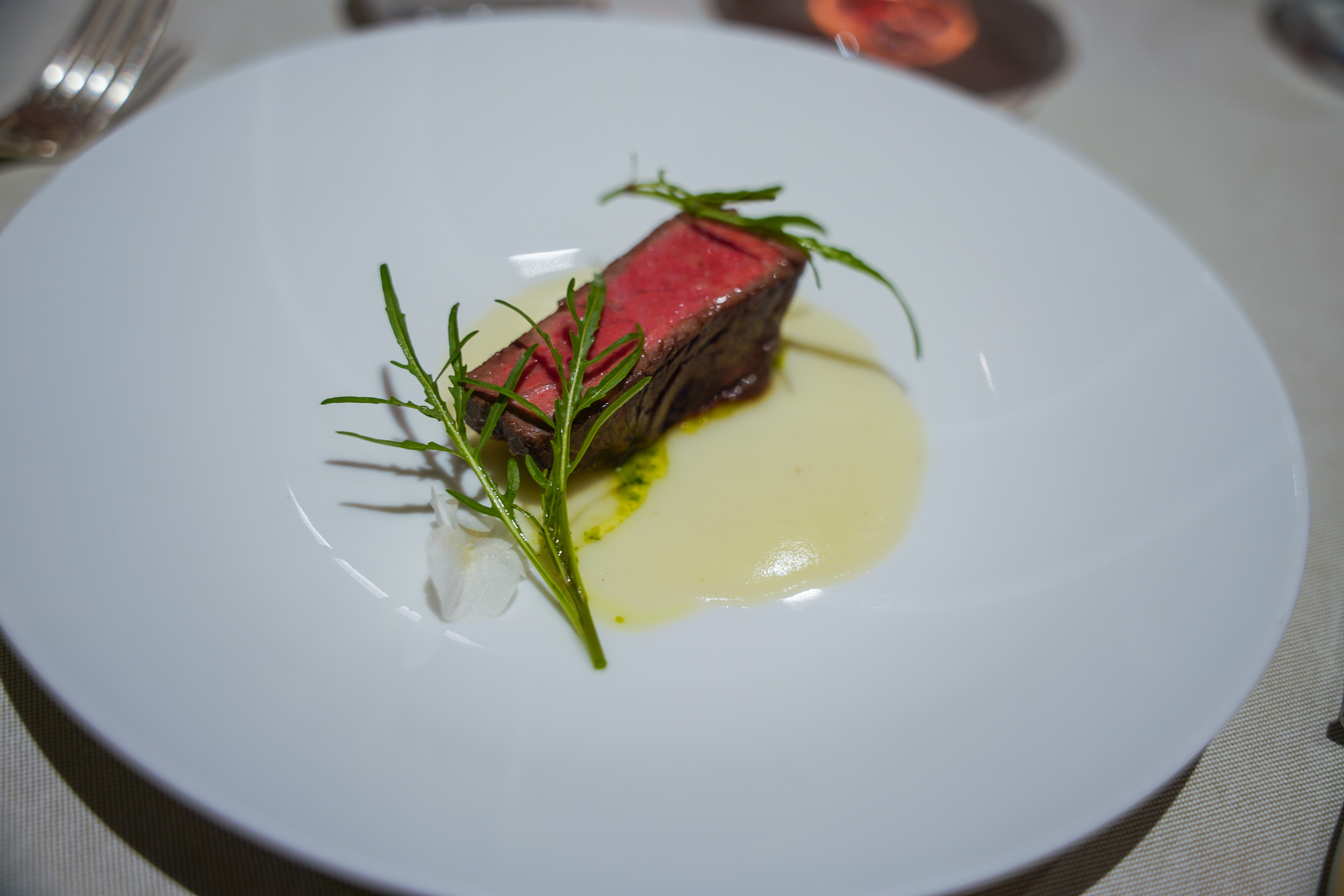 And last, but not least, the piece de resistance: a steak. The steak was sliced and cooked to medium-rare perfection, presented simply with a potato puree and zucchini. We were told the steak was served without a sauce because the wine was the "sauce", and what a sauce it was – a 2016 Ceretto Trapo.
We are full to the brim, but desserts start coming next. First a pumpkin seed cracker sandwich filled with a soft blue cheese. This bite was slightly sweet, slightly salty, creamy, and crunchy. In other words, heaven. The mid-dessert was a chocolate bite filled with a whipped cream and served with a hot brandy and cherry drink (interesting, lower proof – not like drinking a shot).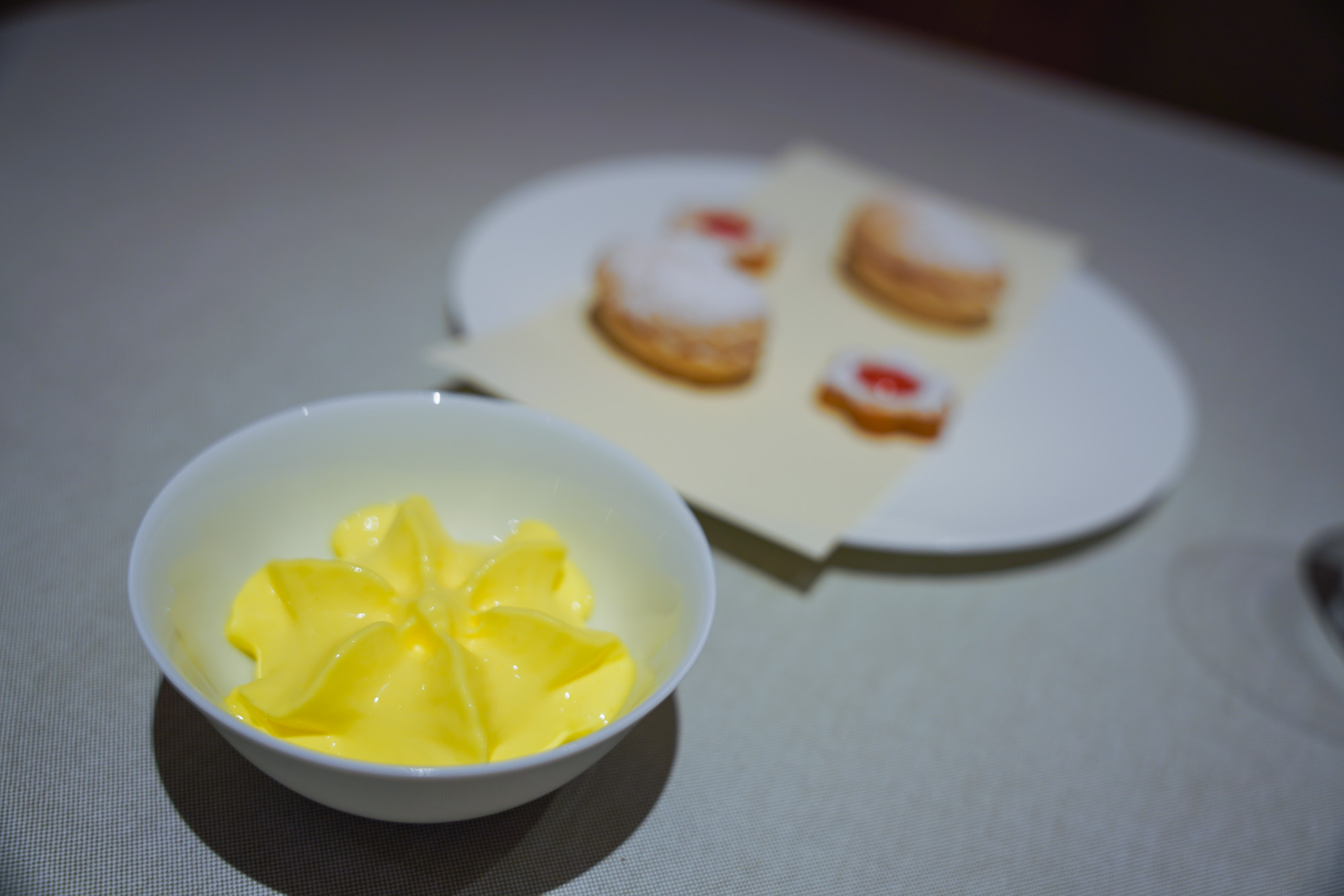 And finally, the last dessert, which was really four desserts: flower shaped shortbread sandwich cookies filled with a strawberry filling; a spongy biscuit to dip in a zabaglione cream (so custardy, eggy, and creamy); a coconut wafer crisp; and the best panna cotta I've ever had.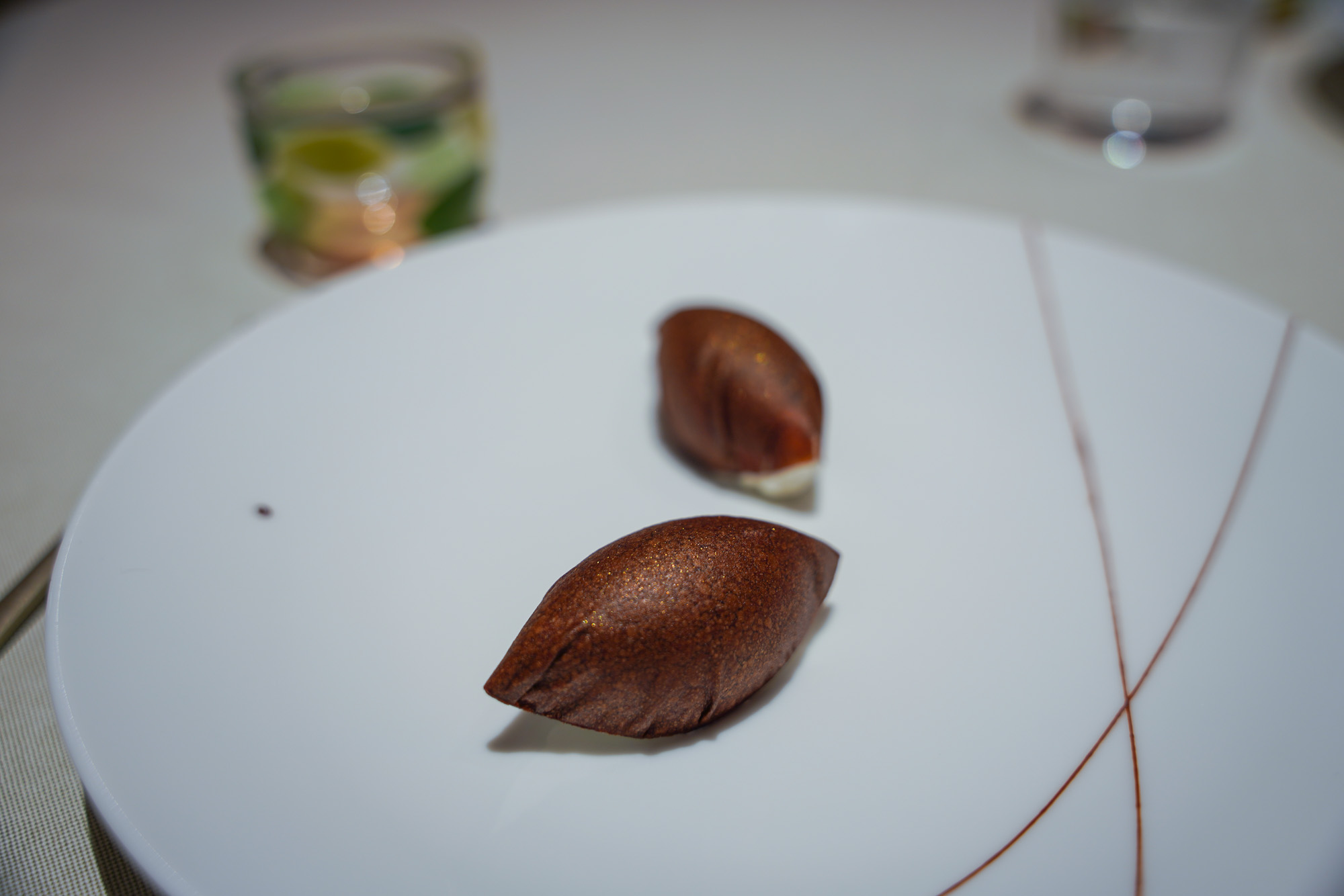 As we were leaving Chef Enrico Crippa even came out to greet us. I was so starstruck and full of Barolo that all I could say was, "thank you!" over and over again.
Throughout the meal we were very impressed with the pacing of the meal. We've been to a handful of Michelin star restaurants, and we have seen the extremes of pacing. But everything was totally on point here, giving us just enough time to digest and mentally process everything between courses. The staff also had the right balance of friendly and professional, and we really enjoyed chatting with Andreas about all the vineyards we visited.
But was it worth the price? This was by far the most expensive restaurant we have ever been to. I would say the price is extreme, and yet, I understand the value of the experience. I honestly can't give a straight answer as to whether or not the price is "worth it". But I do know that when we make it back to Piedmont in a few years, I hope a reservation at Piazza Duomo will be in our future.
Piazza Duomo is located at Piazza Risorgimento, 4, 12051 in Alba, Italy,
Book a Train Ticket in Europe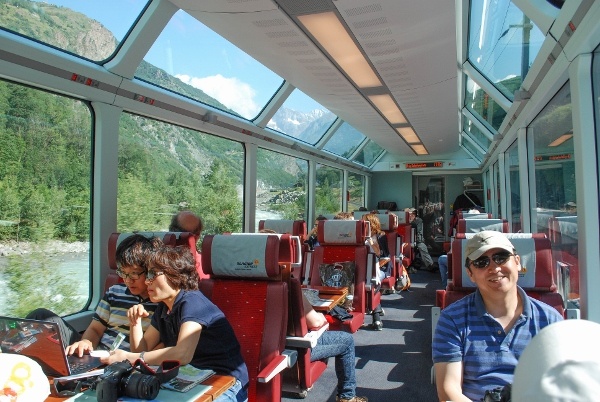 Want to learn more? Check out our Omio review!
About Jeremy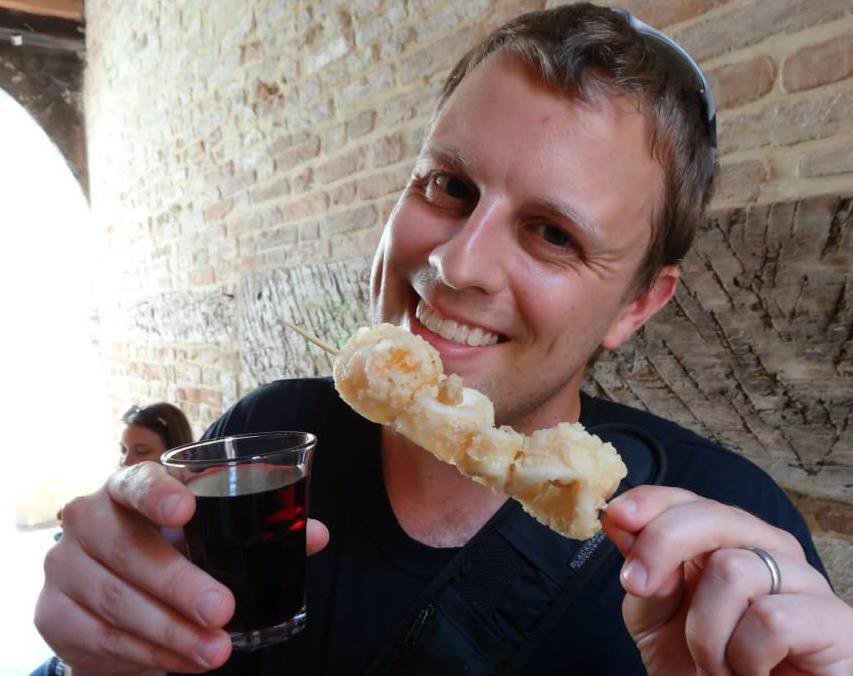 About the Author: Jeremy is a full-time travel writer based in Pittsburgh and primary author of this site. He has been to 70+ countries on five continents and seeks out new food, adventure activities, and off-the-beaten-path experiences wherever he travels.