Last Updated on July 11, 2022 by Angie
Disclaimers: Our site uses demographic data, email opt-ins, display advertising, and affiliate links. Please check out our Terms and Conditions for more information. Listed prices and attraction details may have changed since our visit and initial publication.
In our last trip to France, we really went hard eating in Paris. In just a few short days we visited 12 restaurants, bakeries, crepe shops, and coffee houses, and today we wanted to share them with you.
Is your favorite on our list?
Rating System Based on Eating in Paris
As with all Angie's Eats entries into this series, the rating system is based off of a three-point scale:
Angie Needs More! – Amazing and craving more.  Reserved only for the best locations in the region.
Angie is Stuffed! – An overall good restaurant worth checking out.
Angie is Hungry! – A poor restaurant not recommended.
Poilane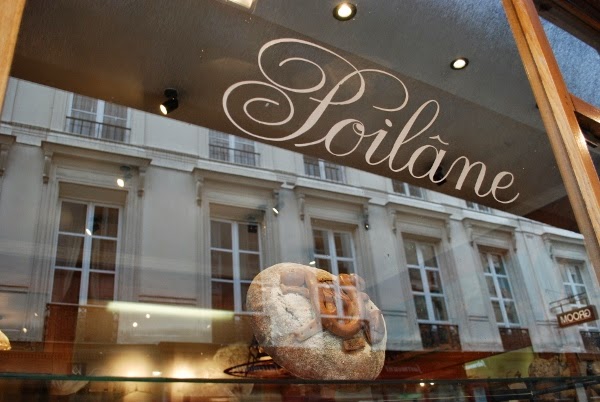 While we technically didn't eat here, we had their famed sourdough a few times, once at Le Rubis on a charcuterie plate and once at Cuisine de Bar.
The sourdough was different from what I was expecting- not that mushy, pale white stuff we get in the U.S. The texture was nice; crispy on the outside and airy on the inside.

Maison Kayser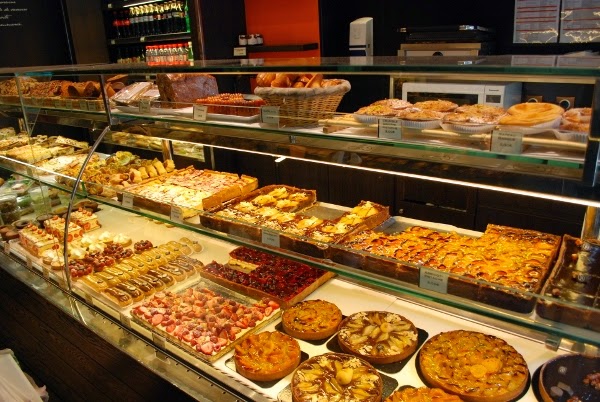 We tried their baguette, chocolate éclair, and croissant. The thing about eating baguettes and croissants for several days straight is that you start to notice the subtle differences between different bakeries.
While I can't say the baguette here was any different than the one we tried at Julien (both excellent), the croissant here was definitely my favorite in Paris.
Although it lacked the extremely crispy outside edges that I love, the interior was intensely flaky and slightly sweet. The hint of sweetness was my favorite part about this croissant.

Boulangerie Julien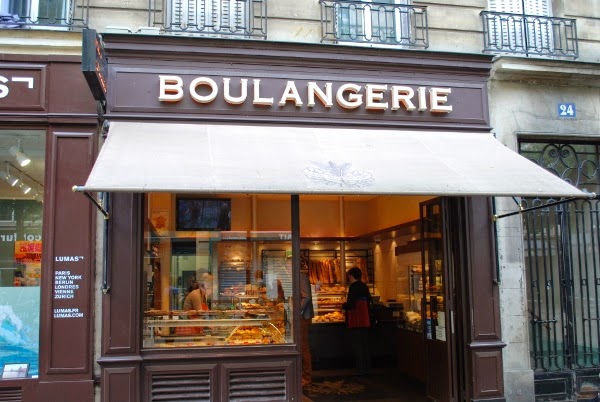 We tried the croissant, beignet framboise, and baguette. Like I mentioned above, the baguette was excellent, and the croissant was good- probably the flakiest croissant I had in Paris. However, the very center of the croissant was a bit doughy and undercooked.

Breizh Café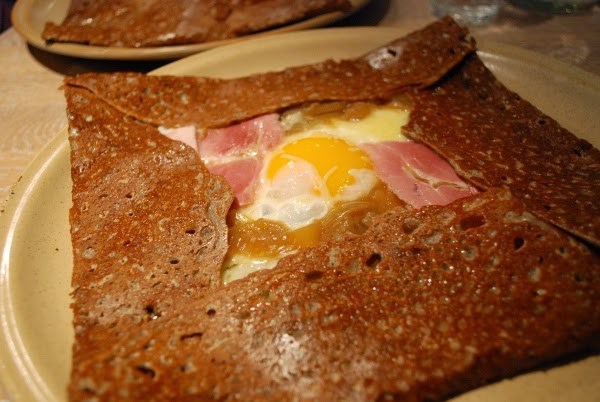 This was the one place in all of Paris where we felt people were being very hoity-toity to us. We went in without a reservation just before 7 pm and were told we could have a seat but had to be out by 7:30 for a reservation.
It's kinda weird that you need a reservation for a crepe place, but ok, fine. Then, we tried to order one savory crepe and one sweet crepe, but we were told that we each had to order a savory crepe before ordering any sweet crepes since it was dinner time.
Really? You're a crepe place, not a 5-star restaurant.
I ordered a crepe with artichokes, ham, egg, and cheese; Jeremy ordered the same but with onion confit instead of the artichokes. The crepes served here are technically galettes, made with buckwheat flour.
I really like the texture and flavor of buckwheat, and it made for a really great crepe. However, the crepe itself was extremely crispy, almost to the point of being burnt.
The Gruyere cheese was excellent, and the briny artichokes nicely accompanied the otherwise rich filling, but the extreme crispness of the crepe just didn't do it for me.

La Creperie de Josselin
These were the first crepes I had in Paris, and what an introduction! (Well, technically the crepes here are galettes.) I got an egg, ham, cheese, and onion crepe. The filling was tasty and the crepe had just the right ratio of softness to crispness for my tastes – just the outermost two inches were crispy.
We couldn't resist a dessert crepe as well; we got one with vanilla bean ice cream stuffed inside the crepe, and Grand Marnier flambéed on the outside.
I loved that the ice cream scoop was intact when we first cut into it, but then slowly melted as we ate. It then mixed with the flambéed Grand Marnier to make one creamy, citrusy, delicious mess. The service here was great as well- our orders came out very fast and were served cheerfully.
For more on La Creperie de Josselin, plus five other amazing restaurants we ate at in Europe, click the previous link!

Laurent Dubois
We stopped in here after walking through the food market that takes place right outside- cheese heaven! They had lots of samples out and we bought some comte to take with us for a picnic lunch.

Cuisine de Bar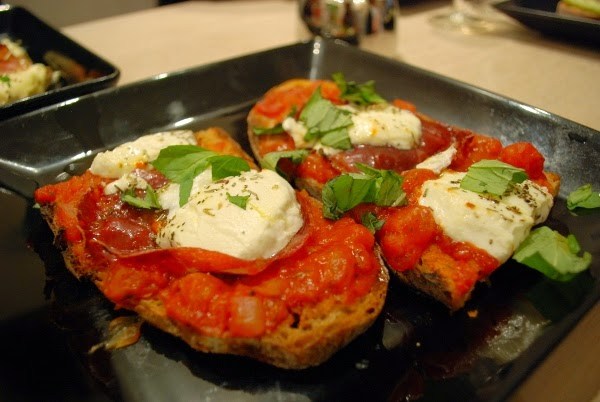 Awesome open-faced sandwiches served on Poilane's sourdough bread. The tartine I ordered had goat cheese, cured ham, chives, marjoram, and a drizzle of olive oil.
The tartines are toasted so the cheese was divinely melty and creamy, and the cured ham got so very crispy. The sandwich was rich and filling, almost too much so.
Jeremy got a similar sandwich but with a tomato sauce as a base, and its acidity accompanied the other rich toppings well.

Le Rubis
This wine bar brought back wonderful memories from our honeymoon in Spain. I love this type of place- no tourists in sight, just locals stopping in on their way home from work to have a few glasses of wine.
We never made it here for lunch, which I've heard is pretty good, but instead stopped in for some wine and a charcuterie plate in the evening.
No complaints, except that the charcuterie plate was 8 Euro, in stark contrast to the free tapas that come with drinks in many parts of Spain.

Cosi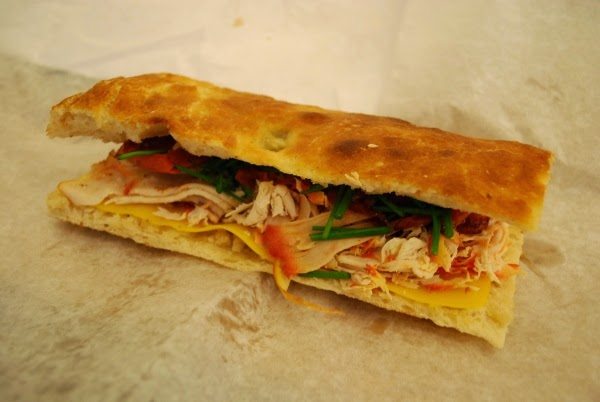 This cute little sandwich shop was the first place we ate in Paris. The house-made bread is thin and crispy, which I love because it lets the sandwich fillings shine rather than overwhelming you with bread. I ordered a sandwich with fresh mozzarella, arugula, padano cheese, tomatoes, and a drizzle of olive oil.
The bitterness of the arugula accompanied the rich cheese and olive oil well. We were starving and exhausted from our flight in from the states, and the sandwiches here instantly turned our mood around!

L'As Du Fallafel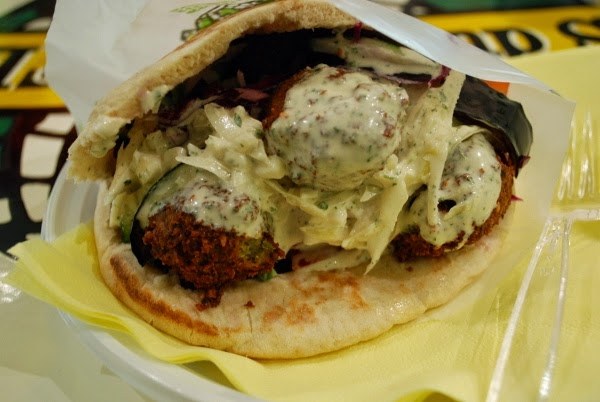 Go here and order the falafel pita. Just do it. I got the shwarma pita, which was good, but the meat wasn't seasoned as much or in the same way as the shwarma I'm used to in the states. Still, it was tasty, and the shredded cabbage and cucumber topping added a nice contrasting crunchy texture to the sandwiches.
Jeremy got the falafel pita which was much more flavorful than the shwarma. This place gets extremely packed, so be prepared to eat elbow to elbow with other diners, or stand in line outside for a while to get your order to go.

Comme a Lisbonne
I had this place on my list for their coffee, but when I mentioned to Jeremy that their specialty was pasteis de nata, Portuguese egg tarts, he insisted that we come here.
We have tried making egg tarts unsuccessfully at home before, so I truly appreciated the greatness of their egg tarts: extremely flaky, buttery puff pastry cup with rich, sweet, egg custard filling. Sprinkled with cinnamon, if you want.
And who wouldn't want that? The answer is Jeremy. He has a thing against cinnamon.
It breaks my heart.
Anyways, we got decent espresso here as well, but the star of the show is the egg tarts. I dare you to try and eat just one.

La Cafeotheque (Soluna Café)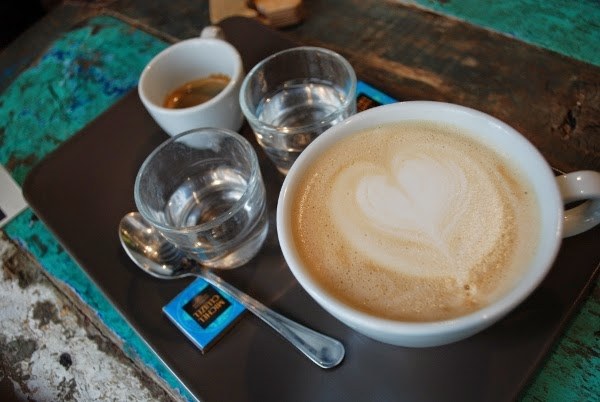 My favorite espresso in Paris, by far. They really take their coffee seriously here, and as an added bonus the shop itself has a very cool vibe. I had an espresso made with the coffee of the day, a Peruvian bean. I was impressed with the flavor of the bean (a very fruity bean that lingered on the tongue) and the way the espresso was prepared (who knew coffee could have so much flavor!).
This is definitely the kind of coffee you don't want to ruin with milk or sugar.
A single espresso here will set you back more than 3 euro but, in my opinion, it was very worth the price.

Not bad for four-and-a-half days work.  
Have you visited any of the restaurants we tried while eating in Paris?  If so, comment and let us know what you thought! Know of a hidden gem you'd like to recommend to the world? We'd like to hear those too!
Looking for an apartment rental in Paris? Click here to find a great stay!
For more things to do in France, check out some of our favorite Bordeaux wine or our favorite European food!
Looking to take a day trip in Paris? Check out Paris in a Day by Take Walks for when you are there! Or check out even more food tour options on Viator.
Book a Train Ticket in Europe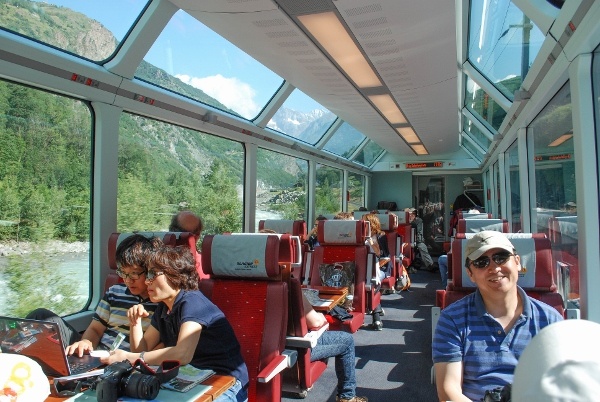 Want to learn more? Check out our Omio review!
About Angie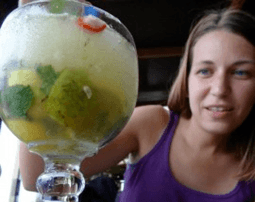 About the Author: Angie is a contributing author. She has been to nearly 60 countries and seeks out the best restaurants, bars, bakeries, and other unique food items wherever she goes- often with her husband, Jeremy.