Published by Angie. Last Updated on October 10, 2023.
Disclaimers: Our site uses demographic data, email opt-ins, display advertising, and affiliate links. Please check out our Terms and Conditions for more information. Listed prices and attraction details may have changed since our visit and initial publication.
You may not think of Norway as a culinary destination, but on our recent western fjord road trip, we were pleasantly surprised with the food. Although the dining scene in larger towns like Bergen and Alesund was amazing with lots of fine dining options, we were equally impressed at some of the food we had in tiny fjord-side towns and mountaintop restaurants, too.
From hot dogs to prix fixe menus, we were delighted at the focus on using local ingredients in traditional dishes and in more unusual and creative ways, too (smoked salmon on a pizza, anyone?).
Before our trip we did some research on traditional Norwegian foods to try, but finding some of those foods proved near impossible. In this post we highlight some traditional and more common foods that we were actually able to try, and give some ideas of where to find them around the western fjords.
Fiskekaker (Fish Cakes)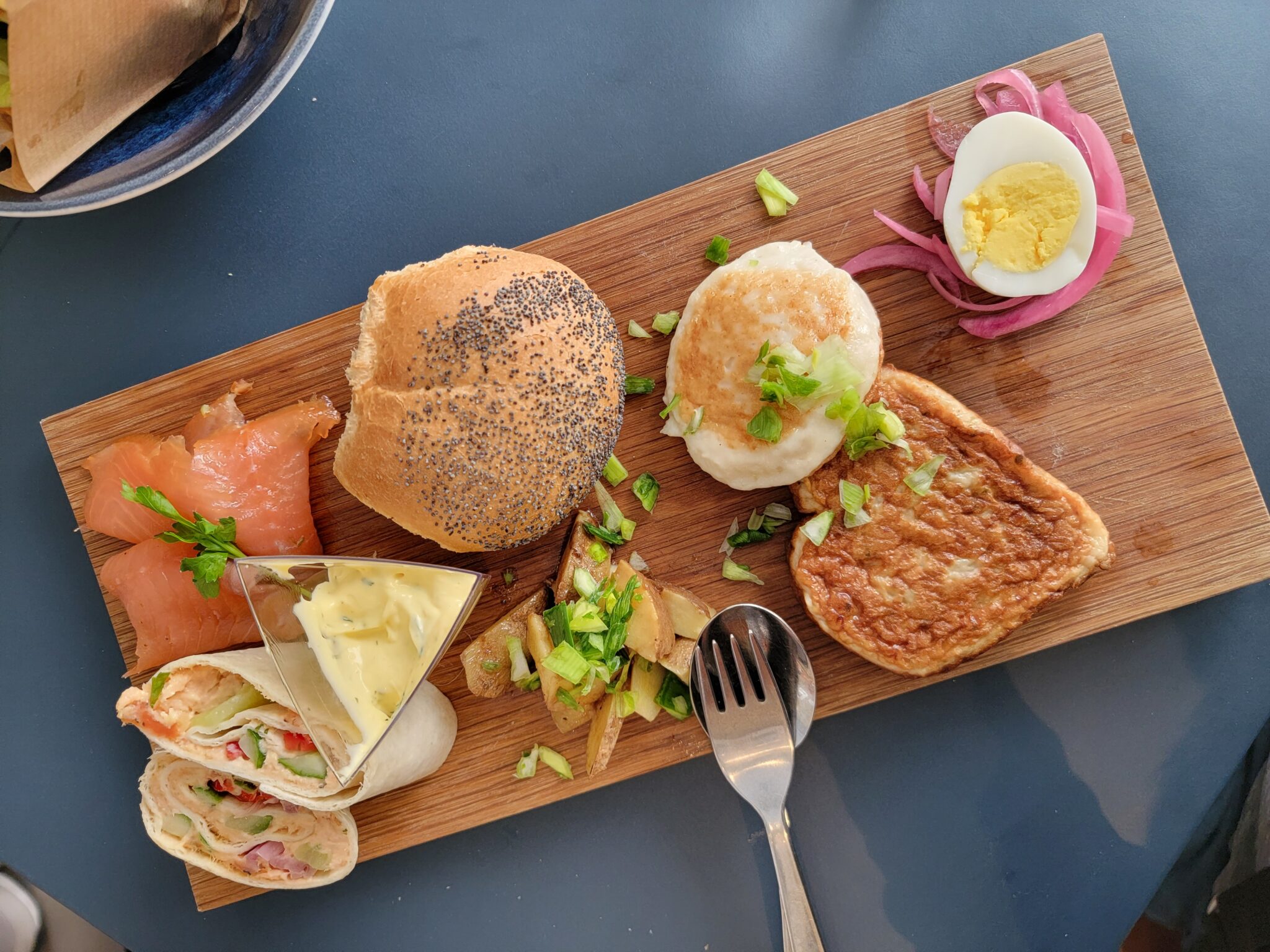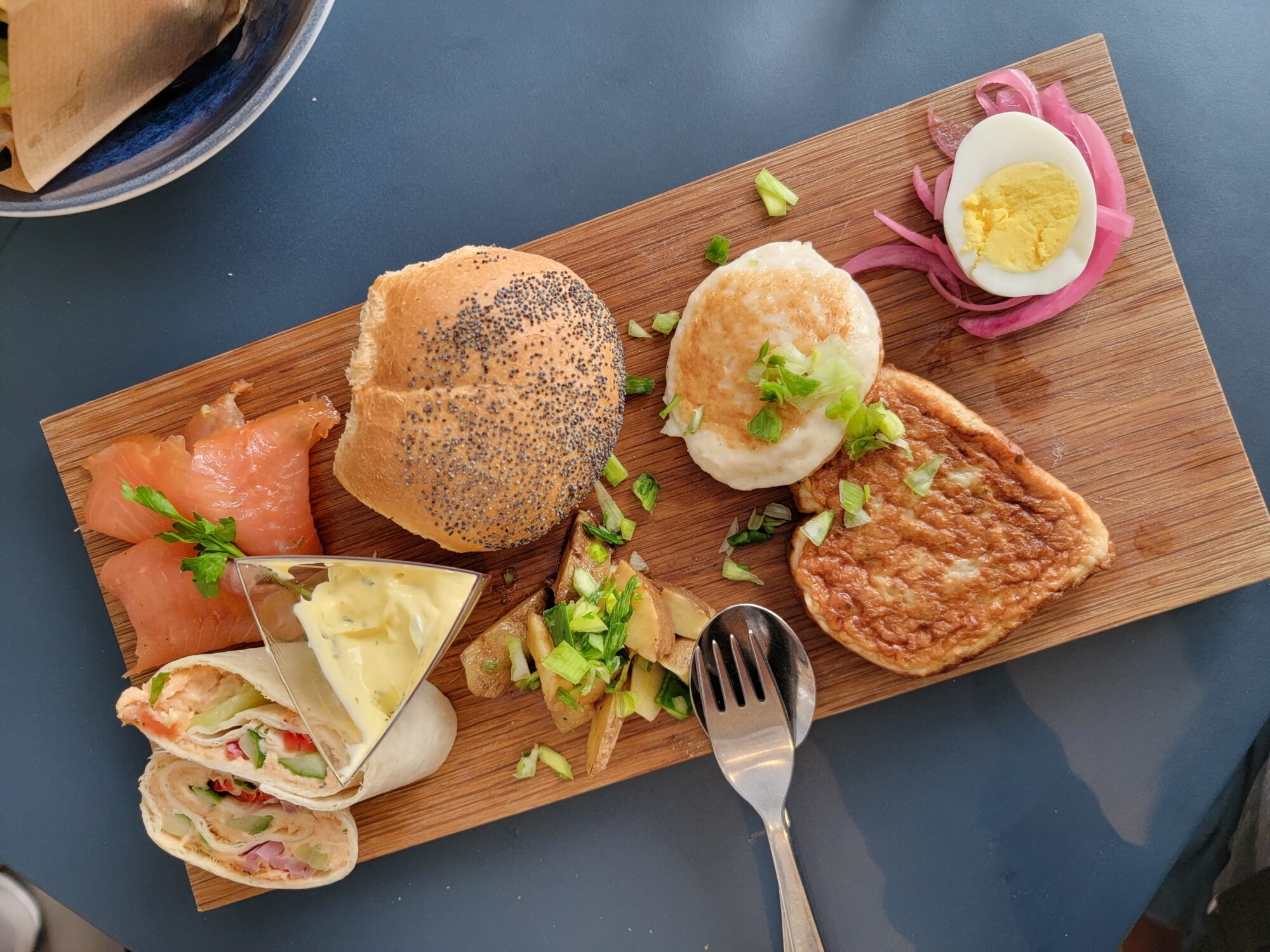 Fiskekaker are pan-fried fish cakes, typically made with fresh fish like cod, haddock, and/or pollock that's ground up with milk, nutmeg, and potato starch or cornstarch.
I was expecting them to have a fritter-like or pancake-like texture, but because they're made with potato or corn starch instead of flour, they have a more gummy/smooth texture. They're pretty mild in flavor and can use a good sauce to accompany them.
Where to get fiskekaker: We saw these in quite a few restaurants all over, but two good traditional takes on them were at Sostrene Hagelin in Bergen, and OL Brekke in Stryn. For a more unusual spin, we absolutely loved Fiskekaka Geiranger where we got their fish cakes stuffed in fluffy homemade pita with pickled onions, lettuce, and a delicious herby-mayo sauce.
Fiskesuppe (Fish Soup)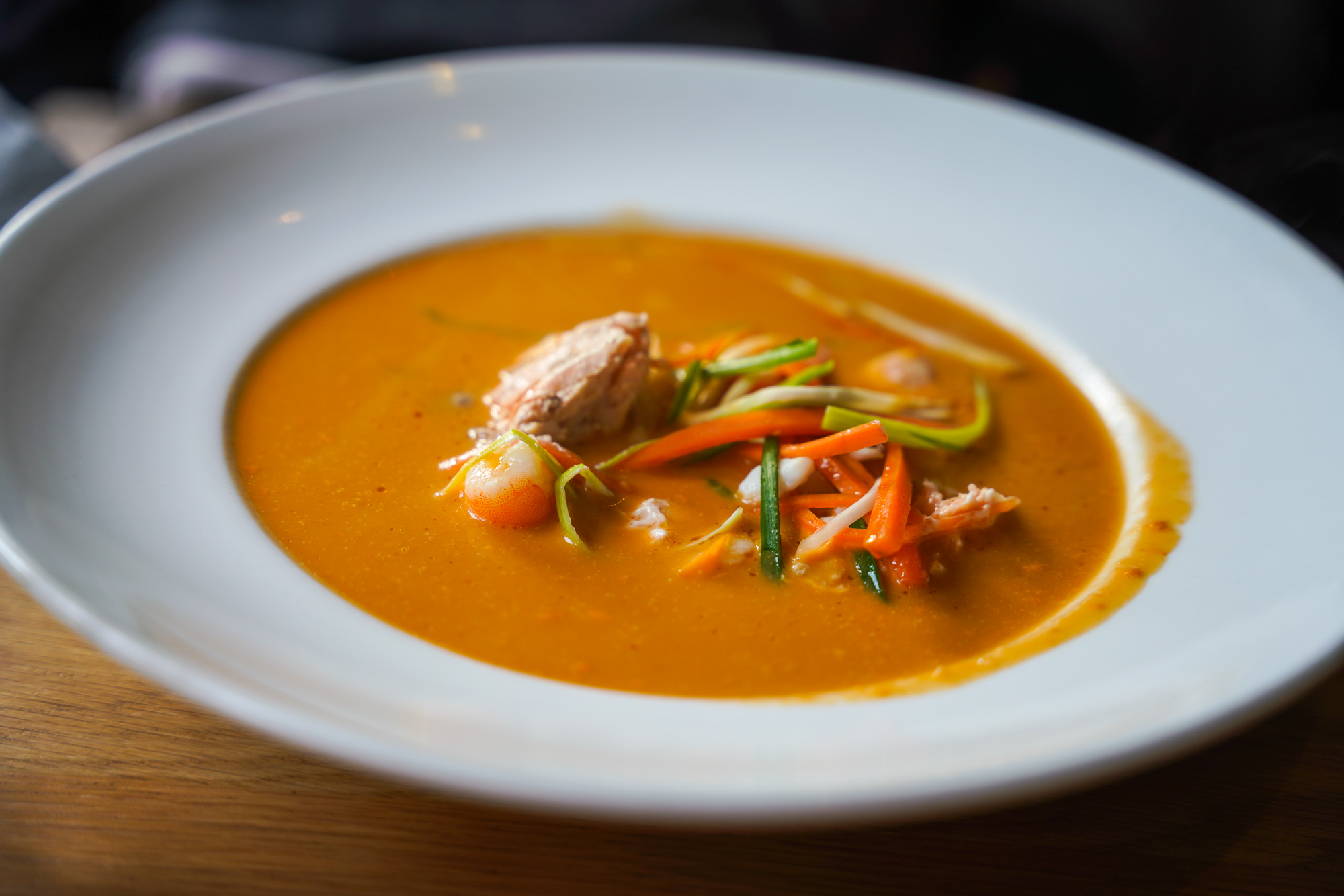 Fiskesuppe is another traditional dish that we had no trouble finding. Seemingly every restaurant offers fish soup, and oddly enough, it tasted almost identical everywhere we had it: decadently creamy, full of different kinds of fish, and topped with julienned carrots and root vegetables.
Where to get fiskesuppe: Our favorite spot for fish soup was at Vik Pensjonat in Eidfjord – here it had carrots, kohlrabi, and green onions, plus loads of seafood including salmon, haddock, and shrimp.
Hard Apple Cider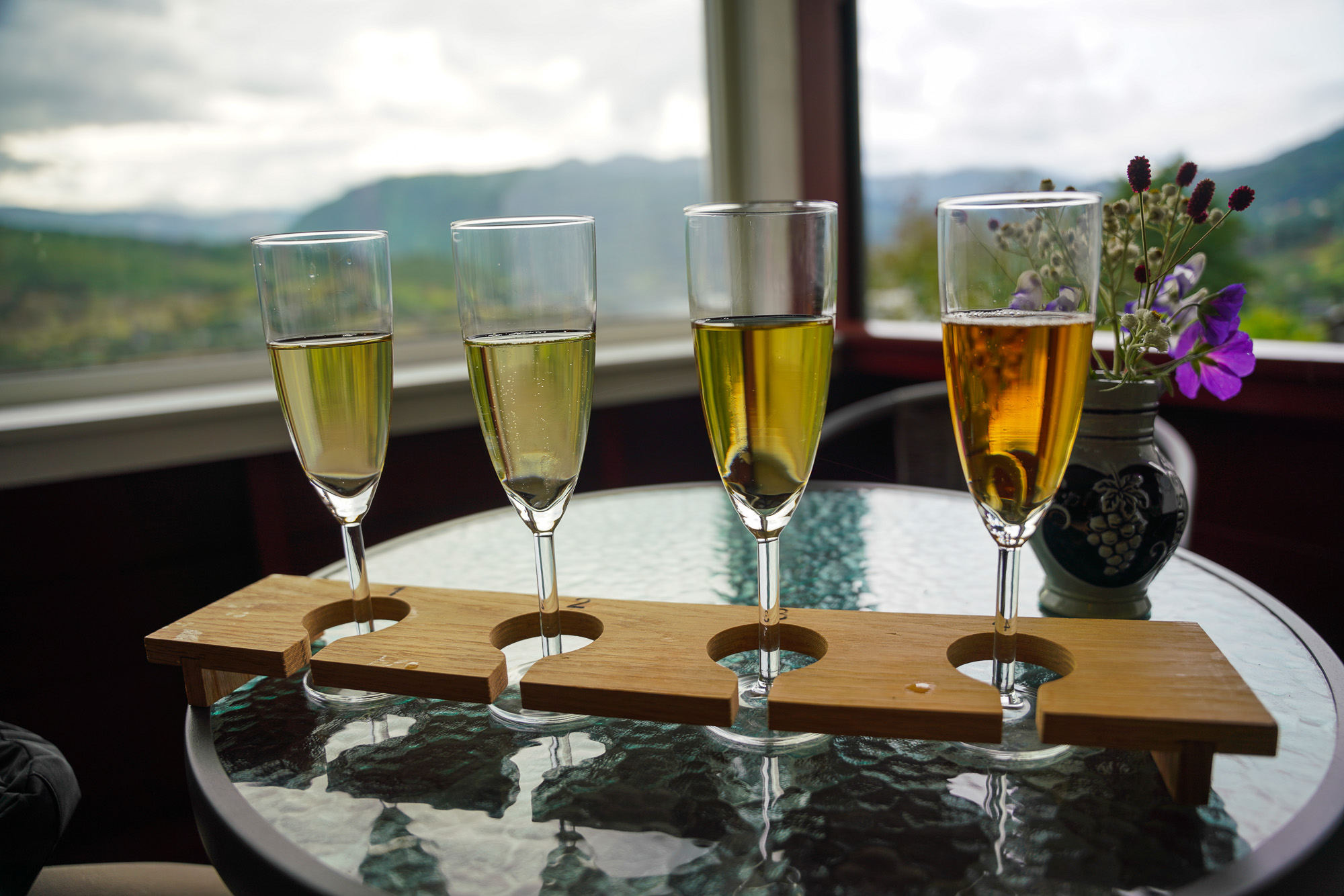 We visited Norway at the beginning of apple season and were surprised to see lots of apple orchards on the hills adjacent to many of the fjords. Not surprisingly, these apples get turned into apple products, including hard apple cider- a must for anyone looking for a local libation made from single-varietal apples (such as Gravestein) and even flavored with local fruits and flowers.
Where to get it: One hotspot for apple growing and hard cider making is Ulvik on Hardangerfjord, where you can visit at least three different cideries for tastings. (Although be aware of Norway's super strict drinking and driving laws – make sure you have a designated driver). Our favorite cidery in Ulvik was Ulvik Frukt and Cideri, particularly their Gravestein cider and their sweet Elderberry cider. If you're not traveling near Ulvik, most restaurants and bars will also offer hard ciders on tap or in cans to try; in Bergen try Apollon Platebar and Vinyl.
Hot Dogs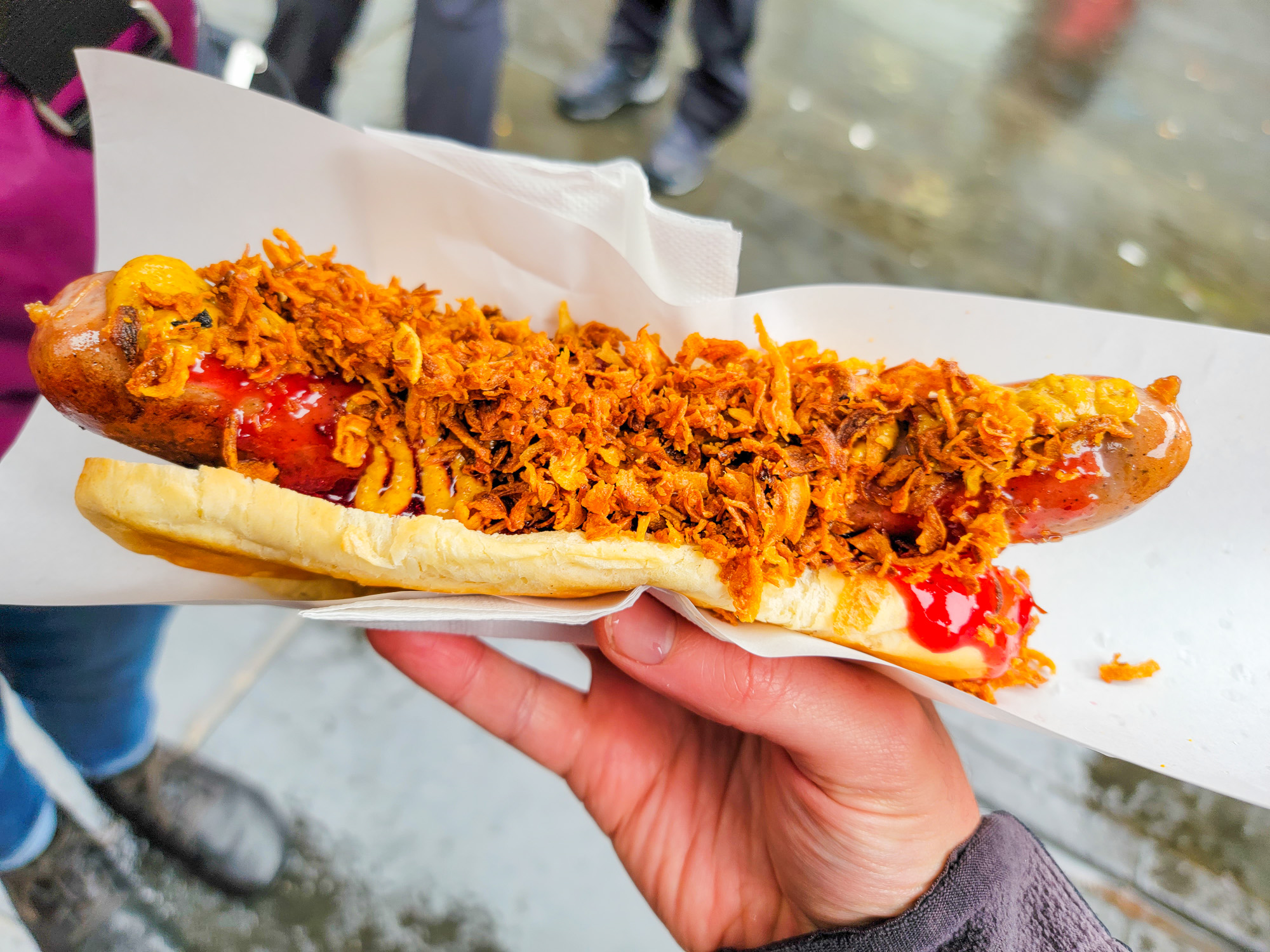 Before our trip we had read so much about Norwegians' love for hot dogs that made it sound like there were hot dog stands on every corner. As we were road-tripping around the country for two weeks, we were excited at the prospect of this cheap and quick food source. However, the only places we saw hot dogs were the big chain gas stations and, of course, the famous Trekroneren in Bergen.
This institution has been serving up ten different hot dog types with myriad toppings options for over 75 years. One of the most unique hot dogs is the reindeer hot dog, which we tried and loved. With juniper in the sausage and topped with the recommended crispy fried onions, dijon mustard, and a sweet lingonberry sauce, it was a delicious savory-sweet combo.
Torrfisk (Stockfish)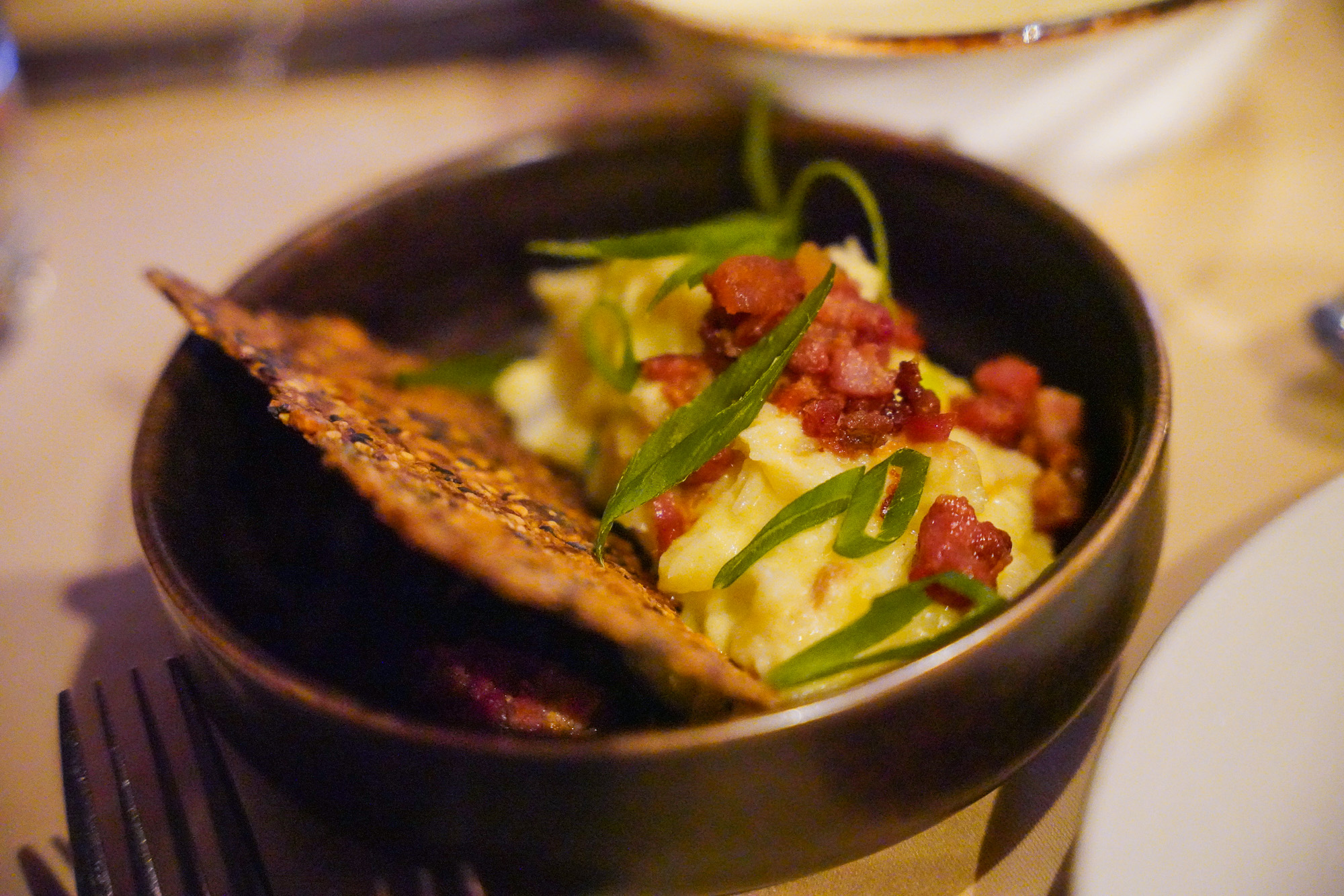 Stockfish is essentially fish that's been preserved by drying. Typically it's cod, and traditionally it's dried by the sea in northern Norway on wooden frames called hjell. In order to cook with stockfish, it's soaked in water for a few days to rehydrate.
Where to get torrfisk: The only place we saw stockfish was at Bryggen Tractuersted in Bergen, where they have an entire menu dedicated to this specialty. We tried the stockfish used in a plukkfisk dish, where it was rehydrated and cooked with potatoes, bacon, spring onion, and butter- it had a mild taste and smooth, creamy texture.
Lefse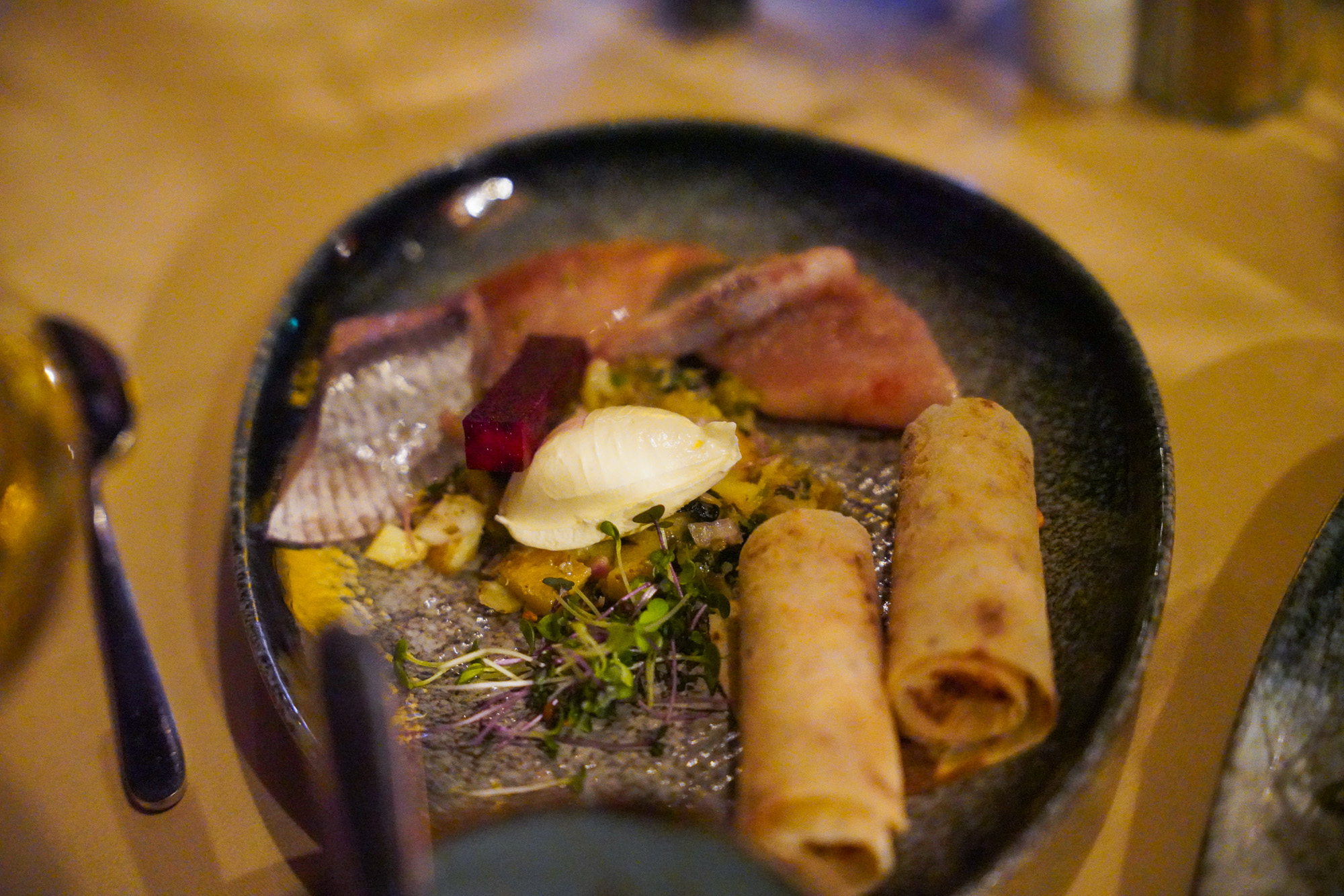 My family has Norwegian ancestry on my dad's side, and my dad often talks about growing up in North Dakota eating lutefisk (something we didn't see anywhere in Norway) and lefse. Sometimes he would even bring me back lefse from North Dakota when he went to visit family. I never quite understood the obsession with this potato flatbread, especially when it was smothered in butter and sugar. Is it supposed to be sweet? Savory? Both? We have to admit, this is an odd one and whenever we had it, the gritty sugar texture was a bit unusual even for us.
Where to get lefse: I laughed out loud when I saw packaged lefse in grocery stores and gas stations throughout Norway. Feel free to try it but I found the texture and margarine filling off-putting. We did try some really great homemade lefse, though, at Bryggen Tracteursted in Bergen (pictured with the Torrfisk, above), where it was served plain as an accompaniment to herring. Beyond that, this one was not nearly as prevalent as we would have thought.
Cloudberries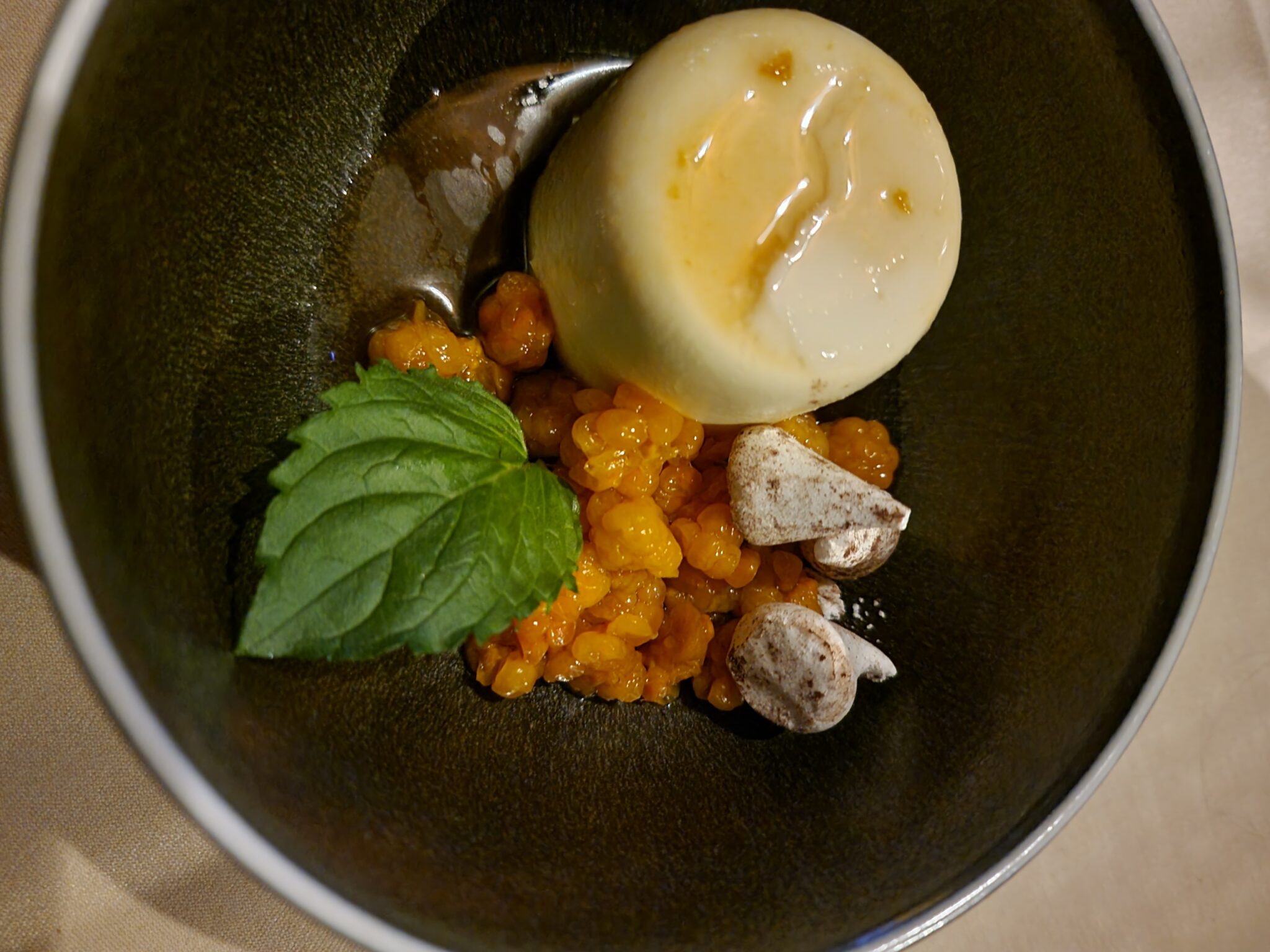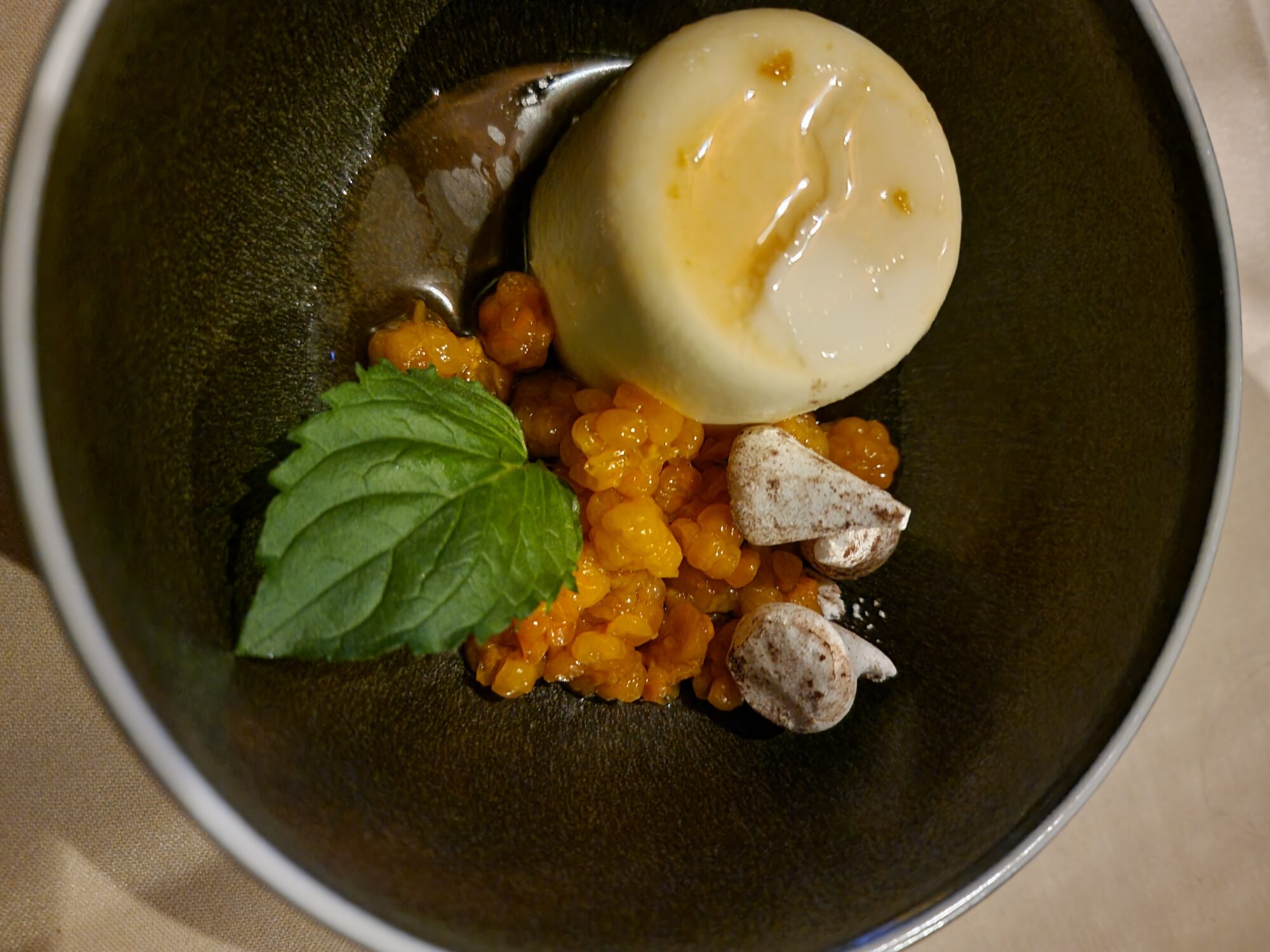 These delightful little berries only grow in the wild in arctic regions of places like Norway and Sweden. They can't be cultivated, so they're kind of like truffles in that they have to be foraged and are difficult to find. They kind of look like raspberries but have a golden yellow hue, and they have a sweet, mellow taste with a touch of acidity.
Where to get couldberries: We saw cloudberries on dessert menus all around Norway where they topped things like cakes and pavlova. We also saw plenty of jars of cloudberry jam in souvenir shops, particularly in Bergen.
Brunost (Brown Cheese)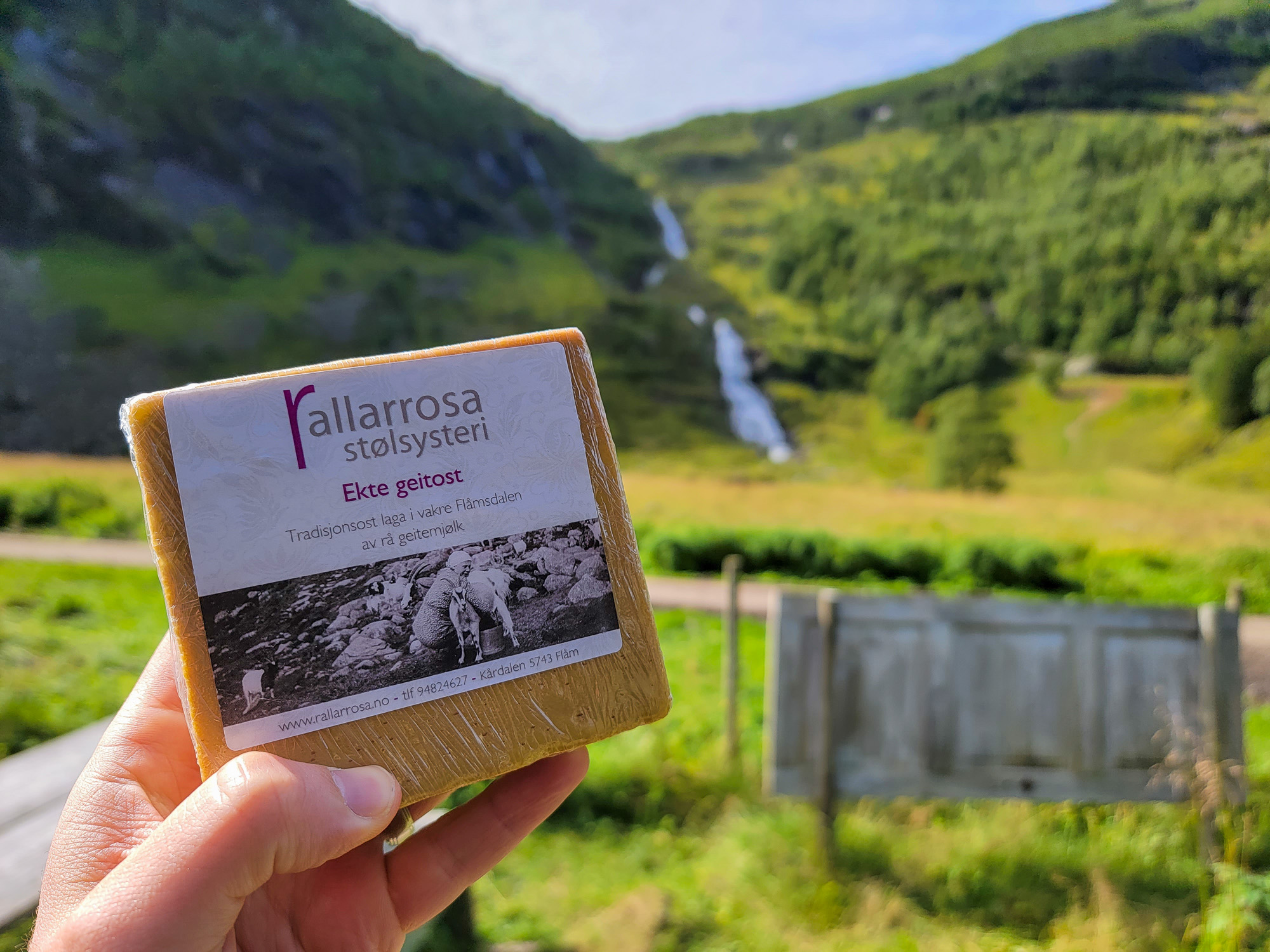 Literally meaning brown cheese, this was one of the most interesting new foods we tried in Norway. It's made by slowly cooking down whey with milk or cream until the water evaporates and the milk sugars caramelize and brown. The resulting "cheese" (it's technically not a cheese) has a semi-soft texture and is a little sweet and a little salty.
Where to get brunost: If you're staying at a hotel with breakfast included, they will likely have a big block of brunost out at breakfast for topping waffles or pancakes. You can also find it at any grocery store, and at some cafes as a waffle topping. We bought a block of it at a farm along the bike trail in Flam and carried it with us throughout our trip. It is so delicious and unlike any kind of cheese we've had!
Roadside Fruit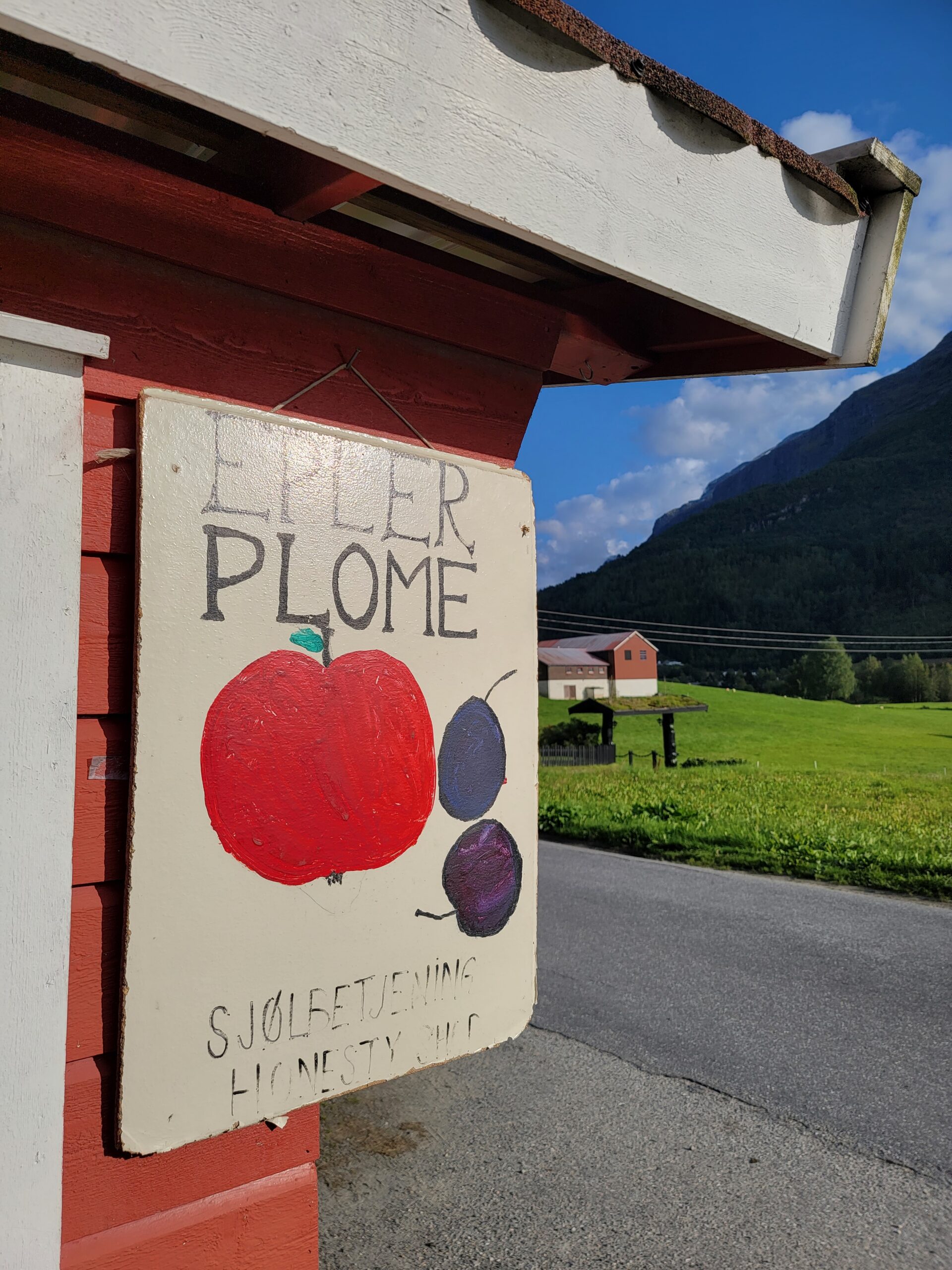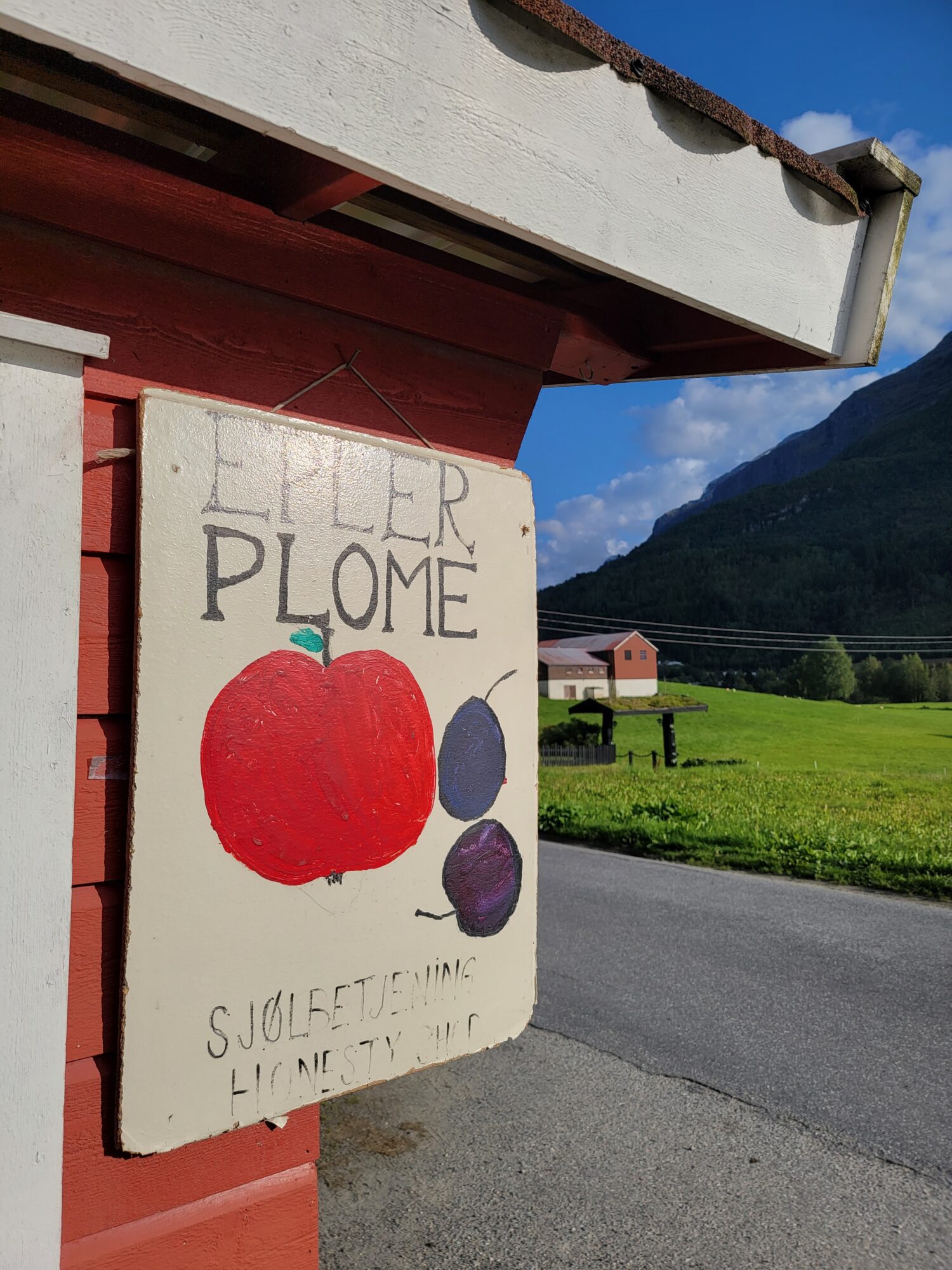 Sure, you can get fruit anywhere, but how often have you bought fruit on the side of the road by stuffing money in a box? We were amazed at how many unattended roadside fruit stands there were throughout the western fjords. Everything we tried was so intensely flavored- is it all the summer sunshine? We can't say for sure, but don't overlook what is ripe and in season!
Where to get roadside fruit: If you're traveling in Norway in the summer, different fruits will be available depending on the month. We passed tons of large strawberry farms between Sylte and Gudbrandsjuvet, but it wasn't the season when we were there in late August. There were, however, lots of plum and apple stands around the Hardangerfjord. And we also had some delicious plums from a roadside stand in Loen.
Reindeer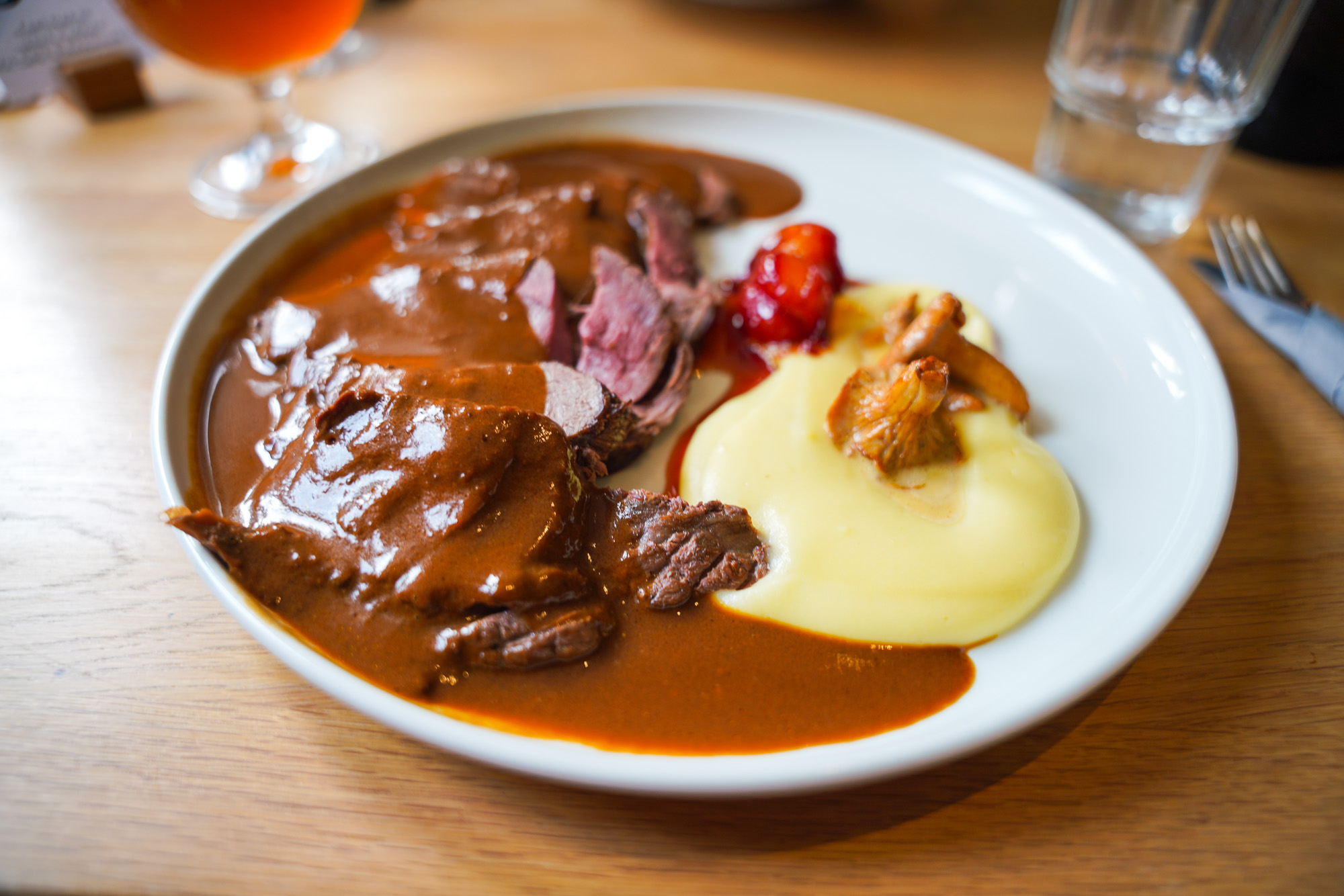 Reindeer herding is a traditional way of life for the indigenous Sami people who live in northern Norway and other parts of Lapland. Norwegians have been eating reindeer for thousands of years, so it's no surprise that reindeer is on the menu at many restaurants around the country. We thought it might be gamey or funky tasting, but we found it to be delicious and comparable in texture and flavor to beef- albeit a fair bit leaner
Where to get reindeer: Many nicer and/or traditional restaurants will have reindeer steaks and stews on the menu. Our personal favorite reindeer dish was at Vik Pensjonat in Eidfjord, where we had it braised in a red wine sauce and served with chanterelles, potatoes, and lingonberry sauce.
With a little research and planning, it's easy to try the above uniquely Norwegian foods while traveling the country. Whether you're in the mood to stick to more familiar things like hot dogs and fish soup, or want to try branching out to reindeer and torrfisk, there's something for everyone to experience.
Do you have a favorite Norwegian food? Where did you get it in the country? Comment below to share!
Book a Train Ticket in Europe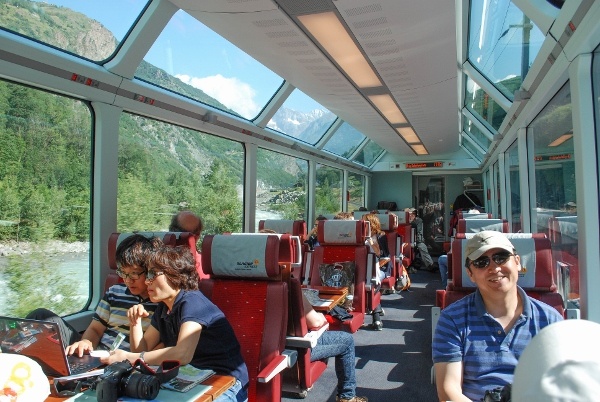 Want to learn more? Check out our Omio review!
About Jeremy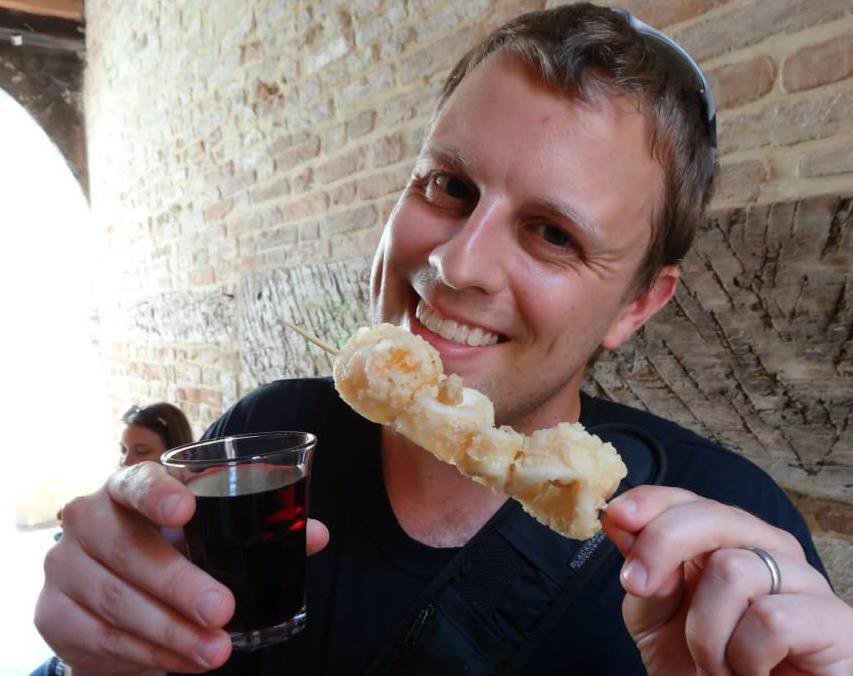 About the Author: Jeremy is a full-time travel writer based in Pittsburgh and primary author of this site. He has been to 70+ countries on five continents and seeks out new food, adventure activities, and off-the-beaten-path experiences wherever he travels.