Published by Jeremy. Last Updated on February 1, 2019.
Disclaimers: Our site uses demographic data, email opt-ins, display advertising, and affiliate links. Please check out our Terms and Conditions for more information. Listed prices and attraction details may have changed since our visit and initial publication.
Keysearch is a premium keyword research tool that really has changed our lives since getting a subscription.
The reason for this is simple, and is because Keysearch goes beyond telling you keyword volumes and also tries to tell you the difficulty of ranking for any given keyword as well.
So you don't have to keep throwing keywords at your site and hope they stick, Keysearch lets you take a targeted approach for your SEO efforts!
How Keysearch Works and Why Its Different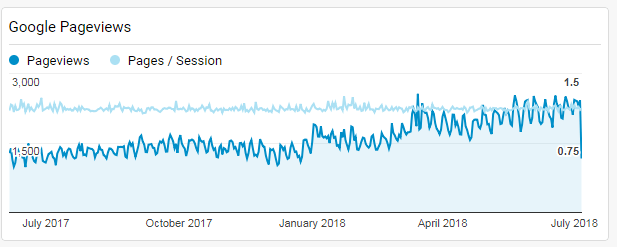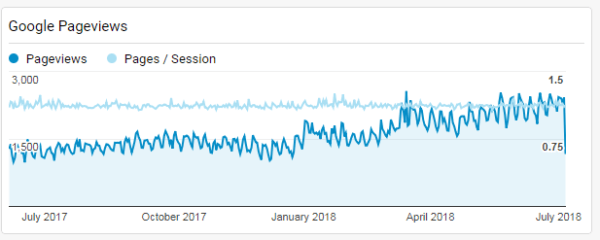 On the surface, Keysearch is a simple tool that shows you the search volume of any given keyword in Google. Type a keyword in, hit enter, and get your results.
Sounds easy, right?
Well, you could do just this and enjoy the service just fine, but there is so much more data offered by Keysearch when you dig a little deeper (and even in this review, we're just scratching the surface).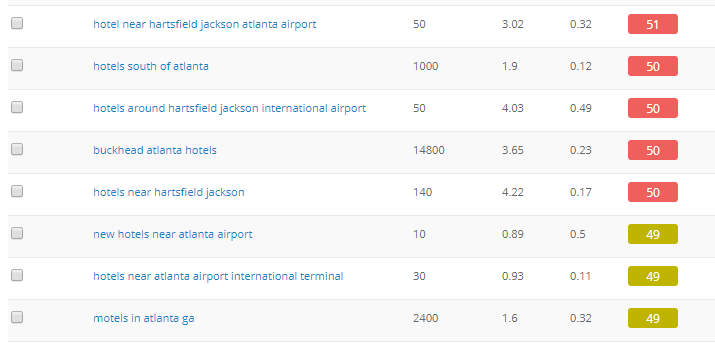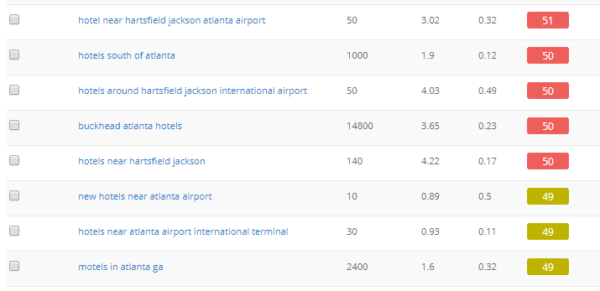 In fact, Keysearch is quite powerful as not only does the service tell you how many searches per month a keyword gets, but it also tells you the search volumes of comparable keywords, the difficulty it is to rank for each, and how strong the websites are that currently rank for the terms.
It is only when looking at all of this data from a holistic point of view can you figure out if you may be able to rank for your site, and Keysearch tries to capture this via a keyword score to highlight the difficulty in ranking for any given keyword on a 0-100 point scale.
Find a keyword with high traffic and a low score? You've hit gold! Find one that is too high? Move on before you waste your time.
But as this keyword is just an arbitrary metric of difficulty, we want to walk you through our thought process for how we interpret the data from Keysearch.
How We Look at Keysearch Data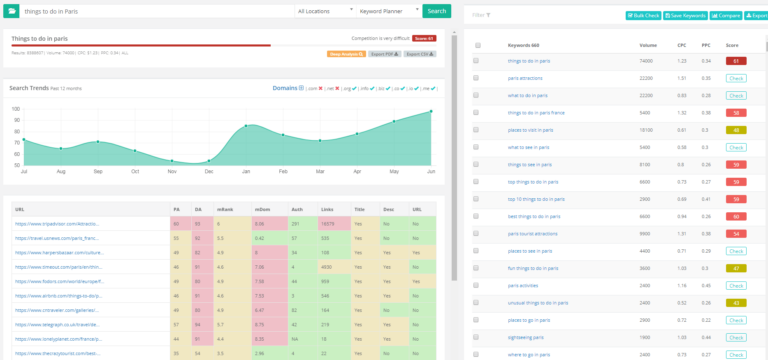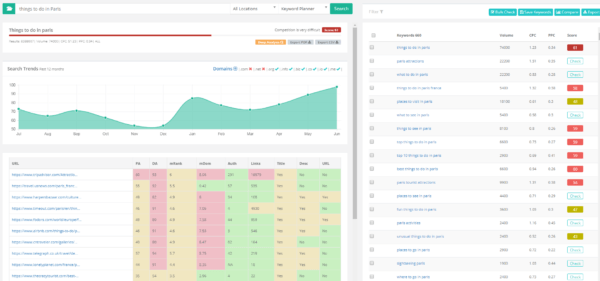 Now, it would be easy to simply look at the Keysearch keyword score, compare it to your site's DA and use that as the determining factor and move on.
In fact, it is actually a fairly solid analog in our opinion- ignoring the fact that both numbers are completely arbitrary.
Keysearch doesn't explicitly call this out as something you should do, but we've generally seen a correlation to their score to the minimum DA ranked in the top 10. If you have a DA of 20, odds are good you're not going to rank for terms much higher than Keysearch score of 20. If you have a DA of 55, you can probably compete with scores in the 50s, and so on.
But we have to caution using just this number, because Keysearch provides even more data you need to keep in mind when reviewing keywords.
When reviewing Keysearch results, we personally do the following for our sites of DA 39 (this one) and DA 29 (our niche local blog):
Pick a keyword, search, and filter out keyword volumes > 1,000 monthly searches (> 5,000 if a lot of high volume and relevant keywords are available).
Look at the scores of keywords that have high traffic and are relevant.
Take a deeper look at the lower scores that you could compete with (we look at up to 40 on our global blog and 50 on our niche local blog*)
Look at the competition in the Top 10 and check out their DA, backlinks, and keyword usage to determine overall competition.


If we've found a keyword with a high search volume, a low Keysearch score, and a few links in the top 10 with a DA lower than ours, we think we have a fairly good chance at cracking the top 10- especially if no article uses the keyword in the title, description, and URL (SEO signals explicitly called out by Keysearch).
If we've found a keyword with a high search volume, a low Keysearch score, and no links in the top 10 with a DA lower than ours, we move on. Even though Keysearch gives it a lower score, it may be an uphill battle to compete with the sites in the Top 10 and we move on (unless there are extenuating circumstances that push us to proceed).
From there, we implement using standard SEO best practices via incorporating the keyword into the article title, slug, meta description, header tags, etc. and wait for the next update to see if we get a bump.
Now, it would be easy for us to wrap up this article here in how we use this approach in finding keywords with Keysearch, but we want to take this one step further and go into the three additional ways we've used the program to optimize our SEO as how you apply the data is just as important as understanding the data in the first place!
*You may notice we target higher scores on our niche blog even with a lower DA when compared to our global blog. This is due to lower competition overall such that our site ranks quite well even with a lower authority (it is still relatively young and hasn't had a time to catch up in DA). You should have a feel for how your site performs against competition when thinking through this service, but unless you already dominate in your niche odds are good you won't have this exception.


#1 – Gaining Higher Placement for Existing Keywords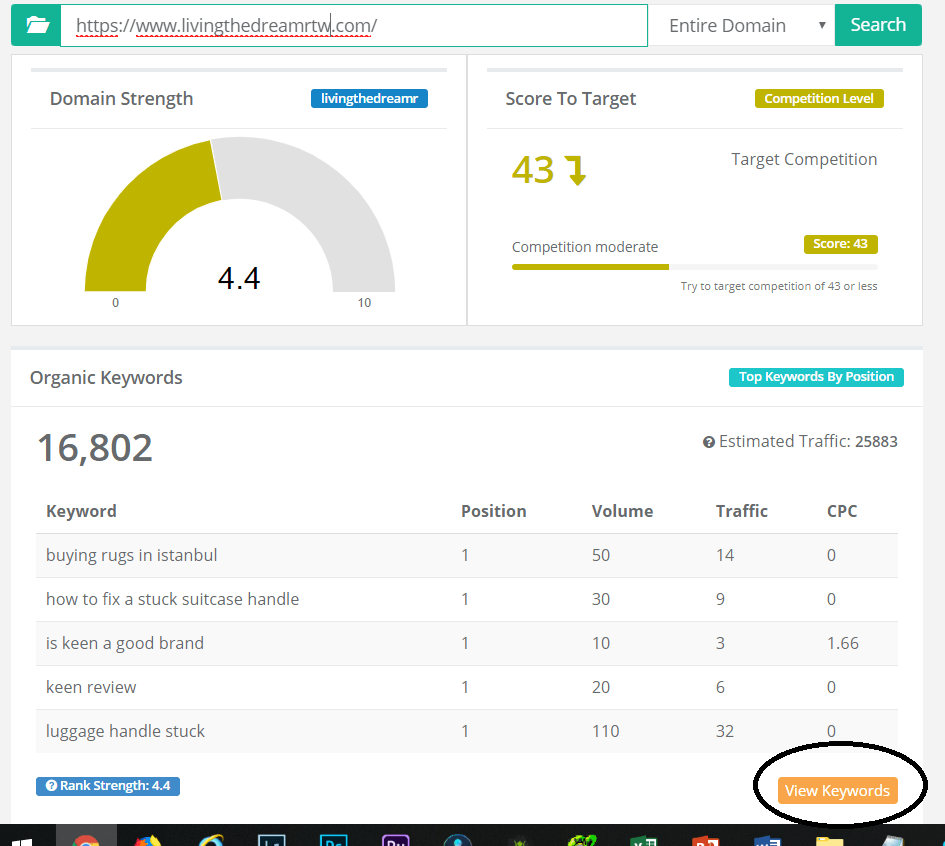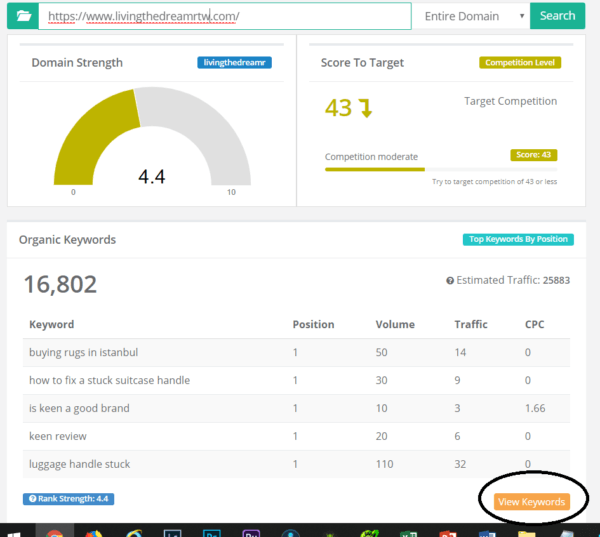 The first way we've looked at Keysearch data is to find articles that we already rank for.
We do this under the "Explorer" tab and opening the list of keywords that we already rank for by searching our entire domain. Here, it is easier to download into Excel to work with the data that way for the rest.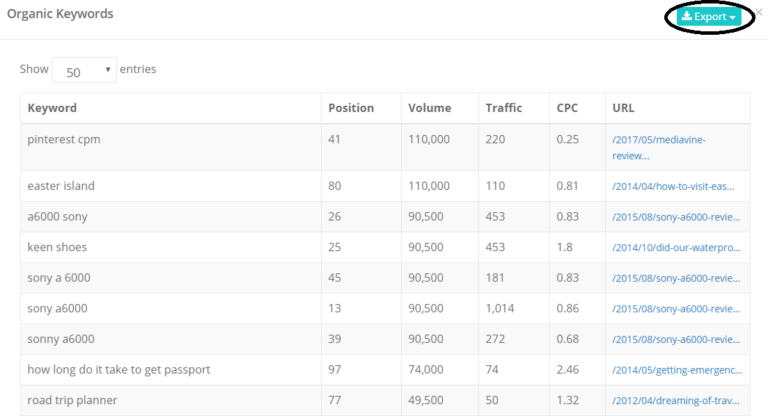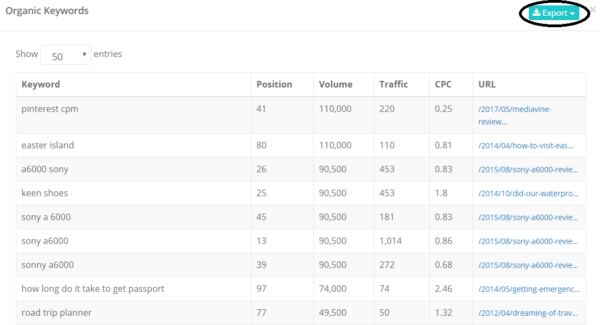 In Excel, you should filter the columns and organize the data showing articles that have search volumes greater than your desired minimum threshold (we normally do 250-500), and if you want to go one layer deeper articles that rank on only pages 1-3, 1-4, 1-5, etc.
This gives you a clear snapshot of a number of keywords that you already rank for that also have a large enough search volume to be worth your effort.
So what do we do next? We upload the entire list in bulk into Keysearch under the Keyword Research tab (drop down "Import Keyword List") and unveil all the scores!
This may take a few days depending on the number of unveils you have available in your account package, but what this does is tells you the difficulty for every keyword, and lets you then prioritize how you move forward.
Maybe you find a term you rank on page 3 for that has 5,000 searches a month and isn't competitive. Here, using it more effectively in a post could cause you to jump to page 1. Or maybe you'll find a term with 10,000 searches a month that you're on page four for, but it is so competitive you may not want to pursue it at this time.
This logic is up to you, but this bulk upload and check process allowed us to target a large array of keywords we already ranked for but had no idea about. (We also did this with data from Webmaster Tools, MOZ, SEMRush, and other services as well by collecting keywords during free trial periods and analyzing on Keysearch.)
I'll gladly take ranking #2 over #7 for any keyword, or any ranking on page one over page two, and you should too! This is a great method of making it happen.
Pro Tip: Unsure about what 'difficulty score' your site can rank for? We've found that the recommended value under Keysearch's Explorer tab is not that great. After unveiling all your scores, average your rankings for all terms of appreciable volume you rank on Page 1, 2, and 3 for. These are likely more accurate scores for your site's competitiveness as sometimes Keysearch's score does not match up as well as it should. We did this and it confirmed our theory that this blog is not as strong as Keysearch thinks it is, and our local blog is significantly stronger (to the tune of ranking 15 points higher than Keysearch thinks)!
#2 – Checking Competitor Rankings to Find New Keywords
Our second method is almost a direct repeat of #1, but comes in for finding new keywords. You see, the above only finds keywords that your site already ranks for, and doesn't give bulk suggestions on new keywords to find that you don't already rank for.
So, what do we do? We go into the Explorer tab and look at sites that are direct competitors for ours and repeat the process!
You can download keywords from any site using this tool, and it is a great way to bulk check new keyword ideas quickly.
Now, we'll be the first to admit we do this with our local blog more than our global blog, because 95 times out of 100 we know that if a competitor can rank for a topic, we can also write about it with authority and rank for it too. Globally this is harder as we've personally not been to all the destinations other travel blogs have, so depending on your niche and competitors the number of keywords you can actually use may vary.
Still, why guess when your competitors have already done the work?
#3 – Overhauling Our Affiliate Game to Earn Money
The third way we've looked at Keysearch data is to try and find keywords that are being used by people who are looking to shop.
These are for articles that may or may not do well in Google already, but are overall trying to push an affiliate product in some way, shape, or form.
In this particular instance the keyword is being selected not just for its ease of being indexed, but by targeting the right reader– the one who is wanting to purchase.
Inserting yourself in this part of the sales funnel is key because, depending on your industry, it could be a long way from research to purchase. So tailoring your articles for keywords targeting those who want to purchase is critical.
There is no one-size-fits-all approach to this one, but we look for keywords with active terms (book, buy, etc) or for when people are looking for dedicated product reviews. Its not foolproof, but it is a step in the right direction. 500 or 1,000 monthly searches of people looking to buy could end up earning significantly more than on a keyword with 10,000 people just looking for reviews or advice!
I'll gladly downsize my search volume to rank for a keyword that converts!
While this is just a variant of the basic search premise, we think it is important to keep in mind because in many times garnering affiliate sales is not about reaching bulk eyeballs, but instead is reaching the right eyeballs. With keyword research you can start looking for terms that reach those who are willing to open their wallets right away.
Overall, there are many ways you can implement Keysearch data on your blog and come out ahead. The possibilities are near endless and even we are just starting to scratch the surface with some of the cases outlined above.
But we've found one major thing to be true overall- the more we dive into Keysearch data and truly begin to understand how it all works, the better our content becomes, and the better rank we get in search placements.
For that, it is worth every penny many times over.
Get 20% off Keysearch with our discount code: KSDISC Click here to purchase your license to Keysearch today!
Have an existing blog that is in need of an upgrade? Check out the following services we personally use!
About Jeremy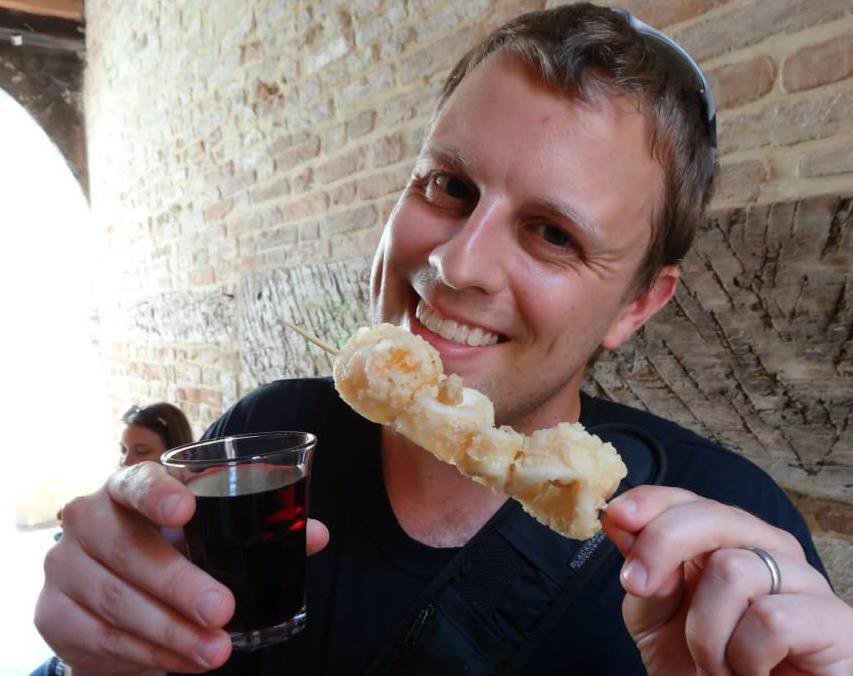 About the Author: Jeremy is a full-time travel writer based in Pittsburgh and primary author of this site. He has been to 70+ countries on five continents and seeks out new food, adventure activities, and off-the-beaten-path experiences wherever he travels.